Pasta recipes are a weekend must. Personal Trainer Ryan Le Breton shares 5 delicious carb loaded recipes that are healthy too 
Is there anything better than cooking up a big bowl pasta to get your weekend carb fix?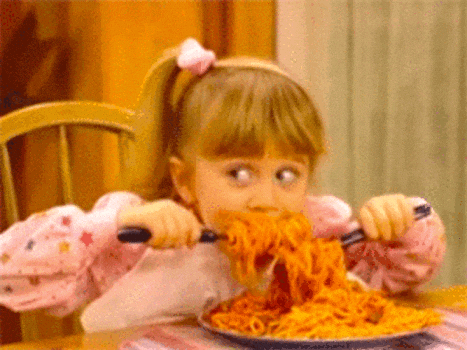 In our search for healthy, carb satisfying pasta recipes, Healthista called upon personal trainer Ryan Le Breton who has a collection of free E-books, full of some of the most delicious yet easy recipes there are out there.
Oh and yes you read that correctly, free E-book. In Ryan's own words his E-books are for people who:
Do not enjoy cooking.
Want to learn some quick, easy, healthy recipes to help reach their goals.
Want to change their eating habits and get some new ideas to share with friends and family.
Need guidance on macronutrients and portion control.
Sound like you? Well, Healthista has picked 5 healthy pasta recipes that we promise will satisfy your weekend carb needs…
Healthy Pasta Recipe #1 Beef stuffed pasta shells
315 Calories | 29g Protein | 16g Carbohydrates | 15g Fat | 2g Fibre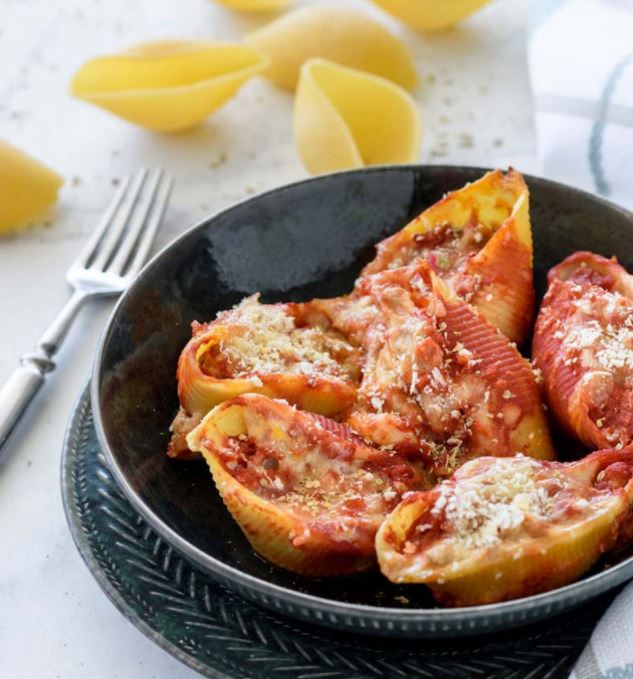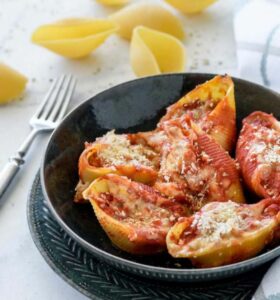 Serves 6
Total time: 25 minutes
Gluten Free
Ingredients:
18 uncooked jumbo pasta shells
1 pound lean ground beef
2 teaspoons chilli powder
3 ounces fat-free cream cheese
170g cheddar cheese
250ml tomato sauce
Method:
1. Preheat oven to 175C-350F.
2. Cook pasta according to package directions. Drain and rinse in cold water, drain again.
3. Meanwhile, in a large frying pan, cook and crumble beef over medium-high heat until no longer pink, 6 to 8 minutes.
4. Stir in chilli powder, cream cheese and 1/2 cup tomato sauce. Stir in 1/4 cup shredded cheese.
5. Spoon about 2 tablespoons of filling into each shell. Place in a baking dish coated with cooking spray. Top with remaining tomato sauce.
6. Bake, covered until heated through, 20-25 minutes.
7. Sprinkle with remaining cheese, bake, uncovered until cheese is melted, about 5 minutes. Serve and enjoy.
Healthy Pasta Recipe #2 Greek pasta with sausage
518 Calories | 20g Protein | 79g Carbohydrates | 14g Fat | 14g Fibre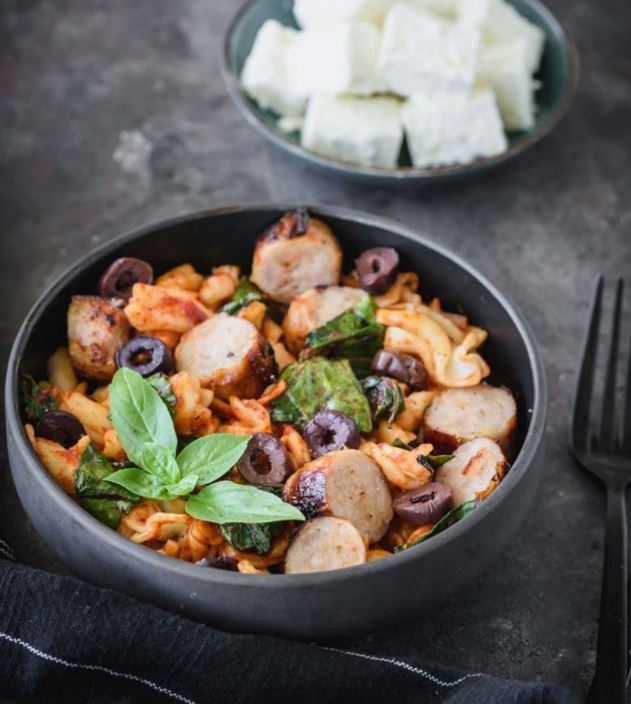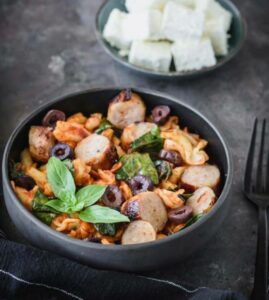 Serves 4
Total time: 20 minutes
Gluten Free
Ingredients:
2 tablespoons olive oil
3 links cooked chicken sausage (9 ounces), sliced into
rounds
200g-8 ounces diced onion
1 clove Garlic, minced
225g-8 ounces no-salt-added tomato sauce
900g-32 ounces lightly packed baby spinach
600g cooked rotini pasta
60g-2 ounces chopped pitted kalamata olives
100g-4 ounces finely crumbled feta cheese
5g chopped fresh basil
Method:
1. Heat oil in a large straight-sided frying pan over medium-high heat.
2. Add sausage, onion and garlic, cook, stirring often, until the onion is starting to brown, 5 minutes.
3. Add tomato sauce, spinach, pasta and olives, cook, stirring often, until bubbling hot and the spinach is wilted.
4. Add 1 to 2 tablespoons of water, if necessary, to keep the pasta from sticking.
5. Stir in feta and basil, if using.
Healthy Pasta Recipe #3 Creamy fettuccine with Brussels sprouts and mushrooms
405 Calories | 16g Protein | 56g Carbohydrates | 13g Fat | 11g Fibre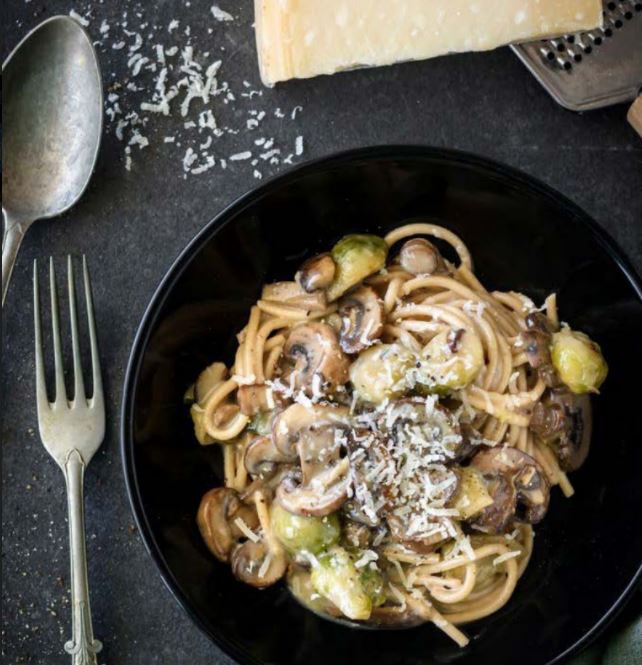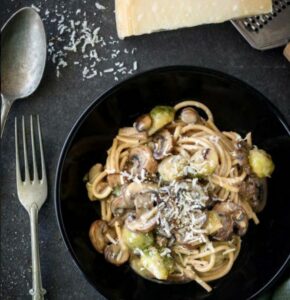 Serves 4
Total time: 20 minutes
Vegan / Vegetarian 
Ingredients:
350g whole-wheat fettuccine
1 tablespoon extra-virgin olive oil
4 cups sliced mixed mushrooms ( cremini, shiitake)
4 cups thinly sliced Brussels sprouts
1 tablespoon minced garlic
1/2 cup dry sherry
2 cups low-fat milk
2 tablespoons flour
1/2 teaspoon salt
1/2 teaspoon freshly ground pepper
1 cup shredded vegan cheese
Method:
1. Cook pasta in a large pot of boiling water until tender, 8-10 minutes. Drain, return to the pot and set aside.
2. Heat oil in a large frying pan over medium heat. Add mushrooms and Brussels sprouts and cook, stirring often, until the mushrooms release their liquid, about 10 minutes.
3. Add garlic and cook, stirring, until fragrant, about 1 minute. Add sherry and scraping up any brown bits, bring to a boil and cook, stirring, until almost evaporated.
4. Whisk milk and flour in a bowl, add to the frying pan with salt and pepper. Cook, stirring, until the sauce bubbles and thickens about 2 minutes.
5. Stir the cheese until melted.
6. Add the sauce to the pasta, gently toss. Serve with more cheese, if desired.
Healthy Pasta Recipe #4 Baked ziti with mozzarella cheese
520 Calories | 18g Protein | 94g Carbohydrates | 8g Fat | 5g Fibre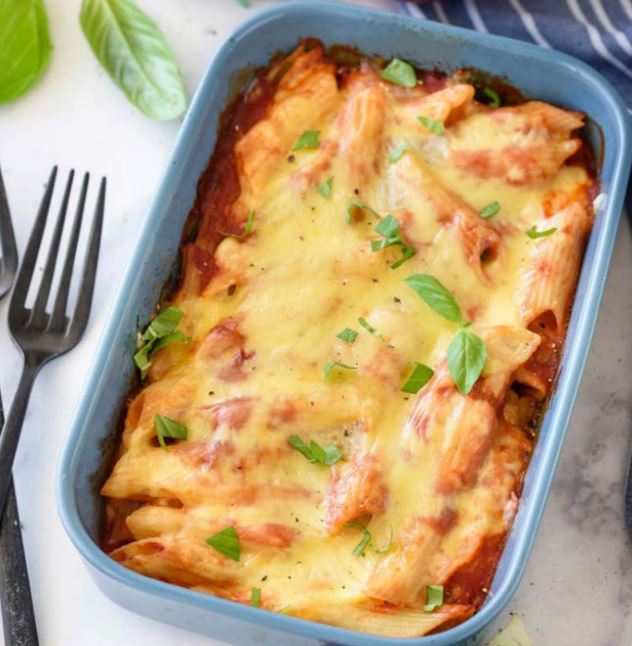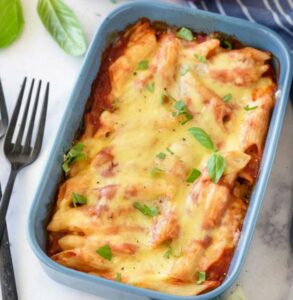 Serves 4
Total time: 1 hour
Vegetarian
Ingredients:
1 tablespoon olive oil
1 medium onion, chopped
3 garlic cloves, minced
2 tins Italian crushed tomatoes
350ml water
125ml dry red wine or reduced-sodium vegetable stock
1 tablespoon sugar
1 teaspoon dried basil
450g ziti or small tube pasta
160g mozzarella cheese, grated
Method:
1. Bring a large pot of lightly salted water to a boil. Add ziti pasta, and cook until al dente, about 8 minutes; drain.
2. In a dutch oven, saute onion in oil, until tender. Add garlic; cook 1 minute longer.
3. Stir in tomatoes, water, wine, sugar and basil. Bring to a boil and remove from heat.
4. Stir in cooked ziti pasta (or other pasta).
5. Transfer to a 13x 9 baking dish coated with cooking spray. Cover and bake at 175C-350F for 1 hour.
6. Top with the mozzarella cheese. Bake, uncovered, about 5 minutes longer or until ziti is tender and cheese is melted.
Healthy Pasta Recipe #5 Beef and spinach tagliatelle
519 Calories | 40g Protein | 65g Carbohydrates | 11g Fat | 2g Fibre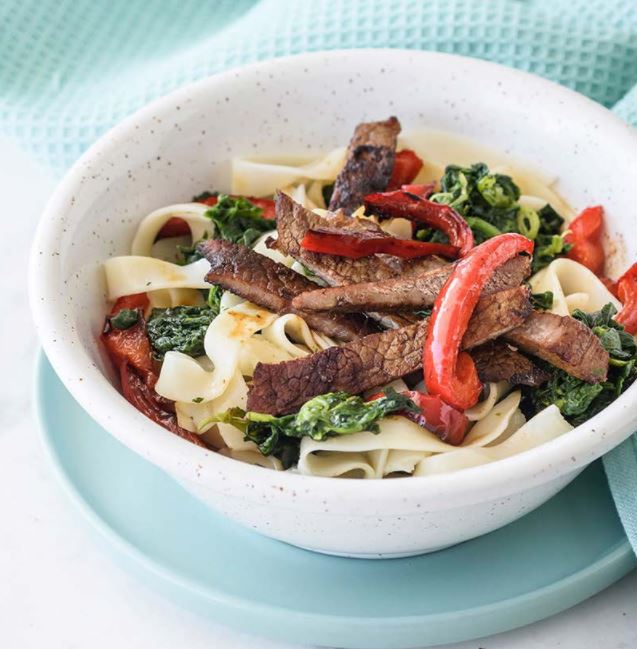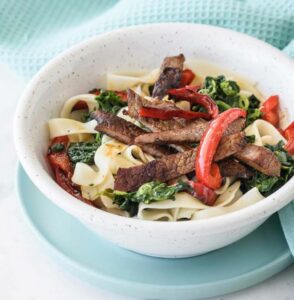 Serves 5
Total time: 30 minutes
Gluten Free
Ingredients:
2 tablespoons soy sauce
1 tablespoon water
1 teaspoon sesame oil
2 garlic cloves, minced
1/4 teaspoon crushed red pepper flakes
1 pound beef top round steak, thinly sliced
4 ounces tagliatelle uncooked
10 ounces (1 package) fresh spinach
1 red bell pepper
Method:
1. In a small bowl, mix the soy sauce, garlic, red pepper flakes, water and oil.
2. Remove 1/4 cup mixture to a large bowl, add beef and toss to coat.
3. Marinate at room temperature 10 minutes.
4. Cook spaghetti according to package directions.
5. Meanwhile, heat a large frying pan. Add half of the beef mixture, stir-fry 1-2 minutes or until no longer
pink.
6. Remove from pan. Repeat with remaining beef mixture.
7. Stir-fry red bell pepper and mix well. Stir in spinach and remaining hoisin mixture, cook until spinach is wilted.
8. Return beef to pan, and heat through.
9. Drain spaghetti, add to beef mixture and toss to combine. Sprinkle with pepper flakes.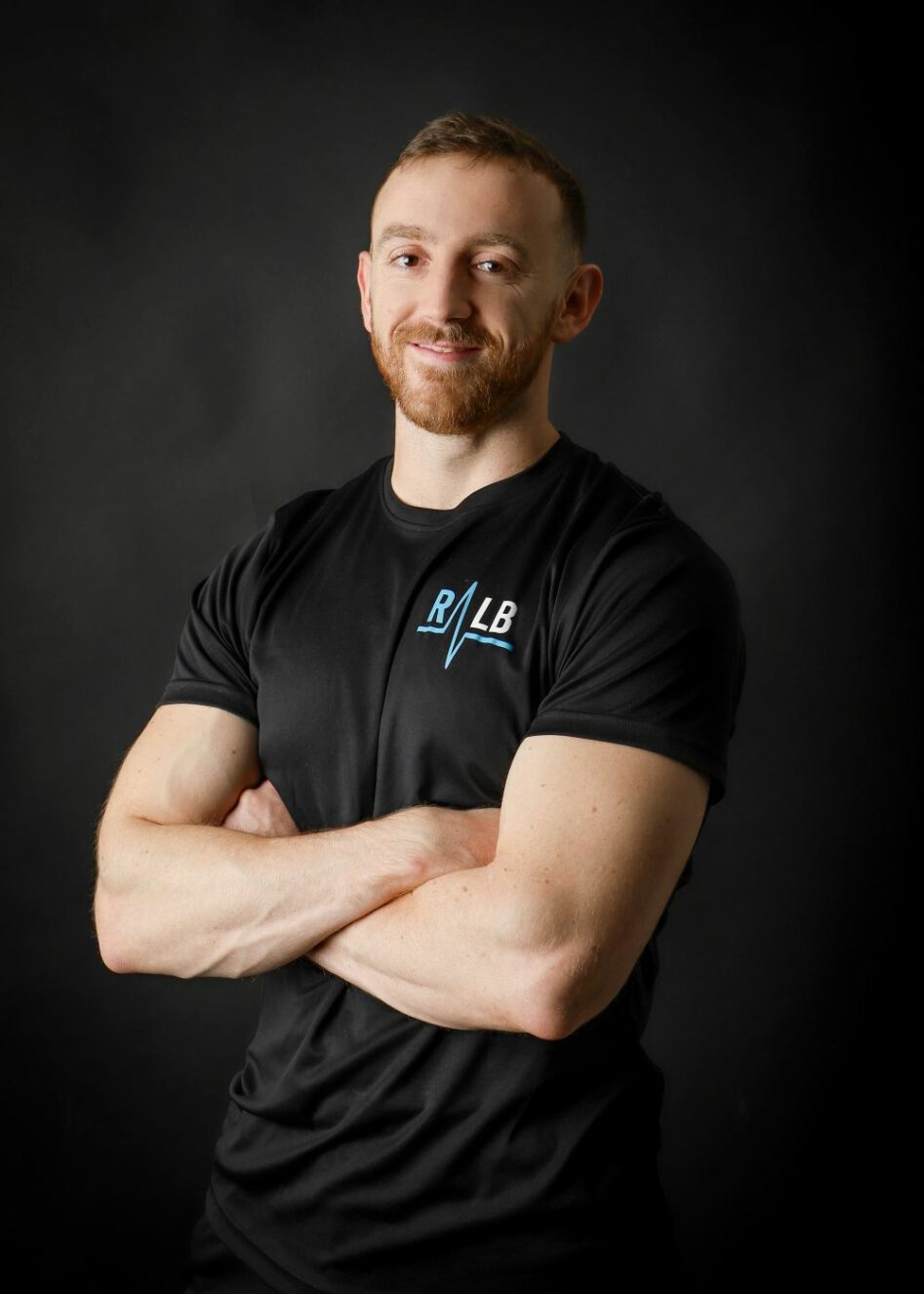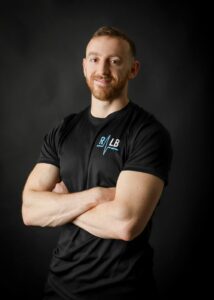 Ryan Le Breton has worked in the fitness industry for nearly ten years and has seen all sorts of struggles from a wide range of individuals varying from body confidence issues, yo-yo dieting struggles and gym floor anxiety.
If you are looking to transform your fitness and live a lifestyle without a restrictive diet, Ryan will help you become more confident, fitter, stronger and still be able to enjoy a social adventure of a weekend, guilt free.
Join Ryan's online coaching community with a group of like minded people all driven to become better versions of themselves, with full support throughout your journey.
Follow Ryan Le Breton:
Instagram: @ryanlebreton  
Facebook: www.facebook.com/ryanlebretoncoach
Website: www.ryanlebretoncoach.com
More Healthista Content:
From better sex to blissful sleep – 3 reasons you NEED to try CBD
8 healthy habits to help transform your mood (and your life!)
Leading Menopause Expert Dr Louise Newson reveals 5 common HRT myths most people believe
12 ways to tackle stress and anxiety
A gynaecologist's guide to abnormal vaginal discharge
Like this article? Sign up to our newsletter to get more articles like this delivered straight to your inbox.