Not only is a Poke Bowl healthy – it looks great too, with Instagram full of delicious looking concoctions. Poke House co-founder and recipe expert Vittoria Zanetti reveals how to make your healthy bowl at home
Contrary to popular belief, poke isn't just fish, rice, and veg. It's a versatile dish that can cater to every palette, giving everyone a tasty and healthy food option.
That's why it's often my go-to meal when I'm on the go and need something nutritious without compromising on taste.
Since Poke Bowls seem to be popping up everywhere I look, I thought I'd let you in on my favourite vegan poke bowl that you can either make at home or your local Poke House.
This delicious recipe will guide you on making a stunning rainbow bowl full of nutrients – perfect for those busy lunchtimes or even for your weekly meal prep!
READ MORE: Fad Diet FAQ's with Instagram PT Courtney Black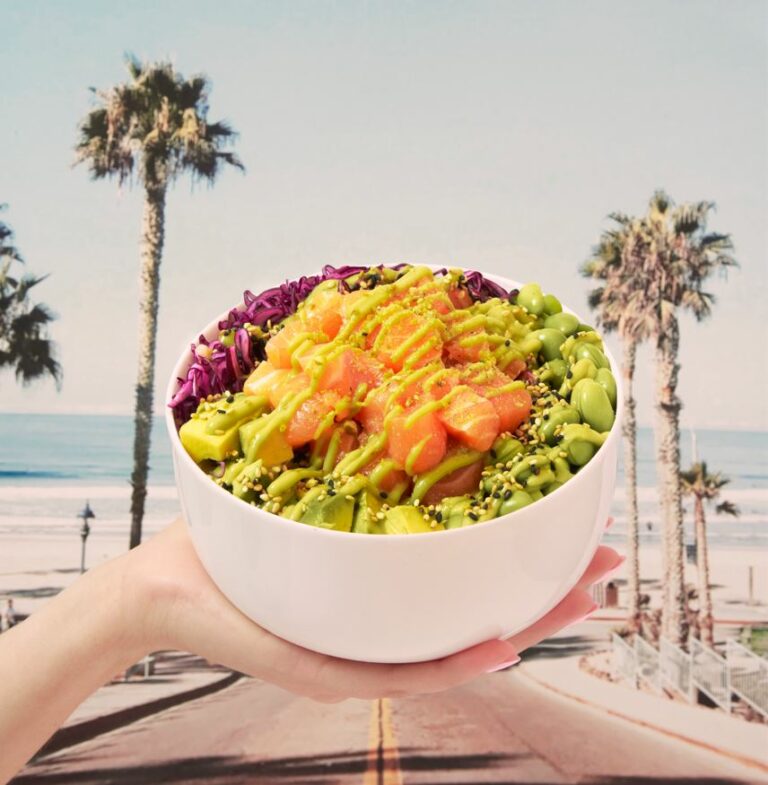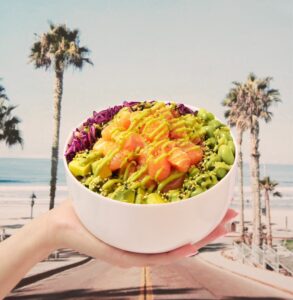 Ingredients:
180g quinoa
180g chickpeas
1x medium sweet potato
½ x Hass avocado
¼ x red onion
2-3x medium carrots
2x courgettes
Sesame seeds (optional)
Almonds (optional)
How to assemble:
Step 1: Prep your chickpea base
Drain your chickpeas and put them to the side while you wash your quinoa in a sieve with cold running water. Using two separate saucepans, fill one with your quinoa and the other with your chickpeas, followed by 400ml cold water and a little salt.
Bring the chickpeas to the boil and then allow to simmer for up to 45 minutes until tender.
Step 2: Prepare the sweet potato
Next, we'll need to prepare some lovely, crispy sweet potatoes for our bowl.
Turn your oven on to 200ºC and dice your sweet potato into small cubes. Once chopped, pop them on an oil covered tray ready to go into the oven for 30 minutes until crispy outside and fluffy inside.
Step 3: Get your quinoa ready
Once your chickpeas have been simmering for 30 minutes, it's time to prepare your quinoa. Pop your pan on the hob and bring up to the boil over a medium heat.
Once boiling, reduce to a simmer and allow to cook slowly for 15 minutes. You'll know the quinoa is ready once all the water has been absorbed.
Step 4: Chop up your vegetables
With your base simmering and baking away, now it's time to get your vegetable toppings ready to go. Halve your avocado, remove the skin and the stone, then follow by chopping into bitesize slices.
I love to chop my avocado into nice thin slices and make a little floral design on the top of my poke bowl to give it that extra special feel!
Next, you'll need to top and tail your carrots, courgettes, and red onion. I like to chop my red onion into very small squares no larger than a few millimetres to give a little crunch.
Before doing that, it is important to soak it in water and white vinegar for 15 minutes to lighten its strong flavour.
For the carrots and courgettes, the shape and size are totally down to you. I personally love my carrots and courgette cut julienne, creating nice long, thin spirals of flavour on my bowl.
READ MORE: 5 immune boosting tips to see you through the flu season and beyond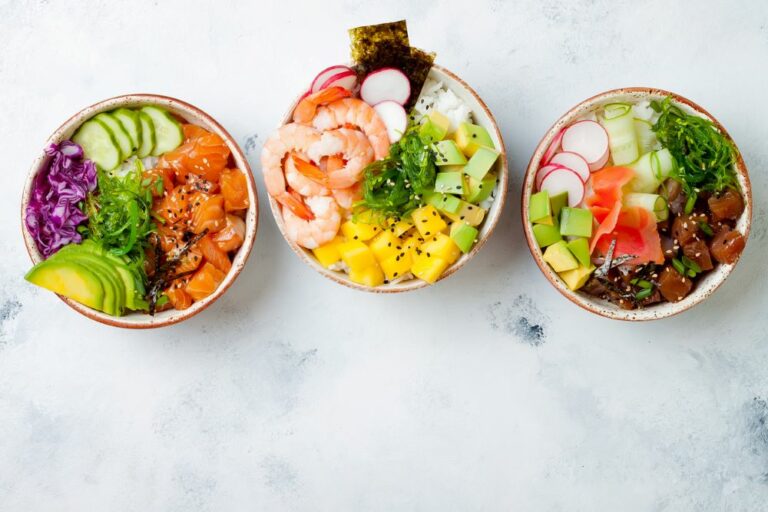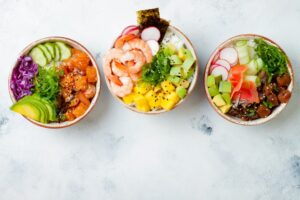 Step 5: Build your bowl
Once your quinoa, chickpeas and sweet potatoes are ready, remove them from the oven and hob.
First, you'll need to create your base. Fluff up your quinoa with a fork and slowly scoop it onto one side of your bowl, followed by the chickpeas on the other side.
With your base in place, next you'll need to lay down your vegetables. My favourite way to do this is to colour co-ordinate my vegetables into a rainbow effect.
I start first by gently placing my sweet potato cubes on top of the quinoa and chickpeas, followed by a layer of fresh vegetables. I'll then place the carrots together on one side, followed by the courgette and red onion.
To give it that perfect poke vibe, place your thin avocado slices on top of your bowl in the centre into a lovely floral arrangement.
Step 6: Add your favourite sauces and toppings
If you're looking for extra crunch and added nutritional value, I usually add a few of my favourite toppings.
For this bowl, I'd recommend a handful of sesame seeds (high in fibre and protein) and a handful of almonds; the perfect, tasty crunch full of healthy fats, antioxidants, vitamins and minerals.
For the finishing touch, add a sauce of your choice. I love topping my poke bowl with gluten-free soy sauce and adding a touch of Vegan Mayo to give it extra flavour and creaminess.
And that's it! Now you can kick back and enjoy your very own poke bowl at home packed full of flavour and essential nutrients.
Healthista join the force in championing menopausal women fighting the lack of support in the workplace, by offering an innovative and affordable menopause pack curated to aid and support all women. 
Like this article? Sign up to our newsletter to get more articles like this delivered straight to your inbox.