Instagram fitness legend Courtney Black (@courtneydblack) is back to debunk another myth – carbs. She reveals why carbohydrates are NOT the enemy and shares two delicious healthy recipes to prove it
The Myth – carbs are the enemy.
The Truth – carbohydrates are a major macronutrient and the bodies primary source of energy.
You do not have to banish carbs to lose weight. In fact, the right kind of carb will actually assist you on your weight loss journey.
When people think of carbs they jump straight to white bread, cakes and pizza. These are refined and processed carbohydrates, referred to as 'simple carbs' primarily made up of sugar, offering very little nutritional value.
While balance is absolutely key (everything in moderation), a diet completely centred around these types of refined carbs is not recommended from a nutritional standpoint.
the right kind of carb will actually assist you on your weight loss journey
Healthy carbs, i.e 'complex carbs' provide the body with long – lasting energy and keep us fuller for longer. Fibre and starch are the two main types of complex carbs.
Fibre is important because it helps to manage healthy cholesterol, essential for long term health. Foods high in fibre include nuts, beans, wholegrains, fruit and veg. High starch foods include, wholegrains/ cereals, oats, corn and rice.
The right balance of healthy carbs is essential for the body. Carbs help to fight disease and protect the body from long term complications. Depriving ourselves of an entire food group is not sustainable for long term healthy living and will only interfere with our metabolism down the line.
READ MORE: Fad Diet FAQ's with Instagram PT Courtney Black
Carb recipe #1  Chicken Pine Nut Pasta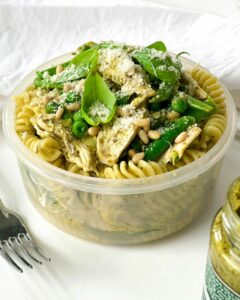 Serves 2
Calories: 571
Protein: 44.4 grams
Fat: 14.1 grams
Carbs: 65.9 grams
Ingredients:
2 chicken breasts
150g dried pasta (your favourite)
1 tsp olive oil
4 spring onions (finely sliced)
1 clove garlic (finely chopped)
2 tbsp green pesto
120g green beans (trimmed)
80g frozen peas
1 tbsp reduced-fat cream cheese
2 tsp pine nuts
½ bunch fresh basil
Method:
1. Place the chicken breasts in a pan of cold water, then bring to the boil. Once boiling, add the pasta and turn the heat down to a simmer, cook for 10 to 12 minutes or until the chicken is cooked through and the pasta is cooked.
2. Meanwhile, heat the olive oil in a non-stick frying pan over a medium heat and fry the spring onion for 4 to 5 minutes until softened.
3. Add the garlic and fry for another 2 minutes before adding green beans and frozen peas along with a splash of water, allowing to cook until the vegetables become vibrant green but still have a crunch.
4. Add the reduced-fat cream cheese, pesto and 1 tsp of pine nuts, stirring well with another splash of water and turn the heat down to very low.
5. Drain the pasta and chicken. Shred the chicken with two forks, then add to the pan with the creamy pesto sauce along with the pasta and toss everything to combine.
6. Top with fresh basil leaves and the remaining pine nuts along with a good grinding of black pepper.
READ MORE: 13 ways carbs can help you lose weight 
Carb recipe #2 Pulled Chicken Tacos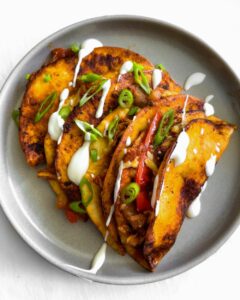 Serves 2
Calories: 534
Protein: 15.2 grams
Fat: 14.1 grams
Carbs: 49.7 grams
Ingredients:
1 tbsp olive oil
2 chicken breasts
4 small tortilla wraps
1 red pepper (finely sliced)
1 red onion (peeled and finely sliced)
1 clove garlic (peeled and finely chopped)
1 tbsp Cajun spice
1 tsp smoked paprika
1/2 tsp dried chilli lakes
1/2 tsp sea salt
1/2 tsp black pepper
1 tsp tomato purée
200g tinned chopped tomatoes
150ml water
50g reduced fat cheddar (grated)
Olive oil spray
Method:
1. Slice the chicken in half horizontally, then add to a large bowl with the sliced peppers, onion and garlic
2. Drizzle the mixture with the olive oil, then add the salt, pepper, smoked paprika, Cajun spice and chilli flakes. Mix to coat everything
3. Remove the chicken from the bowl and fry in a non-stick frying pan for around 4-5 minutes on each side until cooked through. Using two forks, shred the chicken and set aside
4. Add the vegetables, scraping the oil from the bottom of the bowl, into the pan and fry for around 10 minutes until softened
5. Add the shredded chicken, chopped tomatoes, tomato purée and water and allow to bubble away for another 10 minutes until thickened
6. Heat another frying pan over a medium-high heat and spray with olive oil spray. Take a tortilla wrap and dip it into the sauce sauce on one side, then place it coated side down into the other frying pan and load it with the chicken and vegetables, top with cheese and fry for around 10 seconds. Fold in half and continue until you've used all of your wraps
Like this article? Sign up to our newsletter to get more articles like this delivered straight to your inbox.