Halle Berry still has an envious figure at 50. Her trainer of over six years, Nat Bardonnet, talks to Healthista about her celebrity workouts
When Halle Berry posted this shot on her Instagram, with the caption 'me when someone says 'I'm coming over and I've got snacks'', the memes flooded in…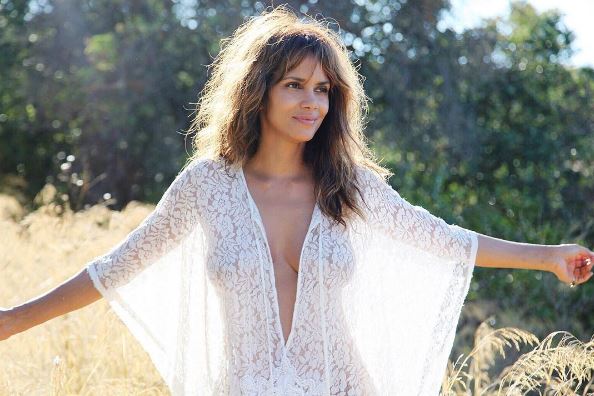 Me when @HalleBerry says "Come over." pic.twitter.com/V1Y9PqvEho

— Fitzgerald (@ChrisBarnettII) March 30, 2017
https://twitter.com/stereowilliams/status/847575792901128192?ref_src=twsrc%5Etfw&ref_url=http%3A%2F%2Fpeople.com%2Fcelebrity%2Fhalle-berry-topless-photo%2F
The 50 year old actress, (I repeat, 50), stands serenely in a sunlit field wearing nothing but a white lace dress and perfect bed-hair. Underneath, you can see the curves of her figure, subtly sexy as always. She posted a similar photo on her birthday in August, saying she was welcoming the landmark age with open arms. 'Ageing is natural, and that's going to happen to all of us', she told Yahoo! Beauty. I just want to always look like myself, even if that's an older version of myself', she said when dismissing the idea of plastic surgery.
MORE: Is 50 the new 25? These celebrities seem to be proving it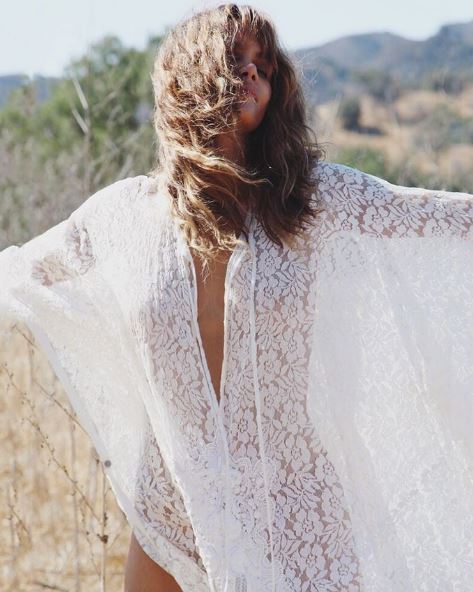 The Oscar winner has been recognised as having a tip-top bikini bod since the 2000s, aside from her Hollywood films. As of 2017, she is the only black woman to have won a Best Actress Academy Award (for her performance in the romantic drama Monster's Ball 2001). She was an iconic Bond girl in 2002 (Die Another Day), Catwoman in 2004, and is currently filming her latest, Kingsman: The Golden Circle, in London.
As I get older, I am more conscious of what I eat
Whilst in London, it is her trainer Nat that she misses the most. Last year, Halle shared a video of her and her 'workout buddy', with the caption 'Being in London makes me miss my workout buddy @natbardonnet'. The two were holding a plank on the beach whilst alternating tapping hands, with an ocean view behind. That's sheer dedication to the beach body!
https://www.instagram.com/p/BFcXSy6hs51/?hl=en
MORE: 30 day bikini body challenge: Day 1
Having a son at 47, Halle has clearly worked her butt off over the decades to stay at the top physically. 'It's a lot harder than it used to be', she told LA Times. 'As I get older, I am more conscious of what I eat'.
Diagnosed at 19 with diabetes, Halle has found healthy living crucial. 'Exercising has always been a part of managing my disease and keeping my sugars under control', she said. 'It took a couple of years, and some scary situations, to accept that it was a lifestyle change and not a diet I could stop in six months… I cut [most] processed sugar from my diet. … That's not to say I won't have a glass of red wine occasionally — it's my guilty pleasure. [If I do], I make sure the rest of my meals that day are clean and healthy: lots of vegetables; no breads … and lots of water', she said.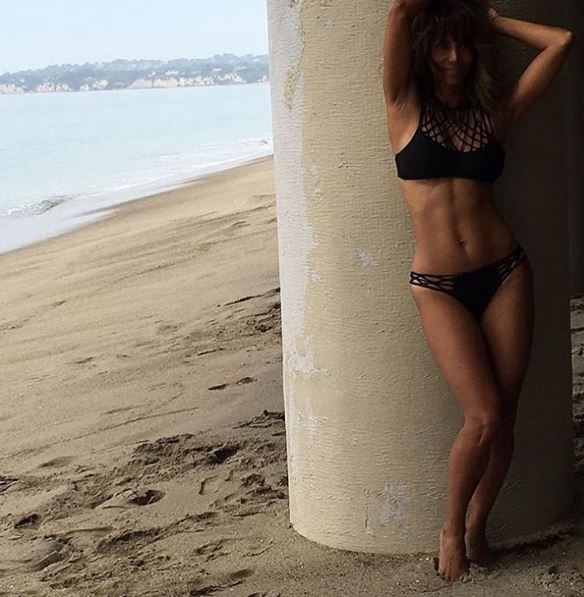 Halle has never aimed to look muscley, rather sticking to body weight movements and cardio. 'No matter what, every day I exercise for at least 30 minutes', she said.
'No matter what, every day I exercise for at least 30 minutes', Halle said
And that exercise, according to her trainer of six years Nat Bardonnet, is hardcore. 'The way I push Halle, not many people would be able to last,' she has previously revealed. 'She always has great energy and a great smile. Whatever curveball I throw at her, she can take'. Eager to hear some more celebrity trainer secrets, Healthista spoke to Nat about her sessions with celebrity clients…
Celebrity trainer secrets: Nat Bardonett
'I have been a personal trainer for ten years, prior to that I was a martial artist instructor, and had trained Madonna's daughter, Robert Downey JR's son and the Al Pacino's twins. I have been training Halle Berry for over six years, as well as other Hollywood stars and influencers such as Nora Arnezeder, a French/American actress, J-LO's ex Cris Judd and American dancer Carrie Ann Inaba.
Q. How many times do you train per week? How long are the sessions? How hard do you push them?
'It depends, if my celebrities are off or on set, preparing for a red carpet event or a movie. And I push hard. But it s always fun. I get to go places such as studios, different countries, houses…unbelievable.'
At the end, you are drenched and crawl out my gym
Q. Is a celebrity body achievable and if so, how?
'The key word is discipline. So YES you can look like a star. Find a good trainer that knows how to push your body and knows how to sculpt it. Not every trainer is right for you.
'I spend a lot of time customizing my workouts for my clients. And find a diet/lifestyle that works for YOU. A diet should be healthy, fresh, diverse, yummy…full of flavors, colours, nutrients and vitamins'.
I stay away from anything white – no sugar, no flour, no bread, no pasta, no rice
Q. What is your most reliable go-to type of exercise for all round fitness?
'My whole hour/session is non-stop. I keep the heart rate up, burn major group muscles and sculpt the little ones. For fat busting, dancing, with my friend's workout, Body by Simone, or spinning with my other friend Lacey Stone; anything that keeps your heart rate up for over 45 minutes and makes you sweat. For muscle gain, I would suggest a Barry's Bootcamp or CrossFit type of class.
'Every body is different – that is where my expertise come in. I make the workout for you, even the music. At the end, you are drenched and crawl out of my gym.'
MORE: Celebrity trainer secrets: Scarlett Johansson's trainer Bobby Strom on how he keeps celebs fit
Q. What ratio of cardio-weights do you advise?
'Men and women are very different. I am known to sculpt women into a sexy "femme fatale" [a stock character who has seduction and mystery about her]. Curvy but toned. I specialise in working 'the outside muscles'. For example, grab a resistance band, step on it and try to 'dance' open the right leg to the right and left to the left back and forth. This will burn and shrink your butt.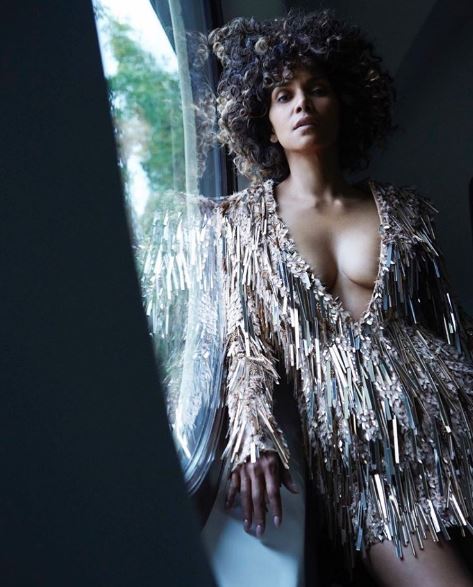 Q. What would be the one tip you use to keep clients, or yourself, motivated to continue a workout?
'I am always changing it up, you will never have the same workout with me. It's about music and diversity. Since I met Bruno Mars and have been helping his dancers (hooligans) get into shape, I have a weakness for him and his music. It also depends on my clients' preference. We listen to funk, Drake, Beyoncé… anything that makes you want to move.'
Q. What diet do you typically follow?
'Fresh, healthy and tasty. I stay away from anything white (except eggs and chicken). No sugar, no flour, no bread, no pasta, no rice…. I eat plenty veggies and fruits . Water, coconut water (from a young coconut not a box). I avoid anything in a box or that has a word I cannot pronounce.
'I am lactose intolerant and don't like anything fried, so I am not much fun! But I am half French half British so either a lager or a glass of wine for a cheat!'
Q. What is the best diet tip you can give people?
'Fresh food and moderation. Butter for instance is NOT the enemy in moderation. But fake sugars ARE. And cause CANCER.'
MORE: 5 sugar-free protein ball recipes to stop 4pm chocolate cravings
Q. What do most of us get wrong when we aren't seeing results?
Find what works for you. For some it is cross fit, other it is spinning, or running, or Pilates. Learn your body type and have fun. Also ladies, do not eat after your workout. Go and shower or do your emails. Let your body burn even after you are done at the gym. I like to compare the body to an engine – while it is hot, let it burn its own fat. Don't feed it right away. I think it sends the wrong message to the body of  'so I'll keep the fat I have for storage since you are feeding me'. Veggies at night for dinner, and brush your teeth!'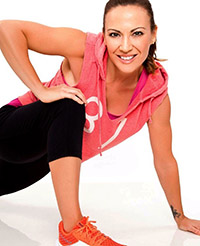 Nat Bardonnet has been training celebrities, executives and real people for the past 15 years in Southern California.
 Who's celebrity workout are you desperate to find out? Tweet us @HealthistaTV and we will do our best!
READ MORE:
Celebrity trainer secrets: Chris Hemsworth's trainer shares his tips
Celebrity trainer secrets: Hollywood BFFs Michelle Williams and Busy Philipps dance guru Lauren Kleban
Celebrity trainer secrets: we trained with Thandie Newton's PT – see what happened
Like this article? Sign up to our newsletter to get more articles like this delivered straight to your inbox.