Want an afternoon snack without all of the sugar? Then try these quick and easy protein ball recipes for day two our our Healthy Indulgence Fortnight
It's almost the end of the work day. It's been a few hours since lunch, and you're starting to get a bit tired (and hungry.) All of the sudden, the craving hits: you NEED something sugary. Chocolate, biscuits, even coffee with sugar all sound like the most delicious thing in the world. It happens to all of us, but it doesn't mean we should listen to our brain—believe it or not, sometimes it's wrong!
MORE: Are you addicted to sugar?
Instead of filling your body with empty carbs that will spike your blood sugar, eating something with protein, fibre and/or healthy fat is what will really satisfy you. That's why we love the recent protein ball trend—it's the perfect mid-afternoon snack for when you're craving a little something sweet. The new book Energy Bars & Balls
by Fern Green has over 24 protein ball recipes, all of which are no-bake, dairy-free, gluten-free and refined sugar-free. Easy AND healthy? That's music to our ears here at Healthista.
Next time you're having one of those 4 pm sugar cravings, try making one of the delicious recipes below. In five minutes, you'll have snacks for the whole week (if you can make them last that long!)
MORE: SAF raw snacks – the super-healthy new snacks from pioneering raw vegan company
Coconut and Cashew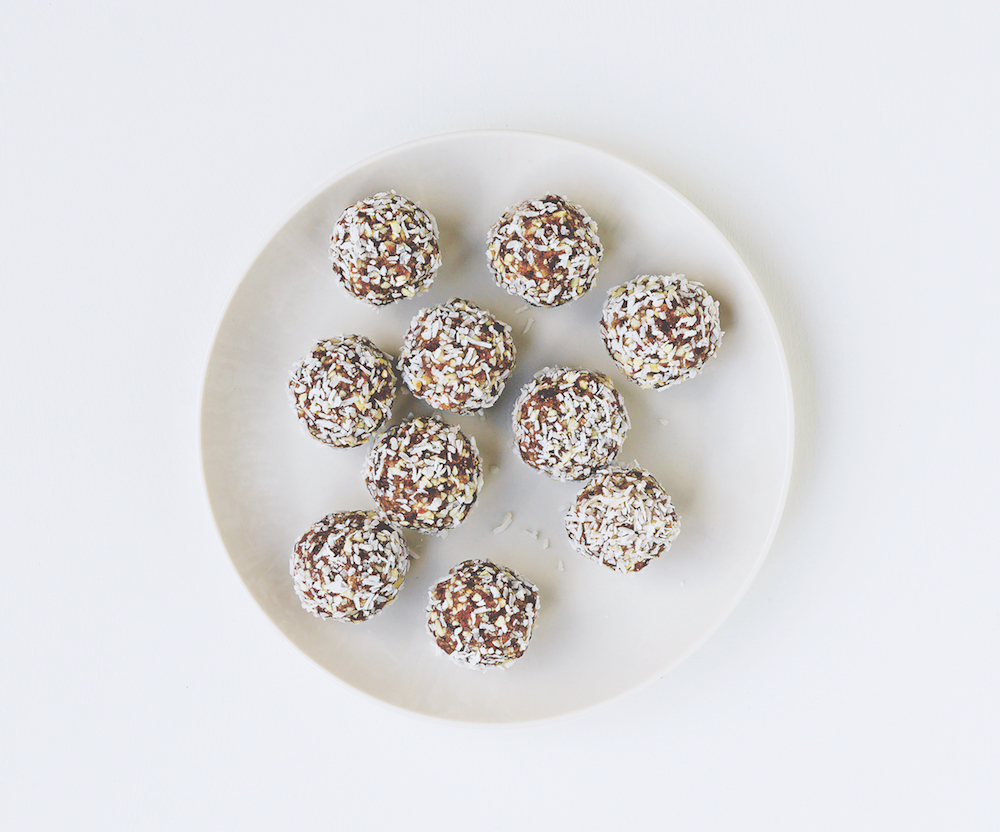 Fern says: Cashews are high in copper, which is vital for energy production.
Makes 12
Ingredients:
75g blanched almonds
75g cashews
340g pitted Medjool dates
1 tablespoon coconut oil, melted
40g unsweetened desiccated coconut
Whizz the almonds and cashews in a food processor until finely chopped but not ground. Add the dates and oil and whizz until the mixture clumps together. Using wet hands, roll the mixture into 12 balls, then roll them in desiccated coconut until completely coated. Chill for 30 minutes before serving.
Cinnamon Apple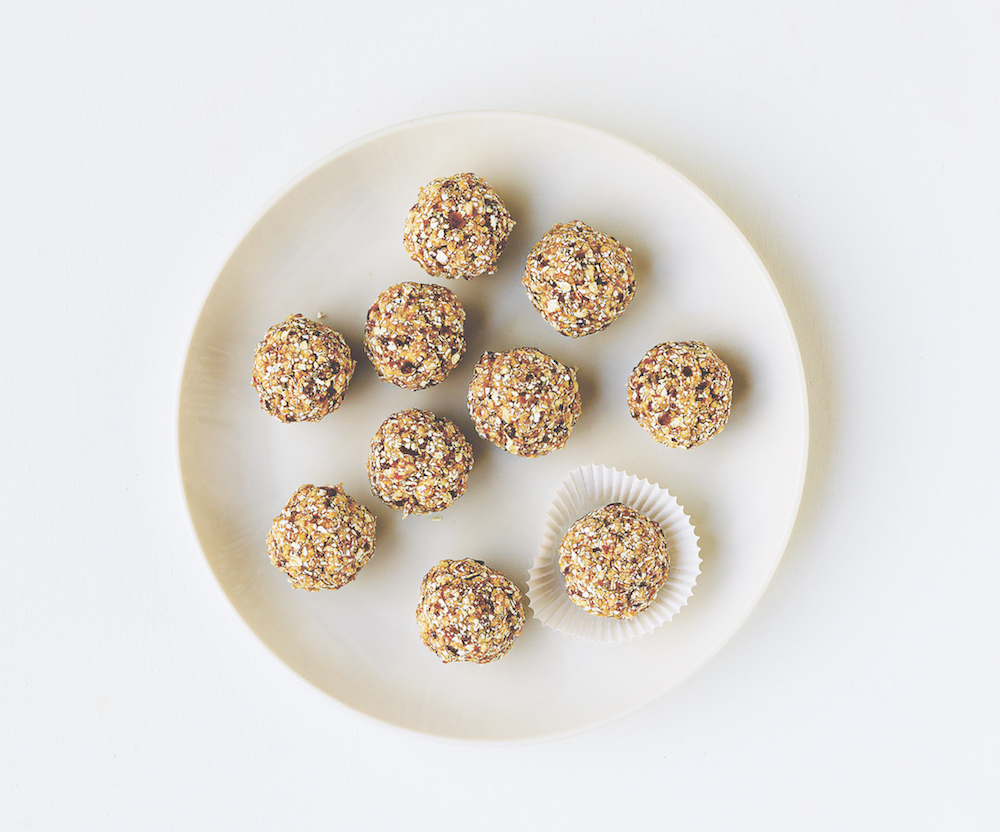 Fern says: Dates are high in fibre and B vitamins. They also help to stock up your mineral stores if they get depleted.
Makes 8 to 12
Ingredients:
175g dried apples
110g pitted Medjool dates
45g rolled oats
1/2 teaspoon ground cinnamon
Combine all of the ingredients in a food processor and whizz until it forms a thick paste. Roll into eight balls, using 1 tablespoon of mixture for each ball. If you want to make more, roll into 12 balls, using 1 teaspoon of mixture for each ball. Chill for 30 minutes before serving.
Matcha Chocolate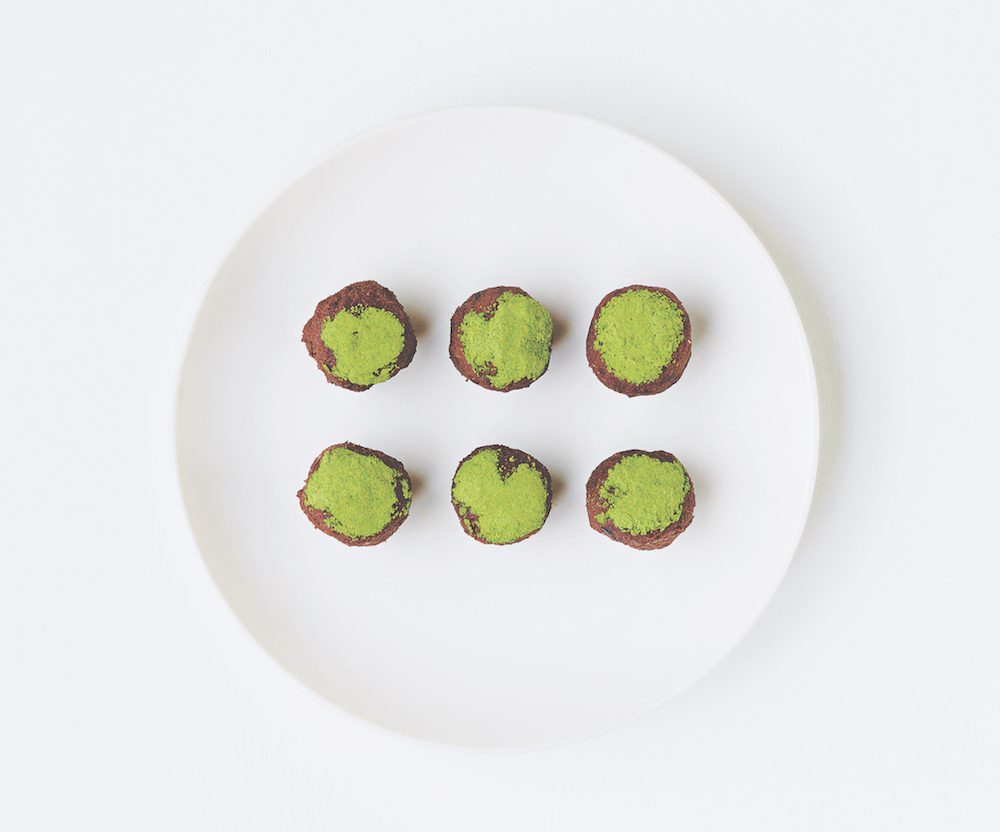 Fern says: Matcha green tea powder is full of antioxidants to boost metabolism and burn calories. It also enhances mood and aids concentration.
Makes 10
Ingredients:
110g pitted Medjool dates
75g blanched almonds
35g cacao powder
1 tablespoon matcha green tea powder + extra for dusting
1 tablespoon unsweetened almond milk
Blend the dates and almonds in a food processor until they come together and form a sticky ball. Break the ball up and add the cacao powder, matcha powder and almond milk. Pulse until all the ingredients are combined. Roll into 10 small balls and dust with more matcha powder. Chill for 15 minutes before serving.
Puffed Almond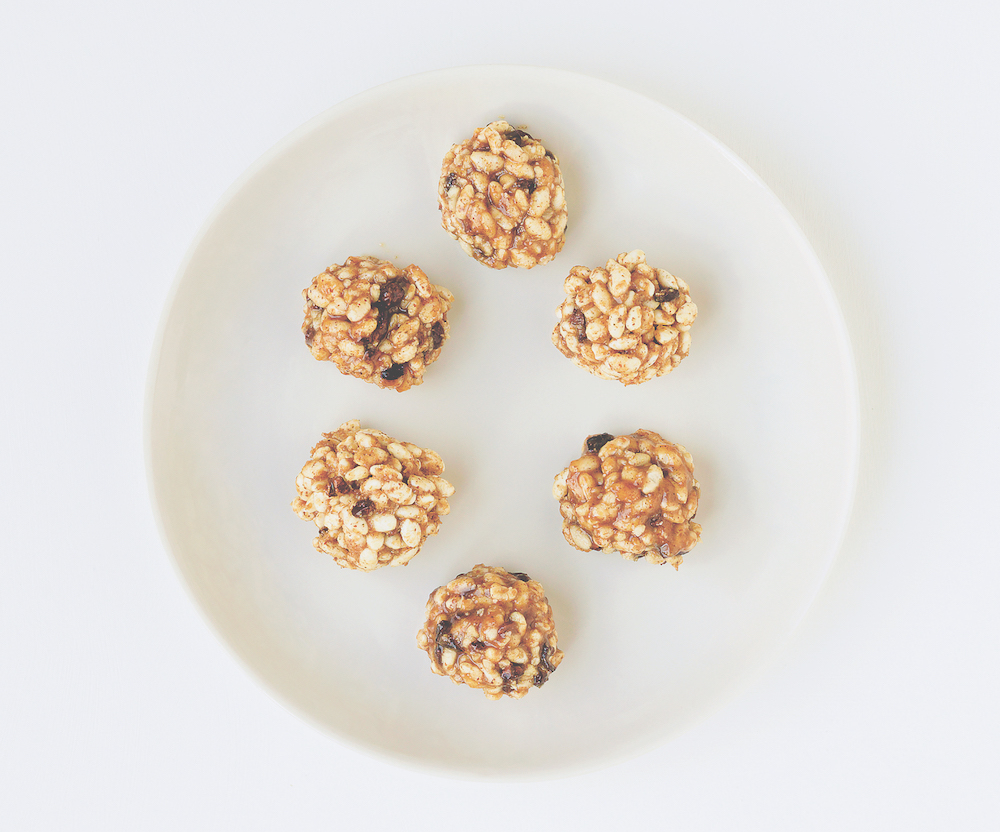 Fern says: Almonds are a great source of calcium, which is good for bones and teeth.
Makes 7
Ingredients:
60g almond butter
3 tablespoons brown rice syrup
1 teaspoon vanilla extract
25g puffed brown rice
1 tablespoon cacao nibs
Melt the nut butter, rice syrup and vanilla extract together and stir to combine. Add the remaining ingredients to the bowl and stir until thoroughly mixed. Using wet hands, roll the mixture into seven balls, then freeze for five minutes. These balls can stay in the freezer until needed. Defrost before eating.
Date and Nut Butter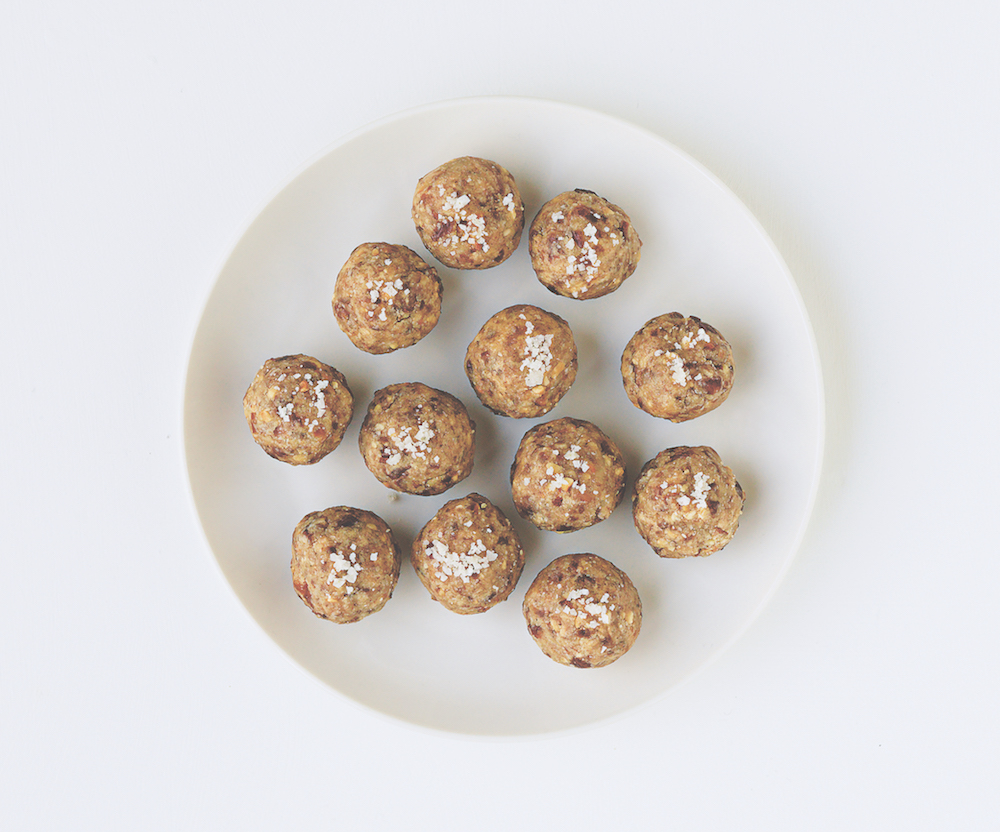 Fern says: Cashews promote heart health and also have a high copper content, which is vital for energy production.
Makes 22
Ingredients:
60g almond butter
60g cashew butter
350g pitted Medjool dates, chopped
150g blanched almonds
60g walnuts
1 teaspoon vanilla extract
Sea salt, for topping
Heat the nut butters in a pan for 20 seconds. Blitz the dates, almonds and walnuts in a food processor until there are no large chunks. Add the nut butters and whizz until smooth. Add the vanilla and pulse a few times to combine. Roll the mixture into 22 small balls, using a tablespoon of mixture for each ball. Sprinkle with sea salt, place onto a baking sheet and chill for 15 minutes.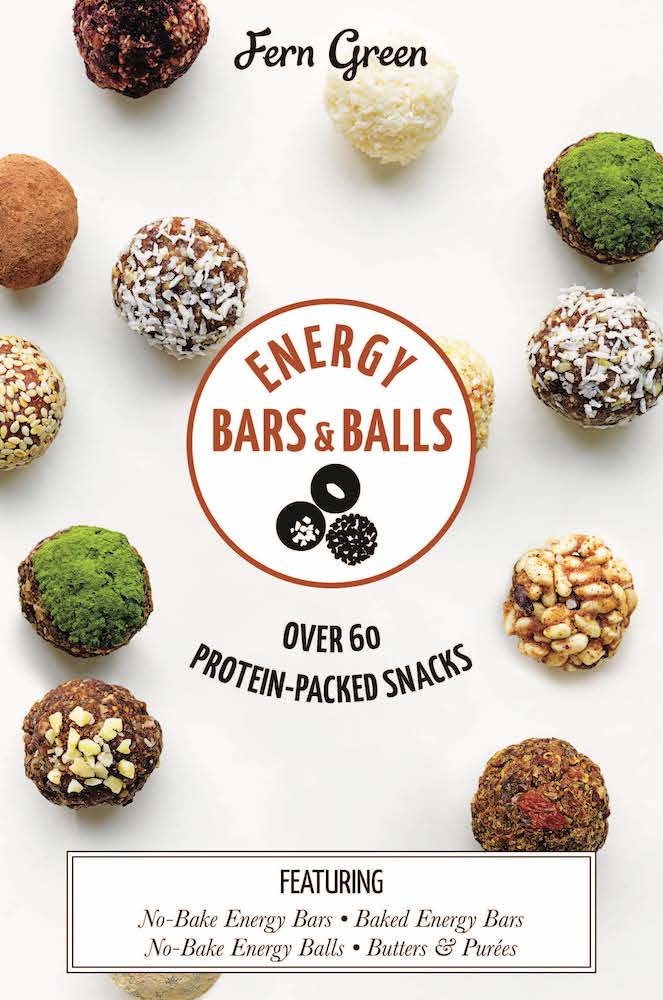 Recipes from Energy Bars & Balls by Fern Green (Hardie Grant, £9.99) Photography by Deirdre Rooney
MORE HEALTHY INDULGENCE: 8 nut butters that will change your life
READ MORE:
5 low-sugar breakfasts ready in 10 minutes or less (PLUS how eating less sugar in the morning could change your life)
60-second smoothie for energy – protein powerhouse
11 easy ways to eat less sugar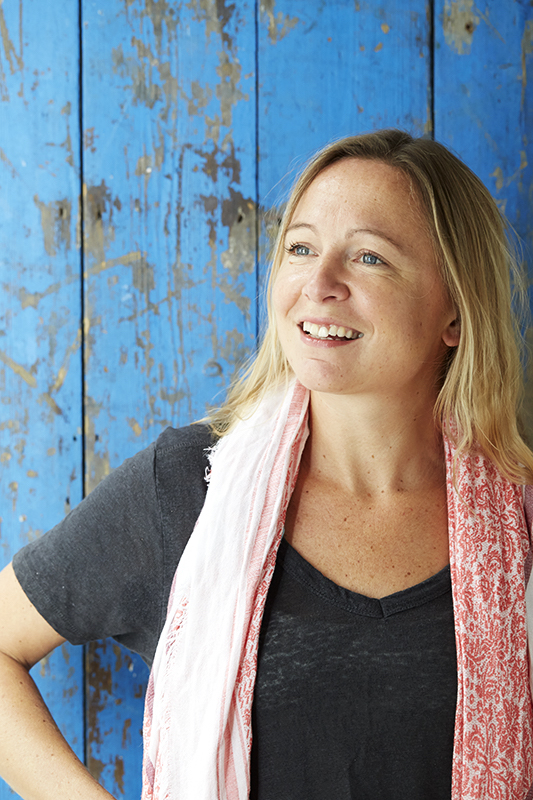 Fern Green is a food stylist, writer and boutique hotel owner. She regularly writes and styles for magazines such as Jamie (Jamie Oliver) and works with various high-profile brands such as Waitrose on food styling for editorial and video content. She is also a recipe writer and tester and loves developing delicious new recipes to try out on her family and friends.
For more information on Fern Green, visit her website.