Love nutty spreads but bored of your average peanut butter on toast? Check out these 7 best nut butters that will change your life, kicking off our healthy indulgence fortnight 
Nut butters are the healthy (if a little indulgent) spreadable foodstuff that will absolutely change your life. As a recent convert to the craze, I used to think nut butter was meant for people across the pond – gloopy, sugar-packed and always peanut, destined to be slathered on toast with jam. But I couldn't have been more wrong. Working at Healthista HQ has meant being confronted with an endless stream of delicious nut butters. Slathered on fruit, spread on rice crackers or even added to a smoothie, I'm now totally nuts for the stuff (sorry, couldn't resist).
I used to think nut butter was for people across the pond, gloopy, sugar-packed and always peanut, destined to be slathered on toast with jam.
Not only is nut butter a great source of protein and fibre, the taste I've discovered is often out of this world, especially some of the newer varieties from companies putting healthy ingredients first. As I'm now somewhat of a nut butter connoisseur, I've compiled a list of the best nut butters about – trust me, they're good.
RECIPE: Vegan peanut butter cupcakes that are filling, healthy and easy to make (even for non-bakers)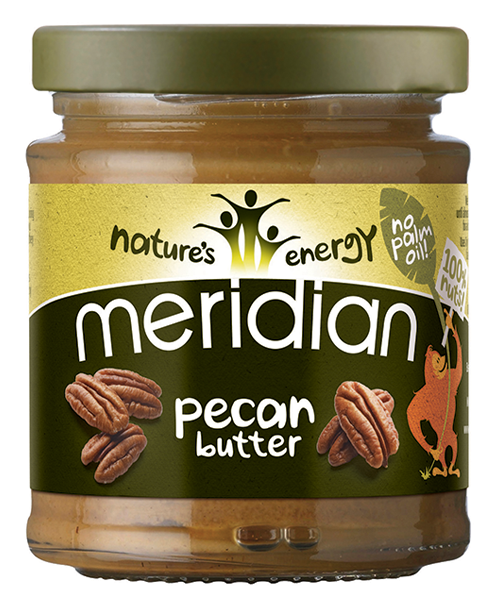 I had to start with this one. No word of a lie, I demolished the jar in three days. This stuff is dangerous. The butter seems a little bit oily at first but if you give it a good stir with a teaspoon, the texture thickens and in fact, the oil adds moisture to the butter and means that while it's beautifully crunchy, it's also not too dry. This butter is all natural, with no salt, sugar, preservatives or palm oil added to it. Plus Meridian describe it as being rich in essential nutrients – which makes sense as it's made from 100 percent roasted pecan butters. While I whittled away my entire jar on my morning bananas, I think that next time I get this butter I will use it to try my hand at baking. Pecan butter is the perfect ingredient to any dessert – pecan tarts? Yes, please.
Meridian Pecan Nut Butter is £6 from ASDA here.
MORE: Meridian coconut & peanut butter and Brazil nut butter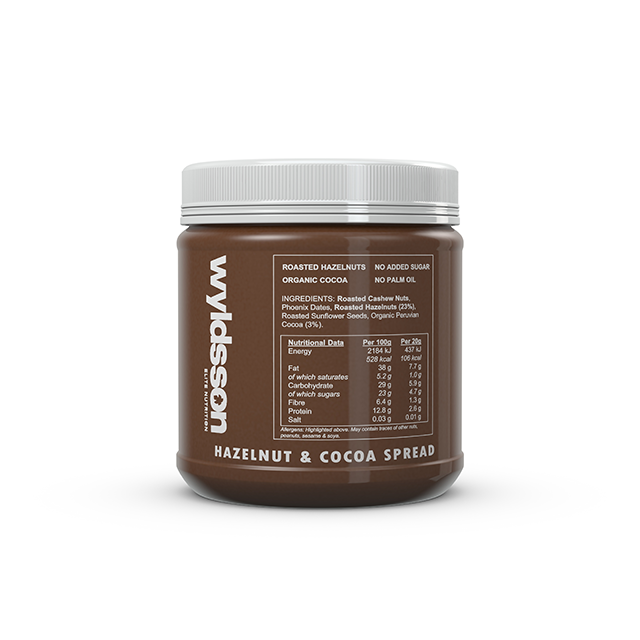 Like Nutella – but healthy. This nut butter has twice as much protein as your average serving of Nutella, half as much sugar and zero palm oil or artificial sweeteners. And while it tastes more nutty than chocolatey, this nut butter from Wyldsson is the perfect guilt-free chocolate spread alternative. When you first open the tub, a strong, roasted, nutty smell assaults your nose. What impressed me most about this spread was the fact that it contains so few ingredients. It's made up of hazelnuts, dates, sunflower seeds, cashew nuts and organic Peruvian cocoa – and that's it. The butter is a thick, chunky and nutty consistency. I enjoyed this nut butter slathered onto a piece of toasted rye bread and followed with a small glass of almond milk – YUM.
Wyldsson Hazelnut and cocoa spread is £5.99 from Wyldsson here.
MORE: Mr. Organic Chocolate Hazelnut Spread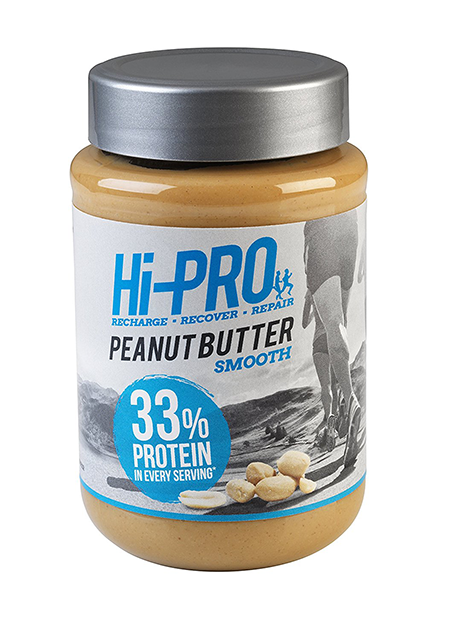 The fact that this stuff is 33 per cent protein in every serving has me jumping for the jar (and joy) on a daily basis. This High-Pro peanut butter is the perfect post-workout fuel. While the packaging didn't strike me as immediately beautiful, when you open the jar a beautiful peanutty scent pours out. Spread onto a rice cracker and enjoy the plain and simple peanutty flavour. The consistency of the high-pro peanut butter is smooth and thick – it's not one for you if you don't like a gloopy butter. But the thickness of it does make it feel like an incredibly indulgent treat. This nut butter works particularly well in smoothies. Try it in your morning smoothie with a banana for a creamy, nutty treat – you can thank me later.
Hi-PRO Peanut Butter is £2.70 from Sainsbury's here.
MORE: 60 second smoothie for energy – protein powerhouse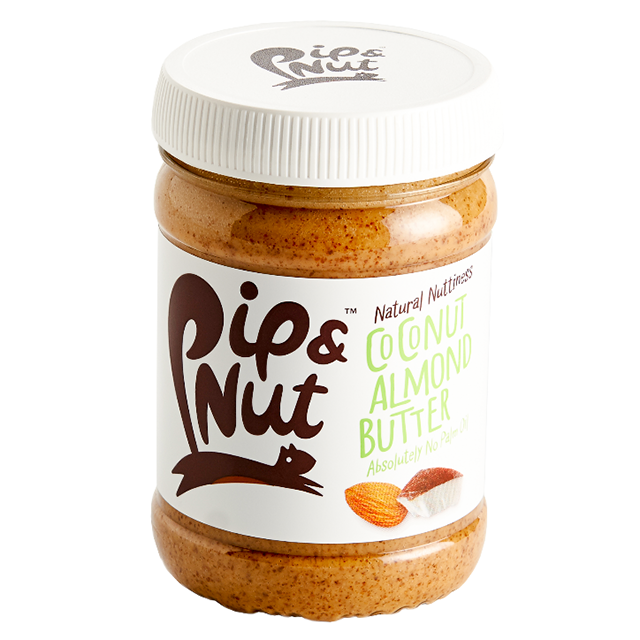 I'm a huge fan of Pip & Nut products. I was sold the second I opened their cookbook. This coconut almond butter was introduced to me by a friend who is obsessed with the stuff. She can't eat a rice cracker without it being totally weighed down with the coconut and almond butter. I love this nut butter for its easy, spreadable consistency. It's almost liquid in form and drizzles onto your food. It's delicious drizzled over banana pancakes for a Saturday morning treat. This does mean that it's also a messy nut butter to eat but for the taste, it's more than worth it. The coconut adds a sweetness that makes this butter seem almost like dessert so it's also a great one to have when you get a real sweet craving. Both the coconut and almond comes through in the smell of this product and that alone is enough to make your mouth water. I can completely understand why this butter was the winner of the Great Taste awards 2015, I could spoon the stuff straight from the jar.
Buy it from the Healthista shop for £4.29 here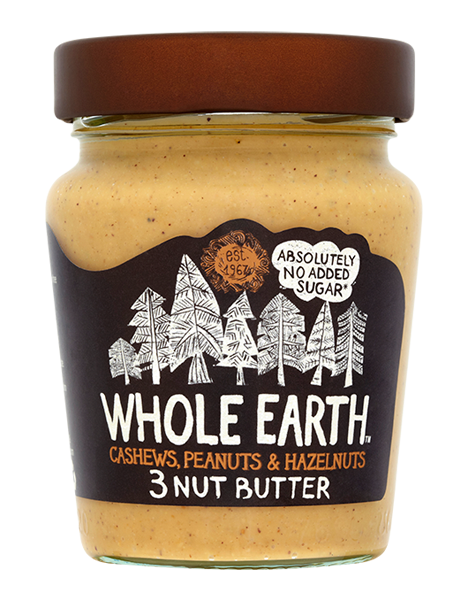 The Whole Earth label is beautiful and the packaging of this nut butter instantly caught my eye. For this reason, it's one of the very first nut butters that I fell a little bit in love with. The addition of cashew and hazlenut to this nut butter give it a little something extra, especially adding a lovely cashew taste to the spread. I am a huge fan of all three of these nuts and loved that each of the flavours really came through in the butter. The consistency was lovely and thick and textured and I also liked that this nut butter wasn't too sweet, it contains sea salt so it has more of a savoury taste. It's also made using only naturally occurring sugars and contains no palm oil. I love that while some Whole Earth products do contain palm oil, the palm oil is sustainably sourced – which makes me much happier about buying from this brand. The butter is free from gluten and not to mention, it tastes delicious and earthy. I loved eating this nut butter with apples. The crisp sweet taste of the apple was a beautiful sharp contrast to the sea salt.
Buy it from the Healthista Shop for £3.29 here
MORE: Whole Earth Peanut Pecan Walnut Butter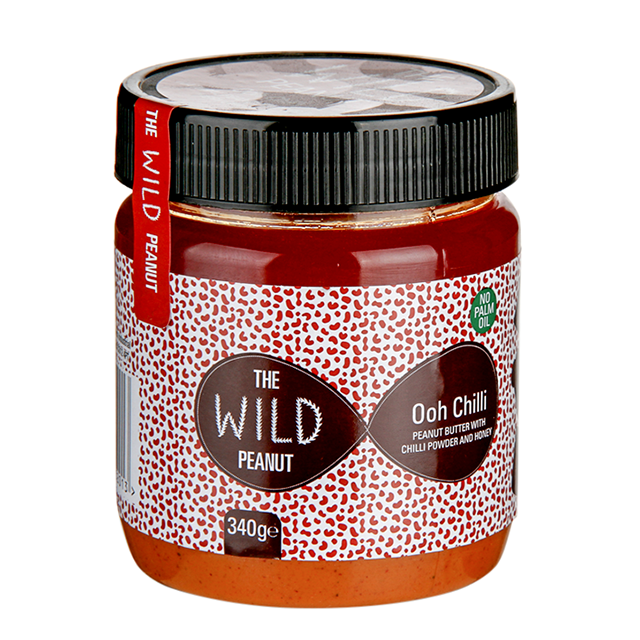 This chilli peanut butter is more than a little intimidating at first. The packaging and logo are absolutely gorgeous, it would make a pretty addition to any kitchen cupboard but as soon as you open up the jar you're confronted with a bright red separation of oil and peanut butter. The peanut butter is hard to mix and comes out a little thick and lumpy at first, but persevere – it's worth it. This taste is almost like a peanut curry in a jar. In fact, when our intern Anna Baron gave it a try she said 'I could happily make a curry from this. I could easily add some coconut milk, garlic and lime to whip up a curry sauce.' Personally, I'd be happy spreading this butter on toast as a savoury snack or even adding it to an Asian salad come lunch time. The peanut butter has a good kick to it but the chilli flavours aren't overpowering and the peanut taste still comes through. When you smell this nut butter it doesn't smell of chilli at all, it's just a creamy peanutty smell that really comes out of it. I would definitely recommend this nut butter for any chilli lovers looking for a nut butter with a bit of a twist.
The Wild natural peanut butter and fiery chilli is £2.39 and is available from Holland & Barrett here.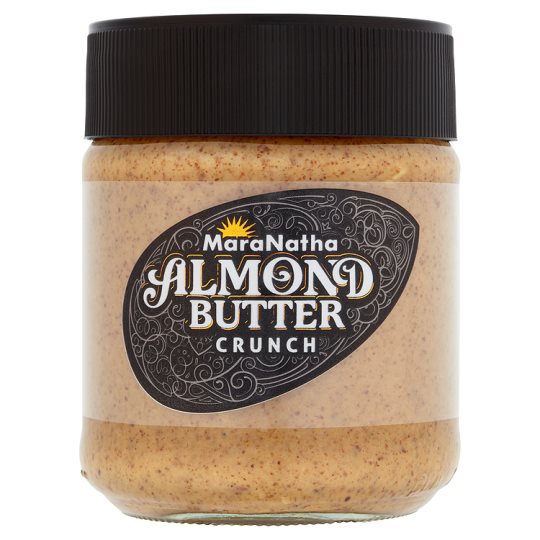 Almond butter is a delicious and filling breakfast that is packed with protein. Creamy but with a thick crunchy texture at the same time, this butter tastes incredible. The oils in the butter don't separate so you don't have to stir the butter, it's good to eat straight away. I love that there are no trans fats, hydrogenated oils or preservatives in MaraNatha's nut butter but I was a bit worried about the fact it is made with palm oil. Palm oil can be a cause of concern as it's become one of the biggest destructive forces of our rainforests. There is no stamp of approval on the jar to say MaraNatha's butter is from a sustainable source so I contacted the company for some more info. They said that while their straight forward Palm oil is certified as sustainable there might be ingredients within their products that use derivatives of palm oil and these might not be sustainably sourced, which is a shame. But ethics aside, this is one yummy nut butter.
Maranatha Almond Butter is available for £2.49 from Tesco here.
MORE: Biona Cruchy Almond Butter and Organic Cashewnut Butter
Read more
6 healthy snacks under 100 calories
5 easy grain bowl recipes for comfort food without guilt