Seen that video of a sweaty Chris Hemsworth and his equally hot trainer working out? Well, we've exclusively interviewed that trainer, Luke Zocchi to get workout tips (because it's his workout we want, really). By George, we're good to you
If you haven't already seen Chris Hemsworth's latest workout video montage, stop, and feast your eyes upon the sweat-drenched hottie in action:
The 33 year old Aussie has jumped right back into hardcore training mode in preparation for his next blockbuster Thor: Ragnarok. The video shows him working out alongside his trainer Luke Zocchi, with cardio, bicep curls, ankorr harness, bear crawls and push ups – we feel exhausted just watching the 30 second clip. He's no stranger to playing a hench masculine role – Marvel gladiator superhero, huntsman, sailor, the list goes on-  all of which require serious hard work to look as incredible as he does.
But his brothers, Liam and Luke Hemsworth, are hot on his heels, competing for movie roles, muscle gains, and 'World's Sexiest Man' titles. The trio all started their careers in Australia soaps such as Neighbours, and have climbed the ladder to become iconic world heart throbs.
At age 36, Luke is the eldest brother, often throwing shade or poking fun at his younger brothers' workout efforts. He is starring in Westworld alongside Thandie Newton.
MORE: Celebrity trainer secrets: we trained with Thandie Newton's PT – see what happened
Chris, 33, is reprising his roles in Thor, Star Trek and Avengers in the next couple of years. And Liam, the youngest of the three aged 27, is most recognised for his role in The Hunger Games film series. Oh, and being on-off engaged to the wild Miley Cyrus. He is also vegan, telling Men's Fitness he found 'no negatives to eating like this. I feel nothing but positive, mentally and physically'.
MORE: Celebrity trainer secrets: Harley Pasternak, personal trainer to Ariana Grande, Amy Schumer and LOTS of other A-listers
Liam and Miley met on the set of The Last Song
The demands of their roles mean the brothers have seen a lot of drastic body changes, going through transformations since their first onscreen appearances as young surfers on Australian sand. Chris was required to put on 20 pounds of muscle for his first appearance as Thor in 2011, and then drop 30 pounds for In The Heart of the Sea in 2015.
For all the brothers, their go-to celebrity trainer is friend and 'world's best trainer', according to Chris, Luke Zocchi. The siblings enjoy low-key trips to Malibu or Melbourne beaches to surf, but in the gym, they've been pushed to their limits by Luke, a fellow Aussie with a huge Instagram following and nearly a decade in the fitness business.
heir go-to celebrity trainer is friend and 'world's best trainer', according to Chris, Luke Zocchi.
Even the rest of the family have jumped on board with the Zoco Body Pro method. The gorgeous actress Elsa Pataky, wife to Chris, flaunts her carved figure on the red carpet as well as raising their three young children, and starring in films such as Fast and Furious. At age 40, we are totally in awe of the Spanish born's goddess-ness and may fancy her more than Chris…
So, we caught up with the celebrity trainer Luke, whose personality on social media is like Australia's very own Joe Wicks, to find out his best health tips.
MORE: Celebrity trainer secrets: Hollywood BFFs Michelle Williams and Busy Philipps dance guru Lauren Kleban
Training a celebrity – in Luke's words
'I am currently training Chris Hemsworth and Elsa Pataky, and in the past have trained Liam and Luke Hemsworth, Kate Blanchett, Bobby Holland Hanton and Tiaka Waititi,' says Luke.
'How hard I push and train celebrities depends on the role that they are playing and what look we are trying to achieve. Getting Chris ready for a Marvel film like Avengers or Thor we train up to 6 days a week, doing 1 hour sessions and we are pushing pretty hard.'
Q. Is a celebrity body achievable and if so, how?
'Everybody is different but I think everyone can get into great shape. The three main factors are training, diet and rest. You have to have these three key elements dialled in to get into great shape.'
Q. What is your most reliable go-to type of exercise for all round fitness?
The best fat busting exercises would have to be doing HIIT treadmill sprints,
'My go to exercises for all round fitness are body weight exercises that are all compound movements. You recruit multiple muscle in the one movement like squats, lunges, bear crawls, chin ups, push ups and dips.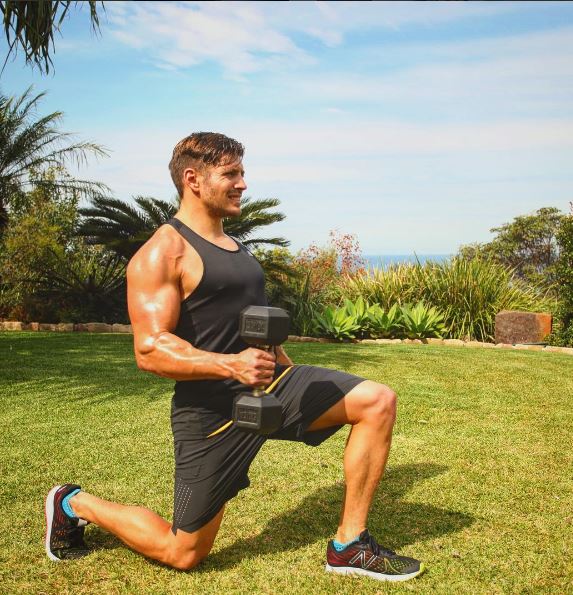 'In my opinion, the best fat busting exercises would have to be doing HIIT treadmill sprints, where the treadmill is off and you sprint as hard as you can for 30 seconds and rest for 30 repeat 20 times. That is always punchy for burning fat. For strength training, it has to be deadlifts. You recruit so many muscles in your body with just one exercise. It's sound so simple, but it is a hard exercise to do – picking up a dead weight from the floor.'
the best fat busting exercises would have to be doing HIIT treadmill sprints, where the treadmill is off and you sprint as hard as you can for 30 seconds and rest for 30 repeat 20 times
MORE: A lister trainer secrets: Emma Stone's personal trainer Jason Walsh swears by these workout moves
Q. What ratio of cardio-weights do you advise?
'This is a tricky one to answer. It all comes down to your goals and the individual. I do at least 2-3 cardio sessions a week.'
Q. What would be the one tip you use to keep clients, or yourself, motivated to continue a workout?
'I just tell myself and my clients the results will speak for themselves, you only get out what you put in.'
A celebrity trainer's diet
'I try to eat as organic as possible with a balanced diet of proteins carbs and fats. My protein portion is normally the same each meal. I gauge my carb intake on my training and I try to eat vegetables or salad every meal.'
Luke regularly shares his recipes on Instagram
Q. What's your best diet tip?
I love pizza and Parma ham
The best diet tip I could give is to eat real foods stay away from processed foods and eat a well-balanced diet.
Q. Favourite cheat meal?
My cheat meal would have to be pizza or a chicken Parma, I love them! I would have at least one cheat meal a week sometimes two.
Q. What do most of us get wrong when we aren't seeing results?
I think most people are a little impatient and don't stick to a program long enough for it to work. Then they chop and change what they are doing and just go around in circles. Remember, consistency is the key. Commit to something and be honest with yourself then you will see the results!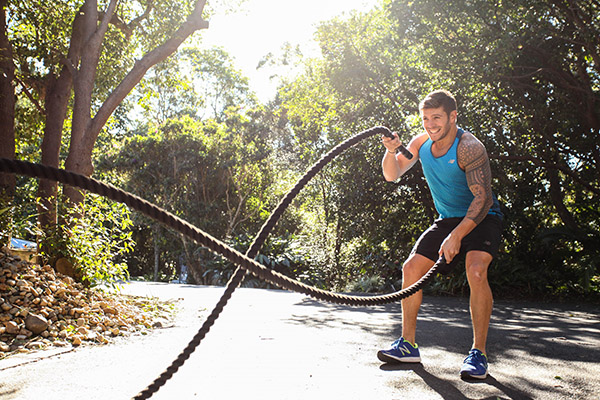 READ MORE
Celebrity trainer secrets: Adele's personal trainer Pete Geracimo's top tips on keeping fit
Celebrity trainer secrets: 50 Shades Darker trainer reveals how Dakota Johnson and Jamie Dornan prepped for their steamy sex scenes
Celebrity trainer secrets: Tips from Ashley Borden who has trained Ryan Gosling and Mandy Moore
A-lister trainer secrets: Kerry Washington's Pilates teacher Julie Turner on how she pushes celebs