Thandie Newton has said she finds acting naked empowering, and with killer abs, it's no surpise. Her personal trainer, Liston Wingate-Denys, takes Healthista's Vanessa Chalmers through a workout whilst giving his best health and diet tips
Thandie Newton is one of Healthista's big crushes. Not only is she a fantastic actress, currently starring in two major series Westworld and Line of Duty, but a women's rights campaigner, feminist, cares about the environment (she's vegan), and a yogi. A look on her Instagram and you'll be flooded by her posts about other women and messages of empowerment.
She revealed in an interview this week that she prefers acting naked than wearing her busty corset style costume in Westworld, for which she plays Maeve, a sex worker. 'I was more comfortable naked because the costume was the most potent objectification of a woman, with the boobs pushed right up, the tiny waist', she said in a conversation with Us Weekly. 'It's an invitation for sex. The fishnet tights, the little heels with the laces…It's all about sensuality. It's about eroticism. It's about, 'Look, but don't touch.' It's all there to make the invitation for sex as provocative as possible and then the promise of satisfaction is practically just there.'
Naked, I have all the power because I got there before you did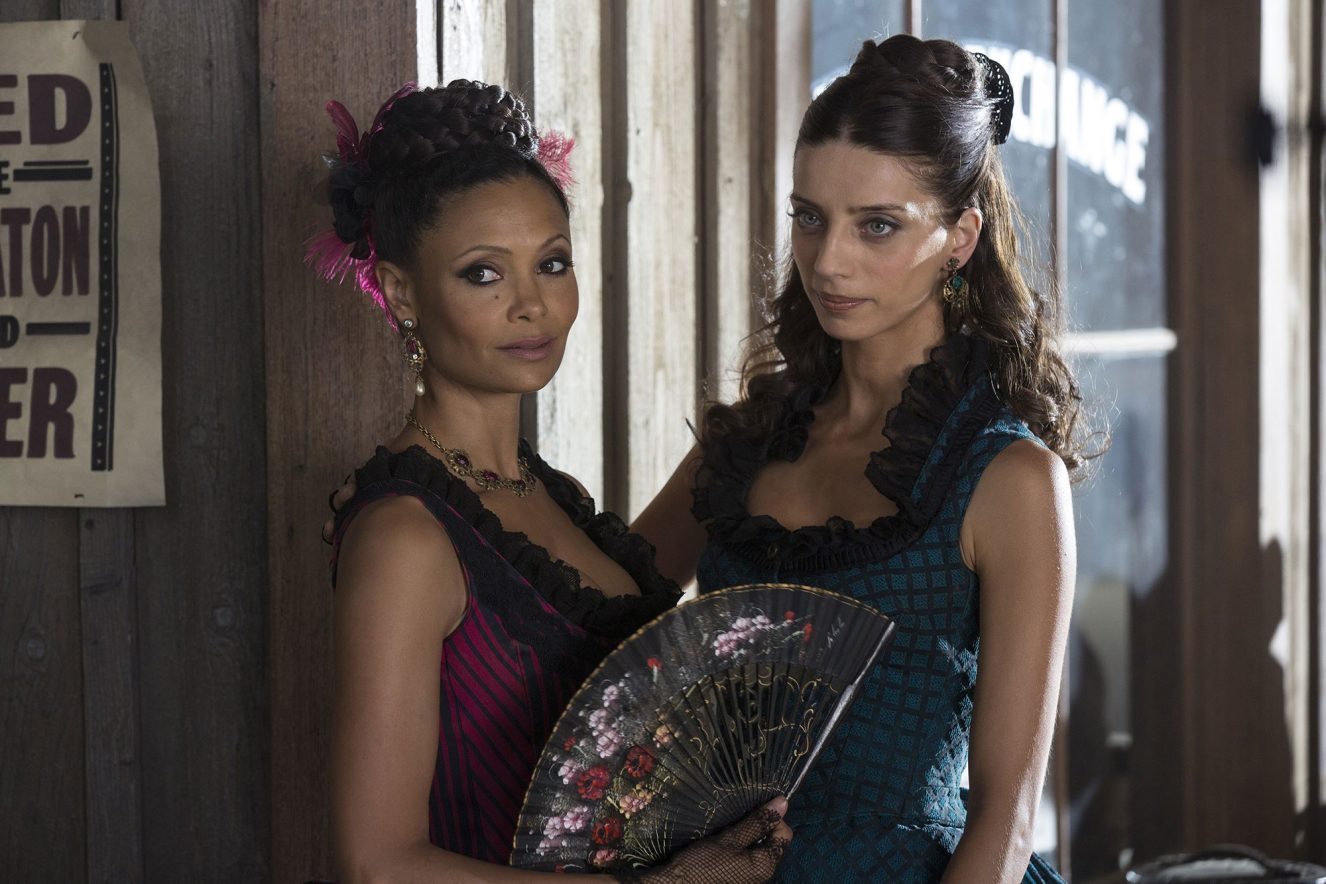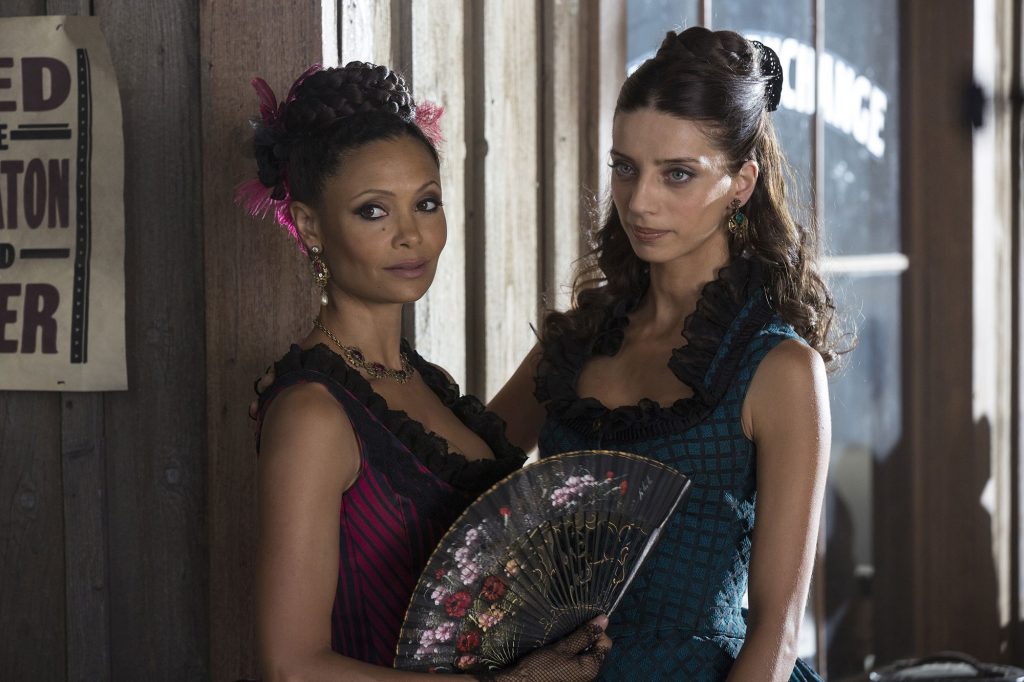 This isn't the first time the 44 year old mother of two has spoken about her on set nudity. 'When I was naked, people were really respectful and in awe of my "bravery"', she said in an interview with Collider. 'The thing about sexy, lacy undies is that you're covering up the sacred stuff, so that you can forget about that. You're inviting people to think about what's underneath, but not see what's underneath. It's the allure of the unknown… But naked, I have all the power because I got there before you did, and what is actually there is vulnerable, life-giving and hasn't been tampered with'.
MORE: 8 ways to look powerful (even when you don't feel it)
The British actress has said some of her character's most emotional moments came when she was unclothed, and it was a welcome break from the usual raunchy TV fare. 'We associate nudity with sex', she told Daily Beast. 'Not with vulnerability. Not with tenderness'.
Stepping out in the limelight baring all is incredibly brave, and although Thandie is genetically gifted with a lean figure (and have you seen her flawless skin?), she does practise Bikram and Jivamukti Yoga. 'You sweat such a huge amount as the room is heated to a high temperature', she told The Times. 'And because your muscles stretch further in the heat, you end up getting rid of more toxins'.
I met with Thandie's trainer Liston for a session worthy of a Hollywood star
Thandie Newton's trainer
To shape up for a role, she sees her celebrity trainer, Liston Wingate-Denys, who has trained a variety of celebrities for big movie roles. She told Hello: 'He will bring out some tube or piece of equipment and I'll think: "What on earth are we going to do with that?" Next day, a muscle I didn't know I had will be aching'.
I can vouch for that; I met with Thandie's trainer Liston for a session worthy of a Hollywood star. Hidden away on the top floor St Charles Hospital in London is a small modest gym, Hybrid Wellbeing, where Thandie escapes during her London stays to work a sweat with Liston. Whilst inbetween squat jumps and push-ups (and tears… just kidding), I asked Liston about how he trains his celebrity clients and his best health advice.
MORE: 11 best Golden Globe bodies on the red carpet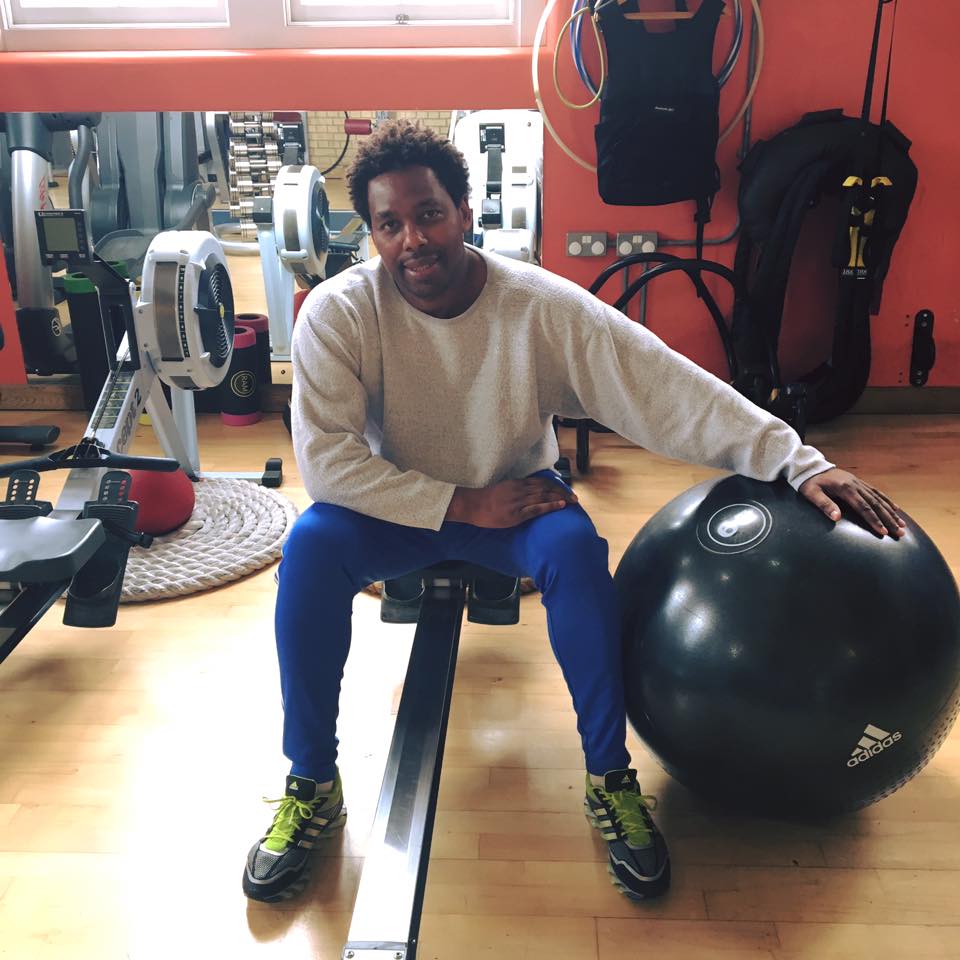 Training a celebrity
Q. How do you normally train with a celebrity?
When a script or film is written, they have already got an image in their head of what that character or person looks like. They cast an actor and then they may request for them to change their appearance. There might be a role where an actor must take their clothes off so they need to look good. The majority of film studio requests are for them to look aesthetically pleasing. It's their job and they are dedicated to it, and a lot of them know their bodies very well. I take my hat off to those who do it.
The problem with weight is once you start yo-yoing it's difficult to control
A lot of people think that it's always about weight loss. But I've had clients who have been asked by a film studio to be heavier or look 'unwell'. I don't like doing that and I will ask them to give them a fat suit. I don't think there is a way of doing it healthily.
The problem with weight is once you start yo-yoing it's difficult to control, and actors and actresses can get into that for the sake of roles. Then you have pressure from the media, commenting on how they look in a bikini. These are not hidden factors anymore; these are factors that are broadcasted worldwide.
Q. How do you train with Thandie?
Her routines vary; she combines the routines we do, involving strength training, self-defense, light weights and stretching, with her yoga. We normally train two or three times a week when she is in London, but it's tricky – celebrities are always working, and they don't have much time. I might see her twice in one day, or some weeks we book five sessions, but she may cancel a couple of times and do things on her own.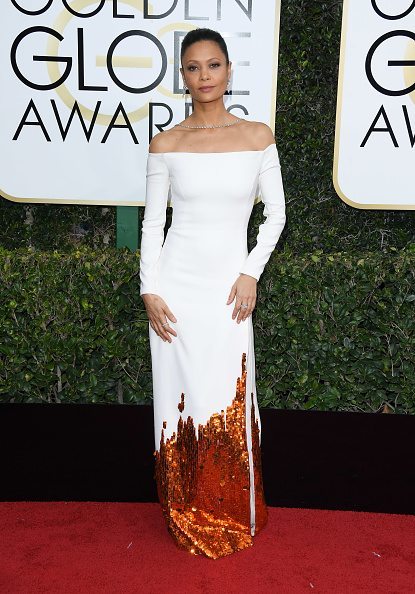 She's already got a brilliant physique, and she knows her body really, really well. She is genetically gifted, and has a dance background. I normally go for general fitness with her and toning. She isn't looking for muscle mass and she hasn't got the right frame for that.
Q. How long are your sessions with celebrities?
Actors spend more time training than learning their lines
Primarily my sessions are an hour or an hour and a half. Two hours with me is too much! You find these days now; actors spend more time training now than they do learning their lines. That's not to say they aren't good actors, of course they are. But we live in a world that is so aesthetically pleasing, you might find that individual is in the gym four-five hours a day. Sometimes they might do a morning and come back in the afternoon. Some do three-four times a week. It depends on how quick they have been told to get into a shape. Sometimes they are cast as something, and told they have six weeks to get there and they need to get a move on. So, a lot of them try and keep fit when they're not working, just in case something comes up they are prepared and ready to go.
Q. Is a celebrity body achievable?
Yes, but what you must bear in mind is that a 'celebrity' has the time, money, and back up to get them from A to B. If you're John Smith who works 9-5 and has only got an hour to work out, that achievability, it can be done, but it will be a very long process.
MORE: Celebrity trainer secrets: Harley Pasternak, personal trainer to Ariana Grande, Amy Schumer and LOTS of other A-listers
A celebrity trainers diet advice
I love Victoria sponge cake
I don't like the word diet – even the first three letters spell 'die'. It has to be a lifestyle change. There is no quick fix or no magic wand. You must eat sensibly. I prefer four-five small portions a day. Try not to eat after 7.30pm, and there is a reason why. It's not just carbs either. That food just sits there and an accumulation of not doing anything at all and sitting in front of the TV eating; well we all know what the outcome of that will be. Also, drink plenty of water.
Q. Do you have a cheat meal?
I do love M&S Victoria sponge cake. I tend to buy it on a Saturday and I'll try and keep it alive till the following Saturday, as opposed to stuffing it in my face!
Q. Are there foods you advise to limit or eat more of?
What we should be paying attention to is what we shouldn't be eating which is processed and sugary stuff (like my Victoria sponge cake). I think now, most people know what they shouldn't be eating. I always say plenty of water and greens. If you start giving people diet sheets, what tends to happen is they stick for it for a week or two and that's it.
I had a client and it took her close to four years to lose three and a half stone. It was a long process, and it shouldn't be done quickly. If you're losing a stone in a month, I can guarantee you will put it back on. You have to do it bit by bit – it's a case of losing the weights and keeping it off.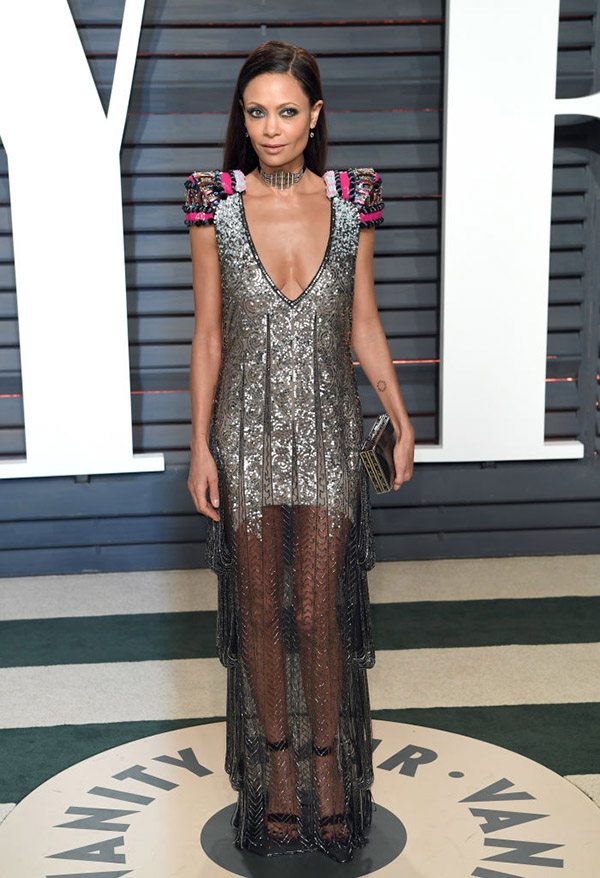 Q. What is your favourite fat busting exercise?
It's a combination of things. True fat burning is a combination of rowing and running or rowing and brisk walking. Anything where you're having to use a couple of components or parts of the body to do the exercise.
Q. What is your favourite strength exercise?
Deadlifts and cleans. You're burning calories as well as gaining strength. There are fad things that people do to lose weight, but I prefer traditional, several no-fuss exercises.
MORE: A lister trainer secrets: Emma Stone's personal trainer Jason Walsh swears by these workout moves
Working out with Liston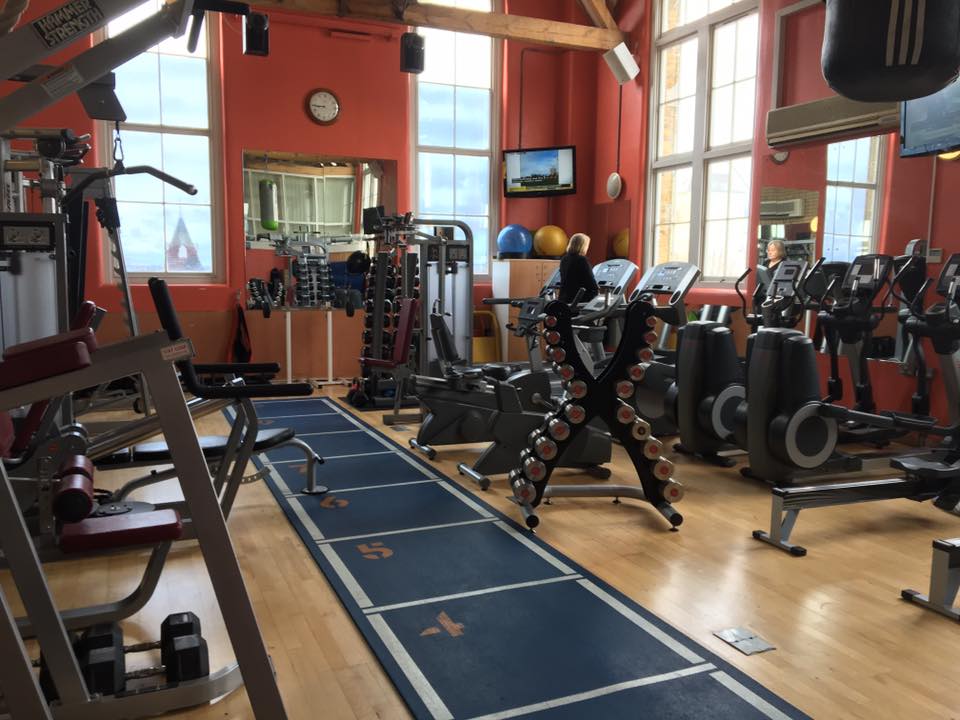 Liston took me through the exact process he takes his new clients through so I can do a workout worthy of a celebrity status. First, he takes detailed measurements using what looks like old fashioned equipment – none of the fancy body composition tests or digital technology. Simply measuring tape, scales and some strange looking tools.
MORE: Celebrity trainer secrets: Supermodel Jourdan Dunn's workout plus tips from her PT brother Antoine
He used a skinfold caliper to measure my body fat, a handheld device which pinches the skin. He pinches my bicep, tricep, subscapular (beneath the edge of the shoulder blade), and suprailiac (near the hip bone). From this, he finds that I carry most of my body fat on the rear of my body (bottom, back and thighs), which I was very shocked about – I guess I wouldn't know considering I never see myself from behind!
He also uses a peak flow test, normally used for people with asthma. This gives Liston an indication of people's lung capacity. From a previous smoking habit, mine is embarrassingly bad.
Liston uses the data to put together an hour workout with me:
Three sets of 25 jump squats using TRX bands. Landing lightly on the feet is more effective than thumping down onto the floor.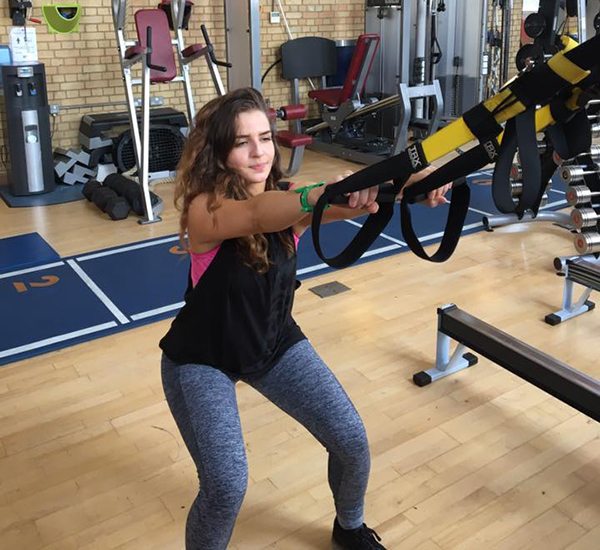 Three sets of a one minute squat hold on the Galileo machine. This is a vibrating platform which moves quickly from side to side. It overworks the muscles, by physiologically simulating the action of running or walking. The alternating force on the legs also engages the back muscles. After one minute, you have tears in your eyes!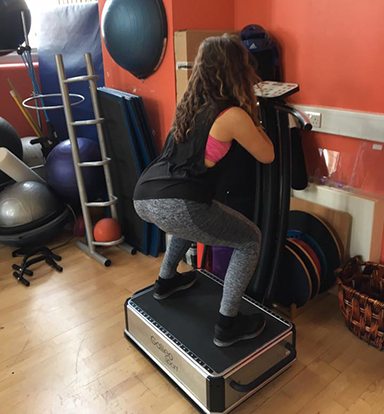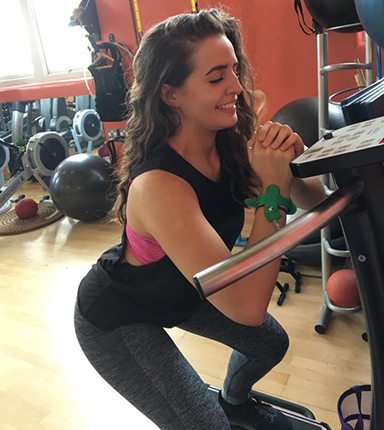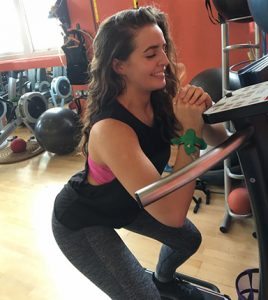 Three sets of 25 high kicks on each leg hitting a pad on Liston's hand.
Boxing – as long as I could go for as Liston called combinations.
Three sets of 25 side steps into side lunges over a Bosu balance ball (below) touching the floor on each side. Liston put kettle bells either side of my feet to touch to make sure I was lunging low enough touch one.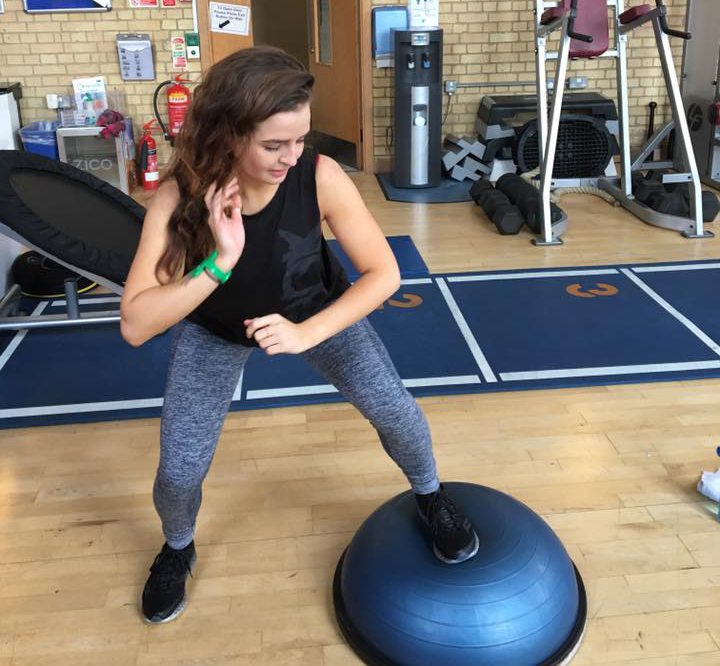 Three sets of 15 press ups using the Bosu ball. Hands flat on the ball, shoulder width apart, knees on the floor.
Three sets of 15 'get-ups'. This is sitting on the Bosu ball, getting back up, and jumping, trying not to put your hands on the floor. It is more work than you first anticipate, especially as it is so slow.
Three sets of 25 tricep dips. I tried to wriggle my way into doing only 15 per set, but Liston was having none of it. I clearly need to work the places that are weakest.
Three sets of 15 chest presses on the machine. By the third set, Liston counted in 5's, rather than up to 15. This psychologically helped me reach the end.
Three sets of 25 reverse crunches.
Three sets of 25 crunches with legs in the air.
Three sets of 25 rocking-chair type sit ups – starting with lying on the floor feet in a right angle then sit up without toes touching the floor.  This absolutely finished me.
Q. Lastly, I ask Liston, if people are not seeing results, what are they doing wrong?
Some people want results immediately, but it's not going to happen
Anyone can lose weight, but its sustaining that weight loss that's the challenge. There are a couple of things people might be getting wrong. Either they are not doing the exercise or they need to change whatever exercise they are doing. It's quite a difficult line to draw with results, because some people want results immediately, but again, that's not going to happen.
You have to put the work in. sometimes you won't see anything for up to five weeks. It's important you don't make the mistake of saying, 'I've been doing this for two weeks and haven't seen anything, it doesn't make sense'. You have to put the work in, because the more work you do, the better results will become. It takes 110 per cent, and if you don't have that commitment you need to ask yourself, 'is this what I really want?'. You get out what you put in, and if that's only 60 or 70 per cent, sticking to old habits, then you may be asking yourself why there is no change.
Is there a celebrity you would love to know how they work out? Let us know by tweeting us at @HealthistaTV!
READ MORE
Celebrity trainer secrets: Adele's personal trainer Pete Geracimo's top tips on keeping fit
Celebrity trainer secrets: 50 Shades Darker trainer reveals how Dakota Johnson and Jamie Dornan prepped for their steamy sex scenes
Celebrity trainer secrets: Tips from Ashley Borden who has trained Ryan Gosling and Mandy Moore
A-lister trainer secrets: Kerry Washington's Pilates teacher Julie Turner on how she pushes celebs
Like this article? Sign up to our newsletter to get more articles like this delivered straight to your inbox.