The Golden Globes 2017 took place last night and we are spending the morning in awe of the red carpet's glam ladies. We've rounded up some of the best Golden Globe bodies and found out the celebrity trainers, workouts and insider secrets on how they were achieved…
1. EMMA STONE:
'I have a deep-seated rage when I'm holding heavy weights over my head'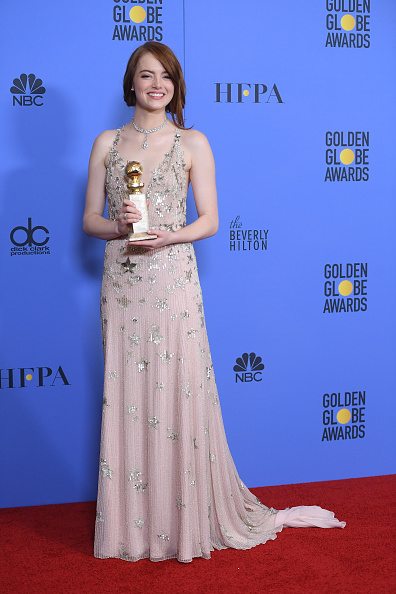 La La Land stole the show last night, picking up seven awards. Emma a beautiful redhead who's naturally blonde, won Best Actress in a Musical, and has before expressed her dislike for the gym. For her role in The Amazing Spiderman the 28-year-old worked with personal trainer Armando Alarcon, who reportedly made her do a combination of rock climbing and Pilates.
I haven't worked out for a month and I'm proud of it
But asides from shaping up for a certain role, Emma is relaxed about her fitness regime. 'I discovered I have deep-seated rage when I'm holding heavy weights over my head', Emma told S Magazine. 'Whatever dormant anger I have in me, that's where it comes out. That's not the kind of working out I want to do… I'm usually a pretty peaceful person, but for some reason when I get in the gym something bubbles up in me.' Emma added swimming, walking, and sleep is her regime. Or, as she confessed to US Weekly, she won't work out for a month and she's proud of it!
Emma, like Jessica Chastain, enjoys treats with on-set catering and put on a few pounds during filming of The Help. She has previously admitted to having 'body issues' but told Glamour: 'I definitely am not restrictive. You are a human being, you live once and life is wonderful, so eat the damn red velvet cupcake.' Put it there sistah.
I can only use products with a single ingredient
Her flawless fair skin is down to nothing less than some natural ingredients. With sensitive skin, Emma told Cosmopolitan: 'I'm really allergic to a lot of stuff, so I can only use products with a single ingredient in it. I use Burt's Bees Sensitive Facial Cleanser, and sometimes I exfoliate with baking soda or brown sugar. I like experimenting. I love coconut oil, Josie Maran 100% Pure Argan Oil, and olive oil—I have a big bottle of it on my sink and I put it all over my face and smell like focaccia…and it's really sexy.'
2. Tracee Ellis Ross:
'I love my Tracy Anderson family'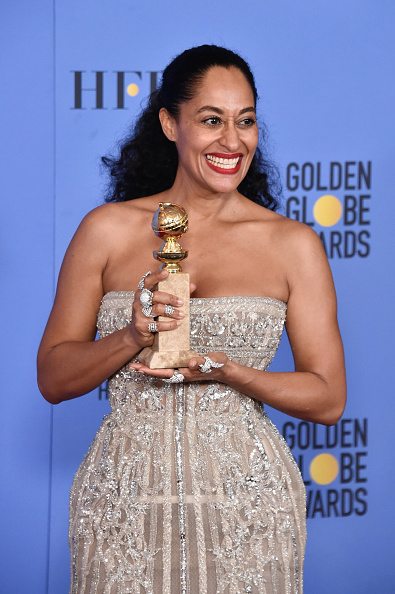 Tracee, 44, isn't afraid to show some sweaty snaps on her Instagram. The actress, who is the first black woman to win a Golden Globe for Best Actress in a TV Comedy in 35 Years for her performance in Black-ish, is a huge fan of the Tracy Anderson Method. Tracy Anderson's is an A-list celebrity herself, known simply for her success in sculpting women's bodies worldwide, with more than 160 workout DVDs (which Meghan Markle uses), books, delivery food plan, and four studios in the US. Here is where you can often find Tracee, working out with pals and looking incredible.
https://www.instagram.com/p/49dJw_mRnj/
Look at those abs…
She told SELF: 'I get my 3-4 workouts in a week, which seems impossible with my schedule, but I always work out on Saturday and Sunday. And then I do at least one during the week.
'It's not about a weight on a scale or which jeans are fitting me. It's sort of like, 'How am I feeling the most energized and passionate about my life?' That's when I feel good. So I get my eight hours of sleep to the best of my ability. It's not the easiest thing in the world. I get my eight hours of sleep whenever I can, how I can. I love taking baths. I love cooking for myself. I am a big eater. I'm not a starve-yourself girl. I do eat, but I try to eat really well. I love sugar, but when I'm working, sugar isn't great'.
It's not easy to get a spot in Tracy Anderson's classes, and not possible if you live in London. Tracy has shared many of her expert tips over her 15 plus years of experience, and here, you can get a week long free video workout from the dance-cardio queen on Well+Good.
3. MANDY MOORE: 
'Everything in moderation, including moderation'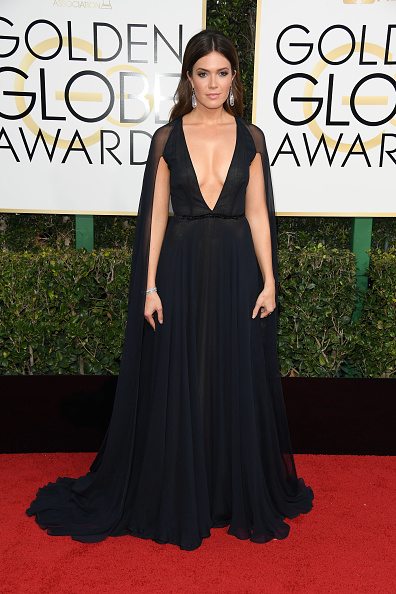 Mandy looked incredible last night, wearing a sheer plungline black dress. The 32-year-old was nominated for Best Actress in a Series for TV. Mandy has a philosophy which she has shared more than once, which is 'everything in moderation, including moderation'. She also cannot live without her eyelash extensions, telling Byrdie they are one of her 'favourite things'.
I had never done hot yoga before but now I get why people are obsessed
For her toned figure, Mandy likes to get outdoors and hike, sometimes at retreats, or do anything with a group mentality. 'I'm also the type of person who does better in a class situation because at least there's some accountability', she told Byrdie. 'I'll cycle or I'll do a Barry's [Bootcamp]', which is a tough US workout, available in London too. Experimental with her workouts, Mandy told Refinery, 'I have been doing SoulCycle and I just started hot yoga a few months ago. I had never done hot yoga before but now I get why people are obsessed. And, there is this new thing called Rise Movement that is amazing and really challenging that I just started. I'd never done a climber machine. The classes are only 30 minutes and you come out just dripping in sweat'.
Previously, Mandy has worked with Ashley Borden, a personal trainer to LA stars and in the list of 100 top influences in health and fitness. We spoke with Ashley to get some tips for an A-lister bod, which includes a technique rolling out. 'Consistency with rolling out is one of the most effective ways to improve the appearance and function of your body', Ashley tells Healthista. 'Rolling out warms up the muscles and increases flexibility by breaking down adhesions between muscle fibers and allowing more blood to pump through your body, thereby increasing your metabolic rate'. You can learn how to on Ashley's website.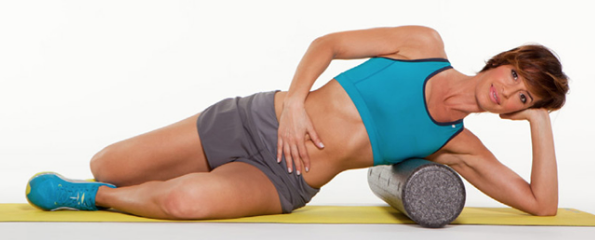 Despite finding inspiration from the likes of Mandy Moore's body, Ashley has some advice for everyday people: 'Celebrities are made of the same DNA as we are. I have the mindset that wanting to look like anyone other than yourself is a huge waste of energy. Celebs can inspire you, but to try and look like someone is nuts to me. Focus on yourself and improve what's off balance.'
4. AMY ADAMS:
'I wasn't put on this earth to look good in a swimsuit'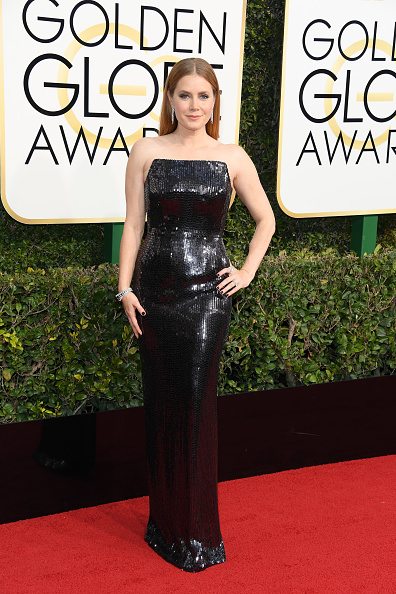 Amy Adams, nominee for Best Actress in a Motion Picture in Arrival, told Marie Claire she will do 'anything to get off that treadmill'. After recommendations from friends, Amy enlisted the help of actor turned trainer Shelia Kelley, founder of the S Factor. According to Kelley, the method, using the pole, floor moves, and erotic dancing, creates lean curves for the feminine figure, building muscle and strength in all the right places, and it is 'physical, spiritual, and emotional'. Amy has shown us her sexy side in previous roles such as Sydney in American Hustle, a role which she says made her feel more comfortable in her body, and the 42-year-old looked sensational at the awards last night.
Being pregnant finally helped me understand my true relationship with my body
Aside from her more intense workouts at Shelia Kelleys, Amy has been trained by Tracy Anderson and Jason Walsh, Hillary Duff's current boyfriend and trainer. She likes to switch up her workout, but doesn't give in to the body ideals and pressures of Hollywood; she told Allure magazine, 'Perfect isn't normal, nor is it interesting… Some of these actresses or public personas who are very public about their disciplined diets, more power to them. I just don't see the point.'
But she doesn't take her regime too seriously, particularly since she began motherhood in 2010. She told Parade: 'Being pregnant finally helped me understand my true relationship was with my body–meaning that it wasn't put on this earth to look good in a swimsuit'. We idolise her wisdom and self-confidence!
5. GINA RODRIGUEZ:
'Everyday I want to grow stronger' [with boxing]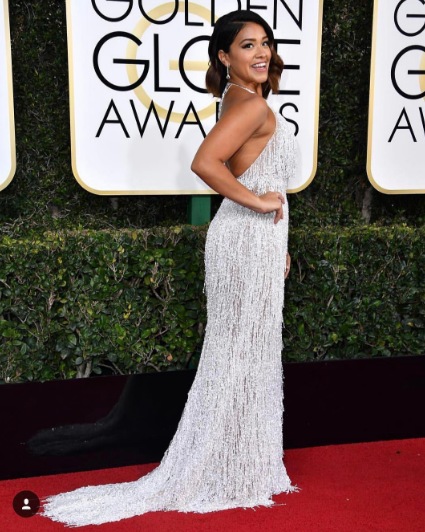 Gina is a passionate boxer, inspired by her professional referee father. She recently shared a photo on Instagram of her practicing Muay Thai, a combat sport in Thailand. In the caption she wrote 'I went full force into training and it wasn't comfortable or easy but discipline never is and life never is. Everyday I want to grow stronger'.
https://www.instagram.com/p/BOU8sDigSvU/?taken-by=hereisgina
Gina, nominated for Best Actress in a Musical or Comedy TV Series, needs to take control of her health and wellbeing with extra precaution, as she has Hashimoto disease and hypothyroidism. The former is an autoimmune disorder, in which the immune system attacks the thyroid gland. The latter affects the thyroid gland in that it doesn't produce enough of the hormones that help regulate weight, energy, and mood. Gina shared with Health that she follows a gluten-free diet to help which can often be 'the most difficult thing in the world'.
The 32-year-old also keeps active with running, boxing, and jump rope, and dropping a squat now and again on set. While training for marathons, Gina told Health she needs soft music such as Sam Smith and Jessie Ware to keep her going. She said 'I will literally be running and sobbing… It's totally an emotional journey'.
6. JESSICA CHASTAIN
'I used to think about dieting but I'm vegan now'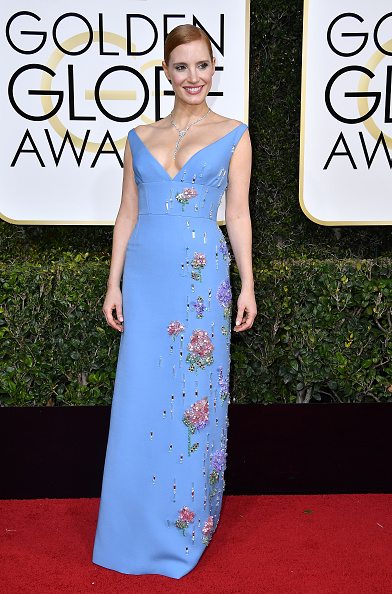 Jessica, nominated for Best Actress in a Motion Picture for her performance as Miss Sloane, was reported by Rolling Stone to wake at 5.30am for a workout during filming, getting just 4 hours sleep. In the rise of her fame, she said: 'I'm not going to be the girl with the private yoga instructor at my house. I don't want anyone to think, 'Oh, she's famous, she's different than me'. She also told New York Times, 'I'm not the girl who goes to spinning class'. Jessica prefers to do Power yoga, which became popular as a more vigorous and fitness-based approach to yoga, whilst still being calming.
I'm not the girl who goes to spinning classes
So how does Jessica Chastain look so fabulous? 'I used to think about dieting', Jessica told the New York Times, 'but I'm vegan now, so it's not really a problem'. Jessica has been a vegan for her love of animals for the past 10 years, and was previously a pescetarian for 15 years. Her mother is a vegan chef, and in 2012 Jessica gave her mother a food truck on her birthday. She joked on TV show Ellen Degeneres, also vegan, 'It's called Seed On The Go and it's very, very exciting. She used to have a restaurant and now she's more mobile'. In the summer, she shared an Instagram of a vegan restaurant she had found in Paris, eager to seek out and share ideas with the vegan community.
https://www.instagram.com/p/BHZsuVNDuPQ/?taken-by=jessicachastain&hl=en
Despite her current slim figure, like many actors, Jessica has had to lose and gain pounds for roles in the past. She had to gain 15 pounds (a stone) for 2011 film The Help, and told E! how: 'I had to be soft and curvy, so I ate a lot of soy. Soy helps you become curvy because it has oestrogen in it. So what I would do—and this is really gross—is buy cartons of soy ice scream, microwave it and drink it. It was disgusting, [but] wait till you see my boobs in the movie…. It was like a form of torture because you put on all this weight and then you're in the South where it's really hot and muggy and you're putting on girdles to suck you in. We drank moonshine and had huge dance parties. I ate a lot of fried food'.
7. KERRY WASHINGTON:
'With Pilates I get to bring my true self'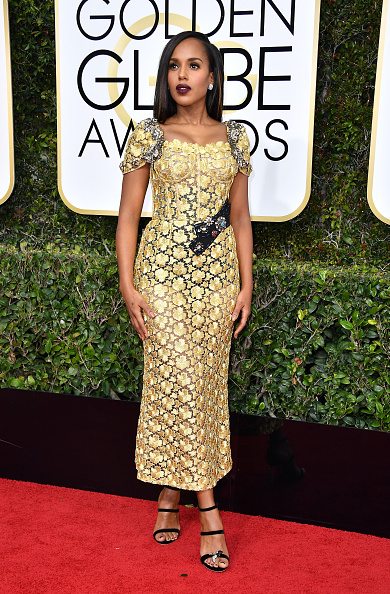 Kerry, 39, was a golden vision last night, just over three months after the birth of her second child.
The secret to Kerry Washington's svelte shape is Pilates, practicing at least two to six sessions a week for the past five years with her trainer Julie Turner. In an interview with SELF, she explained how Pilates allows her to push herself out of her comfort zone whilst taking care of herself, adding: 'There are a lot of forms of exercise where you have to leave yourself out of the room while you force yourself to do this thing. With Pilates, I get to bring my true self. I cry, I laugh. I get to go: Where is my body today? What do I need today?'
If I don't workout for three days I feel worse, not better
Kerry often gets up in the early hours to fit in a workout at 6:30 a.m. so she can get back home to children and husband, NFL star Nnamdi Asomugha, at a decent time. She rarely misses a workout in order to feel good, and said 'It's important to have rest days. But in the long run, if I don't work out for, like, three days, I feel worse, not better'.
https://www.instagram.com/p/BKjA5_4ha5H/?taken-by=kerrywashington&hl=en
Kerry looking glowing before giving birth to her second child in October
Her previous trainer, Nonna Gleyzer, told Shape Kerry is an extremely healthy eater. 'She eats a lot of vegan products, with little clean meals throughout the day. I know she also loves coconut water, which gives her potassium and important electrolytes. She focuses on lean proteins and veggies'.
In the past, Kerry has discussed her struggle with an eating disorder when she was in college. Suffering with bulimia, she told Essence in 2007, 'I used food as a way to cope. There was a lot of guilt and a lot of shame'. Kerry would binge on unhealthy foods, sometimes until she had passed out, and then exercise excessively. This led her to feeling isolated, and eventually she sought therapy. 'I also see a nutritionist and I meditate. Learning how to love myself and my body is a lifelong process', she said.
8. THANDIE NEWTON:
'You sweat a huge amount in Bikram yoga'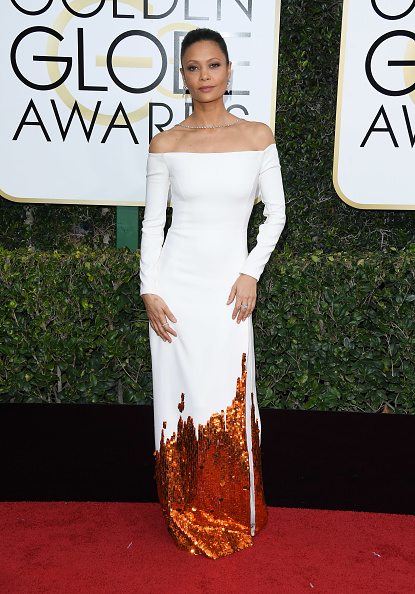 English actress Thandie Newton joked on Twitter about being dressed as a Quality Street, and she sure looks sweet! One of the secrets to her glowing skin, at the age of 44, is turmeric. She told Hello that she adds it to Olay tinted moisturiser to add a more yellow colour; 'That's a great trick for all women who find that foundations are too ashy or too pink for their skins. And it's anti-inflammatory. It's my secret weapon', she said.
Tumeric is anti-inflammatory
Thandie is a trained dancer, but is a practitioner of Bikram Yoga. 'You sweat such a huge amount as the room is heated to a high temperature', she told The Times. 'And because your muscles stretch further in the heat, you end up getting rid of more toxins'.  She also does Jivamukti yoga to keep her supple and focused, and to shape up for a role, she sees her trainer, Liston Wingate-Denys. She told Hello: 'He will bring out some tube or piece of equipment and I'll think: "What on earth are we going to do with that?" Next day, a muscle I didn't know I had will be aching'.
Thandie was a nominee for Best Actress in a Supporting Role in a Series made for TV, for her role as sex worker Maeve in Westworld, in which she had to do a naked scene. She's an impassioned women's rights campaigner, and found being naked more empowering than wearing her costume corset. She told Collider: 'I couldn't wait to get out of that f*****g corset. It invited looks, even from the crew. When I was naked, people were really respectful and in awe of my "bravery".'
Thandie once suffered as a bulimic, describing herself to The Daily Mail as 'a car crash'. Now, she is vegan, and she is serious about her opinions on produce: 'It's all b******t!', she said. 'And pomegranates are everywhere. That's because they grow practically overnight and are sold for 500 per cent more than it costs to cultivate them. But they take water away from villages [in developing countries]. It's all about profit and it's going to destroy the planet.'
9. JULIA LOUIS-DREYFUS
'Heavy foundation just defines the lines you have'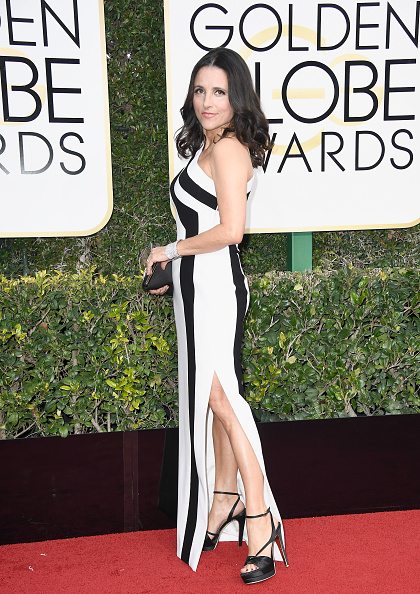 55-year-old Julia is killing it. She's one of those people who seems to get younger, with the help of her make-up artist Karen Kawahara. For a youthful look, Julia says less is more: 'I've found that a huge mistake you can easily make that ages you instantly is putting on heavy foundation. All it does is define the lines you have… Karen Kawahara goes light, light, light on my foundation. It's so key and your skin looks great', she told New Beauty.
When my husband and I started dating, we played tennis together…a lot. It was very romantic
The Veep actress, nominee for Best Actress in a Musical or Comedy TV Series, rely's on good sleep and exercise to keep her metabolism steady. 'When I don't have enough sleep, my metabolism goes crazy and my decision-making when it comes to good food choices is not the best', she reveals in an interview with Shape. 'If I go a few days without my fitness workouts, I always come back to it. I find I actually crave it. It makes a huge difference in terms of my metabolism and keeping my weight steady'. Julia shared that she enjoys hiking a few times a week, saying 'it's a physical escape as well as a mental one'. She enjoys cardio – a four mile run, or spin class – will multitask with an elliptical machine, and keep up her libido with activity: 'When my husband and I started dating, we played tennis together…a lot. It was very romantic', she told Shape.
Julia added tips from her diet, which, with moderation, keeps her 'sane'. A big fan of salads, Julia said: 'My current favorite is arugula with some Parmigiano-Reggiano and either olive oil and fresh lemon juice or a sesame-ginger vinaigrette… I buy organic foods whenever they're available and shop at my local farmers market whenever I can'. Despite her advocacy for healthy living, she does have a sweet tooth: 'I have a chocolate drawer in my desk where I keep treats at all times… It's important to give yourself a little of what you really want so you don't feel like you're in food prison', she told Shape.
Although her gorgeousness would invite plastic surgery skeptism, Julia said the 'whole idea scares me'. She told Vogue 'Look, aging is better than dying'.
10. NAOMIE HARRIS
'I went down the raw food route but got ill'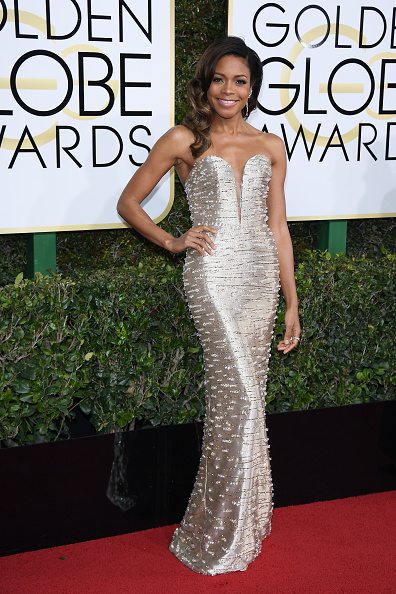 Naomie, 40, oozed elegance at the awards, nominated for Best Actress in a Supporting Role in Any Motion Picture. She originally found the role of a much older crack-addict mother Paula in Moonlight difficult to understand, as she doesn't drink, smoke, or have any addiction; 'I'm 'Miss Healthy,' the person who's saying, 'Let's keep everything under control here, guys'… I thought, How do I go from being me to understanding her?' she told Refinery. She does like to drink a little Bailey's at Christmas, but other than that, she told the Guardian, adding, 'I hate the taste and smell of it'.
Originally from North London, Naomie has admitted to being a little niave, although 'obsessed' with health, with an interesting journey. She told the Daily Mail 'I went down the raw-food diet route, but got ill. It was really hard, especially in Britain in winter, trying to survive on raw carrots. I became so ill and was anaemic, so I stopped that'.
https://www.instagram.com/p/BN8JSq5jQ9C/?taken-by=naomieharris&hl=en
Naomie is currently promoting her new film, Collateral Beauty
She gained the name 'the Modern Miss Moneypenny' for her starring role in Bond films Skyfall (2012), and Spectre (2015), which involved gruelling training beforehand. 'I was given a personal trainer who took me out five days a week doing kickboxing, circuit training, stunt training including driving and working with weapons', she told Women's Health. Before becoming a bond girl, Naomie admits to not being very fit, but now does gyrotonics – a mixture of yoga, reformer pilates and tai chi – to keep on top of her fitness levels. 'I have a gyrotonics machine at my home which takes up a whole room', she told the Independent.
I've had shepherd's pie for breakfast
Naomie told Women's health she steers clear of sugar and caffeine, and her breakfast is very different. She said: 'Everyone is always really weirded out by my breakfast… I don't see any difference between breakfast and lunch. So I will have the same for lunch as I'd have for breakfast – I've had Shepherd's pie in the morning. Or sometimes fried fish and vegetables… I went to Jamaica and it's exactly the same… So it's basically my roots! It's in my genes.'
11. FELICITY HUFFMANN
'I'd eat cheese all day long but I moderate myself'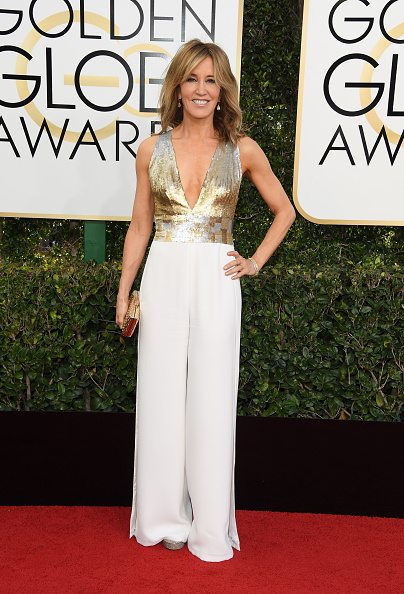 Felicity would have been turning heads at the Golden Globes last night, and you would never guess she is age 54 with that hot body. The nominee for Best Actress in a Limited Series or Motion Picture Made for TV has worked out with personal trainer Kristen Hultgreen for years, who compiled the $20 Workout. It includes a 60 minute total body workout for upper body, core and legs, with fun and effective series designed for women on the go. According to Felicity, 'It's a great 60 minute (sometimes 45 if I am cheating), inexpensive, total body workout, from the comfort of your bedroom or backyard, or both'.
Running is meditative
In 2012, Felicity launched her own website, 'What the Flicka', a forum for women and mothers to share advice, stories, tips and tricks, or workouts such as a 15 minute ab workout. 'After my second baby was born, I didn't have time to take a shower much less get to a gym', she has admitted.
According to the Mirror, Felicity has previously revealed running to be her favourite way to stay in shape. 'I'm really slow but I love it. It's like meditative. I sort of flop along, and my body parts sort of blob along behind me', she said. Along with her personal trainer, Felicity likes to work out with her husband, William H. Macy. 'We play tennis and go biking and hiking. I love the outdoors. We eat well and healthily – I insist on it. But I don't really have a diet no-no. I'd eat cheese all day long but I moderate myself'. We know the battle…
Like this article? Sign up to our newsletter to get more articles like this delivered straight to your inbox.