Who said ageing defies your beauty? Certainly not these three celebrities, proving 50 is the new 30
Ageing is something we as women have every right to fear. Although celebrities may have access to, lets face it, a little more help than the rest of us, their wisdom about ageing naturally is comforting. As real as us, they too have to face the onset of wrinkles, changing bodies and the biggie – society's expectations.
Whether it's natural or not, Cindy Crawford, Halle Berry and Elizabeth Hurley are all radiating in their 50s beyond what a plastic surgeon could achieve. Their latest beach-frolicking snaps across social show that ageing doesn't have to define your beauty or confidence. Here we pick out some wisdom from the top stars
Cindy Crawford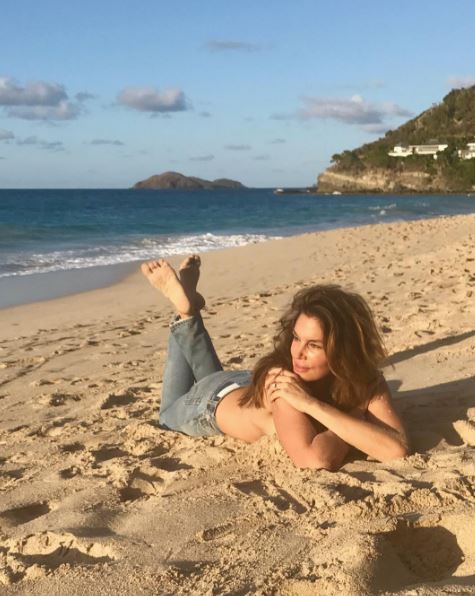 Cindy Crawford is just as much of a household name today as she was when she first started her modeling career in the 1980s. In just a pair of jeans, Cindy looked serene and stylish in her latest Instagram post, laying in the sand topless. And has her hair lost any of its voluminous locks? No.
Despite being adored by her Instagram fans, the 51 year old says being in the public eye, especially in a social-media crazy world, can be tough. 'I don't need everyone on Instagram pointing out that I don't look the same way I did when I was 20. I know that', she said in a the winter/spring 2017 issue of New Beauty.
No matter what I do, I'm not going to look 20, or 30. I just want to look great for 50
'No matter what I do, I'm not going to look 20, or 30. I just want to look great for 50. I exercise, eat healthy and take really good care of my skin,' she said, revealing she is more confident with her skin now than in her 20s. 'There's pressure on women to do the undoable, which is not age. But it's about looking great for however old you are, regardless of what that number is.'
The mother of two has opened up about the strains motherhood has put on her body. 'I know what it's like to have to lose baby weight,' she said in a past interview. 'It is a huge change for your body. You don't even want to look in the mirror after you've had a baby'.
I have fat days, ugly days… days that I just feel terrible about myself
It's hard to believe, but Cindy also has her days of low self-esteem like the rest of us. 'Even I don't wake up looking like Cindy Crawford', she said. 'I have fat days, ugly days, blimp days, days that I just feel terrible about myself. I don't want to have to be beautiful all the time.' Although, she is!
The easiest way for the celebrity to age in spotlight, is to just 'accept it'. 'My focus is on accepting the inevitable part of aging while trying to feel good, be grateful for good health and enjoy being 50', she told New Beauty. 'When I'm 70 and 80, I'm probably going to look back and ask what was I being so hard on myself for. I think if my approach was to be less hard on myself, then maybe the world will follow it, too!' Wise advice for any aged woman, we think.
MORE: What to eat for ageing skin
Halle Berry
We swear Halle Berry is not ageing. While some women find the 50 year old mark daunting, she welcomed it with 'open arms' last summer, posting a photo on Instagram of herself in her birthday suit. (Well, in a sheer white lace dress which revealed the silhouette of her womanly figure).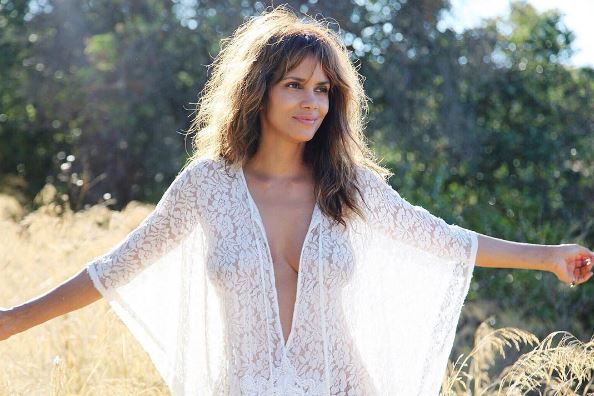 She looks impeccable for age, and people are always wondering what the secret is. In an interview with InStyle, Halle shared some beauty tips. 'What is high maintenance about me is my skincare regime, and it's been like that since I was 14,' she said. 'I've always cleansed, toned and moisturised twice a day, every day. I think it's so important for ensuring an even complexion. I wear sun protection all year round – even in the middle of winter – and I really slather it on to make sure I'm protected', she said.
MORE: Halle Berry's personal trainer tells us how she does it
I wear sun protection all year round
The pressure of Hollywood hasn't led the star to plastic surgery, even though others have suggested it to her to stay in the business. 'I won't lie and tell you that those things don't cross my mind, because somebody is always suggesting it to me', she told Yahoo! Beauty. 'I just have kept reminding myself that beauty really is as beauty does, and it is not so much about my physical self. Ageing is natural, and that's going to happen to all of us. I just want to always look like myself, even if that's an older version of myself. I think when you do too much of that cosmetic stuff, you become somebody else in a way', she has concluded about going under the knife, and we are glad.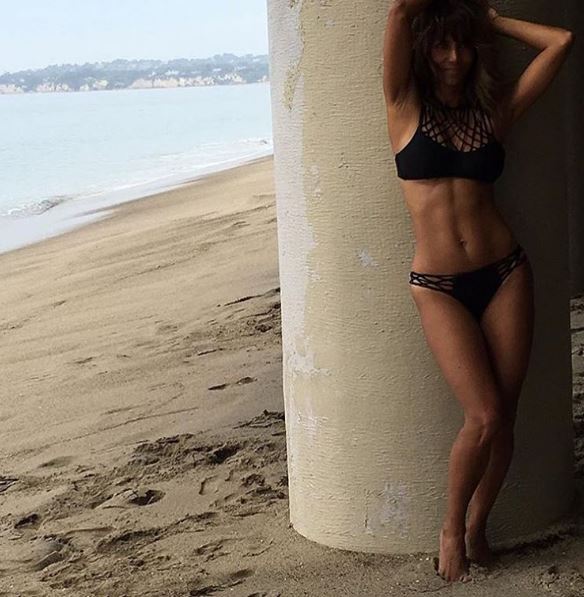 It's not just her cosmetic appearance that defies the glamorous red carpet norms, as she had her son at the age of 47. Her abs sprung back with some hard work with her trainer Nat Bardonnet, who she never misses a workout with, posting a video of them planking on the beach.
https://www.instagram.com/p/BFcXSy6hs51/
Halle's fitness guru told People they do 30-minute power workouts together at least three times a week that include planks, weight training and push ups. 'The way I push Halle, not many people would be able to last,' Nat Bardonnet sad. 'She always has great energy and a great smile. Whatever curveball I throw at her, she can take.' And that's why she is so successful on the big screen, too.
MORE: This workout can REVERSE ageing and it can take just five minutes
Elizabeth Hurley
https://www.instagram.com/p/BSqaLHRAgpp/?taken-by=elizabethhurley1
At 51-years-old, Elizabeth is ahead of any youngster with her bikini beach shots. This week whilst tanning on a remote island in the Indian Ocean (definitely not jealous), she has posted a range of shots featuring swimwear from her own collection, Elizabeth Hurley Beach. The self-proclaimed sun worshipper flaunts her figure in videos of her enjoying the sand and blue seas, and looks incredibly happy whilst doing so.
My best trick is to make a vat of delicious vegetable soup
The actress, who originally found fame after her modelling break in her 30s, has spoken out about how important she believes an active lifestyle is, despite saying every size can be beautiful. 'It doesn't matter really what size you are, but I think it's important to stay sort of firm and to do a reasonable amount of walking and exercise', she told E! 'I don't feel like I need to be skinny, but I feel the need to be athletic and fit.'
MORE: 7 best sports swim suits with support and style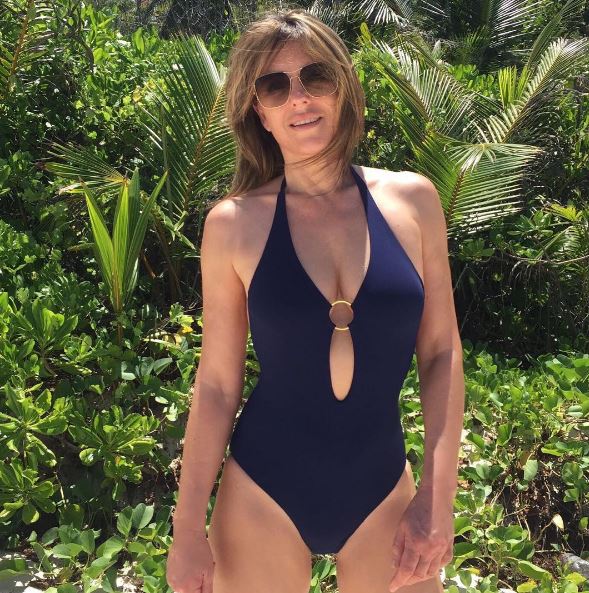 Despite keeping things moving, and having a washboard tummy, Liz has described exercise as 'loathsome' – something we can relate to often. Whilst juggling her career and motherhood, she sticks to basic principles of health. 'Small things, like taking time to go for a walk to get some fresh air, having a day when you only eat vegetables and fruits, drinking enough water and not drinking too much alcohol, getting an annual mammogram if you're over 40: all these things can make a difference', she told Healthy Living.
https://www.instagram.com/p/BSlncHhAK2T/?taken-by=elizabethhurley1
As for her diet, Liz is careful not to snack too late at night, or indulge in sweets, bread, pasta, cheese and crisps, despite being a big fan of smoky bacon flavour crisps. She advises eating fish, steak, brown rice and plenty of vegetables, according to Elle. For quick results, Liz swears by soup. ''My best trick is to make a vat of delicious vegetable soup and have a cup of it whenever I am tempted to raid the fridge. I swear by this, and drink at least six cups a day when eager to lose a few pounds.'
If looking like Liz does in a bathing suit requires eating soup all day, we may have to sit down and weigh up our options…
Have you got a favourite celebrity who you would love to know how they work out? Tell us by tagging us in Instagram @HealthistaTV or Tweeting us at @HealthistaTV
READ MORE
7 beauty treatments that could damage your health
FITSPIRATION: Cobie Smulders – How I Met Your Mother star who's been through it all
This former bikini model has a different body confidence story