Yogis are sprawled across the capital looking to get their sweat on, but what are the best hot yoga studios? We've tested them out and here's our verdict
To me, there's nothing more relaxing and detoxifying than the practice of Bikram yoga.
Known for its hot setting of 40 degrees or more, there's a calming sensation in these 60 to 90-minute classes. Structured around posture and breath, Bikram focuses on a sequence of 26 set poses and two breathing exercises, designed to move oxygenated blood throughout the body, as well as warm and stretch your muscles.
The popular practice claims to release a realm of toxins, and is inclusive for all types of yogis, from timid beginners to limber experts. Not to mention it boasts a variety of benefits for your mind and body.
For managing anxiety and stress, Bikram is my go-to exercise. As a guided practice, there's an emphasis on mindfulness and relief from the pressures of everyday life at the start of each class. And although the temperature can be intimidating, the practice's focus on patience, stillness and self-love make it worthwhile.
A study found that on average women burned 333 calories during a 90-minute heated session
As for its health pros, the stylish exercise could help improve flexibility, lung capacity and definitely gets your heart pumping. A study from the journal of Medicine & Science in Sports & Exercise discovered that on average women burned 333 calories during a 90-minute heated session. So, if you've ever doubted the power of Bikram for weight loss, look no further.
We know there's no shortage of hot yoga studios in the capital, but classes aren't exactly, well, cheap. That's why we've rounded up seven of the best studios worth the time and money, perfect for a mid-morning boost or evening meditation, no matter what level you are.
So grab your mat and towel (of course), and be prepared to sweat… these studios and their personalised hot classes know what they're doing.
For super-hot classes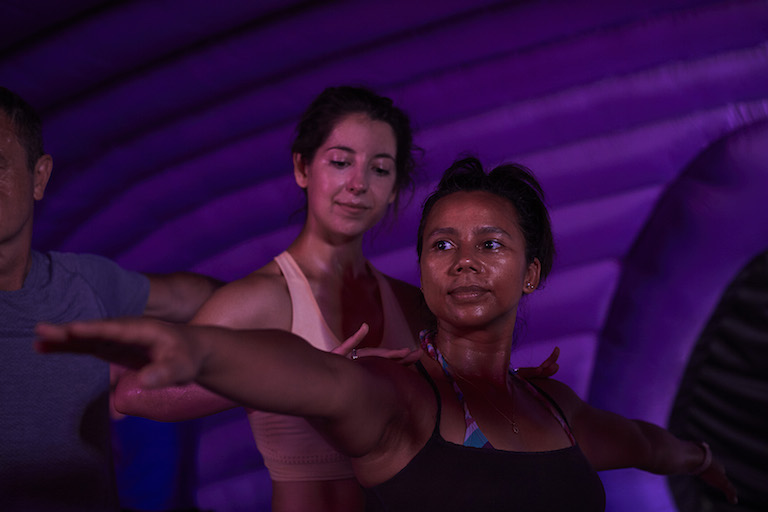 Ever heard of meditating in a heated bubble? If your answer's no, then that makes two of us. That is until I tried Hotpod Yoga.
Unlike traditional hot yoga classes, Hotpod invites you to perform your practice in its calming, tent-like surroundings. And although it might sound a bit strange, this was by far one of the most enjoyable experiences I've had.
I visited the Belgravia studio for a 60-min Hotpod flow class with instructor Lilly Richardson, and if one thing's for sure, get ready for an intense workout. The dynamic pods induce a sweatier, more immersive experience, however, the dark, lavender glow of the bubble still ensures a stress-relieving practice. Plus, the higher heat allows you to deepen your stretching and really work on any muscle tensions or soreness.
There's also no mirror in the pod, so you'll be able to focus solely on yourself with no distractions. And since the pods are on the smaller size, expect an intimate class of around ten to 15 yogis.
Classes vary in pricing with a single class pass at £14 and different membership offers. If you're new to the practice, I suggest trying one class first since mats are free, and if you're hooked like we are, go for the £80 monthly deal for a discount of £8 per class. You'll be glad you did…
Locations:
Belgravia – 19 Eccleston Yards, London, SW1W 9AZ, GB
Hackney – Arch 406, Mentmore Terrace, London, E8 3PH, GB
Brixton –  40 St Matthew's Road, Brixton, London, SW2 1NL, GB
Notting Hill – 1A Great Western Road, London, England, W9 3NW, GB
South Wimbledon – 8 Morden Rd, South Wimbledon, London SW19 3BH
Dulwich – 13-19 Croxted RoadUnit 3LondonSE21 8SZGB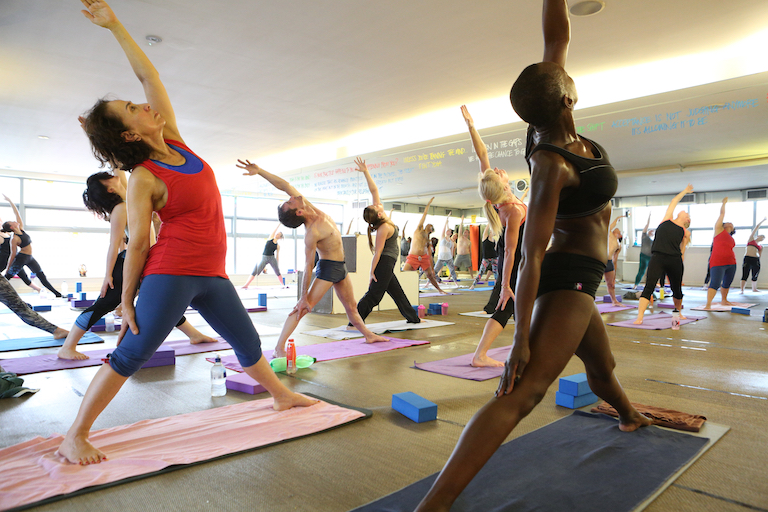 When I first came to London, I was desperate to find a studio that would match my experience with Yoga Six back in the States where I'm from. Meaning, the temperature needed to be on the hotter scale, rather than warm, and without a doubt Hot Yoga Wimbledon fulfilled this.
The studio features an encouraging environment with string lights, positive quotes on its large mirror and space for over 60 yoga mats. It's a toasty experience when you add on the amount of natural light, so if you're on the fence about hot yoga, I'd try its hour-long class before venturing into the 90 minute one.
The practice of repetition is highlighted in this studio as its instructors always teach the same sequence in its Bikram classes. You'll perform each pose twice to improve your breathing technique and achieve proper alignment. It's a challenge of stamina and balance for sure, but teachers Raj Sharma and Shona Langridge will guide you through it.
Drop in classes range from £16 per hour class or £18 for 90. The memberships are a bit pricer at £360 for three months of unlimited classes or £1200 for 12 months. But for southwest residents, it's a no-brainer compared to commuting into central. Just remember to bring your own mat or some extra cash for a rental.
Location: 7 Elm Grove, Wimbledon, London SW19 4HE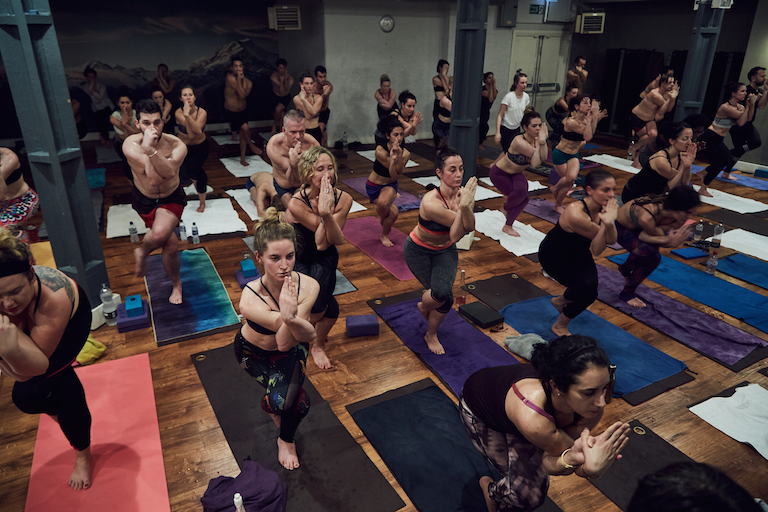 When it comes to practicing yoga in London, chances are you've heard of Fierce Grace. The unique chain teaches its own style of classes, which vary in movement and intensity. So depending on your mood, whether that be craving a harder workout or meditation, there's a little bit of everything.
For us hot yoga buffs, the studios's 90-min classic workout, heated between 35 to 38 degrees, is a definite go-to. The mirrored class prioritises hip and spine stabilization, as well as alignment and flexibility, and unlike other studios, there's no music. However, my favourite aspect is the bit of ab work instructors throw in with the traditional sequences.
There's also its 60 to 75-min primal class, which is an evolved version of the classic workout. I tried out it out, and trust me when I say it's something different. Like Bikram, you practice traditional warrior sequences in addition to natural animal movements for core tightening and strengthening.
Prices differ depending on the studio, with drop ins ranging anywhere from £10 to £19, along with its intro offers. Visit the Fierce Grace Hothouse in Kentish Town for the £10 single class, and its £39 introductory buy for 30 days of unlimited yoga. And if you're short of a mat, just grab a rental.
Locations: 
Brixton – Unit 1 372a Coldharbour Lane London SW9 8PL
Muswell Hill – 56 Muswell Hill London N10 3ST
Finchley – First Floor, 48 Ballards Lane London N3 2BJ
West – 260 Kilburn Lane London W10 4BA
North – 173 – 175 Queens Crescent London NW5 4DS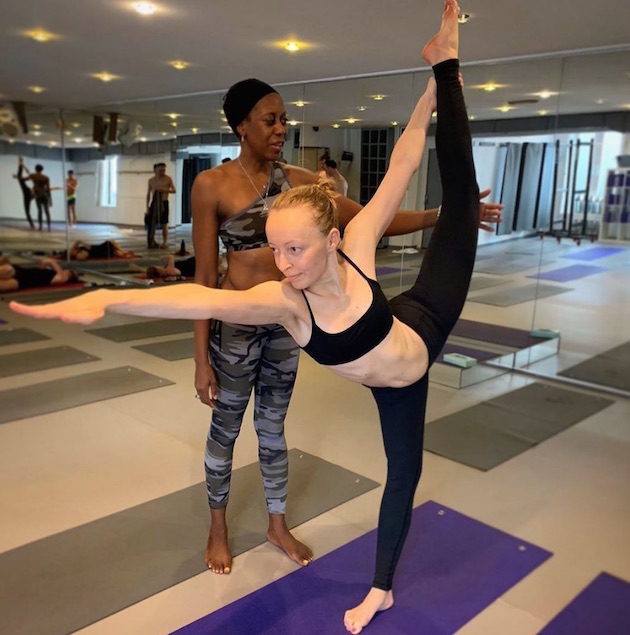 Breathe, stretch, laugh—that's The Hot Spot's motto. Located in Parson's Green, the southwestern studio showcases a cosy, more personal space for all-things Bikram yoga, without taking itself too seriously.
Specialising in primarily hot yoga classes, it's without a doubt that this wooden-floor, mat-providing studio will get your heart racing when it comes to the heat. Taught in a 40-degree room with mirrors, you can try out its classic 90-min course for traditional Bikram yoga or better yet, attend The Hot Spot 75 classes, which add in two faster-paced sequences, along with the 26 normal poses.
However, I'd also recommend its 60-minute warm candlelit yin class, a stronger meditative style of yoga. The Sunday class was a must-have on my list and made me feel energised and mellow before my busy workweek. Also, yin yoga still gets you sweating, but unlike Bikram, you hold each pose for longer, which in return deepens the stretching of your connective tissues.
Classes are on the more expensive scale with drop-ins priced at £20. I'd advise purchasing its £35 intro offer for 20 consecutive days, just what us newcomers need.
Location: 25 Heathman's Rd, Fulham, London SW6 4TJ
For warmer classes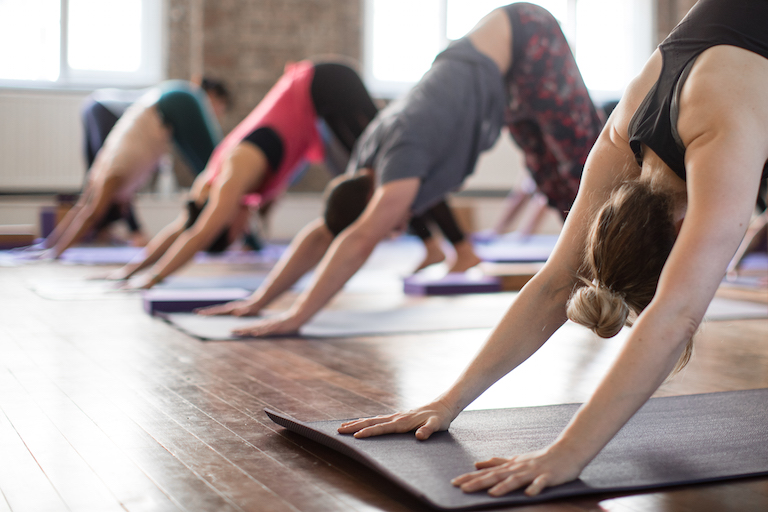 With studios in Soho, Camden, Shoreditch, Chelsea and more, you're spoiled for choice when it comes to visiting one of Triyoga's diverse studios. Since 2011, the yoga chain has offered soothing hot classes, and on the plus side, mats are free— so don't worry if you've yet to purchase your own.
For my first go, I went to the Soho studio for Adam Hustler's specialised class, and although the studios are heated between 36 to 38 degrees, it's not as hot as it seems, which is why Triyoga is a smart location for beginners.
The studio eases you into the Bikram style, and aims to improve your cardiovascular health through its set sequences. There's a focus on circulation, flexibility and strength, as well as one-on-one attention from the instructor if you'd like it.
There are no mirrors in the studio, which in my opinion, helps to build your confidence as a yogi, as well as eliminates any comparison to others.
Single drop in classes are £17, but I'd go for the most popular 10-class pass for £13.50 or the 5-class pass for £15.
Locations: 
Camden – 57 Jamestown Road, London, NW1 7DB
Chelsea –  372 King's Road, London, SW3 5UZ
Ealing – Unit 30, Dickens Yard, Longfield Avenue, Ealing, W5 2UQ
Shoreditch –  Unit 2, 10 Cygnet Street, London, E1 6GW
Soho – 2nd Floor, Kingly Court, Soho, London, W1B 5PW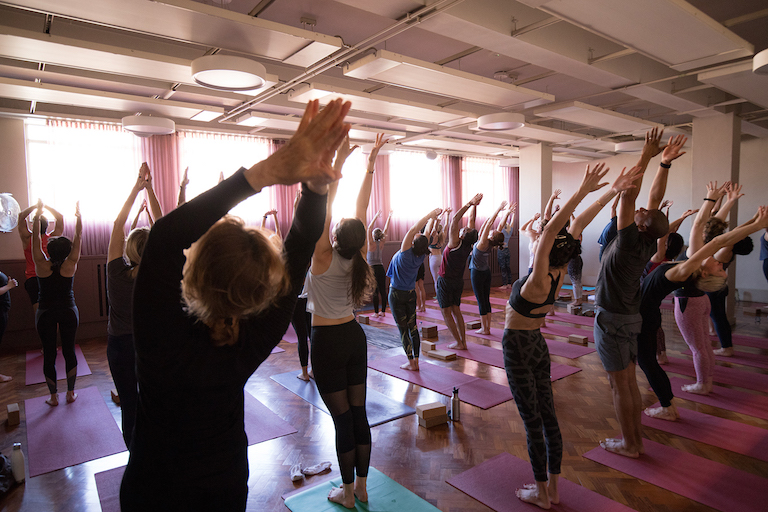 Believing in the act of 'gathering,' Indaba Yoga sports a big communal space that unites a diverse group of yogis, varying in all levels of practice and expertise. The Marylebone studio is non-judgmental and incredibly welcoming, and also gives you a complimentary mat—hallelujah.
I attended its 60-min hot power class with instructor Ahmed Zambarakji, and like Triyoga's studio, this class wasn't too hot since it's heated between 31 and 35 degrees.
Differing from other studios and their intimate class sizes, Indaba features a large wooden-floor studio with room for 30 plus yogis. However, despite the bigger class size, Ahmed still connected with each person individually, helping with everyone's poses if anyone wished for assistance.
My favourite bit was the studio's music, which was a clever playlist of fun, upbeat tunes mixed with calming melodies during the more meditative sequences.
Drop in classes are £16, however, if you're looking to really boost your practice or properly test out hot yoga, I'd go for the £30 introductory offer, which entails 30 consecutive days of the exercise.
Location: 18 Hayes Pl, Marylebone, London NW1 6UA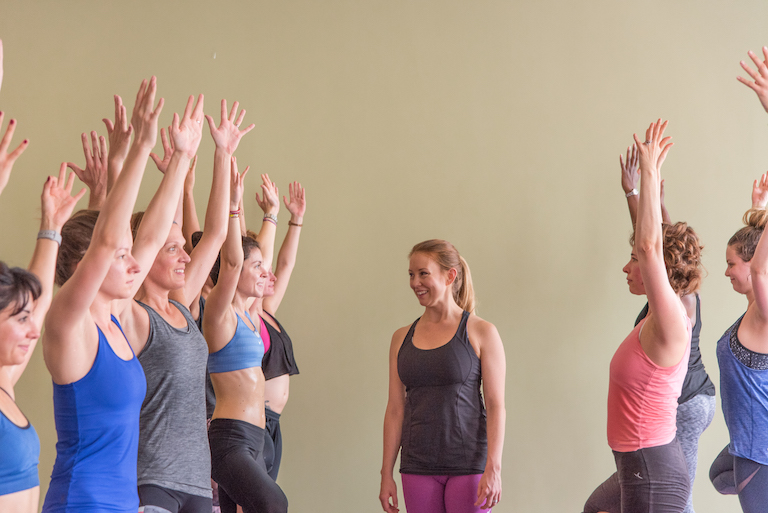 When defining Lumi Power Yoga's experience, the word family comes to mind. The Hammersmith studio is a close-knit group, as well as inviting to all newcomers wanting to enhance their practice and stamina.
As you enter Lumi, words of encouragement are printed on its lime-green wall, such as 'love your practice, love your life.' Instead of mirrors in the wooden-floor studio, there are five large paneled windows, which create a peaceful environment filled with natural light.
I joined its smaller 60-min hot class of around five yogis, and since it's heated between 32 to 35 degrees, similar to Indaba, I wasn't too overwhelmed by the heat.
Each week, Lumi prints a new word to focus on during your practice, and when I attended, the idea was 'equanimity'—the practice of catching yourself during feelings of adversity before they manifest into negativity.
Drop in classes are a tad pricer at £19, so depending on your level of experience, I'd recommend beginners try its special £30 offer of 21 consecutive days, and those who regularly practice, purchase the £98 monthly unlimited bundle.
As for mats, they're £1 if you're in need of one, but on the bright side, all proceeds go to the Lumi Foundation, the studio's non-profit organisation.
Namaste.
Location: 121 King St, Hammersmith, London W6 9JG
Relevant Healthista content:
How to destress – the breathing technique this Instagram yoga star wants you to know
How yoga helped me overcome bulimia
This vinyasa flow yoga routine will tone your core
This 30-minute morning yoga routine will boost your energy
Other Healthista content you might like:
Anti-ageing face yoga for a smoother eye area in 60 seconds
3 healthy recipes this Instagram super-medic swears by
Squats, lunges, deadlifts and more – the ultimate trainer's how-to guide
Like this article? Sign up to our newsletter to get more articles like this delivered straight to your inbox.