From the £30 toastie warm jacket to the must-have fleece leggings, we have you properly covered in the cold with our winter fitness gear essentials 
I admit, I've taken for granted how easy it was to slip on my activewear gear and walk down to the gym in the sunshine during the warmer months. 
No coat, no beanie and no gloves.
It was a simpler time.
I faced the brutal reality last week as I left the house without checking the weather – my thin leggings and vest top doing nothing to save me from the harsh wind and pellets of rain. 
Even though the gym is barely a 5-minute walk away, it was the longest five minutes of my life. 
I was forced to admit the reality: 
I also had to (eventually) admit that my gymwear just wasn't going to cut it in this British weather.  
For anyone facing the same dilemma I've hunted for the best winter gym gear you need to have.  
Leggings
Best for versatility – Sweaty Betty's Thermodynamic Thermal Running Leggings, £95.00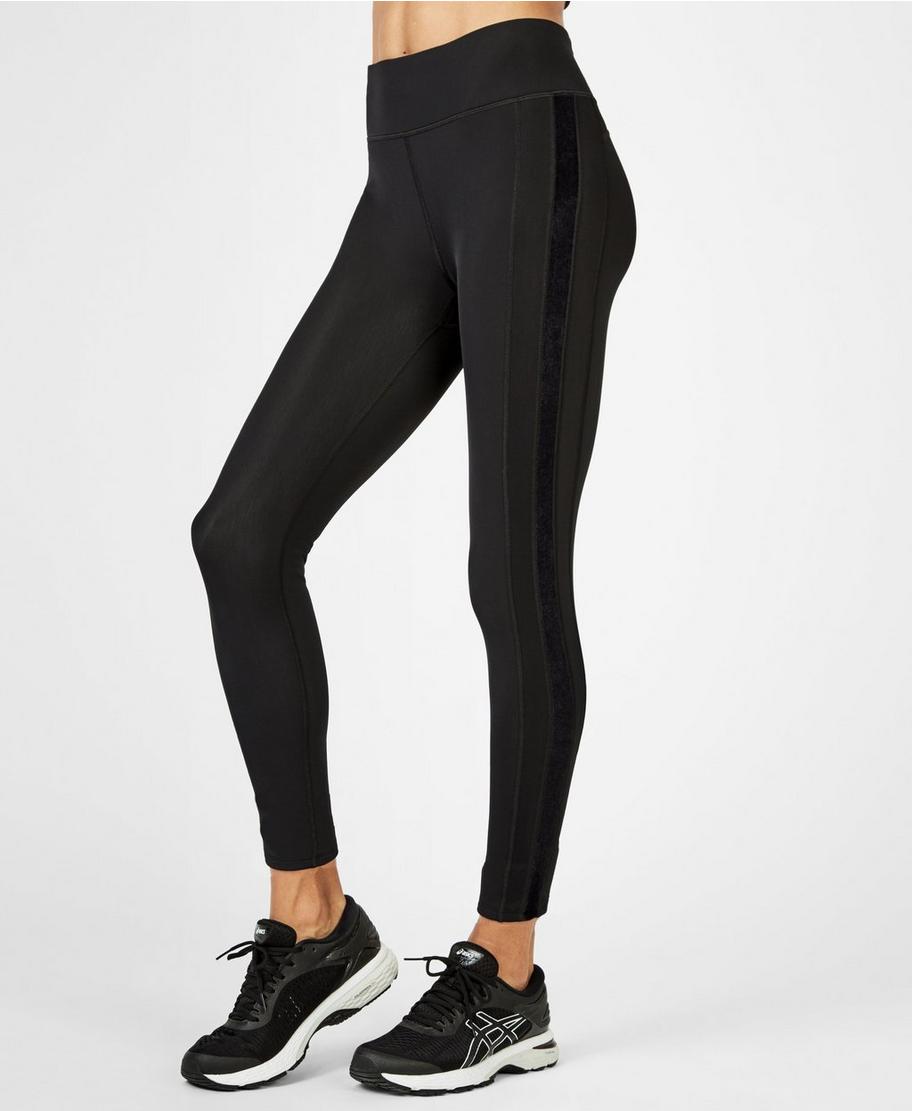 If you're a regular on the Healthista site, you won't be surprised to see Sweaty Betty is featured yet again in one of our gym kit roundups. 
Everyone knows that Sweaty Betty activewear is a great investment. 
These Thermodynamic Thermal Running Leggings are no exception. 
Very similar in design to other iconic Sweaty Betty leggings, these thermal leggings are lined with fleece to give you that extra warmth so you don't feel the winter chill. 
Although they're marketed as running leggings, they do more than keep you warm on a 6am jog.
They're kitted out with temperature regulating fabric, so you won't ever get too hot and be left with mortifying sweat patches in the most embarrassing places.  
High-waisted and compressive, they'll stay up and hide any unforgiving bloat you get from just sniffing a bit of pasta post-workout. 
Best for after work sweat sesh – Kalenji Run Warm+ Women's Warm Jogging Tights, £17.99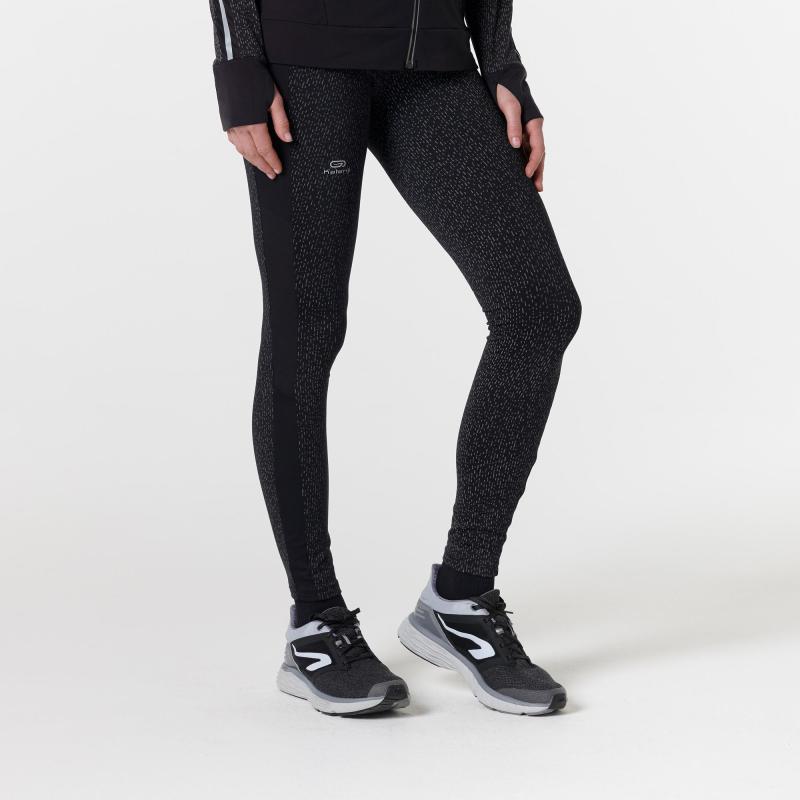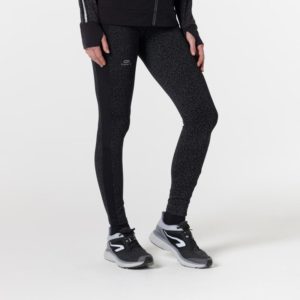 These days, you just need to blink and suddenly it's 4pm and pitch-black outside. 
If you're one of those brave souls who can muster the energy to get a sweat on after work, whether it's jogging or cycling, it's important you're visible.
According to Government stats, major cyclist accidents are caused by lack of visibility. As well as not displaying lights, the study refers to cyclists wearing dark clothing. The statistics found that poor visibility accounted for a whopping 533 accidents in recent years.
Before you whine about wear high-visibility clothing meaning you'll commit an unrecoverable fashion faux-pas, these Kalenji tights will change your mind. 
These tights have a reflective strip near the calves, which are big and bright enough for those behind to see you, but not so overbearing that it's an eyesore or detracts from the design. 
Sitting on a bike seat for more than 15 minutes and bearing a sore bum and tailbone is an achievement in itself if you ask me. For those who dread the lovely addition of chafing material, don't worry – there is no seams between the legs so you won't feel the burn…
At least not from the tights.
Best for (non-accidental) overeating –  Amazon's Core 10 Studio Tech Leggings, £23.00 
Okay, so these Amazon leggings didn't make the cut for having fleece lining or warmtech like the others, but I will vouch for it being a worthy addition to this round-up for an equally important reason:
These are forgiving on the stomach.  
As I've mentioned before on Healthista, the Christmas season is the ultimate test of will power. If you actually do stick to your macros and aren't guiltily neglecting your fitnesspal app, congratulations: you're a better person than I am. 
For those like me who plan to unlearn what calories are until the new year, leggings that don't evily cling to the bloat of the stomach are always welcomed.
These leggings are not only high-rise, but have an extremely flattering panel in the stomach area which means a) hallelujah no bloat accentuation and b) it sucks you in nicely. 
This is fab for resistance training or yoga, they material is thick and these will pass the squat test with flying colours. 
Surprisingly, the legging material is fairly thick, so these will provide some warmth, despite not being kitted out with any fancy insulating fabric. 
As if these couldn't get any better, these are inclusive with sizes ranging from XS – XL and plus sizes 1X-3X. 
Long sleeve gear:
Best for a statement look – Lululemon's Always Alert ½ Zip, £98.00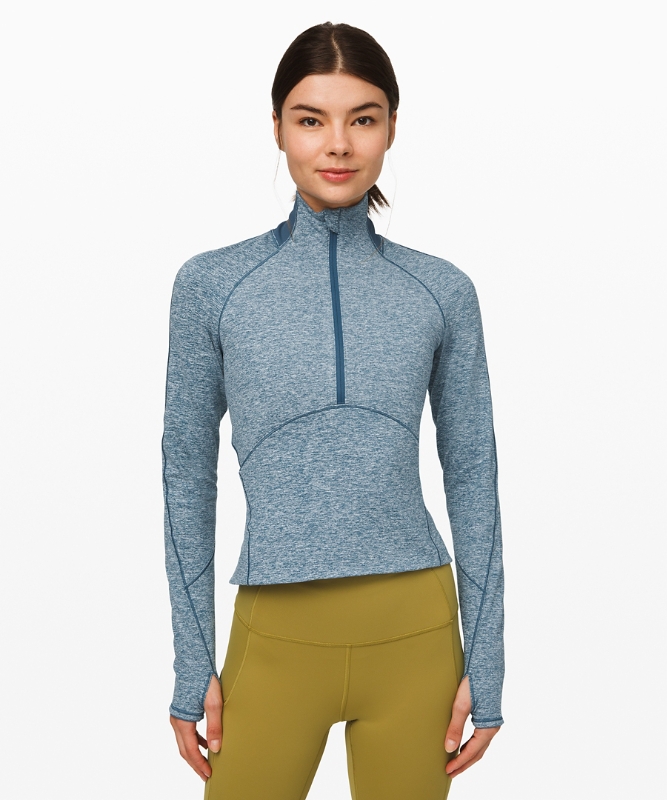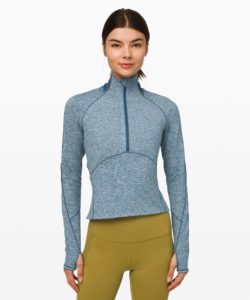 Who finds the festive season putting them in a mood to wear something a bit more colourful? This Lululemon's long sleeve top comes in  Heathered Grape Leaf and Heathered Petrol Blue. Both of these are definitely more eye-catching than a plain black, but not so out there that you stick out like a sore thumb. 
Speaking of thumbs, this piece also has thumbholes. This might sound like a minor feature, but the runners out there will know the struggle of sleeves riding up mid-run. 
I don't know about you, but when my sleeves start riding up as I run, it will throw my mojo off. 
Talk about first world problems. 
In any case, I appreciate that these thumbholes will keep my sleeves in place and keep my hands warm. 
This long sleeve piece is made from a technical, brushed fleece fabric so it's not just your hands that will be warm.  
To match any reflective leggings you own, this Lululemon piece has reflective details all over for high visibility from every angle. 
Something to be wary of is the cropped length of the long sleeved top. 
Whilst it very flattering and pairs amazingly with high-waisted leggings, this may be a miss if you're self-conscious about having your stomach on display. 
Best for slim-fit illusion – M&S Jaspe Quick Dry Long Sleeve Jacket, £29.50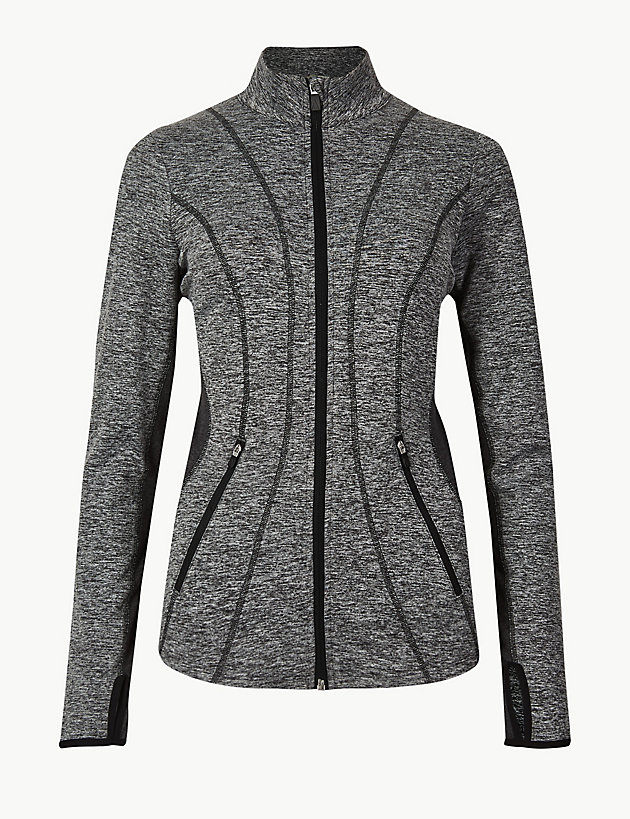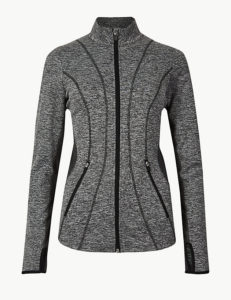 As the name suggests, this jacket is made from jaspe material, which is known to be soft. This jacket is no  exception, feeling lovely against the skin with no irritation whatsoever. 
Although this is a regular fit, the vertical patterns and panels  give a slim fit illusion, which is flattering. 
FYI like the Lululemon piece, this also has thumbholes. 
If you haven't noticed, phones seem to be getting larger and larger every year. Sadly not many womenswear brands are keeping up – pockets are still as small as ever. Don't worry though, this jacket has deep pockets (that zip up) so there's no risk of your phone popping out and smashing for the 78th time. 
Lightweight, the jacket is great to store away in your bag and won't crease easily either. This is more so for those gyms that blast air conditioning rather than outdoor workouts – it doesn't have the same thermal fabric the others in this roundup have. 
This runs a bit small, even though the material is stretchy, I would suggest sizing up one if you want a baggier fit. 
Best for movement – Under Armour CG ARMOUR CREW Women's Long-Sleeve Shirt, £28.00
If you're someone who gets hot easily with loads of layers, perhaps a jacket isn't for you. In which case, a long sleeve t-shirt may be a better, less stifling option.  
Kitted with dual-fabric and ColdGear tech, the exterior feels smooth to touch whilst the inside is soft and warm.  
Sweat a lot? The sweat wicking material will dry up sweat quickly and there won't be a sweat patch in sight. 
The Under Armour long sleeve shirt is a no frills, classic piece. It's black, and will most likely match any leggings you decide to pair with it.
The logo is reflective, which frankly speaking is a downfall as it provides minimal visibility. So I wouldn't suggest depending on just this shirt if you want to stay seen in the dark during a workout. 
Regular fitting, this sits well without being too skin tight. It's constructed with a 4-way stretch so it moves better, no matter which way you twist your body. 
Contortionists eat your hearts out. 
Hats
Best for multipurpose use- Sweaty Betty's King's Road Bobble Hat, £40.00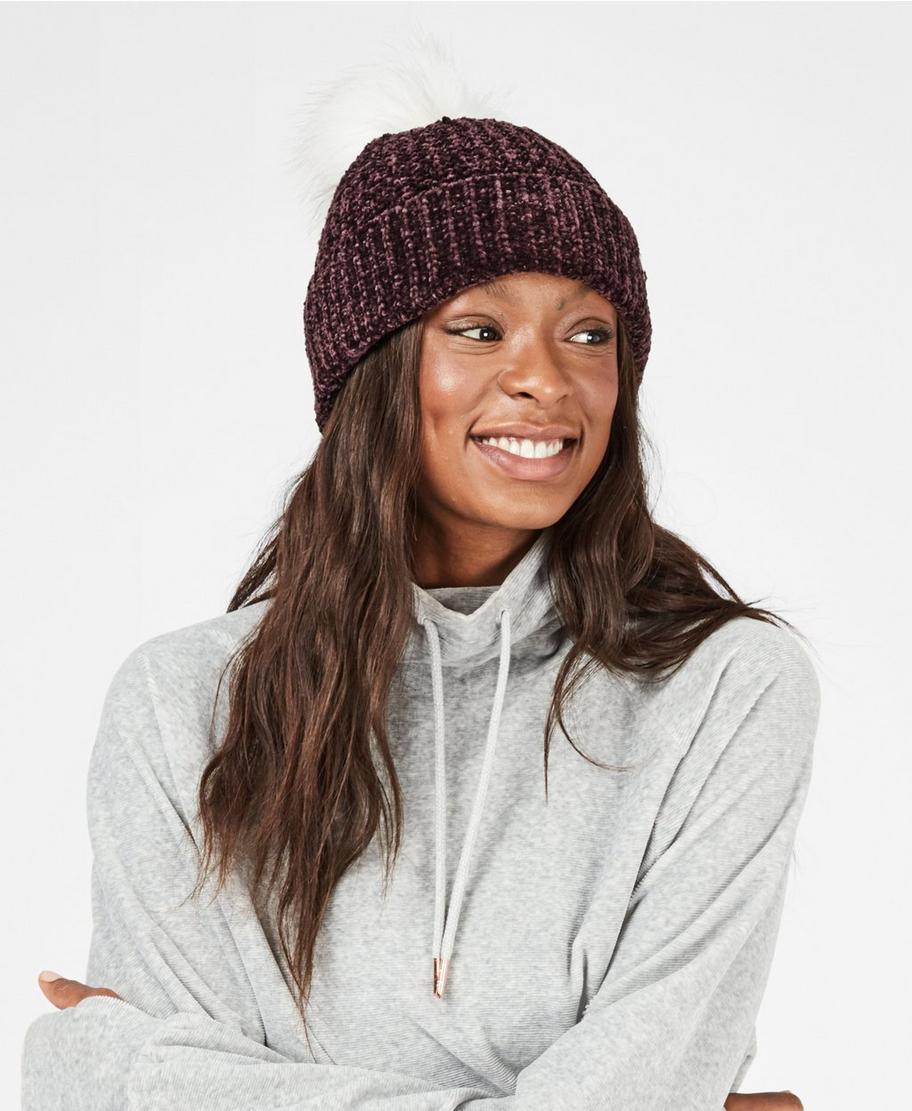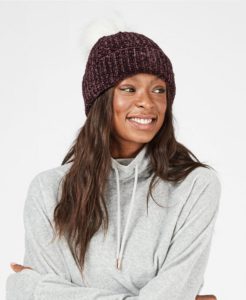 Knitted hats are a tough investment. 
Yes they are absolutely adorable, but the itchy hell and discomfort they cause makes it hardly worth the hassle. 
Thankfully, this Sweaty Betty bobble hat won't cause horrible itching and force you to rip it off shortly after putting it on.
The King's Road Bobble Hat comes in black or cherry black, which I personally find to be wonderful colours that will suit most people's activewear. If you're a Sweaty Betty superfan, then chances are you'll own or top or leggings in cherry black already. In which case, this is a stylish addition to match your outfit.   
Don't worry, if you don't own any Sweaty Betty pieces (yet), this hat has a cute oversized white bobble which will match any coats that have fluffy fur trimmings on the hoods. 
Whether out for a morning walk or meeting friends for brunch, this hat is the ultimate multifunctional piece. It goes with just about everything and always makes an outfit twenty times cuter. 
As well as being a fashion piece, this chunky knit hat offers great insulation with a foldover headband that gives you an extra layer of warmth. 
Best for no fuss no frills – Nike SB Fisherman, £16.95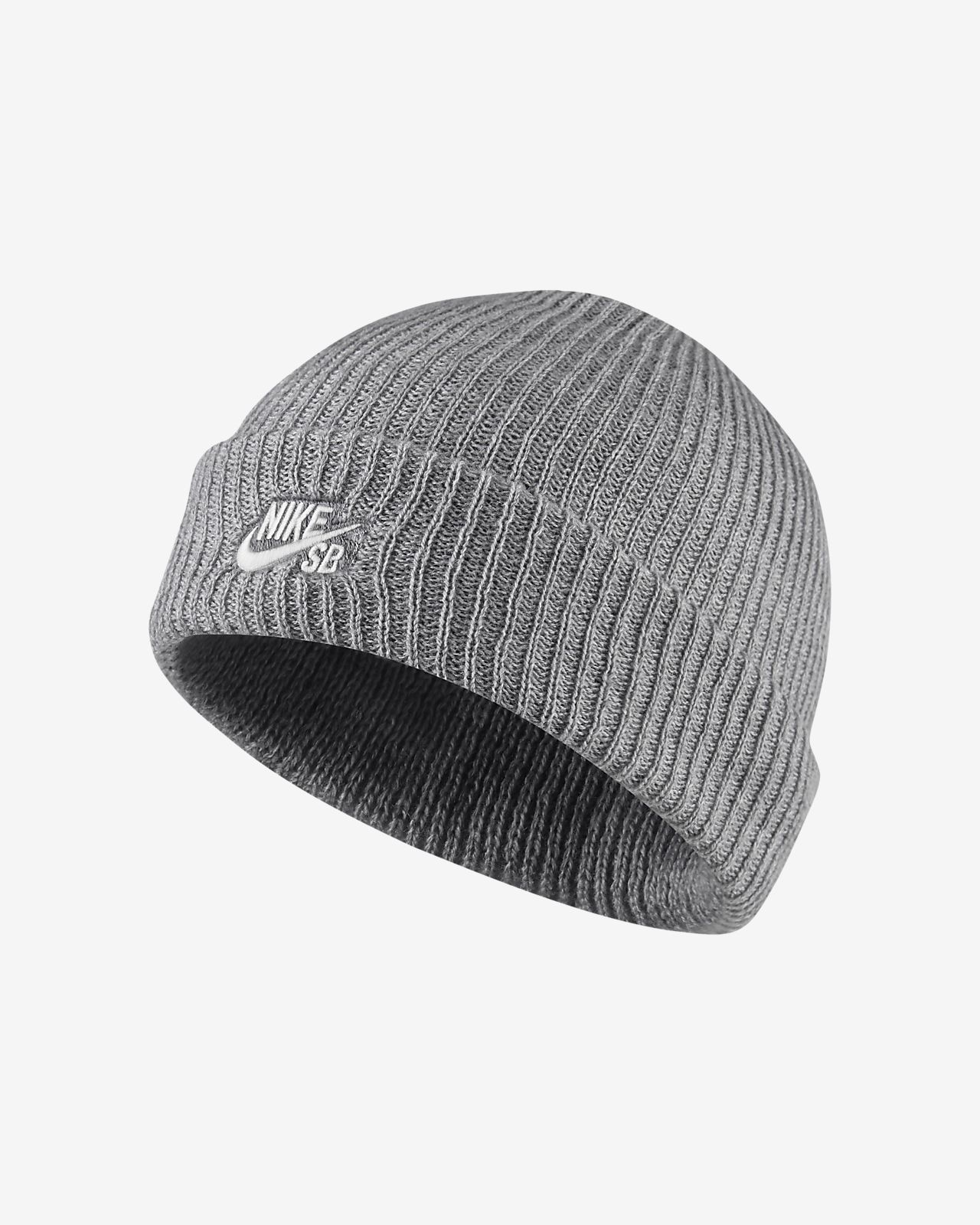 If you're not too fussed about your hats being fashion pieces or just don't like the idea of a bobble hat flailing up and down as you jog, this Nike fisherman hat may be right up your street. 
This piece comes in a heathered dark grey or black, which I think are both stable colours most people will find in their activewear wardrobe. Like the Sweaty Betty hat, this will probably compliment your leggings or tops and become an activewear staple.
The rib construction is a change from the bobble knit trend, but equally great for its durability and comfort. This Nike hat is made from soft acrylic fabric so it's not only lightweight but also super warm too.  
Don't be deceived by how small this looks, it will stretch perfectly to sit snugly on your head, keeping the chilly breeze at bay.  For extra warmth and insulation, this hat also has a cuffed brim.
Although on the simpler side, this is a fuss-free hat that does exactly what it says on the tin. 
Best for long hair hassle – Lululemon's Cross Chill Run Beanie, £28.00
With any type of hat that isn't a baseball cap, my hair is always peeking out from the back awkwardly, causing the hat to shift upwards and come loose. With winter here, baseball caps do very little to keep my ears from turning a worrying shade of blue.
This beauty has solved all my winter hat problems. 
The Set-My-Ponytail-Free feature means your hair can loop through the back of the beanie and let your hair sit comfortably as you get on with your exercise. Although be warned, the slit is situated quite low on the hat, so high ponytails are off the cards.
The ear coverage is next to none in case you're wondering.  
This beanie also has a Lululemon's exclusive Rulu fabric so this beanie is guaranteed softness that's sweat-wicking and has a four-way stretch. The addition of Lycra fibre gives an extra boost for stretch as well a shape retention. 
The cherry on top?
 It has reflective details which means, yes, you guessed it: high-visibility. 
Best for misery weather – The North Face's Women's Litewave Fastpack II Gore-Tex Hiking Shoes, £90.00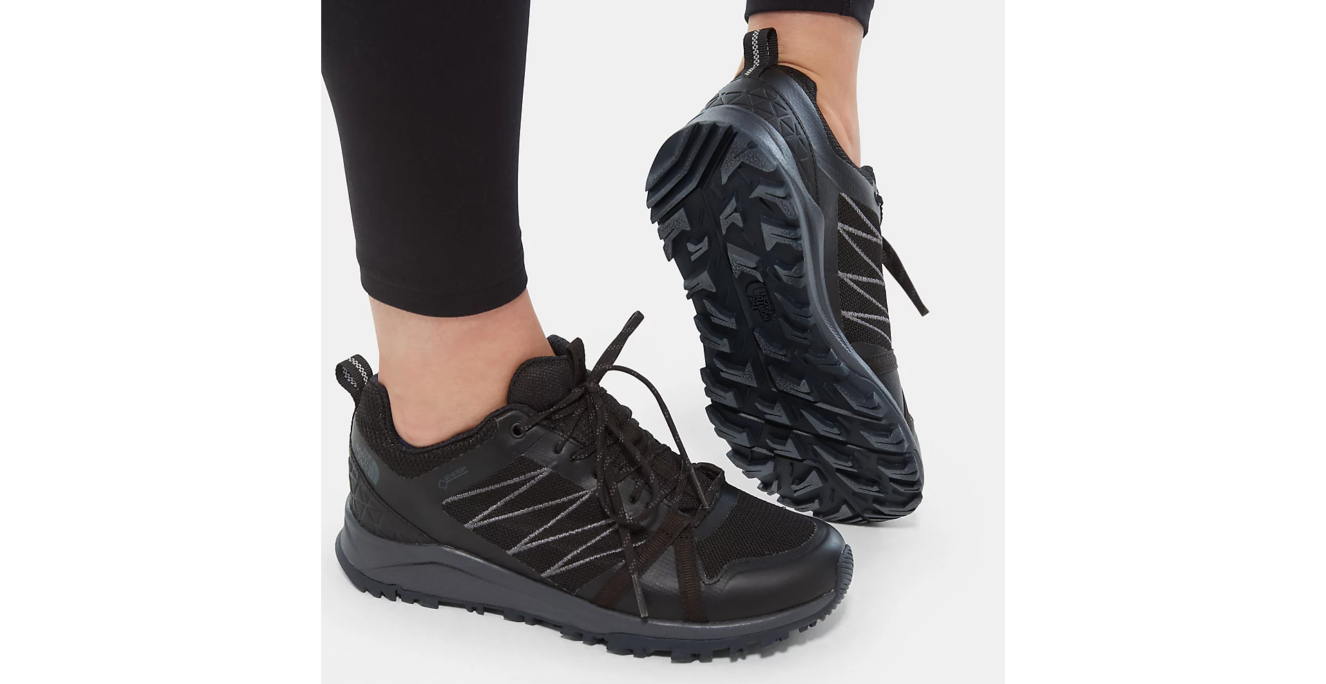 On the days where I couldn't make it to the gym in the morning, I always make sure to walk for at least an hour at some point in the day. 
However one horrible storm and one pair of soggy trainers later, I realised I needed to get hold of some shoes that would be able to endure the winter weather. 
If you live somewhere prone to torrential downpours like London, investing in some solid kicks like these North Face shoes is a great idea. 
Although marketed as suited for hiking, these shoes are great for any sort of outdoor exercise. The most important feature is the waterproof fabric which creates an impenetrable moisture barrier, so you'll always have guaranteed dryness. 
The reflective heel webbing means that you'll be visible to those behind too. 
Typically waterproof shoes tend to be a bit bulky and heavy, so these North Face shoes being lightweight is a nice surprise. To add to the comfort, these shoes feature special Ortholite footbed which will provide long-lasting comfort over uneven terrain. 
Best for serious cyclists – Shimano RW5 Dryshield SPD-SL Winter Shoes, £99.00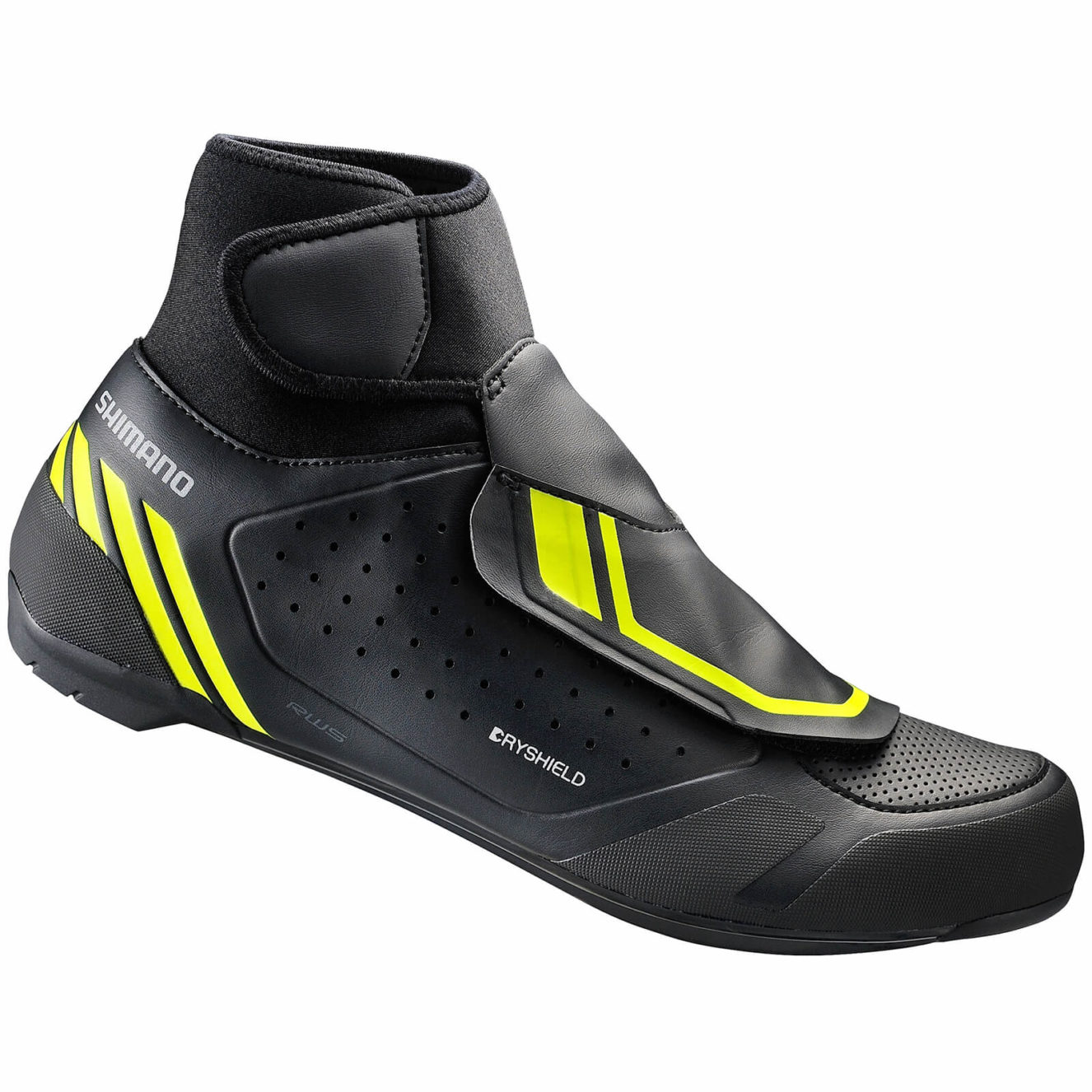 This is probably a miss for you if you're more of an occasional Boris bike rider. 
For the keen cyclists out there, these fancy Shimano shoes are the ultimate piece of kit for winter rides. The soles are quite stiff, making pedalling very stable and secure. 
The lace flap and neoprene ankle collar is a smart feature that will ensure that your shoes don't turn into little baths, all while keeping dirt out too. If you plan to wear thicker socks with this, maybe think about sizing up so you have plenty of space for your velcro fastener to be secure and closed.
The fluorescent yellow detailing on the shoe gives it some high-visibility too and actually enhance the design of the shoes too.  
The insoles are also lined with fleece, adding insulation and heat retention come rain or snow.
Sounds toasty to us. 
Best for everyday use – Skecher Women's Go Walk Joy Trainers, £37.00
If you're not into cycling or don't plan to spend hours in the rain – whether running or on your bike, having trainers that will get you to your classes (without your toes feelings as though they're about to freeze off) is still something to think about. 
How could we talk about comfortable trainers and not mention Skechers?
These suede lace up trainers are perfect to pair with your activewear if you're not feeling the extremely sporty look.
These budget-friendly shoes don't have the most high-performing features, but they do the job and will get you through a bit of drizzle far better than mesh trainers could. 
Some people are over the chunky sole and multicolor trend that's taken over, so these are a nice alternative that's not too 'in your face'. As well as looking sharp, these trainers are little tempur mattresses for the soles of your feet.
These do run a bit large due to the wide fit, so sizing down half a size isn't a bad idea. 
Relevant Healthista Content
5 best new boxing gyms in London
8 sleep secrets from one of the world's top 5 yoga retreats
25 alternative advent calendars to make you smile in December
The non-surgical face lift that instantly transformed this woman's face
The eating insects trend – 4 brands that make creepy crawlies delicious
WIN an OMRON HeatTens Pain Reliever worth £128.99 and say goodbye to muscle and joint pains
3 steps to breaking bad habits from a world-class willpower expert
Like this article? Sign up to our newsletter to get more articles like this delivered straight to your inbox.