Want a face lift but without the surgery and without breaking the bank? Healthista spoke to 55 year old Louise Jefferies, who decided on a non-surgical face lift for her saggy skin and dark circles – and the whole thing cost £1000
It's no secret that a face lift can be an expensive investment for an ageing face.
Although face lifts offer incredible results, going under the knife is a scary ordeal, and let's not even talk about the recovery time. It's due to these reasons that many people don't go through with the costly treatment.
But what if you could get a face lift without the dreaded surgery and without breaking the bank?
Well you can. Dr Angelica Kavouni offers clients a non-surgical face lift that instead users fillers to get the desired anti-ageing face lift.
'The liquid, non-surgical face lift is one of my favourite procedures,' say Dr Kavouni. 'It helps to restore lost volume in the face and works well for women in their late forties to early fifties.
'This procedure is also a great option for those who don't have time for down time (that's the recovery time it takes after a treatment),' adds Dr Kavouni.
So if you are a career woman who can't take time off work for recovery, then this non-surgical face lift is the perfect option. It involves minimal downtime of no more than 48 hours and gives you an almost instant result.
One of the main reasons clients opt for this option is the cost, at around £1000 it's a lot less expensive than a face lift
'So if you get the treatment done on a Friday you'll be just fine by the Monday morning – the clinic is always pretty busy on a Friday,' says Dr Kavouni.
'The procedure itself involves using fillers of different concentrations and injecting them in the areas of the face that we have discussed with the patient,' Dr Kavouni explains.
'Typically this is the upper area of the face; around the eyelids, under the eyes and on the cheekbones, as this is where we tend to lose volume as we age.
'One of the main reasons clients opt for the non-surgical option is the cost, it's a lot less expensive than a face lift, with prices starting from around £1000.
'Most patients repeat the procedure once a year. We see it as them managing their face alongside their career – hence why we call it the career facelift'.
Healthista spoke to 55 year old Louise Jefferies, who had the procedure herself at the age of 54. Here's what she had to say about the treatment…
'Shift work had taken a toll on my face'
I had been seeing Dr Kavouni for Botox treatments for just over ten years, and I was mulling over having a face lift.
The reason I was interested in a face lift was because the bottom half of my face was sagging and the corners of my mouth were beginning to pull downwards. I was starting to look permanently tired and sad.
I am a registered nurse working in intensive care, which means my job involves shift work, that includes 35 hour weeks and 12 and a half hour shifts. I often find myself doing two to three night shifts in a row, and then just two days later you are back on a whole day shift.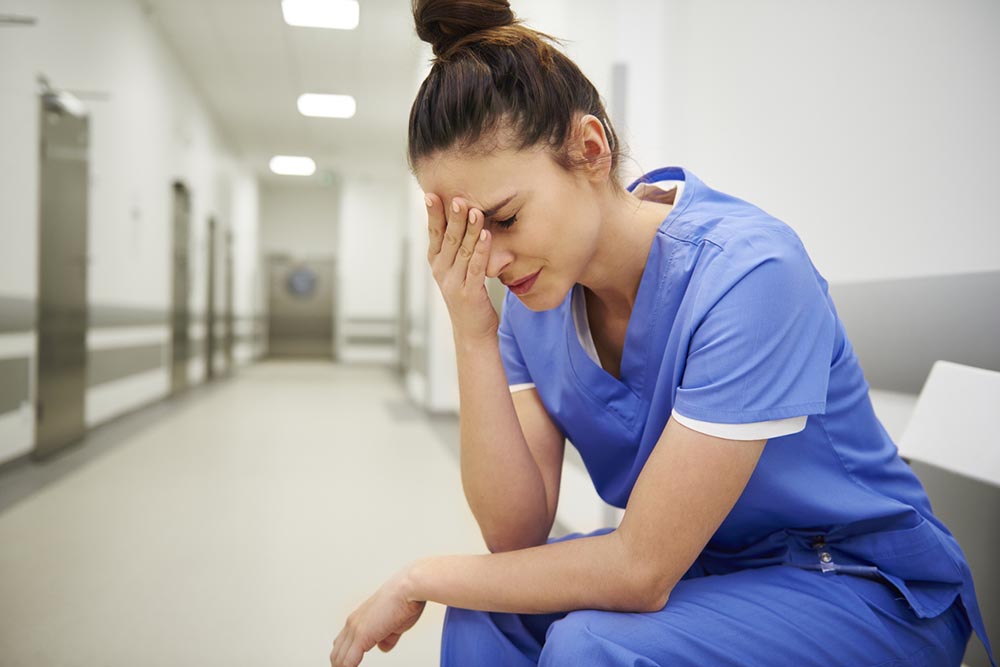 At the age of 55 shift work is brutal because you can't bounce back as readily as you once did. I believe it's the long hours and lack of sleep that has eaten away at the collagen in my face.
My face had just sort of, flopped. One sees ageing first hand on the face, and you look in the mirror and think 'good God I didn't look like that last week'. Sleep deprivation and shift work really does take a toll on your face.
When you are peri-menopausal, the real giveaway can be seen in pictures that are taken of you, and that is what really made me notice how much my face has changed over the past few years.
A big concern of mine was my dark circles thanks to a lack of sleep but also my thinning lips have also become a problem since the menopause symptoms appeared.
I didn't necessarily feel that I had lost my looks, I just always thought that I never looked my age and then suddenly I did look my age, which was shocking.
For years people have told me that I have never looked my age and that I have always looked much younger which is why the sudden change in my face has been such a shock to me.
'I decided that fillers were a better option than a face lift'
Being a nurse, luckily that means I'm not knife shy or anesthetic shy. So it wasn't the procedure itself that was putting me off, it was the price.
I was quoted £6,000 for a face lift which is a lot of money to find just for vanity reasons. That's when Dr Kavouni suggested fillers to get the same effect, known as the 'career face lift' or 'liquid face lift'.
I spoke to Dr Kavouni in detail, went away and researched it and gave the treatment some thought.
One thing that helped me to make up my mind was how much I trust Dr Kavouni, and trusting your practitioner is key when it comes to these treatments. So I thought 'yeah why not, let's do this'.
'The first procedure took just 20 minutes'
The first treatment I had was an under eye tear-trough treatment and lip fillers, which only took around 20 minutes.
I had the under-eye, tear-trough treatment first. To start with, Dr Kavouni marked the under eye area with where she would be applying the filler.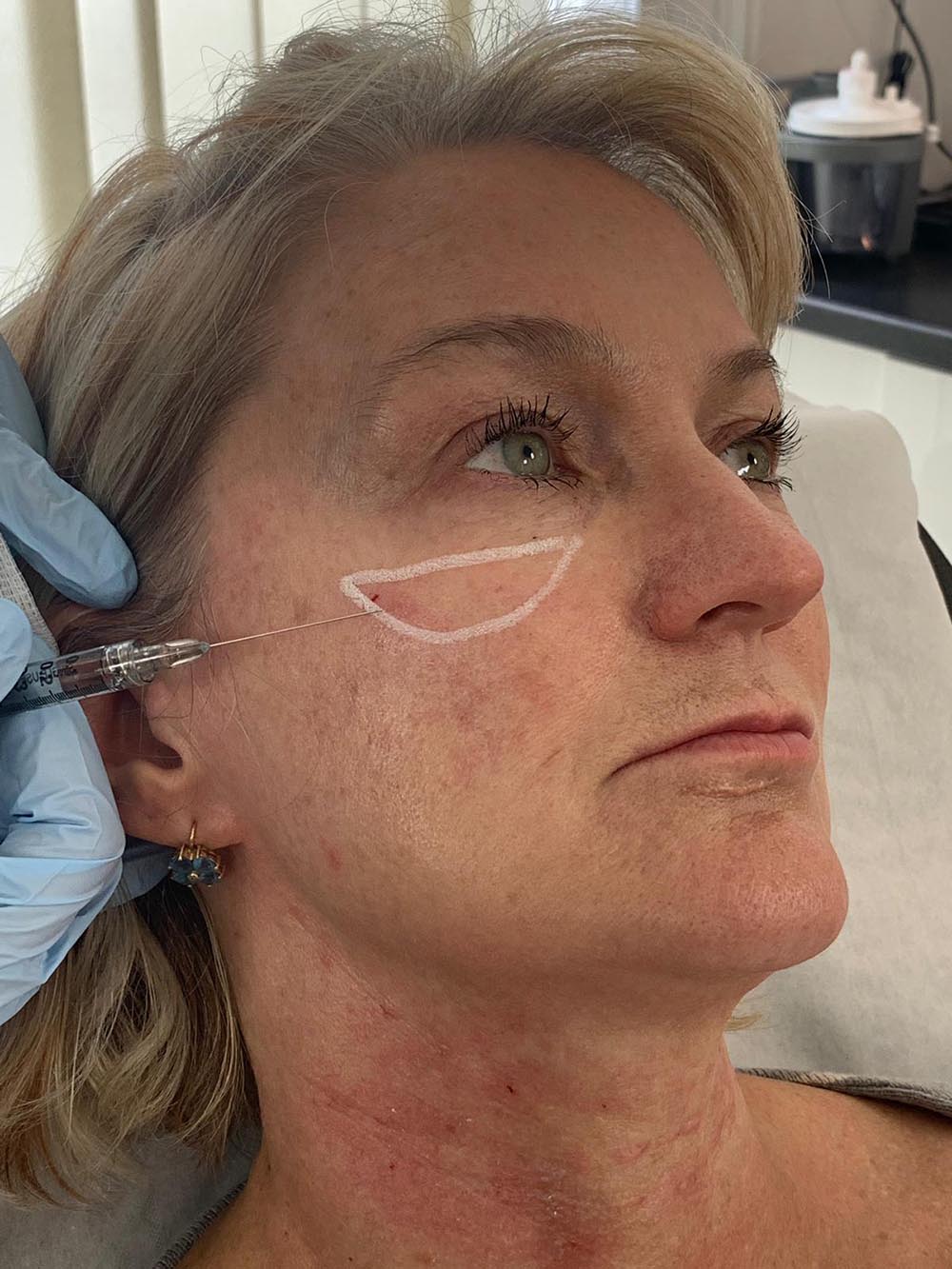 Then she applied anesthetic cream and waited for the area to go numb before applying the filler with a  cannula (a hollow tube).
The cannula is used to facilitate a smooth administration of the filler into the under eye area and all the way across the cheek (see video).
There isn't any repetitive pushing and injecting and pushing and injecting, it's a sweeping movement so the filler is 'sweeped' into the skin rather than injected. She then moved onto the other side of the face.
Dr Kavouni explained to me that most under eye darkness is actually cause by a shadow that appears from the reflection of light. This is because the eye perceives shadows first.
So, if you change the contour of other areas of the face the light bounces in a different way, this then causes the shadow aka your dark circles to look reduced.
Put simply, the filler basically boosts the fat pad under the eye and that changes the contour of your face causing the light reflect in a different way.
Then it was time for the lip fillers. Firstly, Dr Kavouni applied the hyaluronic acid that contained the anesthetic to numb my lips.
Now I made it very clear that I didn't want duck lips. But I trust Dr Kavouni, and again finding a practitioner you can trust is paramount. I knew that Dr Kavouni's philosophy is less is more, and I couldn't agree more.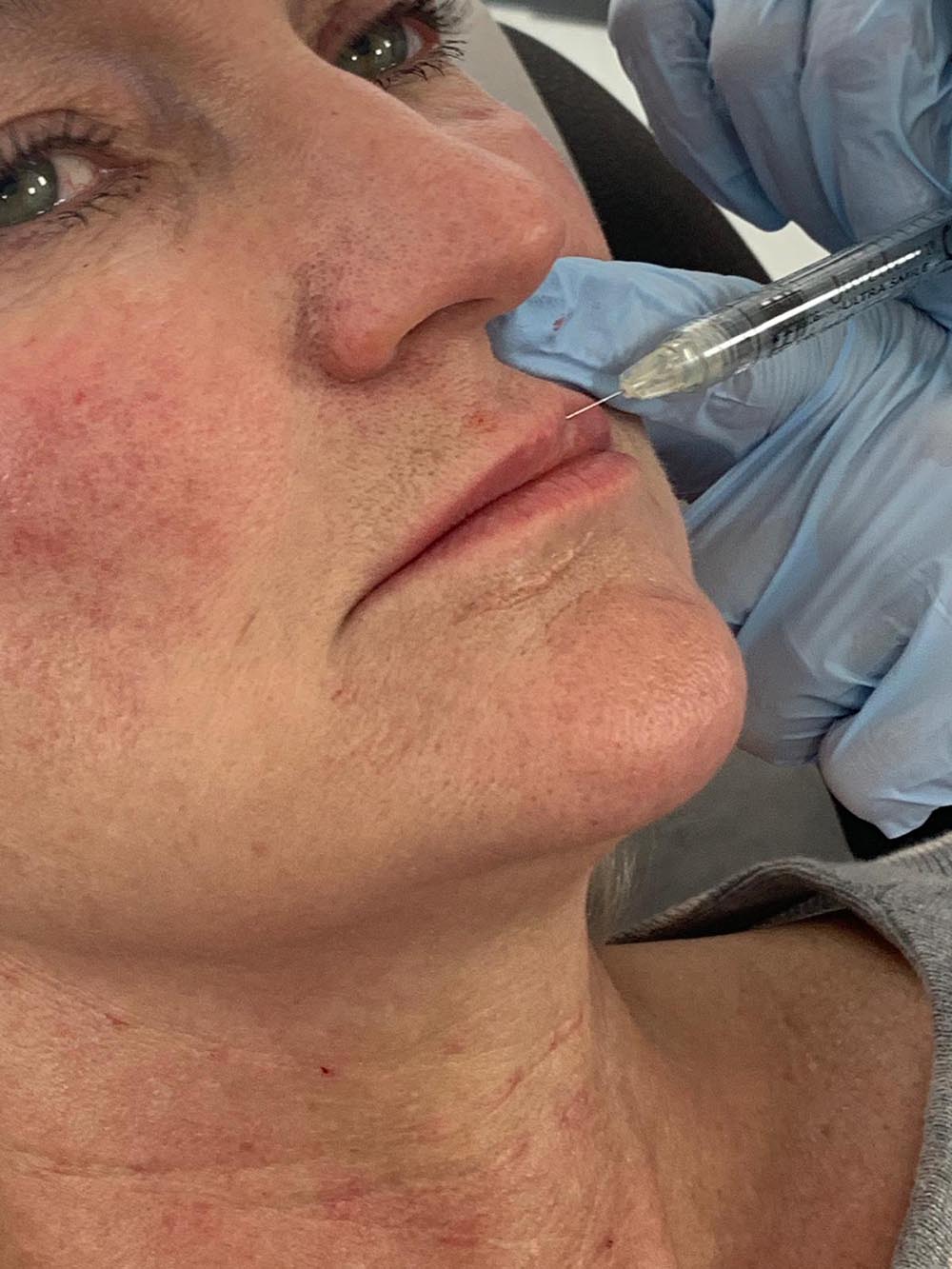 All I wanted was a little more definition in the top area of my lip, the cupid's bow area. This is where she applied the filler with a needle, to make the cupid bow more projected as that had flattened over the years.
Dr Kavouni then applied a little to my top lip as well, for that accentuated cupids bow and a slightly volumised top lip.
'The second treatment focused on the cheek area'
Because I didn't have time to get all three treatments (eyes, lips and face) done at once, I then went back a week later for my next treatment.
This treatment again involved anesthetic cream being put here there and everywhere, all over my face. Once I was numbed up, Dr Kavouni applied fillers to the cheek area around my cheek area.
I had filler applied to various points in my face, about four areas which didn't hurt because the anesthetic cream is super strong.
This time, Dr Kavouni treated half of my face first and then showed me the difference before going on to complete the other side of my face – the difference was quite dramatic.
Because of the menopause, women tend to lose fat pads around the cheek area which tends to change the shape of your face, the skin loses it's support.
Dr Kavouni didn't want to change my features, she just wanted to enhance what used to be there and rejuvenate it.
'I instantly looked rested'
After the very first treatment on my eyes and lips, I had absolutely no bruising or swelling, and I could see an instant difference, especially in the eye area.
I felt that I instantly looked rested, and that I had had a few good nights of sleep.
Other people didn't notice so much but then again what would they say? You look less tired, people don't tend to say things like that. But for me it wasn't about anyone else and how they see me, it was about how I felt after having the treatment and I felt amazing.
I did have some bruising on my cheek after the second treatment, but nothing too noticeable once you had some make up on.
I am very open about things I have had done and if people ask I am happy to tell them. I am also happy to recommend the career face lift to everyone – it has made me so happy.
This cost of this treatment starts at around £1000 at the Kosmesis Skin Clinic.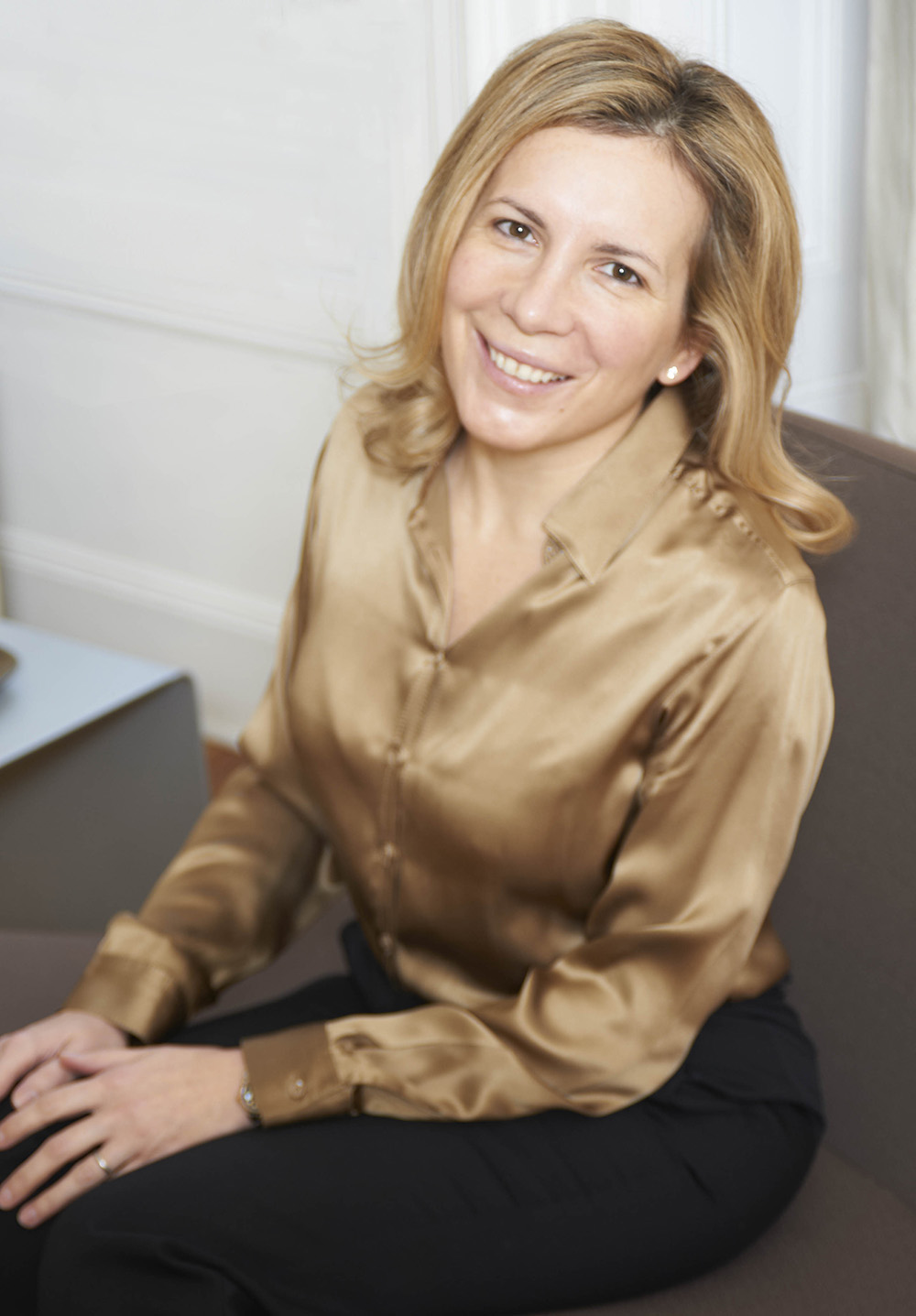 Dr Angelica Kavouni has been a cosmetic surgeon for more than 15 years, Ms Kavonui has appeared on Channel 4's Embarrassing Bodies, she is This Morning's go-to expert on cosmetic surgery questions and a regular fixture in Tatler's Beauty & Cosmetic Surgery Guide.
Known for her subtle anti-ageing treatments, her expertise also includes post pregnancy breast and body contouring.
She is Medical Director at the anti-ageing medi-spa Kosmesis Skin Clinic, which she founded in 2015, at 129 Harley St.
Relevant Healthista Content
Lip fillers: I went to London's most famous lip doctor and this is what happened
The new saggy skin fix that knocked 10 years off this woman's face
5 best anti-ageing face massages for glowing skin
Anti-ageing face yoga to help lift the cheeks and jaw in 60 seconds
Other Healthista Content You May Like:
I had lingual braces at 45 and this is what happened
10 self-confidence tips to use every day
Like this article? Sign up to our newsletter to get more articles like this delivered straight to your inbox.