Tired of her saggy skin, make-up artist Tina Young, 53, tried Ultherapy, an ultrasound skin-tightening treatment at Dr Tracy Mountford's The Cosmetic Skin Clinic
'For a long while, I was apprehensive about altering my face in any way. As a make-up artist, I've worked with a lot of models and actors and actresses who have had all sorts of procedures to enhance their physical appearance, but I've always been a little bit scared of taking that leap. You hear all sorts of stories about people who have regrets, or procedures that were too much or overdone.
'I really only knew about the knife, which was not something I would consider. It felt too risky. There was also the option of injectable treatments but that didn't really feel like something I was ready for.
'At the same time, I am 53. There were days when I'd pull back on my face, just a little, while looking in the mirror and think,  'Oh, that would be nice.'  A lot of you will know what I mean.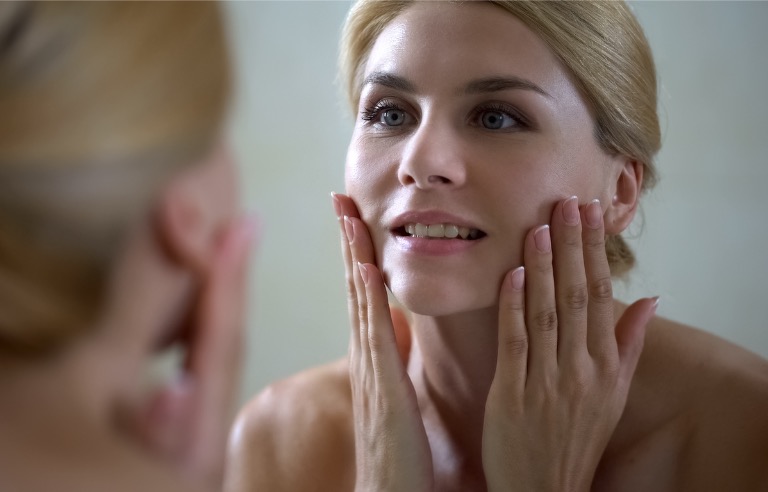 Discovering Ultherapy
'Most people will come across a new treatment because a surgeon has let them know about it, or they've set out to research it for themselves, but the circumstances were a bit unusual for me. I was working on a photoshoot when the opportunity to try it out came up.
'Actually, I hadn't even heard of Ultherapy prior to the shoot. I was doing the makeup for some ladies who would shortly be going through the process themselves. They were discussing it the whole time I'd been doing their make-up. I was hearing things like 'oh, it's amazing!' and 'It's looks so good' and that really piqued my interest. I wanted to hear more about this new treatment for the skin, that made it firmer without injectables.
'When I was called back for the next shoot, the person in charge said to me: 'Oh, one of the patient case studies couldn't make it today,' so a spot had opened up.
'Ultherapy is the only FDA-cleared, non-invasive treatment for lifting and tightening the skin on the face and neck, which is reassuring.
How does Ultherapy work?
'My consultation was at The Cosmetic Skin Clinic in London. Everybody was so kind and caring, I felt like I was in excellent hands.
'During my first visit, they explained the treatment process, what to expect and how long it takes and when I was likely to see results, it didn't sound too bad at all.
'They would be using a medical device to deliver high-intensity waves of Microfocused Ultrasound with Visualization (MFU-V) which delivers the energy to the deeper layers of the skin that are the areas targeted by the surgeons.
'This is different to regular ultrasound that you might use to see a baby in the womb. The heat stimulates the natural collagen and elastin within your own skin, increasing production, making it smoother and giving it more lift.
'The Ultherapy gives the collagen a kickstart putting structure back to the skin, which is what gives the skin its youthful bounce and glow.
'They also explained the results would fade gradually over time, which again was something that really appealed to me. It made it seem like less of a commitment if I wasn't happy with the results. I wouldn't have any bruising or anything like that. And best of all there wouldn't be any down time. I could just go about my day afterwards if I wanted. That's something that really attracted me to it.
What it's like to do an Utherapy Treatment
'I'm very sensitive to pain, whenever I have anything done at the dentist, I'll opt for pain relief, and this was no different.
'The pain relief was really just a step up from paracetamol; basically just to take the edge off, and as far as I could tell, it didn't affect anything but the pain. I felt perfectly lucid throughout the procedure.
'Before the procedure, my practitioner, marked up the areas of my face that would be treated with a lightweight marker pencil, rather like an eyeliner pencil.
'She only worked on areas where I needed a boost. As it turned out it wasn't as much of my face as I'd thought. The main areas targeted were along the lower part of my face and jawline and the upper cheek area. She didn't do anything to the skin around my eyes or forehead and the whole thing took approximately an hour.
'The procedure itself was a little uncomfortable; sort of on the lighter side of hot, around 60-70 degrees Celsius, I was told; sort of like having and elastic band snapping against your face. It wasn't so much painful as more of a strange sensation.
I was definitely nervous, but my practitioner was great and I could just tell she was really experienced and felt absolutely in the best of hands.
In fact, everybody at the clinic made me feel that way. The overall atmosphere made it so that if I ever decided to do it again, I wouldn't be afraid at all. I would certainly recommend it.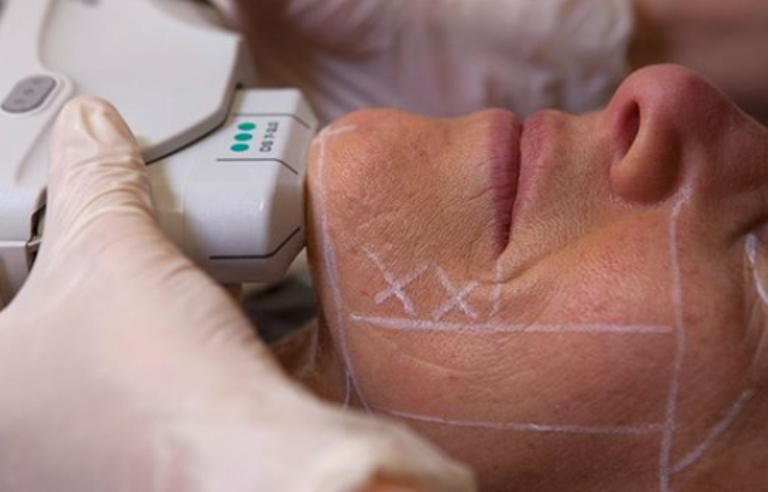 Recovering after my Ultherapy treatment
'When I left the clinic following the treatment, the sensation I was feeling was nothing major, though I remember my face glowing with a hint of redness.
'I probably could have gone to meet somebody for a meal afterwards and they wouldn't have noticed. No one stared at me, or anything like that and I didn't have any swelling or bruising so you really couldn't tell I had had something done.
'I have been told that some people will experience minimal swelling, but for me that wasn't the case.
Feeling ten years younger
'The effect was gradual, which was nice, because no one was thinking: 'Oh what did she have done?' People just started commenting that I looked well and no one caught on to the fact that I'd had something done, unless I told them.
'They just thought I just looked 'lovely' for some reason. It was maybe two months before I caught myself having a little stare in the mirror and suddenly felt really pleased with my skin, and from then on it just kept getting better and better.  That's the thing with ultherapy – the treatment works more and more over time.
'Around five months later I bumped into a director that I had worked with over four years prior. I was on a train with him and we were chatting, and after about 20 minutes he said, 'Oh, Tina I just have to say something. You literally look about ten years younger than the last time I saw you.' I didn't tell him I'd had anything done, I just said, 'That's so kind, thank you'. It was totally unprompted he just happened to say it.
How long does the treatment effect last?
'The effects of that one treatment should last approximately twelve to eighteen months. I'm not worried about what will happen when the effects start to fade. It's not something that's going to suddenly just wear off overnight.
'Without a second treatment in a year or two, my collagen production will gradually wind down over time and I will age into it naturally.
'So far it's lasted well over a year – I had the treatment done in February 2018! – and I don't feel the need for a top up anytime soon.
'I only had the one session, but it made me so much more confident. All the compliments have been so lovely.
'Whenever people found out that I had adult children they'd say things like 'wow, old were you when you had them? You must've been a teenager!'
You can find out more about Ultherapy and other non-surgical cosmetic 'tweakments' in The Tweakments Guide by Alice Hart-Davis.
Ultherapy is the only FDA cleared, non-invasive procedure to lift the upper and lower face, under the chin, neck, and on the eyebrow as well as improve the appearance of fine lines and wrinkles on the decolletage. 
Prices from £1200
For further information contact: cosmeticskinclinic.com
84 Rogers Lane, Stoke Poges, Buckinghamshire, SL2 4LF
Picture & Treatment credit: Treatment performed by The Cosmetic Skin Clinic
This feature was sponsored by The Cosmetic Skin Clinic.
The Cosmetic Skin Clinic is a leading, independent, multi-award winning medical aesthetic clinic in the UK and Europe. Dr Tracy Mountford MBBS MBCAM is their founder and Medical Director and has over 28 years' experience as a cosmetic doctor.
They offer the latest innovative non-surgical treatments for face and body to treat both men and women.
They specialise in soft, subtle, natural facial rejuvenation and body contouring procedures, including fat loss treatments, to re-contour and redefine the body.
They also only offer gold standard non-surgical fillers and premium medical devices to ensure the very highest levels of safety and efficacy for their patients.
Like this article? Sign up to our newsletter to get more articles like this delivered straight to your inbox.