Finding herself back on the dating scene at 45, Sharon Walker, Healthista's Managing Content Editor consulted her orthodontist and opted for lingual braces to sort out her 'crossover' smile. Here's what happened
I'd always wanted straight teeth, but had never thought of seeing an orthodontist. Besides my husband said he liked my quirky smile and the way one of my front teeth crossed over the other, like a ballerina's feet in third position. He thought it was cute. But I did meet him in the grungy Nineties, when it wasn't cool to look too perfect. Then suddenly the marriage was over and my perfectly imperfect smile had to go.
A Hollywood smile could be mine and nobody need ever know how I got it
Finding myself back on the dating market in my early forties, I urgently needed to boost my confidence and my dating currency. I joined a gym, saw an aesthetic doctor and found a new hairdresser, but despite feeling my smile was less than perfect, it still didn't occur to me to sort out my teeth.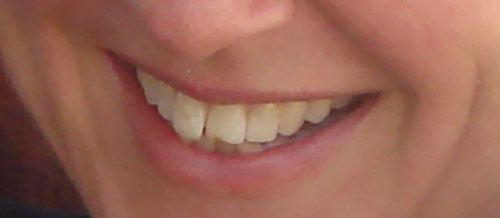 I'd already been through the Ugly Betty train track experience once as a teenager and I didn't much fancy repeating it, they didn't give retainers in the Eighties and my teeth had moved since. Besides I didn't think a set of metal train tracks would do much for my dating prospects.
Finding an orthodontist
It was only when my daughter, Edie, then 11, needed a brace to correct her overbite (dentists' speak for sticking out teeth) that I found myself at the Hampstead Orthodontic Practice, in Dr Alvanos's surgery – I'd asked the mums at school for recommendations and his name came up time and again – that I had a sudden light bulb moment. A Hollywood smile could be mine and nobody need ever know how I got it, because, as Dr Alvanos explained, these day's braces can be virtually – or if you're willing to spend that bit more – completely invisible.
As my poor daughter sat there in tears (she thanks me now but at the time a brace was not on her wish list), I skipped out of Dr Alvanos's surgery, excitedly anticipating my soon to be Cinderella smile transformation. My teeth would go to the ball.
Dr Alvanos has seen a 50% upturn in adult orthodontics patients in the last decade and had recently treated a client at 78
Would the Invisalign be best for me?
Not only that, nobody need ever know how they got there, because while Dr Alvanos would not recommend the barely there clear Invisalign – a series of clear plastic trays that fit over the teeth, with each tray moving them into a slightly straighter position – for a reluctant teen like my daughter, because you can take it out to eat and brush your teeth but, crucially, must put it straight back in, or the treatment won't work properly – it was a perfect option for a motivated grown-up like me.
Everyone is getting adult braces
I wasn't the only grown-up embracing braces. Dr Alvanos has seen a 50% upturn in adult orthodontics patients in the last decade and had recently treated a client at 78.
You're never too old to acquire Hollywood smile and as it happens I was in good company. Tom Cruise had an (almost) invisible brace in 2002, with fixed ceramic brackets, having just turned 40. Then aged 61, Academy Award-winning actress Faye Dunaway followed his example. 'You just just sort of let your teeth go for a while. But then it's time to get something done,' Dunaway said at the time. Miley Cyrus opted for a secret back-of-the teeth lingual brace, while Katy Perry embraced her nerdy alter ego, Kathy Beth Terry, complete with fierce braces in her Last Friday Night video, so I was right on trend.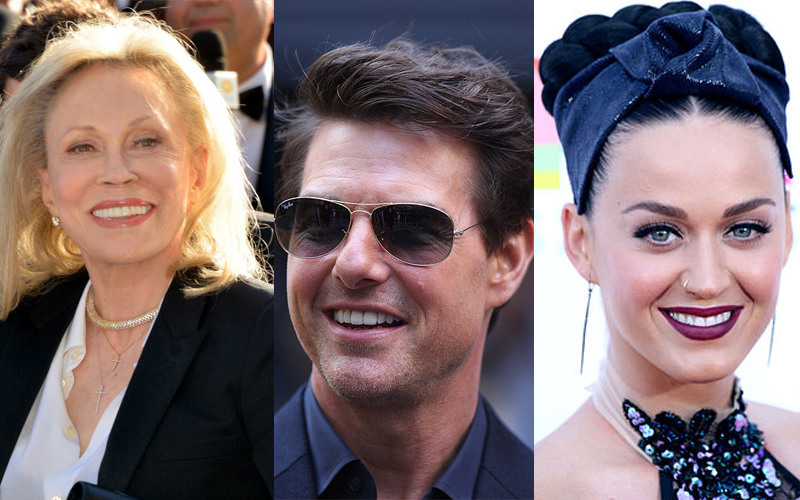 In the end, I didn't go with the Invisalign, not because it doesn't work, on the right patient they are extremely effective, but because in reality I'm more like a forgetful teen than a responsible adult. At least when it comes to losing things. And midst the itinerant hurly burly of the dating scene, I was forever leaving a trail of belongings behind me. It was bad enough trying to keep track of my clothes, jewellery and make-up as I whirled around London on a roundabout of dates – each more unsuitable than the last – the thought of having to retrace the walk of shame to retrieve my brace, left in a bathroom in God knows where, just didn't, for some reason, seem appealing. The more belongings forcibly bonded to me the better.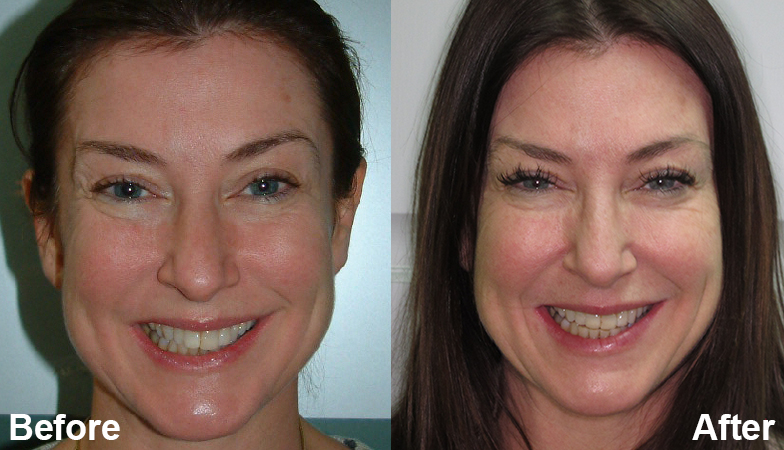 Ceramic braces – another discreet option
The minute I expressed doubts about my commitment, Dr Alvanos immediately offered an alternative: a fixed brace. Fixed braces are the solid old school Ugly Betty metal train tracks, the back bone of orthodontics, not the prettiest, but extremely effective, orthodontists know where they stand with fixed braces because they've using them for years.
The whole process was a lot less painful than I'd expected. Eating and speaking took some getting used to
'They are tried and tested,' says Dr Alvanos. And these days there are less obstrusive versions, where the brackets are white or clear, so though they're not exactly invisible they're a lot less… well, ugly. 'They are more discreet,' Dr Alvanos explained. Added to that he could include a new sliding option, known as a self-ligating brace, that would speed up the process and make it more comfortable by reducing the friction on the teeth. My brace could be off 20% quicker.
All being well, I'd be done and dusted within six months to a year. If I hadn't been newly dating I almost certainly would have plumped for this option, as fixed ceramic or clear braces are, as Dr Alvanos explained, reliable, effective, fast – and cheap (well not cheap exactly, but they're the most affordable option after metal train tracks). What's not to like?
As it was this was the brace we chose for my daughter, but I still wasn't sure if it was the right brace for me. Or whether my fragile dating confidence could withstand the scrutiny, as I said these braces are discreet, but you can still see them.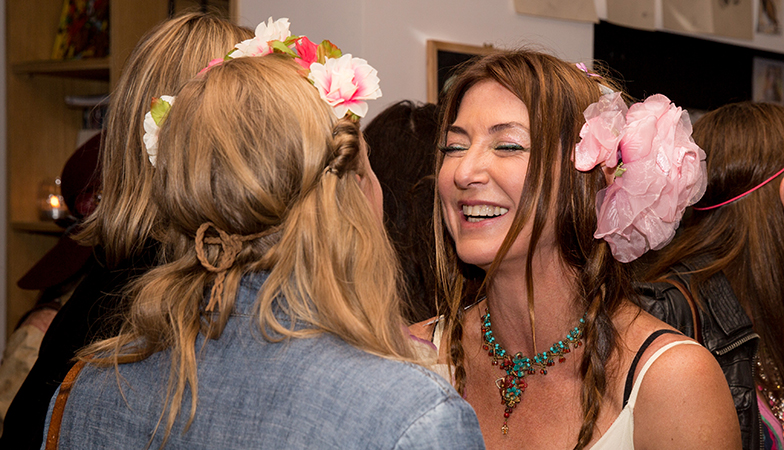 That's when Dr Alvanos suggested the Incognito, as the name suggests this is the most discreet of braces. So discreet in fact, you really can't see it, not even a hint, not even up close across a candle lit table, or even the harsh light of morning, because it is fixed to the back of the teeth. On the downside these lingual braces, take a bit more getting used to, as Dr Alvanos explained. 'Two weeks compared to three days for normal fixed braces that go on the front of the teeth.' The other downside is that they're the priciest of all the options, because each bracket is made bespoke to fit flush to your teeth, minimising the ouch factor. All things considered, I decided to bite the bullet, not least because these braces are A-grade effective.
The lingual brace – the most 'secret' brace of all
The brace would cost a not insubstantial £5000, but when Dr Alvanos offered a monthly instalment plan that sealed it. Two weeks later I was back in Dr Alvanos's chair my mouth stuffed with a rubbery blue goo, having impressions taken. If I went back today, I'd be spared this indignity as he now has state-of-the art digital imaging equipment that does away with the whole faff of impressions, by creating accurate 3-D images. As it was the whole process was a lot less painful than I'd expected. OK so having a mouthful of metal wasn't the most comfortable thing in the world. Eating, and speaking took some getting used to.
If anyone shoves a camera in my face these days, I'm not shy to give them a flash of my now Hollywood-straight pearly whites
But there were upsides – my newly acquired Marilyn Monroesque lisp, for example, was deemed devastating sexy. Sadly it didn't last and I was soon back to speaking in my usual unstarry way – though it made a brief reappearance whenever the brace was tightened, every six weeks. Was it painful? Yes at first. Metal and tongue is not an ideal combination, but it's surprising how quickly I forgot about it. Until it came to eating. Let's just say that oral hygiene becomes a priority with any fixed brace and you will have curb cravings for popcorn and toffee and other potentially brace-breaking ingredients – probably no bad thing.
It didn't take long for my daughter to accept her brace. Half of her friends had them anyway and didn't bat an eyelid. And, of course, neither did mine. The only downside, was that unlike when my daughter whose grand reveal after eighteen months, was an exciting duckling to swan epiphany and nothing short of miraculous. (She's now modelling and her smile is her trademark, all thanks to Dr Alvanos). There was no big wow finale in my own case, just a gradual improvement until, one day, about a year after they'd been fitted, when I explained to someone, that no thank you I couldn't eat that on account of my brace. They looked at me surprised and said, 'But you don't need a brace, your teeth are perfect.'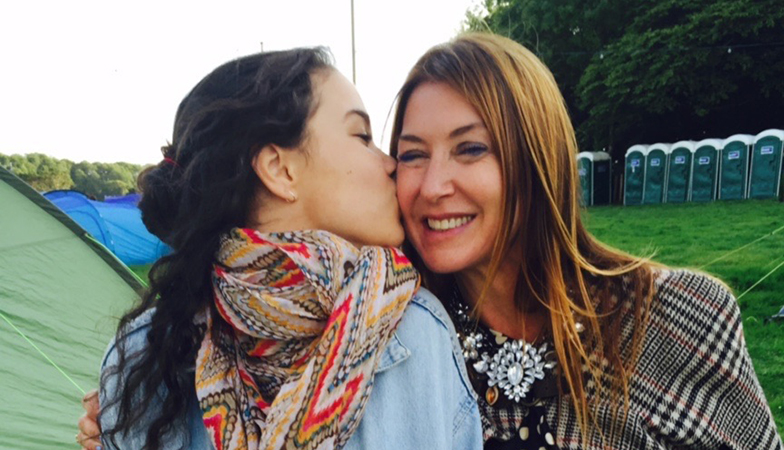 Did my new teeth boost my dating confidence? Yes I think they did. Apart from the occasional awkward moment, at dinner, when I had to run off to the bathroom to dislodge the odd stray carrot from my teeth. When the brace eventually came off after 18 months, I was happily ensconced in a new relationship. I can't say I was sad to see the back of it though my new beau missed the sexy lisp. Sadly, that relationship didn't stay the course, but five years on my A-list smile is still going strong, thanks to wearing a retainer nightly, and if anyone shoves a camera in my face these days, I'm not shy to give them a flash of my now Hollywood-straight pearly whites.
Lingual braces: what you need to know
How long do lingual braces take? Between eight months and two years, depending the position of your teeth.
Can any orthodontists fit a lingual brace? Yes but it's best to find an orthdontist with specialist training, who has plenty of experience in fitting them.
Why do lingual braces cost more than other braces? The brackets on lingual braces are tailor made for each individual, they are  100% customised to the shape of your teethwhich makes them a bit pricier than the alternatives.
Are they as effective as classic metal 'train tracks' brace? Yes they work just as well.
How much do they cost? £4000-£7000.
Dr Angelos Alvanos is the head practitioner at the Hampstead Orthdontics Practice
Telephone: 020 3733 0399
Related Healthista Content:
5 tiny changes that make a big difference to the health of your teeth
Get a better smile on any budget