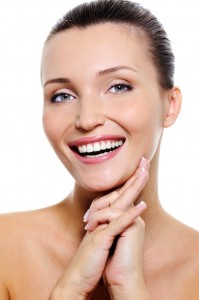 Tooth whitening is by far the most popular cosmetic dental procedure – but there are so many ways to get whiter teeth.  Top dentist James Goonik, founder of Bow Lane Dental lists your options
In October 2012 the law changed in the European Union to stop the sale of high concentration gels that led to sensitive teeth and in unlicensed hands, damaged tooth enamel.
Now, as long as you visit a qualified and experienced dentist you're likely to get good results. There are many whitening options – here, I've looked four of the options for Healthista and given my verdict:
1. IN SURGERY WHITENING also known as laser or power bleaching. Here, more concentrated gels are applied directly to the teeth and accelerated with heat or light (laser power). The latest power bleaching brand is called Prevdent, a system from Holland. It involves placing the gel on the teeth and activating it with an LED light. The procedure usually take around 40 minutes. It still needs custom made trays to maximise the whitening  result and for you to take home to help maintain your smile's whitess. From your dentist it's around £499. PROS One visit, fast result CONS Can be sensitive on the day they are treated, only able to whiten the front ten teeth, more expensive.
2. TRAY BASED WHITENING A whitening gel is placed in a custom made night-guard which is worn for a set period of 10-14 days. The latest gels only need to be worn for about an hour each day. Usually available at your dentist for around £250.  PROS More cost effective, can just do upper or lower teeth (good if they are not all dark or you are on a budget).  CONS Takes 10-14 days to get full effect, teeth can be sensitive for this time, need to be dextrous to use the gels and trays.
3. OVER THE COUNTER PRODUCTS The only proven system are the strip based products like Crest Whitestrips. These are thin, flexible transparent bands that are coated with a tooth whitening gel containing 6 per cent Hydrogen Peroxide and are designed to mould to your front teeth. Strips work best if you have straight, uniformly sized teeth. They only need to be worn for 20 minutes once a day for 10-14 days. They retail for £19.95 from Crest PROS Cheapest proven option, no moulds just buy a box (only available online) CONS Takes 10-14 days to get full effect, only whiten your front teeth and are fiddly to use.
4. TOOTHPASTES / MOUTHWASHES  Most whitening toothpastes do nothing. Some of those bought abroad can harm your teeth as they contain acids/abrasives that can cause permanent damage. The best you can achieve with whitening toothpastes is they can help stop stains from forming. I advise their use after you have had your teeth whitened.
4 TOP QUESTIONS PATIENTS ASK – ANSWERED
When will I see results?  With the surgery whitening you will see the final result on the day. If you are using the trays or strips it will take three days to start to notice your teeth become lighter. The full effect takes 14 days to get the best result. Your results will depend on many factors such as whether you smoke. Teeth are similar to skin tone. Some people go a golden brown in one hour in the sun, other spends days and only end up red and blotchy!
What if I experience gum discomfort or tooth sensitivity? Some people may experience tooth sensitivity or gum discomfort when using whitening products but this is only temporary and not harmful. If significant discomfort or sensitivity does develop, try reducing your application to once per day or even skipping a day and extend the total number of days of your whitening. You can use a sensitive toothpaste for 20 minutes in your trays (after removing the whitening gel) to help reduce this.
Will whitening affect my crowns, veneers, fillings or any other dental work? Whitening gel will only whiten natural teeth; it will not whiten caps, crowns, veneers, fillings or dentures. If you do have any dental concerns consult your dentist to determine if the tooth whitening is appropriate for you.
Why just at my dentist's? To get the best results your dentist will need to examine your teeth to check you are suitable for whitening. They can also guide you in choosing the best, most cost effective system to get that naturally white smile.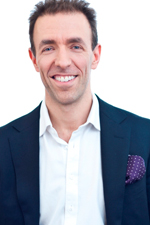 James Goolnik is the founder of the award winning Bow Lane Dental Group clinic in the city of London. James is past president of the British Academy of Cosmetic Dentistry. He qualified from Kings' College Dental School and went to study his Master's degree in Conservative Dentistry at the Eastman Dental Institute. He is the author of Brush (Amazon £11.69), a book about innovation in Dentistry. He was voted by his peers as the most influential person in Dentistry in 2011 & 2012. He has taught over 1000 dentists and hygienist on how to safely whiten their patients' teeth.
Follow James @jamesgoolnik
Like this article? Sign up to our newsletter to get more articles like this delivered straight to your inbox.