Tired of getting a chocolate advent calendar every year? Healthista have rounded up 25 alternative advent calendars to keep you entertained until Christmas 
First things first, let's just put it out there that there is no hidden anti-chocolate agenda here.
The Healthista team are very, VERY big fans of chocolate. If you could witness first-hand the way a Raw Halo chocolate bar gets demolished around here, you'd believe me.
However we can appreciate that for some, chocolate advent calendars are becoming a bit boring.
So we decided to hunt out some great non-chocolate alternative calendars that are equally worth getting excited about.
For those who like to look on fleek:

Let's set the scene: You've walked in to a Christmas party and see your ex.
Whoever organised the party didn't get the memo you two were long over and weren't on the best of terms.
But thankfully, you look like an absolute dream and they're definitely regretting all their past choices now.
If good looks could kill, your ex would be dead three times over.
Making sure you look your best at the next Christmas party couldn't be easier with this advent calendar. There are some classic MAC favourites in this like the iconic Velvet Teddy matte lipstick, the Prep + Prime Fix +, Strobe Cream and much much more.
Sleek New Day, New Attitude Advent Calendar – £30.00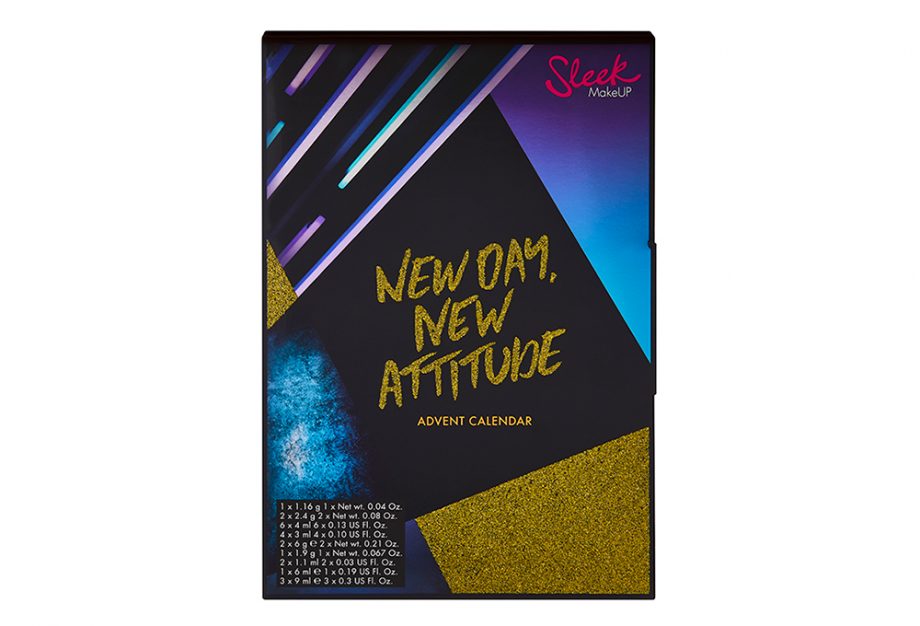 If spending more than £100 on makeup sounds a bit steep, this Sleek advent calendar is a great alternative.
As a firm user of Sleek makeup, I can't help but think this is a highly underrated brand that should have more buzz surrounding it. It's affordable but the products are quality.
For example, their eye shadow palettes suit various skin tones and are actually highly pigmented.
If you're looking to walk into 2020 with the 'new year new me' attitude, what better way than to spend December experimenting with new makeup to reinvent yourself?
This advent calendar has everything you need from metallic eyeshadow palettes, matte lipsticks to make-up brushes.
Birchbox Countdown to Beauty Advent Calendar – £70.00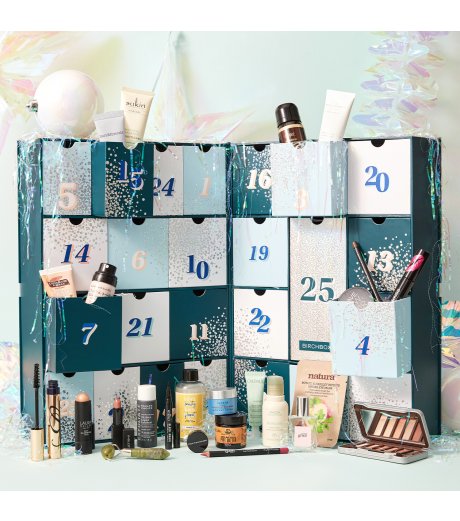 If you're a person that doesn't like to be tied down to a single brand, this Birchbox beauty advent calendar will be right up your street. You'll get some goodies from impressive names like Estee Lauder, Aveda, Paula's Choice and Philosophy.
The best part? You can expect to find full sized products waiting behind each door. Staggeringly, the content of this advent calendar is worth a whooping £206.
If you're a Birchbox subscriber already, then you don't need to worry about receiving something you already have –  all the products in the advent calendar are brand new to Birchbox.
FYI, the treat you'll find behind door 25 is worth £26 alone. Talk about value for money.
For those who like a tipple:
First 4 Hampers Wine Advent Calendar – £69.00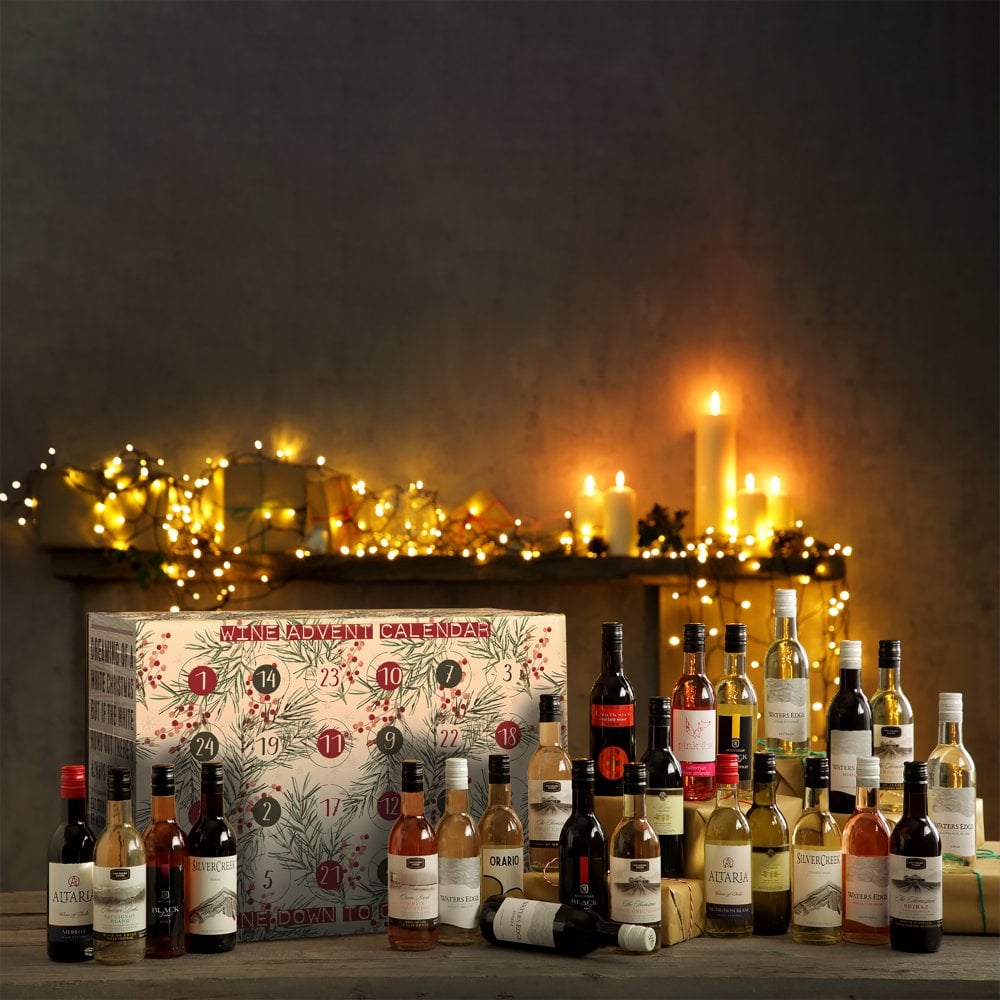 From Chile to South Africa to Australia to the United States, get ready for the ultimate wine-tasting from around the globe.
All from the comfort of your own home.
This advent calendar contains 24 quarter-bottles, (that's 187ml per serving – a medium glass), to ensure you have the most relaxing evenings in the lead up to Christmas.
Expect to find great wine from brands such as Founders Stones, Orario and Quartetto.
You'll be a wine connoisseur by the time 2020 is here.
Popaball's Pimp Your Prosecco – £29.99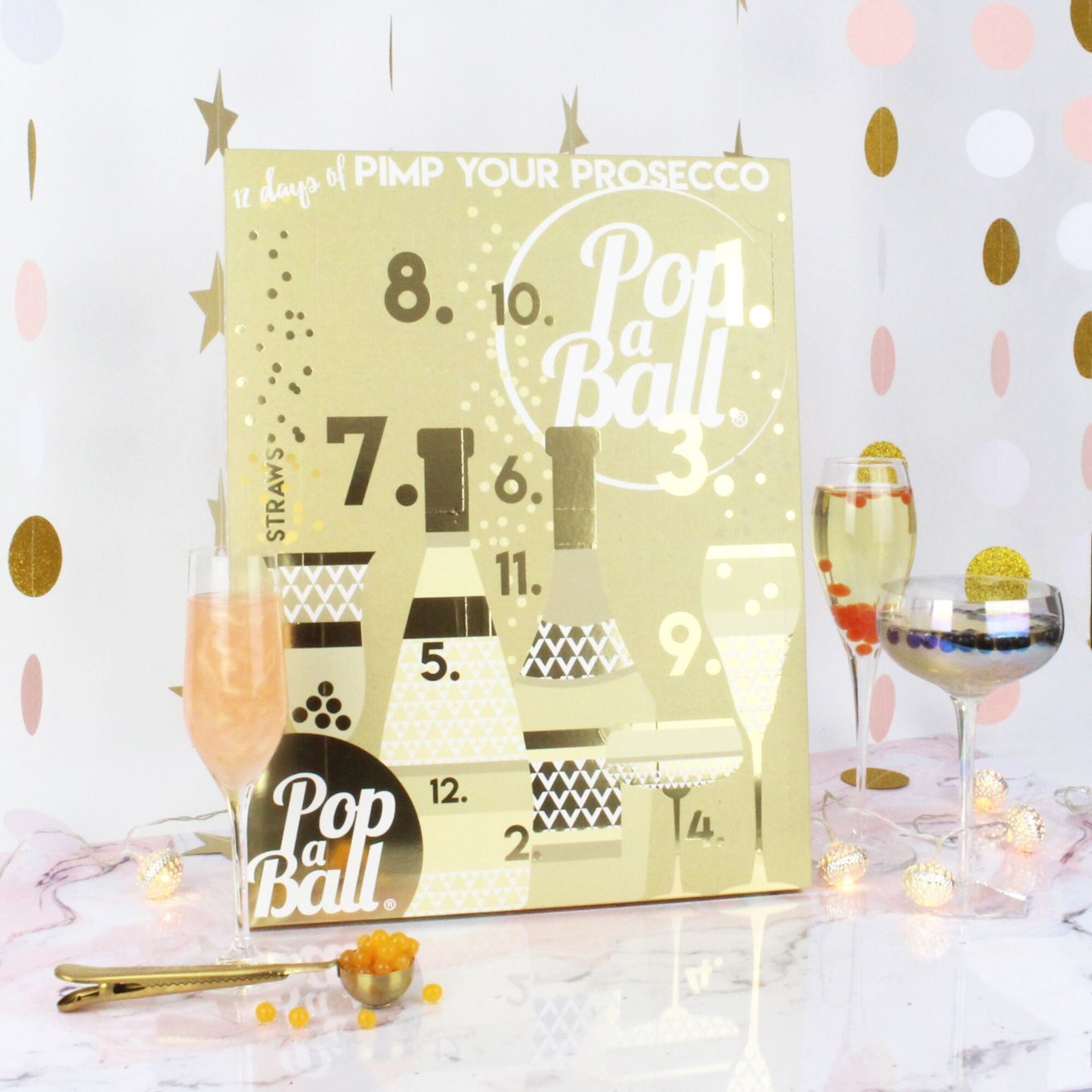 Prosecco is great, but you know what makes it even greater?
Fruity bursting bubbles.
Behind 11 of the doors are 60g of little balls of juiciness that will burst when you give it a chew. Each pot serving around three glasses. You'l also find some rose gold shimmer too (edible glitter to make your Prosecco look pretty – as if Prosecco isn't pretty enough, right?).
There's enough shimmer for 21 servings, which is a great finishing touch that will leave your Christmas party guests ooh-ing and aah-ing.
Or if you'd prefer to save the shimmer all for yourself that's fine too.
We won't judge.
That Boutique-y Gin Company Advent Calendar –  £49.95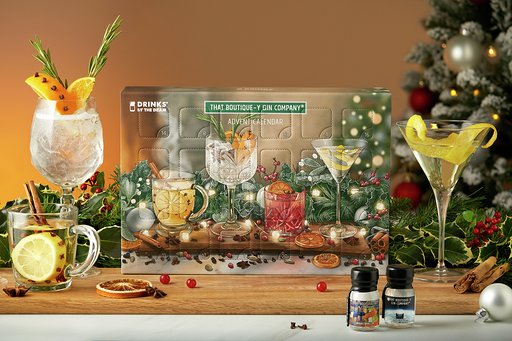 We couldn't leave out gin, could we?
This advent calendar is  for the more adventurous gin-lovers out there.
Behind each of the 24 windows, you'll be met with a 30ml wax-sealed mini-bottle of a different gin.
Flavours vary from chocolate orange to spit-roasted pineapple. The advent calendar also includes That Boutique-y Gin Company's award-winning moonshot gin.
If you're raising an interested eyebrow at the flavours so far, you can take a peek at the rest of the flavours on the site and see whether they tickle your fancy.
For foodies:
Ilchester Limited Edition Cheese Advent Calendar – £10.00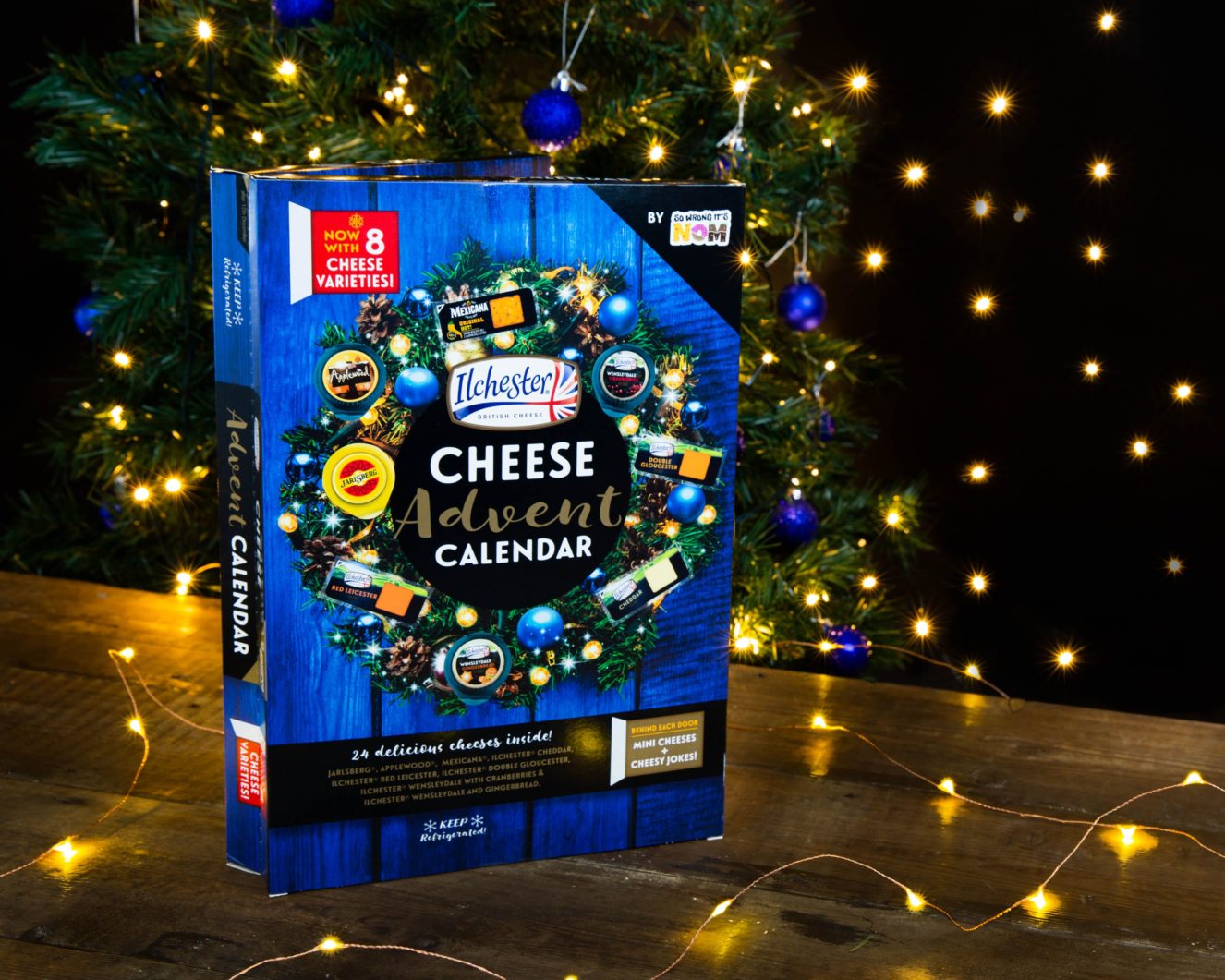 Who doesn't love cheese?
Certainly not anyone in the Healthista office, which is why this cheese advent calendar was an absolute favourite of ours.
Jarlsberg, Edam, Cheddar, Wensleydale…. There's a bit of everything for everyone.
Although be warned, it is very likely that this advent calendar will cause carnage if there are more than two Red Leicester lovers in one household.
For the cheese experimenters among us, be ready for some unusual but winning flavours such as gingerbread…
In case you're curious, the gingerbread flavoured cheese got the seal of approval by those brave enough to try it here at Healthista.
This cheesy extravaganza is available nationwide now in various UK supermarkets, so keep your eyes peeled.
The Protein Ball Co. Advent Calendar – £19.99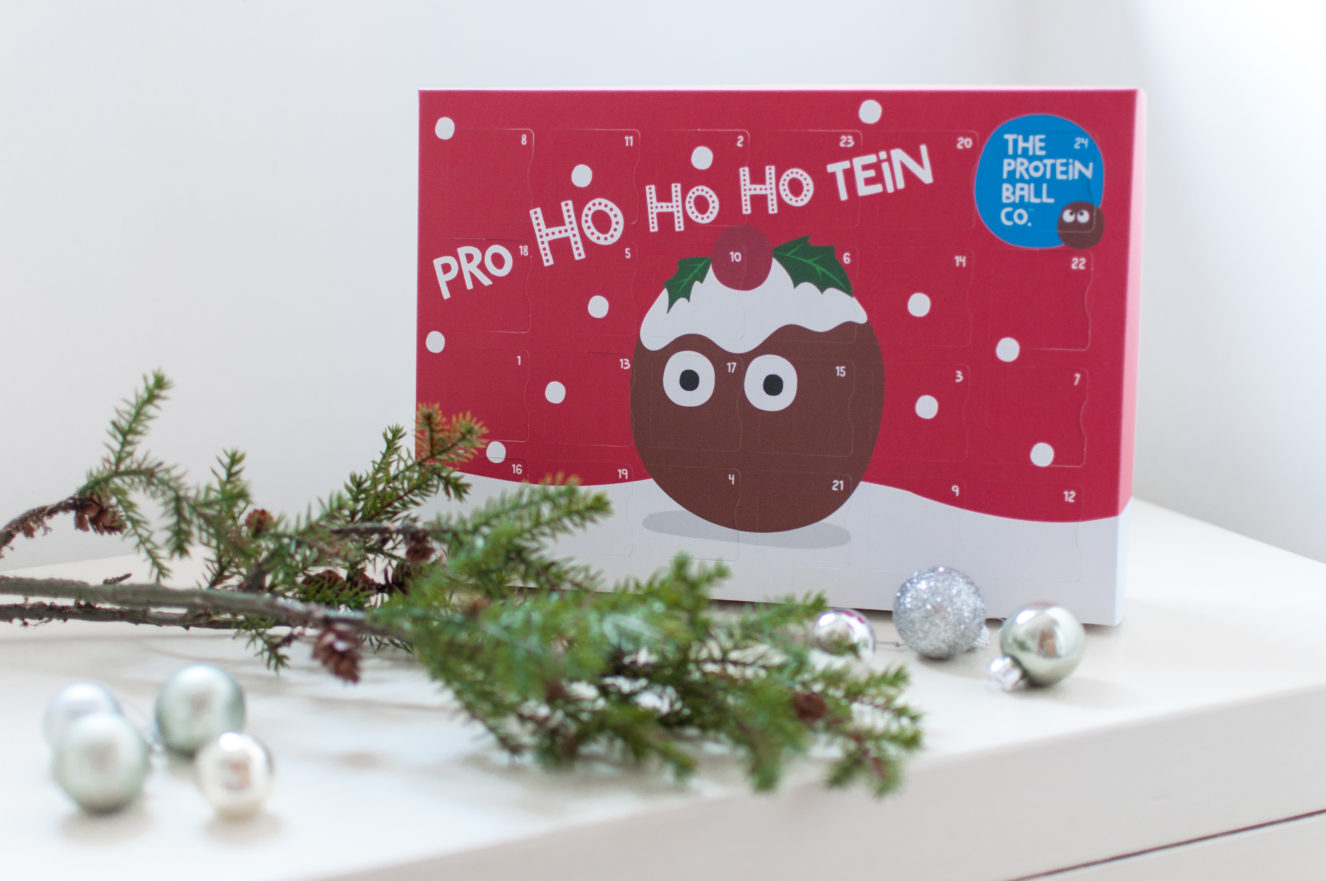 Let's be honest, it's not a walk in the park to religiously stick to macros during the Christmas period.
However, if you're looking for a non-chocolate advent calendar in the hopes that you'll stay more on track, this is a great solution.
Behind each door is a new protein ball made from pea, brown rice, hemp and other types of proteins.
The flavours are pretty lush too, so you can look forward to raspberry brownie and lemon pistachio combos.
High protein, vegan, no added sugar, high in fibre, what more could we ask for?
Joe & Seph's Gourmet Popcorn Advent Calendar – £25.00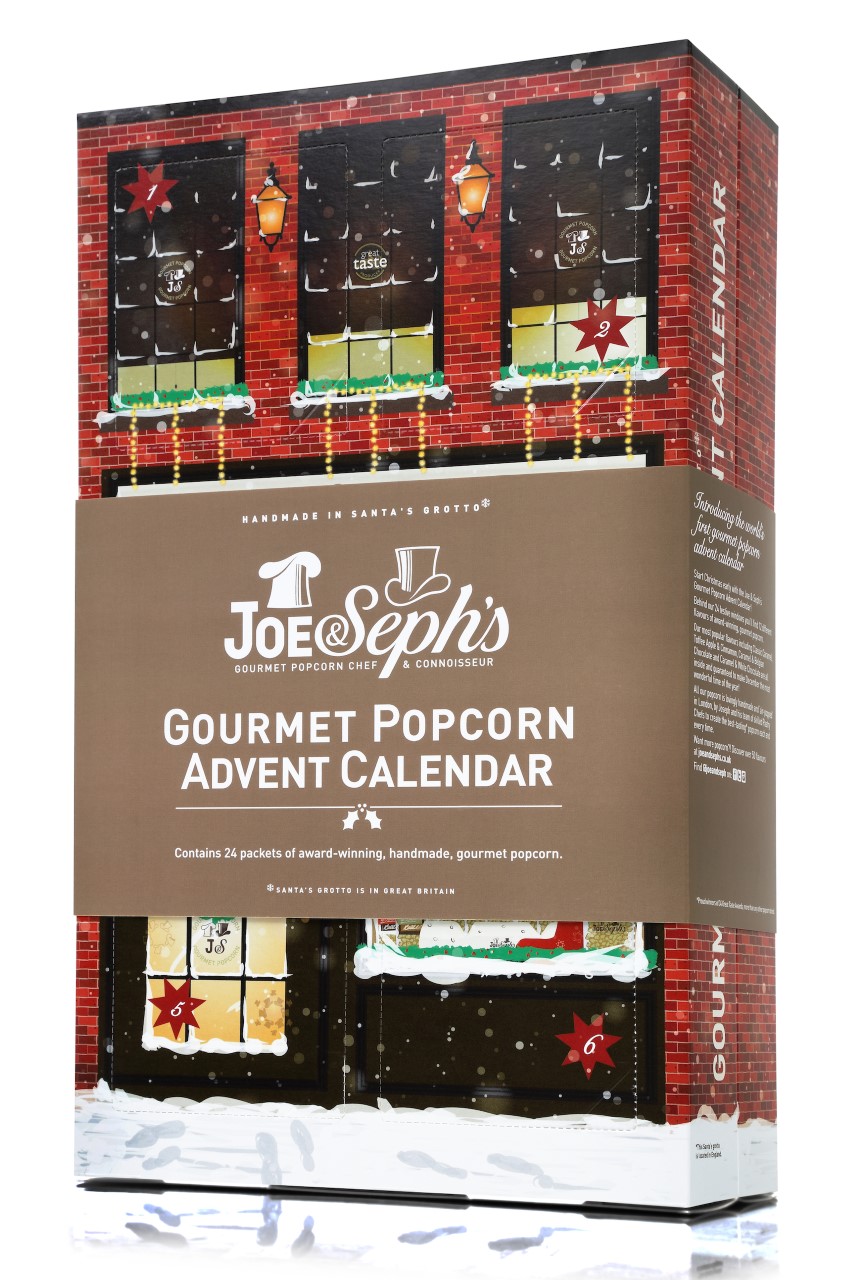 Banoffee pie popcorn, anyone?
That's just one of the unique popcorn flavours offered in this Joe & Seph's advent calendar. Not only is the gourmet popcorn handmade, it's also gluten-free.
As a huge chocolate orange enthusiast, I was extremely excited to see the chocolate orange popcorn. I was also wary it would be all chocolate and no orange. Never have I been happier to be proven wrong. The flavours are distinctly recognisable and utterly delicious.
The calendar opens out like a giant Christmas storybook, so you'll feel like a little kid again every time you open another door.
Expect to not only find snack-sized packets of these artisan popcorn flavours, but also some corny jokes to make you chuckle.
Be warned though, the popcorn is insanely addictive. This advent calendar is not for the weak willed.
The Naked Marshmallow Co. Advent Calendar – £17.50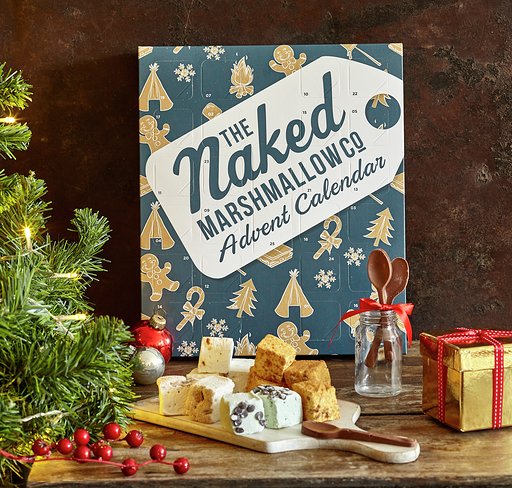 How many times have you ever tried a marshmallow that wasn't vanilla flavoured?
This marshmallow advent calendar will introduce you to a whole new world of marshmallows you wouldn't have ever thought existed.
Mint choc chip, butterscotch and salted caramel are a few mouth-watering flavours.
The marshmallow is not only handmade but also uses 100 per cent natural ingredients, and is free from preservatives, artificial colours and flavours.
Whether you want to eat these straight out of the calendar or toast them, this is a great alternative to the traditional advent calendar.
If you do like the classic marshmallow don't worry because door 25 not only includes a vanilla bean marshmallow, but also a chocolate spoon that will make a fab hot chocolate drink.
The 12 Curries of Christmas Advent Calendar –  £29.99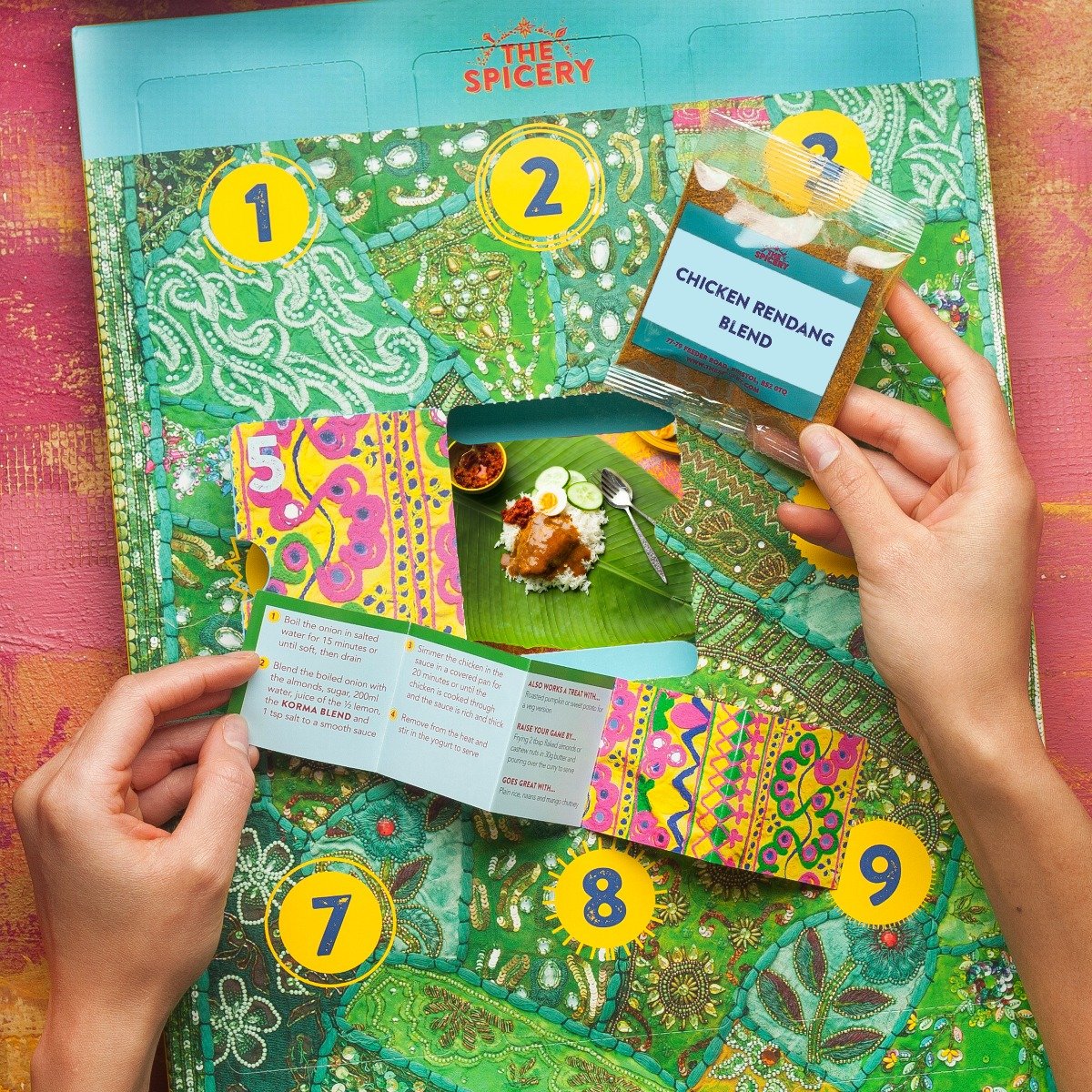 Nothing beats a homemade meal, especially around Christmas time.
If you're in the mood to try something other than turkey and roast potatoes, this 12 Curries of Christmas Advent Calendar might be just the contender.
Behind each window of this advent calendar is a spice blend. Fear not if you have limited experience in the kitchen, there's also a recipe that will take you step by step through to cooking process.
Each recipe provides instructions that makes food to feed four people, so bring some family or friends round to yours and get cooking.
From a Jamaican curry goat to a sweat-inducing Madras curry, your taste buds will get to try a bit of authenticity from all around the world.
For those who like a caffeine kick:
Bird & Blend's Tea Advent Calendar – £36.00
The beauty of tea is how it's the solution to every problem, ever.
Need something to wake you up? Tea.
Don't like drinking water but need to stay hydrated? Tea.
Mid-afternoon pick-me-up? Tea.
Period cramps? Tea.
Need to unwind after a long frosty commute? Tea.
Broke up with your partner, house on fire and the dog has gone missing? Tea.
This Bird & Blend tea advent calendar will make tea aficionados jump for over-caffeinated joy at the selection of teas ranging from herbal to green to rooibos to black.
With festive flavours such as like 'Gingerbread Chai' and flavours such as 'Kung Flu Fighter' to get you through the flu season, every day is a surprise. If you love tea as much as we do, that's excitement, right there.
English Tea Shop Book Style Green Advent Calendar – £16.00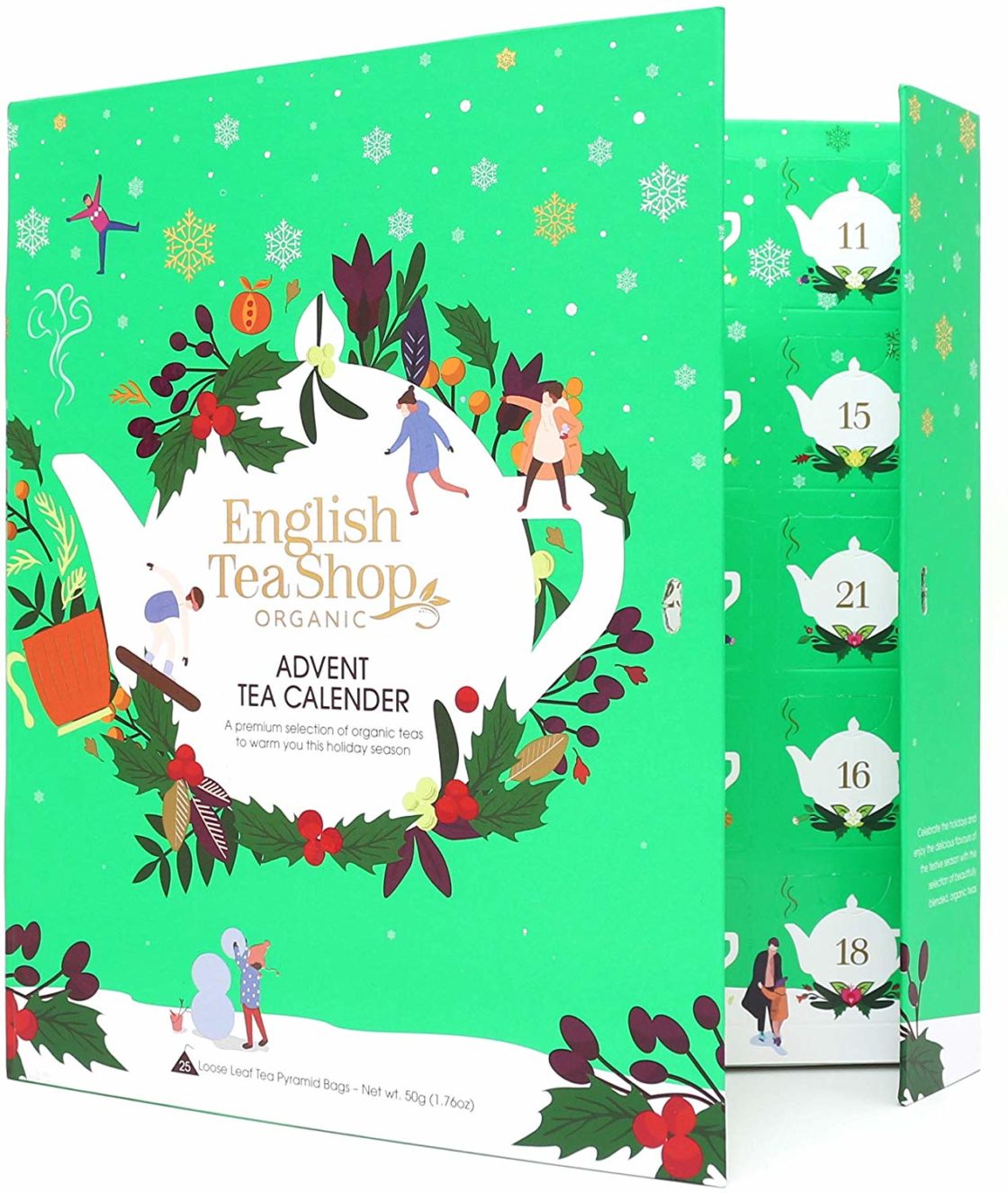 If you're tea obsessed like every single one of us in the Healthista office, then an alternative advent calendar filled with different tea flavours will blow your mind.
This English Tea Shop's advent calendar is not only filled with magical festive teas, but also made from the finest quality organic tea leaves, herbs and spices. Whether it's White Wonderland, Holiday Boost or Winter Balance, you'll be in for an absolute treat.
If these teas weren't enough to make you feel good, the tea bags are all compostable which makes this a small but ethical buy this Christmas.
Pact Coffee Advent Calendar – £39.95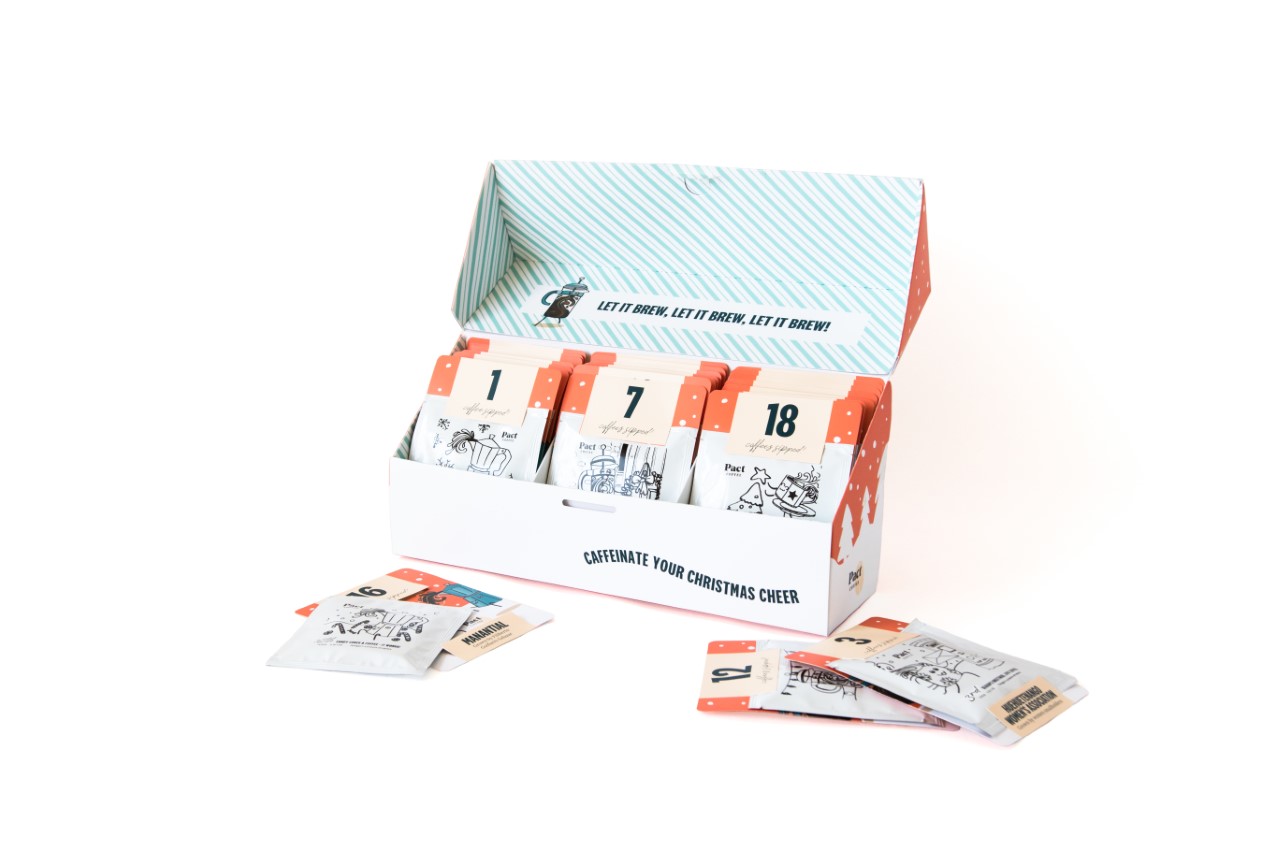 As much as Christmas is the best time of year, it is undoubtedly a stressful time too. From last minute Christmas shopping to the annual family get-together with the in-laws you can't stand…Tiring doesn't even cover it.
What better way than to fuel your way through the chaos than with a bit of coffee?
This Pact Coffee advent calendar was a hit in the Healthista office, with both the coffee drinkers and non-coffee drinkers alike. Everyone agreed that beyond being an advent calendar, this would work as a perfect gift.
This coffee is pre-ground to suit cafetière, aeropress and drip brewing methods.
Whilst you're waiting for the coffee to brew, you can browse the coffee cards, finding out where the tasting notes, where the coffee is sourced and information about the farms it is produced on.
If you're already a Pact customer, you'll be excited to know that the popular coffees such as Karinga Peaberry and Asomuprisma are back.
With coffee from Kenya to Honduras to Guatemala, getting out of bed on a gloomy Monday morning will be worth it.
The Letteroom's Personalised Coffee Advent Calendar Box – £49.95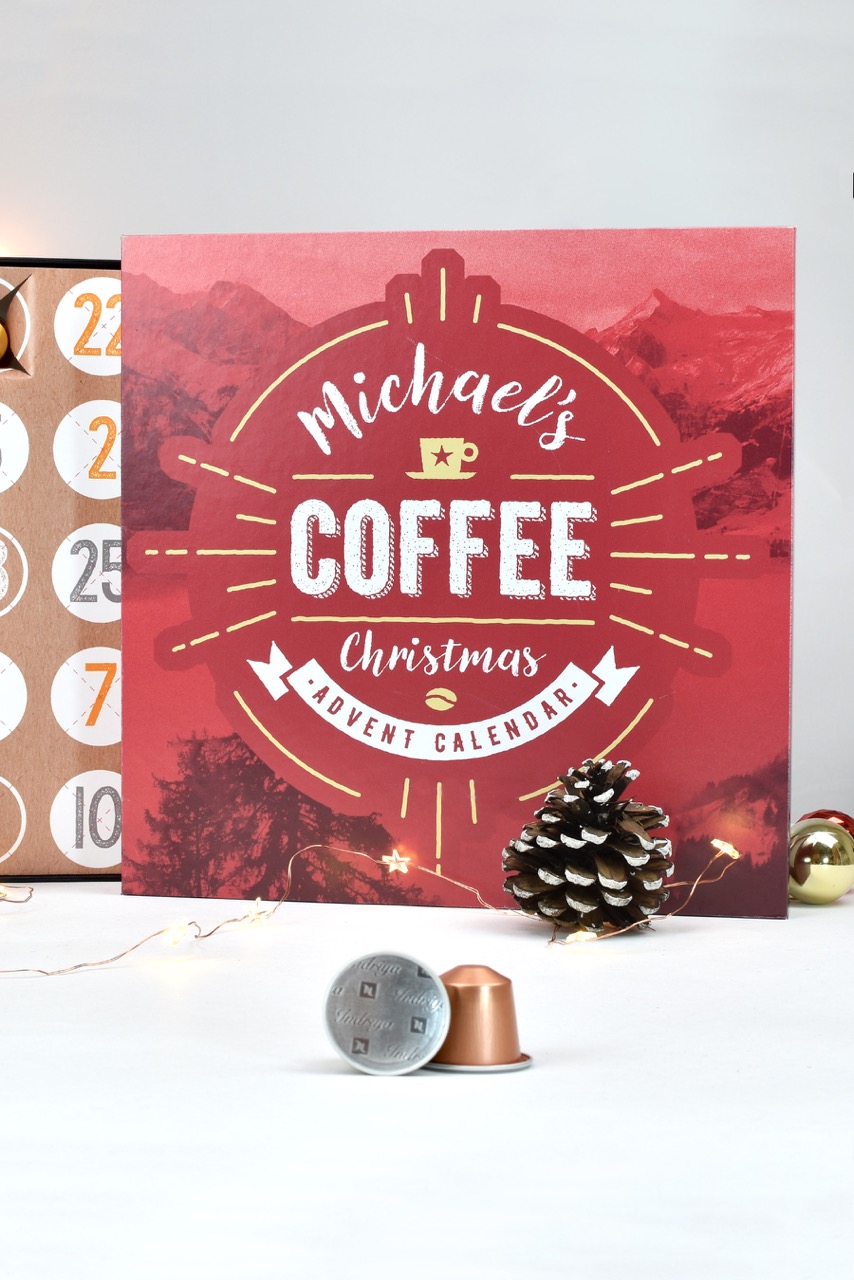 If you have a Nespresso machine collecting dust in the corner of your kitchen, this advent calendar will help you cleanse your guilt.
Behind each advent calendar door is a Nespresso compatible coffee pod.  There are up to 13 mysterious flavours in the advent calendar, so coffee lovers are in for an absolute treat.
With the option to personalise the advent calendar too, you can be sure that everyone will know that your coffee stash is yours and yours only.
Or if you're trying to get onto Santa's nice list, you could gift this to someone who desperately needs a caffeine boost to get them through the festive period.
The Hot Chocolate Advent Calendar for Two – £45.00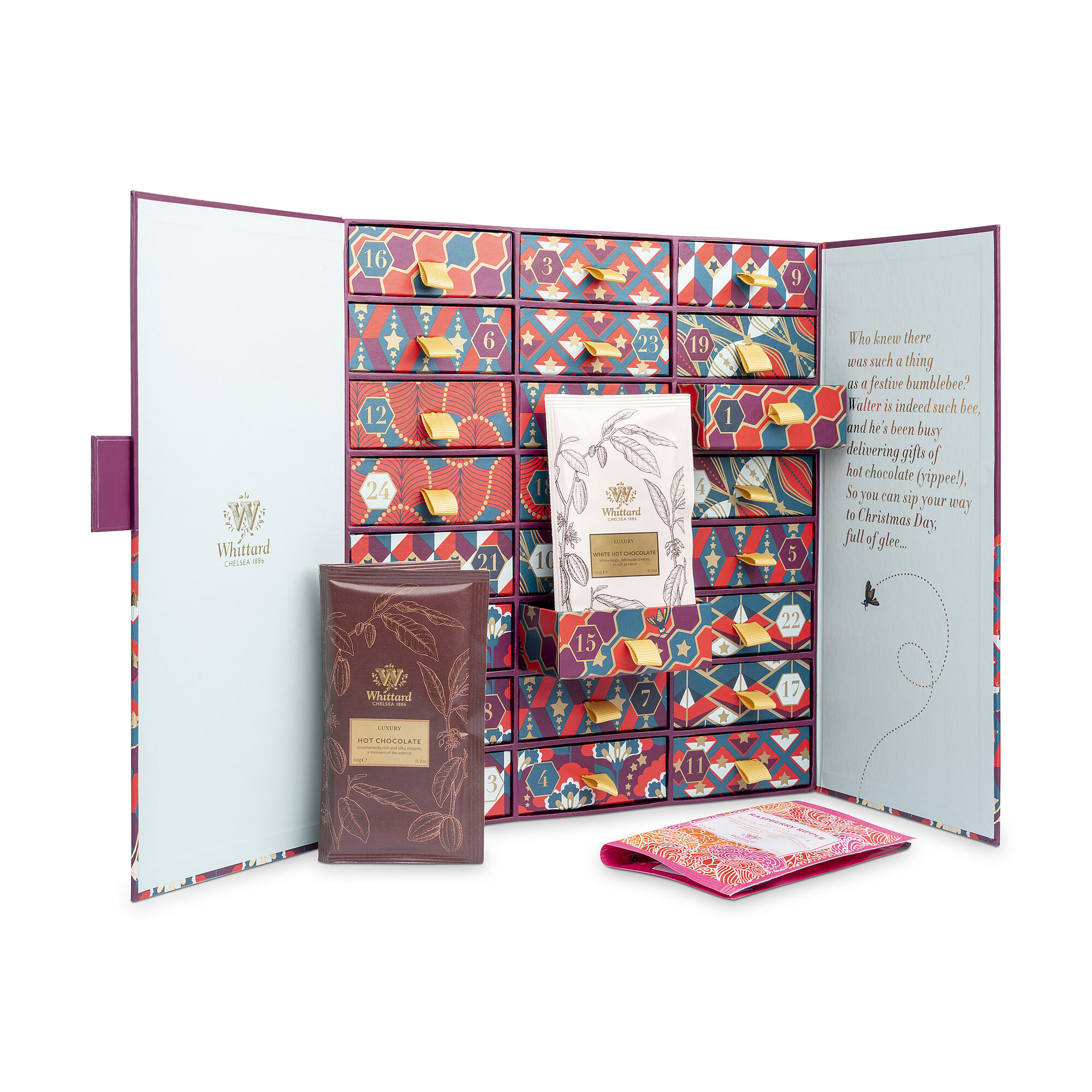 Okay, admittedly hot chocolate doesn't soothe the caffeine craving.
Technically, this is also chocolate…but not in the traditional advent calendar form, so we're adding it into the round-up anyway.
This is a great alternative if you're trying to curb any worrying caffeine habits, or if you want to share the advent calendar experience with a family member or friend who isn't a caffeine drinker.
As well as the classic signature Whittard flavour, get ready to try some more of their more whacky hot chocolate flavours such as Sticky Toffee Pudding and Peanut Butter.
For kids:
Advent Calendar Puzzle – Santa's Workshop – £25.00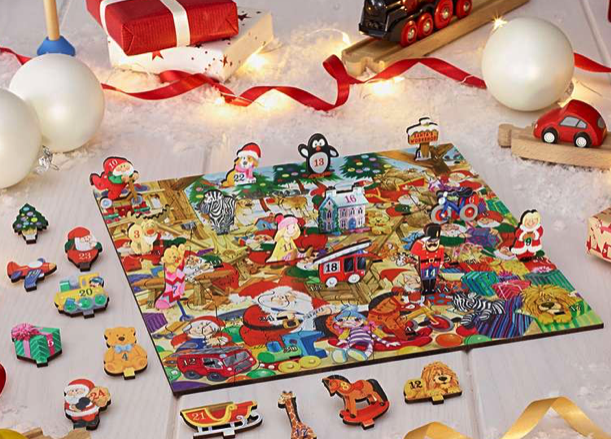 If you have kids who aren't old enough to know that Christmas equals chocolate advent calendars, you may appreciate toy alternatives such as this puzzle advent calendar.
The Wentworth Wooden Puzzles 'stand-up' advent calendar is interactive and is sure to keep children engaged. There are 28 pieces in the jigsaw and comes with a selection of pieces that fit the santa workshop theme.
This hand-designed jigsaw makes for a beautiful wooden keepsake.
VTech Toot-Toot Friends Advent Calendar – £24.99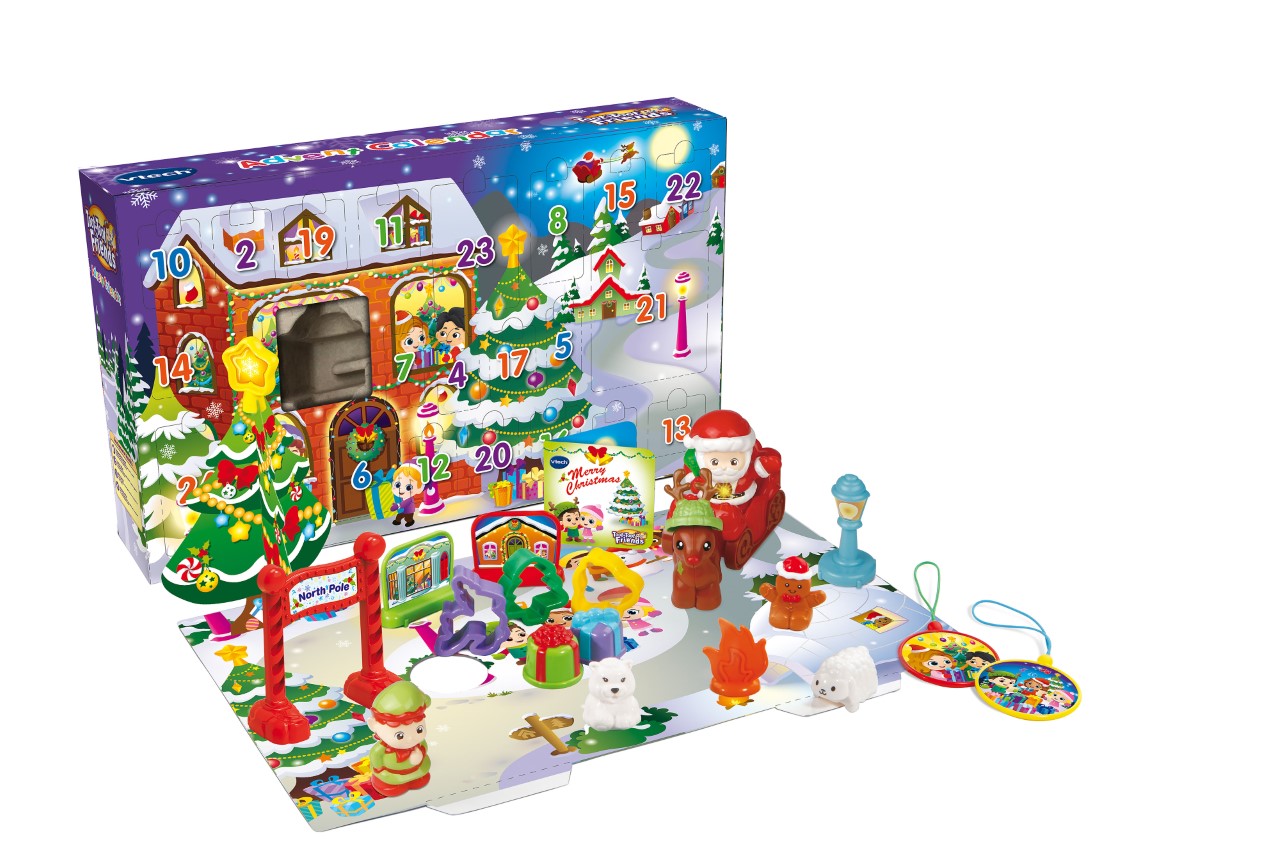 If you want to help your little one's development, this Vtech Toot-Toot Friends advent calendar is just the ticket. Not only will it help with motor skills, but also language and sensory development.
Behind each door is a Christmas accessory that will build the winter wonderland.
The box folds down to reveal a little road for all the accessories to be paced on.
When Father Christmas is placed on the MagicPoint location, it triggers two sing-along songs, fun phrases, music and lights. This is ideal for kids between from 1 to 5 years old.
For those who like a pamper:
Mavala 12 Days of Christmas Advent Calendar – £45.00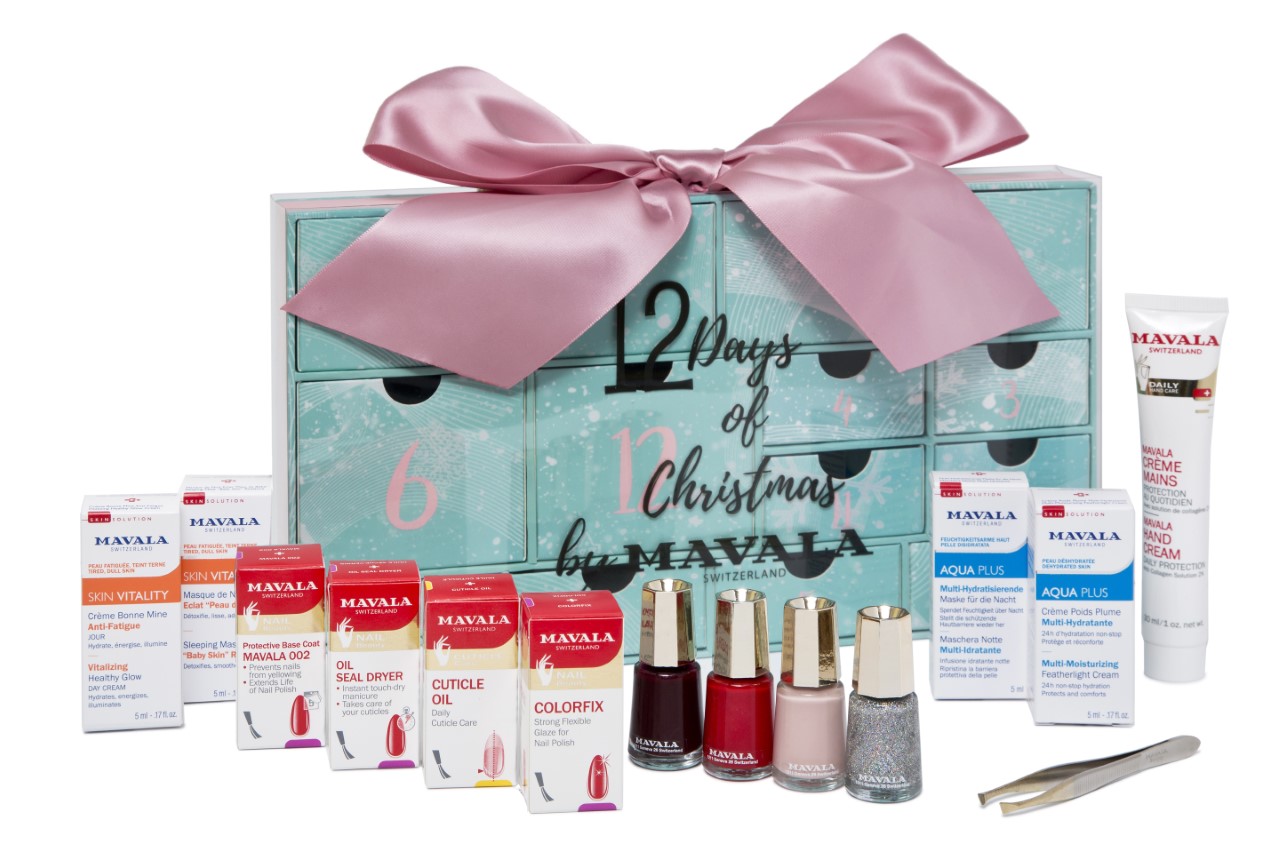 If you're into natural nailcare, skincare and cosmetics, this is the advent calendar for you.
Hiding behind each of the draws will be some beauty treatments that will get you ready for the party season. From nail polish, sleeping masks, hand cream, this has everything you need to prep for that Christmas glam look.
The content is worth £76, so you'll be getting bang for your buck with this.
Wickford & Co. Candle Advent Calendar – £3.99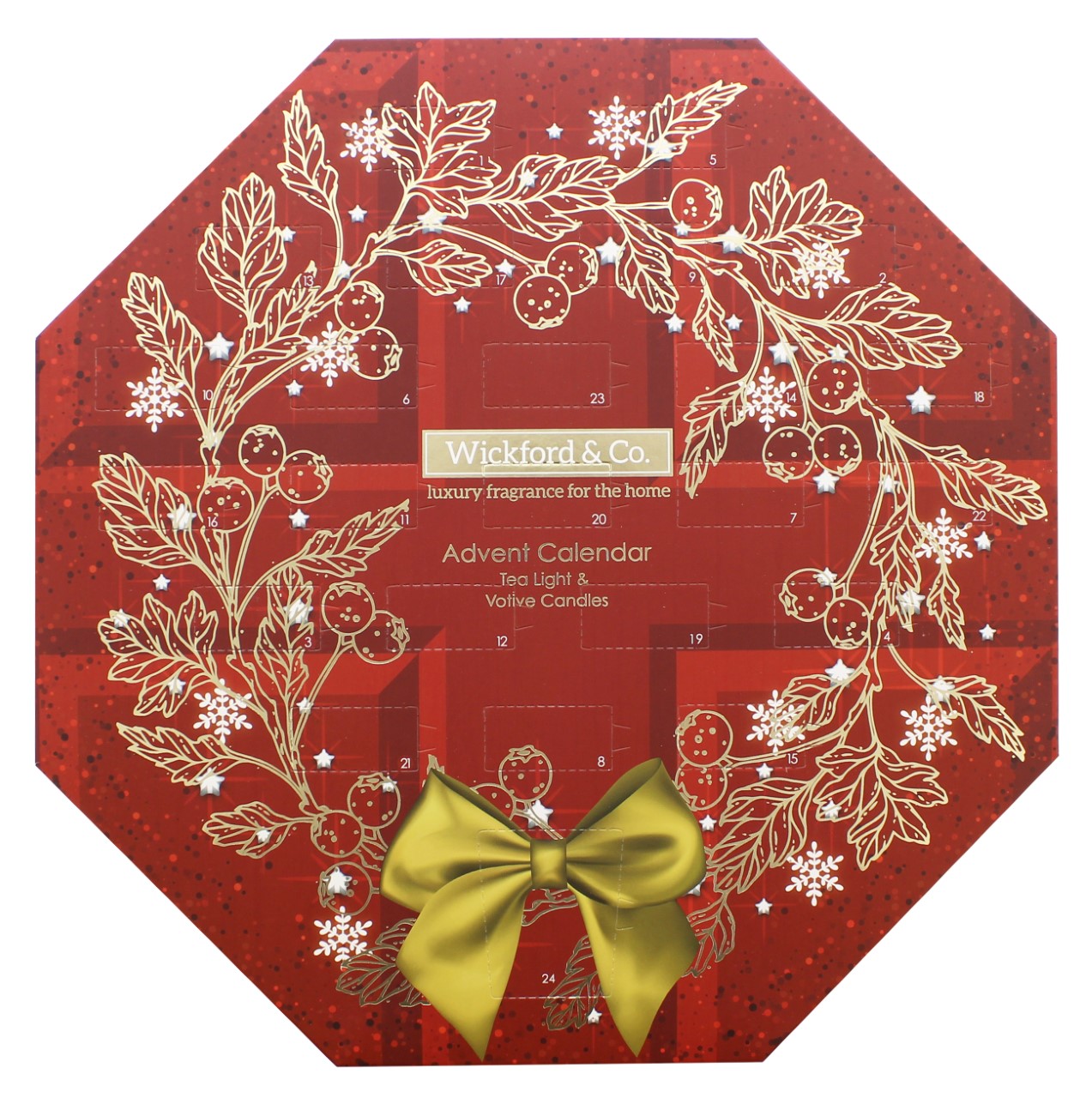 As well as a little herbal tea or a little tipple to unwind, candles are a great way to feel more zen in the season of chaos.
Whether you're a candle enthusiast or just appreciate a good scent, this advent calendar will provide a seasonal scented candle each day as you count down until Christmas.
This would also make a fabulous secret santa gift for a candle loving friend.
You can expect to find 23 tealight candles and one votive candle, all of which will set the perfect ambiance as you indulge in a good old bubble bath.
25 Day of Natural Beauty Advent Calendar – £35.00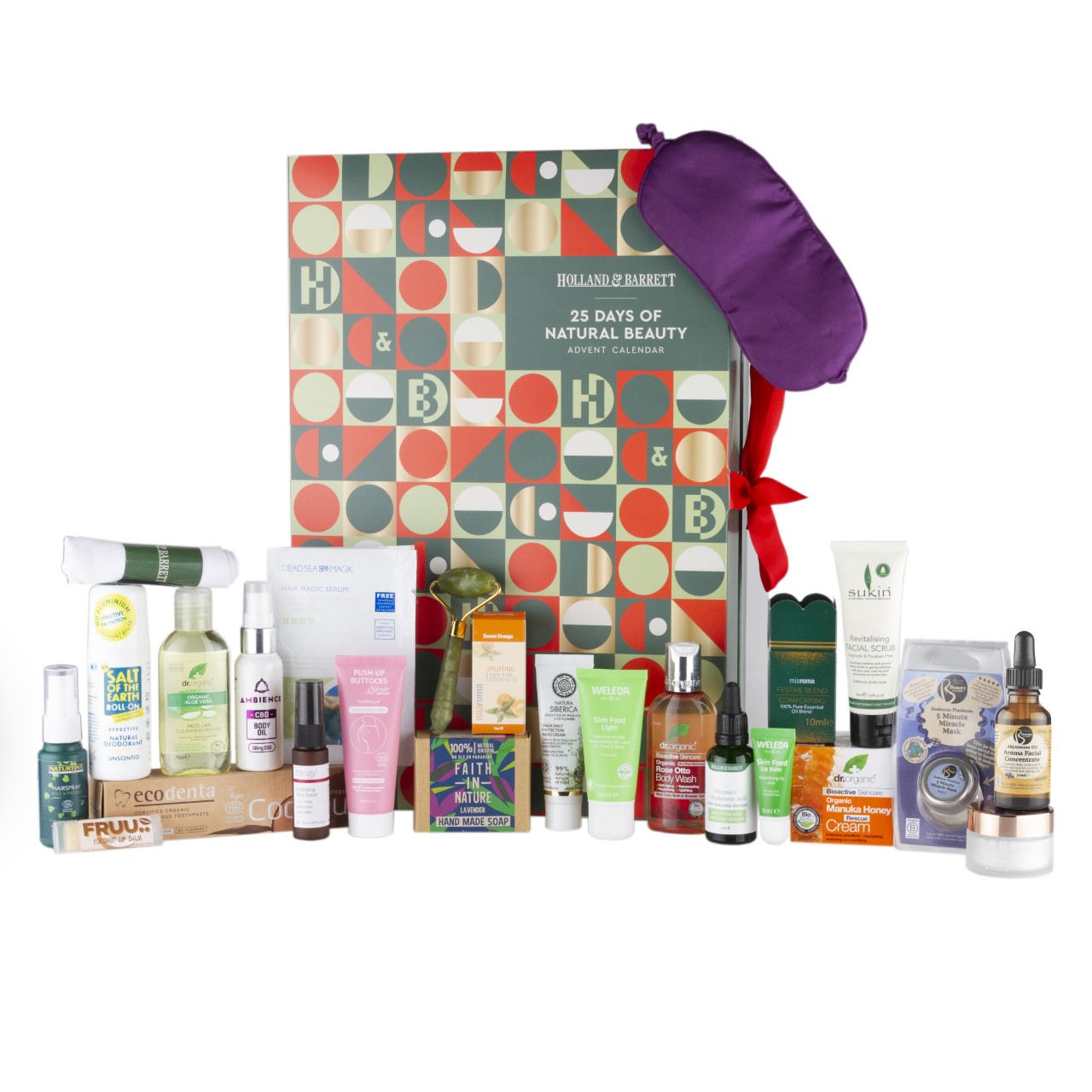 Holland & Barrett have packed a wide range of treats in this natural beauty advent calendar. Lip balms, facial scrubs, serums, CBD body oil, jade rollers…the list is endless.
Trilogy and Dr Organic are just some of the great brands you'll find waiting for you.
The best part? This retails at £35, but you'll be getting £146 worth of goodies to pamper yourself with. It's definitely good value for money, if you ask us.
L'Occitane Advent Calendar Gift Set – £44.10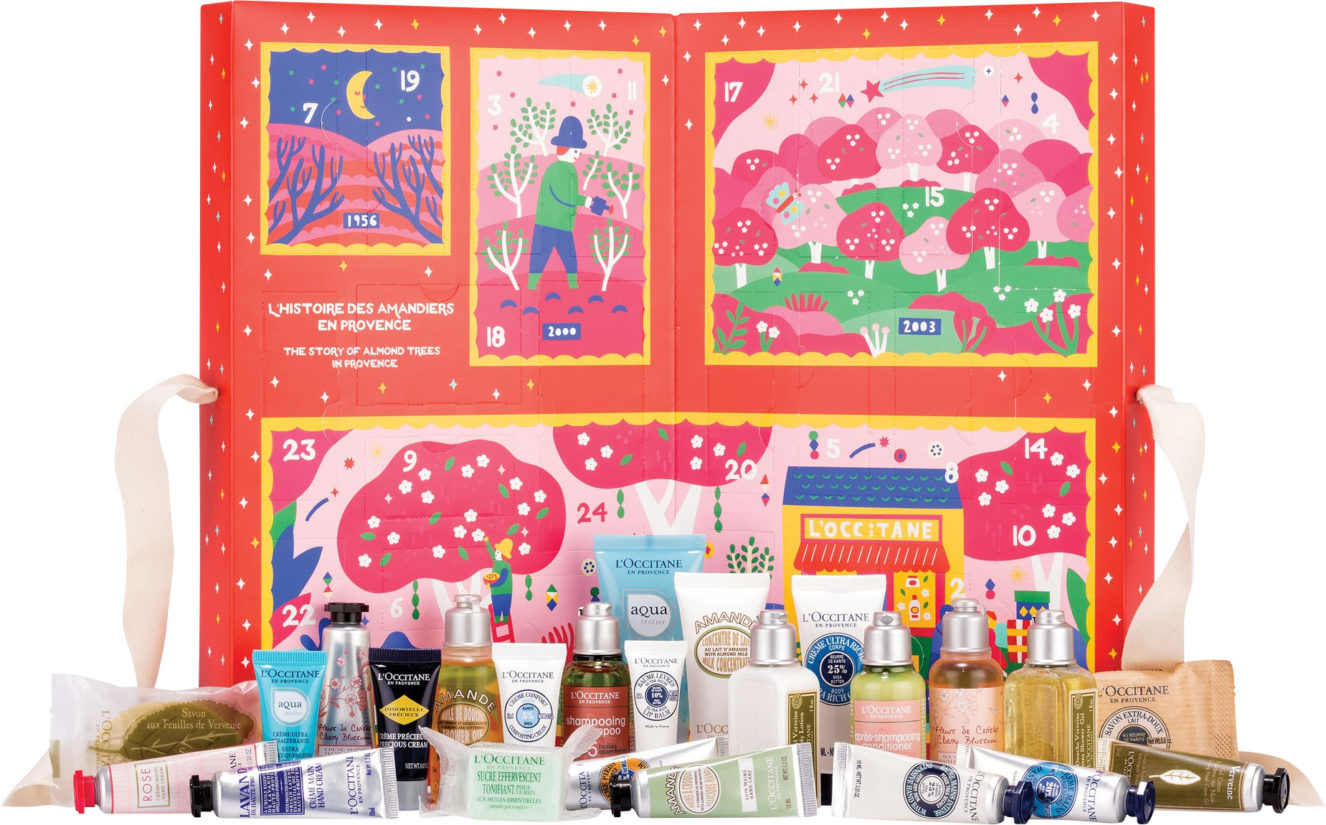 Cult-favourite L'Occitane certainly won't let you down with this advent calendar.
Indulge in the lead-up to Christmas with an assortment of skincare treats that will paper you from head to toe. Expect to find shower oils, face and hand creams, sugar bath cubes. There will be some customer favourite products behind some of the doors too.
These are all travel-sized minis, so you can carry on the luxurious pampering even if you're staying at grandma's place over the festive season.
 For those with fur babies:
Rosewood Luxury Advent Calendars for Dogs – £3.99, Rosewood Advent Calendars for Cats – £3.99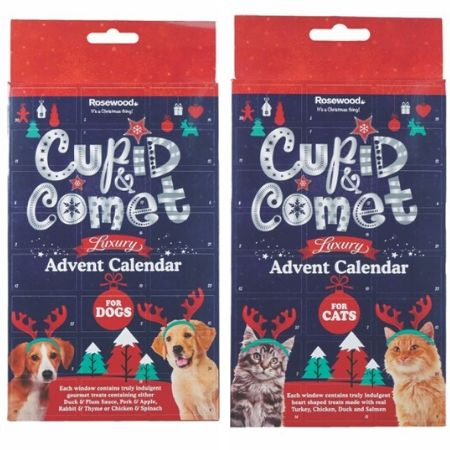 In the Christmas frenzy it can be hard to remember the furry members of the family.
So why not spoil them with an advent calendar?
There's a Rosewood calendar for both cats and dogs.
Behind each of doors of the Luxury Advent Calendar for Dogs, there are gourmet real meat treats. From duck and plum sauce, pork and apple, rabbit and thyme.
The Luxury Advent Calendar for Cats boasts similarly impressive treats in the form of heart shapes. The classic cat favourites can be found, such as turkey, chicken, duck and salmon.
Don't be surprised if you become jealous your pets are eating better than you by the time December is over.
 Christmas Tails Small Animal Advent Calendar – £2.00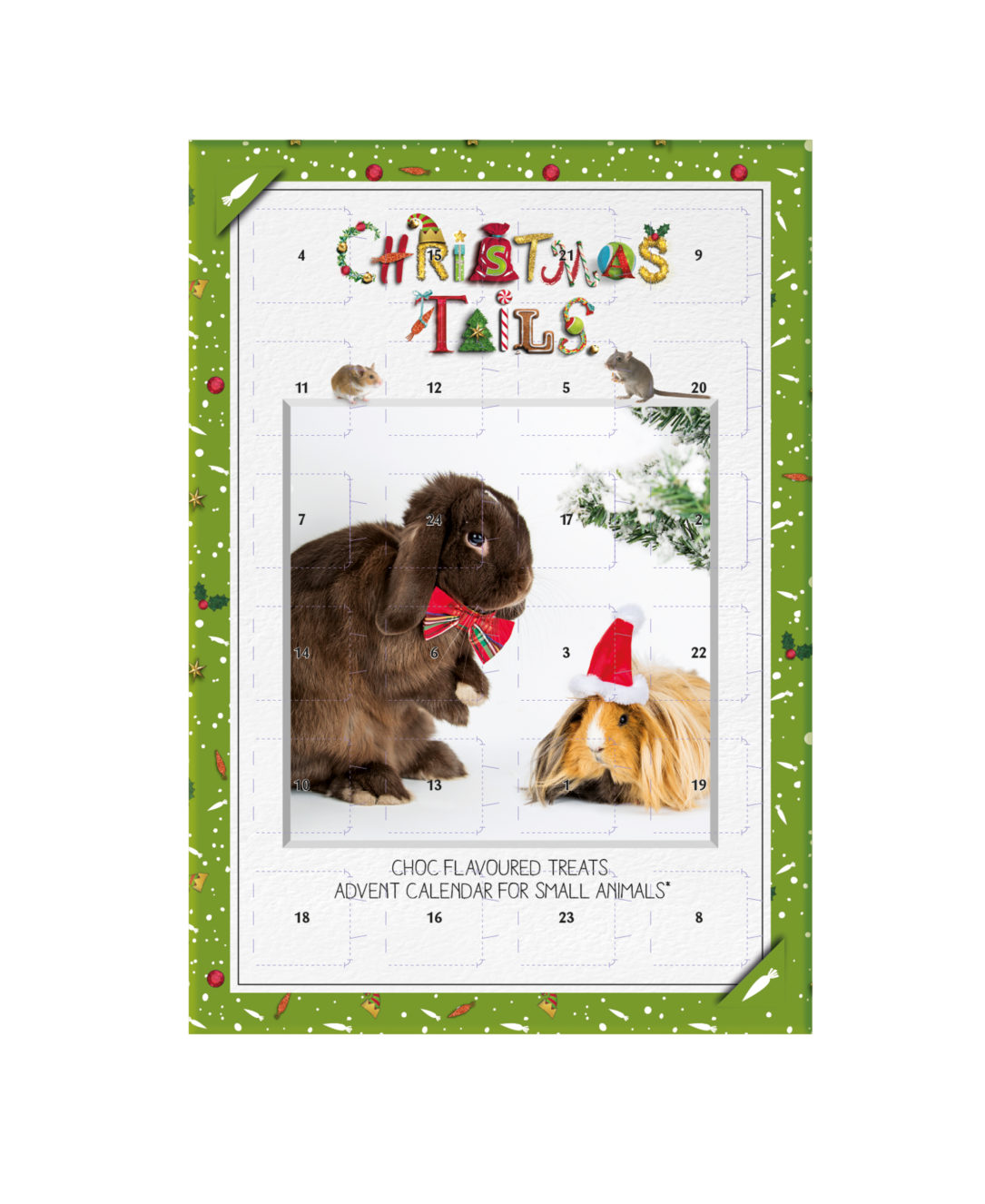 Obviously, your hamster isn't going to get excited about prosecco the way you will around Christmas time. However, they can be excited about your furry friends should be excluded from the fun too.
These chocolate flavoured treats are suitable for all small pets such as rabbits, guinea-pigs, rats, gerbils and mice.
Don't freak out though, these treats don't actually have any chocolate in them. They're made with no dairy or added sugar.
And at just £2, this is a small investment that will be make sure your furry friends are part of the festive fun.
Relevant Healthista content:
8 best beauty boxes worth the money