pFighting frizzy hair can become a life's work, and the women who have managed it must be listened to, says Beautista Annabel Meggeson who got their top anti-frizz hacks
For me, hair products are a bit like shoes. Something everyone else gets excited by, but I can't buy into.
When shoe therapy became a thing, back in the era of Carrie Bradshaw and beyond, I remember feeling very left out.
Back in those days, only a few brands made shoes to fit my ungainly size 42s. There was no slipping shoes from the display rack to twirl about in or shopping in sales or drowning my sorrows in a quick pick-up from Office for me.
(It's a bit better now, thank goodness; the world is getting bigger, feet included, and brands have caught up.)
Anyway, same with hair products. All those yummy, exciting products are designed with thick, frizzy hair in mind. Delicious-smelling, hydrating shampoos, gloopy hair masks, luxurious serums and oils, all of which bring unruly hair to heel. All these left (still leave) my fine and thin hair flat.
After years of misplaced optimism, I've whittled down my routine to two products: Syoss Anti-Dandruff Control Shampoo (adds texture; keeps flakes away) and a detangling spray (got2b Oh My Nude)
Not even hair spray or dry shampoo really agree with me. Instead, my hair's like a teenager in a bad mood – it likes to be left alone.
Many of my friends on the other hand inhale hair products. The ones with frizzy hair, curly hair, unruly hair, afro hair – they crave the cremes and masks and argan-infused shampoos that I have put to one side.
This column is a bid for me to vicariously enjoy the play time afforded by thick hair and all the toys designed for it – whilst hopefully offering some great advice for the 40-odd per cent of women for whom dryness and frizz is a greater issue than limpness and lack of volume.
Thus, I've phoned round some of my glossiest friends and colleagues to ask what they do – and what they use – to care for their manes, bird's nests and waves.
Anna Magee, editor at Healthista
Hair type in her own words: My hair is bipolar, I love wearing it blow-dried straight as it makes me feel sleek and professional but recently I learned how to wear it curly through the Curly Girl Method (a whole other story you can read here) and that makes me feel free and light and sexy. It's like I am two people – no wonder friends say my personality changes depending on my hair! Anyway, that is a long answer to a simple question but when it comes to my hair nothing is simple. I believe my hair is fine, but there is a lot of it. In curl terms it is a Type 3B and its natural texture is spiral curls.  In the pic directly below, you can see the natural curl pattern as it is dried naturally.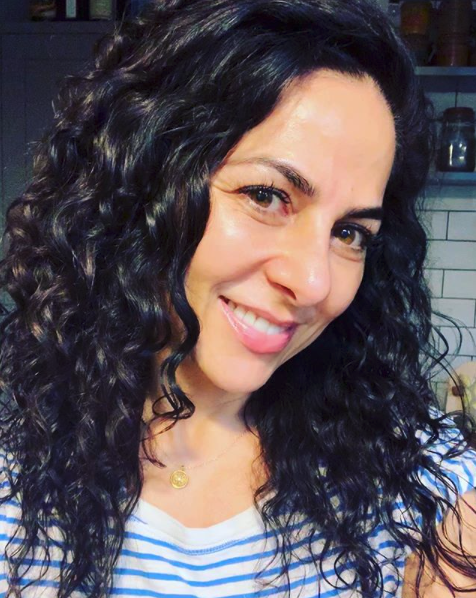 Invest in a Dryer (but stay away from the straighteners)
'I never use straighteners as these fry my hair. I try and leave my hair curly about about 60 per cent of each week and only blow dry 1-2 times a week. I'm religious about using my Valera Swiss Silent as I think it keeps my hair in better condition because it doesn't go over a certain heat so my never feels fried the next day. Since I have had the Valera, I have been able to grow my hair to bra length and the condition is really good where in the past it would never grow past my shoulders.'
Don't rinse, wear
'When I'm curly, I leave conditioner in my hair and that hydrates it throughout the day. Milkshake Hair Integrity Deeply Nourishing Conditioner is great for this, as it hydrates but isn't too heavy to "wear". I also love Kerastase Discipline Fluididealiste Conditioner for the same reason.'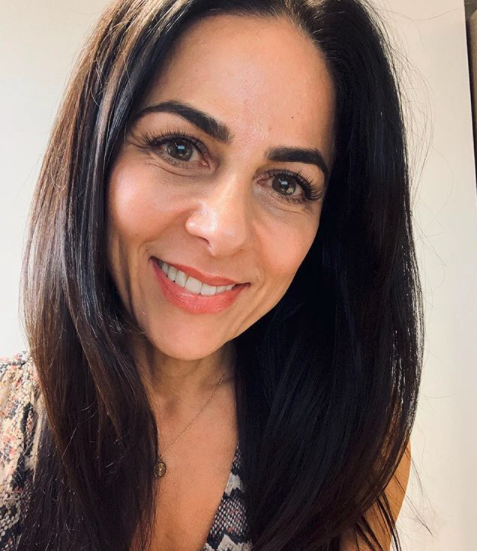 Be silicone-free
'I avoid silicone serums like the plague. They sit on the surface of hair and actually attract moisture from the air, causing more frizziness in the long run, I find.
Don't strip your hair with standard shampoo
'I use a cleansing conditioner most wash days and a sulphate-free shampoo only once a week to get the build-up out. Sulphates are detergents that dry out your hair and give me major frizz.  A cleansing conditioner is a luscious cleanser without detergent – my favourite ever is Kerastase Discipline Curl Ideal Cleansing Conditioner.'
Get a miracle conditioner and stick with it
I am obsessed with Davines Naturaltech Nourishing Vegetarian Conditioner a completely natural conditioner that actually works quickly so I can use it before work and leave it on only a few minutes. In fact, I highly recommend the Davines range if you love natural, cruelty-free hair products.
Find a good hairdresser and never, ever cheat on them
I value my hairdressers more than my marriage (I am joking) but my stylist Grace and colourist Gemma have literally transformed the condition, colour and length of my hair. Grace banned me from straighteners or threatened to dump me! If you have trouble hair, they are your people.  I am following them around until they retire.  But they are SO hard to get in to see together you have to book in advance.
Alexandra Friend, beauty editor at Red
Hair type in her own words: the worst parts of curly with none of the best: frizzy and unmanageable with no actual curl

Develop the perfect washing routine
'Because my hair's so dry, I can go for days (up to 10, if I'm lucky) between washes without feeling greasy, and if I've let it get long enough my hair has always looked pleasingly-enough undone when bundled into a ponytail or top-knot. When I do wash, though, I have to make up for the lack of TLC.
'I shampoo twice, leave on masses of conditioner or a mask for five minutes then – and this is critical – comb through, rinse, and carefully wrap in a towel and twist the towel onto the top of my head without flipping my head upside down.
'I have all the volume I need so don't want the roots to set into an upward 'lift' as they dry.'
Really believe it about that Dyson
'While I rely on good products, I fully believe that sleek, smooth hair is all in the blow-drying technique, no matter what the hair care companies promise. Arm-achingly sad for those of us with thick, porous hair, but true.
I let my hair dry under the towel for at least half an hour before I go anywhere near it with a drier. I'm not sure why this works but it does – perhaps because it minimises the time under the force of the airflow, which creates frizz by bashing the strands together as they dry.'
'Then I either shove it up into aforementioned ponytail or take ten minutes more smoothing down the top layers with a round bristle brush.'
Try on a lot of products
'It takes a lot for a product to really make a difference to my hair. I keep trying out new ones till something stands out.
'I vouch for anything made by the geniuses at John Frieda. I like the new Frizz Ease range – the serum is particularly brilliant.'
'My hair's so thick it can suffer from blockiness. If I want separation and movement, I have to put in some random curls with a tong, let them set, then break them up again with my fingers. It's amazing what a few pokey-out bits can do, especially when refined with Schwarzkopf Dust It Texture.
Use colour in a clever way
'Colour helps. My marvellous stylist recommends breaking up a helmet-y shape by using two or three contrasting shades throughout – the contrast can be subtle, as long as there's some differentiation.
'She once used a ballayage technique on me, mixing baby (or micro) lights and chunkier pieces. I liked it a lot. More recently, I decided to make a virtue of the fact my hair appears to be as tough as boots and bleached it – a colour people expect to look textured and messy.'
Learn an easy trick
'If all else fails, five minutes under a bobble hat can rescue a blow-dry gone wrong – a trick I learnt from a curly-headed friend. You'll feel ludicrous but will emerge with much less hair (visually speaking, of course) and maybe a bit more shine.'
Lucinda Agar, producer
Hair type in her own words:  an unruly mane that needs taming if it's not to end up a bird's nest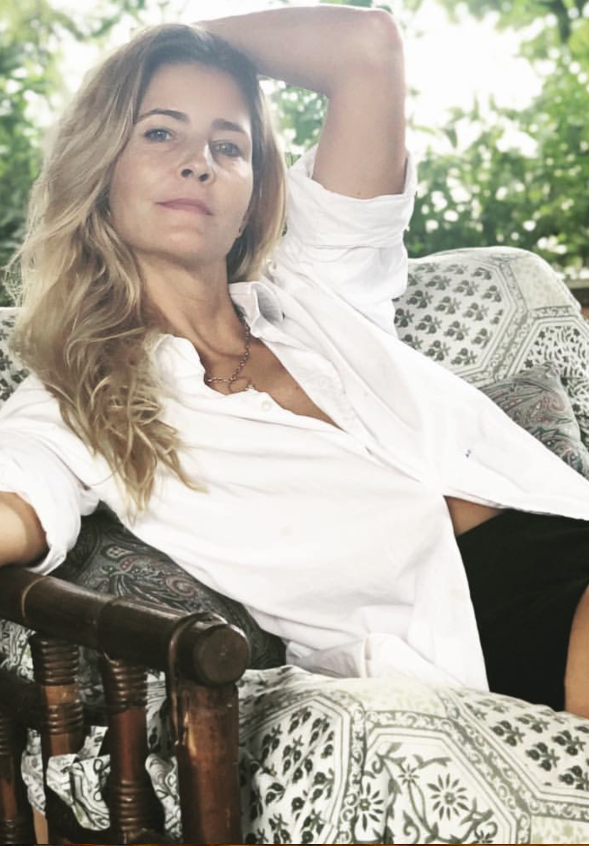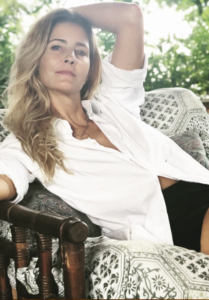 Try an old-fashioned rescue remedy
'I live in Italy and by the end of summer, my hair's really been through the mill – sun, sea, windswept, etc. I come to the rescue with a jar of two euro mayonnaise.
'I smear it on, leave it for 15 minutes, then rinse it out and shampoo.
'It sounds gross (OK, I said that – AM), but actually it rinses out as easily as any hair mask and contains everything your hair needs – vegetable oil, protein and creamy emulsifiers. I don't use it often, but after an intensely hair-damaging summer, I promise you, this is the ticket.'
Apply oils little – and always
'I love hair oils for every day and always have several on the go. At the moment I've got Aēsop Hair Shine Oil and L'Oreal Elseve Extraordinary Oil, on rotation. (The L'Oreal range of oils are great high street options, by the way – good value, lightweight, residue-free.) I apply a bit to the ends of my hair every morning, especially during the summer when I wash my hair every evening.
Adopt this time-saving technique
'A good conditioner is fundamental for hair like mine and I'd rather not wash my hair than go without it. My favourite trick is to apply conditioner then brush my hair under the shower – the product coupled with the force of the water helps the knots slip out and eliminates any heavy pulling afterwards.'
'I switch up my shampoo according to season. For the summer/ post-summer period, I like a super-hydrating shampoo like L'Oreal Elseve Extraordinary Oil Shampoo. Come winter, I use something lighter – and preferably natural. Ziaja Natural Olive Shampoo and Conditioner are both favourites.'
Stop split end in their tracks
'The thing I do year-round is apply Redken Extreme Anti-Snap treatment. Honestly, I couldn't live without it. I run it through my ends after washing before giving hair a final brush and (sometimes) blow dry. It stops my hair splitting or breaking and just adds that lovely finishing touch to make my hair look smooth and cared for.'
Remi Olajoyegbe, executive life coach at iamremi.co.uk
Hair type in her own words: a mop of unruly curls; fine strands but tonnes of them. Annoying.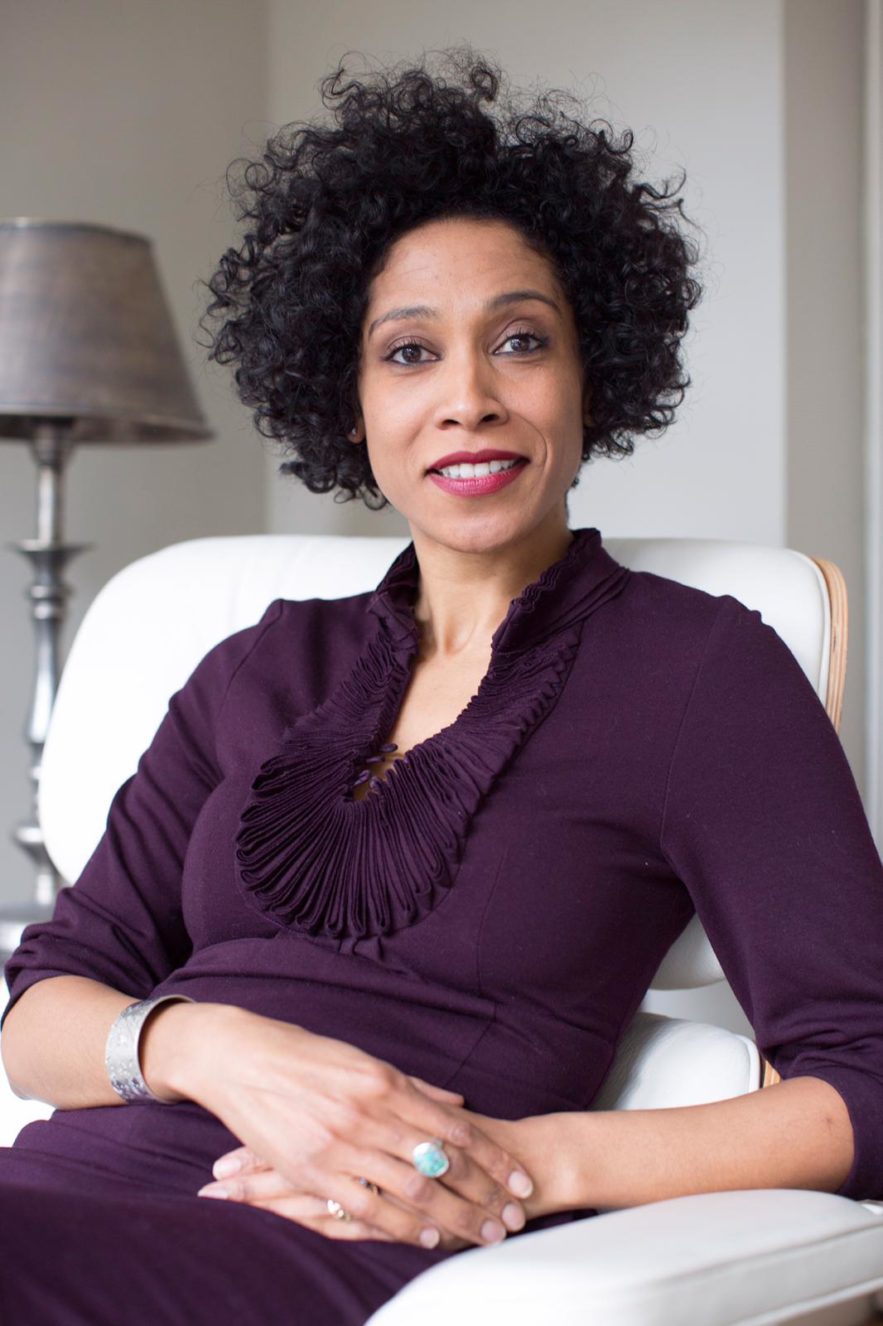 Try something new
'I've been loyal to Kérastase Discipline Oléo-Curl for years. I rely on the Shampoo, as it lasts well and leaves my hair feeling soft and hydrated.'
'That said, my hair is changing and I've been branching out a bit. I think it's important to try new things.
'Bed Head's After Party is a recent discovery – the wonderful, pink-coloured curl enhancer costs just £1.99, but works as well as some of the most expensive products out there. It smooths and defines my hair without weighing it down or looking sticky.
'I'm also into Redkin Frizz Dismiss for Unruly And Frizzy Hair.'
Go easy on the towel-drying
'My top tip for curly haired people is to wrap it directly in a towel without rubbing, as that just creates more frizz. I leave it under the towel for as long as I can, then apply product directly. That way it stays nice and smooth.'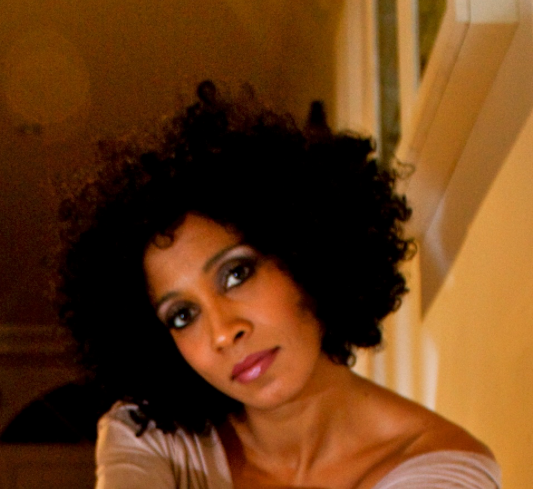 Choose a colour that conditions
'As I'm ageing my hair's much greyer, but instead of getting it dyed back to match, I've been using henna. All-over black is too severe for me now, whereas henna gives provides coppery tones that are more flattering.'
Serena Dwyer-Jones, Writer at Healthista
Hair type in her own words: There's just so much of it…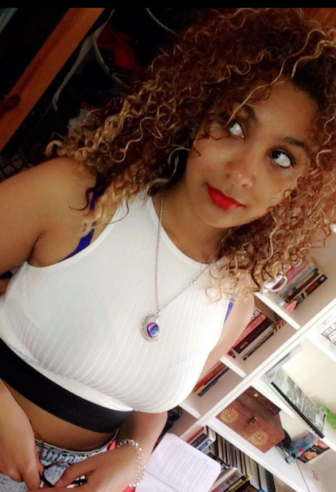 Stay away from heat as much as you can
'I think the last time I used any heat on my hair was about two years ago, which is crazy. Ten years ago I was using heat every single day (RIP: GHD Max Styler). Back then I hated my hair and thought it needed taming, simply because I didn't know how to embrace it. This led to a lot of breakage and, you guessed it, frizz. My hair has changed so much since I banished all heat, it's softer, bouncier and more manageable than ever. It's been emotional, but my worst feature has become my favourite.
Washing your hair in cold water makes a world of difference in how easy it is to work with. Cold water has been a blessing this summer, but really you should stay away from hot water all year round. You don't need to be taking ice cold showers, but maybe shift the temperature to a lukewarm when washing your hair.
Be Gentle
If you have hair like mine, sulphates are the enemy. Sulphates strip your hair of it's essential oils, leaving it dry, brittle and harder to manage. Once I had that figured out, everything else got so much easier. At the moment I'm using Sexy Hair's Curly Shampoo as well as their Conditioner, both of which are sulphate free. It's one of those products where a little bit takes you a long way.
You hair is at it's weakest when it's wet and towel fibres can cause it to rip and break. I don't towel dry at all I just give the ends a gentle squeeze with a microfibre hair wrap before I style and let it air dry.'
Define your curls
There are so many ways to make your curls really pop without heat; curlers, flat twists, wash n go's. For the best results, style when wet. At the moment I'm finger coiling my hair for maximum definition. Finger coiling is a very simple method for keeping your curls defined, you just apply your styler to wet hair, twirl a small section around your finger and pull lightly. Repeat it as many times as you like.
To maintain them, I sleep in a satin cap. It does make me look like an elderly woman, but it's very gentle on my hair and reduces the friction- minimising the frizz and breakage. There's the option of satin pillow cases instead if you're not quite ready for the Jamaican grandma look.
I also recommend keeping your hair protected in winter, like with heat, extreme cold can also damage your hair, which makes it frizzier.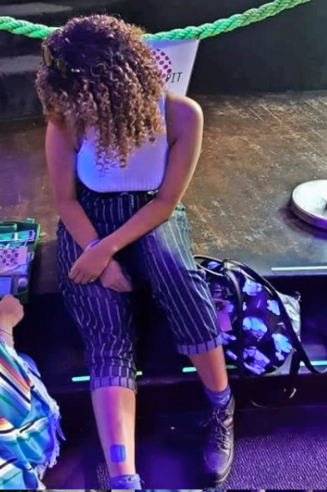 Feed your hair
If you hair is anything like mine, it is THIRSTY and frizz usually comes when the hair either isn't getting enough moisture, or is getting the wrong kind. Luckily, todays curly girls are spoilt for choice if you know where to look.
Deep conditioners can be a saving grace, they make you hair smoother and much more manageable. Aussie have a fantastic line of deep conditioners, while they do have an anti-frizz I find that Nourish works best for me.
I'm really not a fan anything too thick or sticky, like castor oils. They make it way too easy to go overboard and will usually just stick to the hair surface without actually without actually penetrating the hair shaft. They also have the added bonus of turning your hair into a total dust magnet. Yikes.
I bought a bottle of Argan Oil Spray on sale about 6 years ago tand I've never gone back. I just give my hair a quick once over before styling and that sorts it right out. Coconut oil is also pretty great, it doesn't have to be anything fancy, just a pot from your local Tesco will do the trick.
Embrace a little frizz
In smaller doses, frizz is not the enemy. As long as the hair is healthy, it can actually add volume and texture to your style and make it look much more natural. Having you hair be mistaken for a wig or sew-in is probably not what we're going for. Bed head and beach waves are very in at the moment, so don't be afraid to lean in to your hair's natural texture, whatever it may be.
For more advice on finding the perfect hair care for you, visit Notino.co.uk 
Relevant Healthista Content:
My naturally curly hair almost ruined my life – this is how I learned to love it
Best hair straighteners that won't damage your hair
11 best hair masks for dry, damaged and frizzy locks
Healthista content you might like:
3 best adaptogens for glowing skin
Can't lose weight? You might be missing this crucial metabolism mineral
Nicole Scherzinger looks hotter than ever – her PT reveals 7 key tips
Like this article? Sign up to our newsletter to get more articles like this delivered straight to your inbox.