They say men have their cars, and women have their hair. In order to keep your hair healthy from winter into summer a hair mask will help. We tried 12 to to help dry, damaged and wildly frizzy hair
We've tried out 13 hair masks ranging from high street buys to luxury brands to bring you the best for your needs and what you're looking for.
Best single use sachet: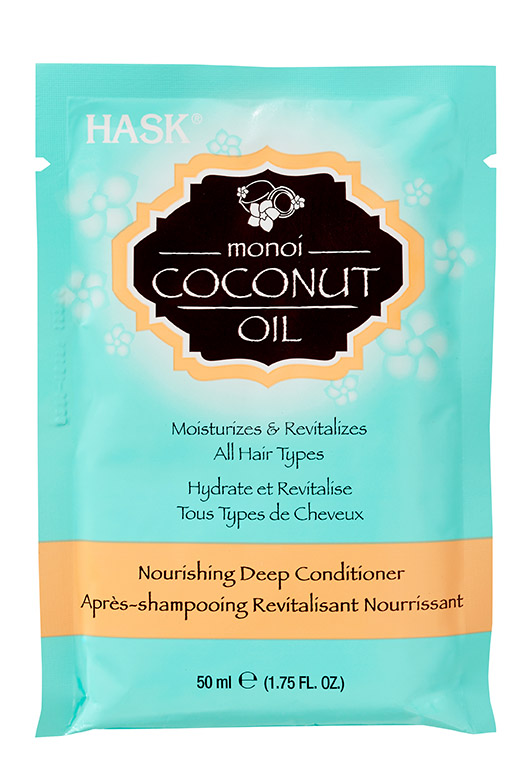 Hask's Manoi Deep Conditioner claims to work with any hair type. By infusing manoi coconut oil with other natural ingredients, this mask can re-hydrate and soften your hair. This product is sold as a small single use packet, which means it's testable for new users without being a rather large investment.
Tester says:
'My hair is very long and I sometimes refuse to cut the ends off, even though they are dry. I've always wanted to use coconut oil as it's highly recommended for dry hair. In its raw state I've been too hesitant in case I just make my hair look greasy. I love the smell of coconut too and Hask didn't disappoint. I applied in generously to get the most benefits, as a cosmetic product its bound to have the coconut watered down. I didn't notice a massive effect once it had naturally dried, but when I straightened it, it was so shiny. Shiny often means limp or flat, but the volume in my roots remained. I like this as a one off if I'm styling my hair as a quick-fix.'
Hask Manoi Coconut Oil Nourishing Deep Conditioner is available for £9.70 here.
Best leave-in: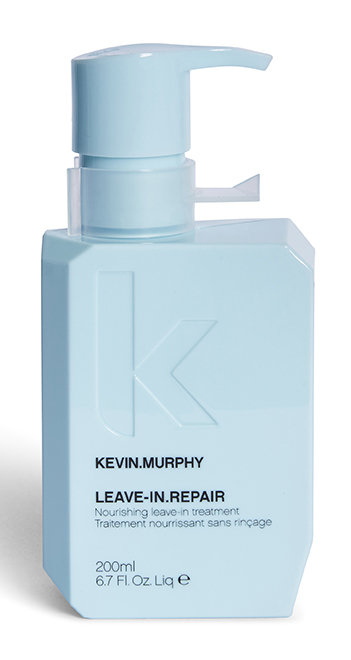 Kevin Murphy's Leave-in Repair is said to work on all hair types, and best used for severe damage treatment. It's different than other masks because it works like a leave in conditioner after you shower since its not meant to be rinsed out.
Tester says:
'Before using this product my hair was in desperate need of some TLC. I was drawn to the brand not only because of its beautiful packaging, but also because of Kevin Murphy's reputation for fixing dry, damaged hair. I can happily say the product lived up to my expectations. The consistency was a lot thinner than I was expecting and the product was runny in my hand. It smelt very floral and spread through my hair evenly. I was amazed with the results of my amateurish attempt of a blow dry that followed. While some inevitable flyaways still hung on for dear life, my hair felt cashmere soft. A friend even asked if I'd had my hair cut as it was looking so top notch.'
Kevin Murphy Leave-in Repair is available for £30 here.
Best for an at home spa day: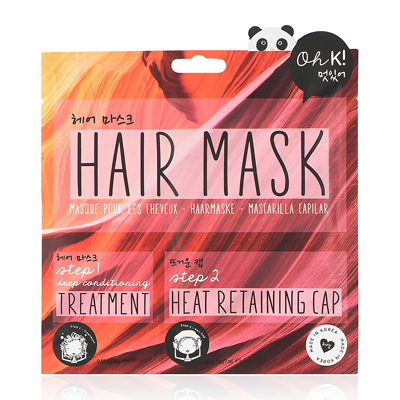 Oh K!'s Hair Mask is a two-step process. It uses capsicum extract and vegetable proteins to produce heat that nourishes your hair to add moister and shine. The heat cap is the extra bit that makes this mask feel like a spa treatment.
Tester says:
'I was excited to try this hair mask because Korean beauty products are known to be exceptional. I've used Korean face masks before and they're amazing, but I was a little weary to try their hair products since my hair type is so ethnically different. I have incredibly long bleached hair that's too thick, ponytails give me a headache after just a minute of being tied up. What made this hair mask unique was its heated cap. It consisted of a thick paste you massage into damp hair. But it was the cap is what made it feel like a take-home spa experience. The cap actually heated my head to a comfortable temperature that told me the product was working its magic. When rinsing out the conditioner, the smell of chemicals was a little overbearing for me, but despite this the mask is worth it. I let my hair dry naturally afterward and it didn't flatten my beach waves like I thought it might. My hair felt light and smooth throughout the day, and even smelled amazing. It really gave it that extra shine I needed.'
Oh K! Hair Mask is available for £8.50 here.
Best for straight hair: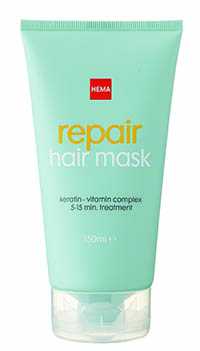 HEMA's Repair Hair Mask is highly affordable, and is made to be simplistic in its use. The mask is designed to fix dry, damaged and frizzy hair, all in one, by using keratin and vitamins to restore hair to its healthy glow.
Tester says:
'I thought this hair mask would be the perfect product for me because it treats damaged and dry hair all at once. I bleach my hair once a month and since it's so long, split ends are inevitable. The process itself was so easy. The creme is a little heavier than the other masks that I've done, which worried me because I thought it would flatten my hair. I'm also very particular with the smells of hair products as this one smelled less pungent in the shower. It rinsed out very easily and left my hair smelling natural. It's great for those who don't particularly enjoy the chemical infused scents shampoos and conditioners have. I let my hair air dry throughout the day. Unfortunately, the creme did weigh on my waves and flatten them a bit, but for someone with straight hair this would be a great, budget friendly mask to try out.'
HEMA Repair Hair Mask is available for £3.50 here.
Best for thick-long hair:

Oribe's Supershine Moisturising Cream is a leave-in conditioner that's designed to work best on medium-to-thick and long hair. It's designed to even out the moister in your hair, while adding in future UV protection to your strands.
Tester says:
'I was so excited to try this moisturising creme from Oribe. The hefty price tag put me off for a while but I can now vouch for the fact that it is worth the splurge. This creme is applied to damp hair. It has a thick consistency and feels heavy (almost like a body moisturiser) in your hand, so I was surprised how lightweight it felt in my hair. After applying, my hair smelled straight out of a salon. I left my hair overnight and woke up with the most amazing waves of my life. When I leave my hair to dry naturally it tends to go frizzy and kinky but I was reluctant to even put a brush through it the morning after. Later that evening I went out with friends so I blow dried my hair and loved the results – it's soft to the touch and flyaways were minimum. I'm now terrified of running out of this stuff, not only because my usually dry hair will be screaming for more but also because the luxe, midnight blue packaging adds so much to the aesthetic of my bathroom shelf.'
Oribe Supershine Moisturising Cream is available for £45 here.
Best for damaged hair: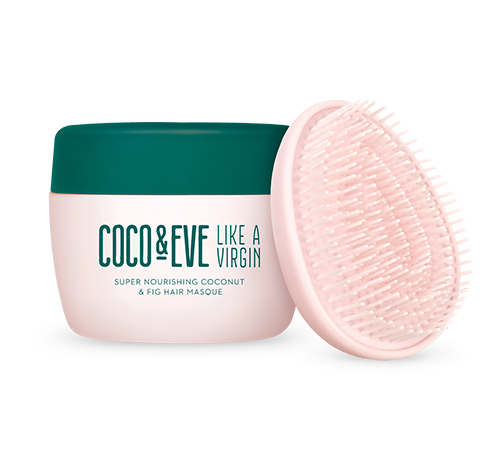 Coco & Eve's Like A Virign coconut and fig hair masque is a five in one treatment that works to deeply conditioner dry, damaged hair and treat split ends. The fig and shea butter are this product's key ingredients that detangle and moisturise the hair without weighing down your natural look.
Healthista editor Anna Magee says:
Oh my God, this stuff is like a miracle. I first saw the hype on a Facebook video where the before and afters were astounding. But it wasn't until I tried it that the true transforming powers of this hair mask really, literally shone. I have curly hair so I don't like using silicone-based products as they weigh my hair down and they're hard to get out without harsh detergents. This had the most incredible slip, that immediately after I rinsed it out, my hair felt more silky to the touch – despite being very damaged. Once it dried, I got comment after comment about how shiny my hair looked.  Truly worth every penny.
Coco & Eve Like A Virgin is available for £34.90 here.
Best for dried out hair: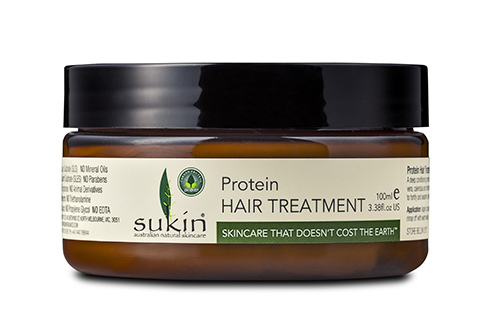 Sukin's Protein Hair Treatment is designed to treat dehydrated and damaged hair. By adding hydrolyzed wheat protein and sesame seed oil, this mask penetrates dried damage on the hair and nourishes to bring back its natural glow. It's also made with aloe vera and chamomile to relax and enrich from the roots to ends.
Tester says:
'This product totally nails natural, organic and affordable. Reading the ingredients list I can see it's packed with plant oils and extracts so I know my hair is getting a totally natural treat. But it's the wheat protein that packs a punch to restore dry hair to happier days. I used it just once, on wet cleansed hair, left it in for just five minutes and once dry it felt amazing. Full of softness but without any static or flyaways. I'd recommend this to anyone looking for a natural hair mask that doesn't cost the earth or pocket.'
Sukin Protein Hair Treatment is available for £9.95 here.
Best for heat treated hair: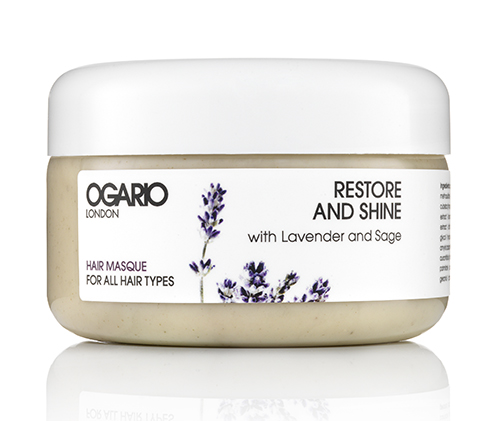 Ogario's Restore and Shine hair mask uses sage and lavender to repair and nourish the hair. It's award-winning formula treats best on heated and colour treated hair to strengthen ends, detangle knots and smooths to improve hair manageability.
Tester says:
'My big test when testing out shampoos, conditioners and masks is how well behaved hair is when it dries after styling or drying naturally and this is why I know this Ogario product is really special. Without any heat styling my hair seemed to just behave and twizzle in all the right directions and places. There's a high quantity of pro-vitamin B5 (because it's high up in the ingredients list) which is the magic ingredient that helps transform hair into something that feels healthier, softer and bouncier. The texture is super luscious but without that artificial thickness you get in cheaper products and the essential oils give it a stunning uplifting scent. This is a pricey product but it's a big tub you need only a small amount to coat over hair and it lasts for ages. Plus you'll have the best hair ever as a result.'
Ogario Restore and Shine Hair Mask is available for £28.50 here.
Best for stressed out hair:

Sachajuan's Hair Repair treatment is made for stressed and damaged hair. It uses 'ocean silk technology' to work at the hair's cell level and claims to give the hair vitality and strength with use. It also targets frizz to give the hair a manageable silky shine.
Tester says:
'On first glance I was put off by the lengthy application process detailed on the back of pack but then after using it the once I loved how well behaved my hair was so I tested it out on a shorter time and the results were just as good. So I've been using it as a conditioner 2-3 times a week and now addicted. Not only does my shower shelf look super stylish but I love the brand's luxurious formulas that are still close to nature.'
Sachajuan Hair Repair is available for £23.00 here.
Best for chemically treated hair: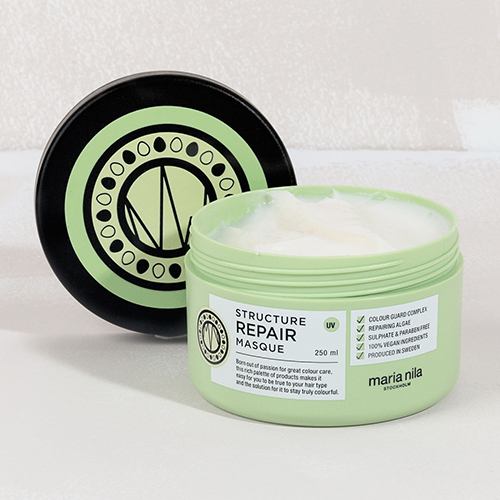 Maria Nila's Structure Repair Mask is designed to gently treat dry and chemically treated hair. It uses algae extracts to give the hair its natural strength back and deeply moisturises the scalp. You also don't have to worry about faded colour with this mask because as it works, it reduces the potential for colour loss when washing the hair.
Tester says:
'This mask gave my hair the pampering it desperately needed. It comes in a big tub so you can lather it onto your hair in large amounts, and the finished effect is lush. My colour was more intense – a couple of people asked if I had dyed it darker – and the ends felt far more restored despite the fact I very much needed a haircut. Sometimes when a mask softens your hair it can make it look flatter, but I lost no bounce in my hair. In fact, it was so much more voluminous especially in the roots. Will definitely use again.'
Maria Nila Structure Repair Mask is available for £17.80 here.
Best for travel: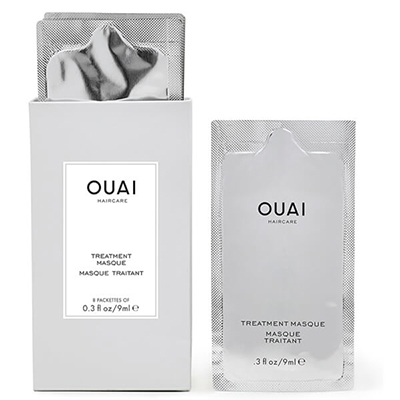 Ouai's Treatment Mask comes in a group of sachets that each works to restore damaged hair by using artichoke leaf extract. This seals the cuticle and protects hair from future damage, while also leaving the hair soft and smooth with one use.
Tester says:
'The best thing about this hair mask is the fact it comes in small sachets that you can travel with or even take to the gym on hair wash days. It makes getting conditioned hair so much easier to achieve on a daily basis. The sachet gives just enough to cover your locks sparingly. I have thick and curly hair, and could have done with a little more if I was doing a deep treatment. I love how detangled my hair felt after using it, giving me gorgeous thick beach waves without any other styling products used. My hair can go frizzy when air drying, especially outdoors, but I couldn't believe how glossy it looked. It also feels super luxe because I know celebrities use it.'
Ouai Treatment Mask is available for £31.74 here.
More useful Healthista content:
23 celebrities you didn't know had depression
8 signs you have coeliac disease that might surprise you
I had a facelift without surgery and it boosted my career