Want to use heat tools on your hair without permanently harming your locks? We asked the experts for their best advice on how to straighten your hair with minimal damage – part of today's hair straightening special
Those of us with curly hair enjoy the versatility of either wearing it curly or straight whenever we feel like it. But heat is heat and frequent use of hot tools on the hair can cause damage over time if not done properly. 
If you're anything like me, I spent my entire youth straightening my type three curly hair (see our beginner's guide to naturally curly hair) without using heat protection products.
After a few years, I ended up with heat damaged hair that didn't have the same curl definition it used to have when it was healthy.
To avoid this type of damage, the best thing to do is use heat protectant oils or sprays, high-quality tools, and apply as little heat to the hair as possible.
Your hair type should also be an important consideration when deciding how often you should straighten your hair and which products to use.
We spoke to two UK-based trichologists – those are hair and scalp specialists – Shirley McDonald and Lisa Gilbey about advice on how to straighten hair with minimal heat damage. Here are their top nine tips:
1. Keep your hair type in mind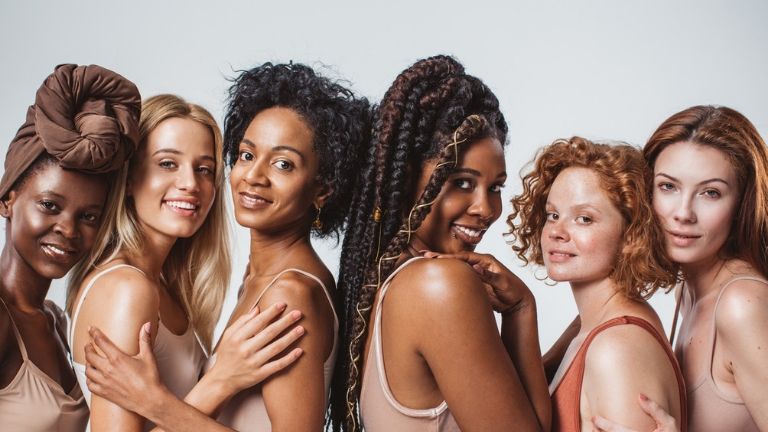 Repeated use of heat tools on the hair can cause the hair to dehydrate and eventually break. This is true for all types of hair – but curly and afro hair is the most likely to become damaged quickly if you aren't careful. 
'People often think that our hair is thicker and stronger, but in fact we know that afro hair is the weakest of the hair types,' McDonald said. 'Even though you might have very strong, healthy hair and a good diet – our hair just can't stand that type of mechanical damage.' 
According to McDonald, daily heat application could destroy the curl pattern and leave the hair in a semi-straight state.
People often think that curly or afro hair is thicker and stronger, but in fact we know that afro hair is the weakest of the hair types
'Hair is made up of disulphide bonds, and when you apply heat you are rearranging those bonds in the hair structure,' she said. 'Some will return, but if you keep repeating the action, some of those bonds will be lost and they won't repair.'
In other words – heat damage is permanent. The only thing to do with heat damaged hair is to trim or cut it away.
Both trichologists stressed that your hair type is one of the most important factors in determining how often you can safely use heat on the hair. 
'One size does not fit all,' Gilbey said. 'Chemically treated hair, finer/weaker diameter or certain ethnicities of hair will not withstand so much trauma due to the inner part of the hair being internally modified or the natural shape of the hair having less cuticle layers.'
2. Use heat protectant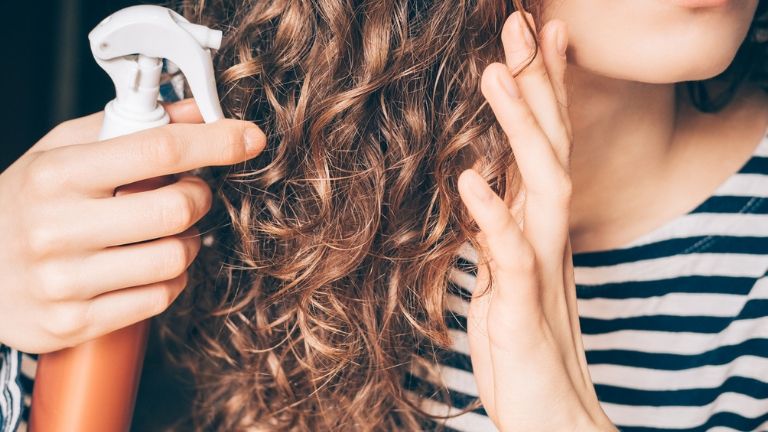 It isn't always the easiest thing to remember, but it's arguably one of the most important. 
According to both trichologists, any hair straightening routine should include a high-quality heat protectant oil or spray. Heat protectants coat the outside of the hair shaft and stop the penetration of the heat – like a sealant.
Use heat protectant products on wet hair, then gently blow dry or leave to dry on the hair naturally before straightening – don't apply heat to the hair before the product has completely dried, Gilbey advised.
McDonald recommends choosing heat protectants that contain moisturizing oils such as coconut or jojoba oil, or contain water as one of the primary ingredients.
'Oil is a good conductor of heat, and will fill in the gaps within the hair fibre. They're good lubricants,' she said.
Choosing products that are primarily water helps to ensure that other ingredients, such as silicones, are only present in small amounts. 
My personal favourites are It's a Ten Miracle Leave-In Product and CHI Silk Infusion – I never straighten my hair without them.
3. Less is more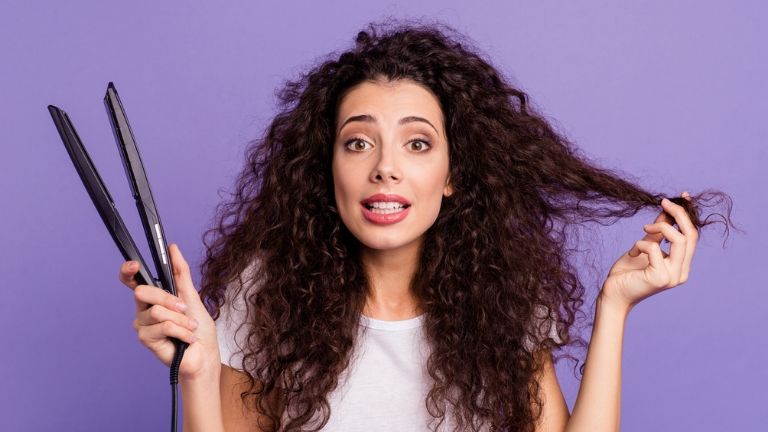 Put the blow dryer and flat iron away and embrace your natural hair whenever possible, otherwise your hair will suffer.
McDonald stressed the fact that heat should not be applied daily. Weather conditions can also increase the stress on your hair and the dry humidity in Britain is particularly hard on the hair, she explains. If you live in a place with this type of climate, be careful with how often you pull out the heat tools. 
'Daily straightening is terrible. Once a month straightening isn't going to do the greatest harm,' she said. 'But if the temperature is so high, one application could, if it's not done correctly or at the right heat – it could cause damage.'
She also suggests straightening the hair only on special occasions rather than making it part of your daily routine.
Both trichologists recommend moving the iron quickly through the hair, and limiting the number of times you pass the iron over each section to minimize damage.
4. Avoid straightening your hair if you have chemicals in it
Colouring your hair is a great way to switch up your look – but it isn't the best when you combine it with straightening your hair.
It's important to avoid heat styling if you have a chemical in your hair such as bleach or hair dye. This can weaken the hair and make it more susceptible to damage.
Even products that are touted as 'natural' are still chemicals, and will damage the hair if used in excess. These include relaxers and keratin treatments. 
Even products that are touted as "natural" are still chemicals, and could damage the hair if used in excess.
Keratin treatments change the internal bonds of the hair to make it smoother and straighter, Gilbey said. Despite what you may have heard, these treatments are not necessarily suitable for all hair types.
'Keratin treatments are not natural, they are still a chemical, and they will still alter the hair,' McDonald said. 'Depending on your hair type, they can cause more damage because you can end up leaving the hair in a half state of curly/straight.'
After the hair is left in a semi-straight state, the roots regrow and then the hair starts tearing at the ends, she said.
She recommends consulting with your hairstylist to make sure your hair type is suitable before applying these types of chemicals to the hair.
5. Make sure your hair is completely dry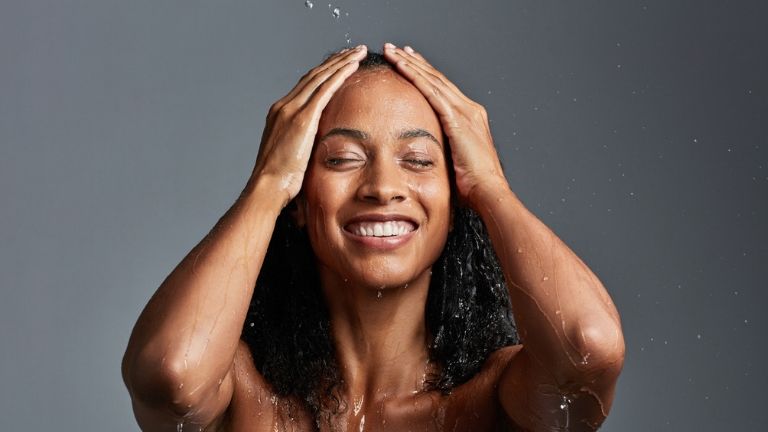 If your hair isn't completely dry when you straighten it, the results can be detrimental to the hair, Gilbey said.
If your hair is making a 'hissing' sound and / or your getting smoke or steam rising from it while you are applying heat – stop. These are signs that your hair is not dry enough yet. According to Gilbey, doing this can result in a condition called 'bubble hair.'
'This when water particles of undried hair or product are boiled within the hair shaft and sealed down within the hair by the irons,' she said.
'The hair can break off at the site of trauma where this happens – including on short fringes that are difficult to disguise.'
Make sure to always let your hair dry completely before you begin to straighten it. Using a hair dryer on a low heat setting (such as around 150 degrees) will also aid the process. 
6. Keep your hair clean and moisturised
You should wash your hair a minimum of once a week, no matter what type of hair you have, the trichologists advised. 
Having a clean scalp and moisturized strands will promote hair growth and help prevent breakage.
'You need to wash your hair regularly to promote a healthy scalp, it doesn't hurt to wash your hair regularly with the correct products,' Gilbey said. 
You need to wash your hair regularly to promote a healthy scalp, it doesn't hurt to wash your hair regularly with the correct products.
McDonald recommended using a shampoo that contains sulphates every so often, especially if you regularly apply heat to the hair. This will stop build-up of products on the hair shaft and prevent yeast and bacteria from growing on the scalp.
These types of deep cleansers can be drying, so make sure not to skip the conditioner when detangling your hair.
7. Stay hydrated and watch your diet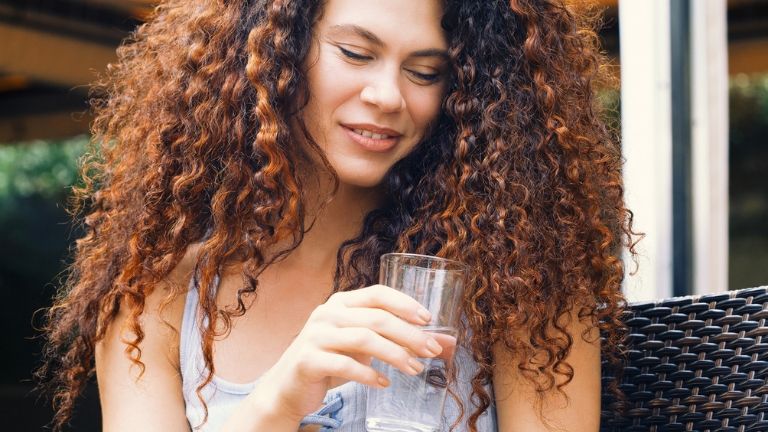 Diet is an important part of your hair health as well, according to McDonald. Drinking plenty of water and eating healthy foods will help improve the condition of your hair and scalp.
'Obviously it is always inside and outside, that's the approach,' she said.
'If you've got a really good diet, and you're healthy and you've got normal hair growth, then you'll have strong fibre. The same with skin, it's an extension of that. If you're healthy then the hair can withstand some of these mechanical things that we do to it.'
To help you get the nutrients that promote healthy hair, we love the beauty multivitamin Perfectil Plus Hair (£17.95 from vitabiotics.com) which contains biotin, selenium and zinc, key nutrients for the health of your hair (our editor Anna Magee, who has long, thick hair loves it!)
8. Regularly deep condition your hair
Heat damaged hair can't be repaired, but there are some things you can do to help. One thing is doing regular deep conditioning treatments – either at home or at the hair salon.
Choose a deep conditioner that is right for your hair type, then apply it in the shower after shampooing. Leave it on while you're showering, and the steam will help the conditioner penetrate the hair and soften it.  
If your salon offers steam treatments, this is much better for your hair than using the hooded dryer, McDonald said.
Regularly deep conditioning your hair will leave it supple and moist and this will make your strands less prone to breakage while styling.
There are two deep conditioning treatments that I use religiously whether I'm wearing my hair straight or not – DevaCurl Heaven in Hair and Mielle Organics Babassu Oil and Mint deep conditioner.
9. Choose the right iron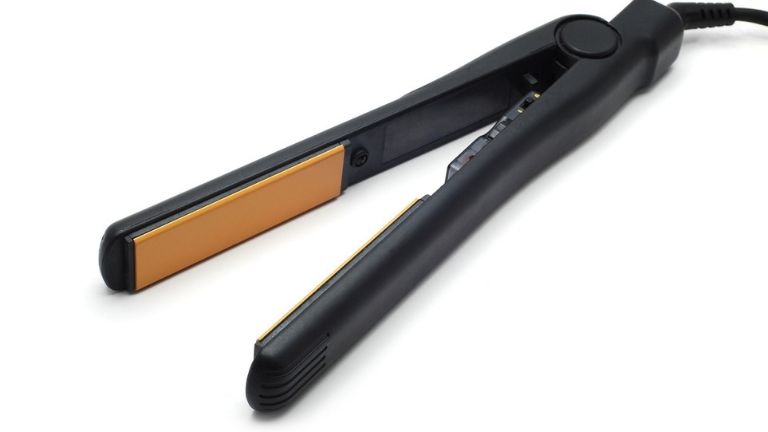 Choosing a high-quality iron that is made of materials that are good conductors of heat is crucial.
Most ceramic straighteners should do a fine job – but there are a few other variations that are popular because of their ability to conduct heat well when they're used on the hair.
Titanium and tourmaline are popular – there are even new models that incorporate steam into their irons. 
McDonald and Gilbey both recommend choosing a straightening iron with a setting to adjust the heat. You should then choose the lowest temperature that is necessary for your hair type to prevent damage.
If you have fine or colour-treated hair, choose the lowest setting – about 150 to 175 degrees. If you have coarse hair you may need to start straightening your hair at a high temperature of 230 to 250 degrees – then gradually reduce the temperature as you style it.
Check out our top five favourite hair straighteners that won't damage your hair.
Shirley McDonald is a trichologist from the Hair and Scalp Clinic in London. 
Lisa Gilbey MIT is from the Northants Hair & Scalp Clinic in Wellingborough. 
Both are registered with the Institute of Trichologists – Members of the Institute are qualified to diagnose all hair loss problems, scalp problems and hair shaft abnormalities of both sexes and any hair ethnicity.
More Healthista Content:
This kettlebell workout for glutes will give you serious burn in 20 minutes
What really happens in a slimming club
11 travel essentials you didn't even know you needed
The beauty editor's guide to perfect lips
How to find your signature scent – the beauty director's guide