Slimming World have opened a supermarket that encourages people to make healthier choices. Lydia Jones – who lost two stone – explains how it changed her life
New research has revealed that less than one in five (15%) people believe that supermarkets are doing enough to tackle obesity.
The research also found that almost half of the public (48%) believe that legislation should be introduced to require supermarkets to proactively encourage healthier choices.
The new report, Health on the Shelf published today (26th July 2019) by the Royal Society for Public Health (RSPH) and Slimming World, has exposed the marketing tactics that are used to drive sales of unhealthy products.
It's been revealed that supermarket layout, pricing strategies and shopping environment are fuelling the obesity epidemic.
RSPH and Slimming World have partnered to open the UK's first ever supermarket designed by public health experts, that showcases how the retail layout and shopper experience can be transformed to encourage customers to make healthier choices.
The People's Supermarket, located on Lamb's Conduit Street in central London, is open to the public on the 26th July, and highlights how supermarkets can be health promoting environments.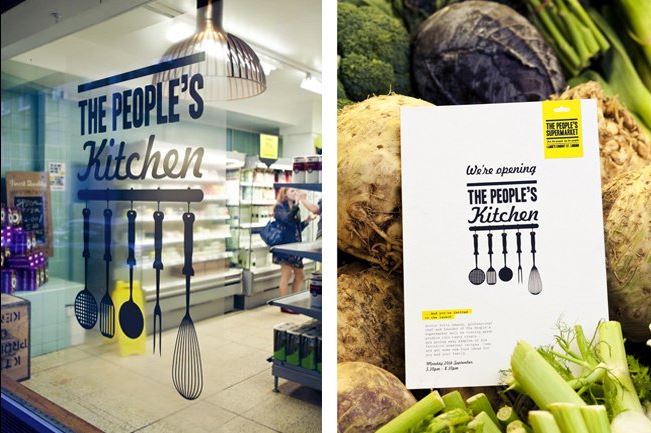 Slimming World is celebrating its 50th anniversary and there are now more than 19,000 weekly groups supporting 900,000 members across the UK and Republic of Ireland, currently with 140,000 of its members have reached their target weight.
One member, Lydia Jones, who claims the slimming club has changed her life shares her story with Healthista:
Lydia's slimming story
Those who know me are fully aware that I can (and do) talk about Slimming World until I'm blue in the face. But now, writing this, I'm actually finding it quite hard to put into words just how important it is to me.
I'll go for all the clichés first off, because it has truly changed my life, and I don't honestly know where I would be without it, and hopefully, by the end of this piece, you will have a better idea of just how much it means to me.
That was many years 'before'
I joined Slimming World in July 2012. Over the years my mum and I had tried several methods of losing weight. My mum was a member of Weight Watchers for three months and although she lost a stone and a half, she found the points system so restrictive and confusing that she would get to the end of the day starving and tearful, having panicked about whether a chicken breast was slightly larger than average. Subsequently, she had put all the weight back on within a month or two, from just going back to normal eating.
We both went through a stage of having Slimfast drinks, for me mainly due to lack of time as an over-subscribed prefect at school. I do also remember giving up all carbohydrates at one stage, which had me losing about a pound a day, but of course the problem was that when I ate a piece of toast, it all went back on again.
Thinking back to eighteen months ago, it's like picturing different people. To think we would both stand in changing rooms, sucking our stomachs into a new pair of jeans, then buying them with the promise of 'they'll fit, once I've lost that half stone'. About six months later, they'd then be on the charity shop pile, as the half stone was still there, and probably a bit more too.
Plus size and proud…most of the time
Although I'd been big for my age since I was about eight, I was always, and still am, very sociable. This isn't a sob story of a girl who was overweight, friendless, single and shy.
My boyfriend and I have been happily together for six years now, and he's stuck with me through it all (even my goth stage, would you believe, but then again, he had a bit of an emo patch himself).
I've always been outgoing, and was successful at school being Head Girl for my final year, and leaving with three As.
I have masses of friends, and I've got a family that love me. They all accepted me for who I was, as I did them, and maybe that was part of the problem.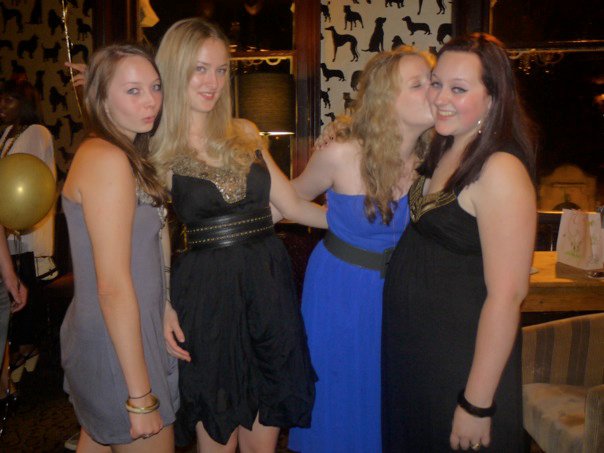 I was always happy and bubbly on the outside, but when I was alone it was a different matter. It would take about four goes in the morning to find an outfit that I liked. If I was dressing up, it would be even worse, and sometimes I'd put on a short dress or something tight fitting, and just think to myself 'How stupid do you look?'.
This would literally end in tears, and my mum or my boyfriend would have to try their best to convince me that I looked all right. Sometimes though, my mood was the exact opposite. I'd think, who cares what anyone else thinks, I'm a plus size and I'm proud of it… but then I'd see photos of the myself the next day on Facebook and feel terrible again.
I don't think I realized just how different I looked to all my friends, but the reality was that they were all size 8s and 10s, and I was a 16 sometimes 18.
The turning point
Looking back at these old photographs, I've realised that my weight really shot up at university. Studying Graphic Design I was constantly sat in front of a computer, and in my last year especially, I was snowed under with projects.
Lunch for us was either another round from Starbucks (always a Venti Mocha for me, and sometimes this would be my third of the day), or, if we had an hour, my best friend and I would go to Pizza Express. Bearing in mind he's over six foot and the size of a quarterback, I'd eat just as much as he did.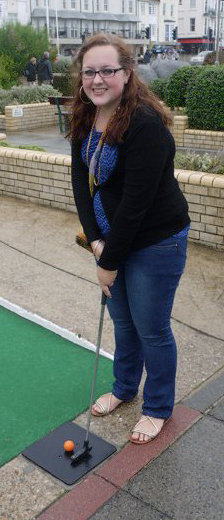 Like a lot of overweight people, my main problem was that I'd reward myself with food. I'd been this way since I was small, but it got completely out of hand in my uni years.
I'd think 'I saved £5 buying that shirt in the sale, so I can eat that chocolate bar'… It doesn't even make sense. I'd watch my slim friends ordering greasy food and think I could too, without realising that they were at the gym twice a week, or they'd leave half of it on their plate.
Going to the doctor was the worst experience of all. They'd be chatty and sweet, then I'd step on the scales and their whole tone would change. I once had my blood pressure checked four times in one appointment, because my doctor didn't believe how high it was.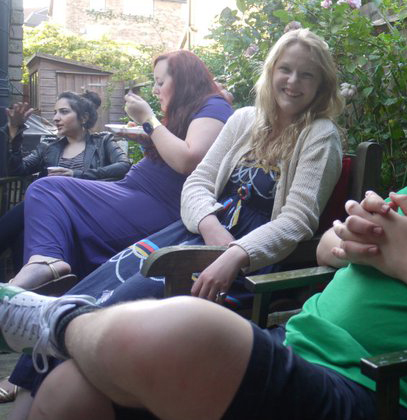 Just before we became Slimming World members, I had a trip to Waitrose that I will remember for the rest of my life. Whilst paying, we were having a lovely conversation with the woman behind the till. Then, laughing away, she slipped in, without a thought, those hideous words that no overweight woman wants to hear. 'So,' she said, 'when's it due?'
I completely broke down, physically and emotionally, and actually started shouting back at her. My mum helped me back to the car. I was embarrassed and now completely hysterical, and it took me forever to calm down.
This wasn't the first time it had happened. I've had similar comments and been offered seats on the bus since I was about 16, but I think I was so cross on this particular occasion because I was wearing a coat that I loved, and I knew I'd never be able to wear it again. My mum believes that this was the turning point for us, when she knew that she'd have to do something to help us both.
When I joined Slimming World I was 21 years old and 14 stone 1.5lbs.
Then along came Slimming World
Up until last year my mum taught in our local primary school, and one day she saw a mother across the playground looking absolutely incredible, having lost masses of weight after recently giving birth. When asked how she'd done it, she told my mum about Slimming World. 'It's amazing,' she said, 'you can eat masses and you'll never be hungry again.' That was enough for my mum to come home and tell me about it.
I agreed to go along, but only really to please her. During registration and the introductory talk, I sat with my arms crossed and a blank face. I honestly don't remember much about the first group that we sat in on, but I weighed in at the end, and agreed that I'd give it ago. I set my target to a four stone loss, because I knew that for someone my height (5'6"), 10 stone is an ideal weight.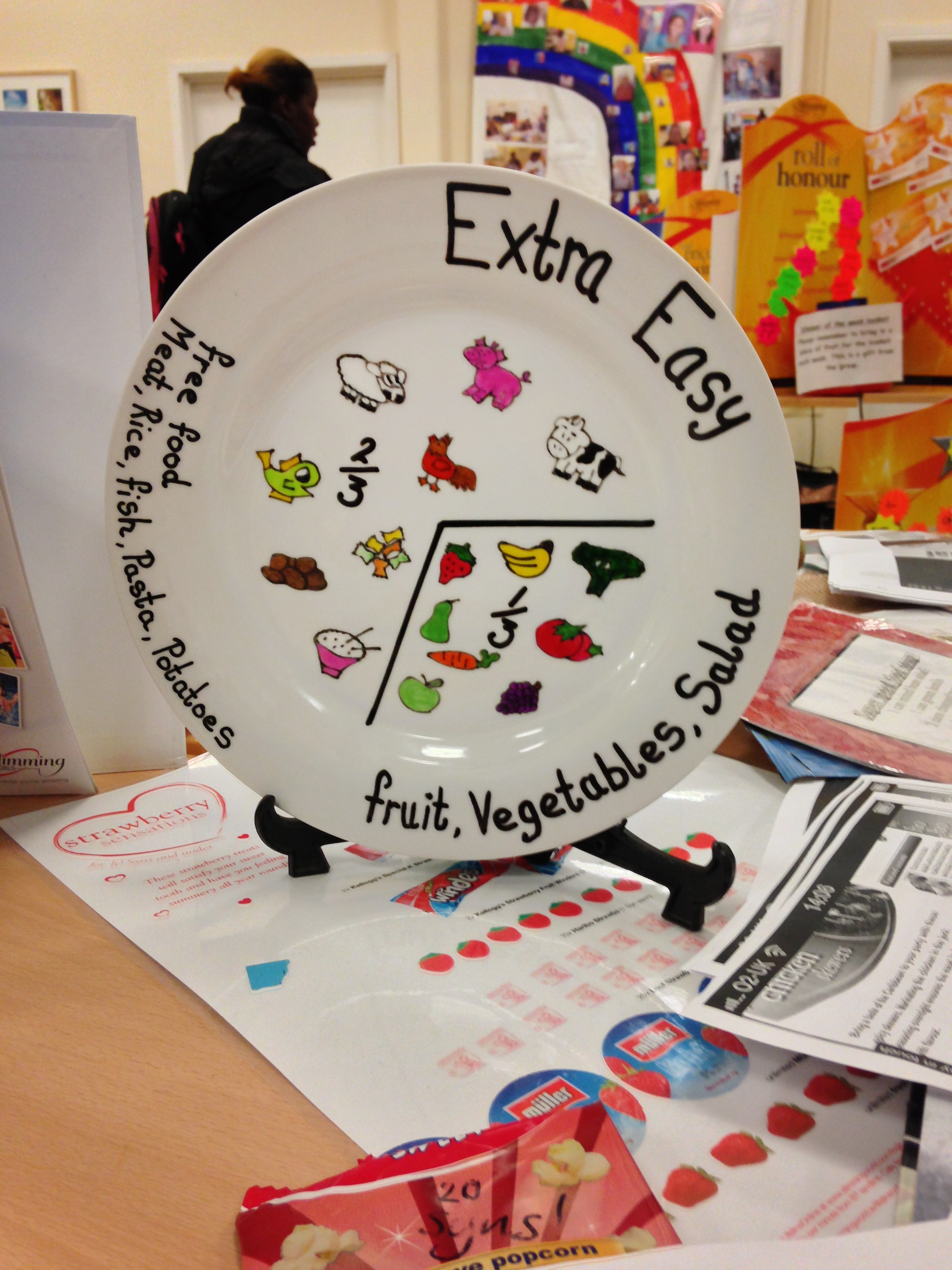 Before I carry on, I think I should explain the basics of the Slimming World plan. There are two main categories of food, 'Free Food', which is all your lean meat, fish, eggs, potatoes, rice, dried pasta and pulses, and then there's 'Superfree Food', all of your fruit and vegetables (with a few starchy exceptions).
When serving yourself a plate of food, you must try to have 1/3 'Superfree', and 2/3 'Free'. Then you have a daily allowance of dairy ('Healthy Extra A'), and fibre ('Healthy Extra B'). This is the equivalent of 250ml of semi-skimmed milk and one brown bread roll, but of course, there is a long list of things that you can have instead of these.
Anything that doesn't fit into one of the above categories will have a 'syn' value. You will be told how many syns you are allowed daily, but for most people starting off it's 15. To give you an idea of how much this is, a Crunchie bar is 9.5 syns, and a 250ml glass of wine is 12. You are encouraged to have as many syns as you like up to 15, so that you don't feel deprived of the things you want, (that could lead to blowing it all together).
Once a week you attend a meeting where you get weighed then have the option of joining a group talk, where we discuss how we each found the past seven days, ask questions, and give each other advice and support. These are the main outlines, but there is of course, a lot more to it. It takes a few weeks to get used to the plan completely, so I won't be going into that now!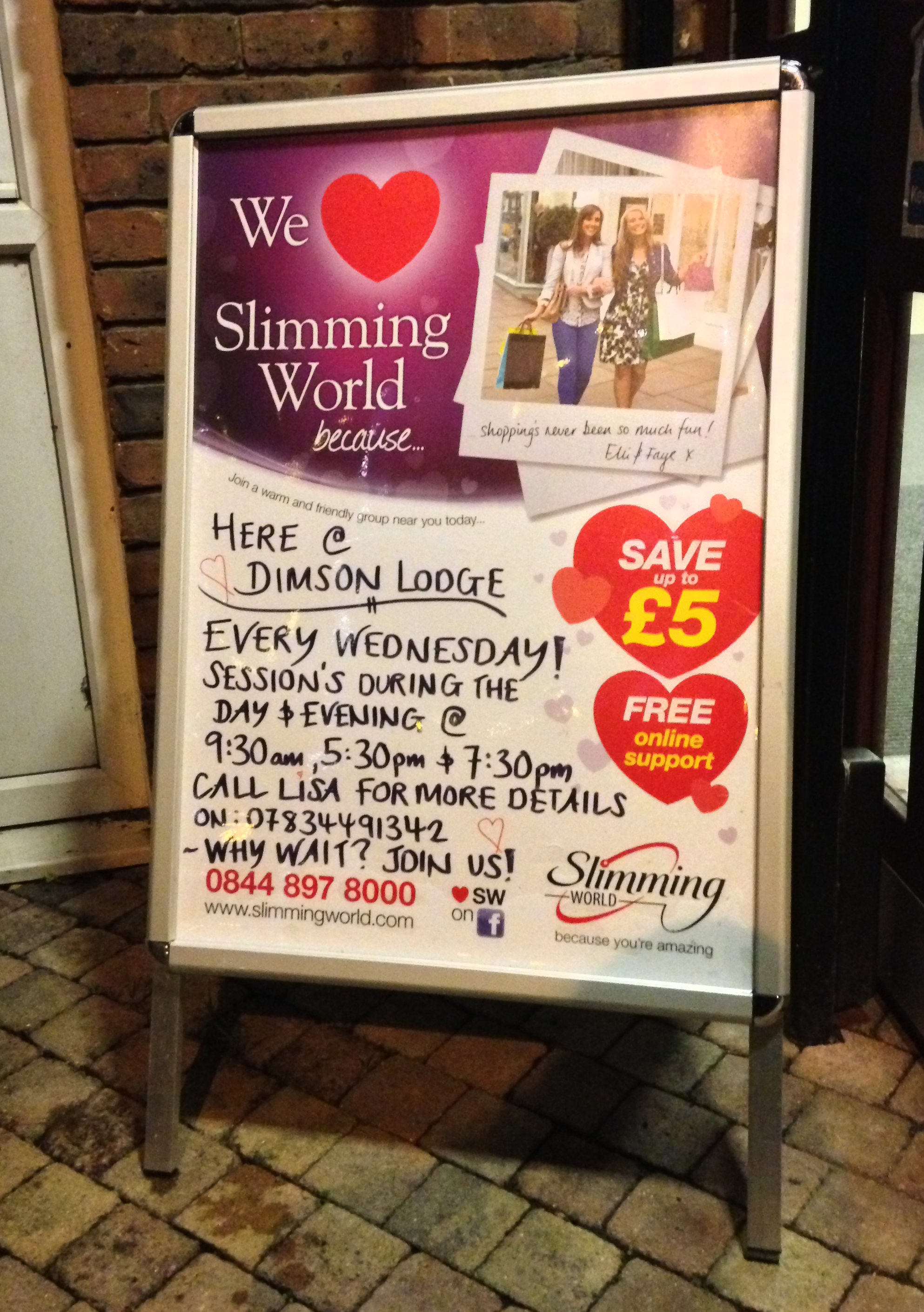 At Slimming World, we refer to a new member's first seven days as their 'Fantastic First Week'. This is because if they stick to the plan 100%, they usually experience a huge first weight loss. I however, did not.
I came back to my first official meeting, popped on the scales, and I had only lost half a pound. Within seconds, I was sobbing in the loos, telling my mum there was no point in me going back in.
At half a pound a week, 4 stone suddenly seemed impossible. She encouraged me to go back for the talk, and so reluctantly, I dried my eyes.
After everyone had been weighed, we sat down in a big semi-circle for the group talk. As I sat there I heard about great weeks, terrible weeks, and even people who were in a similar position to me. It made me start to feel a little bit better.
When it was my turn, Lisa, our group consultant, looked at my face and seeing I was upset, turned to the group and said "Guys, this is Lydia. She's a little disappointed with her loss in her first week, but isn't it incredible that she's here? She's only 21, she's got friends, and parties, and a whole heap of things to get in her way, so let's give her a big hand for having the courage to walk through the door. Well done, Lydia."
As everyone clapped I started to cry again, but this time for a completely different reason. I realized that for that past week I hadn't given the plan much thought. I'd been out with friends, I'd eaten Doritos and chocolate, and I think I was so disbelieving that the plan would help me, that I'd completely sabotaged myself. This was when I started my Slimming World journey, and I know I'll never be that Lydia again.
But let's get a few things straight…
So what actually happens at Slimming World? There are so many misconceptions that I'd like to put right, on behalf of everyone who is in my group. I think people think of Marjorie Dawes when they think of slimming groups, (you'll know who I mean if you watch Little Britain), but it's just so not true.
 1. 'You have to tell everyone how much you weigh.'
No need. As a group, we talk about weight in terms of losses, and even if someone has had a gain, that's all it is, 'a gain'. Lisa would never say how much someone has gained, or how much somebody weighs. It's up to them, and in fact, on the odd occasion that someone has revealed their weight, it has seemed completely out of character.
2. 'You have to be weighed in front of a room full of people.'
Absolutely not. After signing in, you join the queue for the scales, which is tucked away in the corner of the room. There is a chair placed at a reasonable distance away from the weighing area so that no one can see your weight, or hear what your week's result is.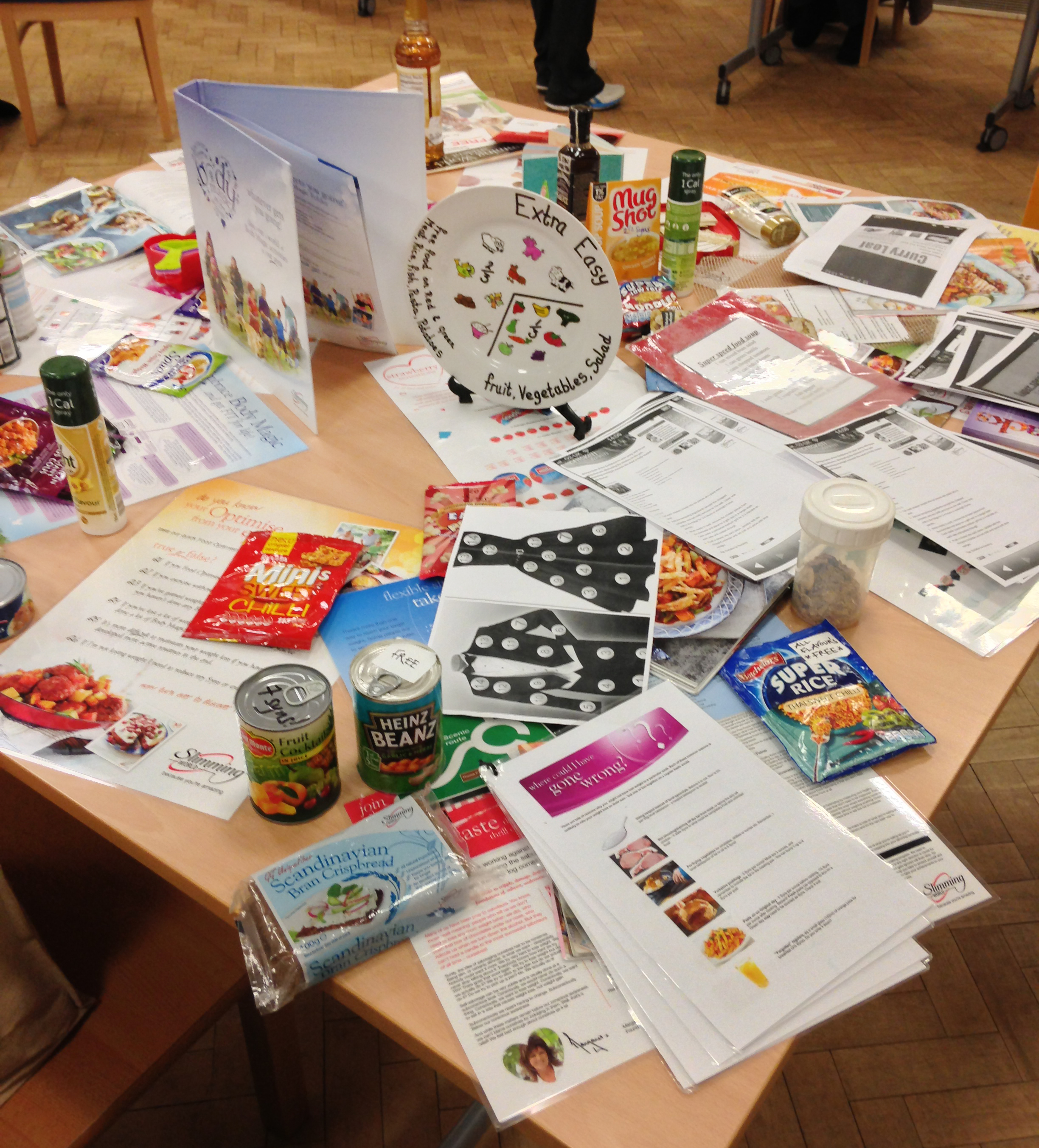 3. 'Only women go to weight loss groups.'
Although the majority of the group is female, there are men in the group too, and how brave are they to talk about their weight in front of a group of girls? Believe it or not, these blokes have digestive biscuit issues too, and they need just as much support as the women.
4. 'Once you leave, all the weight goes back on.'
I overheard someone say this about Slimming World the other day, and my head nearly blew off. The plan is always there to support you, so long as you keep coming back. Once you've reached your target weight you're a member for life, and don't have to pay a thing as long as you stay within 3lbs of your target. If you go over, you simply pay your weekly subscription until you're back in range again.
5. 'You're going to be hungry.'
As we say in group, if you're hungry, you're doing it wrong. You can eat 'Free' and 'Superfree' foods with no limits at all, and if you plan your day's eating you can factor in your syns, ready for when you might start craving.
6. 'I'm going to have to give up all the things I like.'
Having 15 syns a day means, as I mentioned before, you can still enjoy a glass of wine or a chocolate bar and lose weight. How you 'spend' your syns is completely up to you. Food Optimising is the way forward. This means knowing what you'd really like to eat, and then working out how you can fit it into the plan.
For example, you can still have a burger and chips by making the burger with extra lean mince, oven cooking potatoes in an oil spray, and including the bun as your Healthy Extra B choice. Add a lovely big salad and you're sorted.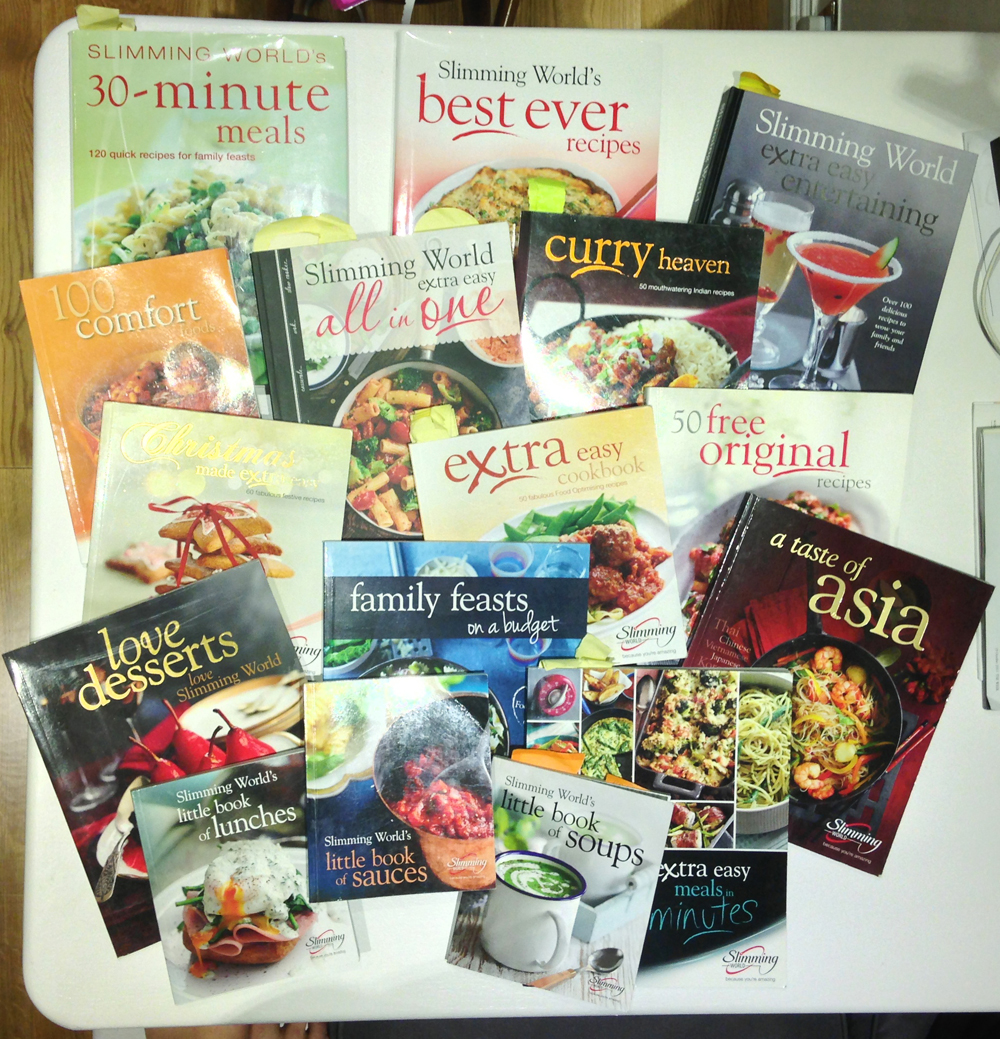 7. 'You're going to struggle when eating with others.'
Rubbish. I've hosted many dinner parties in the last year, and my guests have been shocked and happily surprised when I've revealed at the end that they've just eaten a Slimming World meal. There are new cookbooks coming out all the time, and the monthly Slimming World magazine is always packed with amazing recipe ideas, as well as useful tips for difficult situations like take-away nights, or eating lunch in the office.
It's true, eating out isn't that easy, simply because in most restaurants, you never know for sure how they're cooking each dish. You just have to try your best to pick what you think is right, and luckily, most places now tend to include a steak and salad on their menu, which is all fine in Slimming World terms.
Also, using the Slimming World website, you can search for some of the bigger chain restaurants and the syns have already been worked out for you. I now know I can order a full meal in Nando's for only 7.5 syns.
8. 'You only go to a group if you want to lose lots of weight.'
Just like it's members, Slimming World target weights come in all shapes and sizes. Some people want to lose half their body weight, some want to lose a few stone, and others may only want to lose half a stone before a holiday or a big event. There are no rules about targets, and everyone is treated equally.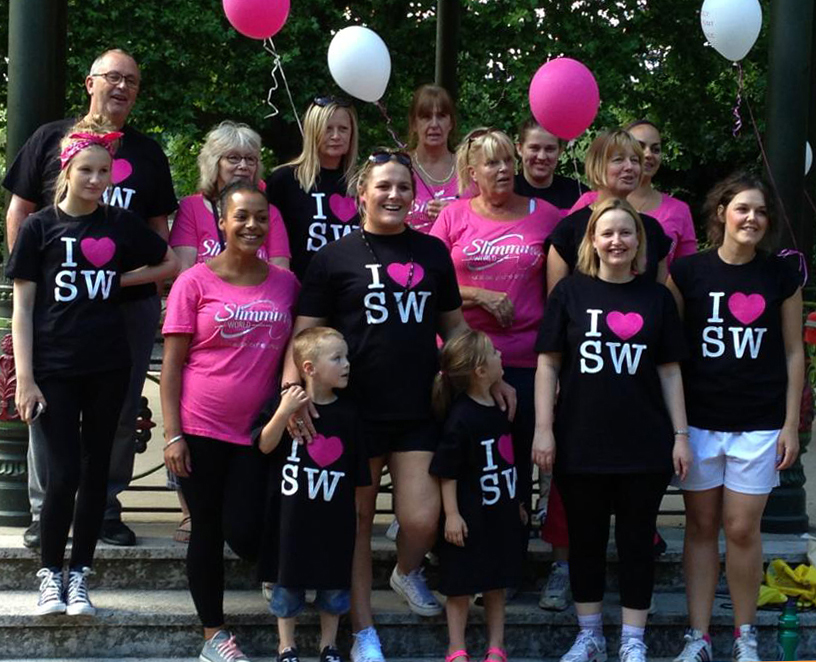 9. 'Going to a weight loss group is miserable'.
This couldn't be further from the truth. I love my Wednesday evenings, and so does everyone else in my group. Yes, we are there to support each other through the rough patches, but we are there to celebrate the successes too. We always have a giggle (when someone tells of their trousers falling down whilst running for the bus, or painting their nails when they get chocolate cravings so they can't pick anything up), and you feel motivated and ready to tackle anything by the time you leave.
It's so sad when you see someone get weighed and then walk out, not staying for the discussion. As Lisa says, if you've had a bad week, you need to stay to be supported, and if you've had a great week, you need to stay to support someone else. We really are a family, and I've never felt embarrassed to ask a question, no matter how big or small.
Life after loss
Looking back at my losses each week, which we record in our personal Slimming World books, I've had ups and I've had downs. I've lost up to 3lbs in one week, but I also had that week where I put on 4 (though admittedly, this was after a holiday in New York where I scoffed on white bread!).
Despite the rockiness of my weight loss, I am pleased to say that since joining Slimming World 15 months ago I have lost 2 stone and 6.5lbs. Last week I also changed my target to a 3 ½ stone loss overall, because I was finding the pressure of 4 stone all a bit too much. Once I've reached this target, however, I may decide to reduce it again.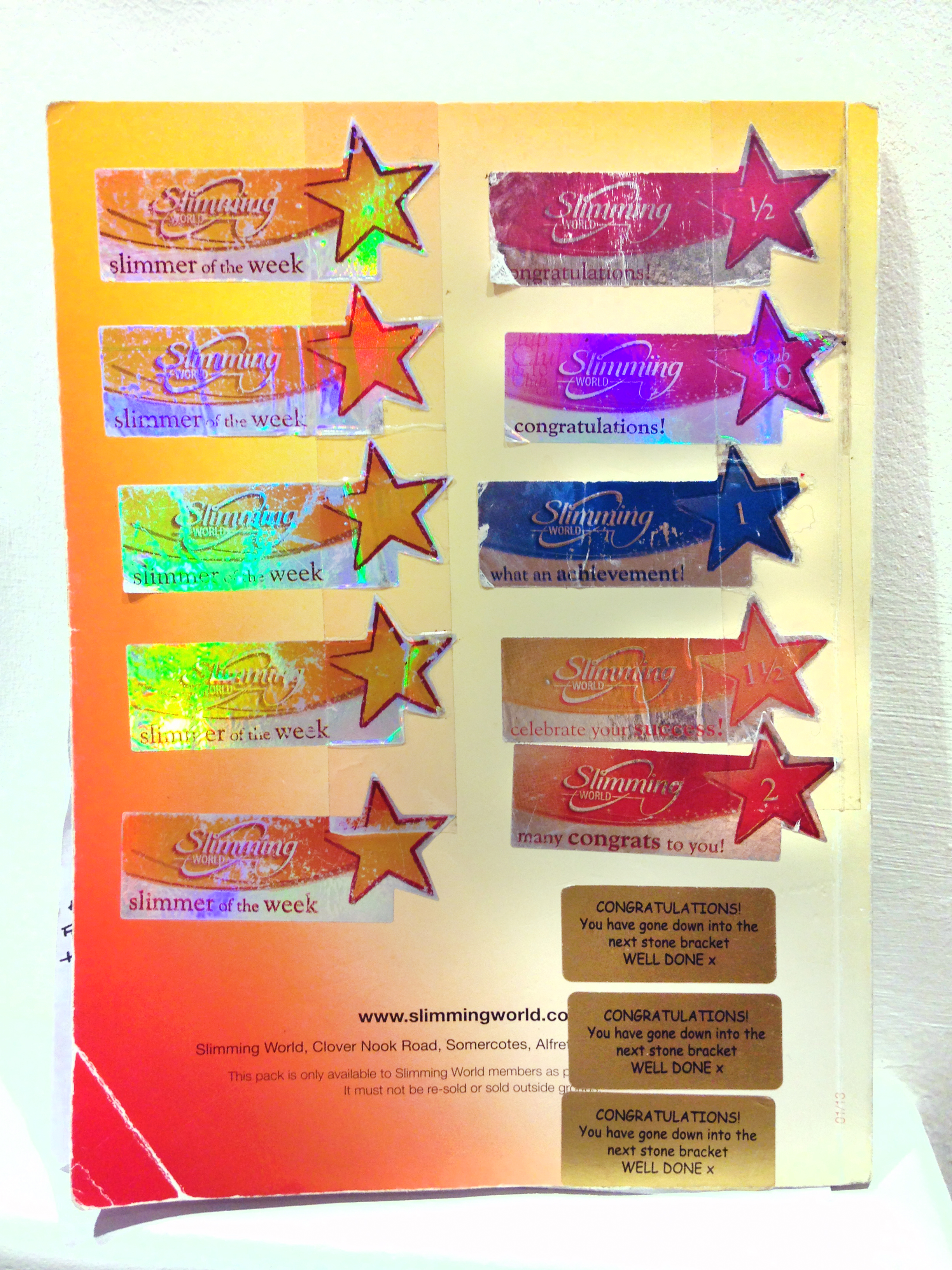 I'm an absolute foodie, so Slimming World is by far the best weight loss plan for me. I've always enjoyed eating good things, but after becoming a member I realized that my problem was how I cooked things, and all the bits I had in between meals.
The amounts of oil and butter that I'd cook with before were unreal, and I simply couldn't control myself when it came to chocolate, bread and cheese. Now, I always cook using a Frylight Spray Oil (which is 'Free' on the plan), and I eat dairy and bread within my daily allowances.
My attitude to sweet things has completely changed too. Last weekend I attended a birthday tea party, and couldn't finish a brownie because it was too sugary. The cravings haven't entirely vanished though, but with the Slimming World chocolate bars and a low syn Options hot chocolate (2 syns a sachet), I can stay on track.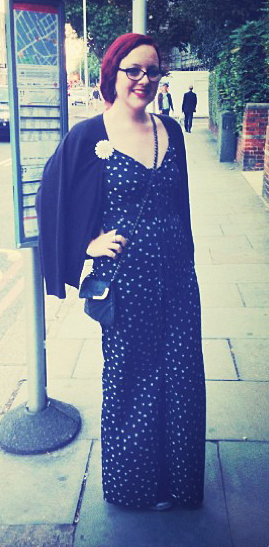 Like I said before, I do feel like a new Lydia. I'm doing things I couldn't do before, like a fitness class last week, or running up a flight of stairs without thinking. I feel so much lighter when I move, and I can tell I'm walking more quickly now too.
Soon I'm hoping to start building regular fitness into my life, something I was never able to do before. Although Slimming World works with your diet alone, there are extra awards that you can achieve by logging your weekly fitness.
The biggest change has probably been to the way that I dress. Before I used to dress very girly, I think as a way of making myself look 'prettier'.
I tried on an old dress the other day though, and I was shocked at how frumpy I looked. It was hard to believe that this was my best outfit before, and that the dress hasn't changed, but me!
Now, I can wear high-waisted jeans and shirts, and finally show off that I do have small shoulders and a little waist. My boyfriend now grabs me from behind and says, 'Hey, skinny ribs!' – although I give him a whack for making me jump, I'm absolutely glowing inside.
This year was also the first summer that I could wear shorts, and I am over the moon to announce that my thighs didn't chafe ONCE! It may sound silly, but on reflection, these little things make you feel like a million dollars.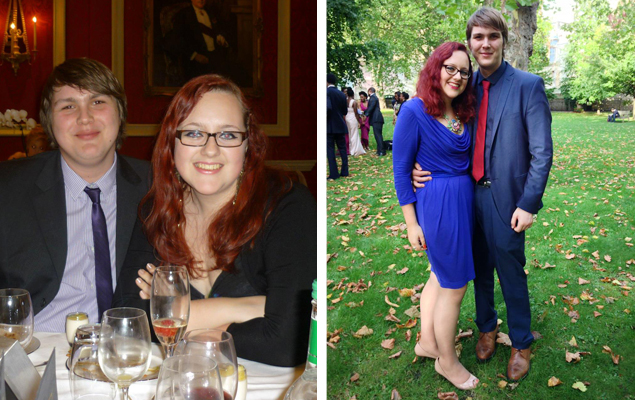 My confidence was really boosted last week, surprisingly during a visit to the doctor. When I admitted to being overweight (as my BMI is 26.6, and the official limit is 25), my nurse said 'Really? Are you?' and after plugging my weight and height into the computer, she said, 'Well, only a bit. Nothing to worry about.' I couldn't stop thanking her, she must have thought I was quite strange! I also now have 'perfect blood pressure', which when I was told nearly caused me to fall off my chair.
There are things about the Slimming World plan that sound questionable at first; the fact that you can eat unlimited pasta and potatoes, or that fruit is free – but not liquidized fruit. The syn values are not only measured based on calories, but on how filling a food is as well.
You could have ten bananas and all their natural sugars in seconds if you made a smoothie, but you'd never be able to sit down and eat ten in a row. The important thing is just to go with it, and trust in the plan, because IT WORKS.
The Slimming World Man of the Year 2012 lost an incredible 11 stone, and there are even members in my group that have lost more than six. I've had friends grill me about Slimming World's guidelines ('Why can't you eat avocados?' 'Can you really eat that much rice?'), but I try just to keep quiet, and if they push it too far, I say 'Well I've lost two stone, so it's obviously working'. That usually shuts them up.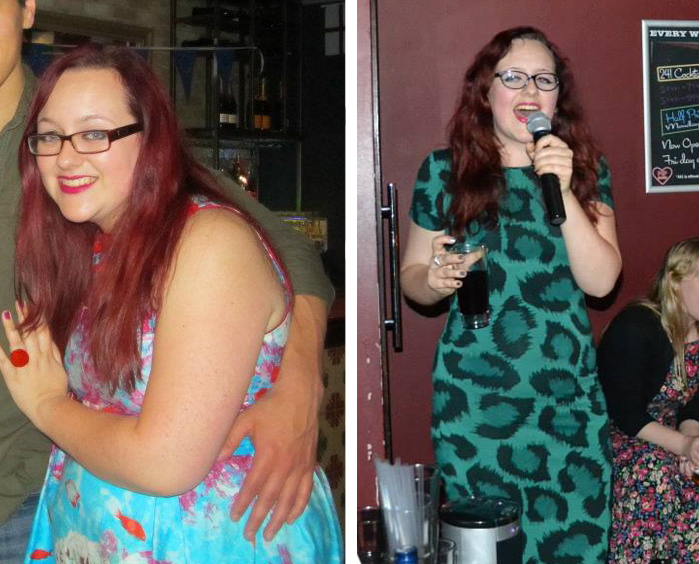 I'd like to thank the academy…
Other people's reactions have been very interesting. So many times I have heard the words 'You look great, you don't need to lose any more weight.' Though I thank them for their comments, I don't think they realize that this is actually quite dangerous for me.
We've discussed in group how a gain can sometimes come from feeling complacent because you've been complimented on how good you look. It sounds peculiar, but I've also had people who tell me I look great, then try to force-feed me biscuits. They'll offer you one, and when you say no, they say, 'Good, well done,' as if it was some kind of test.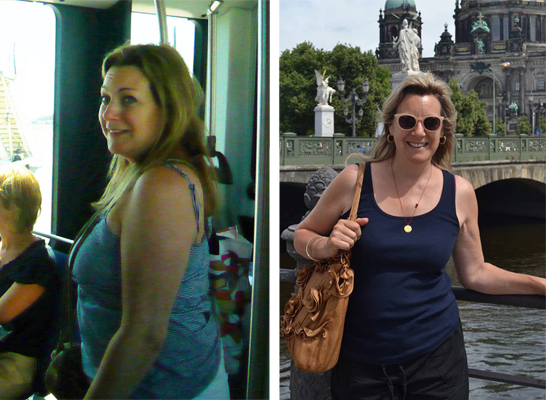 There are several individuals though, whose support has been tremendous, and I honestly can't thank them enough. One friend in particular, who knows who she is, hosted a dinner party for nine the other night, and texted me beforehand to reassure me that my dinner would only be 4 syns, as she was cooking from one of her mum's old Slimming World books. I was so grateful, and incredibly touched.
I have to thank my mum as well. I don't think we could have done it without supporting each other, and of course I wouldn't have joined in the first place if it hadn't been for her encouragement. By December 2012, my mum was celebrating being a target member, and ten months on, in spite of the occasional wobble, she is within her 3lb range.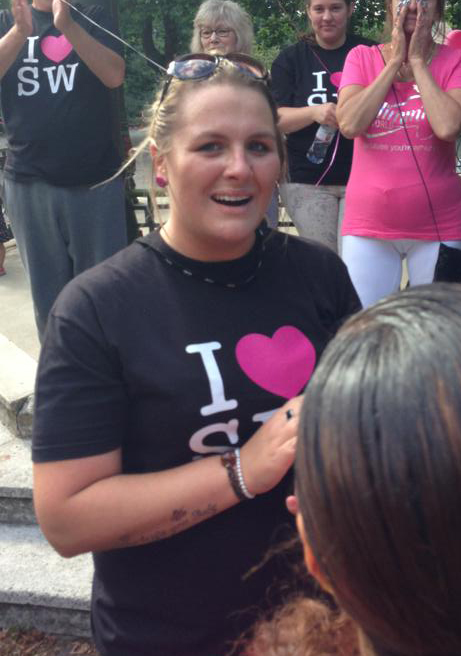 However, if you asked anyone from my group who they'd thank the most, we'd all say one name. Lisa. She's our guardian angel and our leading light, and I can't tell you how lucky we all are to know her. Lisa knows exactly what it feels like to be a member because she was one herself ten years ago.
Her daughter came home from nursery one day with a drawing, where her dad was a stick, and Lisa was a big round blob. It was that moment that she realized she had to do something, not just for herself, but for her family too. She lost seven pounds in her first week, and then went on to reach her five stone target in just 18 months.
Every week she's there without fail, reminding us that no matter the result, the most important thing is that we are there, in group, and that we had the courage to walk through the door and make a change.
Wednesday nights can be very emotional. Last week one of our members was told by her doctor that at 'her size', her only option was a gastric bypass, which could actually put her life at risk. To see someone so determined and vivacious be reduced to tears by one stupid man's comments was heartbreaking, but as a group, we can offer her a safe place where she feels she is able to discuss these things. And guess what?
This week at group, she lost HALF A STONE. She thanked the group for their support, but just think where she would be without it. 'The plan is easy, but life isn't' – another of Lisa's phrases that I remind myself of nearly every day.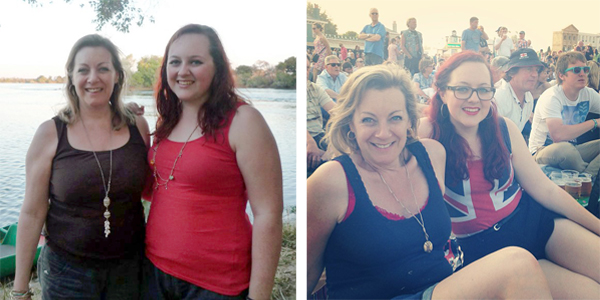 I do think it's possible for someone to be a larger size and happy, but as soon as it affects your confidence, your abilities or more importantly your health, you need to do something about it. But there's no point losing weight and then carrying on the way you were. It's about changing your mental attitude toward food, and staying that way for life.
Slimming World has helped me achieve this. If I could give advice to the old Lydia, I'd encourage myself to start earlier, and not waste all those years being so upset. I can't change that now though, and I've got to remember that the important thing is that I've done it. I'm not at my target yet, and I know I'll have more ups and downs, but I will get there, and can even enjoy the process.
It's not impossible, for me, or for anyone else out there.
If you're thinking of joining, or just want to go along for a chat, you can find your nearest group on the Slimming World website.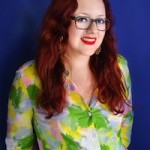 Lydia Jones blogs at abitofwhatifancy.blogspot.co.uk
More Healthista Content:
These are the best foods to eat if you want to lose weight – Body transformation Week 9
Exhausted? 9 ways to beat burnout I learned from this Ibiza wellness retreat
11 time management tips that will make you happier by tonight