To celebrate the record-breaking temperatures, we've been tasting vegan ice cream in the interests of bringing you deliciously healthy ways to cool down…We're selfless like that
If the vegan movement is an ever-growing trend (it is estimated that 3.5 million British people now identify as being vegan), so too is the rise of plant-based ice cream brands.
New vegan ice creams are being created which are now free from dairy, gluten (and sometimes even soya) but still manage to retain the creamy taste we love.
The Healthista team – snacking monsters that we are – have rounded up their favourite plant-based ice cream brands and clearly specified the calorie content in each, so you have every excuse to tuck in.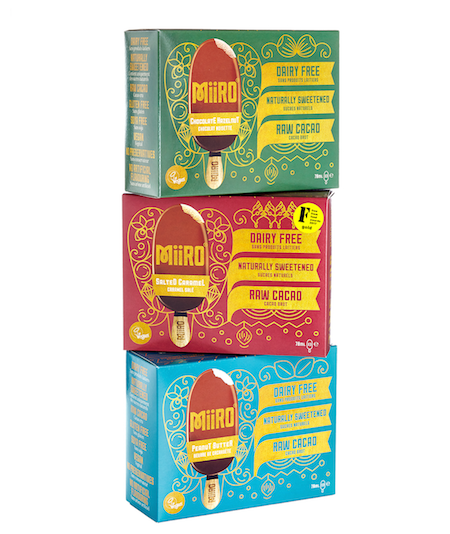 Shoreditch-based startup MiiRO know that us Brits love our Magnums and so have created a healthier version which, in our opinion, tastes like the real deal. These vegan ice cream pops come in three flavours: peanut butter, salted caramel and chocolate hazelnut.
As well as being dairy-free, these contain no refined sugar, preservatives or artificial flavourings – AND they're gluten free.
In case you still need convincing, these treats are only around 170 calories per lolly. They are sweetened with coconut sugar, Italian grapes and nuts, with a touch of Himalayan pink salt and pea protein.
Buy a pack of three Miiro bars, £5.89, at Ocado – in hazelnut, peanut butter and salted caramel.
The Healthista freezer is always stocked up on Alpro ice cream – our favourites are the almond salted caramel and chocolate hazelnut flavours.
They contain 30 per cent less sugars and saturated fats compared to the market reference in ice cream. Still, they will satisfy your sugar cravings; the Healthista team concluded that the chocolate hazelnut tasted like nutella, while the almond salted caramel tasted sweet due to the caramel bits.
Alpro ice cream – based on soya – is completely plant-based, gluten-free and comes up to 181 calories per 100g in the almond salted caramel flavour and 177 calories per 100g in the chocolate hazelnut flavour.
Buy Alpro ice cream for £3.75 at Waitrose – Almond salted caramel, Chocolate hazelnut.

These Booja Booja frozen treats made even the non-vegans at Healthista do a double take and ask themselves – how could vegan ice cream taste so good? It's due to the fact that their ice cream is made from just a handful of simple, organic ingredients; the main ones are water, agave syrup, cashew nuts and cocoa.
What's their secret to making such creamy, plant-based ice cream? It's the cashew nuts. These come in six flavours: 'hunky punky chocolate' (152 calories per 100ml), 'keeping smiling vanilla m'gorilla' (158 calories per 100ml), 'raspberry ripple' (166 calories per 100ml), 'chocolate salted caramel' (186 calories per 100ml), 'hazelnut chocolate truffle' (180 calories per 100ml) and 'caramel pecan praline' (189 calories per 100ml). And not to over-state it, but they all taste ridiculously creamy and as good – if not better – as any posh dairy version.
As well as being dairy and gluten free, each tub is also soya free.
Buy Booja Booja ice cream £5.99 on Ocado.
4. Perfect World

Somehow, Perfect World made low-calorie vegan ice cream happen – with no added sugar and packed with vitamins and minerals and all vegan and soya free made from almonds and cashews. Each tub contains 100 per cent of your daily requirements of vitamins D, E, B1, B2, B3 and minerals chromium, manganese, copper and zinc. Next time you're sat at home eating your way through a tub of ice cream, make sure it's from Perfect World.
If it wasn't already too good to be true, you can choose from a selection of six flavours. There's double chocolate chip (396 calories per tub), pistachio (390 calories per tub), raspberry ripple (334 calories per tub), caramel pecan (423 calories per tub), mint chocolate chip (396 calories per tub) and sweet espresso (342 calories per tub).
Buy Perfect World ice cream £4.49 on Ocado.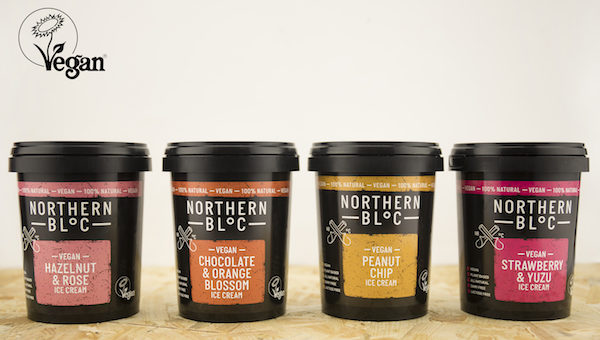 Based in Leeds, Northern Bloc prides their ice creams on the fact they are '100 per cent natural'. No additives, colourings or artificial flavours go into their rich products.
Their vegan range, which launched this year, is super low calorie and is available in innovative flavours and all natural vegan and soya-free. The Healthista team tried three and were all impressed by the peanut chip flavour (136 calories per 100ml). Other flavours we tested were 'chocolate and orange blossom' (114 calories per 100ml) and 'raspberry and sorrel' sorbet (76 calories per 100ml), which were a refreshing twist on conventional flavours.
Buy Northern Bloc ice cream in selected Waitrose and Co-Operative stores. Click here to find store near you.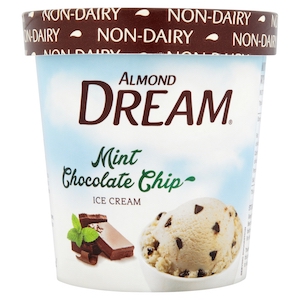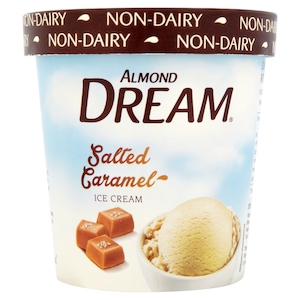 These ice creams taste like, well simply put, a dream. They are made from almonds, which add a nutty dimension to each of the flavours. Their creamy texture is also achieved by the soya content.
These Dream frozen snacks come in two classic flavours and are dairy and gluten free – but still taste like the real deal. They are relatively low in calories (101 calories per 100ml in the salted caramel, 132 calories per 100ml in mint chocolate chip), so are the perfect afternoon treat, especially for newly converted vegans who are craving their favourite ice cream flavours.
Buy Dream ice cream £4.99 in Ocado – in mint chocolate chip, salted caramel.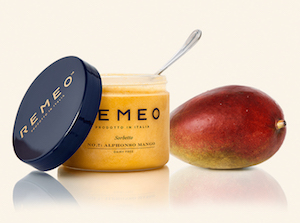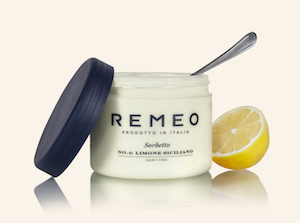 The packaging of these caught our eye immediately. If you're looking for an iced dessert in its purest form, you won't be able to find much better than these.
Remeo's sorbet range, which is dairy and gluten free, comes in two flavours: lemon (119 calories per 100ml) and mango (111 calories per 100ml), making these the perfect, refreshing and light snack on summer evenings. The sorbets are made from the finest ingredients; the mangoes are sourced and in India, while the lemons are carefully selected from Sicily.
The sorbets are also 100 per cent natural. The lemon sorbet is made from only seven ingredients, while the mango sorbet is made up of eight ingredients including inulin, which is a trendy natural ingredient rich in fibre.
Buy Remeo sorbets £5.49 from Ocado – in mango and lemon.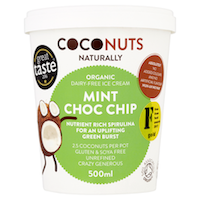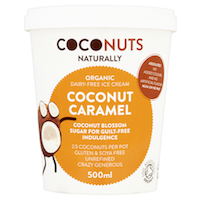 We've gone a little (coco)nuts for these. Coconuts Naturally strives to deliver a natural and healthy product, creating the UK's only organic, dairy-free ice cream that is also free from nuts and soya, and gluten-free, made from coconut milk. The sweetness in these comes from unrefined coconut sugar and contains only good fats from organic Sri Lankan coconuts.
We loved the fact that every flavour had coconut undertones, as each pot contains 2.5 coconuts. We tried these three flavours: mint chocolate chip (138 calories per 70g serving), coconut caramel (123 calories per 70g serving) and raw chocolate (128 calories per 70g serving).
Buy Coconuts Naturally £5.29 at Ocado – in mint chocolate chip, coconut caramel and raw chocolate.
Related Healthista Content
Going vegan? 18 things this famous chef wants you to know
22 vegan protein sources and exactly how much to eat of them
Sugar-free AND vegan protein muffins – 15 minute recipe
Healthy vegan cookie recipe to celebrate GBBO
Like this article? Sign up to our newsletter to get more articles like this delivered straight to your inbox.