Healthista and Nourkrin are giving THREE lucky readers the chance to WIN hair growth products worth a massive £380
For your chance to WIN
Please see Healthista competition rules here and specific T&Cs.
To find out more on Nourkrin, visit nourkrin.co.uk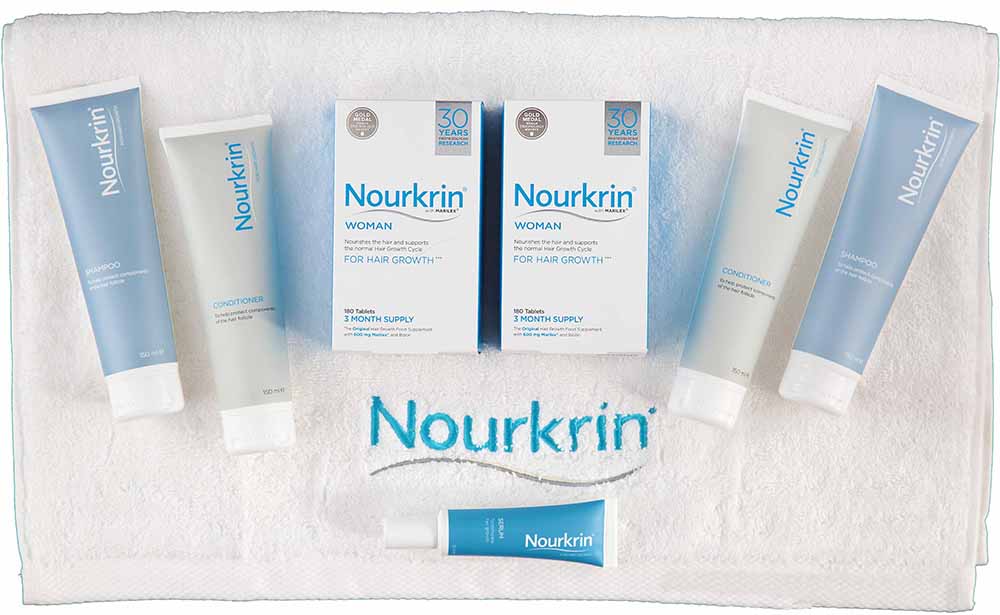 Nourkrin Woman 3 month supply x2 (6 months total)
Nourkrin serum
Nourkrin shampoo x2
Nourkrin conditioner x2
Nourkrin towel
Stress, hormones, illness, medication, poor nutrition, over-styling… there are so many factors that can cause hair growth disruptions.
Nourkrin Woman, with unique ingredient Marilex is scientifically formulated to help maintain a normal Hair Growth Cycle and help to promote healthy hair growth.
Hair that is less than its best can make us feel self-conscious, isolated, embarrassed and less attractive, taking the bounce out of our usually confident stride, but it's important to remember that hair growth problems are not something that just affects the guys.
Around 60 per cent of women will suffer some type of hair growth disruption during their lives.
The original hair growth supplement, Nourkrin is supported by over 30 years of clinical research and development and is recommended by doctors, dermatologists and trichologists the world over.
Plus, it's the only hair growth supplement to be awarded an unprecedented two gold medals by the hair experts at the World Trichology Society.
Eight out of ten women reported an improvement in the growth, quality and appearance of their hair after taking Nourkrin®… Yes, it works!
Relevant Healthista content:
7 easy hair growth tips for long, luscious locks
5 ways to grow longer hair – the expert's guide
Other Healthista content you might like:
Got lower back pain? This resistance stretching video will help
Bloated stomach? These are the products that work
7 hottest health trends for 2020 – from clothes that predict a heart attack to a wearable that instantly makes you calmer