If your bloated stomach is making you miserable then you should probably try one of these gut friendly products that can help lessen bloating and other IBS symptoms
Gut symptoms like bloated stomach, flatulence, constipation and tummy cramps can literally make your life an uncomfortable living hell.
Bloated, gassy, stomach cramps – are some of the most Googled online health searches. Why? Because 70 per cent of people regularly experience belly troubles.
Whether you suffer from food intolerances or have a tendency to overindulge, bloating can affect us all.
Those who do suffer from bloating will know that a bloated stomach can prompt a whole host of issues ranging from discomfort to low self-esteem, and the triggers that cause bloating vary from person to person.
Gut health has always been a popular topic at Healthista and we have a whole heap of articles on the matter.
But we're feeling helpful and although we would like to put a stop to all bloated stomachs if we could, we have put instead together our top gut friendly products that we really hope will do the trick.
Bloated stomach fix #1 Biomel – a new dairy-free probiotic drink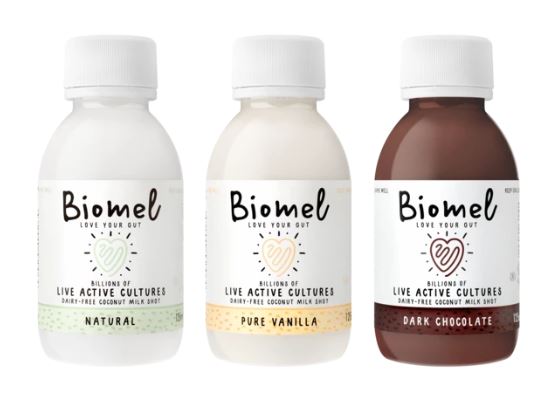 Healthista's very own Anna Magee and most of the Healthista team are completely hooked on these bottles of gut friendly goodness.
Biomel promises to help improve gut health in 14 days. According to Biomel's co-founders, Janett Lozano and Steven Hegarty, who manufacture the drinks in their state of the art production centre in West London, the 14-day test had worked on many of their test subjects who swore by the stuff.
So of course, Anna had to give this product a go, here's what she had to say after trialing the product:
'First of all, it's totally dairy free and comes in flavours that are delectably tempting, such as Dark Chocolate, Natural Coconut, Pure Vanilla and Natural Almond.
'Second, rather than having a base of milk, like virtually every other probiotic drink I had ever seen, its base is either coconut or almond milk, depending on the flavour you choose.
'Third – and for me most important as so many probiotic drinks on the market are high in sugar – Biomel are all low in sugar.
'In fact, even the sweetest flavour contained below the government guidelines for sugar, which is 5g per 100ml. Moreover, each bottle contains around 27-45 calories and 2g of fat.
'Lastly, they tasted incredible. Like a milkshake; just sweet enough to feel like a treat in the middle of the afternoon without tasting sickly – and with nothing artificial.
'Each 125ml bottle contains 1-2 billion live cultures – three different types, which experts tell me is essential.
'Three weeks after starting my one-woman trial, and though it is still early days, I've been able to eat lentils, beans and yes, chickpeas and bread with abandon.
'While I can't say whether this is a permanent fix for my tummy or not, I can certainly report that I am sticking with my dairy-free 4pm sweet treat'.
Biomel is stocked everywhere – from national supermarkets such as Sainsbury's, Waitrose, and more recently M&S, to health food shops such as Whole Foods and Planet Organic.
You can also purchase bulk orders of the probiotic drinks on the brand's website.
Read more in: The bloating fix that tastes like chocolate milkshake and it's dairy free
Bloated stomach fix #2 Alflorex – a probiotic strain for IBS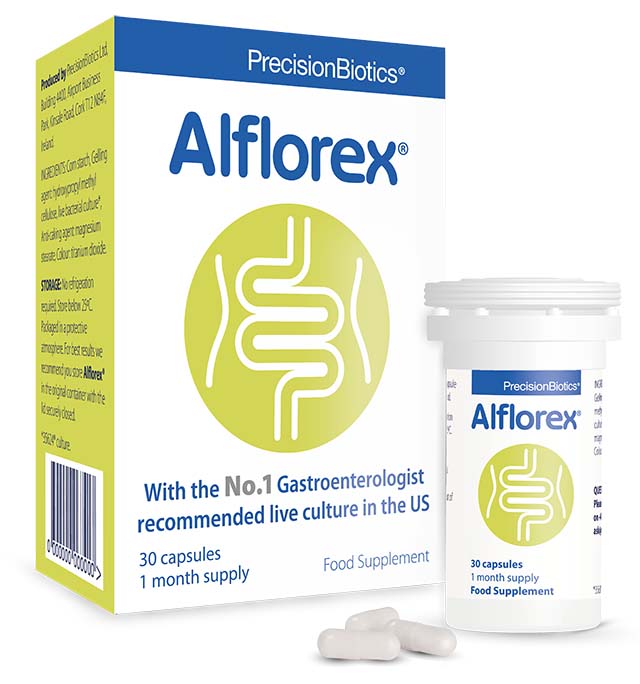 A new probiotic that launched last year called Alflorex is the result of more than 15 years of clinical research and 75 leading scientific publications. Alflorex contains a probiotic strain called B. infantis 35624 which specifically targets and alleviates the symptoms of irritable Bowel Syndrome (IBS).
In the US, this strain is the number one probiotic recommended by gastroenterologists for the treatment of IBS. It also has clear evidence from trials with people, that it survives alive through the gut.
A bit like different drugs have different effects, different bacteria strains have different effects on your symptoms.
B. infantis 35624, the specific strain in Alflorex, is one of the few products that has been truly developed on a scientific basis and tested in high quality clinical studies to help specifically with all symptoms of IBS.
Read more in: Got IBS? 18 tiny life changes Britain's leading gut health expert says will help
Bloated stomach fix #3 Nutri Advanced – a high strength probiotic capsule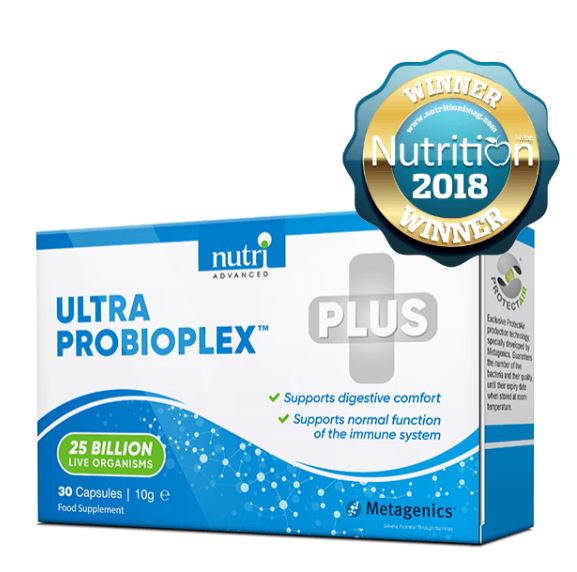 Because of the wealth of evidence now emerging that specific strains may be useful for specific health issues, it's important to use a well-researched strain for the health area you are looking to support.
For IBS symptoms, the strain to look for is Lactobacillus acidophilus NCFM.
We have good and bad bacteria in our guts and probiotics help by topping up the levels of beneficial bacteria in the small intestine and bowel, helping to selectively "crowd out" the bad bacteria.
Lactobacillus acidophillus NCFM is backed by over 60 scientific publications, many of them relating to gut health.
In a 2016 randomised, triple blind trial published in the World Journal of Gastroenterology adult volunteers with IBS were given either probiotic supplements containing Lactobacillus acidophillus NCFM or placebo daily for 12 weeks.
In those with severe to moderate abdominal pain, symptoms were reduced significantly compared to those who took a placebo.
Other studies have shown it can help improve the digestion of lactose for those who find they are intolerant to milk and reduce the associated symptoms especially in children.
Nutri Advanced Ultra Probioplex Plus contains 25 billion live bacteria Lactobacillus acidophillus NCFM and B. lactis bi-07 and is available to buy on Amazon in the US and in the UK.
Read more in: What are probiotics and how can you find one that works
Bloated stomach fix #4 Pukka Feel New tea – expertly blended with practitioner-grade herbs
Sometimes a tea is all you need to fix your problems. Unfortunately when it comes to bloating though, a 'cuppa' tea just won't do the job.
Until now.
Pukka have released their new 'Feel New' tea that has been expertly blended with organic practitioner-grade herbs to restore and rebalance your digestive wellbeing.
The tea has been created using organic herbs including aniseed, fennel, cardamom and turmeric.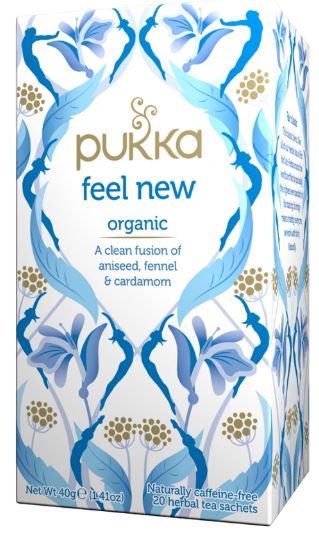 This 'brew to the rescue' will help to support the body's natural digestive and cleansing process.
'Taking care of your digestive system is a great place to begin any good digestive self-care regime,' says Sebastian Pole, Medical Herbalist and Ayurvedic Practitioner.
'By supporting healthy digestion and the body's natural detoxification processes, it is possible to increase our resilience to modern lifestyles and regain vitality.'
Feel New is naturally caffeine-free and contains the perfect blend of organic plants to support the body's natural processes in the liver and gut:
Aniseed – is a carminative for the digestive system and is an effective antispasmodic for colic pain from bloating and indigestion.
Fennel – contains anethole, which has strong anti-inflammatory properties. It is a superb carminative and is also a strong anti-microbial and anti-fungal agent.  The aromatic oils in fennel are helpful to reduce gas, bloating and digestive discomfort.
Cardamom – is highly aromatic making it an effective carminative providing relief from symptoms of indigestion. It stimulates metabolic and digestive processes whilst also working as an effective decongestant removing mucous from the digestive tract.
It's time to give your digestive system some self-care. You really will 'Feel New' once this tea has banished your bloating…
Bloated stomach fix #5 Bimuno – a prebiotic that feeds your good gut bacteria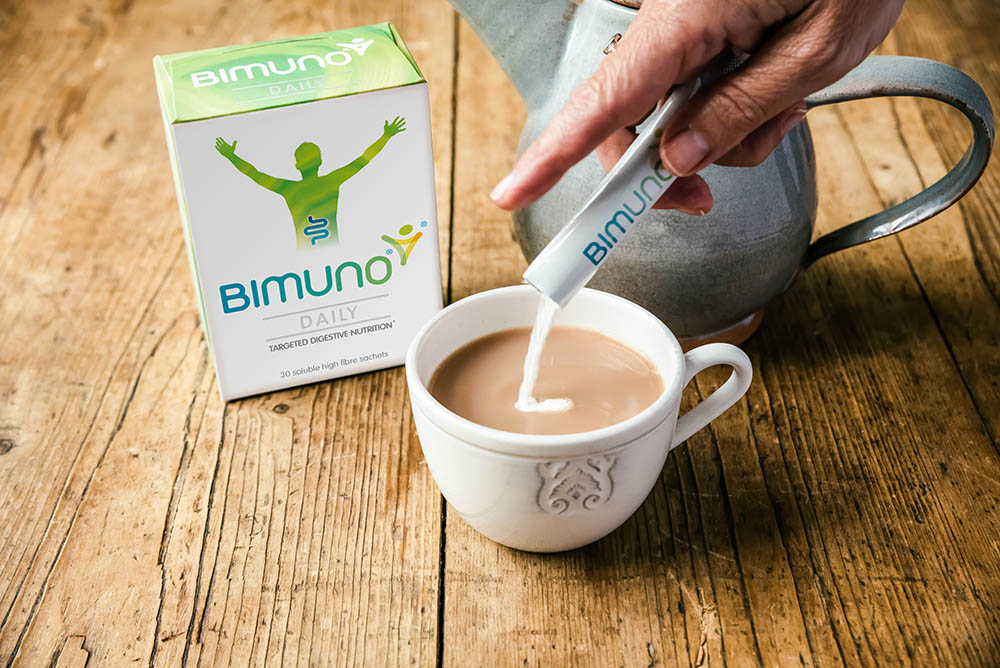 If you're suffering from health issues like IBS, which have been linked to an imbalance in gut flora, it might be time rebalance your gut.
The first thing you can do, is to vary your diet, increasing fibrous foods like fruit, vegetables and pulses, also known as prebiotics. The most important prebiotic is the soluble fibre inulin that's found in garlic, onions, asparagus and Jerusalem artichokes and leeks.
However, if you don't relish the thought of eating two large raw onions a day – the amount you'd need to get a decent daily dose of prebiotics – you could take a daily prebiotic supplement like Bimuno.
It contains insoluble prebiotic fibre, which will help your friendly gut bacteria thrive. One single serving of Bimuno Daily is equivalent to 15 raw bananas, 2.2 onions, 25.7 cloves of raw garlic, 103 spears of raw asparagus, 9.3 tablespoons of raw chicory or a third of a bag of wholewheat flour.
Read more in: 10 everyday lifestyle habits that ruin your gut health
Bloated stomach fix #6 Healthspan – an advanced probiotic with over 50 billion friendly bacteria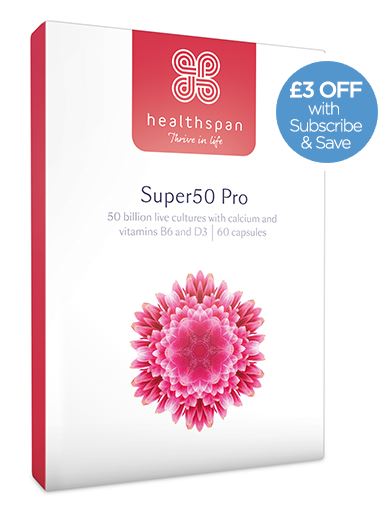 Ten million live cultures and above per serving is considered the minimum you should look for in a probiotic pill, says nutritionist Robert Hobson. But more is better.
Healthspan's new Super-Pro 50 is an advanced probiotic with over 50 billion friendly bacteria from four well-researched strains as well as containing calcium, vitamin D3 and B6 all formulated to support digestive health, immunity and energy metabolism.
'Diet alone cannot provide us with the right strains and levels of live bacteria we need to maintain a healthy microbiome,' says Hobson.
'Plus, we need more than one strain of bacteria for individual health needs. The new Healthspan SuperPro 50 has an advanced blend of lactobacillus acidophilus, lactobacillus planetarium and two strains of Bifidobacterium lactis which is shown to decline as we age.'
Healthspan is available to buy on Amazon in the UK.
Read more in: Probiotics – 13 things you REALLY need to know
Bloated stomach fix #7 BioCare – a clinically proven prebiotic that fuels probiotics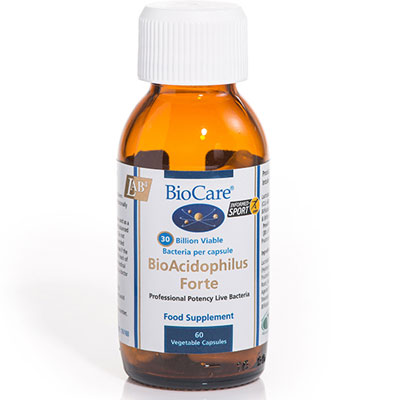 Probiotics are well known for the positive effect that they have on digestive health however, they also have a role to play in both strengthening the immune system and in helping with the immune response which is less well known.
The immune system is spread throughout the body but a significant portion of it is located in the digestive tract.
Supplementation with probiotics is recommended to help keep the digestive system healthy and to support healthy immune function.
This becomes more important if you have been on a course of antibiotics, are ageing, have a poor diet or are suffering from high levels of stress.
BioCare's BioAcidophilus Forte with the clinically proven LAB 4 complex contains prebiotics derived from chicory which function as fuel for the probiotics and they help to support both digestive and immune function.
Read more in: How gut health can help immunity
Relevant Healthista Content
10 surprising signs of gut problems
Why do I bloat? 5 reasons for gut problems most doctors ignore
5 symptoms of IBS and the natural fixes that help
Got low energy? Here's why a probiotic could help
Other Healthista cotent you may also like
Can echinacea really prevent a cold?
7 surprising hacks for a good night's sleep
Like this article? Sign up to our newsletter to get more articles like this delivered straight to your inbox.