In week five of Vanessa Chalmers' eight week weight loss transformation, her PT Ben Camara gives her some top tips on kicking her bad habits and stop the yo yo dieting once and for all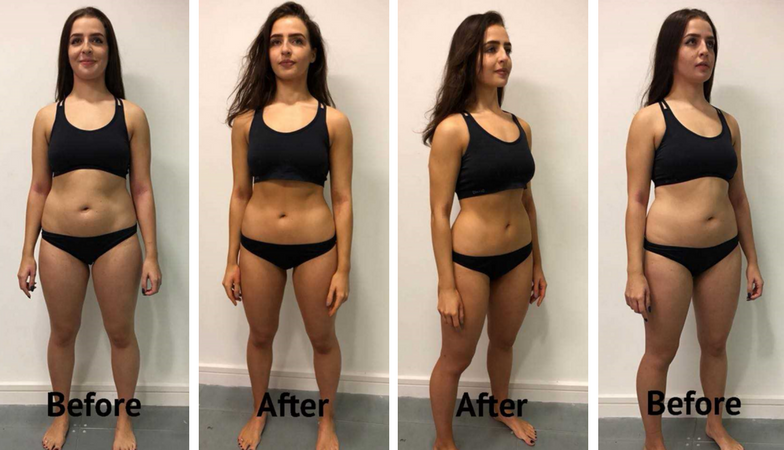 I'm going into week five of my weight loss transformation (see full results here) and even though I'm proud of my 2.9kg weight loss, I'm feeling doubtful moving forward. Right now, I feel like I haven't shown a huge amount of difference in my body and I can't help being impatient. I have never been one to drastically lose weight like those who somehow lose seven pounds in a week. It's always been a slow process and typically by around week five, I have hit a wall. At this point, I either say 'this isn't working, I give up', or 'this isn't working, I need to re-assess'.
Clearly, I don't have much choice but to go for the latter. When I meet with Ben Camara, my personal trainer and co-founder of No1 Fitness, we decide its time to go over what is and isn't working. He says he normally will do this every two weeks, or one week if someone is on a fast track to results towards a holiday or event.
Treats and cheats
It's when we look at my diet in closer detail that Ben starts to question – or should I say panic – about what's going into my mouth. I've just been on a two day yoga retreat, whereby I allowed myself a chocolate chia pudding dessert, a white bread roll at lunch and hot chocolate before bed. Why? Well, firstly my willpower was weak, duh? Second, I had enough calories to spare and so thought there was no harm. And third, I am struggling to get through this process without a treat here and there.
You can watch his reaction at 1.35 of my transformation video on Healthista YouTube:
That mindset, according to Ben, is exactly why I've ended up in my position. A position whereby I yo-yo up and down around 65kg, a weight I am not particularly happy with, in a constant state of self-sabotage and rewarding myself unnecessarily. Here I am standing whilst having my measurements done asking Ben, 'when are we going to see real differences?' knowing full well my mind is already on that nibble of dark chocolate I'll allow myself after dinner.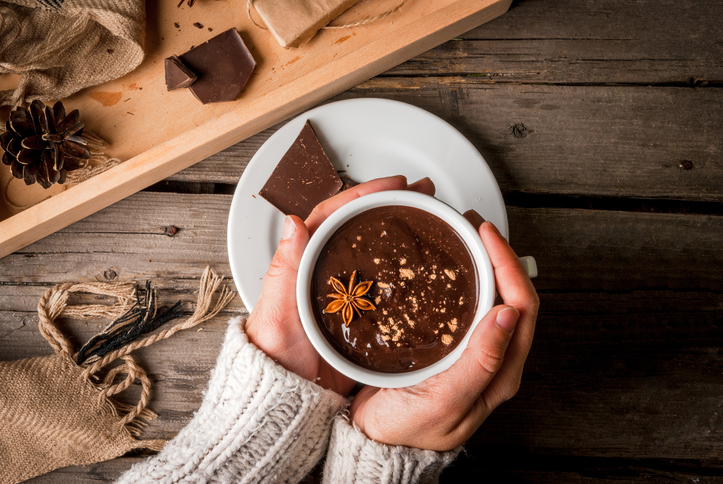 And that's when I'm on a weight loss transformation programme – in normal day to day life, I'll treat myself with half a bar of Green and Black 90 per cent with the compromise that it's dark chocolate so it's healthier and I totally deserve it after being so religious with my gym sessions. I'll purge all week after a weekend of sins – alcohol, dinner out, the usual – with a week of super clean eating to get rid of the bitter taste of guilt.
Treats and weight loss – when is enough, enough?
When I later relay this to my colleague Yanar, who's like a big sister with her fitness and health in admirable form, she shakes her head in disbelief. It's a hot chocolate – it's not the end of the world, she says. I completely agree, and have to disclaim I have shammed weight loss programmes that tell you unhealthy foods are to be shelved and banished.
It takes you out of sync and you need to be in a flow state. You need to be in the zone
So, what's the problem? 'For someone who is just eating normally and healthily, there is nothing wrong with treats', says Ben. 'What we are doing is a weight loss transformation in eight weeks and trying to get a real body change in that time period.' Oh yeah, did I miss that part? 'If you have six weeks you only really want a treat, let's say a meal that's processed foods, once. If you have 12 weeks, it's more flexible.'
'Yes you can have treats now and then', Ben continues, 'but if you're having it every day for four days in a row – a tiny bit of chocolate, a mug of cocoa or a slice of pizza – you're adding a negative effect each day. This can effect your gym workout if you feel sluggish or your sleep cycle'. He particularly nods to the fact I have these treats at night time, meaning my body is running on sugar while (and if) I sleep, instead of burning fat. 'It takes you out of sync and you need to be in a flow state. You need to be in the zone.' He continues in this way for about half an hour and I start to feel very, very small.
This has to be the worst day of my transformation thus far. The truth hurts, and I've been sugar coating it for a while, literally. There is a strong argument behind the 'screw the scale' mantra, one in which bloggers and industry experts alike tell you to stop weighing yourself and eat what you love, the body positivity movement and the halt of labelling foods as 'good and 'bad'. But I tend to use this as a comfort blanket and Ben is right. The fact is, if I want results, I have to expect to make real changes to my lifestyle. *cries*
A plan for plateau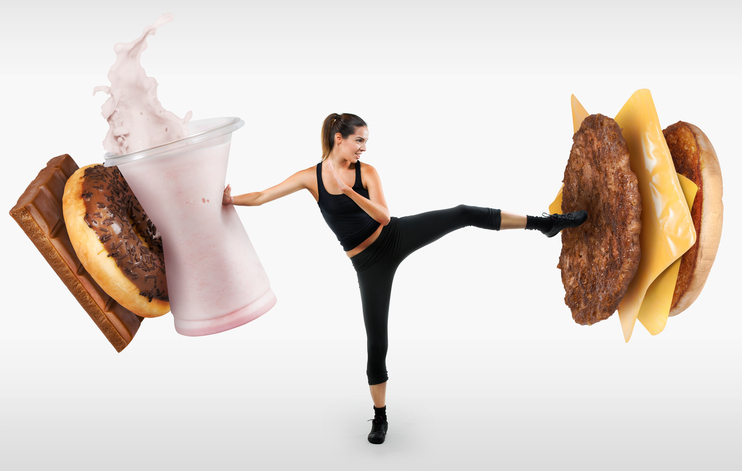 First and foremost, Ben tells me I'm not doing anything wrong, and I should be proud of how far I've got so far. It's about progress, not perfection.
Removing process and junk food isn't crash dieting – it's how we should be eating as humans
We go over the obvious guidelines again – no processed foods, no sugary foods and no alcohol. We also cut my calories again to 1500. It's been 1650 up until this point, but judging by my results, Ben thinks this is a little too high and to be fair, I'm rarely hitting that number.
The cutting, the banning – it sounds extreme. I even ask Ben what the difference between a weight loss transformation and a crash diet is. 'Crash dieting is when you do a plan with shakes or meal replacements or remove a food group and do something like low-carb or low-fat', he says. 'You're not getting a balanced diet. The difference is you are healthily losing weight by slightly reducing your calories intake and eating natural foods with valuable calories. Removing process and junk food isn't crash dieting – it's how we should be eating as humans.'
How to stop yo-yo-ing
'People don't often yo-yo from large to small, but just a few kilos', says Ben. 'We have a set point because the body is very lazy, or should I say economincal. So you are 65kg, and then you might be 64, then 66 then 65.5. You're going back and forth through these weights because your body doesn't want to work, it just wants to balanced.' I have to agree, my body has been floating around this range for a good year or so, and before the weight loss transformation, I was definitely tipped towards the higher end of the scale.
The aim is to get a new and lower set point, and stay there. Unfortunately, it's a get-a-grip situation on our hands, people. Here are some tips for losing those extra pounds, once and for all.
Be consistent: 'You need at least 60 days of staying consistent to see change' says Ben. 'People slip up because they aren't seeing results. It's not going to take seven days. Most people want to get in shape but after a week they are out in Shoreditch on a Saturday afternoon having a bottle of wine. There is nothing wrong with that, but it's a yo-yo diet.' It's like he has snooped in a diary of my past year. 'Then they get depressed because they can't budge that extra weight. It's normally because they aren't giving themselves enough time, being good for one week and off the next.'
Track food with accuracy: There's a chance you are yo-yoing because you really aren't aware of how much you are eating. 'Clients say they are tracking their food but they aren't really', says Ben. 'They will say, 'oh I had a cheat meal but I also had a croissant in the morning. I didn't sleep very well and when I woke up I had a mocha instead of a black coffee'. These things may be little, but they have a huge response on the body. People just aren't strict enough.' Ouch. I use MyFitnessPal to track my calories and make sure I'm not lazy and guessing amounts.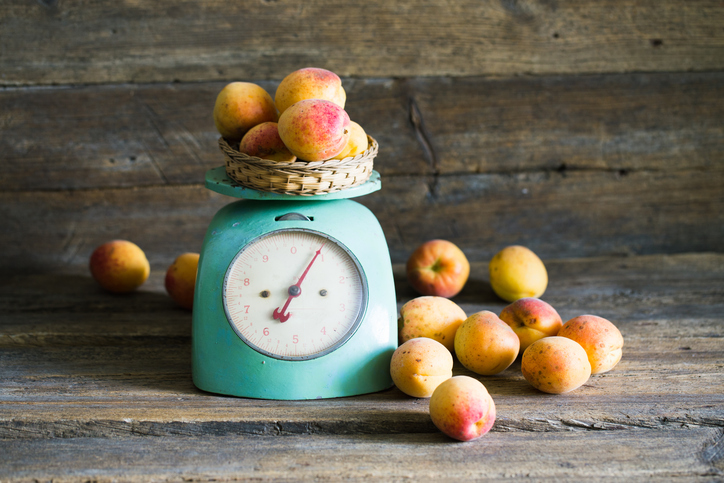 Plan, plan and plan: 'Go and have food, wine and dessert if you've got the lee-way for it! I love those things too', says Ben. 'But I know for myself, if I didn't rest and ate lots of high calorie foods, alcohol and more, I'll make sure I do something active the next day, have healthier food and a good night's sleep. It's not rocket science, it's just making healthy habits.' In all fairness, I was allowed alcohol at the weekend by pre-planning with Ben (it was my best friend's birthday and totally unnegotiable). I've learnt from week three to be prepared with a substantial dinner, stick to five single vodka sodas, a lot of water before bed and as much sleep as possible.
Get yourself into what you consider to be a happy, healthy weight and level of fitness and respect yourself at that point
Respect your body: 'My best tip for getting over yo-yoing is to understand your body and get yourself into what you consider to be a happy, healthy weight and level of fitness and respect yourself at that point. You then educate, understand and make better decisions that will keep the weight off. Stick to healthy habits for 2-3 months and you'll see soon your body stays that way.'
Meal prep for weight loss ideas
They say the key to success is preparation. Not only am I laying out my gym clothes the night before ready for the 5.45am start (my record time for getting out the door is six minutes), but I am now in the food-prep posse on a Sunday night. Here are a couple of ideas for you to try:
Tuna salad:
1 can of tuna in spring water, drained.
70g of frozen broad beans.
100g cooked beetroot.
25g avocado.
45g grated carrot.
40g spinach.
Approx 370 calories, 50g protein, 24g carbs and 7g fat.
https://www.instagram.com/p/BcQLJKhh64f/?hl=en&taken-by=vanessa_chalmers
Chicken and nectarine salad:
120g poached chicken breast fillet.
100g nectarine sliced (1 fruit roughly).
35g avocado.
20g quinoa.
Watercress and rocket.
Approx 370 calories, 43g protein, 29g carbs and 11g fat.
3 products that helped my weight loss transformation this week
The last thing Ben wants is for me to suddenly fall ill. Vitamin D has been found to reduce the risk of colds and flu, so I get myself some and take two tablets in the morning amounting to 4000IU. In fact, I should be taking vitamin D anyway, a nutrient the body struggles to create in the winter months without sun. Up to 20 per cent of the British population are deficient, with symptoms of low mood, decreased immunity and tiredness often being overlooked by people.
Buy Pharma Nord Bio-Vitamin D3 125mcg 5000IU from the Healthista Shop, £9.95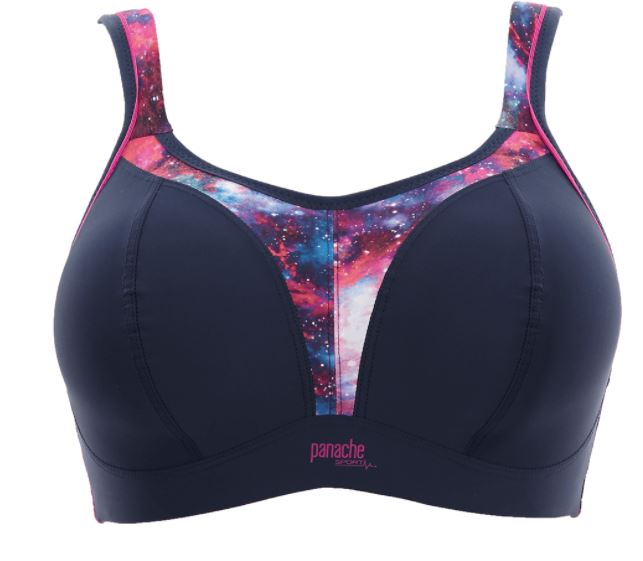 You know you're starting to get results when your sports bra's are too big on you, considering they are meant to feel tight! According to a survey on over 2400 women by BlueAppleFitness.com, nearly 9 out of 10 women admit to wearing the wrong size sports bra and a staggering 81 per cent do not enjoy exercise because their breasts hurt when exercising.
I took a trip to Bravissimo to have a bra fitting service (which is completely free). A lovely lady was able to show me how a sports bra should fit – much like your everyday bras. Turns out I have gone down a back size, so I really needed to tighten up. The great thing about their sports bras is they have cup and back sizes, unlike small, medium and large which are far too vague for me. The most comfortable I took home were Shock Absorber Active Multi Sports Bra, £37, and Panache Non-Wired Sports Bra, £40. Both are non-padded and without underwiring, making them so soft and comfortable despite holding the boobs firmly to your chest to avoid painful jiggle!
3. Blossom yoga leggings Mystical Magic High Waisted Yoga Pants
I hadn't heard of this brand before, but they really deserve some credit. They have given me the most comfortable leggings EVER. I often find high waisted leggings uncomfortable because they are far too snug on my chub (anyone else?) and too thick on the waistband making many exercises awkward. With these, it feels like a second skin. They have everything you need – breathable, moisture wicking and so stretchy – perfectly made for any exercise (or everyday wear in my case).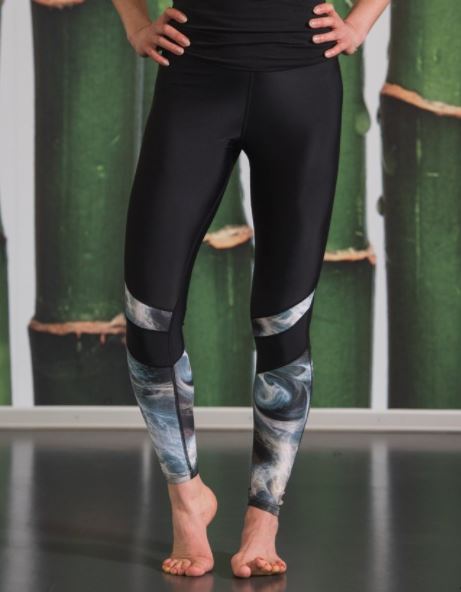 Three things I learnt this week:
I wrote a song: I changed the lyrics to the chorus of New Rules, Dua Lipa. I can't believe I'm sharing this but it goes: 1, Don't eat the cake, you know it's only going to make the scales break. 2, Think about it twice, I'm sure an apple will suffice. 3, Keep the goal in mind, keep smiling and get on with the daily grind. Cos it you're eating cr*p, you ain't losing body fat. Everyone sing along now.
My friends are very supportive: If you're going through a weight loss transformation, you can seem like a freak to everyone around you. Luckily, my very closest friends know why I'm doing it, listen to my constant moaning on WhatsApp, and cannot wait to celebrate with me at the end.
Everyone is on their own journey: Amongst all my doubt, I can't help comparing myself to gorgeous itsy bitsy ab-tastic girls on Instagram (what woman doesn't?). Ben reminds me everyone is on their own journey and my own is all I should focus on. Plus, he says, they don't even look like their photos in real life.
Results at the end of week 5
| | | | | | | |
| --- | --- | --- | --- | --- | --- | --- |
| | Before/Week 1 | Week 2 | Week 3 | Week 4 | Week 5 | Week 6 |
| Weight | 65.7kg | 64.1kg | 63.3kg | 63.4kg | 62.8kg | 62.1kg |
| Body fat | 25.1% | 25.7% | 23.4% | 23.8% | 24.5% | 23.7% |
| Hip | 102.5cm | 101.6cm | 96cm | 99.4cm | 97.4cm | N/A |
| Waist below belly button | 91cm | 88cm | 84.7cm | 87cm | 83.5cm | N/A |
| Overall weight loss | N/A | 1.6kg | 2.4kg | 2.3kg | 2.9kg | 3.6kg |
| Overall cm loss | N/A | 3.9cm | 12.8cm | 7.1cm | 12.6cm | N/A |
Workout of the week
At this stage of the weight loss transformation, we are starting to increase my strength by gradually lifting heavier weights. This aids toning, whilst we still burning fat using full body, high intensity movements, especially along the posterior chain (back muscles of the body). I was also continuing my full body Fitness Slots for half an hour, three times a week.
https://www.instagram.com/p/BcRfOB8BtU4/?hl=en&taken-by=vanessa_chalmers
When adding more weight to your workouts, Ben says, 'Start off on a weight that you're comfortable with but takes concentration. You need to do be able to do 80 per cent of reps comfortably (say eight), and the last two should be controlled but an effort to get out. As you get more comfortable you can add weight.'
For each circuit, do the exercises back to back, rest for 60 seconds, and repeat for amount of sets shown.
How to do a proper step-up:
https://www.instagram.com/p/Bbe67d4F7z5/
Come back every Tuesday to read Vanessa's week by week diary of her weight loss transformation with Ben Camara at No1 Fitness, with tips and advice from the experts. 
Ben Camara has worked with some of the most famous faces in the world with training and health coaching clients including Madonna, Kate Moss and Vogue photographers Mert & Marcus. Having carved out a career in professional football, Ben Camara wanted his next career step to allow him to continue working in the field that he was passionate about, that of health, fitness and nutrition. He and Harry Thomas  co-founded No1 Fitness seven years ago, offering bespoke personal training in two locations in London.
Follow on Instagram or visit No1 Fitness website.
READ MORE
8 week weight loss transformation – the full results
Weight loss transformation diaries week 4: How sleep deprivation affects results
'I've been to the gym today can I eat what I like?' – Fitness fads exposed #2
8 protein powder recipes that AREN'T smoothies – from protein ice-cream to pancakes
30 minute upper body weights workout you will LOVE – Part 2
Like this article? Sign up to our newsletter to get more articles like this delivered straight to your inbox.