Bored of the same old protein shake or smoothie? We feel you! Healthista blogger and protein powder obsessive Vicky Hadley shares her favourite protein powder recipes that aren't smoothies – including vegan protein pancakes and vegan protein ice cream 
Vegan protein pancakes

What you need
50g Oats
1 scoop Healthista Lean Vegan Diet Chocolate Protein
1 cup almond milk
1 large tsp of baking powder
1 tbs coconut oil
3 large tsps of ground flax seeds
How to make:
Blend all the ingredients together until smooth and combined.
Add a generous tsp of coconut oil to a hot, non-stick frying pan. Once the oil is sizzling,
pour a small amount of the mixture into a circle on the frying pan and leave to
cook for 2-3 minutes.
Once the mixture has solidified and is lightly browned, flip it over for 1-2 minutes
to cook, and then transfer to a plate.
Repeat until all the mixture is gone, adding an extra tsp of coconut oil before
each pancake if needed.
Grate dark chocolate or your choice of berries to serve.
Protein pancakes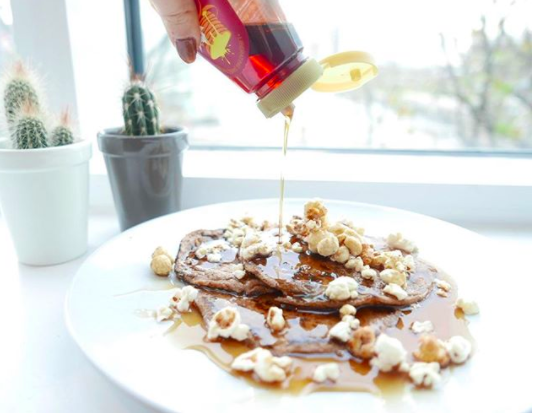 What you need
40 grams oats
1 egg (or 3 large teaspoons of ground flax seed if vegan)
One scoop (25grams) of Healthista's chocolate protein powder
1/2 cup of Almond milk
Coconut oil
Agave syrup to top
One bag of popcorn
How to make:
Blend the oats, protein, milk and egg together in a blender until liquidised.
Heat the coconut oil in a frying pan and pour some of the mixture into the pan in a circular, pancake shape.
Allow to cook for 3 minutes before flipping it over and cooking the other side.
Once cooked transfer to a plate and continue making more pancakes with the rest of the mix.
Top with agave syrup and a handful of popcorn or berries.
Acai protein granola bowl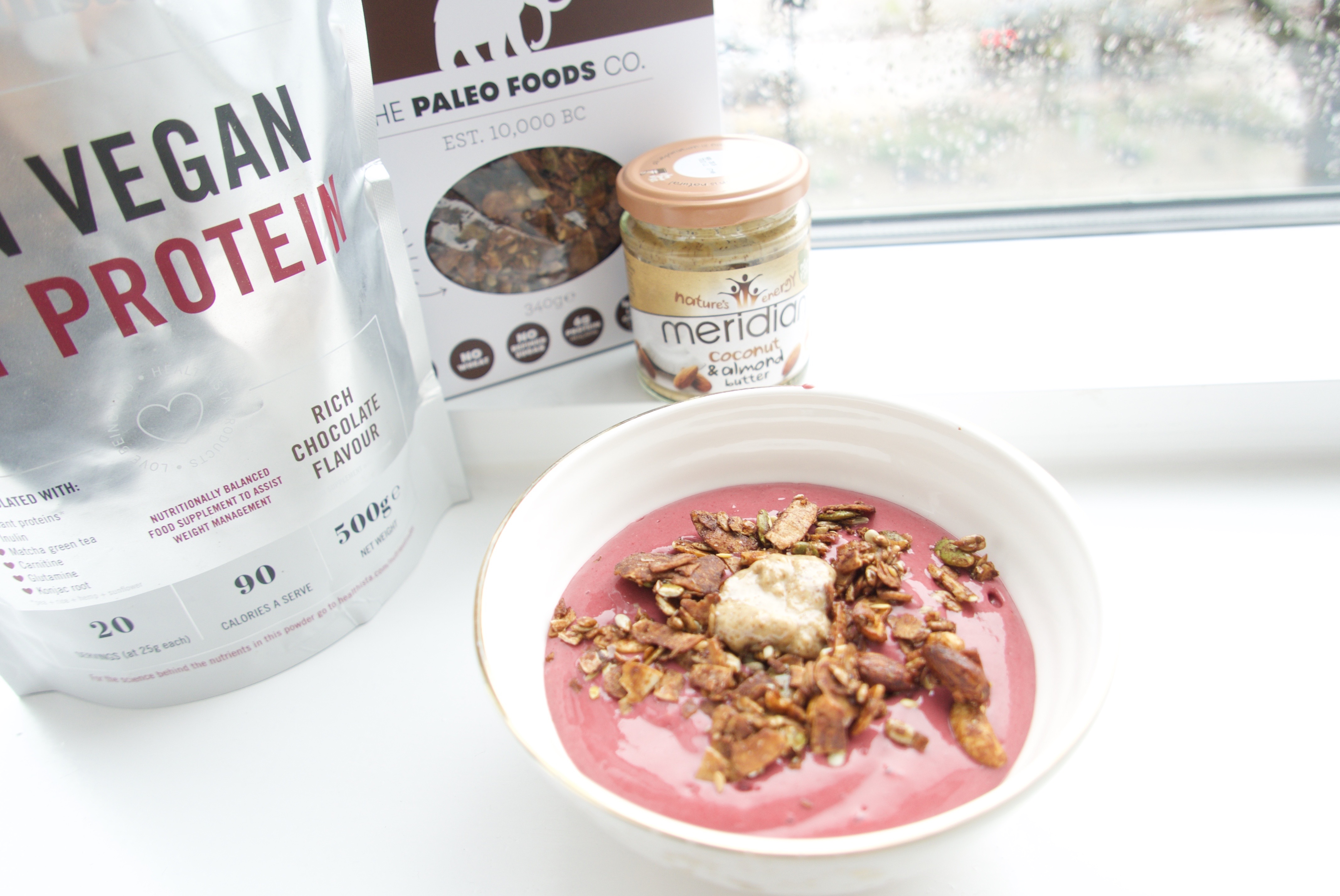 What you need:
– Paleo Foods Co Granola
– Almond Butter (I used Meridian)
– Frozen summer fruit berries
– 1/2 cup of almond milk
– 1 banana
– 1 scoop of Healthista's berry protein powder
How to make:
Blend all ingredients apart from the granola together and transfer to a bowl.
Top with an extra dollop of almond butter if you like and the granola. A delicious berry crunch breakfast!
Protein parfait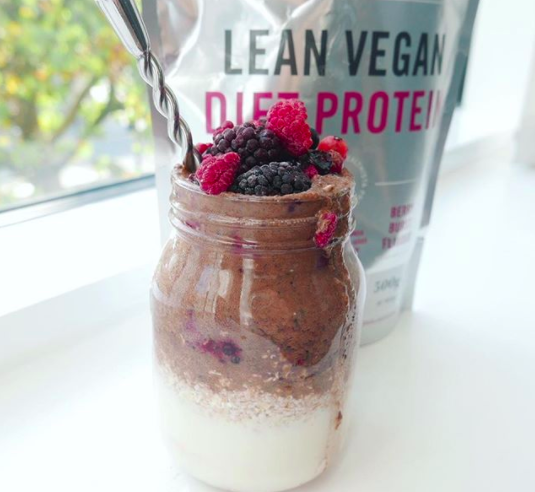 What you need?
– Alpro yoghurt 150g
– 25g oats
– Chocolate protein powder
– Frozen fruits
– 1/2 cup Almond milk
How to make?
Using a jar pour the yoghurt into the bottom and add the oats on top.
Blend the protein powder with the frozen fruits and almond milk to make a frozen chocolate smoothie.
Pour the smoothie on top of the oats and top with extra berries for decoration.
Eat instantly or leave to soak in the fridge as a dessert.
Proats
What you need
1 Scoop Protein powder (any flavour)
30g Oats
Frozen berries / Banana (optional)
Cinnamon
How to make?
This is the easiest and one of my favourite breakfast options. Simply heat the oats in water or almond milk in a pan for 2-3 minutes until warm. Add in one scoop of your chosen protein powder and stir until mixed well. Transfer to a bowl and top with berries or a banana and cinnamon.
Protein Balls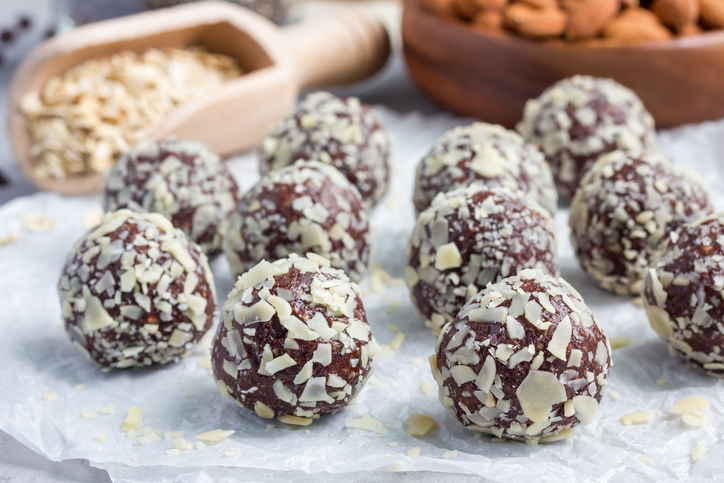 What you need?
– Dessicated coconut
– Almonds / Cashews (30 almonds)
– Dried chopped apricots (30g)
– Chia seeds (15g)
– Agave Syrup / Honey (2 Tbs)
– Protein Powder (Chocolate) (25g)
How to make?
Using a food processor or blender blend the ingredients apart from the coconut and nuts together.
It will turn into a thick, sticky texture. Transfer into a large bowl.
Taking one almond roll the almond in the mixture until it becomes a ball shape – use your hand if needed.
Once the almond is coated in the mixture roll it further into the desiccated coconut to top.
Repeat for each almond – makes 30 balls.
Chocolate Protein Coffee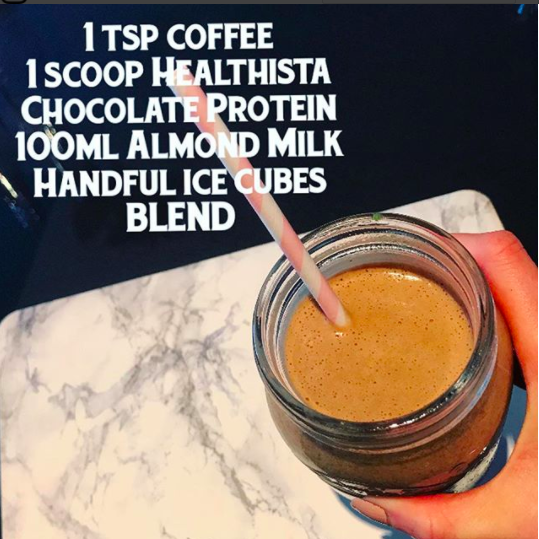 What you need?
1tsp coffee
1 scoop Healthista chocolate protein powder
1 cup of Almond milk
Handful of Ice
How to make?

Blend all together and transfer to a glass. Mix with stevia or honey if sweetener is desired.
Protein bars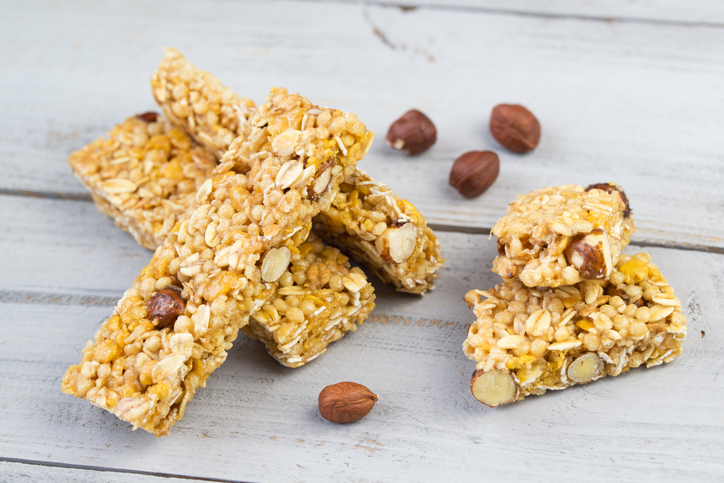 What you need?
– Granola (I used rude health) (60 grams)
– Seeds and nuts (30g)
– Agave syrup / honey (4Tbs)
– Healthista protein powder (I used vanilla)
– Baking tray and baking paper
How to make:

Heat the honey or agave in a pan until bubbling, add the granola and the protein powder to the mixture and stir, adding in a drop of almond milk if needed.
The mixture should be a thick consistency.
On top of your baking tray and baking paper pour out the granola mixture and flatten down using a wooden spoon.
Using a knife gently carve rectangle shaped bars lightly into the mixture without breaking it apart.
Put the tray of bars in the over and leave to cook for 15-20 minutes until hardened.
Take out of the oven and leave to cool.
Protein ice cream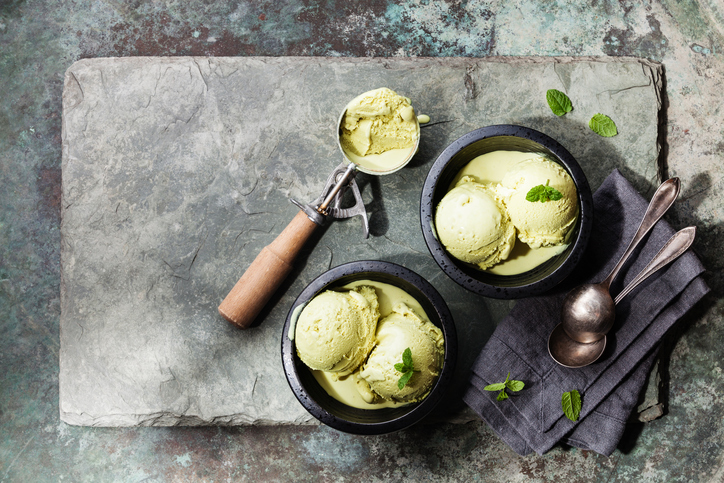 – 4 Bananas left to freeze over night
– 1tsp Matcha green tea powder (I used bio synergy) (OPTIONAL)
– 1 scoop Healthista protein powder (any flavour dependent on preference, I used vanilla)
– 1tsp Almond butter (I used Meridian)
How to make:
Blend the overnight bananas with 1tsp of Matcha green tea powder until a thick consistency. Scoop out and pop into a bowl, top with a dollop of almond butter to make a nutty, toffee taste.
MORE HEALTHISTA BEST OF DIET AND FITNESS SPECIAL:
30 minute fat burning weights circuit for the lower body
How to lose weight and keep it off – exclusive by Zara Martin's PT
8 steps to making the athleisure trend work for you plus the best brands 
Like this article? Sign up to our newsletter to get more articles like this delivered straight to your inbox.