Whether you want fertility, weight loss or mental wellbeing, Healthista rounds up the best health apps of 2018 to help you stick to those new year's resolutions
It's that time of year again, you've promised yourself a new year and a new you. But this year isn't like the last one, 2018 has already been dubbed the year of self-care and it seems people are determined to get their health on track. Cancer Research UK found that 80 percent of people asked had new year's resolutions based around self-care (be that using mindfulness, yoga or even just running themselves a bubble bath) and wellness warriors are championing the trend too. Meanwhile, Julie Montagu (aka The Flexi Foodie) has brought out a book this month that acts as a step-by-step. And Apple revealed the breakout trends of the past year had a huge focus on health, including mental health. 'Never before have we seen such a surge in apps focused specifically on mental health, mindfulness and stress reduction,' said the company.
And as our obsession with technology grows, by far the easiest way to keep fit is by channelling our health kicks through that bleepy thing in our pockets. That's right people, ditch a digital detox and use your phone to fuel your fitness regime. Healthista has tried and tested the best health apps of 2018 – download them now to battle your new year's resolutions head-on.
Best for toning up: Niix.Fit
Super-fit 43-year-old celeb starlet Louise Redknapp is a big fan of Niix.Fit. It's an app that combines Pilates moves with studio fitness. The exercise app is aimed at women over the age of 40 (yes finally!) And offers easy-to-access workouts on your phone suitable for all fitness levels.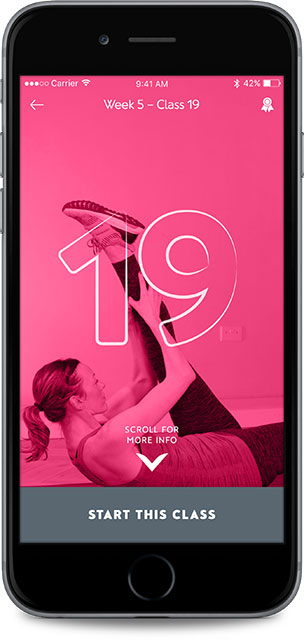 What does it do?
The app works under the premise that women don't have to spend hours in the gym in order to get fit. Combining Pilates with cardio, the workouts last between 10 and 30 minutes. 'Expect LOTS of plyometric moves – think mountain climbers and burpees combined with classic Pilates planks and bridges,' says our tester. A library section contains all of the moves which you can run through separately to get a good idea of the kinds of moves you'll be doing and you can access either a 'Method' programme which helps with full body conditioning or use the 'Focus' section which helps you work towards shorter, goal-specific aims such as post-pregnancy strengthening and core toning. 'I loved the fortnightly fat burner programme. It kept me on track and made me go back to the app every day for my workout. I struggle choosing what workouts to do so it was great to just decide on a programme and work my way through it.'
Best bit 
The preview and practice section of this app is not to be missed says our tester. 'The best thing about this app is the fact everything is explained in depth. Starting a new exercise programme can be daunting but every workout on Niix.Fit has the option to run you through each move with a tutorial video – perfect for beginners.'
Where can I find it?
Free trials of the app are available. And after you've used those up, the app is £9.99 a month. Available for download via the App Store and Google Play.
Best for fertility: Natural Cycle
Natural Cycles is one seriously clever download. In fact, it's the first app to be certified as a contraceptive in the EU. It has over 600,000 users in 161 countries and also acts as a tool for fertility tracking and planning pregnancies. This trusty piece of tech was founded by husband and wife science-boffin team Dr Raoul Scherwitzl and Dr Elina Berglund, the top physicist at CERN who was part of the Higgs boson discovery (which led to the Nobel Prize in Physics in 2013).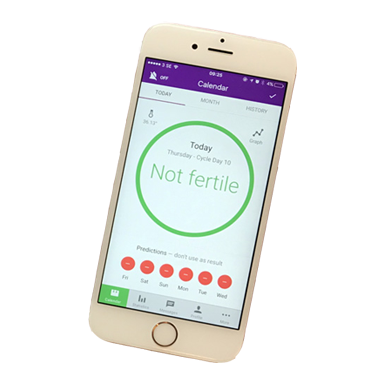 What does it do?
Brace yourself, because this app sounds almost too good to be true. Natural Cycles works by detecting your ovulation and calculating your fertile days – it makes sure to take into account factors such as temperature, period, cycle irregularities and sperm survival. Download the app and input your height and weight measurements and then choose whether you're trying to prevent or plan a pregnancy. 'The app was straightforward and easy to use, even for a technophobe like me,' said our tester. 'I was using Natural Cycles as a contraceptive and loved how little effort it takes. While I initially thought taking my temperature every morning would be annoying, it only takes a few more seconds than it would to take my daily contraceptive pill.'
Simply take your temperature in the morning and enter it into the app, it'll then let you know if it's a 'green' day or a 'red' day – the former meaning you can have unprotected sex without the risk of pregnancy and the latter meaning you can't and that you should be sure to latex up. The more data you add, the better the app gets at predicting days of low fertility. It also learns to adjust if you forget to enter your daily temperature (thank God). Reminders can be set to warn you that you are fertile or that your period is about to start. And one seriously handy feature we love is that it warns you when PMS is coming up – no more taking your time to realise why you screamed at the door for banging your elbow and demolished the biscuit tin at work.
Best bit 
'Current contraceptive methods available to women can sometimes feel a bit like choosing your favourite Jedward brother – the options aren't great. I hate remembering to take the contraceptive pill every day and love that this app could mean waving goodbye to invasive hormones for good,' says our tester.
Where can I find it?
Natural Cycles is available to download from the App Store and Google Play. You can trial it for a month for free and then after that, it costs £5.99 a month or alternatively you can pay £39.99 for the year.
Best for a low-intensity workout: Asana Rebel
Berlin-based yoga start-up Asana Rebel incorporates the holistic training of yoga with interval training, making it the perfect middle ground for those who need a workout and to escape everyday life, too. It's as calming and invigorating as it is effective for strengthening the muscles, increasing flexibility and burning fat.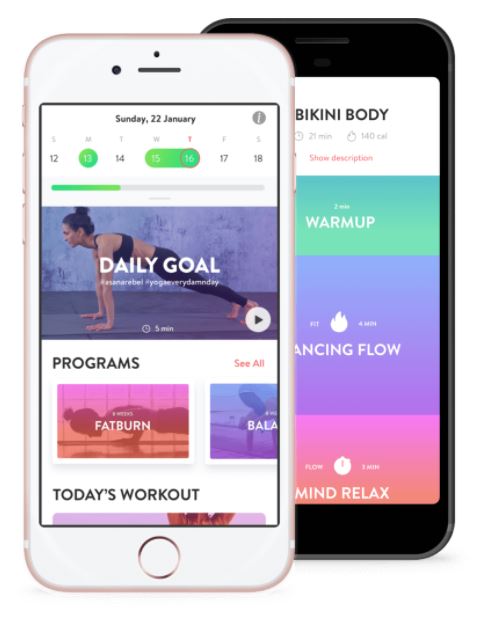 What does it do?
With the cardio workouts, Asanas are repeated in quick succession with short relaxation phases. Strength workouts consist of holding a number of different Asanas for five breaths, and the flow workouts are a sequence of Asanas which are carefully matched to each other. 'The app is great for getting a tailored and flexible exercise. I can choose between a quick six-minute morning session to a 20-minute flexibility workout or a combination of two or three!' says Healthista's tester.
You can choose the workout, the music, and for how long you fancy working out. A coach's voice guides you through, previewing what move is up next to keep you on track. Asana Rebel offers programmes that have been created for goals such as fat burn, core strength and for busy mothers, ranging from four to eight weeks. Plus workouts are downloadable to your phone, making them easy to access when away from WIFI.
Best bit 
The sense of achievement you get from this app – according to our tester. 'The coach really encourages you along without being patronising. I feel empowered for completing a workout- especially when the coach congratulates you. I am usually tired out too; it definitely works up a sweat and gets your heart pumping.'
Where can I find it?
Asana Rebel is £12.66 a month for three months, or £4.92 a month for 12 months and it's available from the App Store and Google Play. 
Best for tracking your mental wellbeing: My Possible Self
The My Possible Self app describes itself as a personalised self-help tool that helps you meet the stresses and strains in your life head-on. As mental health and wellbeing becomes increasingly important, add this app to your phone for a way to check in on yourself daily.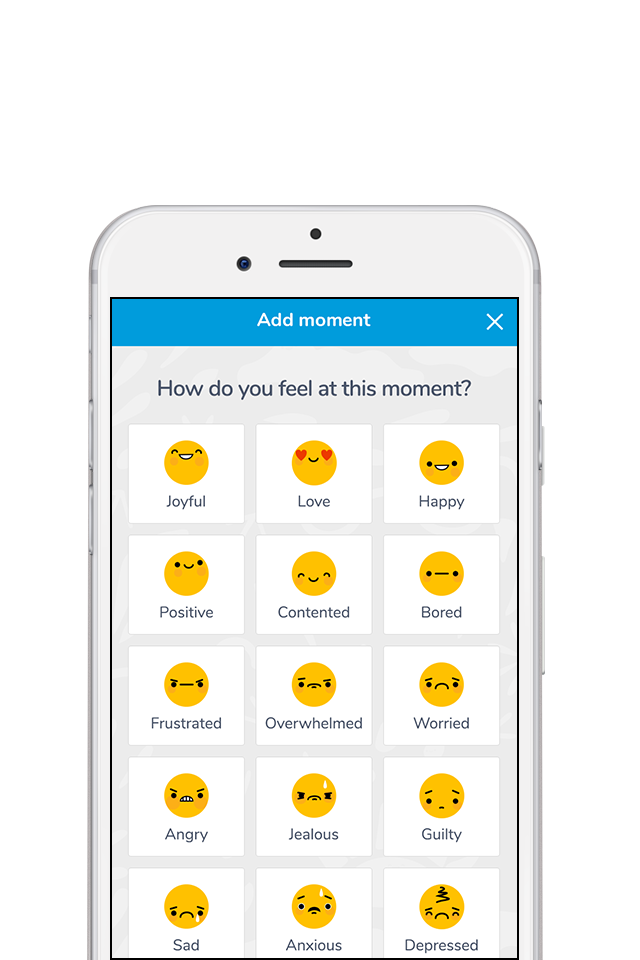 What does it do?
The app uses functions such as 'Moments' and 'Modules' alongside the ability to monitor symptoms to help you better understand your feelings and recognise any patterns or triggers in your behaviour (and help you spot what lifestyle factors are influencing your mood). 'Moments' allows you to capture your thoughts, feelings and experiences through photographs and notes and associate them with an emotion, whilst the clinically proven, self-help modules draw upon established forms of the therapy, including cognitive behavioural therapy, interpersonal therapy and problem-solving therapy and are designed to be as personal to you as possible. 'I chose to track my sleep, stress and whether I am overloading myself. This allowed me to record how satisfied I am in each area on a daily basis and use this as a measure to check in with myself and make adjustments,' said our tester. 'The app was super simple to use and the moments section worked as almost a digital scrapbook to record my feelings.'
Modules within the app include managing fear and anxiety, managing stress and overload, building happiness and wellbeing, managing loss and major life changes and solving problems. The entire app also uses complex algorithms to personalise user journeys according to individual responses – basically, the experience of using the app is different for everyone. Plus the app contains blog posts on everything mood-related – from topics like seasonal affective disorder to how to stick to your new year's resolutions.
Best bit 
We love the modules that help you to deal with your stress, acting almost as a therapist-in-your-pocket. 'The module I tried helped me to understand the psychology behind happiness and how to apply this to my own life. Through pie charts and example stories, it taught me that I could manage my own happiness.'
Where can I find it 
My Possible Self is available from the App Store, Google Play and on the website. Individual subscriptions priced at £5.99 per month or £60 per year.
Best for little time: Activ5
Buckle up people, the future is here. This small gadget and app from Activ5 use squeezing and muscle contractions to help you do moves for the entire body set into hundreds of five-minute workouts. Dubious? The research on the device found that participants increased their strength by 30 percent in six weeks and up to 71 percent of their weight loss during that time was body fat.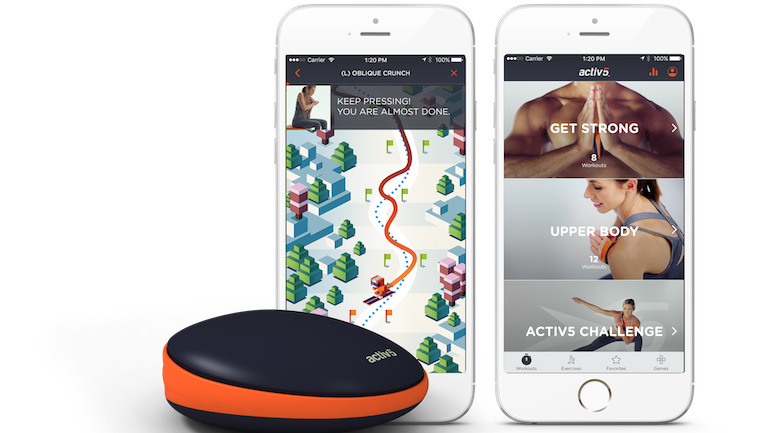 What does it do?
It's small, sleek curved gadget that fits into the palm of your hand. Paired with the Activ5 app, it's used for endless strength training exercises that are all based on pressing or squeezing the device. 'That makes it sound easy. Trust me, it really really isn't,' says our tester. 'It covers all levels and the moves you do are the equivalents of traditional squats, crunches, planks, lunges along with yoga moves such as warrior and downward dog, only you hold them, without moving.' Our competitive tester says one of the great aspects of this app is that you are playing against yourself AND other people, 'it really keeps you motivated.'
You download the app, switch on the device and go straight to a five-minute workout – you can choose from Upper Body, Lower Body, Get Strong, Get Toned, Yoga/Pilates, Awesome Abs, Butt Burner, Watching TV, Office, hotel or Car/Plane/Train. The best thing about this is that it can easily be used on the go. The workouts are all five minutes long and each contains about 12-18 moves, which are repeated sets of about 3-4 different exercises. Each exercise involves a variation of using a body part to put pressure on the Activ5 gadget. For example, this could mean putting it under your ankle and then holding a sumo squat or pushing it against your chest with your palms during crunches.
Best bit 
Our favourite part of this tech? The fact you can use it ANYWHERE. 'What I love about this product is that I can do it at work or at home, it really works my body more than normal strength exercise but I don't even have to get out of my work clothes or even my pyjamas and get all sweaty.'
Where can I find it?
While it's on the pricier side, we think it's worth it. Activ5 is available for £119.95 with free UK Shipping from empadlifestyle.com.
Best for weight loss: Healthista Fit HIIT
Okay, so it had to be in here. And while we're a little bit biased, thanks to its snazzy mashing up algorithm and easiness to use with minimum time on your hands, = this app just had to make the list. Healthista's new fitness app Fit HIIT is based on High-Intensity Interval Training (HIIT) – which has been scientifically proven to burn more fat in less time than long, slow workouts, while also boosting energy levels because it leads to the production of fat-burning hormones. It's created by trainer Kelly Du Buisson, Healthista's Fitness Director who is an expert in HIIT training.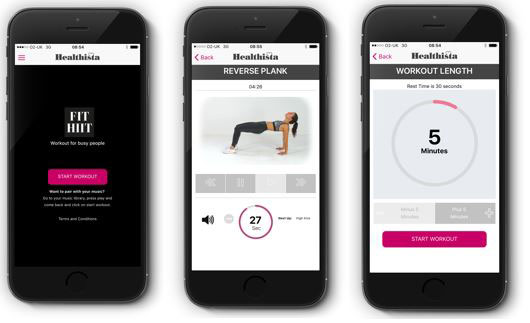 What does it do?
First of all, the app teams with your playlist on iTunes, then you simply tell it how long you have (five-60 minutes) which body part you want to work – core, full body, upper or lower body and what level you are, then you're off. It's broadcast quality video and there's plenty of warning about the next exercise coming up with rest periods of different lengths depending on your level. There are male and female models demo-ing it and when we chose them, we definitely had the eye candy factor in mind. You're welcome.
It includes over 350 moves and an algorithm that mashes up the moves into a different workout each time. Healthista editor Anna Magee describes it as 'an app that represents a workout I have dreamt of most of my exercise life.' We have had case studies on it in the office and one guy has lost two stone in six weeks doing ten minutes a day and replacing a meal with Healthista's Diet Protein.
Best bit
You get real results with minimum time! 'This is a workout that is designed for busy people who have little time they can devote to training, but can do it often' says Anna. 'Do it daily for 5-10 minutes this January and you'll set your metabolism on fire for the rest of each day. Good news for the post-Christmas recovery.'
Where can I find it?
There are no annoying in-app purchases (our pet hate – just a one-off cost of £2.99 you will never have to pay again, however many upgrades we do). Healthista Fit HIIT is available for £2.99 from iTunes.
Best for meal planning: Fizz Up
Dubbed by the makers as a 'personal trainer in your pocket', Fizz Up is a bit of an all-rounder. Not only does it run you through your workouts but it also provides recipes and helps you organise and create your own meal plans. The app is already popular with our fitness fanatical friends across the channel (apparently the French are loving it). And although it's new to the UK it already has over two million users worldwide and is recognised by the French Ministry of Higher Education and Research.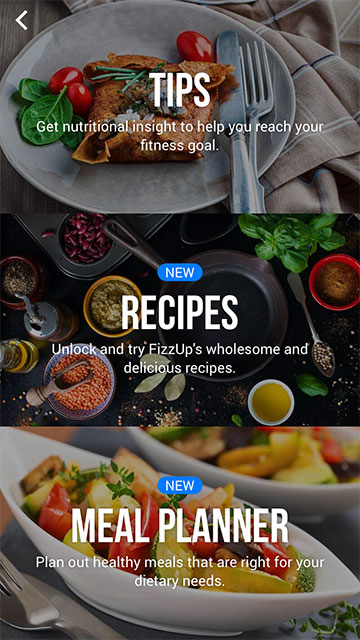 What does it do?
Download the app and let it know how often you currently workout, and it'll then offer you different programmes based on your fitness goals – choose from options like weight loss and body sculpting. We love that equipment isn't at all necessary. Some of the 10-minute workouts can be downloaded for free but pay the joining fee and have access to longer, unlimited workouts – you can also choose to have wake-up alarms reminding you to stretch and work on your flexibility. Plus there are 5-minute mini workouts for when you've got zero time. There is a blog on the app filled with motivating articles and a social section to help you encourage friends, 'the blog section is fun to read and helped motivate me when I was flagging post-Christmas' says Healthista's tester.
Best bit 
The best bit of this app? The nutrition section that contains diet tips, recipes and a meal planning function where you can add meals that are right for your particular goal. 'I love that you can tailor the recipes to how many people you're cooking for, perfect if you have a family to feed or have dinner guests.' This is perfect for any fitness lovers that find it difficult to stay organised.
Where can I find it?
FizzUp is free to download from both the App Store and Google Play. Users can upgrade to the FizzUp PRO version to access the full features for £15 per month or £10 per month on a six-month programme.
Best for getting the mental health help you need: Dr Julian App
With one in four British people suffering from depression and one in six saying they experience common mental health problems such as anxiety and current waiting lists for counselling support in the NHS can be up to 6 months or even longer. It's no exaggeration to say that apps like the Dr Julian App are lifesavers. The app enables patients suffering from mental health issues to connect with mental health care specialists quickly and securely from the comfort of their own home through secure video-link using an iPhone/iPad App. Dr Julian Nesbitt, a previous A&E and now GP trainee developed this technology.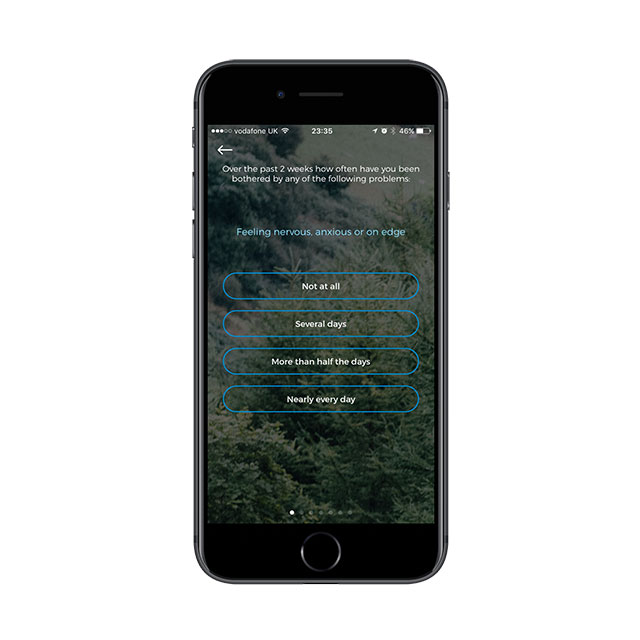 What does it do?
Dr Julian, along with Dr Julian's Psychotherapy Director Philippa Weitz have personally recruited qualified and experienced therapists that can be available for anyone suffering from mental health problems via the Dr Julian app. Many of these therapists have different specialist interests such as gambling, addiction, trauma, relationship and psychosexual issues as well as stress, anxiety and depression.
Once you've downloaded the app and input your data you can take a diagnostic test, choosing between testing for anxiety or depression. 'The test is super straightforward and easy to run through, I was a little bit apprehensive about how I'd find the questions but they were all very simple. I was asked questions about whether I'd been feeling restless, had trouble relaxing and focusing or how often I'd felt easily irritable or annoyed.' And when you really feel you need physical support? You can book an appointment on the app to organise a time to speak with a professional therapist about your problems – with zero waiting time.
Best bit 
This tool can be used on a regular basis to keep a check on your anxiety and depression levels which can be really useful in understanding when it's time to get help. 'Running through the questions made me take out the time to check in with myself and really understand how I was feeling.'
Where can I find it?
The app is free to download from the App Store and counselling appointments start from £45 per hour.
Best for getting fighting fit: Boxx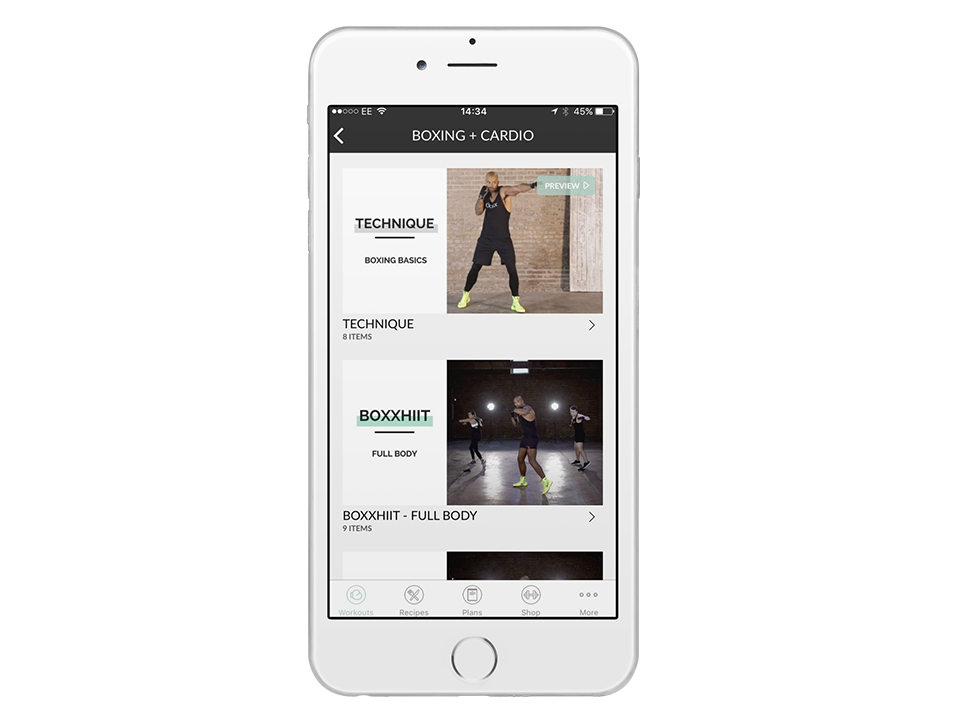 It's official, boxing is the sport of the moment. Celebs like Gigi Hadid are making Victoria's (get-fit) Secret widely known and even last year's Shape of You music video by Ed Sheeran sees the crooner and his fighting-fit love interest (played by Jennie Pegouskie) training in a boxing gym and then heading out on a date together. A bit worried about diving straight into a boxing class? Have no fear, new app The Boxx Method is an online platform designed to bring the best boxing workouts from the comfort of their home (and beyond).
What does it do?
Boxx combines shadowboxing with light weights and the brand says the product is designed to be quick, fun and effective – super easy to whack out and do it home. The app is broken into sections, boxing and cardio (such as Hiit for the lower, upper body and core, kickboxing and cardio), strength training (uses body weight, bands or yoga). The app has five different types of workout to choose from and can help you work on areas from technique to cardio fitness and recovery. And if you're the sort of person that gets bored easily, listen up – the app adds content every month which varies in length, type and intensity, meaning your workout never hit a plateau.
A nutrition section also has downloadable recipes for break, lunch, dinner and snacks with basic ingredients and a medium-size library (about six or seven per section). 'I always thought boxing was like an exclusive club which I can't afford to join. But Boxx has made it accessible for people at home with a couple of dumbbells,' says our tester.
Best bit
Our tester is a big fan of the apps resistance band, boxing fusion. 'My favourite workout is the boxing with resistance bands – something I've not come across even in London classes. The energy of the trainers are high and modifications are always on show. There isn't anything I could fault. I've seen the results (on the home page) of people who have stuck with it so now I am hooked (excuse the pun).'
Where can I find it?
Purchase The Boxx Method on the website here. The app is free to download from the app store and subscription prices start from £9.99.
Best for personalised fitness: Freeletics
Dubbed a personal trainer in your pocket, Freeletics offers a hyper-personalised approach to digital fitness. The app has a whopping 20 million users worldwide and is designed to help you reach whatever fitness goal you have in mind – be that getting in shape for an event or simply toning up.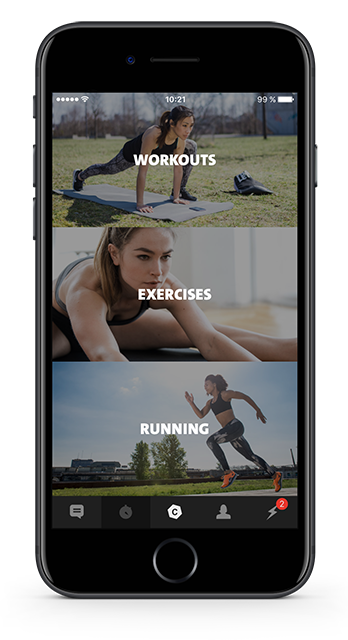 What does it do?
The app runs you through various HIIT workouts that can be done anytime, anywhere, without a gym or equipment – all you need is 2×2 metres of space. The 'personal trainer in your pocket' provides an almost infinite number of training variations and workouts (designed by sports scientists and athletes). The app also includes in-depth video tutorials and training instructions to guide users through proper training techniques and form. 'I love that rather than being time-based, you have to complete a number of reps of each exercise. I find this an effective way of keeping fit as it really locks me into the workout,' says out tester.
The app can even give you a bespoke week-by-week training programme customised to your goals and preferences. It will analyse your performance, track your progress and adapt your training plans to make sure it never gets too easy. The super clever app can also gage when you're at risk of injury and will tell you to take it easy. You can pick daily challenges or compete against other users. Plus you can win points which is great for anyone with a competitive streak.
Best bit 
We're a big fan of the fact the app shows you your local training spots so you can go and connect with fellow users IRL – the future of dating apps maybe?
Where can I find it 
The Freeletics Bodyweight, Running, Gym and Nutrition apps can be downloaded for free in the App Store and Google Play Store. Find out more information about Freeletics here. The app is free to download and use but customised training starts at £12.99 for one month and goes up to £74.99 for the whole year.
MORE BEST OF DIET AND FITNESS FROM HEALTHISTA:
30 minute fat burning weight lifting circuit for your lower body
Weight loss transformation: Week 4 – how sleep affects recovery and weight loss
30 minute fat burning circuit for the upper body
Celebrity Fitness Trainer – Zara Martin's PT shares how to lose weight and keep it off
Like this article? Sign up to our newsletter to get more articles like this delivered straight to your inbox.