Are you training for a marathon? These healthy recipes from dietitian and superstar amateur runner Charlie Watson will power up your runs – they're easy too
There are now more runners than cyclists in the UK, with 24.7 million runs and 192 million kilometres run in total in 2018.
In fact, in 2017, the overall number of run commutes rose by 51 per cent, with London topping the world's list – wowzers.
Before you can go out and give it a go, it's important to make sure your body has the right food. Charlie Watson's latest book Cook Eat Run (Amazon, £10.50), is the ultimate beginner runner's guide, featuring recipes, meal ideas and nutritional advice.
Here's a taste.
Recipe #1 The ultimate nutrient booster – Teff pancakes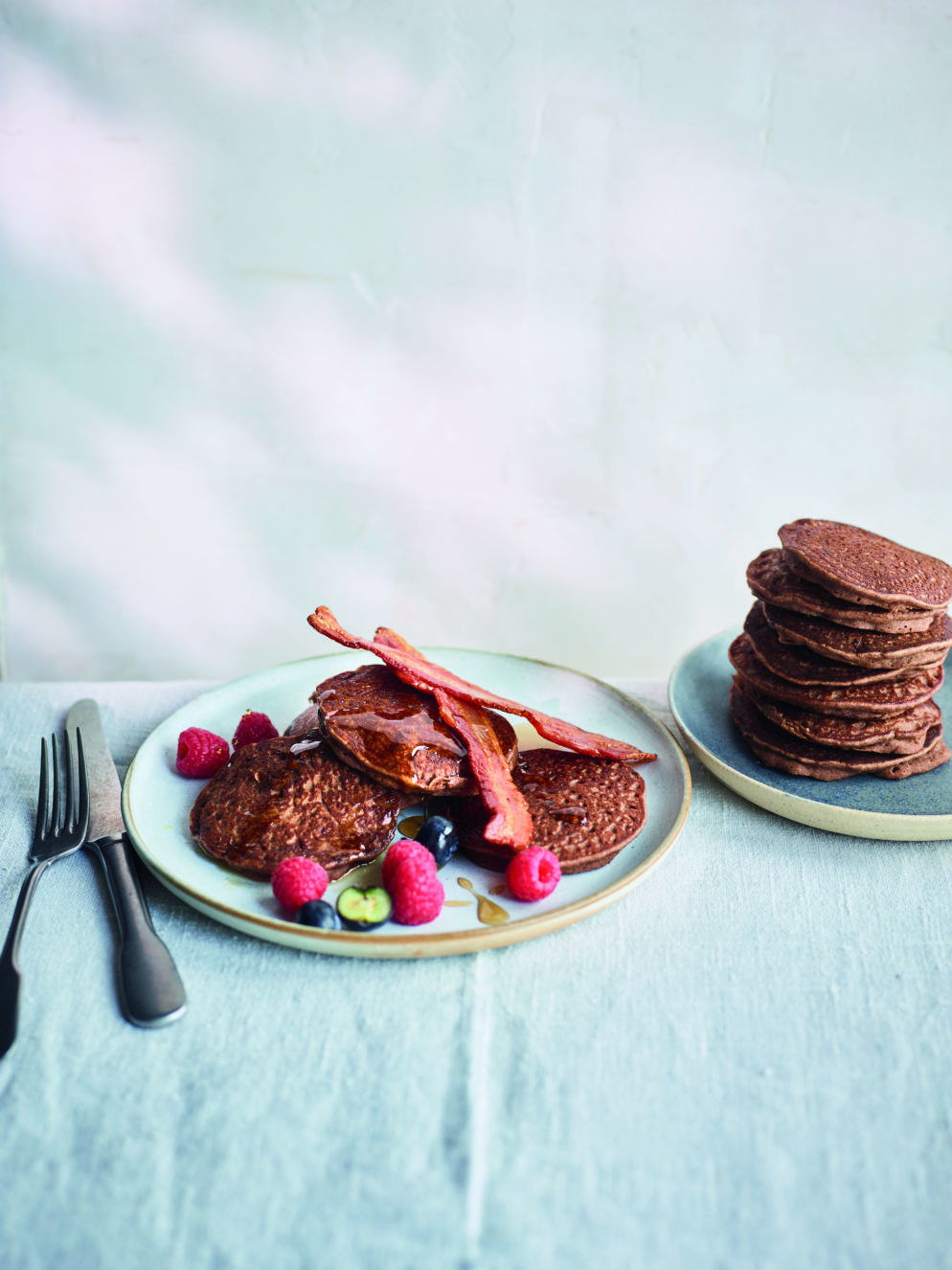 Teff is a grain from Ethiopia that many East African runners enjoy as a staple part of their diet.
This tiny grain is naturally gluten-free and packed full of nutrients, including iron, calcium, magnesium and zinc, not to mention protein.
Some runners have an increased risk of anaemia or have iron deficiencies, so using teff alongside more modern grains and flours can be a great way of boosting your iron intake.
Ingredients:
2 ripe bananas, peeled
1 egg, whisked
300ml (10fl oz/1¼ cups) milk or a milk alternative
2 tsp vanilla extract
230g (8oz/1¾ cups) teff flour
1 tsp baking powder
1 tsp ground cinnamon (optional)
vegetable or coconut oil, for frying
Method:
1. In a large bowl, thoroughly mash the bananas. Stir in the whisked egg, until combined, then stir in the milk and vanilla extract. Fold in the flour, baking powder and cinnamon, if using, until combined. The mixture should be quite a wet, spoonable consistency.
2. Heat about 1 teaspoon of oil in a large non-stick frying pan(skillet) over a medium heat add 1 large serving spoonful of batter into the pan. Fry for 2–3 minutes on one side until small bubbles appear, then gently flip and cook the other side for a further 2–3 minutes, until golden.
3. Remove from the pan and set aside on a warm plate, or keep warm in a low oven. Repeat until all the batter has been used up, adding a little more oil to the pan each time it becomes dry.
4. If your pan is big enough, feel free to cook more than one pancake at a time, ensuring that they are evenly spaced.
5. To serve, top with Greek yoghurt, fresh berries, maple syrup, honey, bacon, or your other favourite pancake toppings. Any leftover pancakes can be frozen and reheated in the toaster for a quick week-day breakfast (you might need to toast them twice, depending on your toaster settings).
Variation:
Don't like bananas? No worries – use 250g (9oz/1 cup) unsweetened apple sauce instead.
Recipe #2 No fuss feast – Cheat's paella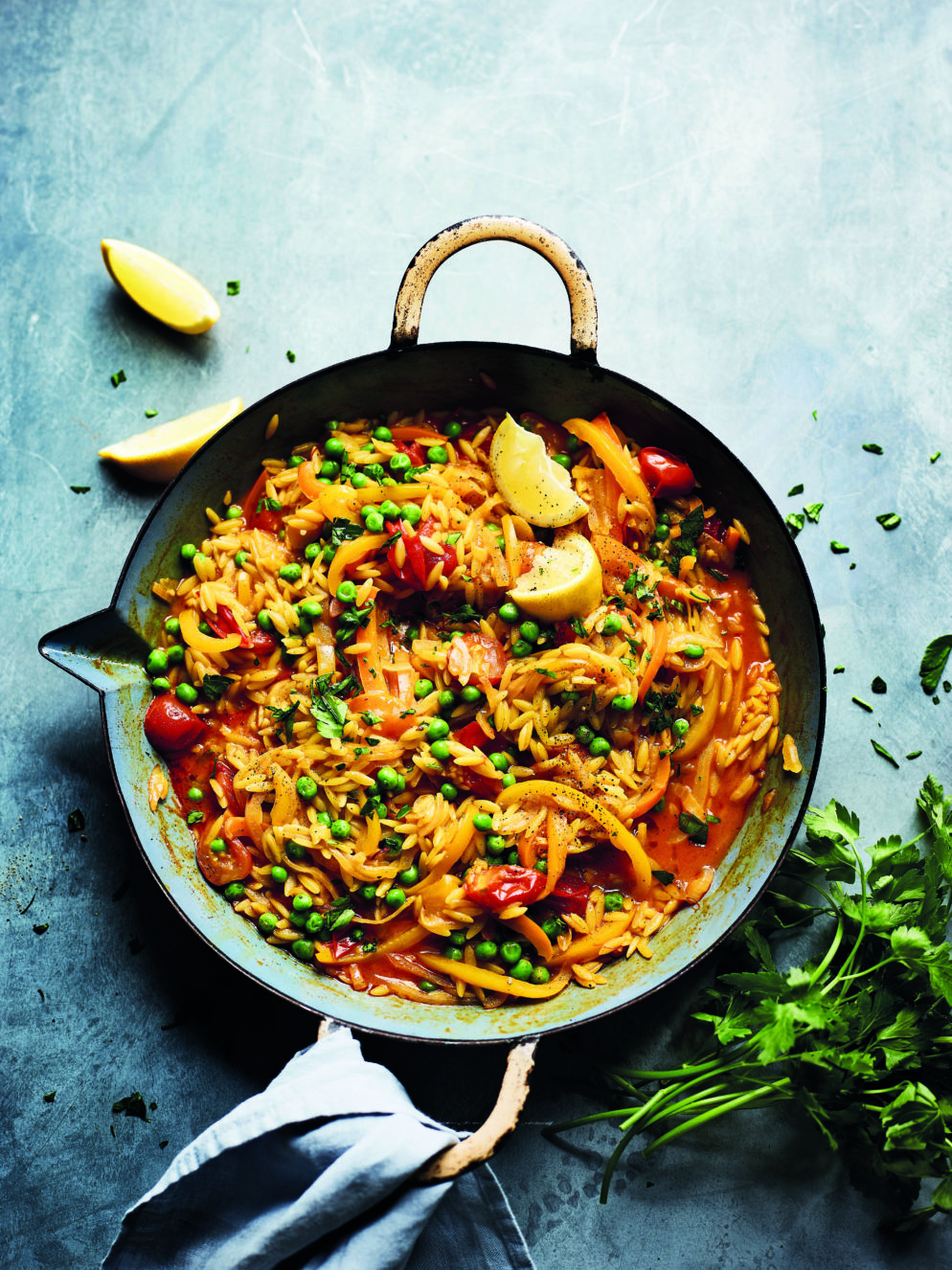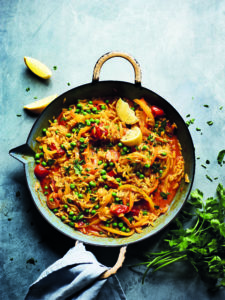 This is one of those dishes where you can use up whatever veg, meat or fish you have in the refrigerator or freezer and it tastes great.
I think it's excellent with leftover roast chicken and king prawns (jumbo shrimp), but it also works with squid, roast pork, chorizo, white fish, or even just packed full of vegetables, as here.
Ingredients:
1 tsp olive oil
1 onion, finely sliced
2 red, orange or yellow (bell) peppers, deseeded and finely sliced
1 clove garlic, crushed
2 tsp smoked paprika
pinch saffron
150g (5½oz/1 cup) cherry tomatoes, halved
300g (10½oz/1½ cups) orzo pasta
750ml (25fl oz/3¼ cups) vegetable (or chicken or fish stock) (bouillon)
100g (3½oz/¾ cup) frozen peas
large handful fresh flat-leaf parsley, roughly chopped
salt and freshly ground black pepper, to taste
lemon wedges, to serve
Method:
1. Heat the oil in a large frying pan (skillet) or paella pan (with a lid) over a medium heat, add the onion and peppers and gently fry for 8 minutes, until softened.
2. Add the garlic, paprika, saffron and tomatoes and cook for 1 minute, then add the orzo pasta, stock (bouillon) and peas.
3. Bring to the boil, then reduce to a simmer, cover with the lid, and cook for 10 minutes, stirring occasionally.
4. Season to taste, then stir through the parsley. Serve with lemon wedges.
Recipe #3 Champion's dinner – Kathrine Switzer's pre-race prawn pasta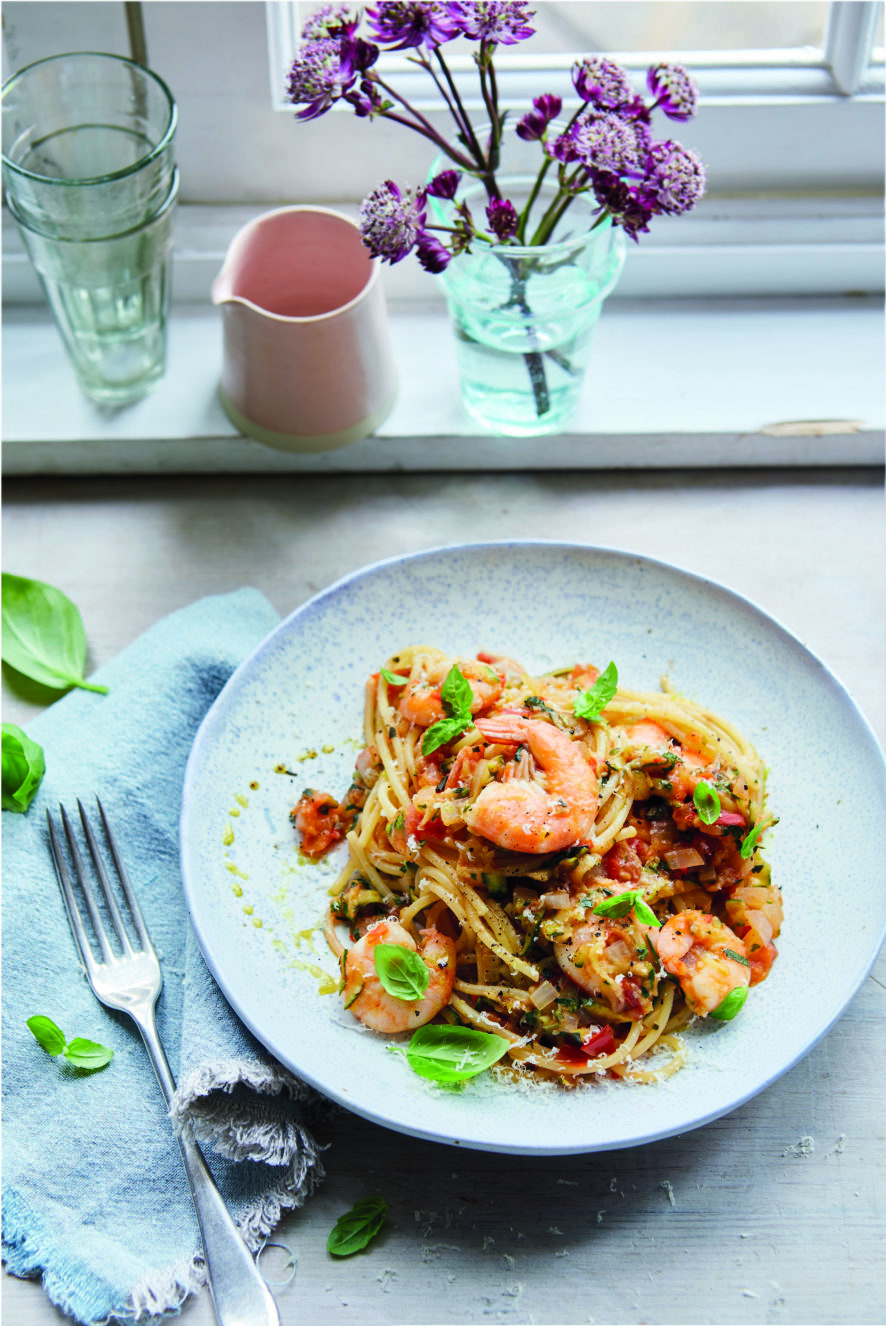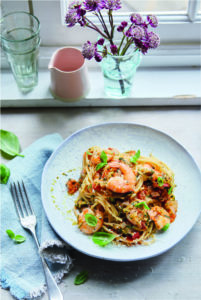 I had the pleasure of meeting Kathrine Switzer at a talk she gave at the Boston Marathon in 2017. She was running the race 50 years on from her first Boston event.
Back then, women weren't officially allowed to enter; however, thanks to a helpful coach and boyfriend, Kathrine was able to run with a bib, proving to everyone that women were not 'too fragile' to run 26.2 miles.
Kathrine went on to win the New York City Marathon in 1974 and was at one stage ranked the sixth fastest woman in the world over the distance.
Her famous Boston bib number, 261, has since been retired from the race and is now the name of her charity, '261 Fearless', which aims to empower and unite women through running.
Ingredients:
1 tbsp olive oil
1 onion, finely chopped
6 tomatoes, roughly chopped
1 clove garlic, crushed
1 courgette (zucchini), coarsely grated
½–1 red chilli, finely chopped (optional)
400g (14oz) spaghetti
350g (12½oz) cooked king prawns (jumbo shrimp)
large handful fresh basil, finely chopped, plus extra whole leaves to serve
salt and freshly ground black pepper, to taste
30g (1oz/scant ½ cup) Parmesan cheese, finely grated, to serve
Method:
1. Heat the oil in a large frying pan (skillet) over a medium heat, add the onion and tomatoes and cook for 10 minutes, stirring, until softened and the tomatoes have broken down (you can mash them with the back of the spoon to help them along).
2. Stir in the garlic, courgette (zucchini) and chilli (if using) and cook for a further 2 minutes.
3. Meanwhile, bring a large saucepan of water to the boil and cook the pasta according to the packet instructions. Stir the cooked prawns (shrimp) and chopped basil into the tomato sauce and season to taste.
4. Drain the pasta, reserving a little of the cooking water, then mix the pasta into the sauce, adding a little of the pasta water to loosen if necessary.
5. Serve, garnished with basil leaves and Parmesan.
Top Tip:
Kathrine told me that she would avoid eating chilli the night before a marathon, so keep that in mind if you have a sensitive stomach.
Recipe #4 Macro heaven – Burger bowl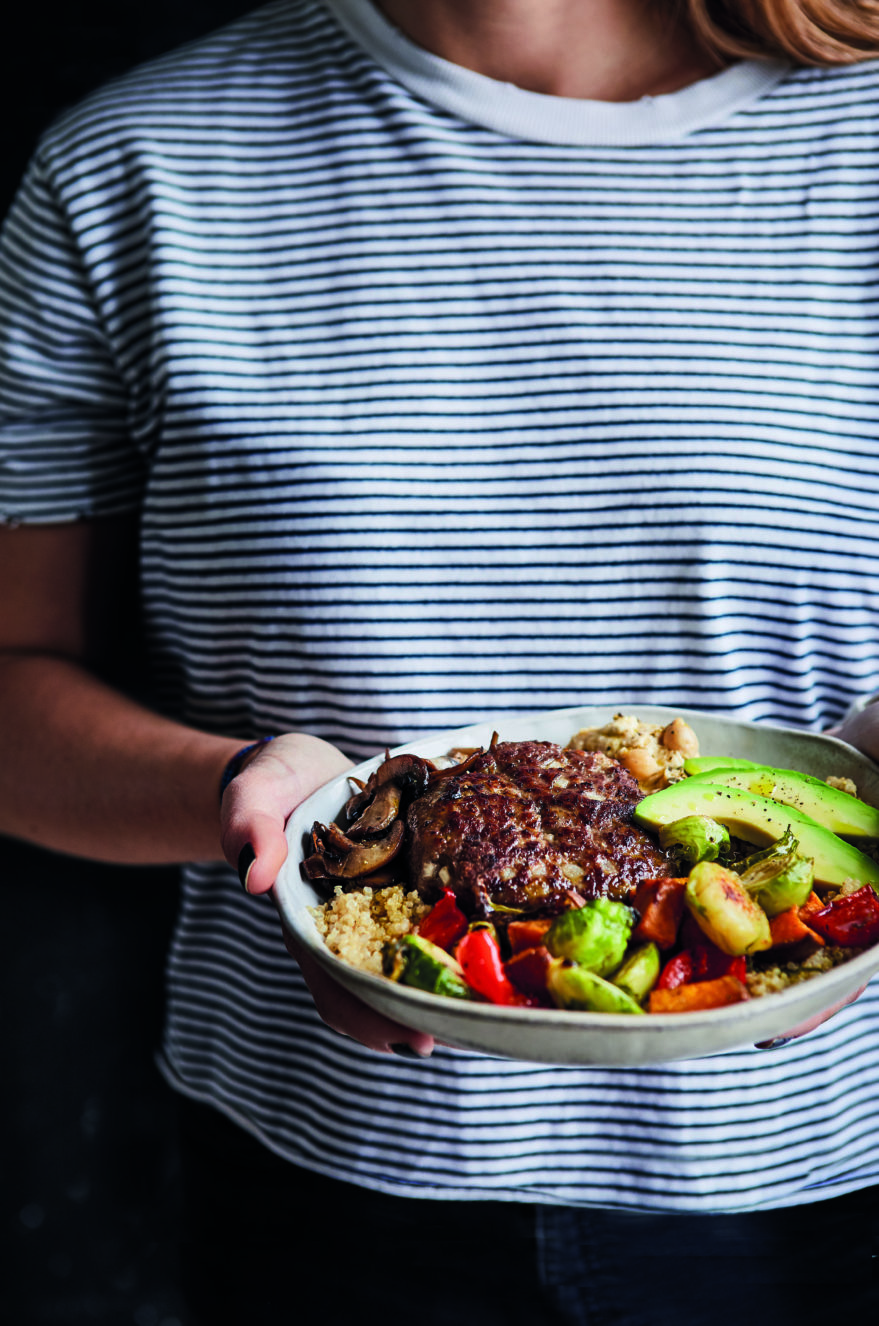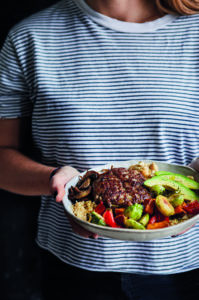 These burger bowls are inspired by an amazing one I had, with running friends Heather, Kindal and Mel, in Arizona after the Phoenix-Mesa Half Marathon.
It felt like the perfect mix of carbs and protein for refuelling, plus veggies to balance out our post-race frozen yoghurt with all the toppings.
Similarly, if you want to use a ready-made burger, then go for it!
Burger Ingredients:
500g (1lb 2oz) high-quality minced (ground) steak
1 small onion, finely chopped
1 medium egg
100g (3½oz/1¾ cups) fresh breadcrumbs
1 tsp Dijon mustard
salt and freshly ground black pepper, to taste
Bowl Ingredients:
2 sweet potatoes, chopped into 2.5-cm (1-in) cubes
1 red (bell) pepper, deseeded and chopped
2 Tbsp olive oil
350g (12½oz) Brussels sprouts, trimmed and halved
1 Tbsp maple syrup
1 chicken or vegetable stock (bouillon) cube
250g (9oz/1½ cups) quinoa
1 clove garlic, crushed
200g (7oz) chestnut (cremini) mushrooms, finely sliced
1 ripe avocado, peeled and sliced
ketchup, aioli or hummus, to serve
Method:
1. Preheat the oven to 200°C/400°F/gas mark 6.
2. Put the burger meat into a large mixing bowl, add the onion, egg, breadcrumbs, mustard and plenty of seasoning and mix until well combined. Divide the mixture into 4 equal pieces and shape each into a patty.
3. Arrange the sweet potato and red (bell) pepper in a single layer in a roasting pan, drizzle with ½ tablespoon of the oil, season well and toss to coat.
4. Roast for 10 minutes. Meanwhile, in a bowl, toss together the Brussels sprouts in a bowl with another ½ tablespoon of the oil, the maple syrup and plenty of seasoning.
5. When the potatoes and peppers have had 10 minutes, remove the pan from the oven, add the sprouts and return to the oven for another 20 minutes.
6. Bring a large saucepan of water to the boil, add the stock (bouillon) cube and the quinoa and simmer for 15 minutes or until softened.
7. Meanwhile, heat the remaining 1 tablespoon oil in a large frying pan (skillet) over a medium-high heat, add the burger patties and fry for 8 minutes, turning once, until each side is well browned.
8. Carefully transfer the burgers to a baking sheet and cook in the oven for a further 12 minutes, or until well heated through.
9. Return the frying pan to the heat, add the garlic and fry for 1 minute. Add the mushrooms and fry for a further 10 minutes or until golden and soft.
10. Build your burger bowl with a combination of quinoa, roasted veggies, fried mushrooms, sliced avocado and burgers. Serve with ketchup, aioli or hummus.
Recipe #5 Afternoon pick me up – choc-o'clock sweet potato brownies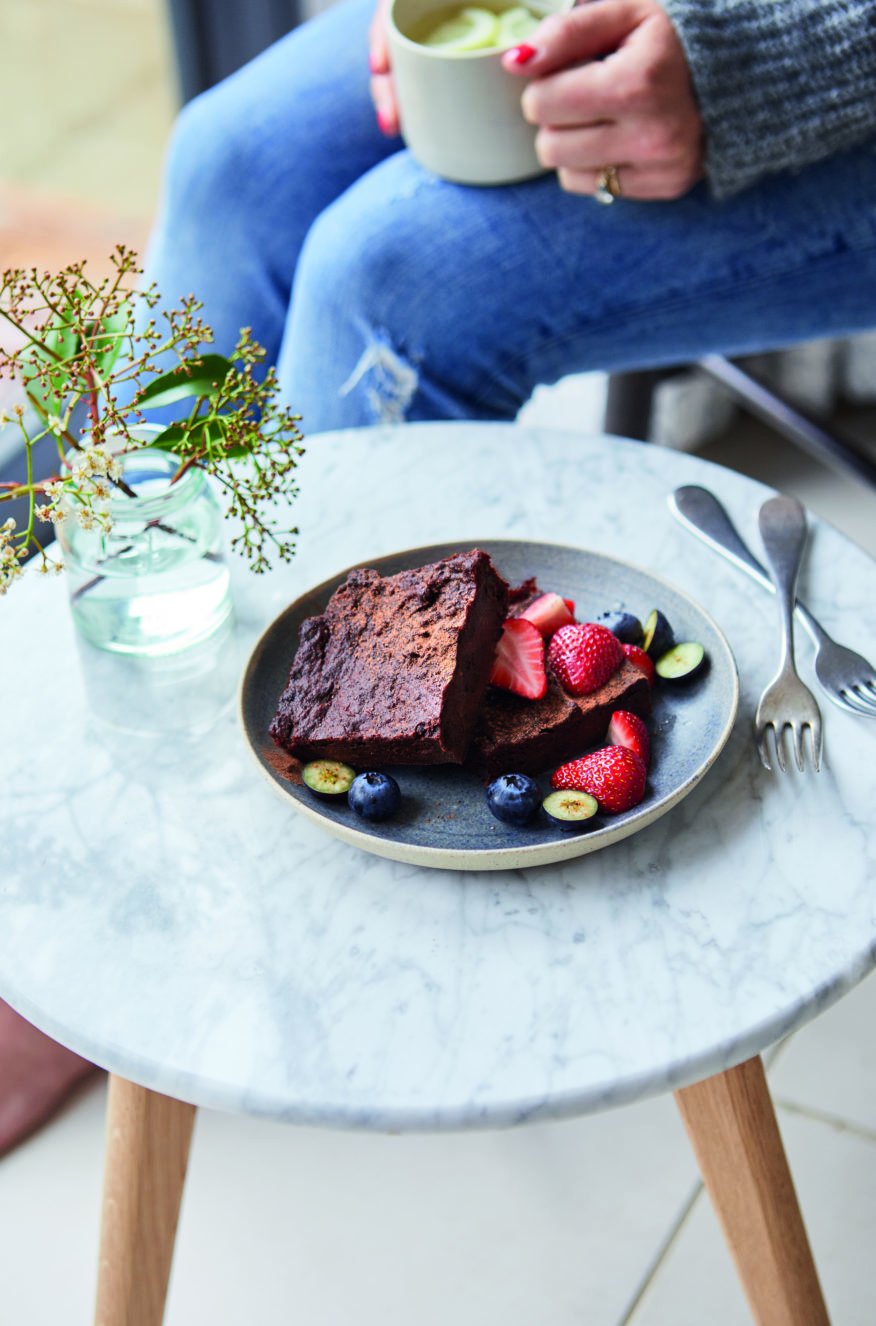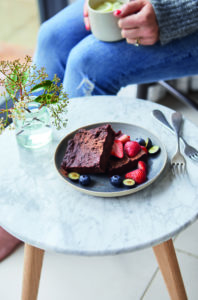 The healthy-eating blogger Deliciously Ella made adding vegetables to your brownies cool back in 2015, when her sweet potato brownie recipe was a huge hit.
Read More: 3 things Deliciously Ella wants you to know about growing a wellness business
However, I don't make these healthy brownies to cut down on the sugar and butter (because there is definitely a time and a place for a 'proper' brownie).
instead, I love them because they are packed full of slow-release energy to help you go from your 4pm cup of tea and choccie in the office to your evening gym session or run without getting that post-treat energy slump.
I roast up a couple of sweet potatoes most Sunday evenings as they keep in the fridge for up to a week and make for super-quick, easy lunches; they can be added to recipes such as fishcakes, or used for baking.
Ingredients:
400g (14oz) cooked sweet potato
140g (5oz/½ cup) agave nectar
100g (3½oz/scant ½ cup) almond butter
120ml (4fl oz/½ cup) coconut oil, melted
2 tsp vanilla extract or scraped seeds from 1 vanilla pod
80g (3oz/¾ cup) cacao powder or cocoa powder
70g (2½oz/½ cup) plain (all-purpose) flour
80g (3oz/½ cup) chocolate chips, or dairy-free alternative
Method:
1. Preheat the oven to 200°C/400°F/gas mark 6 and line a 23-cm (9-in) square cake tin (brownie pan) with baking paper.
2. In a large bowl, thoroughly mash the sweet potato, then stir in the agave nectar, almond butter, coconut oil and vanilla.
3. Sift in the cacao or cocoa powder and flour and fold in, then stir in the chocolate chips.
4. Pour the batter into the prepared tin and level – the mixture is quite thick and needs to be spread evenly. Bake for 20 minutes, or until the crust is solid and browning on the top.
5. Leave to cool in the tin for 10 minutes before turning out onto a wire rack to cool completely. Cut into 9 squares and serve, either with a cup of tea or with berries and ice cream for a delicious dessert.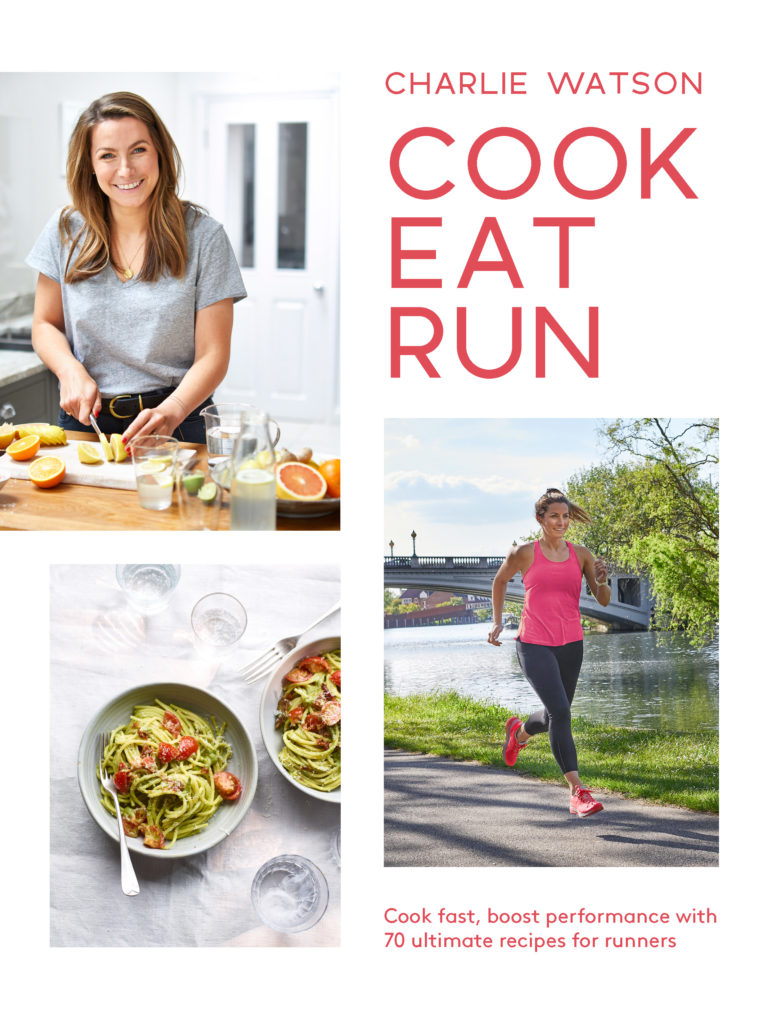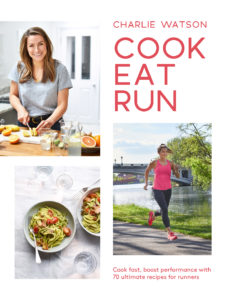 Cook, Eat, Run is available to buy on Amazon.
Charlie Watson is an amateur marathon runner and student dietitian.
As @therunnerbeans her 50,000 Instagram followers enjoy her honesty and fresh approach to fitness and training.
Charlie's Runner Beans blog won the award for best fitness blog at the UK blog awards in 2017.
Her goal is to make fitness and healthy eating simple, approachable and realistic without missing out on any of the good things in life.
Relevant Healthista content:
3 healthy recipes this Instagram super-medic swears by
5 healthy soup recipes to warm up your weekend
3 healthy dinner recipes to help you sleep
5 healthy vegan recipes that will spice up your weekend
Like this article? Sign up to our newsletter to get more articles like this delivered straight to your inbox.