Made in Chelsea favourites Spencer Matthews, Oliver Proudlock, Binky Felstead and Lucy Watson show you how to keep fit with four 20-minute workouts in the new MIC: Fit DVD. Here's what Healthista thought
What happens?
You'll find four different workouts with four different instructors that last for 20 minutes each. They all include a warm up and cool down section so if you don't have time or want to focus on one type of exercise, you simply choose the workout for you. There will be three variations of each exercise demonstrated throughout for beginners, intermediates and advanced.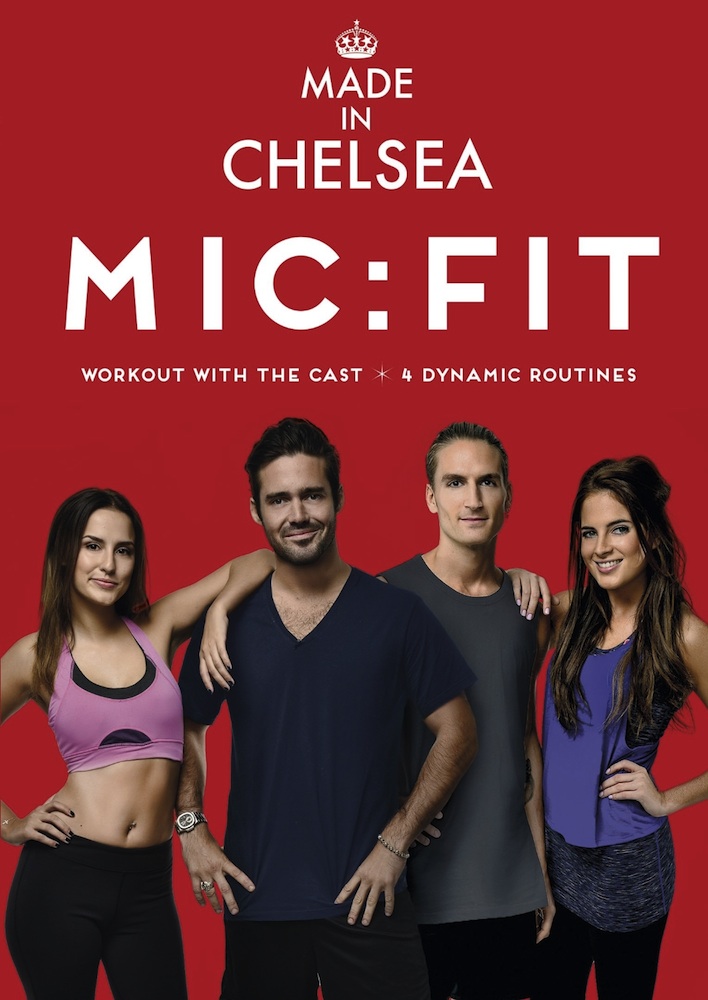 What's the promise?
To transform your body.
What kind of moves do they involve?
The Toned for St Tropez workout with World Beauty Fashion and Fitness' 2013 Diva Fitness Champion and professional dancer Lisa Welham is a full body low intensity bodyweight workout. There are two parts – A and B – which have three sets of 14 exercises followed by one minute of cardio and then a repeat of the exercises. Expect deep squats, lunges, alternating sit-ups, planks, supermans and tricep dips. It's not a workout that's going to make you sweat loads (after all it is low intensity) but you will feel the burn. The most difficult part for me was the tricep dips into hip raises. They hurt. A lot.
The Tabata Wake Up Call with Physique transformation Coach Lee Constantinou starts with a series of deep sumo squats and includes a four minute high intensity section where you place your palms on the floor, keep your legs together and jump from side to side so your feet are practically in line with your palms. This is followed by working your core by standing up, leaning forward and alternating your legs and arms back and forth which sounds easy but actually works up a sweat, tires you out and leaves you panting. The four minutes are intended to make you fitter faster, and Constantinou stresses that this is the section that you must give 'everything you've got.' This was my favourite bit as it made me sweat and felt like a full on workout.
HIIT the Kings Road with personal trainer James Stark (also Josie Gibson's trainer) is the high intensity interval training session that starts with 30 seconds of working out followed by 30 seconds of rest. There isn't a set number to do of each exercise, it's up to you to push yourself as much as you can in the time provided. The six exercises include 'explosive stars' (which are essentially jumping jacks but you start from a squat position each time), jogging with high knee lifts and floor runs in which you're in a press-up position and sprint on the spot, trying to touch your elbows with your knees. You then have to repeat all these exercises but have to work out for 40 seconds with only 20 seconds rest. It's a tiring combination and leaves your legs quite shaky. It can't not work.
The final workout ends with personal trainer Ashton Turner who takes you through a combination of stretching exercises with Pilates and yoga techniques in the Chelsea Morning Power Stretch. The stretches include the Vinyasa in which you start from a plank position, push hips back to ceiling, move back to plank position and lower your chest to the ground, ending in a cobra pose. You'll also do squats and lunges with a twist. For example, 'The Windmill' starts from a lunge position until you rotate your chest out so you're in a side lunge. From here, you stretch out both arms horizontically and then rotate your body so your right hand touches your right foot (and vice versa).
Upsides
If you don't like going to the gym and don't have any equipment at home, MIC: FIT may just be your answer. Plus, the variation of workouts means you can work out your whole body without getting bored.
Downsides
I got annoyed that I had to keep warming up and cooling down as I did all four workouts consecutively. I was tempted to skip the warm up sessions and cooling down sections in all honestly.
Will it work?
To really benefit from MIC:FIT, I would recommend doing at least two of the workouts provided a couple of times a week or one workout daily – I would choose from the Tabata Wake Up Call or HIIT The Kings Road – as they're the ones that really make you sweat and ache.
Healthista rating: 3/5
Click here to purchase your copy of Made In Chelsea – MIC : FIT 
Other fitness DVD reviews from Healthista:
Charlotte Crosby 3 minute Belly Blitz
Josie Gibson's 21 day fat burn
Tracy Anderson's beginner's workout
2014 Fitness DVD Best to Worst Charts
Like this article? Sign up to our newsletter to get more articles like this delivered straight to your inbox.