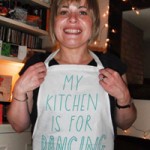 This week Jo swaps her sequins for sweats and heads to a FitSteps fitness dance class run by Strictly stars Ian Waite, Natalie Lowe and Olympic swimmer Mark  Foster.
A ballroom and Latin dance class wearing trainers? It sounded all wrong. But come Sunday morning, there I was, not a sequin or heel in sight, attempting to botafogo, click castanets (pretend ones, sadly) and waft. This was a dance class with a difference. In fact, this wasn't actually a dance class. It was a fitness class. With a difference. This was FitSteps, a new fitness programme that uses steps from ballroom and Latin dances. And the biggest difference? Our teachers were FitSteps co-founders and Strictly stars Ian Waite and Natalie Lowe. The only similarity to our usual dance class was that Gav was at my side – not in close hold – and was as terrified as he was at our first ever dance class. He'd normally be playing football on a Sunday morning and looked as relaxed and ready for this as I would be for that!
Described as 'fitness that's Strictly fun', the initial idea was that of Olympian swimmer, and former Strictly contestant, Mark Foster who, after losing weight during his time on the show and on the official tour, wanted to explore the concept of a dance exercise programme. After chats with fitness experts, he then approached Natalie, his partner on the Strictly tour. She suggested bringing Ian on board because he'd previously worked on a similar idea. The trio launched FitSteps in June this year and already there are around 1200 qualified instructors all over the UK.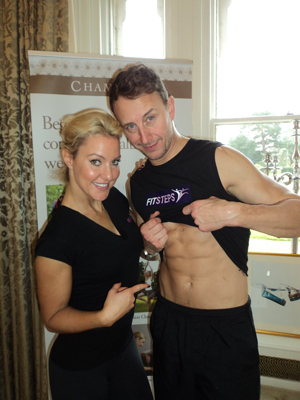 The location for our masterclass was the luxurious surroundings of Champneys Tring. All four Champneys resorts have just launched FitSteps classes. Before heading to the fitness studio to give it a go, the pre-class chat left little doubt that all three co-founders are buzzing with enthusiasm about their new collaboration, Ian even claiming he's 'never been as ripped as this' and giving us a sneaky glimpse of his six-pack to prove it.
Natalie, who had to pull out of this year's Strictly due to an injury –  two stress fractures in her foot – claimed she'd only be doing 'a light workout' as a result. Cue a collective sigh of relief: we could watch her and take it steady ourselves!
A look of trepidation on our faces, the class began. Gav and I had challenged ourselves to a dance off. Which of us would find it easier? Would nearly four years of ballroom and Latin dance lessons help us learn the steps?
Ian started us off with a cha cha cha. The steps were recognisable but I'm ashamed to admit we were both all over the place. Quickstep, with a few fab Charleston moves thrown in, jive and samba (those botafogos) followed. Ian's pace was fast to say the least – he certainly made us work for our fun. As quickly as our heart rates were rising, another change was taking place… everyone's look of initial fear had morphed into huge smiles, plastered across their increasingly red and sweaty faces!
I was surprised to find that I found the bounce action of the samba easier in this class than I have when we've tried it in our dance lesson – perhaps it was that I was in a bouncy mood (the fun factor had definitely kicked in), maybe it was the footwear, or perhaps bouncing is easier without a partner? Whatever the reason, it felt great to feel I'd got the technique vaguely right.
I'd thought that being taught by Natalie and Ian would be a touch intimidating, but I was wrong. Both were encouraging, entertaining and funny. Natalie weaved among us to help anyone who was particularly struggling (I noticed she kept returning to Gav's corner!) but never made us feel embarrassed when we were moving in the opposite direction to everyone else!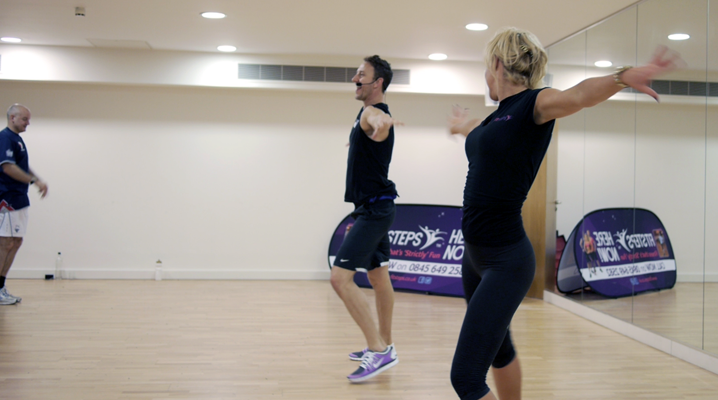 In 45 minutes, we attempted eight dances, all of which work on different aspects of fitness: cardio, strength and core. Ian revealed after the class that we'd had a go at four moves for eight different dances. A real class would see you learning four moves from four dances (waltz, cha cha, jive and quickstep) and repetition would be the key to mastering the steps. Ultimately, FitSteps will have routines to 12 dances, with the paso doble, tango, samba and rumba already choreographed for teachers.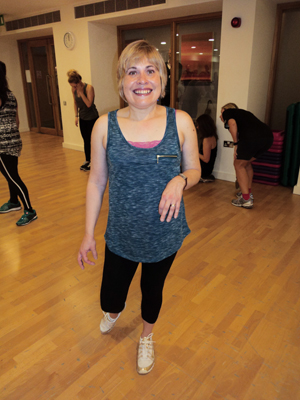 Back to our class and the strength routines came next – paso doble and tango. Ian explained how if we used our arms properly we'd be working every muscle. The FitSteps programme director, Damian Lo Cascio, Gav's only other male comrade taking part, explained that a 45-minute class using our arms properly would help us burn around 650 calories, while if the armography defeated us we'd be burning around 350 calories. For many of the dances the minute I tried to add the arm moves, my feet wandered off to do a little routine of their own! I mastered clicking the imaginary castanets in the paso and, desperate to beat the 350 mark, found myself doing so with added gusto!
For gusto, read elegance, but maybe not in my case. Natalie, however, describes FitSteps as 'elegance with exercise' – there were several moments in the class when I used my poor lungs as an excuse to take a momentary breather and just admire them both. During the jive, Ian's feet moved so fast I could barely keep up watching let alone do it myself.  Natalie moved with jaw-dropping grace, flexibility and speed. If that was her taking it easy…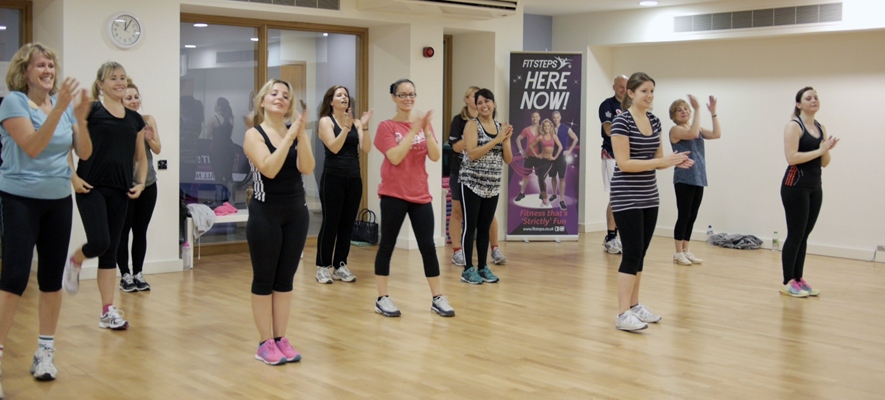 The lesson ended with the 'cooling down' numbers – waltz and rumba. Waltz, Natalie had told us earlier, is her favourite so as we began stepping, then lunging, with rise and fall, and mastering the waft (a FitSteps move, not a ballroom term) she asked us to 'do her proud'. Whether we did that in the waltz, or in the class overall, I'm doubtful. But I do know it was great fun and a total ballroom body blitz!
The only disappointment? That Mark Foster didn't join in, too. But later, when I questioned him on his lack of participation, he came up with a rather plausible excuse: showing me the extraordinary span of his arms at full stretch, I could see why he'd wanted to leave room for us novices.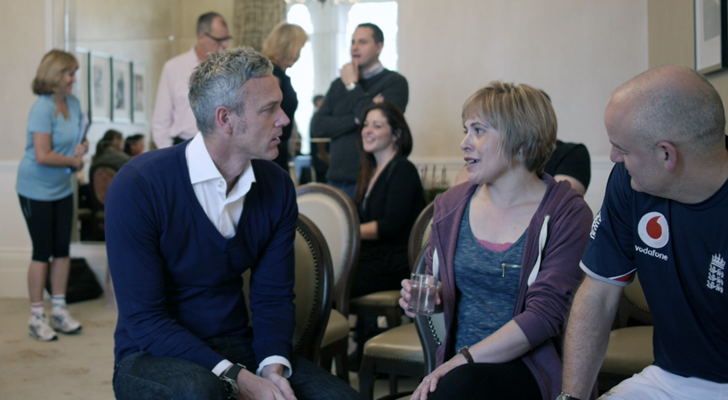 Ian, Natalie and Mark have future plans to launch FitSteps Kids, Golden (to music from the 'Golden' era of the '40s) and Aqua. So Gav and I retired to the pool to attempt an aqua cha cha – as you do – and reflect on the lesson. I loved it and, without question, it meets its claim: it was 'Strictly fun'. If, like me seven years ago, you're desperate to learn some of those steps from Strictly, but you've got a reluctant partner, FitSteps could prove to be your ballroom bit on the side. And would Gav go again? For the challenge to get it right, yes. But next time he thinks he'll try it in his spats! As for me, I've already booked to join a class near me – and I'll be doing it for the fun and the fitness. And because I just love to dance!
For more information, visit Fitsteps website or call 0845 649 2582
For details of Champneys resorts, and their FitSteps schedule, visit the Champneys' website. To use the facilities and attend classes at Champneys, you need to be either a gym member or a day/overnight guest.
Like this article? Sign up to our newsletter to get more articles like this delivered straight to your inbox.