For Day two of our workout DVDs special, Anna Magee reviews Geordie Shore star Charlotte Crosby's new fitness DVD, Charlotte Crosby's 3 Minute Belly Blitz 
In July this year when Charlotte Crosby was photographed on the beach looking like she was about to pop out of her bikini, the Geordie Shore star decided to take drastic action to reduce what she called her 'triple ripple' belly and went on a strict diet and exercise regime.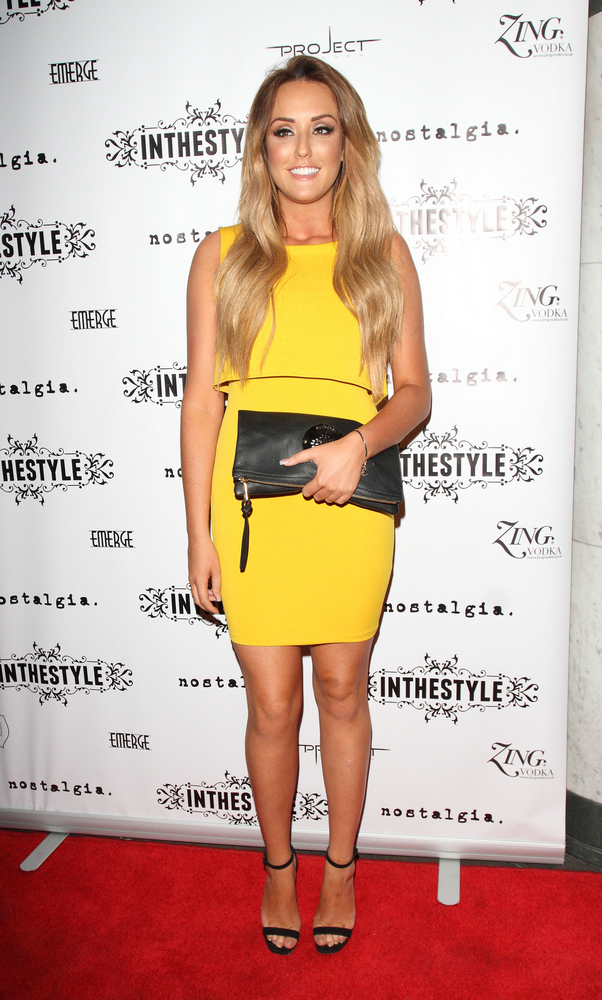 By September, she'd dropped from a size 16 to a size eight. Cue the inevitable fitness DVD, Charlotte Crosby's 3-minute Belly Blitz released just in time for January's shape-up rush. In it Charlotte, looking svelte and lean, presents 12 3-minute routines with her trainers Richard Callendar from ITV's The Biggest Loser and David Souter.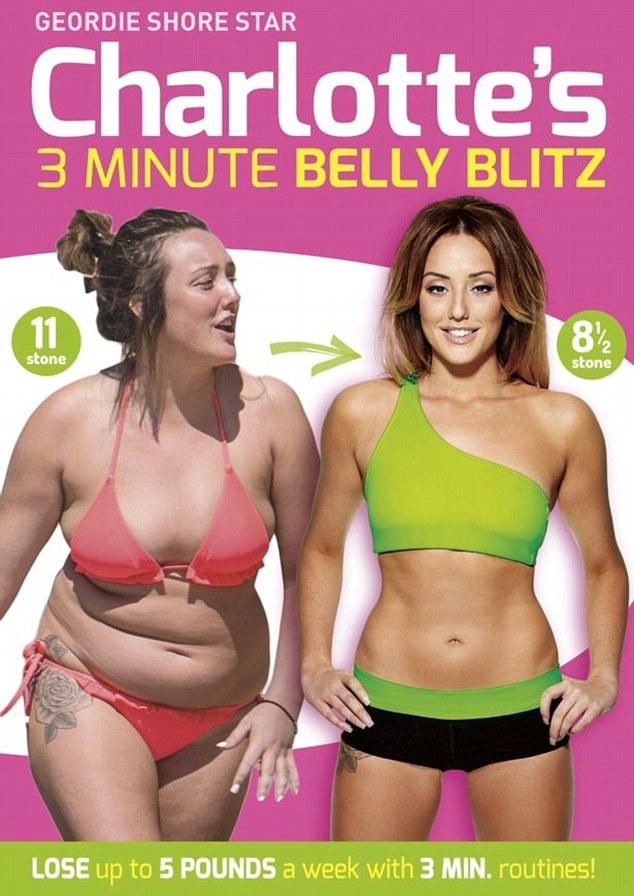 The routines are designed for beginners to start doing on their own and then to quickly build up to putting more and more of them together until they can do the whole thing. Indeed, though she could barely manage one of the three minute workouts when she first started, Charlotte says she got fit not by sticking to only doing three minutes a day but by building up to doing them all together once she could manage it. I did the whole thing, which took me an hour, but the sweat was pouring off me and I can already feel it on my outer thighs.
Anyone can get something out of this DVD, from the already fit to the absolute beginner.  Callendar and Crosby deliver the tough version of each move while Souter presents a beginner's option and a fit, advanced person could put a few of them together while a beginner can start Souter's moves for only a few minutes and build up. The warm up and cool down are always the same and need to be tagged onto each workout (making them technically longer than three minutes, which is important when you're planning your morning, no?).
So what happens?
The workouts are broken up into 12 'rounds' – all three minutes each – and the moves are designed to mimic the way boxers train, with punches, skips, jumps and kicks so your heart rate is constantly being challenged to rise between sets of resistance exercise. There's a short warm up and cool down and an extra ten minute ab routine at the end, plus a diet plan.
What's the promise?
They're all based on High Intensity Interval Training which Callendar says is more efficient at burning belly fat than doing tonnes of sit ups alone, I would agree. The workouts have been combined into a sequence in which if you do a few together you're working in really high intensity cardio and alternating that with resistance moves, which really gets you sweating and is best for fat burn. The promise is you could lose five pounds in a week.
What kind of moves do they do?
Expect plenty of high intensity jumps and skips, high kick-boxing and other boxing moves as well as hard-core push ups, push-ups to planks and inch worms as well as, squat jumps, squat thrusts (these hurt like hell) and ferocious jump and kick lunges.
Upsides
Anyone can do this and the idea of three minute workouts mean you can't complain about having no time. Plus, put them together and you've got nearly 70 minutes of a full on fat-burning workout, which is quite good value as far as DVDs go. Richard is adorable.
Downsides
Annoyingly, you get a spiel at the beginning of each round when they're explaining the moves while standing still and in silence. This slowed the momentum and tempted me to want to turn it off especially in the later stages when it for extra challenging. I'd prefer if they explained the moves while keeping us moving.
Will it work?
Yes, if you build it up and keep challenging yourself to do more and more of it over time.  At the end, Crosby herself admits she got into shape by doing the workouts altogether, not just by doing a 3 minute workout now and then. If you only want to do the short workouts, you'd need to mix them up and do them daily. Even then, I think you'd need to build up to putting at least three of them together.
You'll like it if you…are a beginner and want to get properly fit or are intermediate wanting to learn a few new moves.
Healthista rating: 3.5/5
Charlotte Crosby's 3 Minute Belly Blitz is £11.70 from Amazon
Other fitness DVD reviews:
2014 Fitness DVD Best to Worst Charts
Like this article? Sign up to our newsletter to get more articles like this delivered straight to your inbox.