We test the new BalletBeFit DVD, a workout that to help tone and stretch while teaching you the basics of ballet
I cringe at the memory of my secondary school dancing classes. Though my little sister was actually fantastic when she took her classes, I don't ballet. I prefer the rhythmical movements and freedom of merengue or salsa.
Created by Rachel Withers, a classical trained dancer and founder of Ballet Be Fit, a ballet inspired fitness class in London, Manchester, Leeds and more, the BalletBeFit DVD, all you need to do the workout is a chair.
I waited until all my flatmates were gone because there is no way I was going to do this with their curious eyes. The workout is roughly one hour and it is divided into five sections, with the options to chose which one you want to do. I did the entire workout and they work better that way because you get the full workout and a sense of fulfilment.
The sections are as follows:
Warm up: get those muscles warmed up
Barre work: This is where you use the chair and feel like an actual ballet dancer
Centre work: tummy and butt burning moves
Floor work: Butterfly hold will take you back to secondary school gym classes
Cool down: stretches that feel awesome
From plies to arabesques, everything was explained. Although the sections were sped up at some points it was never so fast that it became intimidating. I felt ladylike and poised doing all the sections.
The background music at times was too high (and cheesy) and I couldn't hear well what the instructor was saying. There was also text descriptions at the beginning of each section but they went too fast so I had to pause the DVD to read it.
I liked that the instructor was doing the workout as well and I could hear her deep breathing as she explained the steps. There was something comforting about like, as though I was in the class. The girls in the background also seemed to not be in the same level with a few of the exercises, which gave it a human vibe. It's like they were telling me 'we are not ballet monsters, we are with you.'
During the exercises my arms were challenged and the moves were slow moving and quite deep. Though it got my heart moving, it wasn't a full-on sweaty workout. Ballet BeFit is a workout that's great for stretching while also getting a bit of toning and posture work in – brilliant as on your down days as a form of 'active recovery' that everyone's talking about right now.  If you' ve never danced before, this is a great way to learn the basic body vocabulary of ballet in your front room without feeling like an idiot in a class of experienced dancers.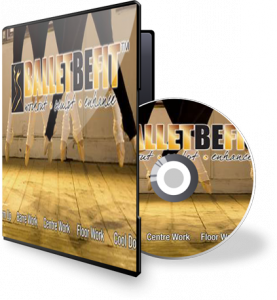 BalletBeFit £9.99
Like this article? Sign up to our newsletter to get more articles like this delivered straight to your inbox.