As new film Hitman's BodyGuard premieres, we spoke with security operative Polly Wilton about what she does in a day and asked the question we'd all love to know – how does a bodyguard keep fit? 
Yesterday, new film Hitman's Bodyguard smashed onto cinema screens everywhere. The film features a stellar (albeit very male) cast including Ryan Reynolds, Samuel L. Jackson and Gary Oldman and follows the story of the world's best bodyguard who gets a new client – a hit man who must testify at the International Court of Justice. We all love a good action-packed Hollywood blockbuster (especially when Reynolds is involved), but while actors enact car chases and shoot outs, real-life security operatives go about their daily lives. So who are they? And what do they get up? And because this is Healthista after all – what we really want to know is, how do these superhuman beings work out?!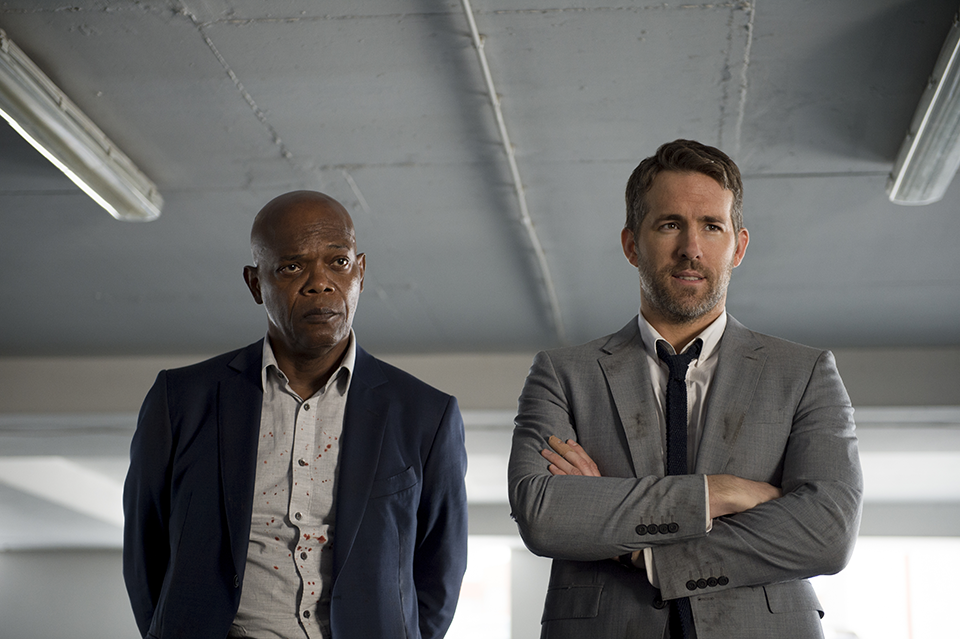 35-year-old Polly Wilton, a mother of one lives with her husband and her five year old daughter. When she's not spending time at home, she works for Intelligent Protection bodyguard service as a security operative. A living embodiment of Sandra Bullock in Miss Congeniality (in our hyper-imaginative minds) this amazing woman has looked after high profile individuals from the Middle East to the Bahamas. Healthista spoke to Wilton to find out what a real-life female bodyguard does in a day and exactly what it takes for her to keep in shape.
Q. How did you become an operative?
I first became a close protection operator in 2008. I was serving in the British Army, in the Royal Military Police and put my self forward to do the Royal Military Police, Close Protection Course. It's an eight week long arduous course open to both males and females. The course is very physically demanding, your fitness is continuously tested during the eight weeks, along with your weapon handling and driving skills, not to mention your ability to think in high-pressure environments. The course isn't to be taken lightly and many fail upon the first attempt.
Sometimes [as a woman] you do feel like you have to prove yourself
Q. What does a typical working day look like to you? 
Each close protection deployment is different, with each task changing job to job.  You can be on tasks where you are working flat out each day, taking the principal [the person you're tasked with protecting] to many different locations and meetings. Other jobs can be very quiet and you may not leave the principals residence/hotel for a couple of days at a time. It's much better to be busy as it makes the time go quicker but on the plus side of not being busy, it means there is always plenty of time for a workout!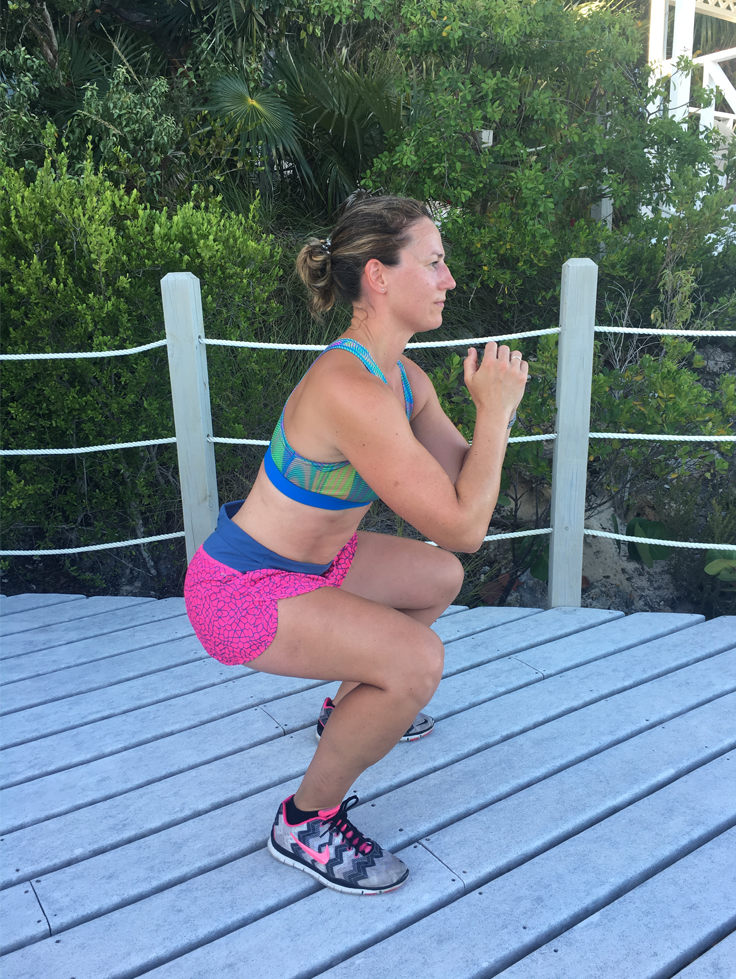 Q. Are you able to tell us who you've worked with?
After I completed my military close protection course my first deployment was to Baghdad, Iraq.  I deployed in a team of six (I was the only female) and was protecting a three-star General.  He was the second highest ranking General in Iraq commanding the Joint Multinational Forces. Two weeks into this tour I was tasked with protecting Sir Richard Dannatt, he was head of the Army at this time so this was a massive responsibility.
My second Close Protection tour I did with the Army, I deployed to Kabul, Afghanistan.  Again, I was part of a six man team (the only female). We were protecting the NATO Ambassador for Afghanistan, he was the highest ranking NATO civilian in Afghanistan.
There aren't many female operators within the industry and well-trained female operators can become quite niche and sought after
Close Protection in 'civilian life' is very different to working in hostile environments.  Civilian jobs I have done have been mainly for High Net Worth Individuals and Company Executives.
Q. How is it being a woman in a job that we typically think of as being male dominated?
Sometimes you do feel like you have to prove yourself, as some male CPOs (Close Protection Operators) may not rate female CPOs. With any job though, it comes down to your experience, skills, attitude and for this role – your fitness. Fortunately, the training I received for this role within the military was second to none and so I am quietly confident in my ability as an operator. However, being a female in this industry can have its advantages. There aren't many female operators within the industry and well-trained female operators can become quite niche and sought after, some clients stipulate that they only want a female operator.
Q. What is the best thing about your job?
The best aspects of the job are the experiences that come with them. I've flown in private jets and helicopters in Afghanistan, seeing parts of the country that are never seen through the lens of the media and yet they could rival the Grand Canyon in scenery. I've recently completed a task doing protective surveillance for Intelligent Protection in the Bahamas and there I experienced things that I would never have had the opportunity to do without this job.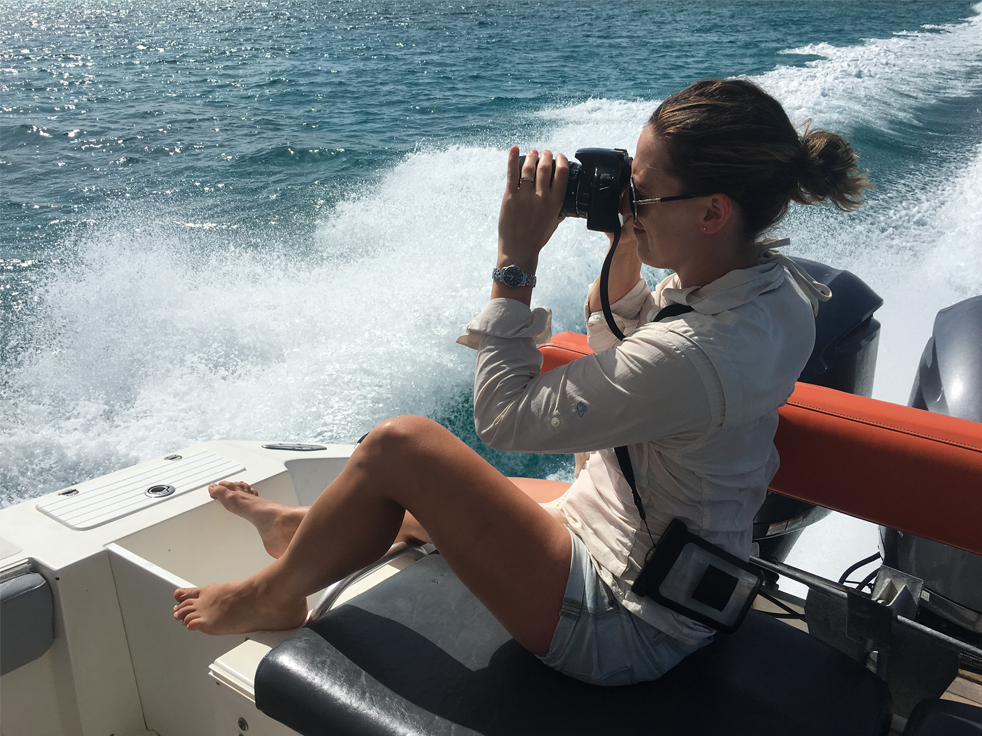 Q. And the worst thing? 
The worst aspects would be long hours that some of the jobs can have, you've been standing all day long and then the principal decides they want to go to a function that evening – being stood in a noisy party can be the last thing you feel like doing.
Q. Do you have to be in good shape for your job? 
This job very much requires you to be in shape, this was instilled in me in the Military – how can you carry someone else's body weight if you can't lift your own? If you need to move swiftly or react to something, how can you do that if your cardiovascular fitness is poor?  Of course, keeping yourself fit is also down to personal pride. Many people in the industry (both male and female) think the job is just about looking 'hard' in a suit and pair of sunglasses but there's no point looking the part if you can't react.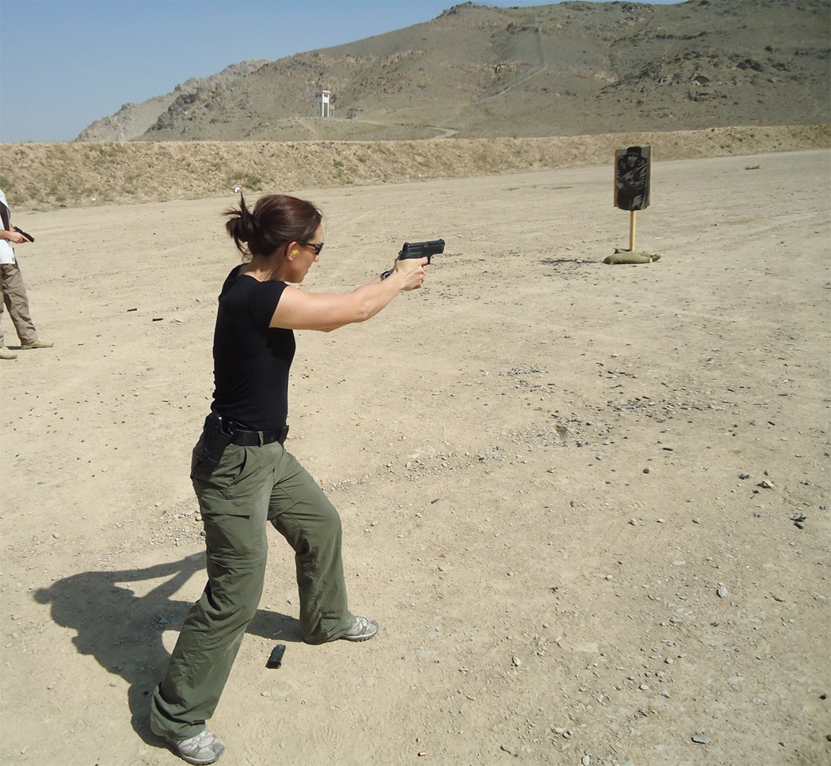 Q. So how do you like to stay fit?
I enjoy various types of exercise, from running, yoga, weight training, Pilates, skipping, cycling, hill walking and even paddle board yoga.
Q. Do you work out often? 
When I have time, I like to do some form of workout five days a week, even if it's a quick Tabata routine in the morning or a 20-minute skipping session, I have to do something, I'm one of those people who gets agitated if they don't exercise. If I don't have the time to exercise every day I need to do at least do 2 quality sessions a week, you have to stay on top of your fitness.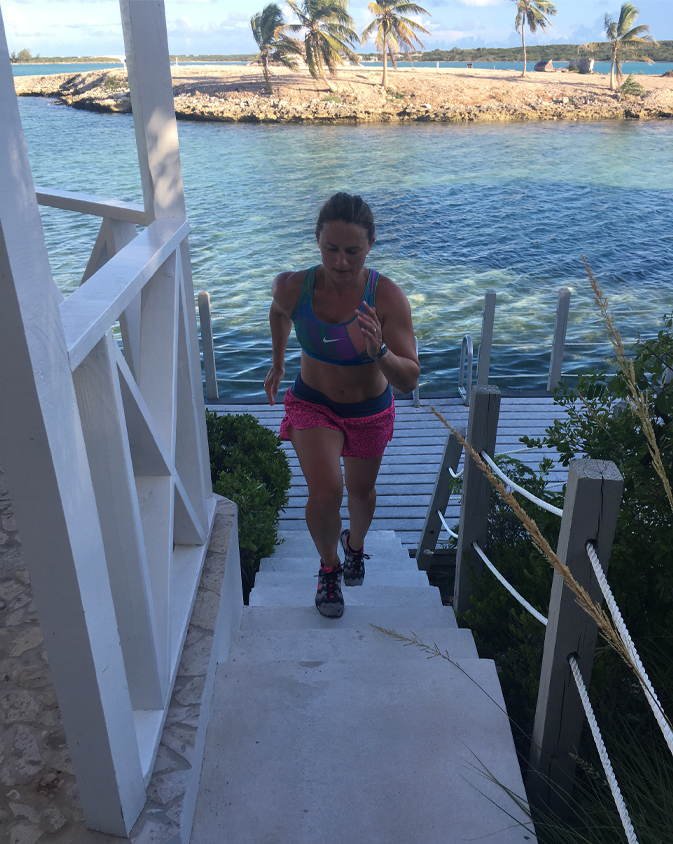 Q. What is your workout routine?
I try to do something different every day but I always try and start the day with some High Intensity Interval Training (HIIT) training before breakfast. This normally involves a series of body weight exercises. On Monday I normally do a yoga class and Tuesday is normally a run. For my weekly run, I like to do at least 10k, I need to feel like it's been beneficial. I live near the South West Coast Path so if I have a couple of hours that's my choice route, it is so challenging. If I'm limited on time I'll choose hills reps, it's hard work but it does the job.
Then on a Wednesday, I have an hour and a half weight session. Thursday I'll do a home workout of body weight exercises and on Friday I go swimming. Breaststroke is my strongest stroke and so I tend to stick with that for most of my session.  I like to get at least 45 minutes of continuous swimming done and then I'll finish with up to 10 minutes of treading water. On the weekends I'll try and orientate a family friendly exercise activity like cycling, kayaking or even a long walk.
The one type of body weight exercise that I really don't like is plyometric exercises (squat jumps, and burpees)… I have to force myself to do them
Q. We're dying to know more about this home work out? 
When it comes to body weight exercises, I always try to incorporate each of the large muscle groups into the workout, ie. upper body, lower body, core and not forgetting to include cardio too. Being ex-military, a workout is never complete for me without having done press ups – elbows tucked into the side. I love all variations of the plank and will always try to incorporate at least 3 different ones – my favourite at the moment is the reverse plank. For lower body, I normally do single leg deadlifts and pistol squats, these exercises really helped with any muscle imbalances I had when I was training for the London Marathon so I've kept them up. The one type of body weight exercise that I really don't like is plyometric exercises (squat jumps, and burpees). They can really burn and so I have to force myself to do them – BUT no pain no gain.
MORE: Try Healthista's 30 day plank challenge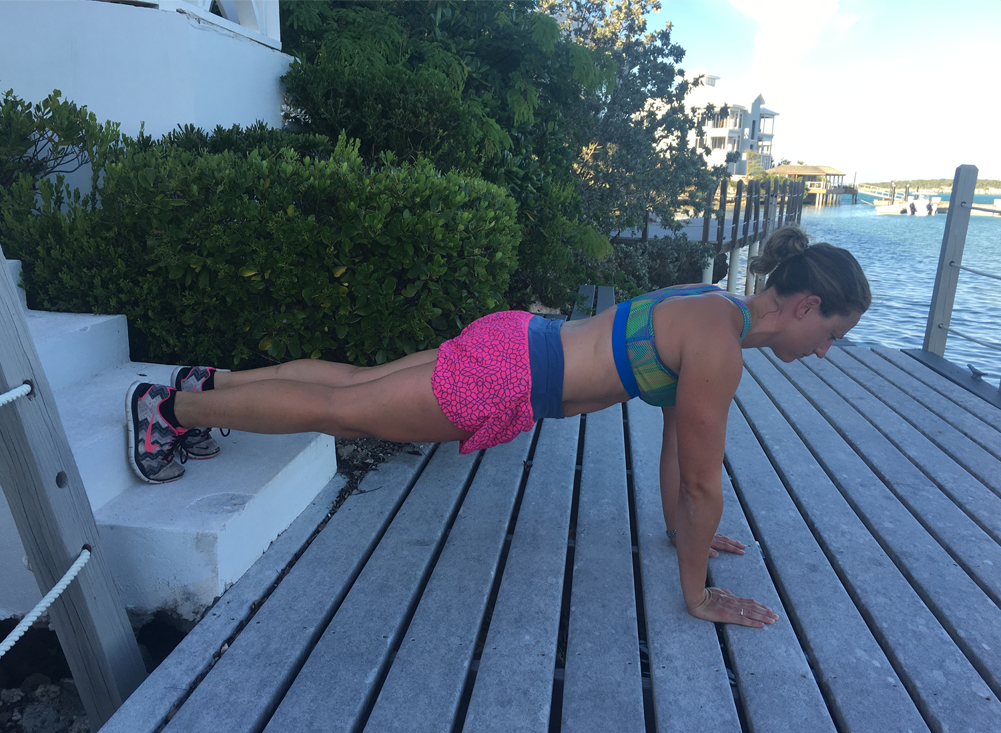 Q. What ratio cardio: weights do you prefer?
I go through phases of liking one more than the other, sometimes its 70% weights/30% cardio or vice vers, one always seems to be more in favour than the other for periods at a time, I don't seem to go through an even 50/50 split!  I ran the 2017 London Marathon and obviously running took precedence over anything else.  I enjoyed the training and it made me really appreciate the benefits and thrill of running again.
I take pride in my salads. I add everything to them from celery to berries and nuts or olives – the more varied the better.
Q. What is your philosophy when it comes to fitness?
I'm a qualified fitness instructor and personal trainer so I have learned all about different types of training but for me personally, it all comes down to doing what I enjoy doing.  As long as I'm keeping my fitness levels at a high standard and maintaining a healthy weight, I'll keep doing the exercises I love. If you're not enjoying it you're not going to do it day in and day out. Exercise for me is part of living, luckily I don't need to force myself to do it, I just get it done. However, if I am aiming to reach a specific goal then I will follow a specific fitness programme, for example when I trained for the marathon.
Q. What does your diet typically look like?
I'm lucky because I love eating all things healthy. I try to eat a lot of fruit and veg, especially green veg, my favourite meat is chicken and I eat a lot of fish too, mainly salmon.  A typical breakfast is two boiled eggs and a slice of toast with peanut butter (Whole Earth Organic Crunchy Peanut Butter is my fave!). Lunch is normally whole grain crackers with a tuna topping or avocado and tomato. Dinner is almost always a very colourful salad and salmon. I take pride in my salads. I add everything to them from celery to berries and nuts or olives – the more varied the better. I don't really have desserts but if I'm craving something sweet after dinner, a couple of squares of dark chocolate satisfies those cravings. I have a two-litre jug at home that I fill up in the morning with water, it's a good way to keep track of what I drink. I love my coffee and allow myself 2 a day, I am a bit of a snacker but try and stick to nuts, fruit and veg.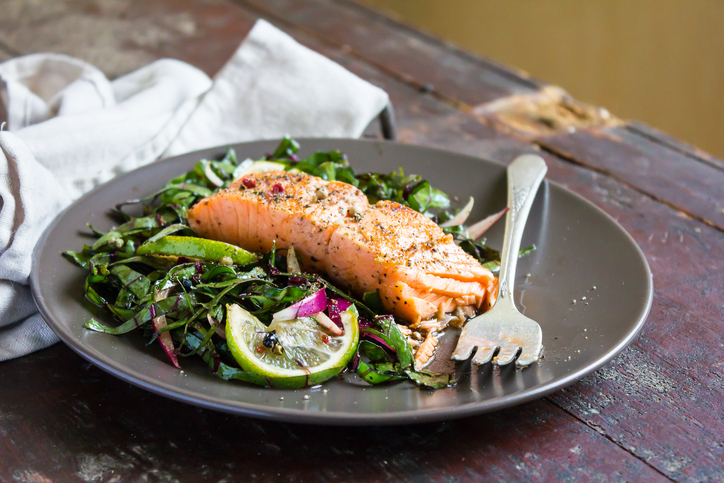 When I'm at home it's easy to watch what I eat as I do all the food shopping but when I'm working it's not always that straightforward. I'll always try and find the healthiest sandwich and snacks when I'm on the move, or scour the menu for the healthiest option. Sometimes you might not get the chance to eat, so wherever I go, I always pack a few of my favourite snack bars for emergencies.
Q. What food is your guilty pleasure?
I love Chicken Fajitas and I cook them every Friday for my family – Fajita Friday! However, I'll try and make them as healthy as I can. For example, I only use Extra Virgin Olive Oil or Coconut oil (red onions cooking in coconut oil is the best smell ever). I'll use a low-fat cheese and always use whole grain wraps.  My absolute vice though is mint chocolate. I can never have too much of it in the house or it disappears. Green & Blacks mint dark chocolate is my go-to brand, I normally reserve that for a Friday or Saturday night with a glass of red wine.
To find out more about Intelligent Protection International visit their website here. 
Read more
How to get fit – celebrity trainer to Zoe Saldana reveals his 7 steps
30-minute fat-burning workout for abs – new Sweaty 30 series
Weightlifting for women – the finisher workout
Celebrity trainer secrets: PT to Game of Thrones star Emilia Clarke reveals diet and workout secrets
Like this article? Sign up to our newsletter to get more articles like this delivered straight to your inbox.