Feeling overwhelmed by stress? Take a moment to breathe and relax with mindfulness guru Maude Hirst's one-minute abdominal breathing for stress
Stress is the negative response our brain triggers when we're put in an uncomfortable situation (e.g. feeling pressured or threatened); that adrenalin rush as our body begins to release hormones to help us deal with stress.
This manic fury of hormone released include adrenaline, cortisol and norepinephrine, which cause our blood pressure to rise and our breathing and heart rate to increase at a rapid rate.
If you get stressed regularly, you're not alone, 74 per cent of Brits have felt so stressed at some point over the last year they've felt overwhelmed or unable to cope.
What's even more shocking is that one in three people have experienced feeling suicidal and one in six have resorted to self-harming because of stress.
When the feeling of stress takes over it can be crippling.  But this is where abdominal breathing steps in, giving your body and mind space to relax quickly. It's basically deep breathing, finding your centre and restoring your trust in yourself.
Recent research has shown deep breathing can significantly lower your cortisol (stress hormone) levels, improve your attention and focus and enhance feel good emotions.
It is also beneficial as it allows more oxygen to enter your system as you take those deep breaths, which then lowers your blood pressure, helping you feel more relaxed quickly.
Here's how to do Maude Hirst''s abdominal breathing:
First things first, get yourself into a lying down position.
Bring your right hand above your navel and your left hand to your chest
Close your eyes – the aim is to get the breathe all the way down to your abdomen
Your right hand will start to rise on your inhales and then push in on your exhales
Now keeping your breathe still, visualise your breathe moving all the way down to fill up your belly
And then when exhaling, your right hand moves in and your left hand stays still for the whole practise.
Repeat this process for 10 minutes.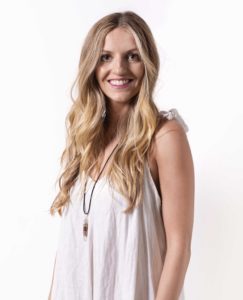 Maude Hirst is a born and bred East Londoner, best known for her role as Helga in the hit TV show 'Vikings. She is an actor turned mindfulness teacher on a mission to create a bespoke path into mindfulness for you. Discovering yoga and meditation has totally changed her life for the better and she believes it can do the same for you.
Maude is trained in yoga, meditation, intuitive movement meditation, Theta Healing and Reiki and has created her company EnergyRise to bring you an array of mindfulness practices in order to cater to your individual needs.
At a time where there is more stress and anxiety in the world than ever before, Maude believes mindfulness is the key to bringing some calm and clarity to your life through simple practices. Empowering you to listen to what truly makes you happy and who you truly are.
More relaxation techniques from Maude Hirst:
Low on energy? This Instagram yogi's 1-minute mindfulness trick will help
How to destress – the breathing technique this Instagram yoga star wants you to know
Reduce anxiety with this quick breathing technique
You might also like:
Got stress? These 3 mindsets are fuelling your anxiety
13 instant stress fixes you can do at your desk
Yoga for anxiety – a 20 minute routine from super-yogi Hannah Barrett
8 ways walking can help depression and anxiety – the psychotherapist's guide
Like this article? Sign up to our newsletter to get more articles like this delivered straight to your inbox.