Want an instant fix to stress?  From making a green tea to simple stretches, our picks will calm you down and wake you up – they're the ones we actually use daily
Do you find yourself snapping at a colleague because you haven't had a good night's sleep? Or relying on pain killers because your tense shoulders have caused yet another headache?
Nowadays, we are surrounded by stress, and our lifestyles may not be helping.  We may grab quick and unhealthy lunches, avoid exercise, sleep less and party more, causing us to be deficient in key vitamins and minerals we need to handle rising levels of stress.
In fact, pressures at work and at home are leading to female employees feeling more stressed than their male colleagues and 79 per cent said they felt stressed both at home and at work, compared with 66 per cent of men, according to workplace health benefits provider Cigna.
Wouldn't life be so much easier if you could just erase your stress? You could get so much more done and enjoy the good parts of your life if you weren't kept up at night with worries about the following day.
What would really help is a month away in the Caribbean, right?  But sadly for most of us, the luxury of time is something we don't have.
That's why Healthista have put together a list of 13 ways you can instantly de-stress at your desk based on the things our stressed out team does everyday to calm down quickly. You're welcome.
#1 Have a green tea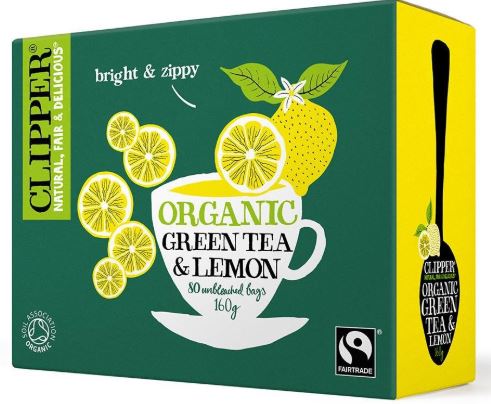 First things first. If you are feeling on edge the first thing you need to do is boil the kettle and make yourself a green tea.
L-theanine is an amino acid found in green tea and matcha green teas. In 100 grams of matcha, there are 2.41 milligrams of L-Theanine – five times more than typical black teas.
It's believed to enhance sleep and reduce anxiety and stress. That's because L-Theanine helps increase alpha waves in the brain (these are brainwaves that promote relaxation), causing feelings of relaxation, maintaining mental alertness and improving the quality of your sleep, without causing daytime drowsiness.
Try Clipper Green Tea with Lemon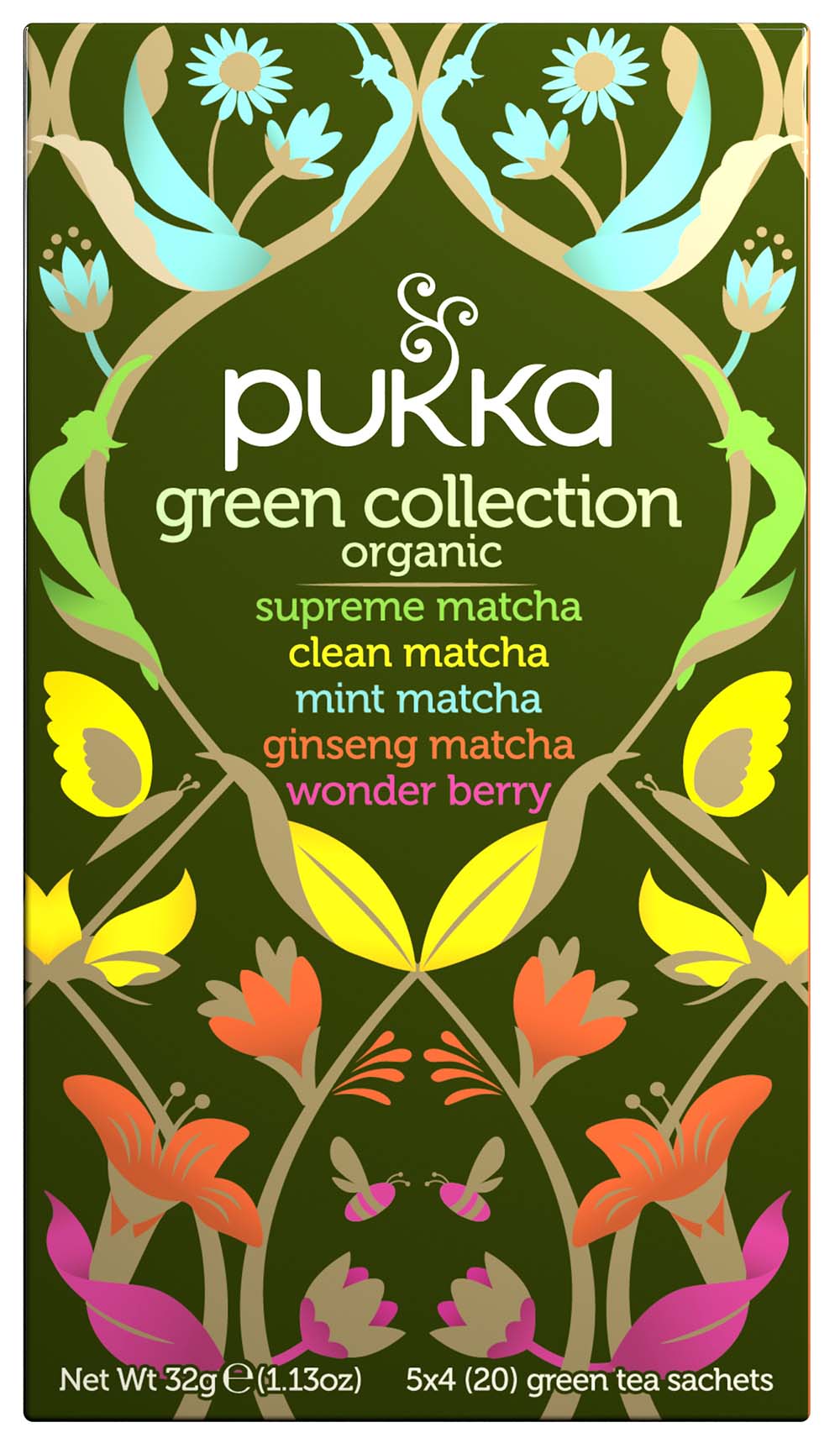 We love Clipper tea here at Healthista. Our favourite is the Green Tea with Lemon. If you are worried about the caffeine, Clipper also sell a decaf green tea.
Available to buy on Amazon in the US and in the UK.
Try also Pukka Green Tea
This box of green tea contains all of Pukka's best seller green teas, from clean matcha to mint matcha green (my personal FAVE).
Although these green teas are caffeinated, they contain far lower levels of caffeine than other teas.
So if you want a quick fix to feeling serene and focused, ditch that coffee and opt for green tea.
Available to buy on Amazon in the US and in the UK.
#2 Massage your tension away
Available to buy on Amazon in the US and in the UK.
Before you scream at the price tag, let me explain why this genius invention is totally worth the investment.
Most times stress comes from tension in the body. Tense shoulders, a tense neck, headaches – this can cause a serious increase in stress levels. The Theragun is a revolutionary deep muscle treatment that uses rapid, repetitive strokes to stimulate blood flow and heat to the muscle area. And it is amazing.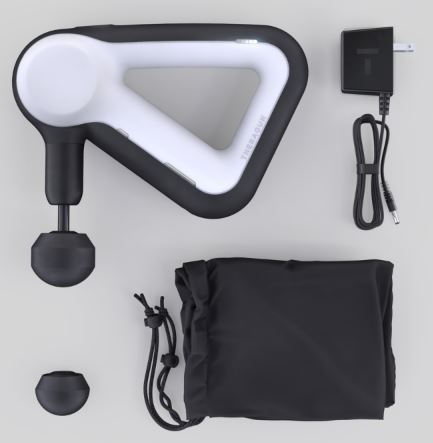 Not only does it help to relieve tense muscles, it also helps muscles recover after exercise and can even naturally relieve pain by increasing blood flow to the area which promotes your body's natural ability to heal itself.
So you can say goodbye to that box of aspirin in your office drawer.
The Theragun has been clinically tested to fight pain and tension to help you heal FAST.
The treatment is backed by over a decade of research and development, and is trusted by over 250 professional sports teams and physical therapsists.
So you can bet your bottom dollar this product is the real deal. Plus it will make you seriously popular in the office, everyone always hangs around the Healthista area to use the Theragun.  Just be aware, this is a seriously firm and therapeutic level massage!
#3 Take that lunch break – that's an order!
OK so this one isn't for your desk but instead telling you to step away from your desk…
I get it. We ALL have stuff to do and sometimes it can seem hard to justify taking a lunch break when you feel so up against it all. However, evidence suggests that we are more productive when we do.
Give yourself full permission to have a lunch break. Whether a quick walk around the block, a chat with someone you like or some time to zone out on your phone or with a book, make sure you get some downtime or you'll turn into a ball of stress.
If you do opt to go for a walk, exercise isn't only beneficial to our physical health but our psychological health too. Moving around more will increase our happiness, motivation and our ability to stay focused on the task at hand.
Exercise can also help us deal with stressful situations calmly and rationally and help with our confidence when handling personal problems.
We're lucky because Healthista HQ is just by the beautiful canal in London's Little Venice so our team can often be seen taking their hour's walk amongst the luscious greenery – see, we actually do this stuff.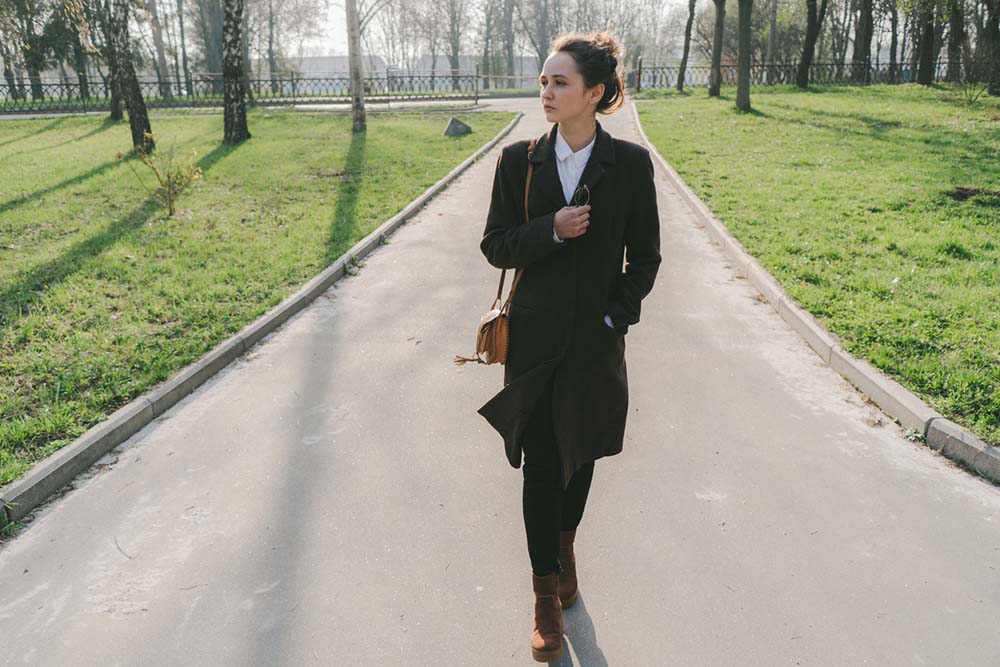 #4 Invest in some CBD oil
12 million adults in the UK see their GP with mental health problems each year, research from the The Mental Health Foundation has found. Most of these suffer from anxiety and depression and much of this is stress-related. A shocking 13.3 million working days are lost per year due to stress alone.
CBD is believed to enhance the effects of your natural brain chemicals and receptors within the body's own endocannabinoid system (a collection of cell receptors related to mood).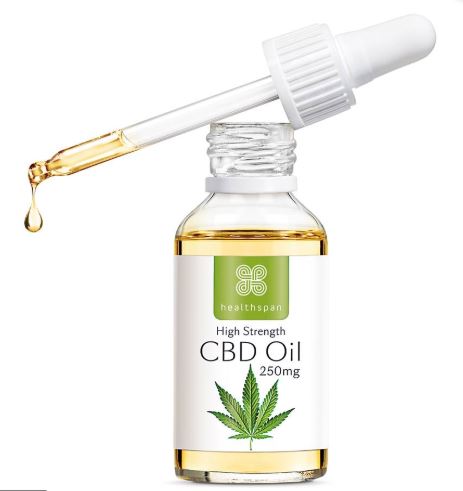 CBD oil helps to lift mood and promote general feelings of well-being. Of course CBD oil is by no means a cure for any form of stress, anxiety or depression, but it can assist with symptoms and improve mood and wellbeing.
Healthspan's CBD oil is vegan friendly, batch-tested for purity, and it contains a hint of peppermint. Simply drop under the tongue for rapid absorption and be ready to chill out.
Easy-to-use, vegan friendly and from a brand we really trust.
#5 Breathe in the good stuff
thisworks stress check breathe in
Available to buy on Amazon in the US and in the UK.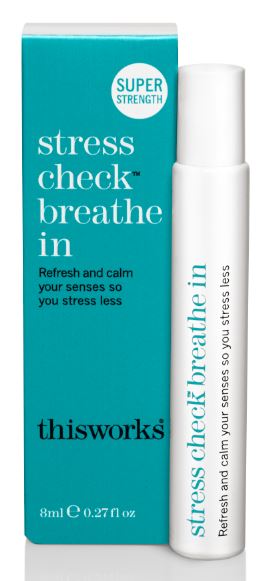 This product will take away your worries with its smell alone. From the moment you breathe in that beautiful lavender oil you can feel yourself start to relax.
With a super concentrated 100 per cent natural blend of pure essential oils including eucalyptus, frankincense and lavender oil it's the perfect companion to guide you through life's daily stresses.
This stress-check breathe in helps to calm the mind and reduce tension. It is small and compact and perfect to carry with you or keep on your desk (like I do), anytime you are feeling up against it, roll it onto your wrists and breathe it in.
Scentered De-stress Aromatherapy Balm
Available to buy on Amazon in the US and in the UK.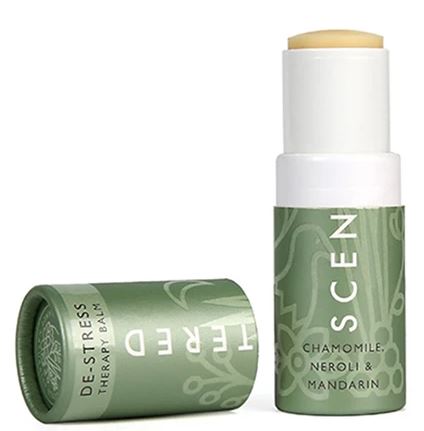 At Healthista HQ we can vouch that this balm WORKS. In fact I carry mine everywhere. It can easily be carried around as it's light and doesn't take up too much space in your bag.
You can apply the balm to your wrists or temples throughout the day whenever you need to de-stress or calm down.
It is also 100 per cent natural, and is an essential oil based aromatherapy balm that is mess-free (as it is a balm not a liquid) so won't leak or spill in your bag.
The de-stress balm contains chamomile, neroli and mandarin.
Follow the Scentered Wellbeing Ritual for best results:
Stop – Apply a balm directly to your wrist, neck and temples.
Inhale – Raise your wrists or candle to your nose and deeply inhale, visualizing the mind state you wish to achieve in this moment.
Reset – Exhale deeply as you step into the next moment of your daily journey.
Scentered also offer balms to help you sleep, improve your mood, focus, escape and love. 
#6 Enjoy some dark chocolate
Sometimes we simply want some dark chocolate and that is fair enough. Often when I feel exasperated I literally shout 'I just want some chocolate' – is it just me?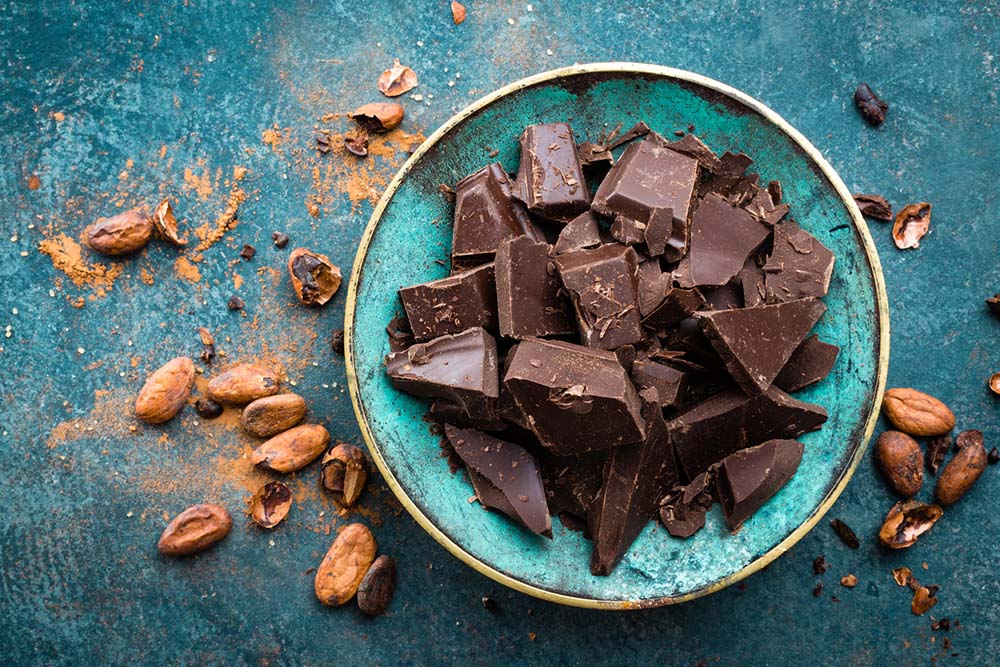 A study showed that 40 grams of dark chocolate per day helped people cope with stress. So if you have a habit of an afternoon 'sweet treat', allowing yourself to have some in the form of this healthier alternative.  Simply choose a good quality dark chocolate (with nuts is great for a bit of extra protein) and enjoy.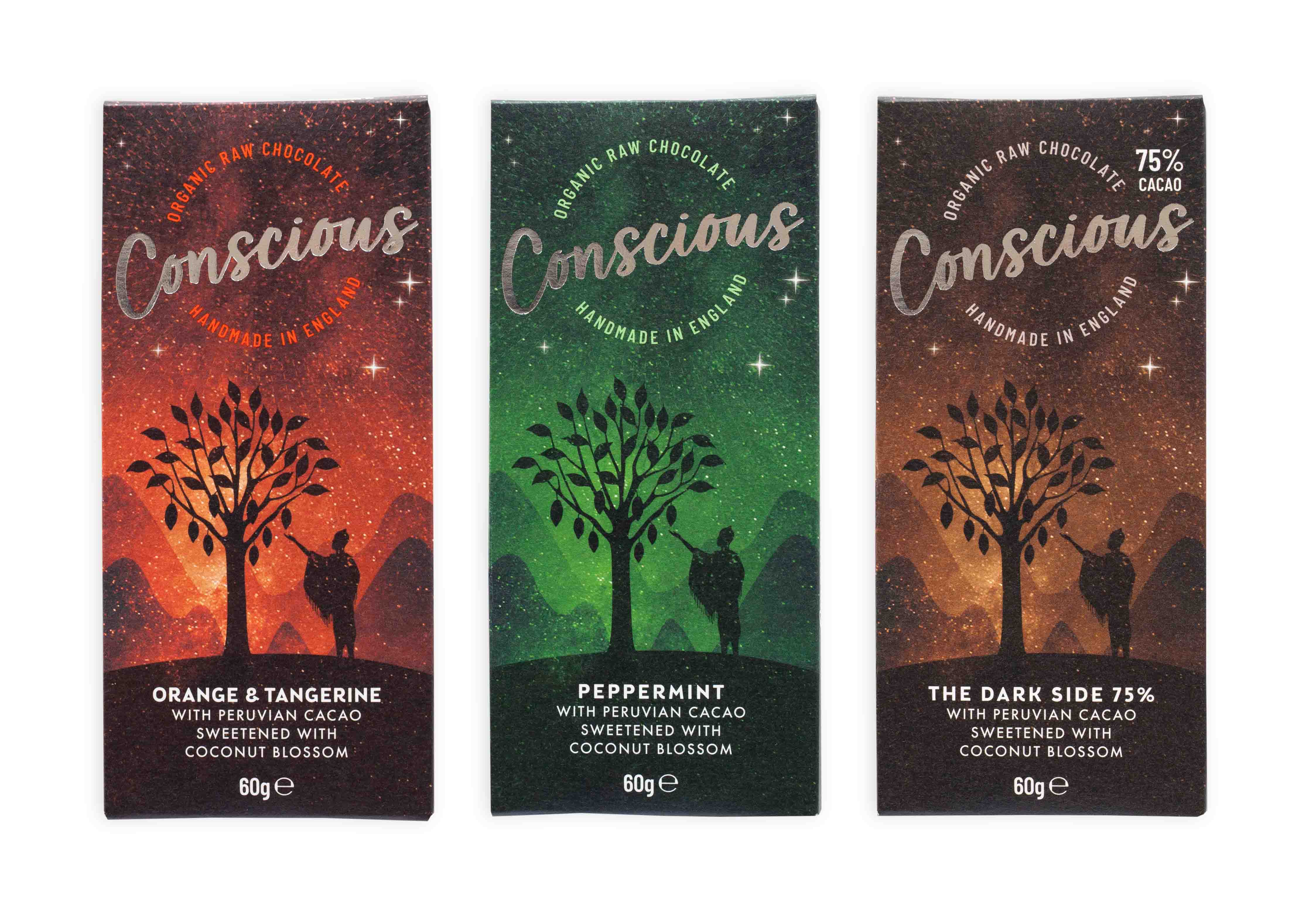 Even if it doesn't stop your stress surely it will still be worth a try? It's chocolate after all.
At the moment we are obsessed Conscious Chocolate Dark and Smooth Collection for a pack of four from Amazon – it's just incredible.
#7 Spray yourself calm
Bush Flower Essences, 20ml
Available to buy on Amazon in the US and in the UK.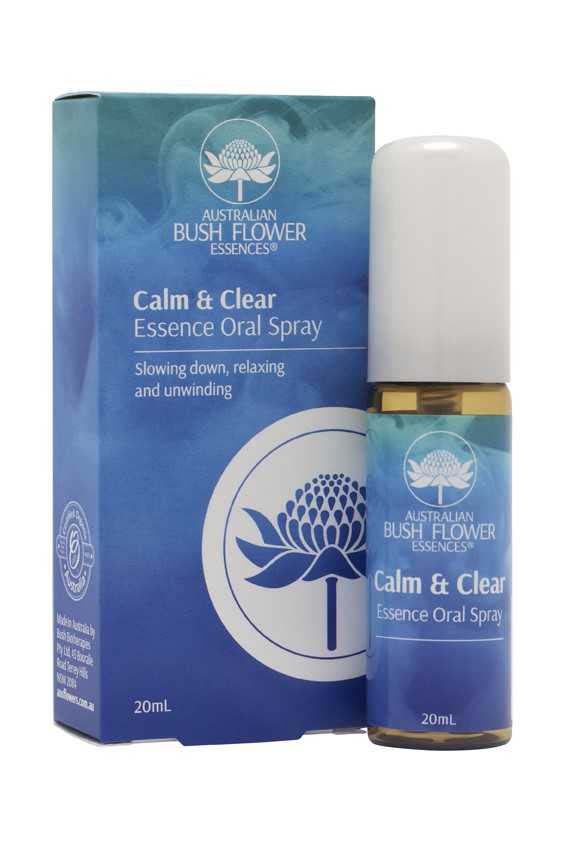 Do you often feel in a rush? Do you worry a lot? Are you irritable and impatient?
Australian Bush Flower's Calm and Clear Oral Spray promises to encourage relaxation, clarity, calmness and peace, doesn't that sounds wonderful?
All you have to do is pump two sprays on your tongue twice, anytime anywhere. It's small and light so can be carried everywhere or left on your desk.  We find it works and whether or not it's the placebo effect, we're convinced it works.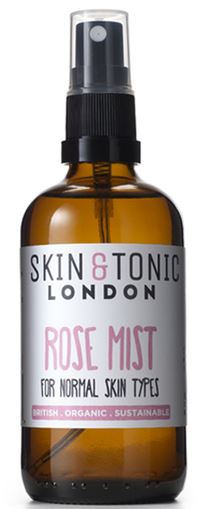 Sometimes you just need a face mist. It refreshes, hydrates and cools your skin.
Skin and Tonic's refreshing Rose Mist acts as a natural mood enhancer so it will not only will it perk your skin and face up but your mood too.  And the smell is divine.
Plus, heating or air-con can be bad news for your skin, and you don't need me to tell you that bad skin adds to stress levels.
We like to keep one permanently on our desks and an extra cool one in the fridge at all times.
The mist is 100 percent natural with just four ingredients and is vegan, gluten and dairy free.
#8 Pimp your water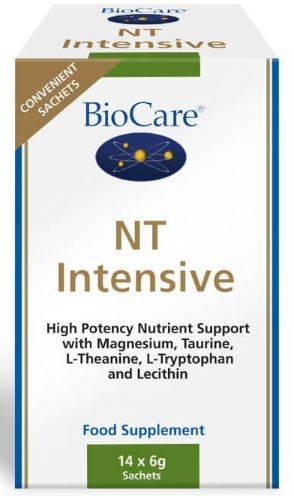 BioCare's NT Intensive
Available to buy on Amazon in the US and in the UK.
Lemon balm is a member of the mint family and is used in fragrances, cooking and herbal medicines. This herb has been used for centuries to help with stress, low mood and other related problems.
In one study, lemon balm extract showed significant reductions in anxiety symptoms, stress and insomnia within two weeks.
Lemon balm helps to reduce both stress and anxiety by increasing the feel good neurotransmitter used by the nervous system known as GABA (Gamma-Amino Butyric Acid).
BioCare's NT Intensive is a food supplement that contains lemon balm that can be easily added and absorbed in liquids, so perfect to mix in with your water (which you should be drinking two to three litres of as we are told by experts on the daily).
NT Intensive also contains L-theanine, which as mentioned previously, helps increase alpha waves in the brain (these are brainwaves that promote relaxation), causing feelings of relaxation, maintaining mental alertness and improving the quality of your sleep.

Signs that you may be low in magnesium include anxiety, low resilience to stress, poor sleep, fatigue, restless legs, eye twitches, PMS, muscular cramps and low mood. All of which can make stress ten times worse.
Much research has found that the mineral magnesium can significantly decrease cortisol levels, a steroid hormone responsible for the body's stress response.
That is why magnesium is proven to aid relaxation and contribute to a reduction in stress and fatigue.
Magnesium may be depleted in the body by a diet low in wholegrains, vegetables, nuts and seeds and a high intake of sugar and refined foods.
Try adding one of these effervescent tablets to some water. The vegan formula contains 200mg of magnesium per delicious, naturally flavoured orange drink and  is ideal for people who don't like swallowing tablets or capsules.
#9 Limit email checking
Do you check and respond to your emails as soon as you receive them? Turns out that although this may seem productive, it can have a negative impact psychologically.
Keeping your inbox closed more often may help to alleviate stress and increase happiness.  Checking your inbox periodically, will create that anxiety-bearing arousal that is so effective in motivating efficiency – when time is limited we work more efficiently.
You will then only respond to those that really require your attention and wont waste time on other emails that will offer no real value to your work but could still cause you stress.
When we hear that ding of our email alert it hits the pause button on the progress of the task we are working on. After reading the email, whether important or not, we use mental energy to redirect our attention back to what we were working on.
Treat 'email checking' like you would your three meals of the day. If you need to check your emails, set a time for you to check them and stick to that time, make sure it isn't during those times when you are tackling your most important work.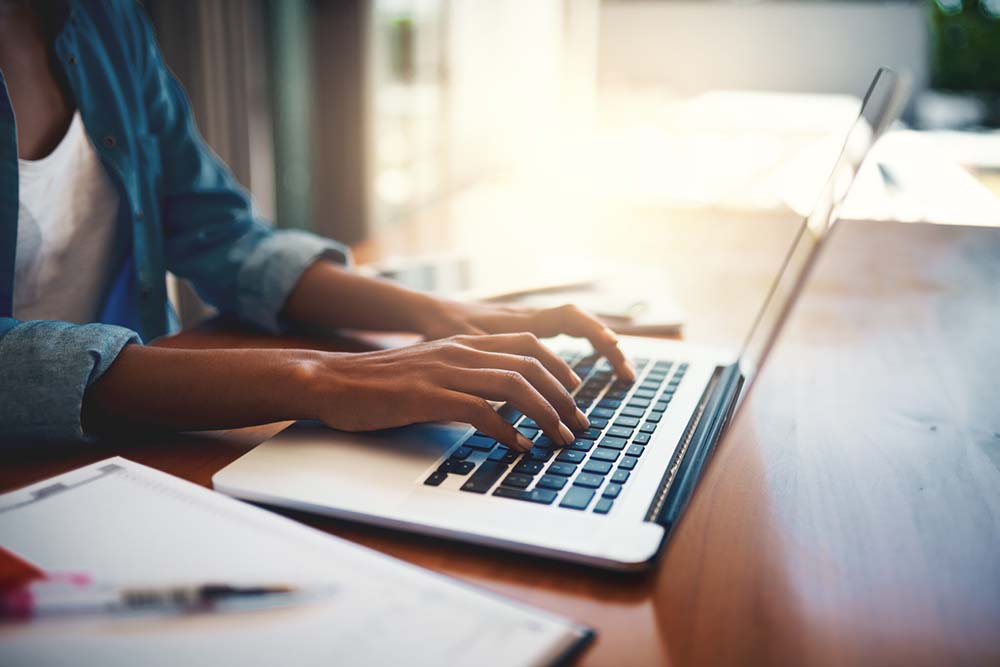 #10  Oils to the rescue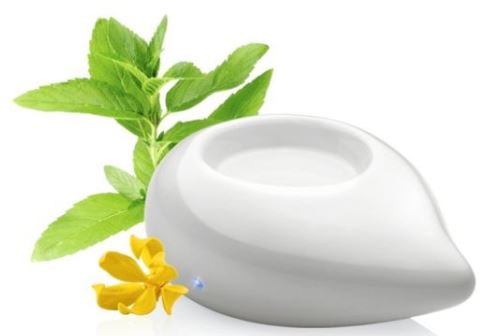 This gentle and subtle heat diffuser for essential oils is a clean, silent and effective way to help you de-stress.
People often light candles to create a zen atmosphere but in an office you can't go around lighting candles.
This diffuser means no candles or flames but you still get the calming aromas, it is ideal for daily use in your living and work spaces.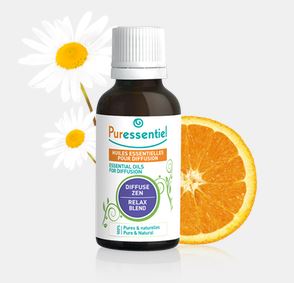 Made from insulated porcelain, you can place it on any surface because the heat is emitted from the top section only. All you have to do is turn the diffuser on and pour 20 to 25 drops of Puressential oil.
The timer will start and stop automatically in complete safety at the end of 58 min of diffusion. To restart the timer, please switch on the device by pressing the switch again.
Every time I turn this on in the office, my colleague next to me says it makes her happy and it sure makes me happy too.
#11 Snack on nuts aka magnesium
Much research has found that the mineral magnesium has significantly decreased cortisol levels. Cortisol is a steroid hormone responsible for the body's stress response.
Magnesium levels can be increased by eating magnesium rich foods such as leafy greens, nuts and seeds. The well-researched mineral, magnesium is known to help in reducing prolonged stress and improving sleep patterns.
Stress can deplete the body of magnesium. This mineral is associated with many chemical reactions in the body and is required for muscle relaxation and energy metabolism (converting food into energy).
Supplements have been shown to help reduce irritability, depression, anxiety, bloating and tiredness and may help to reduce painful periods associated with PMS and it may also help with sleep and constipation.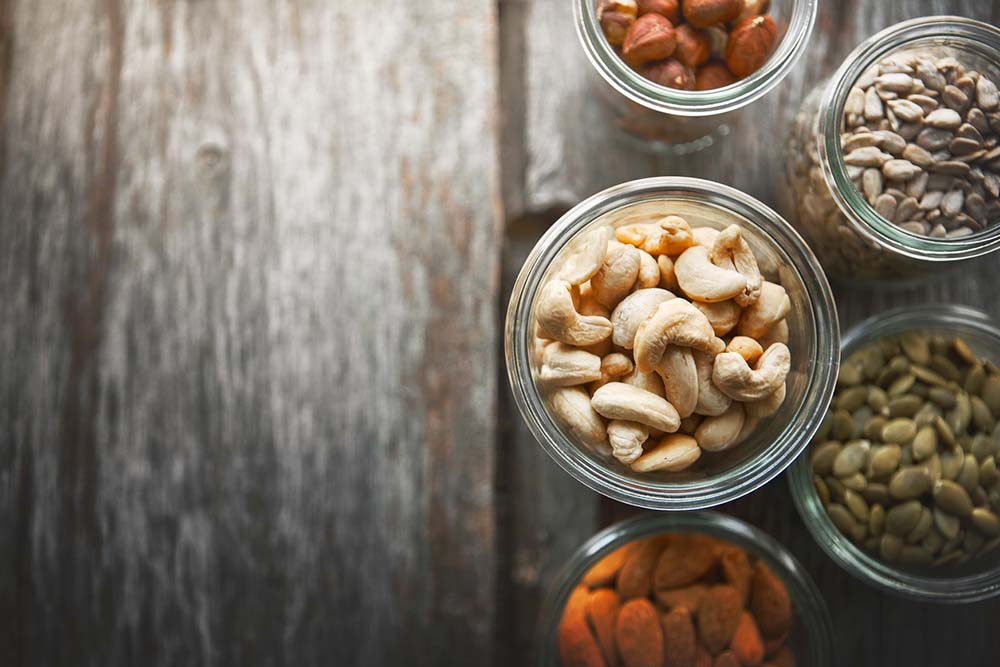 #12 Take 15 minutes of me time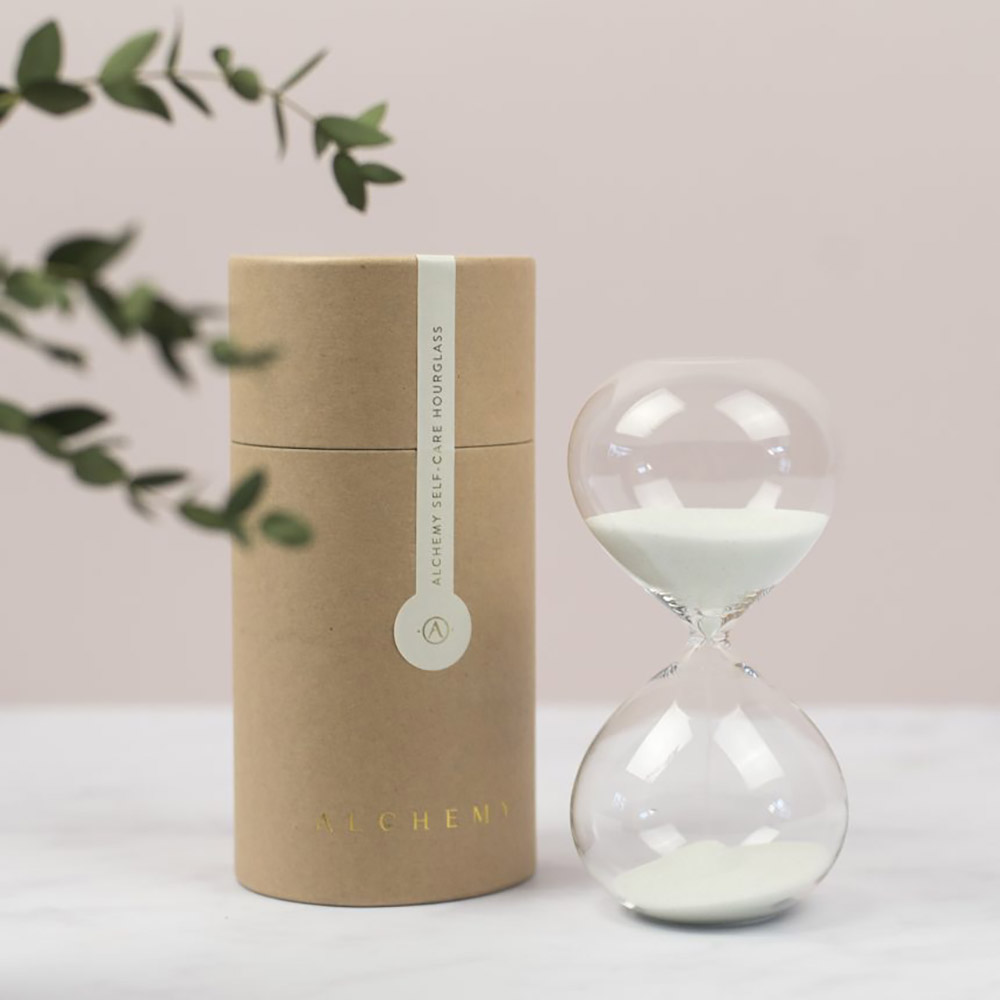 If you are REALLY stressed and beyond help, take a 15 minute break with no distractions (and that includes digital devices).
But how do you know if it's been 15 minutes? Enter the self-care hourglass that will show you when your precious 15 minutes are up.
It's amazing what 15 minutes of me-time, alone with your thoughts and feelings can do for you.
Take yourself off to a quite room or remain at your desk, focus on your breathing for the whole 15 minutes and try to remove yourself from your stress.
'It's not the load that breaks you down, it's the way you carry it' – Lou Holtz. 
#13 Do some desk stretches
Sore necks, muscle degeneration, and foggy brains – sound familiar?
When you have a desk job it is especially important to do some stretching throughout the day in order to prevent bad posture.
Bad posture can lead to tension in the neck, back and shoulders and can even have a negative effect on your breathing.
Step away from the keyboard, take your eyes off the screen, and spend a few moments focusing on your body. A quick stretching break could be just what you need to feel reinvigorated. In fact, studies have shown that taking some mental breaks can actually help boost your productivity.
Here are four stretches to do at your desk right now:
Relevant Healthista Content:
Stressed or anxious? This ten-minute meditation will help
17 stress relieving foods you can eat at your desk
How to relieve stress – 3 things this TV doctor wants you to know
How to relieve stress with hand reflexology
Healthista Content You May Also Like:
How to calm down in 60 seconds
Tired all the time? You might have sleep apnoea – here's a doctor's guide on what to do
Like this article? Sign up to our newsletter to get more articles like this delivered straight to your inbox.