Our Healthista Eats blogger Charlotte Dormon has found the hottest raw food restaurants in London
When I went to LA and California about ten years ago, eating out raw was all the rage.  US Health magazines touted eating raw foods (sometimes called living foods) as the best thing to help you feel more energized, lose weight and get great skin, but I had never come across this sort of restaurant or food trend in London, so it totally opened up my mind to a new delicious way of eating well.
These raw restaurants I found in LA were breaking away from the norm and were more than just a place to eat. They introduced people to a new way of life and helped them understand the major benefits of eating for health, not just for flavor and taste.  And, from what I could gather, people who followed this raw food diet (famous raw foodies include Donna Karen, Demi Moore, Alicia Silverstone and Madonna) seemed to look good and perform well on it.  The vast majority of customers found at these places were all toned, skinny-jeaned women with sparking eyes and glowing make-up free skin.  Equally attractive men in loose-fitted vests stood (or should I say posed) at the cold-pressed juice bar showing off their tanned, yoga-toned bods – basically everyone looked superstar healthy, and a whole world apart from the 'larger than life' backsides I had seen lounging in the local diner ordering Coke, burger and fries.
The food served was surprisingly filling and tasted incredible.  All dishes were bursting with nutrition and goodness and packed full of organic vegetables, herbs, sprouted grains, pulses, nuts, seeds, nuts oils and many other wonderfully healthy ingredients.  I slurped on fresh fruit and nut milk smoothies, sipped on cold-extracted juices, crunched on vegan nut cheese and flax crackers, and tried the best salads and raw chocolate and pecan brownies on the planet. The creative and talented chefs loved working with food in this way and made their dishes on the basis that they were designed to heal, revitalise and nourish the body – rather than just cooking and seasoning the food to death……I mean literally to death.
What the hell is raw food?
The term raw food is food that has not been heated above 48 degrees centigrade (117 degrees Fahrenheit). This usually means uncooked foods, or more specifically, foods in their natural state.
The philosophy of the raw movement, is all about consuming a diet rich in unprocessed, fresh foods, none of which are heated over this temperature.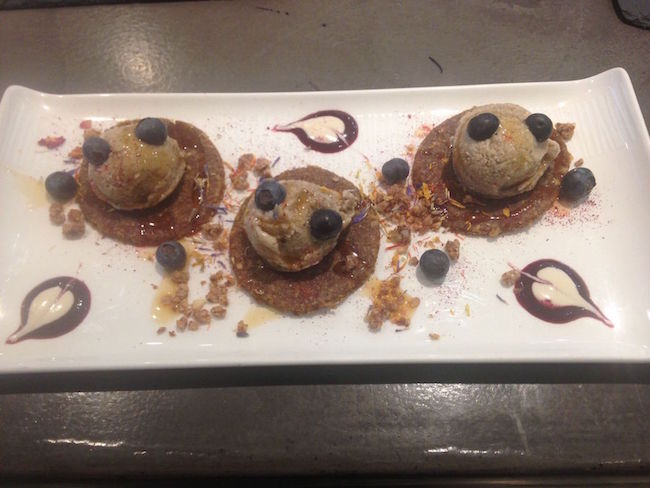 Raw food advocates hail this way of eating as being the best way to support your health and vitality.  They say cooking food above this temperature means the natural enzymes in the food begin to degrade loosing great part of their nutritional value. These enzymes play a number of vital roles, including supporting the digestive process, maintaining cell functioning and helping to transport nutrients around the body.
Therefore adding a greater percentage of raw foods into your diet can have amazing health benefits.  You don't have to say goodbye forever to hot dinners to get a raw health kick, but just choosing to eat more raw, live foods in your day, is an excellent way to ensure optimal health. For those who think meat, dairy, or grains are the only way to gain adequate nutrition, please note, raw food can be very nutritious. For example, the highest amount of calcium is not in dairy such as milk and cheese, but rather in sesame and poppy seeds.
Get ready to raw – We've found three of London's hippest new places to eat without heat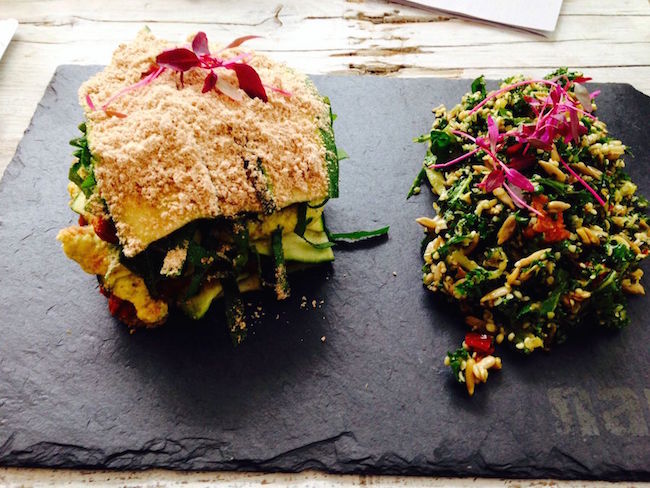 Nama foods is one of the coolest, healthy places to eat that I have come across.  Despite the restaurant having excellent eco credentials (all materials are eco friendly, and furniture is made from reclaimed natural sources from a company that trains unemployed people to make furniture and sell it for an income), it looks modern and stylish and unlike your typical vegan/raw food restaurant.
Nama has a cosmopolitan vibe, similar to a café or bar you might find in Madrid or Barcelona – with lots of white walls, glass, metal and wood. The music is good and atmosphere chilled.
As Nama is slap bang in trendy Notting Hill, whilst you feast you are surrounded by the cool, the arty, the fashionable, the famous and mega-wealthy clientele. The owners – Rich, a trained raw food chef and Irene, an ex-telecoms marketing manager who was influenced to take up raw cookery after she met a couple who followed this diet and looked totally incredible after it, have learned everything there is to know about RAW. They're extremely passionate about the health benefits and enjoyment you get from eating this way.  As they do this as part of their life, they have gone over and above to source the best quality ingredients, finding the best suppliers and produce from all over the world.
All the food is made onsite by their chefs and everything on the menu is organic, gluten-free, grain-free, vegan and lactose-free. They don't use any cane sugar in any of their puddings, chocolates or other raw sweet treats, using coconut sugar or maple syrup (which are both lower GI) when they need to sweeten.  The water provided has been through a high-tech filtration system that removes all the nasty chemicals and unwanted things that can lurk in our glass. They serve this in free big glass jugs with slices of cucumber, to further alkaline it. Irene and Rich have created a total masterpiece of a menu, serving raw breakfast, lunch and dinners everyday of the week. The presentation of food at Nama is  impressive and as good as any five star restaurant.  Everything served is done to give you that wow factor on arrival.
One of my favourite Nama eats has been the Cheeseboard, a selection of cashew and macadamia cheeses, sprouted crackers, caperberries, olives, balsamic figs, jam and chutney. This simple, yet beautiful dish is perfect for a starter, after a main, or as a light lunch so you can save room for lots of pudding. For me, having something like this available in a restaurant that is dairy and gluten-free is a real treat.
For mains, I loved the Kale Salad and Lasagne Verdure (pictured). The lasagne was made up of layers of pomodoro sauce, herbed nut, seed and yellow pepper cheese, pesto and marinated spinach between courgette 'pasta' strips. For paleo and grain-free eating, this will certainly satisfy your needs. The taste was outstanding and even if you did love the regular version, I could not see anyone not enjoying this. Again, for me, having a dish that is usually stuffed with gluten and rich in dairy is a no go, so this light and healthy version is more than perfect. The Kale salad is totally mega and included marinated kale (which is chopped into very tiny pieces), hemp seeds, sun-dried tomatoes, cucumber and pumpkin seed dressing. It is by far one of my most favourite salads I have enjoyed in any restaurant.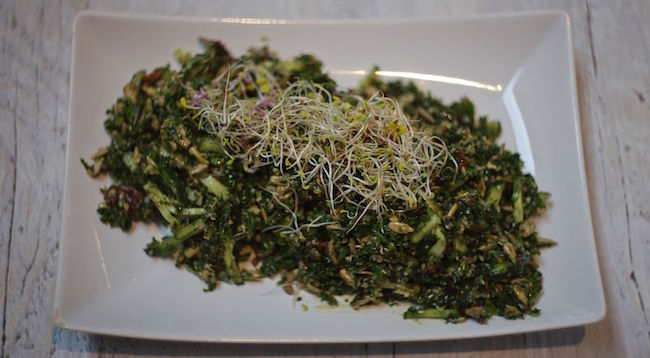 For a weekend treat breakfast I tried the Pancakes with Ice Cream, a walnut pancake topped with banana ice cream, maple syrup, coconut and almond crumble and blueberries. I personally would not have this for breakfast again, as I prefer something more savoury, but as a dish goes, I would have this for pudding as it is so yum.
If you have a sweet tooth, you will be spoilt for choice at Nama, as they love to make chocolates and RAW puddings. The fridge is full of raw versions of popular choccy treats, like Bounty bars and millionaire's shortbread, brownies and fudge. The bounty bar is not to be missed, if you love all things coconutty, then this one is for you. I had this after my lunch with an almond milk coffee. If you are too full to fit it in, all the puddings are available to take away. Nama has a lot of good things going on. Whether you are dairy, gluten, or grain free, or just want to taste the benefits of raw, then do make a date here.  They even serve organic Prosecco and white wine – who ever said healthy, had to mean boring?
Nama is at 110 Talbot Road, London W11 1JR.
Telephone: 020 7313 4638
Prices for starters range between £6 and £13, for mains between £11 and £13 and desserts are around £5.
2. Tanya's Café at My Hotel – Chelsea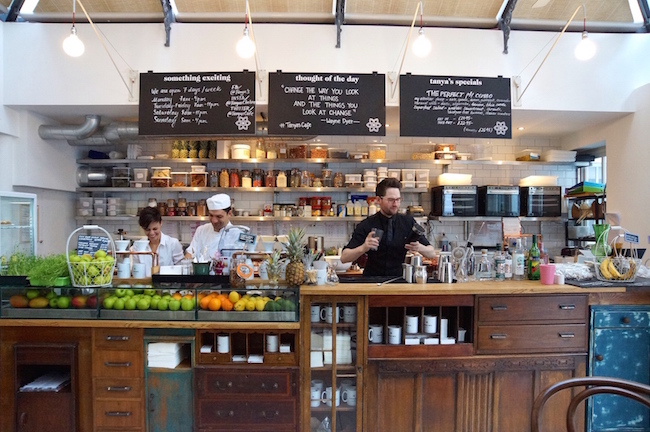 Tanya's in Chelsea is simply beautiful.  As well as looking good, this cute cafe was created by it's founder Tanya, a raw food enthusiast, who transformed her own health and wellbeing by eating raw, to help people find foods they could enjoy eating out, whilst also providing them with incredible health benefits.
Tanya started following the raw food diet to help her body recover after a horrific car accident, with much success and feeling better than ever before, she embarked on becoming a health coach and teaching other people how they can use raw to rebuild their own health. After many years of coaching and learning the art of making raw meals, she followed her passion and dream to open a café to serve her raw, vegan, gluten and sugar-free foods.
The café is located at My Hotel in Chelsea – just a short walk from London's fashionable Kings Road. Light, bright and very girly inside, Tanya's is a pretty perfect spot for meeting health-savvy friends for breakfast, lunch, dinner or tea. On arrival, I was immediately seduced when I saw her chocolate, raw cake and dessert selection. As well as me working out how I could fit them all in my tummy, the cakes were getting quite a lot of attention by other guests who stared wide-eyed whilst oohing and aahing over her impressive choice of healthy sugar and grain-free delights.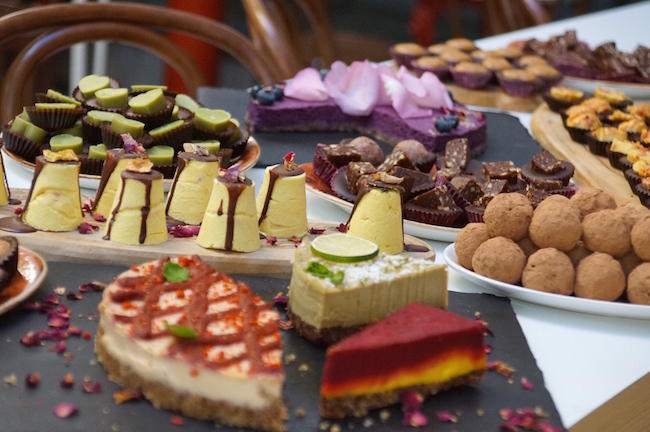 Last week, I thought I would bring a business contact I work with for a breakfast meeting.  Although he is generally a fan of all things healthy, he also loves regular old-fashioned British grub and a pint, and had never ventured out to dine at a raw restaurant before. I was slightly nervous to bring him here, as it could have been a disaster if I had we picked badly. He was intrigued to try it after he read Tanya's background and personal story and realised what role raw food could play for people following a specific health regime.
We began with a coffee. He had hemp milk and I had almond. The coffee arrived with its own filter and tasted really good with our dairy-free nut milks. The milks, we found out, are made on the premises and contain no nasty ingredients, or any added sugar – top marks! To get a fruit boost, we opted for a smoothie each. I had the My Glow – a blend of blueberry, raspberry and acai berry with a special superfood booster. My guest had a My Warrior – a mega energy-boost blend of almond milk, coconut, vanilla protein, maca, bee pollen, banana and pineapple. Both looked stunning as far as presentation goes, and tasted divine.  For our breakfast mains, I had the GRAWnola – crunchy clusters of seeds, nuts and coconut, served with homemade almond milk and fresh berries.  My guest had the Fruit Crepe – dehydrated flax banana crepe, fresh fruit, yoghurt and maple syrup.
Despite being full after our smoothies, we were both in love with our breakfasts and managed to finish every last mouthful. The crepe was just gorgeous. My guest, who was quite dubious about the whole raw thing overall, was smiling like a Cheshire cat. He thought the taste was great and the crepe and vegan yoghurt (made with cashews we found out) was as good and if not more satisfying than any regular wheat, gluten and dairy-laden one he had tried before. The GRAWnola was sweet, crunchy and much nicer than other gluten-free cereals I had tried before. If they sold this in bags, I would take it away to enjoy on a more regular basis.
I adored my breakfast and am really looking forward to visiting Tanya's again. Just like Nama, Tanya's gives the thumbs up to a little alcohol every once in a while. From 4pm, she serves super-food cocktails, blending fruits like the purest alcohol (organic vodka and tequila) and a big selection of organic wines.
This place will certainly be booked in my diary for quite a few dates during the next year.
Find Tanya's at 35 Ixworth Pl SW3 3QX.
Telephone: 020 7225 7538
Prices vary between £6 to £9 for breakfast and £9 to £15 for mains.
3. RAW at LA Suite West Hotel – Bayswater/Queensway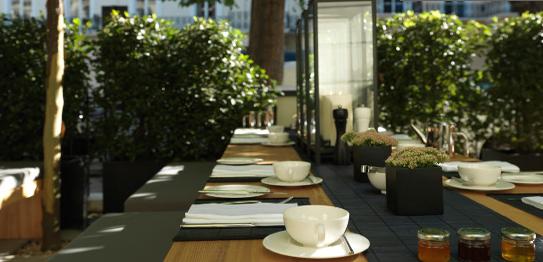 RAW, at LA Suite West is a rather sexy affair. Located in an Anouska Hempel designed hotel, this is a high-end dining experience. The head chef, Nick Heartland, has hired in a team trained in healthy cooking, to make a menu to satisfy their target market, but is styled to be more like a cool West-End Japanese restaurant, rather than your average run-of-the-mill untrendy vegan, raw restaurant. French grey walls, low lighting, smart mirrors, dark wood and Ibiza-style, chill-out tunes playing out, have made this restaurant a more suitable location to choose for a 'dressed-up' black dress and high-heels type of raw dinner date.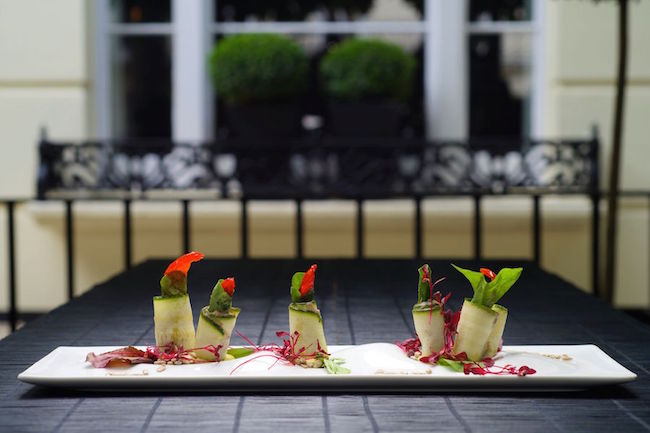 In spring and summer, you can lounge outside in the garden terrace, a gorgeous space, offering a totally different, lighter dining experience.  On my last visit I went with my mother to try the raw lunch followed by cakes and tea.  We tried the Vietnamese Gazpacho with chili and lime – a refreshing antioxidant-rich soup with a mild hit of spice to get your circulation moving. My favorite starter was the zucchini rolls (AKA courgette in English) filled with avocado paste and sunflower seeds – a  healthy and satisfying dose of good fats and omega-3 from the seeds and avocado.
We skipped mains, as we wanted to leave room to try cakes.  Good job we did. The Orange and Chocolate cheesecake was like a healthy version of a Terry's chocolate orange. I personally think this flavour combination is great together. We also enjoyed the Strawberry and Banana Mousse topped with crunchy walnuts.  Once again, a rather adorable sweet sensation that is worth the journey. Just like the other raw restaurants I have been enjoying out, the presentation of the food was exceptional.  The healthy nutritional ingredients that make the raw diet so popular are transformed into Michelin star looking dishes. I finally feel the days of dowdy vegan restaurants only serving sprouts, vegetables and tofu are certainly way behind us.
Find LA Suite West at La Suite West 41-51 Inverness Terrace, W2 3JN.
Telephone: 20 7313 8484
Prices range from £7 to £9 for starters and £11 to £13 for mains.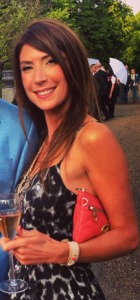 CHARLOTTE DORMON is our Healthista Eats blogger.  She's not a chef, or even that much of a cook.  If it's recipes you're looking for – you're in the wrong place.  But whether it's Sunday lunch or Friday night cocktails, she's the one friends and family turn to when they want to know how to eat out and be relatively healthy.  Each week she'll now be bringing you the same insider knowledge.  We'll drink – and eat – to that. Follow Charlotte on Twitter @lottielurvsu
Like this article? Sign up to our newsletter to get more articles like this delivered straight to your inbox.