Want the scoop on the best healthy restaurants and places to eat in London? Healthista Eats blogger Charlotte Dormon brings you the lowdown 
I absolutely love the pleasure in going out to eat, and don't really have a vague recollection of a time in my adult life when I haven't been totally fascinated by all things to do with food. I have always seemed to be the 'one in the know' on where to go – as enjoying really good food gives me such a buzz. Whether that be authentic South Indian curries, Japanese noodles, fabulous afternoon tea or a proper Sunday roast – I get a massive thrill in finding these amazing places to eat.
deprivation just isn't my thing
Luckily, I live in London (the food capital of the world, they now say) and pretty much all my work-related meetings; social life, weekends and lunchtimes revolve around eating out – which I am eternally grateful for. On the flip-side, I don't just eat anything. I like to be healthy, so eating 'clean' and good nutrition is important to me – but deprivation just isn't my thing. Like many people I know who love going out, but want stay slim and healthy, the thought of giving it all up for a daily diet of kale salad and chia seeds is not ideal so I am constantly on the hunt for tasty, exciting healthy food. For inspiration on healthy eating this week, here are some of my most recent favourites:
Hot & Spicy in Soho – authentic Vietnamese noodle soup lunch break at House of Ho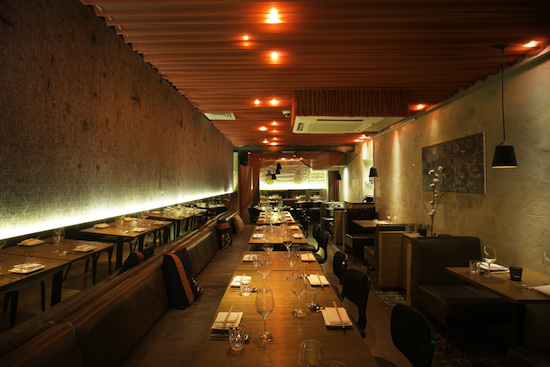 On a cold damp Monday lunchtime I escaped the office with my colleague Lottie in search of something hot and spicy to liven up our afternoon. I love Vietnamese food so was very excited to see celebrity chef Bobby Chin's restaurant House of Ho advertising an express lunch menu with a selection of Pho soups.
For those who don't know the Pho – it is a traditional Vietnamese noodle soup made from a delicious steaming homemade broth, special rice noodles topped with a choice of meat, fish or veg. It comes garnished with beansprouts, fresh mixed Asian herbs, chopped chillies and scallions. The soup is waistline friendly, yet filling and boosts immune health thanks to its nutritious broth and antioxidant-rich spices.
Pho is a traditional Vietnamese noodle soup made from a delicious steaming homemade broth,  rice noodles and meat, fish or veg – it's waistline-friendly
We only had a quick 45 minutes to spare for our lunch pit stop, but thanks to the service being so efficient, there were no problems. Everything is homemade from scratch and free from any nasty additives. We chose the beef and chicken Pho, which were both as good and tasty as we had hoped for. Vegan options are available and all Pho soups are suitable for gluten-free diets. If carbs are not your thing, just ask for the noodles to be left out.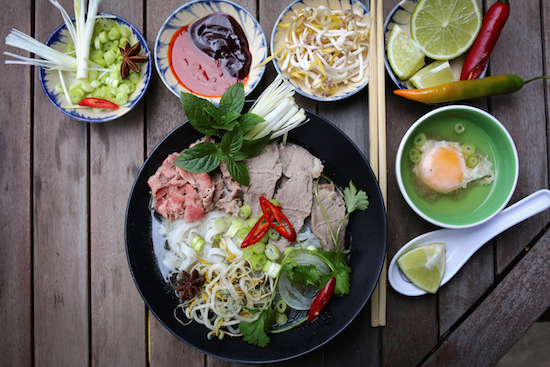 Find out more about House of Ho here.
Address: 57-59 Old Compton Street, Soho, London W1D 6HP
Telephone: 020 7287 0770
Organic and gluten-free in Borough – lunch with the nutritionist at Le Pain Quotidien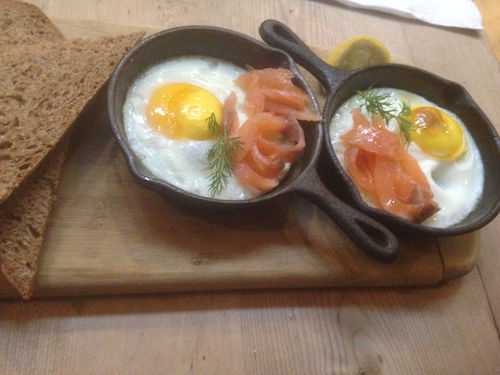 My friend Naomi is a beautiful and brilliant nutritionist who also loves cooking and making lots of amazing food. After working together for some time a number of years ago, we became great friends as we soon realised how many important interests we had in common, such as – an extensive knowledge of nutritional stuff, a wide selection of vitamin-enhanced herbal hangover cures, rock music, expensive dark chocolate and ridiculously high heels.
Before boyfriends became serious, we used to live together with Naomi very kindly cooking lots of healthy dinners for me. In fact, going back ten years ago now, it seems we were pretty ahead of the game on all things trending in health now, as travelling to America for work helped us find out about things like protein powder for our smoothies, coconut oil for cooking and coconut water for hangovers – just at this stage it was seen as very uncool and 'pretty weird' by most friends and boyfriends back then. However, we lived very happily together. I baked gluten-free coconut muffins and made amazing super-berry protein smoothies at weekends and Naomi made me sweet potato fish pie and veggie curries for dinner, which I miss so much.
'good' bread is nothing to be scared of
Nowadays, with life being so busy and living further apart, we tend to eat out when we meet.  We recently got together for a lunch break and catch up on work at Le Pain Quotidien in Borough Market. Le Pain Quotidien (means 'the daily bread' in French) is to me, a real unsung high-street health hero. I have been going to various branches of this Belgium-founded chain for years (now not just in London, but all over the UK) to eat as they are one of the only restaurants to pioneer pretty much 100 per cent using organic produce in all their cooking.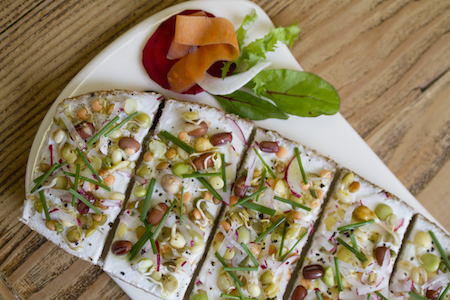 At first glance Le Pain looks like it might be a bakery, as their big specialty (which you can see tempting you from the outside) is good organic bread. FYI 'good' bread is nothing to be scared of (unless gluten/wheat must be avoided for health reasons) and consuming traditionally baked wholegrain, rye and sourdough on a daily basis, is something many cultures around the world have been doing for centuries.The problem lies with the mass-produced, processed loaves made with quick-rise yeast to be sold at low-cost for supermarkets and shop bought sandwiches, that often cause bloating and digestive problems that give other 'good' loaves a bad name. Le Pain bakes all their own bread using organic stone-ground flour and wild yeast.
Le Pain bakes all their own bread using organic stone-ground flour and wild yeast.
Confusing as this can be, when some blogs say bread is the devil, I say if you're going to eat it, and can eat it, just make sure it's always the good artisan stuff.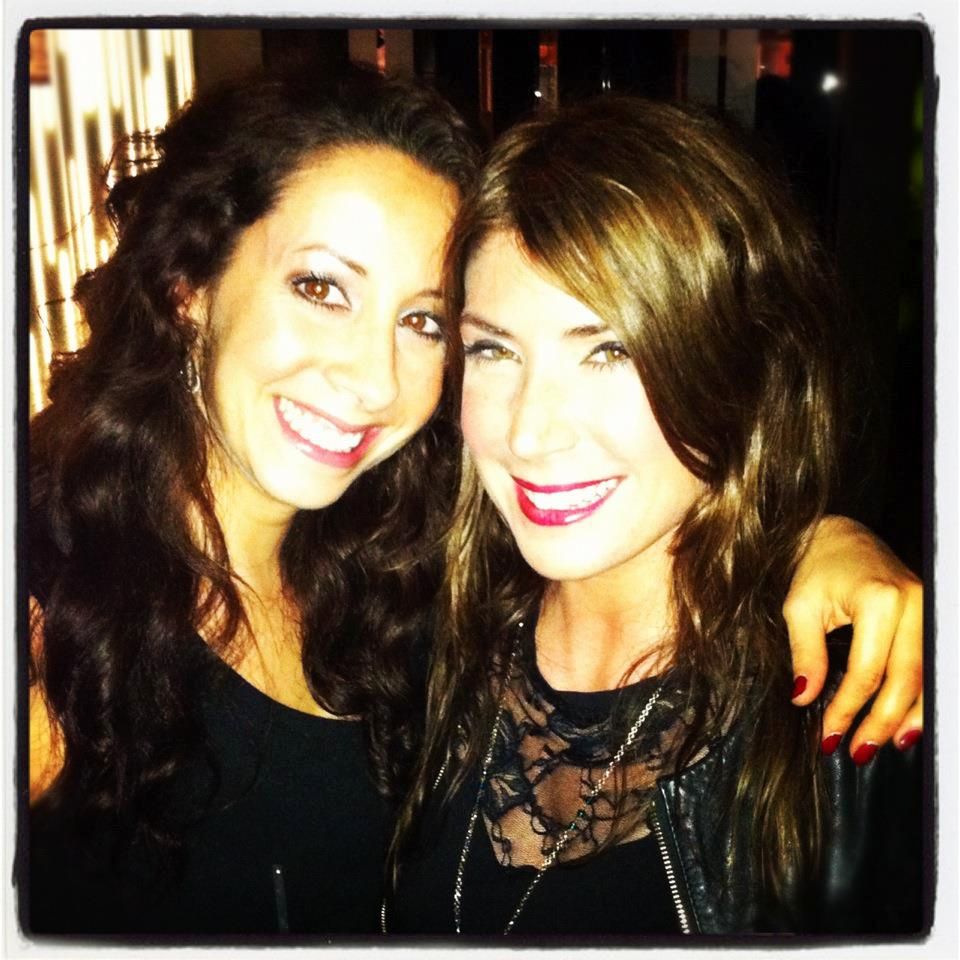 For our lunch date that day Naomi chose baked organic eggs with smoked salmon and brown sourdough bread, with a side order of guacamole. I had two plates (couldn't decide, so had both) of the gluten-free buckwheat tartines.
First off the Avocado – mashed avocado with super seeds, citrus cumin salt, lemon juice and olive oil. Followed with the Tuna Parisian – dressed tuna with organic eggs, in a classic French sauce of mayonnaise, capers, cornichon, parsley and dill, with house pickled red onions and green salad on the side.
Naomi had not eaten much breakfast, so was very happy to enjoy the traditional late brunch option with a dollop of lemony guacamole, which she called 'perfect'. I was immensely pleased with my buckwheat tartines, both the tuna and avocado were delish. It is a rare thing to be able to have something like this gluten-free, as normally anything like this would be served on regular bread. As chocolate is one of our favourite things, we treated ourselves to a rather scrummy flourless chocolate tart and pot of organic Jasmine green tea – naughty, but nice. Le Pain has always provided good organic food, but with the variety of vegan, vegetarian and gluten-free options (they even have gluten-free larger) available, has really improved their offering for those looking for something satisfying and healthy to eat.
Find out more about Le Pain here.
Address: 15 Winchester Walk, London, SE1 9AG (other branches nationwide)
Telephone: 020 3657 6927
Best of British in Shoreditch – dinner with the personal trainer at Rivington Grill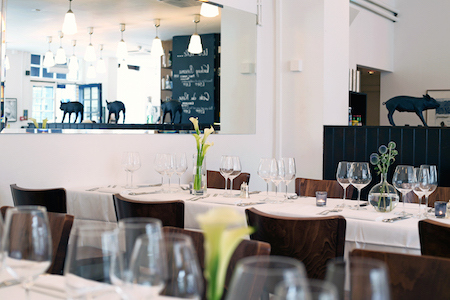 I like to eat locally produced foods and do prefer it when restaurants can support British growers and producers. Rivington Grill is a prime example of this as they wholeheartedly focus their menu on seasonal produce, sourced from small independent suppliers in and around the British Isles. All fish comes from sustainable sources and harvesting is done responsibly from ocean, forest and farm.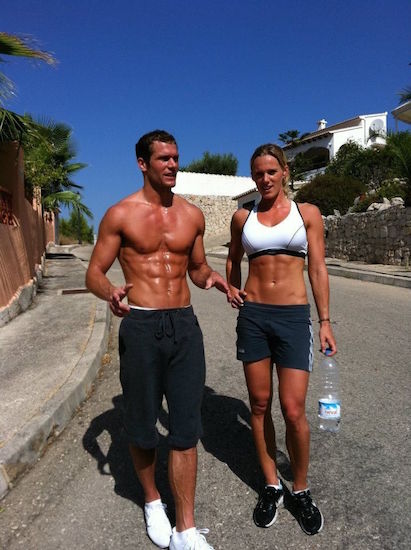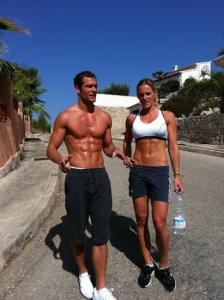 My best friend Sarah, who I met here for dinner, is a personal trainer who knows that no matter how many sit ups you do, you are not going to get a six-pack without eating a good diet. Her and her boyfriend Rich (also a personal trainer) are two of the fittest and toned people I know. They are in the business of getting people to go from fat to fit, transforming obese overfed City bankers into six-pack 'OMG' gym hunks within a matter of weeks through the right exercise and a zero-crap diet policy.
Sarah and I have been friends since we were 12 years old, and at school it was a regular occurrence for us to get in trouble with the headmaster for sneaking out the school gates at lunchtime going off to find a better option to the cold chips and pepperoni pizza in the canteen. We love good food and enjoy nothing more than spending the evening eating together, so as Rivington Grill's menu also had Sarah's seal of approval, we booked ourselves in for a Friday night date.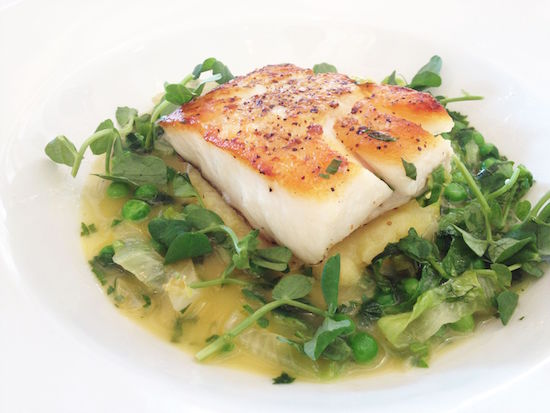 Starting off with a glass of Champers (pretty low in sugar and calories compared to wine) as we admired the menu and gorgeous restaurant we had found. Rivington has all the things you expect and would want from a fine-dining restaurant, but has more of a vibrant atmosphere (good for a first date) filled with chatter, good music and purse-friendly prices. The waitress we had was really helpful and knew everything about the food and exactly what is used in the dishes – something I think is exceptionally helpful when you need to quiz them to help with dish decisions.
We shared two starters– the Isle of Man Queen scallop ceviche with guacamole, tomato relish, citrus dressing. And the Grilled Atlantic prawns with ginger, chilli, garlic and coriander cress. Both were completely exquisite and without doubt, you could certainly taste the quality of the produce used was exceptional.
the quality of the produce used was exceptional.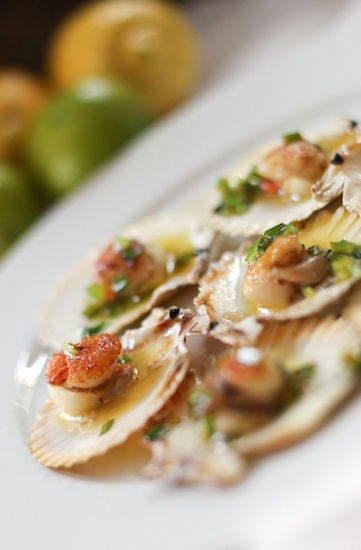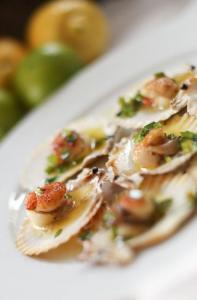 For mains I had Cornish cod, leek and ransom champ (I requested this dairy-free), calvo nero and clams, and Sarah, the roasted sea bass with brown shrimp butter, as well as some sides of mixed greens and bubble and squeak. Yes, this meal hit the spot in a big way. We agreed it was some of the best fish and seafood we had both eaten (the cod and clam combo is a total winner) and have already checked our diaries last week to see when we can go back ASAP. As well as being a great place in a cool location (lots of good bars nearby), I really like the ethos behind Rivington, as I think using sustainable and local produce can be great for everyone. There is lots of choice on the menu, as well as daily seasonal specials, but if you stick to the seafood, fish and veg sides – you will still be looking gym-bod hot by the time you leave.
Find out more about Rivington Grill here.
Address: 28-30 Rivington Street, Shoreditch, EC2A 3DZ
Telephone: 020 7729 7053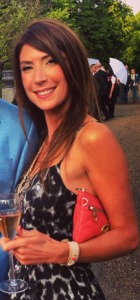 CHARLOTTE DORMON is our Healthista Eats blogger.  She's not a chef, or even that much of a cook.  If it's recipes you're looking for – you're in the wrong place.  But whether it's Sunday lunch or Friday night cocktails, she's the one friends and family turn to when they want to know how to eat out and be relatively healthy.  Each week she'll now be bringing you the same insider knowledge.  We'll drink – and eat – to that. Follow Charlotte on Twitter @lottielurvsu
Like this article? Sign up to our newsletter to get more articles like this delivered straight to your inbox.