Looking for a product that will perk up your dull skin? Healthista reviews the best brightening beauty products that will make your skin glow
As much as we love the leaves turning to a golden crisp in our parks and the smell of pumpkin lattes and roasted chestnuts taking over our city centres, there are one or two things we don't love about the seasons turning colder. Culprit number one? The loss of that gorgeous summer glow and the fear of being left high and quite literally dry with dull and lifeless skin. You could spend a million on kitting yourself out with the latest makeup (did someone say Fenty and Glossier?) but if your skin is lacking a little lustre, it can be tough to hide.
And don't the big brands know it – developing moisturisers, powders, primers and serums that promise to tone-perfect and illuminate. When searching for the brightening product that will give you the glow, it can be tough to know where to start. So in a bid to brighten up our beauty kits, Healthista tried and tested a whole host of products – from illuminators that will perk up your morning routine to cleansers and exfoliators that will fix your skin pre-makeup. Here are the products that made the cut.
Okay, so it's got a bit of a hefty price tag but we are seriously impressed with this radiance cream from Lancer. Dr Harold Lancer (A-list dermatologist and pioneer of the stem cell facial) has combined vitamin C and retinol to create this cream which they say boosts skin's radiance by brightening skin tone and lessening the appearance of UV damage. The cream is water-free and packs a punch of 10 percent vitamin C and retinol. These levels are described by the Lancer team as 'therapeutically high' and work to increase skin cell activity – the idea is that they help skin to regenerate and repair quicker and more completely. According to Dr Lancer, 'Vitamin C helps skin appear thicker, reduces the appearance of fine lines and wrinkles, and in concentrations of 5 percent or higher; it works to reduce the appearance of hyperpigmentation.' Fewer wrinkles and brighter skin sounds dreamy to us, so how did Healthista editor Anna Magee get on?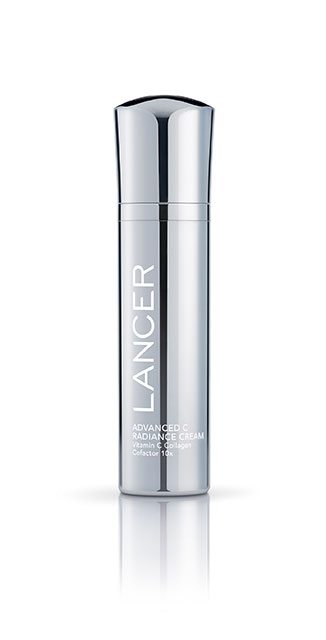 Healthista editor Anna Magee says: 
'It took quite some convincing for me to stop using my go-to vitamin C serum from Skinceuticals and try this product but I love beauty products created by doctors  and I have much respect for Dr Harold Lancer, the founder of Lancer skincare. Plus, ten per cent vitamin C is a great drawcard for a skin brightening product. The texture of the product is kind of silky with a very slight grainy effect, but from the moment it goes on, there is a skin smoothing effect. I used it as a night and day cream and could see a difference in my skin within a week, mainly in the evenness of the texture – I have olive skin and can tend toward pigmentation on my cheeks but this made a great difference to its brightness and look. Very impressed.
Lancer Advanced C Radiance Cream is available for £70 from Space NK here.
This primer from bareMinerals is made specifically to help brighten up skin that is looking and feeling a little dull. The idea is to apply a layer on underneath your makeup to smooth out pores and fine lines. Using a combination of vitamins, minerals and antioxidants (hello, face brightening vitamins C and E) the formula claims to help combat both oiliness and dryness all in one go. Why is vitamin C in particular so great? It's used by your skin to help in the creation of collagen (the thing that keeps your skin young, supple and smooth), it's an antioxidant that helps reduce inflammation (who needs a turmeric latte?) as well as helping get rid of redness caused by UV light and other environmental antagonists – sounds good to us. According to bareMinerals, this primer is especially good at combating dry patches, using plant extracts to help keep your skin moisturised.

Healthista writer Parisa Hashempour says: 
The first time I pumped this primer out onto my fingers, I was a little alarmed – the liquid was pigmented with what looked like very bronze colouring. But when I massaged the primer into my face, I was pleased to find the colour blending naturally into my skin tone. It looked almost invisible aside from a subtle glow that I felt made an instant difference. The liquid was smooth and not at all tacky, drying quickly onto my skin (there's nothing worse than waiting forever to apply foundation) and the smell is pleasant but extremely subtle, disappearing quickly as soon as the fragrances of my foundation took over. I'm a huge fan of bareMinerals packaging – so minimalistic and clean, I love having them in my makeup kit. The small pump is easy to use and makes for easy, clean application. The bottle size isn't big however I found I only needed the smallest amount of product and even though I've been applying the primer every day, I'm confident it'll last me for quite a while. I have extremely dry skin and I found that this product worked wonders for smoothing over dry patches around my mouth and chin and brightening up my face on days when it looked extra dull. I would definitely recommend this product.
bareMinerals Brightening Primer is available for £19.55 here.
For a fresh and flawless finish, Spa Magik's CC Cream evens out skin tone, hydrates the skin and provides a light coverage. The colour correcting cream provides anti-ageing results and cares for the skin. Protection is key in the fight against skin ageing, so our CC Cream is SPF 15. Use daily as a primer or a foundation. It combines the hydration of a moisturiser with sun protection and flawless coverage. The tan shade adjusts perfectly to suit your skin tone, giving paler skin a sun-kissed glow. Vitamin E, Hyaluronic Acid and Dead Sea minerals improve skin condition and boost hydration.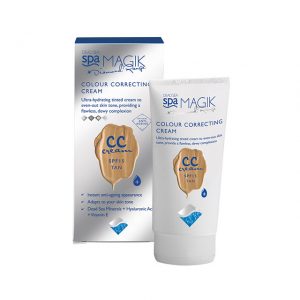 Healthista intern Mary Stratton says: 
This product is super straightforward to use and I loved the smell. The product has a thick consistency but easily blends and distributes evenly across the skin – the finish is far from heavy. At first, I was worried that the product was drying out my skin as I did feel some tightness however as soon as it set, the moisturised dewy glow that I was hoping for developed. At work, someone commented on the glow of my skin when I was wearing the cream and I did feel a difference in pigmentation after only a few days. As the cream has a dewy, light finish, this product is ideal for anyone that loves to embrace the no-makeup-makeup trend. While I usually wear a heavier foundation to leave the house I now slather it on every time I go to the gym as it means I don't look overdone – you can't feel it on your face at all.
Dead Sea Spa BB Cream is available for £14.50 from Healthista here.
Touted as a perfect travel companion, this Mask Korea brightening mask is designed to be an instant pick-me-up for your skin. When it comes to beauty, Korea is famous for getting it right well ahead of the rest of us and so it's no wonder that we're big fans of this Asian product. In 2016 the company set up shop with plans to bring premium quality Korean sheet masks to the western market at an affordable price. Afer sampling 160 masks from all across Asia, the two founders (one of which is an international violinist) worked with Korea's second-biggest skincare lab to modify a proven and hugely successful formula and market it towards the western world. The masks have three steps to them, starting with a foam cleanser, followed by a mask and then finishing with an anti-ageing night cream – the ultimate solo date night. We also love that these masks are free from silicon, mineral oil and artificial colourings which means that according to the brand, even those with sensitive skin will be happy (plus despite Korea's bad rep with dogs, there's absolutely no animal testing).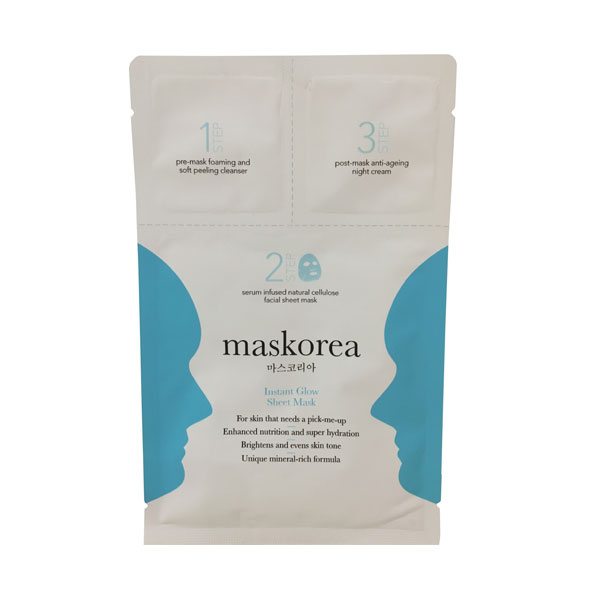 Healthista writer Vanessa Chalmers says: 
I've seen these face masks plugged by celebs on Instagram and now I can understand why. I have skin as dry as the Sahara desert (and super sensitive) and this worked wonders. The first step is a cleanser to prep the skin. Then you open out the gloopy feeling mask and place it over the face. After 15 minutes or so of relaxing, the mask peels off with no mess at all, leaving a sheen of dew. After applying the serum afterwards, my face not only felt like it had been fed hydration but it looked it too. Now I am eager to buy more.
Mask Korea Instant Glow Sheet Mask is available for £7.99 from Amazon here. 
We love to rave about the products from this natural beauty brand (see how much Healthista writer Vanessa Chalmers loves the Green People fake tan) and this brightening moisturiser is no exception. With the added bonus of promising to reduce fine lines and wrinkles, this cream nourishes your skin with essential oils like cucumber seed, white mulberry bark and hibiscus flower – which according to Green People will all help to reduce melanin production and lighten and even skin tone in the process. Pineapple enzyme is also supposed to help ease excess pigmented cells from the surface of the skin to further lighten skin tone and the inclusion of beech bud extract is hailed by the brand as stimulating cell metabolism to increase cell turnover, refining the skin tone even more. Plus, almost 90 percent of those ingredients are organic.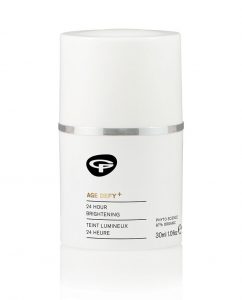 Healthista's Brianna Conley says: 
When I first received this product, I was sceptical. I was afraid my face would look too bright and almost oily once I applied this product. I also find most anti-ageing moisturisers have a harsh scent to them, and often irritate my skin. I was pleasantly surprised that the scent is quite subtle and my skin reacted well to this product.  My skin felt smoother and firmer once I applied the cream twice daily to my face and decolletage. The product itself is creamy and left my face dewy as it absorbed into my skin quickly. I noticed that in addition to looking smooth, my complexion was brighter than before, even when I applied makeup on top. I have since incorporated this product into my daily skincare routine, using it daily after I cleanse my face. I would recommend this product if you are looking to add a subtle dewy glow to your face.
Green People Age Defy +24 hour Brightening Moisturiser is available for £36 from Healthista here.
Made by European honey bees that were introduced to the country, New Zealand is well known for being the home of Manuka honey. A substance famous for its healing properties (and hefty price tag), Manuka Doctor channels those properties into its amazing oils and lotions (for a not so hefty price tag). The brand says that their brightening face oil uses a regenerating formula which is packed with plant extracts and is designed to brighten and smooth out uneven skin tone. The oil is made with not only the sticky, sweet stuff but also boasts an ingredient list of argan oil, tamanu oil (from the nut kernels of the tamanu tree – known to help reduce scars and marks), avocado, sunflower, wheat germ, rosehip, rice bran, seabuckthorn, cranberry and Neroli (know for its beautiful fragrance) oils – phew! What a list. Not to mention there's a little bit of Vitamin E thrown in for good measure.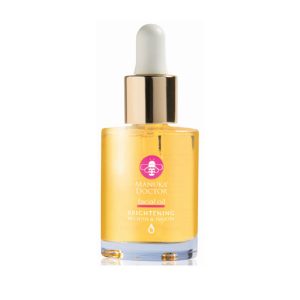 Healthista intern Mary Stratton says: 
When I first got my hands on this product, I was invested. The packaging was clean, clear and easy to understand (especially the ingredients list). The oil itself goes on smoothly, without feeling too greasy – as someone with already very oily skin, this was a huge bonus. The smell of the product faded quickly which I was more than happy with. Run around smelling of essential oils all day? No thanks. The pipette in the bottle makes the product easy to use and helps avoid making a mess. The main thing I noticed was when I applied the product, my pores instantly appeared smaller. I loved this as they are a huge problem for me. After using the oil for a few days I did begin to notice that I had an more even skin tone. I get quite red skin especially when I get breakouts and the oil seemed to calm some of the redness on my skin. I would happily continue using this oil and I would recommend it, even to people with oily skin because it doesn't leave the skin greasy.
Manuka Doctor Brightening Face Oil is available for £19.99 from Healthista here.
Apivita says that their bilberry scrub is perfect for combatting discolourations and brown spots on the skin. Using fine almond grains, jojoba as well as mild fruit acids and bilberry the formula gently pulls away dead layers of your skin to help with the renewal of new skin cells, which the brand says will leave your skin feeling soft and shiny. While organic olive and almond oils working to simultaneously hydrate and nourish your skin – hello, multi-tasker. And that's not where the essential oils in this brilliant brightener end. The botanical beauty brand also uses orange and rose oil to help soften the skin as well as lavender, honey extract and panthenol (which helps promote moisture in the skin). The most interesting part? Rather than thicken this product out with water, the brand uses an organic green tea infusion to make the most of those anti-oxidants properties.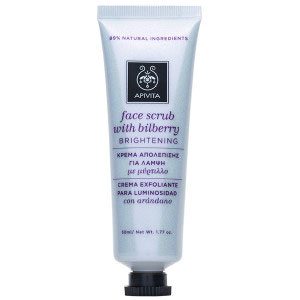 Healthista digital director Yanar Alkayat says: 
If you love two-in-one products this one's for you as it an exfoliator and brightening mask. It felt weird at first massaging a scrub into the skin and then leaving it on but the texture is thick and luscious like a moisturiser and the granules are so fine you can barely feel them so both stages felt like a lovely treat. After exfoliating, the product stayed on for just five minutes, enough time for the bilberry and fruit acids to get to work at brightening and smoothing my skin. I couldn't believe how soft and hydrated my skin felt. I was even able to even go moisturiser-free (yep, you heard right). So minimal skin prep is needed after this product. This is a winner if you want to save a few pennies by multitasking products or if you want a fast track to better skin. Plus it's made by a super cool Greek cult beauty brand I absolutely adore.
Apivita Brightening Face Scrub with Bilberry is available for £11 from Amazon here.
This oil has featured before on the site, profiled in our best beauty products EVER column – it's a huge favourite of Healthista digital director, Yanar Alkayat. Proudly created without any artificial ingredients the glide is down to the choice and blend of botanicals rather than any fancy silicones. If you're into botanical beauty then the ingredients might pique your interest – there are a few usual suspects such as Manuka honey, St. John's Wort, calendula and chamomile. But then some more interesting additions such as wild Abyssinian oil (the very first ingredient!), radish seed oil, water lily, and arnica flower. There are 14 active ingredients in total which are supposed to supercharge and invigorate your skin. The scent isn't left to chance but carefully constructed with sandalwood and rose oil.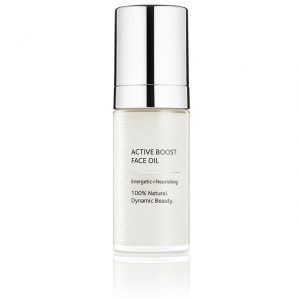 Healthista writer Parisa Hashempour says: 
I love this brand's style – instead of cliche floral or leaf motifs, the look is bold, vibrant and eye-catching (I mean, just check out the brand's Instagram page). The texture is sublime and one pump's worth slips over skin and soaks in effortlessly. Within seconds I'm applying my makeup onto perfectly primed skin that even the best primers can't compete with. The fragrance of the oils come out strong in this brightener and leave my skin smelling beautifully floral and herby. After using this oil on my skin for a week, I was amazed at the change in my complexion. My skin is prone to looking dull and some areas are quite pigmented but I found that this oil brightened up the look of my entire face. As this product is very oily, I wouldn't recommend it to anyone that is acne prone but if you have dry skin like me – it works a dream! Very impressed with how this natural product energised the overall look of my skin.
Romilly Wilde Active Boost Face Oil is available for £75 from Romilly Wilde here.
Pestle & Mortar is an Irish skincare company created by Sonia Deasy. Deasy's grandfather was the medicine man in his village in Indian and a tradition of natural healing has continued in her family for six generations – today her uncle practices in the same spot, in the same village as her grandfather did. This is how the brand got its name, from the pestle and mortar device used in ancient times to grind medicines and food. It embodies Deasy's natural approach to skin care and is made from formulas that follow her less-is-more approach to beauty. Deasy wanted to create a line of no-fuss skincare that is free of harsh chemicals and worrisome ingredients.
Using natural skincare classics such as papaya and mango enzymes, Pestle & Mortar says this product will give dull skin a much-needed refresh. The fruity formula apparently helps to improve skin's texture and tone. Formulated with superoxide dismutase (a powerful antioxidant enzyme found in the body) the beauty brand says it helps to protect against superoxide toxicity (the most common free radical in the body). The anti-ageing gel cleanser is created to help smooth out wrinkles, fine lines and age spots. The ingredients list also boasts meadowfoam seed oil that Pestle & Mortar says will work to remove blockages in your pores – goodbye, spots! Fermented ingredients are also included in the formula which makes the cleanser effective for sensitive and dry skin too. The cleanser is free from parabens, silicones, sulphates, mineral oil and even synthetic fragrance.

Healthista editor Anna Magee says: 
Wow. Just wow. I do love a cleansing balm but I find some of them can be really drying, something my skin – being on the wrong side of 40 – can do without. This cleanser is just the opposite but instead of leaving the skin greasy, leaves it looking calm and plump. The ritual of pumping out the luscious smelling gel and smoothing it over the face – with its texture similar to that of a thick oil – then wiping it off with a warm wet cloth, is a pampering, relaxing ritual in itself. My skin reacts to things such as mineral oils and parabens with instant zits which is why I can't use cheap cleansers. After using this, which is totally free of chemical nasties like that – for four weeks now, my skin has been balanced, clear and much more even-looking. I have even noticed I don't need as much foundation and have been hitting the gym completely make-up free since starting using it. A true find and worth the £££s.
Pestle & Mortar Gel Cleanser is availble for £34 from LookFantastic here.
Read more
How to get glowing skin – 3-minute brightening face massage
8 foods to eat for glowing skin
What to eat for glowing skin by the Medicinal Chef
6 best body scrubs without microbeads