If you want to give your body a pamper without causing any harm to the planet – look no further. Healthista has tried and tested the best body scrubs without microbeads
Microbeads are tiny balls of plastic common in soaps, shower gels and exfoliators. These little beads are great at rubbing off your dead skin cells but they also have a nasty side. Once they get into rivers and seas they last for centuries without breaking down. They're too small to be captured by wastewater facilities so as the New York Times points out, it's basically like we're grinding up plastic water bottles and throwing them into the water.
But luckily for us, there are plenty of brands that will help you care for your skin and the planet at the same time. We've rounded up some of the best body scrubs without microbeads so you can pamper yourself, guilt-free.
Best for dry skin: Natura Siberica Oblepikha and Honey Body scrub
This body scrub from Siberica is made from Altai sea buckthorn oil which according to Siberica works to soften your skin. Buckwheat honey is also included in this formula and is supposed to increase both the elasticity and firmness of your skin. The organic extract of sage works as a general tonic, eliminating toxins and leaving your skin soft and smooth. The scrub is reasonably priced and we love the colourful, fun packaging – this is one beauty product that will brighten up your bathroom shelf.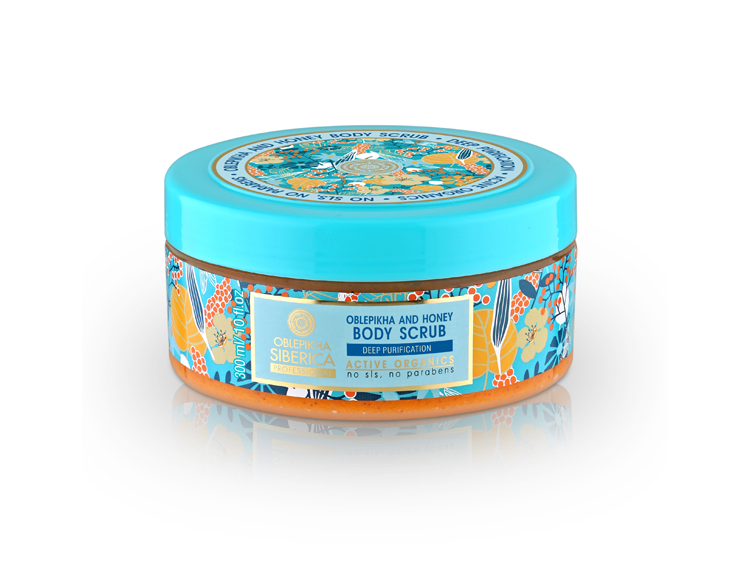 Tester says
'It was love at first sniff for me and the Natura Siberica Professional Oblepikha and Honey Body Scrub. It smelled fresh and fruity. My admiration magnified when I tried it on my skin. I have quite dry skin so this scrub was excellent for adding moisture and removing dead skin. When I was done my skin felt soft and silky, however as it is quite harsh I would avoid using it on your face.'
Available for £7 here.
MORE: 6 best fairtrade beauty buys
Best for a budget: Benecos
This budget buys from Benecos makes us feel like Spring is well and truly about to land. The fresh apricot and elderflower fragrance make it a big hit with us. The scrub uses natural exfoliants to leave your skin feeling silky smooth while also leaving you with no guilty feelings about those pesky micro-plastics hitting the oceans via your bathroom drain. The scrub uses ground apricot kernels and fine almond powder to help scrub away dead skin. Ground almond powder is a gentle exfoliator which is designed to help your skin look brighter as well. According to Benecos this is also a scrub that is great for particularly sensitive skin.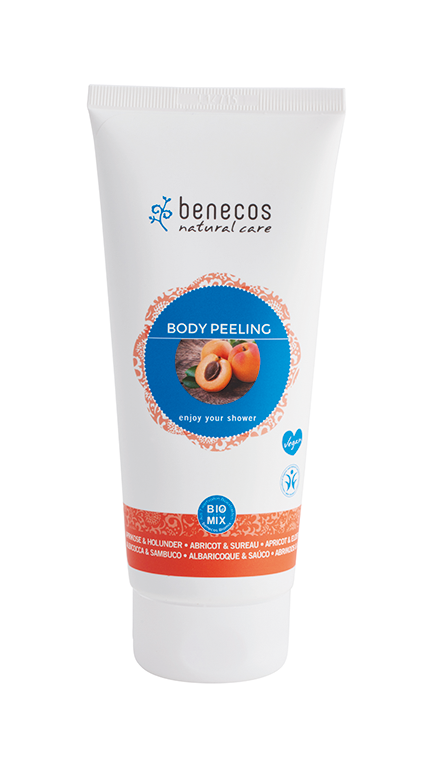 The gentle Benecos Apricot  & Elderflower Natural Body Peeling Scrub formula is also sulphate-free – which also helps the skin of those sensitive types. Plus it is enriched with lime blossom hydrosol, apricot kernel oil and elderflower extract that helps to give it that delicious smell.
Tester says
'This apricot and elderflower body scrub had a fresh light scent and left my skin feeling soft without being too harsh – perfect for my sensitive skin. I loved the price tag on this product and I'd definitely use it again.'
Benecos Apricot & Elderflower Natural Body Peeling Scrub is available for £4.96 here.
Best for luxury: Anne Semonin
Best known for their spectacular spas around the world, Anne Semonin skincare brand have an exfoliating shower gel that will leave you feeling pampered. Anne Semonin works in collaboration with France's top laboratories and cosmetic professionals to create their products.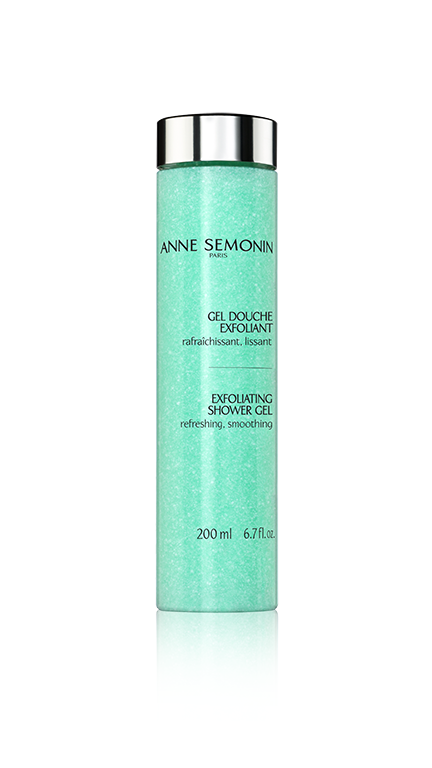 The new Anne Semonin Exfoliating Shower Gel is designed to cleanse your body and give it a good exfoliating scrub all at the same time. It's made with a natural biodegradable wood pulp that helps aid exfoliation and it's enriched with Vitamin E for a dose of antioxidants. The scrub is scented with notes of Jasmine and Green Tea – making it a great refreshing addition to your morning shower that will leave you feeling spa smooth.
Tester says 
'I LOVE this product. The scent is fresh and not too overpowering and the brilliance of it is it lathers so well that a little goes a long way, but it leaves your skin feeling super-soft and moisturised. I have always loved shower gels but they dry my skin to such a degree that have to slather myself in moisturiser. With this, I don't always need moisturiser afterwards.'
Anne Semonin Exfoliating Shower gel is available for £27.00 here.
Best for sharing: Sukin Energising Body Scrub
Sukin's body exfoliator, the Energising Body Scrub is the kind of refreshing coconutty smell that you just know your boyfriend is going to steal in the shower. It uses ground coffee and microparticles of coconut and walnut shells to scrub your skin and smoothen out its surface. According to Sukin, the richly caffeinated scrub also helps to tone and brighten your skin.
The scrub contains coconut oil, rosehip oil, jojoba and vitamin e which keep your skin feeling moist and smelling tip top. This scrub is really one for those that are coffee mad. As well as granules, the body scrub contains coffee powder and coffee seed extract.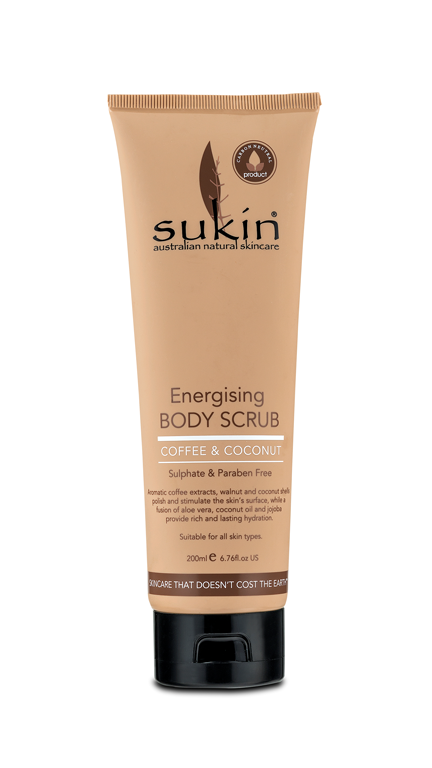 Tester says 
'I love it. It's the perfect rejuvenating scrub for an early morning show or just after a rough workout, and it smells like coffee, though not too strong, which is a plus.'
Sukin Energising Body Scrub is available for £11.95 here.
Best for a DIY spa day: Katherine Daniels Gentle Oil and Salt Exfoliator
Katherine Daniels is a British skincare company designed specifically for those with skin conditions and they formulate their products with that in mind. But the company do more than look out for your sensitive skin, they also want to have a positive impact on the climate and environment too.
This oil and salt exfoliator from Katherine Daniels replaces nasty plastics with sea salts. These salts are then blended with essential oils. This is the exfoliator that would be used on you if you were to go to a Katherine Daniels spa so you really get to feel as though you're giving yourself a luxurious pamper. Key ingredients in the Katherine Daniels exfoliator include salts from the Himalayas, Egypt and France as well as a range of essential oils that include lavendin, petitgrain, cypress, geranium, rosemary and chamomile leaving the scrub with a beautifully floral and calming scent. And the squeezy screw top on this product also means that you won't make too much of a mess while applying.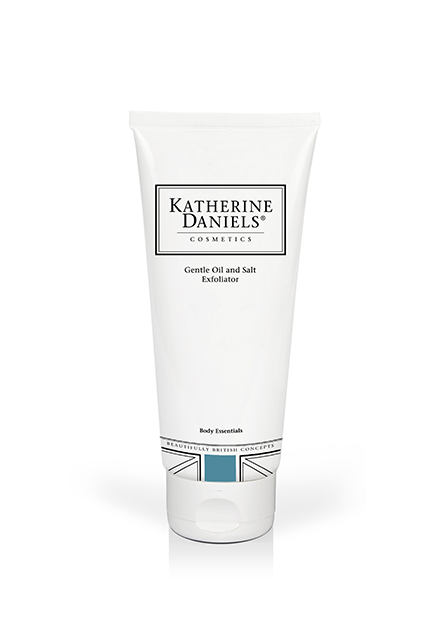 Tester says 
'The simplicity of this packaging made me feel as though there were no gimmicks or nasty ingredients involved in this product. It worked just as well as any other scrub I've used – if not better. There was a sheen of moisture-like substance on my skin afterwards as well which was a plus as it made me feel like I didn't need to moisturise. All in all, I was a big fan of this product.'
Katherine Daniels Gentle Oil and Salt Exfoliator is available for £25 here.
Best for scent: Odylique Coconut Candy Scrub
Odylique is a natural beauty brand created by mother and daughter team, Margaret and Abi Weeds. Margaret was determined to make products that would cater to her families eczema problems. So, armed with qualifications in herbal medicine and aromatherapy, she set about creating beauty products based only on organic herbs, plant oils and natural active ingredients that were compatible with super sensitive skin.
The Odylique Coconut Candy scrub smells so good that we could eat it. The scrub is 100 percent natural and is packed with organic plant oils which Odylique say will help to leave your skin soft and hydrated. The scrub is made from cane sugar that has the Fairtrade seal of approval – which means you know that your product has been ethically produced. Odylique's Coconut Candy scrub renews your skin by rubbing away dead skin cells whilst giving it a polishing soften at the same time. Poppy seeds are used to exfoliate your skin and virgin coconut and cocoa bean butter help add a little moisture to dried out skin.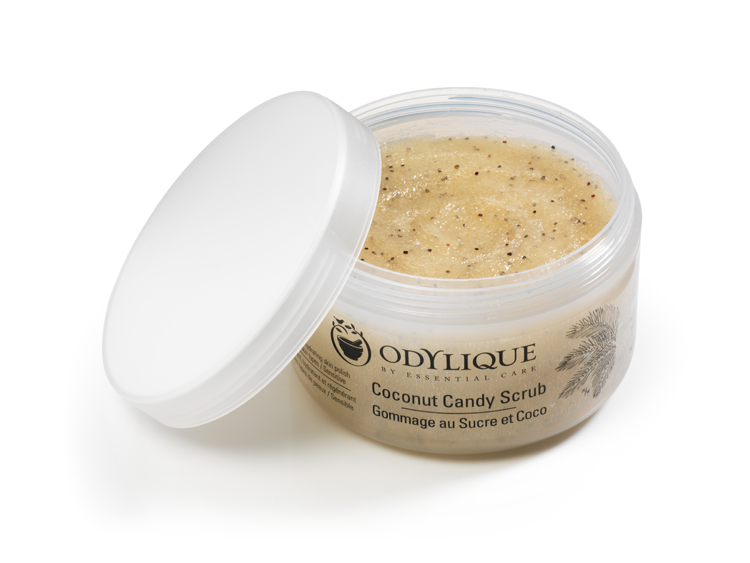 Tester says 
'I could have eaten this body scrub. It really smelled like coconut candy and made my skin smell of it as well. It was a nice thick consistency that spread easily over my skin and left it feeling soft afterwards. I loved this product by Odylique.'
Odylique Coconut Candy Scrub is available for £25 here.
Read more
How to look good in winter – 9 best beauty products for tired skin
3 new makeup trends to try now
The celebrity hairstyles on trend right now PLUS three hair mistakes you need to avoid