It seems turmeric is the new kale, with new research suggesting eating turmeric once a day can boost memory and make you happier. Healthista rounds up the best turmeric products 
Turmeric's popularity soared in 2017. Jumping on the golden brew bandwagon, coffee giant Starbucks began selling turmeric lattes across UK stores, whilst Modern Baker in Summertown, Oxford revealed that their sales of turmeric lattes (listed on the menu as 'Golden mylk') now outnumber those of regular lattes.
From face masks and juices to pricey lattes and little pots in your kitchen cupboard, the golden powder is everywhere. Not only does it taste fab in a lentil curry but the spice is a common ingredient used in South Asian medicine thanks to its heralded antibacterial and anti-inflammatory benefits. All down to the ingredient that gives turmeric that beautifully Instagrammable shade of ochre – curcumin.
And now, a new study suggests that curcumin can boost memory and uplift mood. Published in the American Journal of Geriatric Psychiatry, research conducted by the University of California Los Angeles used 40 participants aged between 50 and 90-years-old and all presented with mild memory complaints. Half of them were assigned 90 milligrams of curcumin twice daily for 18 months, while the rest were given a placebo. Those who took curcumin saw significant improvement in memory (28 per cent!) and a mild improvement in overall mood.
It adds to the growing list of conditions curcumin is used for in Ayurvedic medicine, even being suggested as a possible reason that senior citizens in India – where curcumin is somewhat of a staple – have lower rates of Alzheimer's disease and better cognitive performance. Because of its anti-inflammatory effects, it's thought to slow down the inflammatory pathway (although this line of research is being continued). Another active ingredient in turmeric is turmerone which some studies suggest can even support cognitive performance due to the ingredients' neuroprotective properties. Plus researchers from the Government Medical College in India found that curcumin can help to manage depression – phew!
actress Thandie Newton swears that turmeric is the 'secret weapon' she has to thank for her skin's gorgeous glow
And if that weren't enough, the celeb bubble is leading the way on this one. Of course, blonde beauty and health-nut Gwyneth Paltrow has been a fan for years, actress Thandie Newton swears that turmeric is the 'secret weapon' she has to thank for her skin's gorgeous glow and even London's wellness set can't get enough of the yellow stuff, with Madeleine Shaw even proclaiming it 'the king of all spices'. Is it any wonder that Google's most recent Food Report found that interest in this functional ingredient grew by more than 56 percent from November to January of last year with numbers continuing to rise.
So, without further ado, here are some of Healthista's favourite turmeric products that we've been testing as the trend has grown.
The easiest way to get turmeric into your life? Trade in that mid-afternoon coffee for a turmeric tea pick-me-up. According to some studies, curcumin (that ingredient we mentioned that will add a colourful zing to turmeric tea) may even help ease inflammation and swelling in people with arthritis. Healthista LOVES the Turmeric Gold Tea from Pukka Herbs. Lemon fruit, aromatic cardamom and whole leaf green tea are blended with turmeric to create this special drink. The range uses only whole leaf tea leaves – this means the leaves are chopped just before packing to facilitate production into tea bags, which means that the tea keeps its flavour.
Pukka also suggest making a turmeric lemonade out of this tea by brewing four bags in a litre of freshly boiled water and leaving to cool. After 15 minutes remove the tea bags and pop the tea in the fridge overnight. In the morning take out the cold brew and pour into a pitcher, squeezing in the juice of three lemons and two blood oranges. Add your preferred sweetener (organic maple syrup, coconut sugar or honey) and then garnish with slices of the remaining lemon and blood orange and serve chilled over ice – yes, please! What a refreshing mid-summer treat.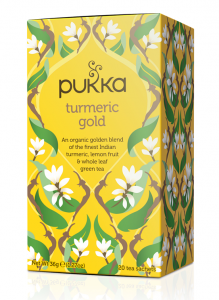 Pukka Turmeric Gold Tea is available for £2.49 from Healthista Shop here.
Not too keen on the taste of turmeric? Don't let that stop you from reaping its benefits.TAKA Turmeric is a family business that wholly dedicates themselves to the powers of the orange herb. Co-founder Karen is a nurse with a background in Ayurvedic medicine, according to the brand she gives turmeric root to her family, friends, clients and even pets on a regular basis but developed TAKA Turmeric in a quest to feed people turmeric that they actually liked the taste of (while it tastes amazing in a cup of chai, it's a little bitter on its own).
As well as creating their own teas, the brand has a turmeric capsule that makes consuming the spice quick and convenient. The turmeric in their herbal capsules are organically grown in Southern India and to make the curcumin in the product easier to digest, TAKA has added a tiny pinch of black pepper extract to each turmeric capsule (this has been found to help boost the absorption of curcumin).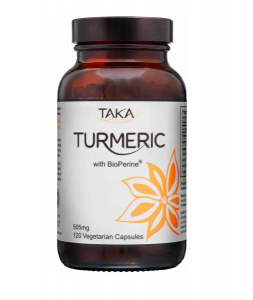 TAKA Turmeric Capsule is available for £9.95 from Healthista Shop here. 
Are you a smoothie fan? Adding superfood mixes to your morning mix might just be the easiest way to slip extra nutrients into your diet without you noticing. The particular species of turmeric used in this powder is called Curcuma Longa and this has the highest natural content of curcumin. Every batch of Superfruit's Turmeric Powder contains at least three percent of the ingredient (which is turmeric's active ingredient). That's why this beautifully packaged product has made it into our list.
Add one to two teaspoons of the product and you're good to go. It could alter the colour of your smoothie but it won't be overpowering in flavour. Alternatively add this powder to curries, chai or your spice-filled dish of choice to reap the benefits of the spice AND the taste. Mix up your own curry powder with this key ingredient to so many Asian dishes. The Scandinavian brand behind this product is committed to sustainable development and part of Amazon Friendly – this makes it a winner in our book.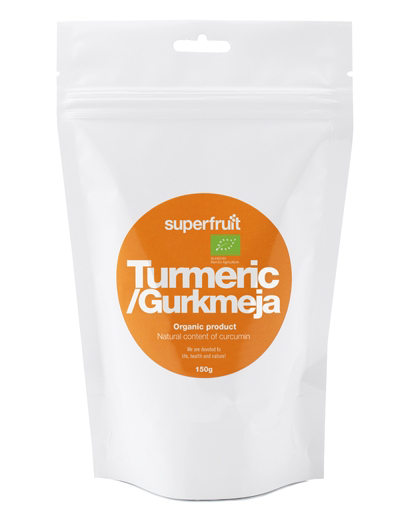 Superfruit's Turmeric Powder is available for £6.10 from Healthista Shop here. 
If you want to avoid the Starbuck's queues this September, this little carton of Turmeric is a handy on-the-go turmeric top-up that fits easily into your handbag. Love Raw boast that their Turmeric Chai Latte contains five times more almonds than other almond drinks and add that their product includes only ten (easily pronounceable) natural ingredients. The drink does use Date nectar to sweeten it, but we'll happily let a little indulgence slide if we're getting the bonus of turmeric and also metabolism boosting cinnamon and ginger to boot.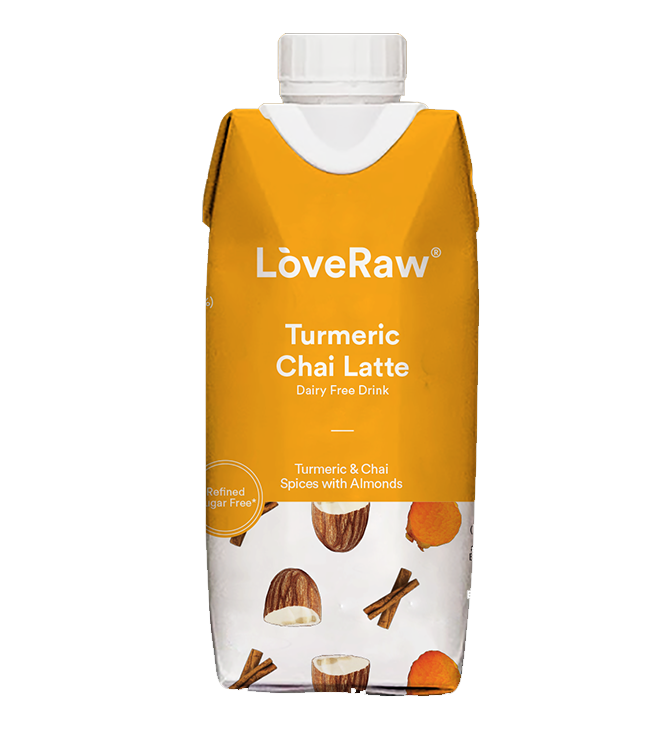 Love Raw Almond Drink Turmeric Latte is available for £2.29 from Healthista Shop here. 
From Ancient Ayurvedic drink to hot hipster beverage, a Turmeric Latte powder sat next to the kettle makes having your own golden brew easy. The milky sweet flavour of this drink has a bitter finish and can be made with your milk of choice (vegan or otherwise). Healthista loves the SONNENTOR Organic Turmeric Latte with vanilla added for a little extra sweet flavouring. We love that the company supports small rural structures in its hometown in the Waldviertel district of the country. Their latte fits nicely as a breakfast drink but is also a great kick starter for a little serving of afternoon motivation. The traditional Austrian brand claims that a pleasant warmth almost instantly spread throughout the body after you take a sip – basically the Austrian version of a hug in a mug. Sounds like exactly what we'll want come Autumn.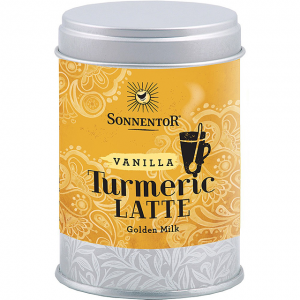 Sonnentor Organic Turmeric Latte Vanilla is available for £5.35 from Healthista Shop here. 
Who doesn't love munching on a pack of flavoured nuts? But we're not talking about the kind you find in your local pub – these Pili Nuts from Raw & Wild are seriously nutritious. The company pre-sprout and dehydrate their nuts to preserve all the vital enzymes, minerals and nutrients. The activation process breaks down complex starch, neutralises the phytic acid found in all nuts and seeds (which studies have found can inhibit mineral absorption) and according to the company 'ignites the life force of the nut'. Their nuts are harvested in the Philippines in an area of volcanic soil which is packed with organic minerals and plenty of rainfall. And not only are these nuts coated in superfood of the moment, turmeric, but they're also packed with Vitamin E (good for skin and hair), magnesium (great for muscle relief and anxiety) and vitamin B1 (boosts immunity and energy levels). Now to stop ourselves from gobbling up the whole pack in one sitting.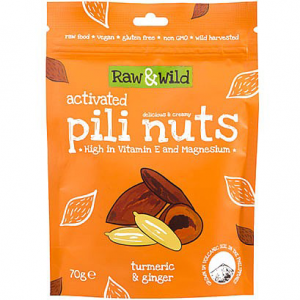 Raw & Wild Turmeric and Ginger Pili Nuts are available for £5.99 from Healthista Shop here. 
And for a more indulgent way to get turmeric into your diet? How about this melt in the mouth light and crispy organic whole grain butterfly popcorn which makers Profusion say is seasoned 'to perfection'. Erm – we don't mind if we do. Profusion's popcorn is gluten-free, hand popped and tossed in coconut oil. This combined with the fact that it's sprinkled with superfoods makes us feel that much less guilty about reaching for it after lunch. The popcorn is sweetened with maple syrup and no artificial colours or flavours are used. Popcorn is the perfect snack to stave off those sugar cravings without letting the diet go off track and as a bonus this dreamy snack has an anti-inflammatory kick.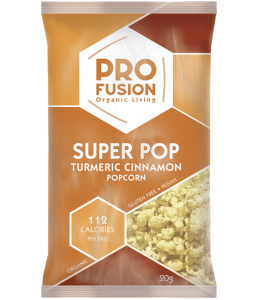 Profusion Organic Popcorn Turmeric Cinnamon Spice is available for £1.29 from Healthista Shop here.
According to Better You, an oral spray is the quickest way to get this herbal medicine into your system. The award winning supplement company says that their turmeric spray was formulated to deliver a greater uptake of the three active curcuminoids in the spice and will absorb faster than other ways of taking turmeric. How? Better You say that the health benefits of turmeric are reduced by poor absorption within the digestive system but their unique molecular encapsulation process has been specially formulated to be absorbed directly into the bloodstream, bypassing the digestive system. According to the brand, the tiny droplets absorb quickly in your mouth providing further nutrient absorption than tablets or capsules. Four sprays will deliver 850mg of Cyclocurmin, that's an impressive 1,300mg of turmeric root. Delivered with a great tasting, natural orange flavour – wow! Perfect for anyone that hates remembering to swallow pills, just keep a bottle of this bad boy in your handbag.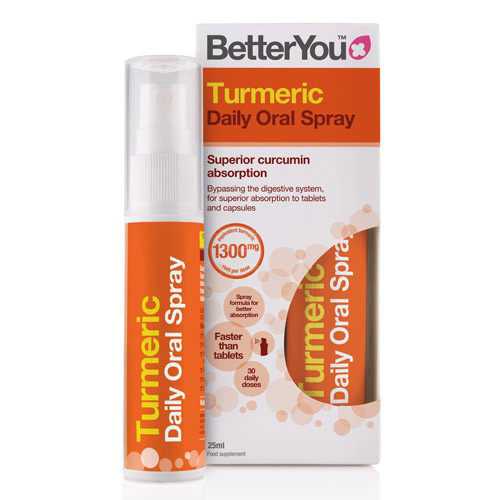 Better You Turmeric Daily Oral Spray is available for £17.95 from Healthista Shop here. 
Yup, you heard us right. Clarified turmeric BUTTER. There really is no end to the places you can find this product. And where better to start than with this ghee from Happy Butter (if you don't believe us, it's won the Great Taste Awards)? Happy Butter products are all made from locally sourced West Country organic cultured butter that contains no imported ingredients, their food miles are low so this is a company with real British heritage, supporting its roots. The butter is cooked slowly for many hours leaving only the gorgeous nutty delicious ghee behind. The turmeric ghee is made by infusing turmeric root into the product during this process. Use this as an alternative to cooking oil – a MUST next time you're cooking a curry to impress dinner guests.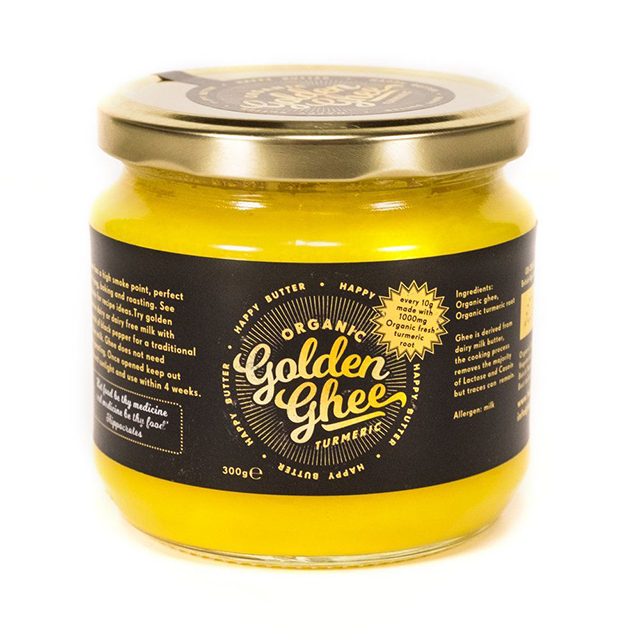 Happy Butter Golden Turmeric Ghee is available for £10.49 from Healthista Shop here. 
And it's not just in our food that this special spice is lurking. Indian women have been using turmeric in their wedding ceremonies for thousands of years. Even today when an Indian woman gets married the family will have a special ceremony where everyone in the family put their hands in turmeric paste mixed with water and put it on to the bride's arms, skin and face. This makes the skin look amazing and bright.
Healthista writer Vanessa Chalmers loves to make a homemade turmeric face mask every now and then to keep her skin looking bright, 'It was really easy to make and I love the fact there are no chemicals in it so it's really great for sensitive skin – but be prepared for it to change the colour of your pillow!'
To make Vanessa's DIY turmeric face mask you'll need
2 tbsp rice flour
1 tbsp turmeric
1 tbsp coconut oil
Milk (Vanessa uses kefir milk)
Mix the first three ingredients together and then keeping adding milk until the mask reaches a smooth consistency. Smother it onto your face and then leave it for 20 minutes before washing it off.
And if you'd rather not put in the effort of making your own? Check out Kiehl's turmeric and cranberry seed mask which they say works like an 'instant facial' to brighten and energise the look of dull, fatigued skin. Turmeric is particularly good at brightening up duller, darker skin tones (just look at Thandie Newton for proof). Kiehl's say that the addition of crushed cranberry seeds helps to gently exfoliate the skin so your face isn't just looking more luminous but also feeling smoother – sounds good to us.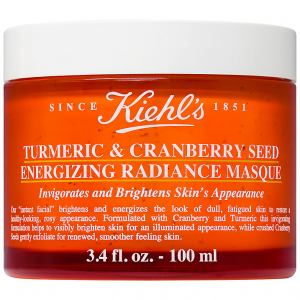 Kiehl's Turmeric & Cranberry Seed Energising Radiance Masque available for £26.10 from John Lewis here. 
If you've had enough of spraying your turmeric into your mouth, eating it in your snacks or stirring it into your tea – how about rubbing it all over your body? If you fancy it, proudly Vegan Society registered natural company, Friendly Soap has your back. Made with Tea Tree essential oil, chosen for its naturally gentle antibacterial and anti fungal properties this handmade soap is silky smooth, invigorating and wonderfully rich and creamy. It's totally free from parabens and palm oil (so you don't have to worry about the fate of the rainforest as you contemplate life in the shower).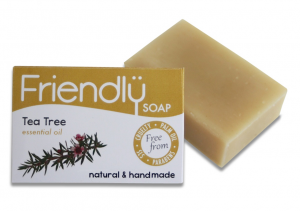 Friendly Soap Tea Tree and Turmeric is available for £1.99 from Healthista shop here.
The cookbook: The Turmeric Cookbook
If you want to learn more about the benefits of turmeric, this cookbook is calling your name. Listing every benefit and all the studies that back up the claims, this turmeric cookbook tells you exactly how to use the spice plus it includes 50 delicious recipes to incorporate it into. Whether in root or powder form, turmeric can be used in juices, smoothies, infusions, soups, curries, pulses, stews, for roasting vegetables, adding to hummus, yoghurt and marinades for fish, meat or tofu.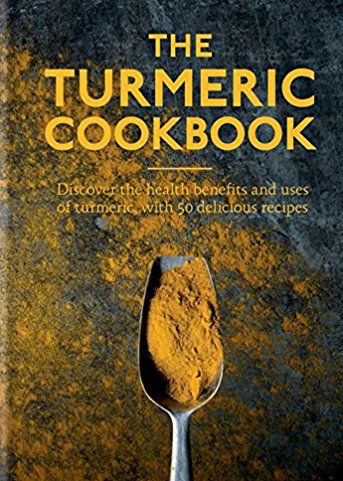 The Turmeric Cookbook is available for £10 from Amazon here.  
Read more
10 hot super foods (and what to do with them)
8 healthy food essentials from the UK's hottest vegan couple
3 green juices from beauty guru Liz Earle using the latest super foods
13 healthy cooking oils that AREN'T coconut