Best-selling author Camille Knowles cured herself of crippling eczema through diet, which is why we love her healthy recipes for glowing skin, extracted from her new book The Beauty of Eating Well
Glowing skin is a beauty phenomenon that starts from within. It is what you put into your body, rather than what you put on it.
28-year old Camille Knowles' knows this only too well. From the age of six, Knowles was diagnosed with severe eczema and the condition lasted into her adult years and even saw her hospitalised at one point. At sixteen, with no cure available she became hopeful and managed to tackle her eczema through simple lifestyle changes such as exercise, a strict diet and mindfulness.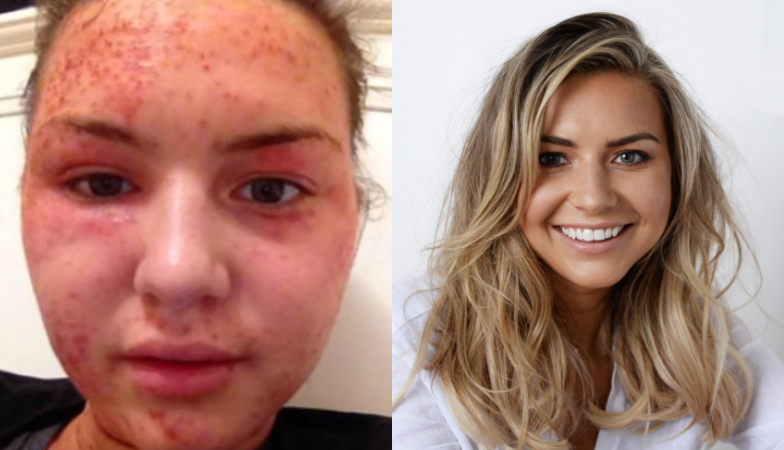 Knowles eliminated gluten, dairy, sweets, crisps and anything processed and also found that tomatoes, oranges and lettuce were also on the list of foods she needed to avoid to prevent flare-ups.
With the help of skin nourishing ingredients backed by naturopath  Hermann Keppler and leading dermatologist Dr Tim Clayton, Knowles (also a professional holistic chef) has created a cookbook to share her knowledge not only with other eczema sufferers but also with anyone who wants to eat to achieve healthy, glowing skin.
So what more reason do you need, these recipes are all in one- skin, body and more importantly, glowing. As Knowles says, time to put the freedom and fun back into food and get that glow.
Glowing skin drink recipe #1 Pink Glow

Serves 2 | Prep time: 5 mins | Equipment: Juicer
Ingredients:
-½ x red cabbage
-2 x pink lady apples
-1 x lemon, juiced
Method:
Trim all the ingredients so they can fit through the juicer
Put through the juicer, stir and serve
Fun health fact: As if this pink beauty isn't already tempting enough, it's a great way to add in your daily fruit and vegetable intake in juice form.
Glowing skin breakfast recipe #2 Blue Lagoon Magic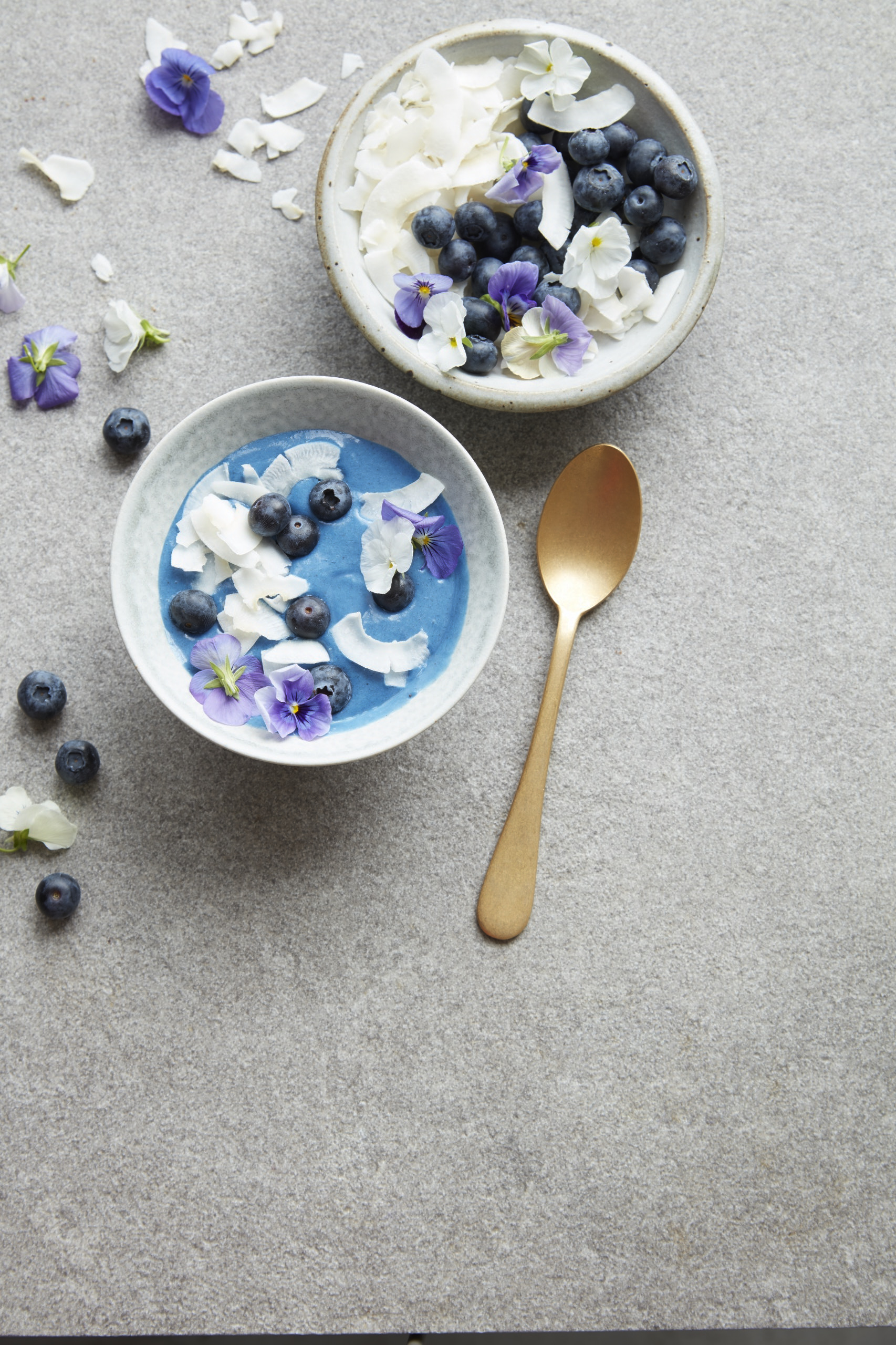 Serves 1 / Prep time: 5 mins / Equipment: Blender
Ingredients:
For the smoothie:
-1tsp x blue spirulina
-2 x frozen bananas
-Splash of coconut milk
To serve:
-Handful of coconut flakes
-Handful of fresh blueberries
Method:
Put all the smoothie ingredients into the blender
Blend for 1-2 minutes until smooth
Place into a bowl and top with toppings
Fun health fact: This bowl of vitamin C goodness contains the blue-green algae superfood spirulina, often used as a vegan replacement for iron and protein, and also packed with the potent antioxidant selenium.
Why not try: Have a bit of fun and play around with other natural powders to make your food more colourful and exciting – such as Pitaya powder to make this bowl bright pink. Pitaya, also known as dragon fruit, is an exotic superfruit.
Glowing skin snack recipe #3 Seeded Teff Crackers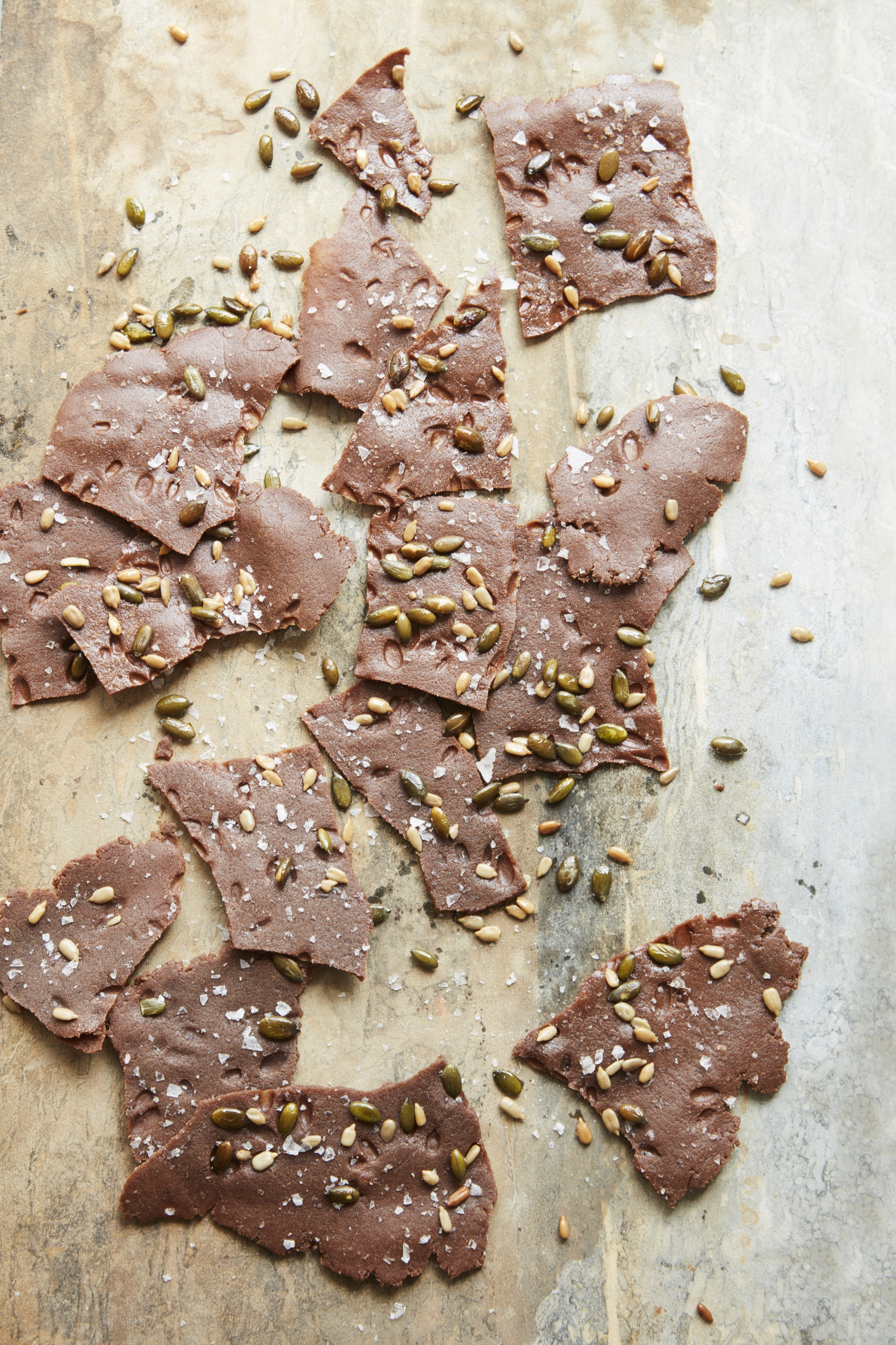 Serves a large baking sheet's worth of crackers | Prep time: 5 mins | Cooking time: 14 mins
Ingredients:
-80g/¾ cup x teff flour
-60g /½ cup x buckwheat flour
-50ml/3½tbsp x olive oil
-6tbsp x boiling water
-Pinch of sea salt
-1tbsp x sunflower seeds
-1tbsp x pumpking seeds
-1tsp x sea salt
Method:
Preheat the oven to 190C/375F
Put the teff and buckwheat flour into a bowl, add a pinch of sea salt and pour in the olive oil. Rub between finger tips until it begins to come together into a crumble consistency
Stir in the boiling water and then gently knead with your hands until the dough is moist and sticks together
Form into a flat circle on a piece of baking parchment and cover with another large sheet of parchment. Roll the dough between the sheets of parchment until it is about 1½mm/0.05" thick. Peel of the top layer of parchment paper
Sprinkle over the seeds and sea salt, pressing firmly into the dough
Bake for 12-14mins until golden and firm to touch
Leave to cool for 10mins before breaking into crackers
Fun health fact: The super tasty, tiny grain teff, which is iron and gluten-free, has recently been called Hollywood's new superfood and the new quinoa.
Why not try: Warm with homemade hummus dip (recipe found in book)
Glowing skin meal recipe #4 Pink & Green Quinoa Bowl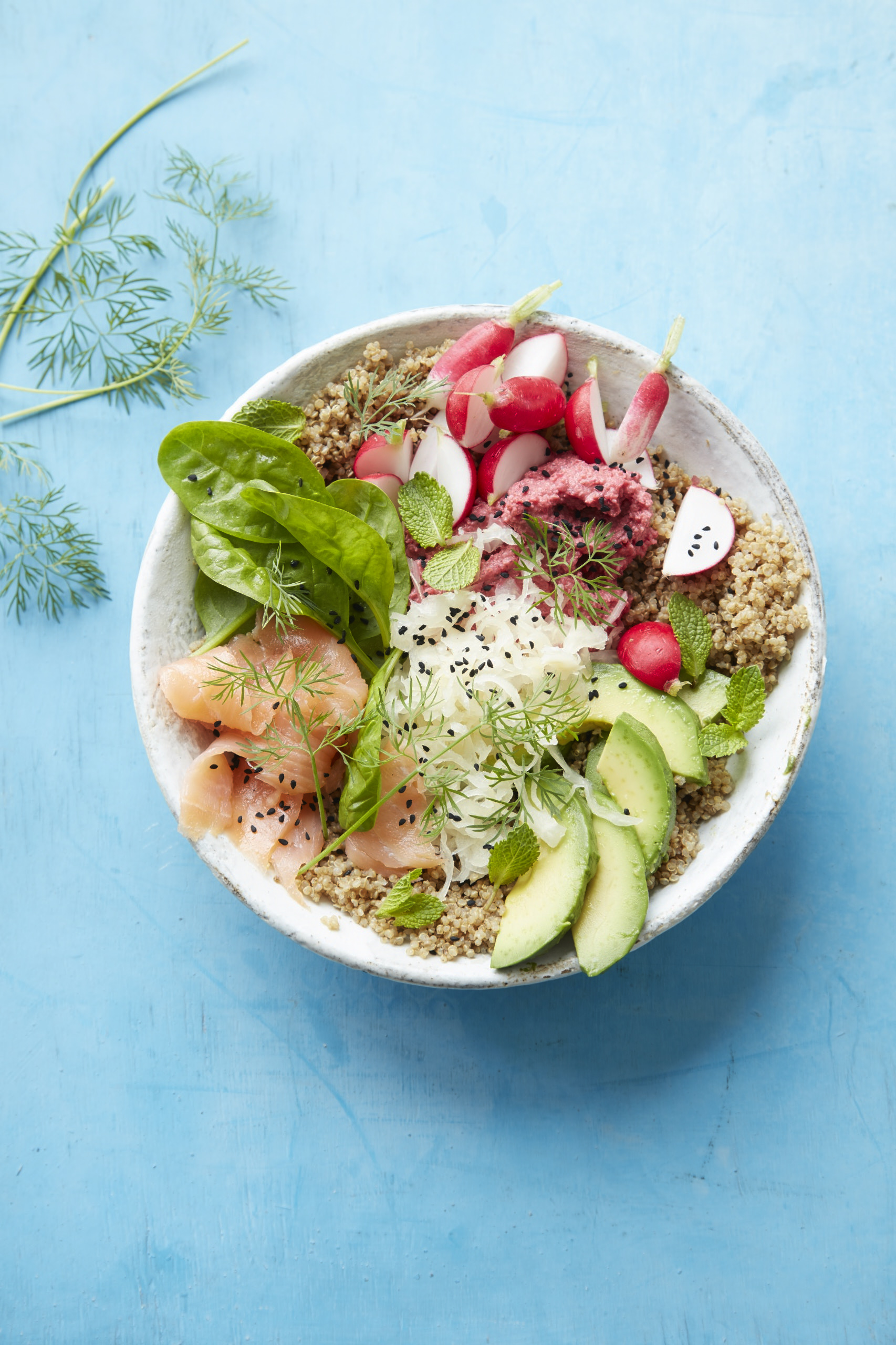 Serves 2 | Sauerkraut prep time: 15 minutes | Ferment time:5 days-2 weeks | Overall prep time: 5 mins
Ingredients:
For the quinoa bowl:
-200g/2 cups x wholegrain quinoa, cooked
-1 x large spoonful beetroot hummus
-1 x large spoonful sauerkraut
-50g/1½oz x smoked salmon or 50g/1½oz tinned chickpeas
-Large handful of spinach
-1 x avocado, sliced
-8 x radishes, finely sliced
-2tbsp x olive oil
-1tbsp x nigella seeds
-Small handful fresh dill, roughly chopped
-Small handful fresh mint leaves, roughly chopped
For the sauerkraut:
-1 x white cabbage (about 1½kg, finely shredded)
-6tbsp x Himalayan sea salt
-1tbsp x juniper berries
Method:
To make the quinoa bowl
Place the quinoa in the bottom of a large bowl with a spoonful of sauerkraut (see below) and hummus in the centre
Arrange the salmon, or chickpeas and vegetables around this, scatter over the nigella seeds and fresh herbs then drizzle over the olive oil
To make the sauerkraut
Combine the cabbage and salt in a large bowl and massage with your hands for 10mins. Slowly the cabbage will begin to release liquid
Add the juniper berries and transfer to a large sterilised jar or container. Cover loosely with cling film and place a plate on top to ensure that the cabbage is immersed in the liquid
Leave in a cool dark place (about 18-20C) for at least 5 days to allow the cabbage to begin to ferment. It takes around 2 weeks for the flavour to fully develop. Once it is to your liking, transfer to a smaller sterilised jar and keep in the fridge for up to 6 months
Fun health fact: Eating cabbage regularly has been shown to protect against radiation and reduce your risk of heart disease.
Why not try: Vegans can replace salmon for chickpeas.
Glowing skin meal recipe #5 Buckwheat Noodle Buddha Bowl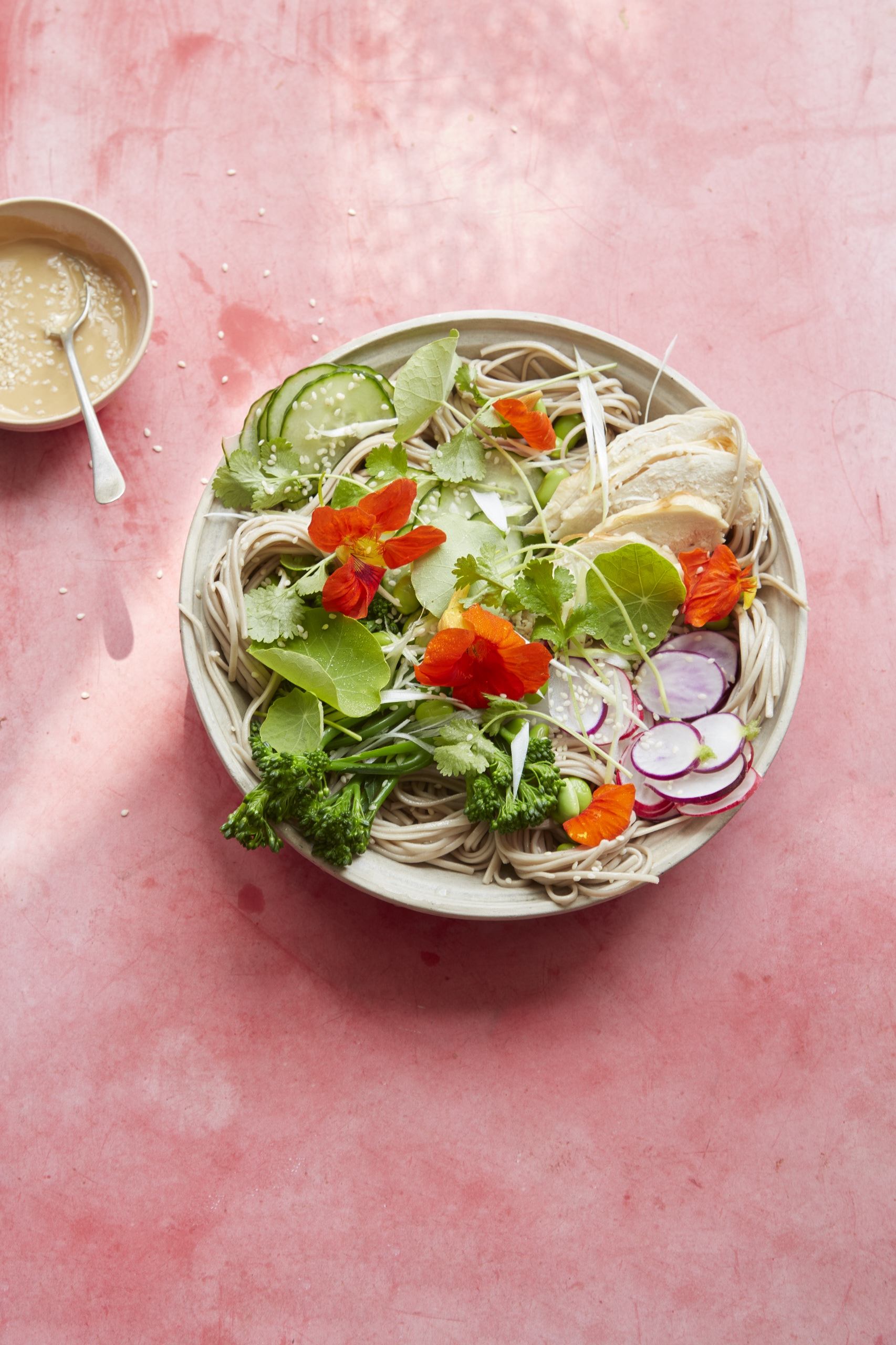 Serves 2/ Prep time: 10 mins / Cook time: 20mins / Equipment: Roasting Tray
Ingredients:
-1 x chicken breast (optional)
-100g/3½oz x buckwheat soba noodles
-1tbsp x virgin sesame oil
-100g/3½oz x edamame beans
-100g/3½oz x tenderstem broccoli, sliced in half lengthways
-2tbsp x tahini
-2tbsp x tamari
-2tbsp x rice wine vinegar
-6 x spring onion, finely sliced
-¼ x cucumber, finely sliced
-6 x radishes, finely sliced
-1tbsp x sesame seeds
-Handful of nasturtium leaves and flowers
-Handful of chopped coriander
Method:
Preheat the oven to 200C/390F. Place the chicken breast on a roasting tray and cook for 10-12mins until the juices run clear. Remove from the oven and leave to cool
Bring a large pan of water to the boil and cook the noodles for 8-10mins until tender. Drain and refresh briefly under cold water, drain well and toss with a drizzle of sesame oil
Blanche the edamame beans and broccoli in boiling water for 2-3mins then drain
Whisk together the tahini, rice wine vinegar, tamari and sesame oil to make the dressing
Assemble all the ingredients in a bowl, drizzle over the dressing and scatter over the sesame seeds, herbs and flowers
Fun health fact: Broccoli is the powerhouse of all things skin healthy. Brimming with detoxifying and anti-inflammatory ingredients it helps to fight against cancer but also protect against free radicals with it's extremely rich vitamin C content. So keeps your skin's natural glow intact.
Glowing skin soup recipe #6 Green Glowing Goddess Soup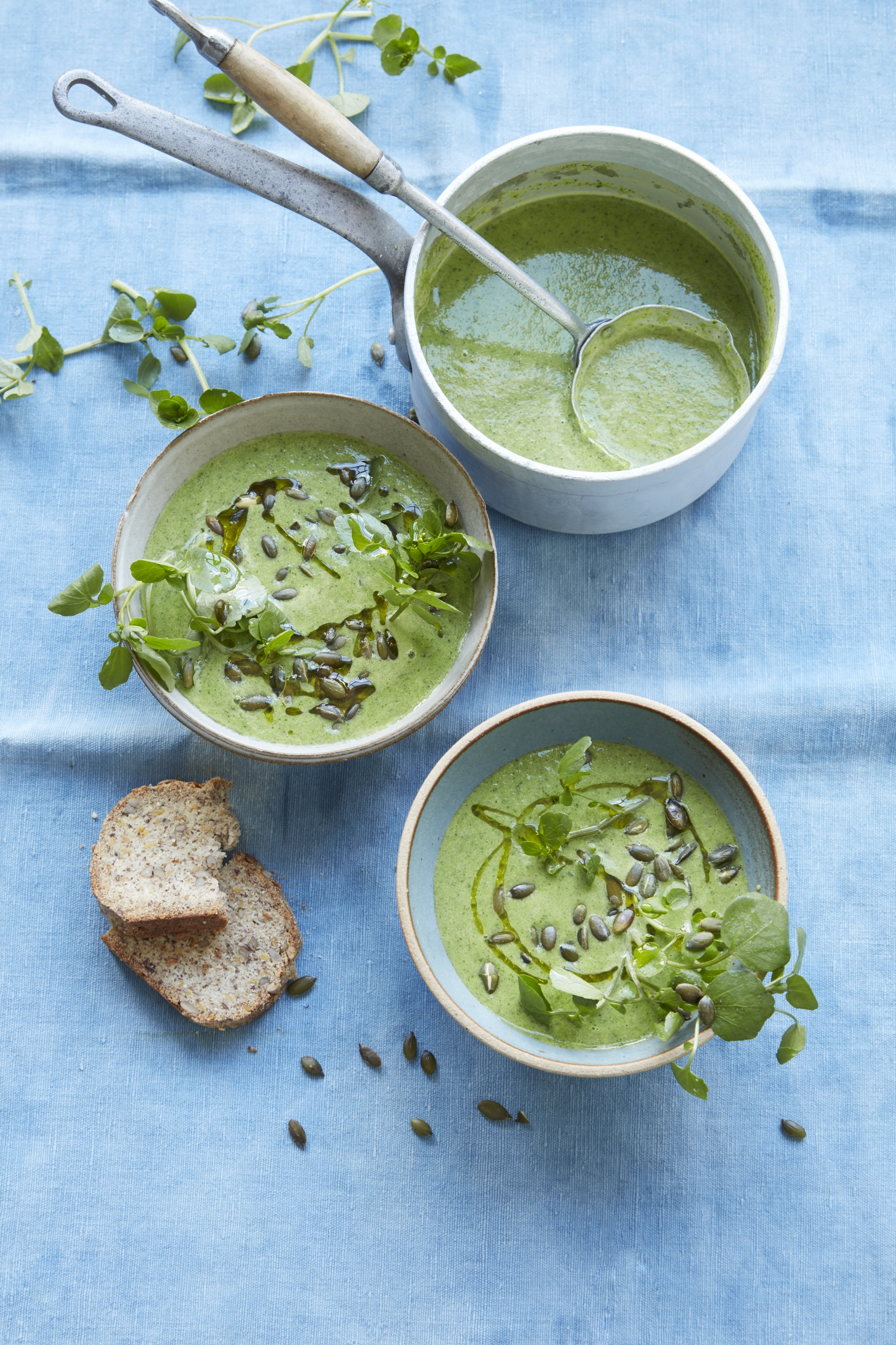 Serves 2 / Prep time: 10 mins / Cook time: 10 mins/ Equipment: Hand blender
Ingredients:
-1 x onion, finely sliced
-1 x leek, finely sliced
-2tbsp x olive oil
-300ml/10fl oz x vegetable stock
-100g/3½oz x peas
-1 x bunch watercress (about 100g)
-150ml/3½fl oz x almond milk
-Handful of pumpkin seeds
-Sea salt
-Pepper
To serve:
-Olive oil
-2 x slices grain-free bread to serve
Method:
In a large saucepan heat the olive oil and gently fry the onion and the leek over a very gentle heat for 5-7mins until soft and translucent
Add the vegetable stock and bring to the boil then add the peas and boil briefly for 2mins
Remove from the heat then add the watercress and almond milk and blitz with a hand blender until smooth
Return to the pan and heat gently without allowing the soup to boil, season with salt and pepper to taste
Gently toast the pumpkin seeds in a dry frying pan, watching them closely so they do not burn
Serve the soup with the toasted seeds scattered on top, a drizzle of oil and with the grain-free bread
Fun health fact. Watercress isn't in the limelight much but this undercover cousin of kale is a powerhouse packed with phytonutrients (nutrients found in plants) that our bodies thrive on, that help protect from illness and contribute to healthy hair, nails and teeth too.
Glowing skin dessert recipe #7 Matcha Lime Cheesecake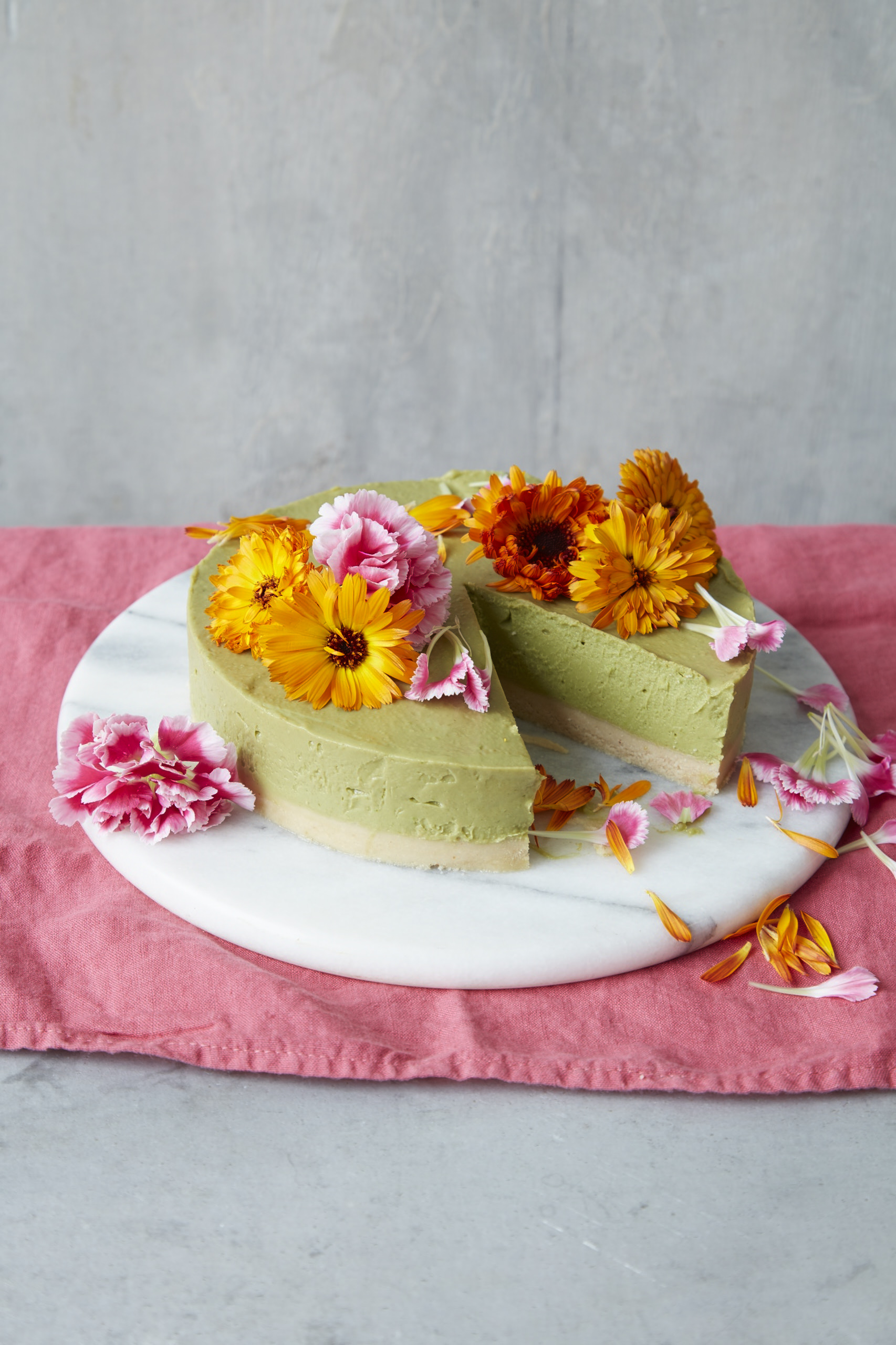 Serves 8-10 / Prep time: 10 mins / Cook time: 15 mins/ Setting: 40 mins / Equipment: 18cm (7″) springform tin & parchment paper
Ingredients:
For the base:
-175g/1¾ cups x ground almond
-1tsp x cashew butter
-80ml/½ cups x coconut oil, melted
-1tbsp x maple syrup
For the filling:
-1tbsp x matcha powder
-3 x limes, zest and juice
-3tbsp x coconut cream
-100ml/½ cups x coconut oil
-4 x avocados
-3tbsp x raw organic honey or maple syrup for vegans
Decoration suggestion:
-Edible flowers e.g. marigolds and pinks to decorate
Method:
Line the base of the springform tin with parchment paper. In the bowl of a food processor add maple syrup, ground almonds and cashew butter then very briefly pulse together. While the food processor is running pour in the melted coconut oil until the dough comes together
Press the mixture into the base of the tin to form an even layer and place in the freezer for 20 mins
While the base in setting in the freezer, begin to make the cheesecake filling. Add all the filling ingredients into a food processor and blend for 1-2mins until the mixture comes together and is smooth and creamy
Pour over the shortbread base, smooth over and set in the freezer for 20 mins. Transfer to the fridge until ready to serve
When ready to serve, remove from the fridge and take out of the tin. Top with edible flowers and cut into slices.
Fun health fact: Matcha about matcha? We are too. Matcha was used for centuries by Buddhist monks to help keep them focused during meditation. It's packed packed with antioxidants and helps calm the mind, making your skin radiant inside and out. (Our favourite is Pukka's Clean Matcha Green £3 from Waitrose)
Glowing skin meal recipe #8 Cauliflower Pizza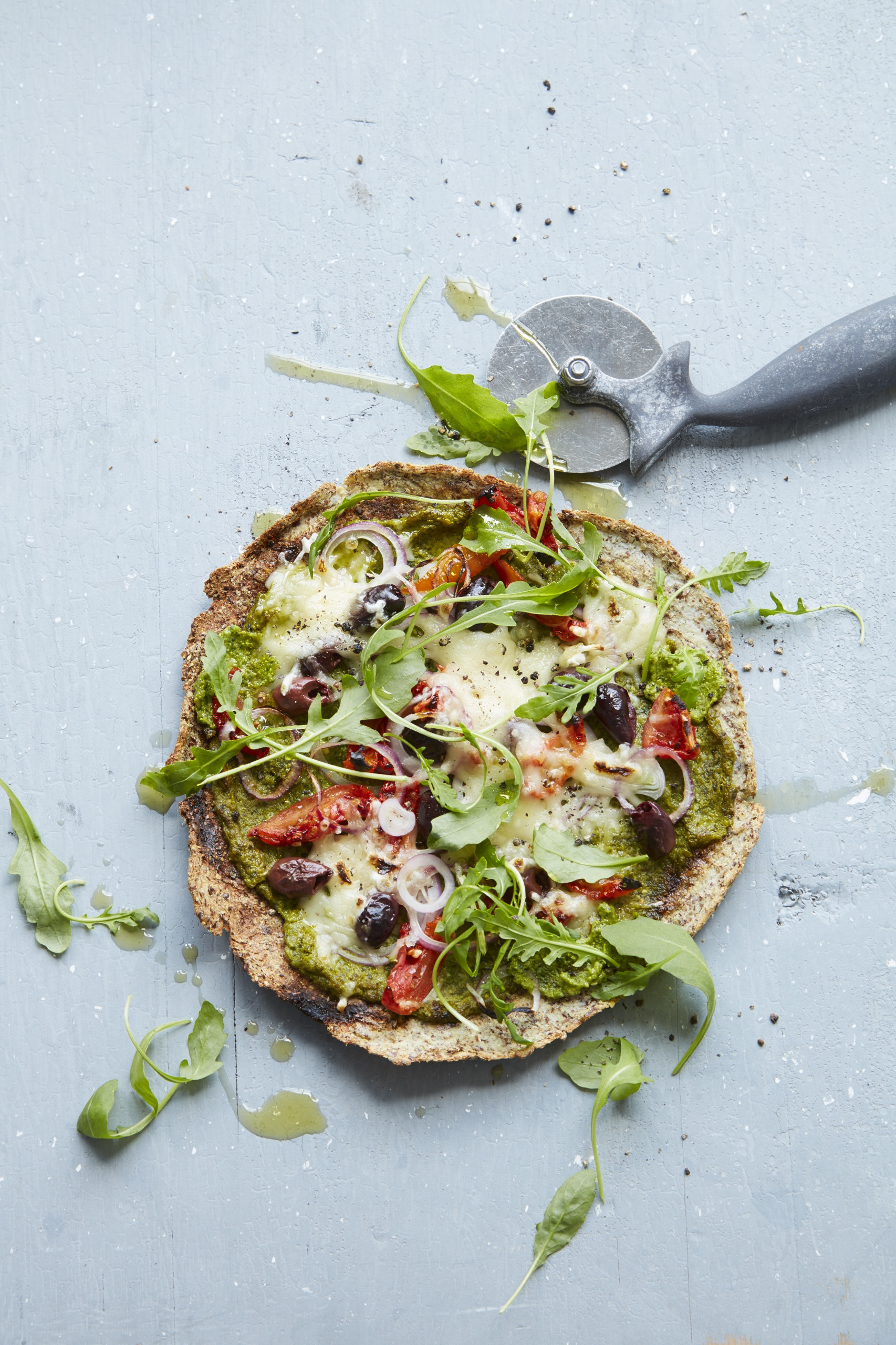 Makes 1 medium pizza / Prep time: 20 mins / Cook time: 1hr / Equipment: Food processor, baking sheet & parchment paper
Ingredients:
For the crust:
-1 x cauliflower (about 1kg), broken into florets
-2tbsp x ground flaxseed
-4tbsp x water
-Salt
For the topping:
-8tbsp x pea pesto
-4 x sun-dried tomatoes, chopped
-1 x courgette/zucchini, peeled into ribbons
-1 x red onion, finely sliced
-1 x handful of black olives
-100g/3½oz x vegan cheese (grated mozzarella style)
-Handful of rocket/arugula to serve
-Olive oil
Method:
Preheat the oven to 180C/350F. To make the pizza base, place the cauliflower into a food processor and blitz until it has formed an even couscous like texture
Bring a large pan of water to the boil and blanch the cauliflower for a few seconds then strain using a fine sieve and rinse briefly under cold water
Place into a clean tea towel and squeeze out as much moisture as possible
Whisk the flaxseed with the water in a bowl then add the cauliflower and mix together to form a crumbly dough
Bring the dough into a ball with your hands and roll out between two pieces of baking parchment to create 1 medium pizza
Transfer these to a baking sheet and bake for 45mins until crispy and golden
Top the pizza with the pesto then scatter over the other ingredients, finishing with the cheese
Return to the oven for 8-10mins until the cheese has melted and the courgette/zucchini is starting to wilt
Scatter over the rocket/arugula and drizzle over a little oil to serve
Fun health fact: Cauliflower also contains phytonutrients as well as antioxidants to protect against cancer. As well as this, it has fibre which enhances digestion and choline which is essential for learning and memory.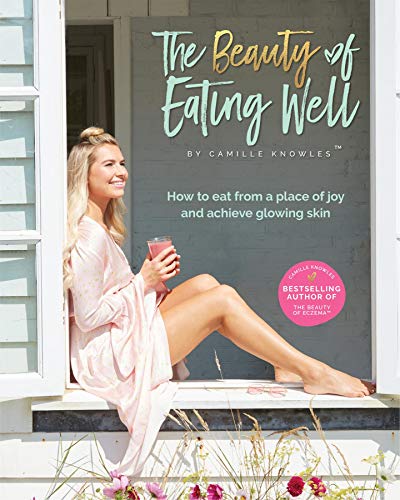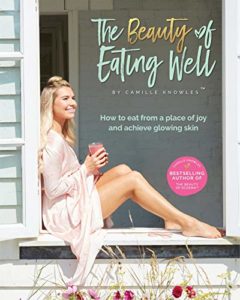 These recipes were extracted from The Beauty of Eating Well by best-selling author Camille Knowles.
Why not also give her inspiring book The Beauty of Eczema a read to.
Relevant Healthista Content
'I've had severe eczema since I was six – this helped'
9 best skin brightening products for glowing skin
5 best anti-ageing face massages for glowing skin
Anti-ageing face yoga to add a glow to your forehead in 60 seconds
More Healthista Content
Tired all the time? You might have sleep apnoea – here's a doctor's guide on what to do
7 easy hair growth tips for long, luscious locks
Acne be gone – 8 steps to treating teenage skin
How to lose weight – a top nutritionist's guide
Like this article? Sign up to our newsletter to get more articles like this delivered straight to your inbox.