Trainers are the most important part of a runner's gym kit. But their quality can vary so much –  whether it be short, long, or speedy we've chosen the best running shoes for women, whatever your needs
When it comes to running, if your feet aren't comfortable, you won't be either. Technology is constantly innovating, and that includes running shoes as much as smartphones. Thanks to the latest scientific developments from running shoe manufacturers, a run need never to be cut short again from aches and pains, if you choose the right pair for your need. Thankfully we've done the hard work for you.
Best running shoe for short distance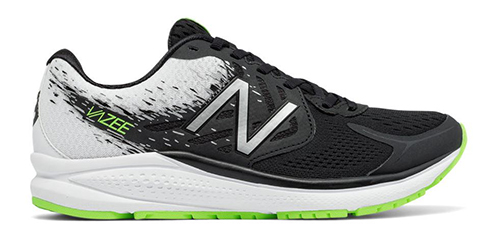 Fast, lightweight and still stylish, the Vazee Prism v2 is the second of the Vazee Prism line. It's been upgraded with materials of synthetic mesh for a roomier feel in the toes, however still offering a secure fit. Geometric prisms run through the soul for optimum grip, especially in wet weather. The midsole is made from REVlite foam, a softer material in comparison to rubber. However a medial post, a device with more density within the midsole, helps with stability. It's common in most shoes for over-pronators, and perhaps the reason for its ounce in extra weight compared to the previous Vazee Prism. Overall, the shoe bridges the gap between support and flexibility just right.
It's a steal for a short-run shoe
Food and Lifestyle writer Vanessa says: These trainers were quite quickly my favourite to run in. They supported me throughout my 5K runs with a cushioned fit inside. There was a generous amount of space in the toes, and so the laces do need to be pulled quite tight, but I prefer this to feeling restricted. I also prefer a shoe to have overlays as opposed to being a completely mesh upper, and these have that. I think the shoes remain sleek and good-looking, with a pop of neon colour and high visibility material on the 'N', so much so that I often wore them during the day.  I think the price a steal for a short-run shoe.
Buy New Balance Vazee Prism v2 for £66.49 here
Best running shoe for long distance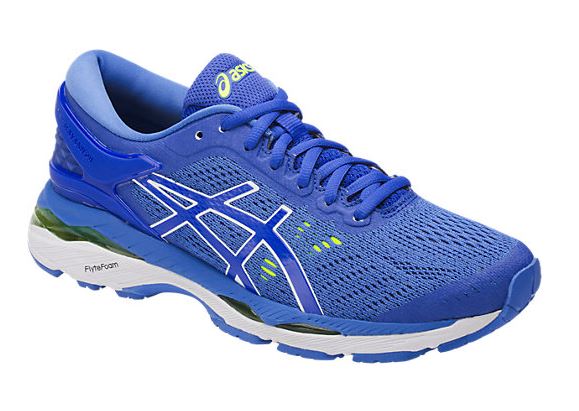 The 24th edition of this iconic shoe continues to be a great option for over pronators. Strong support is the Kayano 24's best selling point. Looking at the shoe, there is an external cage around the heel for optimum hold, what Asics call a metclutch. There is also a new medial support system, a function in shoes for overpronators. In the midsole (bottom of the shoe), the Flytefoam technology helps the trainer recover its shape after every use. According to Asics, this also means the more you roll your foot, the more stable it will become. Combined with a newly designed upper of jacquard mesh (over the top of the foot), the fit is glove-like, and keen Asics fans will notice a roomier toe box than previous models. Despite racking up over 20 years of success as a pronators go-to for stable long distance runs, it also works a dream for neutral runners.
I can't recommend these enough
Digital Director Yanar says: There's something magical about these trainers because I look forward to wearing them at any opportunity and feel like I'm bouncing off the streets when I run in them. Running trainers for overpronation  (which means the inside arch and sole of the foot needs extra support to avoid collapsing inwards) can sometimes feel bulky or hard but these make me feel like I'm wearing springiest of soles and the comfiest of cushioning, a bit like running on a duvet! I run marathon distances in these and can safely say my feet are well looked after, not like they'd been through the wars at all. If you're looking for trainers for overpronating feet that will get you through the miles with ultimate ease and comfort then I can't recommend these enough.
Buy Asics Kayano 24 for £150 here
Best running shoe for lightweight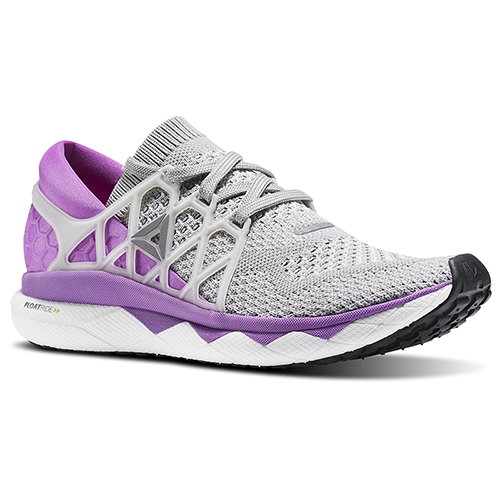 Reebok have broken into the top-market long distance running shoe range with the new Floatride. The name reflects the midsole which is made with what Reebok call 'Float Foam', a very springy material for excellent rebound. This is 50 per cent lighter than typical EVA foam (ethylene vinyl acetate) used in most well-cushioned shoes. EVA does feature in a support rim that centers and balances the foot throughout your entire stride. The well received seam free one piece ultraknit on the top of the shoe moulds to the foot, even if you typically suffer from the wide or narrow foot issue (which really is a bother!), and provides breathability. To help keep the foot stable, a funky cage at the back (also reflective) cups the heel.
Editor Anna Magee says: I thought nothing could tear me away from my trusted running trainers, who shall now remain nameless. But the incredible beauty of these shoes made me want to give them ago. It was love at first sight of the gorgeous flexible mesh covering in divine baby grey and its lime green trims. Then I put them on. Without being bulky, they gave me height and cushioning and they not only looked great with my training gear but also with my Ted Baker sundress. The best bit was running in them felt like wearing nothing on my feet in terms of weight, but having all the protection and comfort of my old favourites. Needless to say, these are now my current go-to paid not only for runs but also for long walks and any plyometric work. A lightweight shoe whose versatility make it worth the £££s.
Buy Reebok Floatride for £119.95 here
Best running shoe for track to treadmill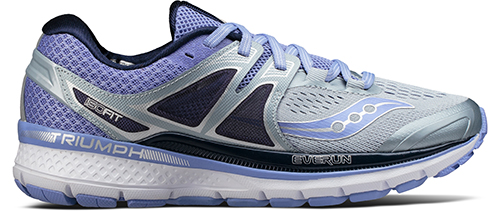 For neutral runners who don't need too much support, the Triumph ISO 3 has your name on it. It offers enhanced energy return with the EVERUN foam centered under the heel and the topsole – this places cushioning closer to the foot than normal and distributes the force over a larger surface area. Saucony say the EVERUN is three times more durable than EVA (ethylene vinyl acetate), meaning you shouldn't feel as crippled at the end of a long run. Compared to previous models, the shoe's new upper, now constructed from an engineered mesh fabric, offers a much more snug fit. This gives better elasticity through the lacing and creates an all-round more flexible feel.
It felt like I was putting on a pair of slippers
Food and Lifestyle Vanessa says: Placing my foot into the Triumph ISO 3 was a dream. It genuinely felt like I was putting on a pair of slippers. I wasn't sure how this plush feel would withstand on a run, but with the strong EVERUN technology, it spring boarded me through an energising run whilst remaining so comfy inside. The toebox is also quite roomy, which I have noticed is a manufacturing problem, but this did not effect me as I just pulled the laces tight. Despite it apparently being a little heavier trainer, I didn't notice this at all. They felt super lightweight on my feet, which also makes them a great shoe to travel with.
Buy Saucony Triumph ISO 3 for £140 here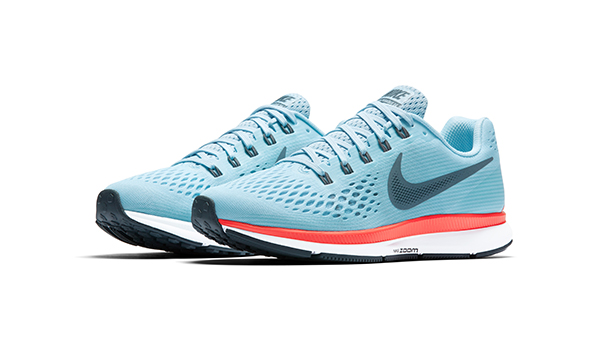 The Nike Pegasus 34 is a great all-rounder, with decent quality features to cross from short distance to long, the treadmill or roads. This latest Air Zoom model is even sleeker than before. The upper, called Flymesh, features seamless lining and small holes across to  allow breathability and reduce over-heating. The only seam is at the back of the heel, and the tongue of the shoe is more like a second part of the upper, moulding across the foot with the laces neatly over the top. Nike's Flywire technology is the use of cables, strategically placed round the arch of the foot to achieve a 'lockdown fit'. Nike's Premium Cushlon ST foam and Zoom Air pockets are under the forefoot and heel to create a springy feel, whilst the rubber sole will absorb impact, giving smooth transitions.
I haven't experienced any of my usual pains since running in these shoes
Healthista's Hannah says: Let me start off by saying that I am not a runner because I have never found a running shoe that supports my high arches enough. I also feel as though I am running flat on pavement with a lack of cushioning. However, these Nike's are like walking on a cloud and they felt plush around my foot yet supportive underneath. I was immediately excited to start running, which never happens.
I started with a run in Hyde Park and later that week took them for a run in the country. Now I was very skeptical thinking that with the uneven terrain the shoes and I would not fair well – I was wrong. The grip was good and despite hopping over branches and whatnot, my ankles felt well supported.
Where I usually have knee, foot and hip pain after I run, I haven't experienced any of those pains since running in these shoes. They feel durable to last me a long time – a little stiff to start with – without being heavy, and I just love how stylish they look.
Buy Nike Air Zoom Pegasus 34 here £99.95
Best running shoe on a budget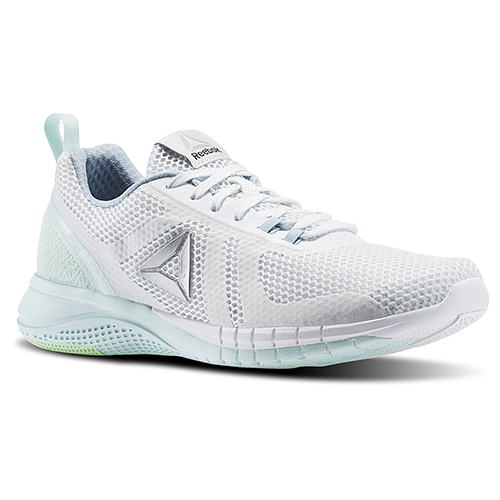 In the more affordable trainer category, Reebok's Print Run 2.0 will take you from the treadmill to the office whilst looking stylish on the street. To hold, the lightweight trainers toebox feels very flexible, made with an airy mesh material. On the underfoot is where Reebok have created dynamic 'strategically sized nodes', for enhanced flexibility and cushioning. The midsole is made with carbonated foam, a very springy and responsive material, with a tougher carbon rubber heel to improve the durability.  An outer perimeter on the sole adds to stability control.
Versatility is really useful especially if you are looking for an all-round shoe
Food and Lifestyle writer Vanessa says: I didn't expect too much from a lower priced shoe, but I find these trainers really responsive to my stride and energising in the sole. They aren't very cushioned inside and take a while to get on, but are still comfortable to run short distances in at high speeds. The strong rubber heel is what I like most about the shoe, as it feels very sturdy when it strikes. The low cut design makes the shoes flexible, and I was able to do a bodyweight workout in these too without any issues – versatility is really useful especially if you are looking for an all-round shoe for different purposes.
Buy Reebok Print Run 2.0 for £41.96 here
Best running shoe for speed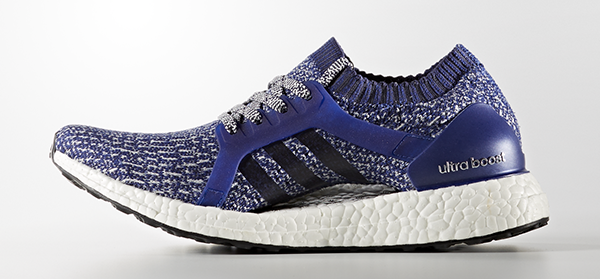 On first glance, the Ultra Boost X could pass as a cool fashion trainer. However, Adidas have done a lot of research to create a female specific long or short distance trainer. The most unique part is the 'floating arch' where the material between the midsole and midfoot is not attached. This is because women have a great angle of arch with more flexible ligaments. The upper is Adidas' Primeknit material, which is a light, breathable fabric which is knitted into one-piece. It looks like a sock, therefore creating what Adidas call a second-skin experience. Adidas wanted to create the most 'responsive cushioning ever', therefore the midsole is formed with thousands of foam pellets called 'energy capsules' for a speedy, springy ride.
They felt like a memory foam mattress
Healthista's Ony says: There is really no denying the Ultra Boost X's are just beautiful. So what are they like to run in? I have slightly wider than average feet with a high instep, and whilst the Ultra Boost X is supposed to fit like sock and adapt to your foot, on first wear, I felt like I was wearing something reminiscent of Spanx for the foot. However, before I actually put them to trial I tried re-lacing them for a looser fit and that made a world of difference. This time when I slid my foot into the shoe they felt like a memory foam mattress and I was  ready to start my 5K run.
After a run I may be exhausted, but my feet aren't. It's like running on air or bouncy springs. I'm a massive fan of the midsole of the BOOST, but if you prefer to feel the ground when you are running then these are probably not for you. Additionally, if you like tight ankle support, then the sock like feeling may also not be for you. Another thing I love about this shoe is the grip which gives great stability even on wetter days .  £129.95 is quite a bit to shell out on a pair of running shoes, but I guess that's the price we have to pay for running on air.
Buy Adidas Ultra Boost X for £129.95 here
Best running shoe for trail running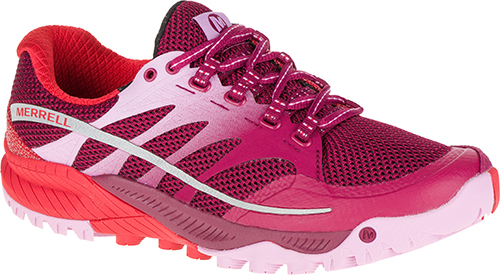 A confident trail run requires a reliable shoe, and the All Out Charge trainer clinches in all the right places to ensure even the rockiest of rides doesn't go unprotected. The mesh upper has a special 360 degree fit, called HyperWrap that moulds to your foot as you pull the laces, locking the foot into places to ensure stability. This makes the shoe tight feeling, but still striking a good balance between comfort and structure. The UniFly midsole provides a soft landing and disperses impact, with two foam shockpads for extra cushioning. You'll be well spotted on dark evenings, with three bright colours to chose from each with a sleek reflective strip. It's also worth noting the materials are vegan friendly, too. Newer models have since been released, but the All Out Charge withstands the reliability test of time.
It stood up to the test and didn't fail one bit in terms of protection, connection and cushioning
Digital Director Yanar says: Considering I'm normally a road runner I was impressed with how stable and comfortable I felt off road in these. I gave them a few test runs on Greenwich hills but the real test was a 25km trail race along the coast in Mauritius. More than just a few hills, I had rivers to cross, boulder trails to contend with, grass covered rocky paths, river banks to climb, steep ascents and scarily steep descents. The Merrell All Out Charge stood up to the test and didn't fail one bit in terms of protection, connection and cushioning. The fit is soft and flexible all the way around the foot and toe box has enough space to suit a wider foot while the heel is locked comfortably in place. I have pronating feet and this shoe definitely provided enough support. The trade off, however, of having good padding is the shoe is a tiny bit water logged for a few minutes after coming out of the rivers. But if you're not planning to cross rivers on your trail runs then I recommend these highly.
Buy Merrell All Out Charge for £70 here
If you have a piece of kit you couldn't live without, tell us on Twitter @HealthistaTV so we can share with others!
READ MORE
8 fitness trends your body will love this summer
The best health, fitness and wellbeing events in London this July
9 things you need to run a marathon
8 reasons to run that marathon
Best squat-proof leggings tested by the Healthista team
Like this article? Sign up to our newsletter to get more articles like this delivered straight to your inbox.