Looking to try a new class? These are the biggest and best fitness trends of summer 2017 – plus our (always honest) verdict after testing them out
Are you a fitness fanatic or wellness warrior? Then you'll be as excited as we are about the biggest fitness trends hitting the UK this summer. From imported Scandinavian trends to yoga under bright therapeutic lighting, we've found it all. Tried and tested, here are the classes you should be trying this summer.
The trend: Fusion fitness
Good for: Time-pressed people
Ever get fed up of doing the same workout all the time? Us too. Which is why we're loving the new class trend of fusion fitness. Classes that combine multiple styles of exercise are popping up everywhere, from TRX combined with yoga or boxing to Pilates chairs paired with vibration plates.
The people behind HEX are running Wake Up London – some seriously fun and sweaty HIIT and boxing fusion classes on the roof of Oxford Street John Lewis. We tried it out and can vouch for it being the perfect work out ahead of a day in the office. Plus, throughout the summer Transition Zone in Fulham are jumping head-first into this trend too.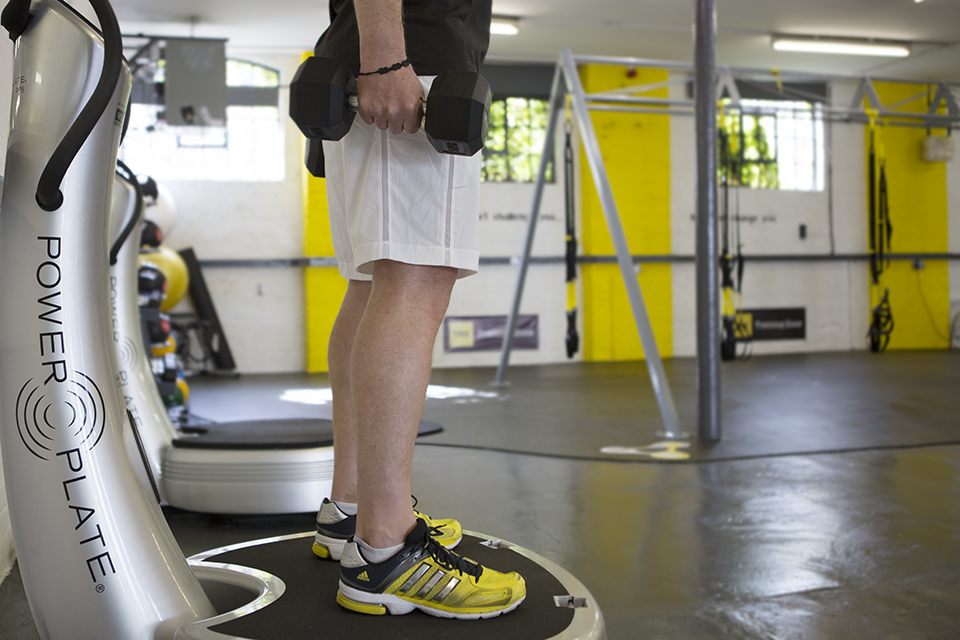 The Healthista verdict
The thing I loved most about the fusion classes at Transition Zone was how quickly I could get in and out of the studio. I went along to two fusion classes at the gym – Pilates chair fused with a vibrator plate and HIIT fused with TRX. Both classes had me working to my maximum and then out the door in time to get to the office.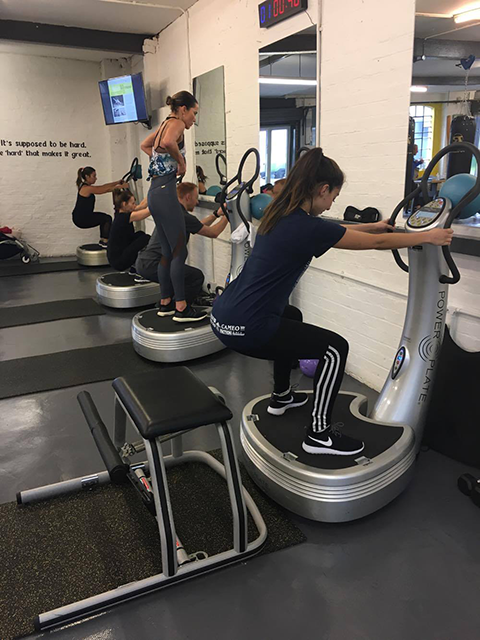 I loved the idea of a fusion class because when it comes to working out, I can get bored quickly. I get half way through a class and find myself wishing I could run out the door and do something else. But in the Transition Zone classes, by the time you've got fed up of one exercise, it's on to the next, keeping your brain and body switched on. Swapping between boxing and body weight exercises in the HIIT/TRX class challenged both my cardiovascular capacity and my muscles making it the perfect combination class. I would definitely recommend it for busy people that don't have the time to do these workouts separately.
Membership at Transition Zone, Fulham starts from £125, see their website here.
The trend: Multi-sensory fitness
Good for: Exhausted fitness junkies (for something different)
As more and more people become obsessed with the world of health and wellness, cognitive and mental health is being seen as more and more important. Enter multisensory fitness – meditative wellness workouts have started popping up that use light therapies, soundscapes and natural scents to take your workout to the next level. These types of classes are designed to stimulate the senses to calm, restore uplift or invigorate.
Australia-based yoga studio Humming Puppy's floors vibrate at the same frequency as they earth, creating a grounding effect during your workout. Sound off yoga, where yogis block out all outside noise is now a thing in NYC and here in the UK, new yoga studio ChromaYoga uses light, sound and aromatherapy to create an experience that is tailored to the mood you're trying to induce.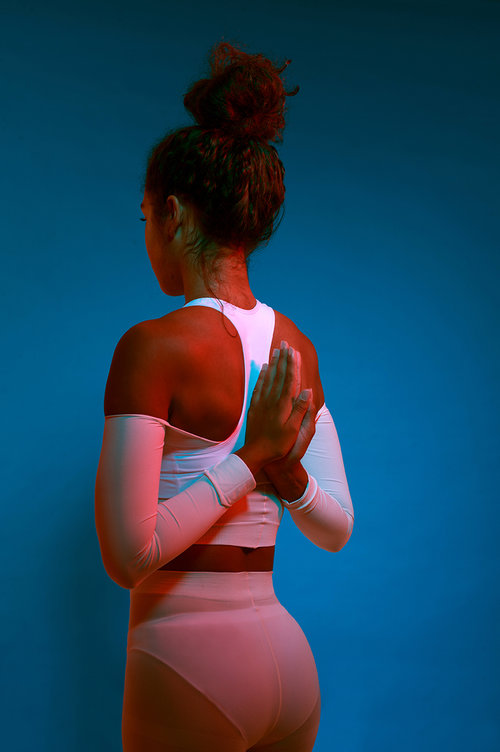 The Healthista verdict
ChromaYoga was like no class I have ever been to before. It was an experience rather than simply a class. The place was the epitome of Shoreditch trendy, more like an art space rather than a fitness studio. I went along to a morning, blue class – blue light flooded the studio and was supposed to help wake me up and energise me.
From the second the studio door shut behind us until the class ended I felt separate from the world outside. The combination of all-enveloping blue lighting, a light perfumed, fresh scent paired with relaxing sound frequencies made for an immersive experience. If you're looking for a way to encourage yourself to practice more often, this is the place to go – the class is a MUST try, I couldn't recommend it enough.
Classes at ChromaYoga in Shoreditch start at £11 and can be found on the website here. 
The trend: Workout props
Good if: You're bored with traditional weights
From bouncing boots to hula hoops, it seems we're constantly looking for fitness props to spice up our workout and this Summer is no different. Scandinavian trend Corebar (a total body workout class using a weighted bar) will be landing in Britain this year. And one of the props we won't be able to get enough of this year is a familiar fitness friend – the trusty resistance band. Snapping back to popularity after their appearances across the galleries and stories of the fit girls of Instagram, the bands are now even featuring in Glutes Gains classes in Fitness First gyms across the country.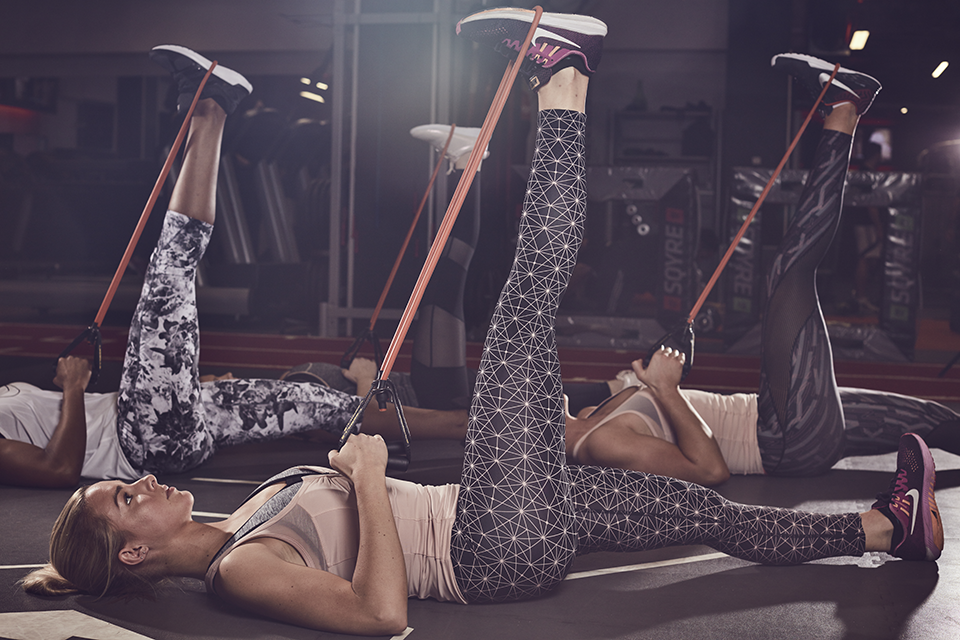 The Healthista verdict
I normally split my training (lower body one day, upper body the next, etc.), and so the Fitness First Glute Gains class was ideal. The addition of a resistance band was exciting and new to me because I had never made the effort to find out how to use one. What better way to start my education? The 30-minute class was a combination of bodyweight training and exercises utilising the resistance bands, such as bridges and a table-top pose with a 90-degree leg abduction. Abdominal work was also thrown in for good measure whilst the muscles recovered. My glutes were engaged and pushed further – I could really feel the burn with the extra resistance. We ended the class with side walking squats with the band around the knees. Thanks to the trainer's encouragement, I was just about to push through but it felt fantastic to work the muscles so hard.
Memberships at Fitness First gyms around the country start from £18 a month, visit as a guest on the website here.
The trend: Strong Women
Good for: Girls who lift and now want more
Last year was the year that women truly got into strength training. Popularised with hashtags like #GirlGains and #LadiesWhoLift the bro's at the gym are moving over and making way for women who have been championing their muscles as another facet of their femininity and a way to channel an inspiring new kind of body positivity.
Lifting has been long known to improve bone density and combat ageing but it's just taken an even bigger turn. The strong women movement is on the rise. Women are no longer just lifting weights but they're overturning tires, lifting barrels and pushing prowlers. The strong women trend is functional fitness at its best, proving that women are strong and powerful – London gym Foundry Fit is leading the way.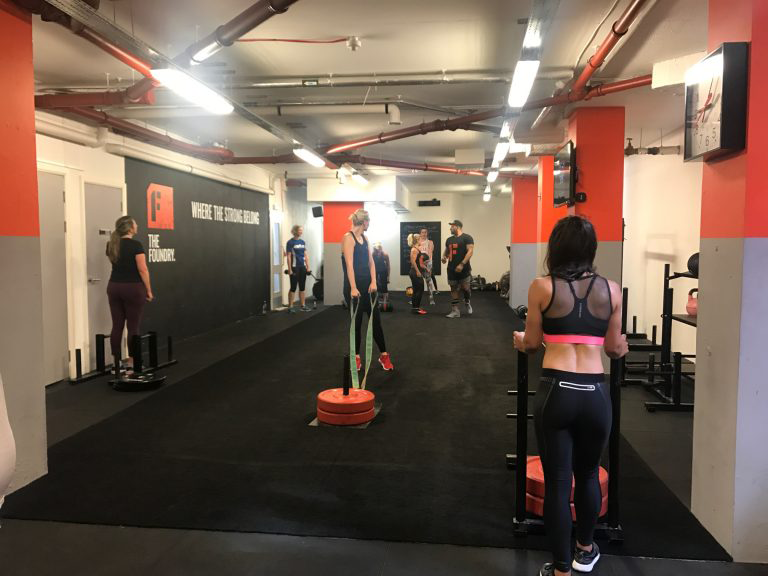 The Healthista verdict
I found that being around people who are stronger than you can be highly motivating and will push you to strive for more. There's also the progression element – at first, you may only be able to lift and push press a 20kg log but six months later you're best friends with the 30kg log which is hugely empowering and keeps you coming back to the class month after month. I find the element of progression sadly missing in typical gym classes.
After many years of just running to stay slim and fit, finally the focus is less about what my body looks like and more about what it can do and this mental shift feels healthy, positive and most of all sustainable.
8 semi-private personal training sessions and unlimited classes at Foundry Fit costs £149 in their Vauxhall or Old Street gyms 
The trend: Gymnastics
Good if: You like mixing fitness with pleasure
Britons are trading in the clubbing scene for the wellness world. And with the move away from more traditional nightclubs and alcohol-based socialising, people are looking for fun and innovative ways to get fit and fill the gap.
Gymnastic and circus style classes are gaining popularity. Silk rope and aerial yoga are still hanging about but more traditional acrobatic and gymnastic workouts are set to soar this year. Hand balancer, Sammy Dinneen is even offering one-to-one handstand lessons. Having long been a big part of yoga, callisthenics and CrossFit it seems hand standing might be set to become a trend in its own right.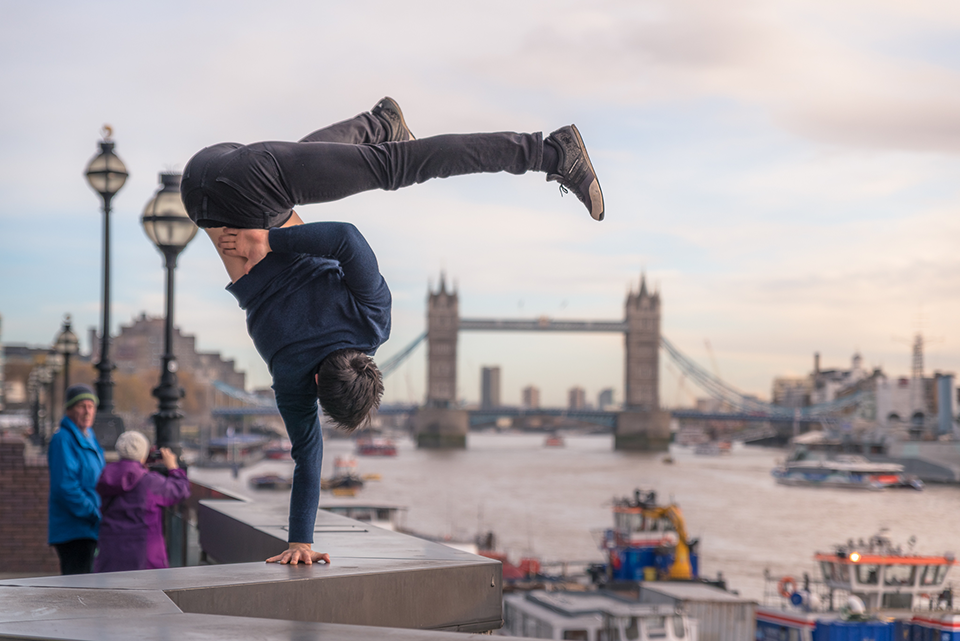 The Healthista verdict
I've been doing CrossFit for two years now so I jumped at the chance of improving my handstand skills. The one to one class was in Sammy Dinneen's north London flat in leafy Highgate. In a small minimalist room with a mat, mirror along one wall and just about enough space to kick into a handstand, I had a 45 min one to one taster session. We kicked off with some hollow holds, a core exercise that mimics the shape needed in a handstand and one we practice often in CrossFit.
Hollow holds are the foundation shape for many gymnastics moves so we did several rounds of that. Then we moved onto a few variations of wall walks focussing on keeping the core straight and shoulders and arms locked out. Easy enough on the way up but once fatigued it was hard not to collapse on the way down. Then it was time for some real action – actual handstands away from the wall. By the end of the session, I managed about 1.5 seconds free-standing – not bad for a first lesson! I definitely learned a few tips and tricks from this class which got me determined to try and crack this upside down malarky. Plus once you see Sammy's own handstand moves you'll just wish you can be him.
One-to-one handstand lessons with Sammy Dinneen cost £75 for an hour in Highgate, London and can be booked on his website here 
The trend: Personalised fitness
Good if: What you're doing isn't working
As the demand for fitness grows, so too does the need for bespoke, personalised fitness plans. Hyper-personalisation has become the norm stretching as far as the emergence of fitness plans tailored towards your DNA. London-based gym Ethos even analyses saliva, blood and stool samples to create your fitness plan. But if that's a stretch too far, more and more gyms are making detailed assessments of their clients. West London studio OPUS even uses MyZone heart rate monitors to keep a check on clients activities in AND outside the gym.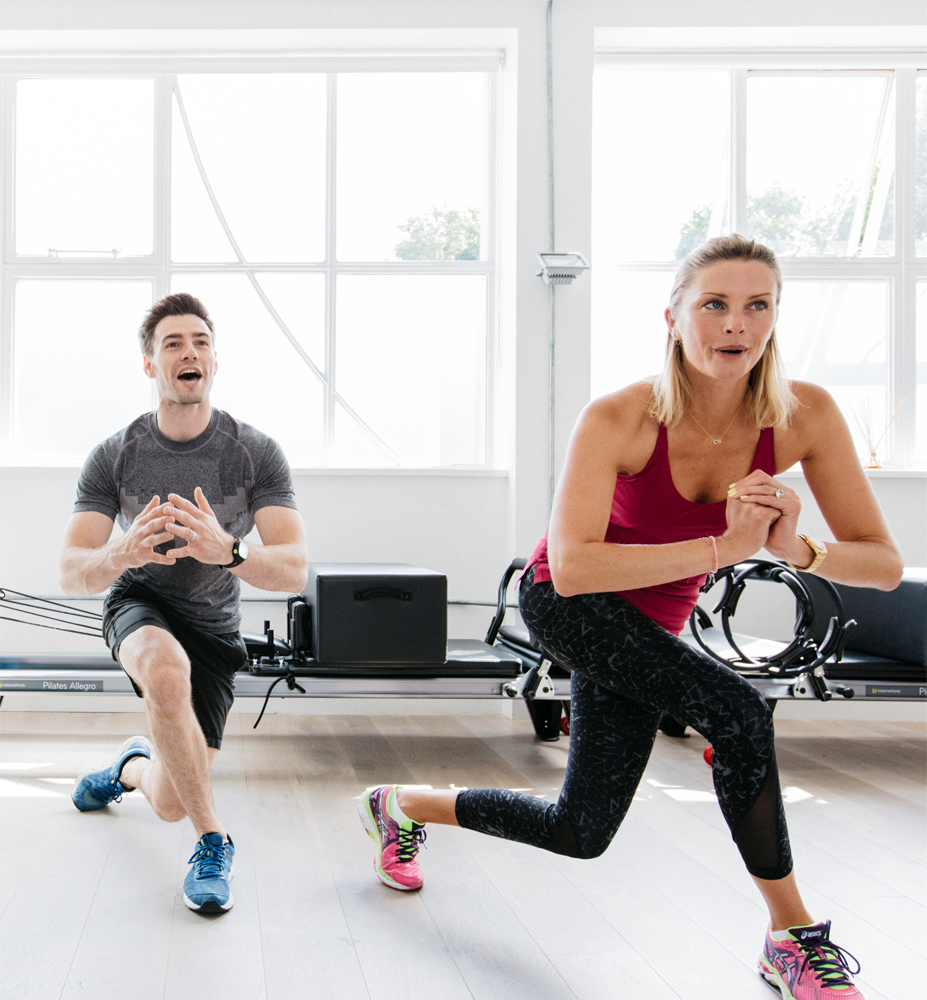 The Healthista verdict
Ahead of my first session, I was sent a form to fill out describing what I want to get from my training -h this helps the trainers decide who is best equipped to work with you. Choosing to work on my muscle building and fat loss, I went along to the gym and met my PT David. David talked me through the biometric screening process that makes training with OPUS a bespoke experience.
Biometric screening includes measuring and tracking your lung function, body fat, muscle percentage and blood pressure throughout your training at the gym which means you can repeatedly compare yourself to your past self and see how and where you've improved and need to improve – I love this as it can be intimidating to compare yourself to other people at the start of a fitness kick. OPUS also take anatomical notes so that they can correct any physical problems you may have and hadn't noticed. PLUS they strap you to a MyZone heart rate monitor which means there's no hiding – if you're horizontal all weekend, they'll know about it!
Personal training sessions at OPUS, Latimer Road cost between £75-90 and are available to book from the website here
The trend: Survival fitness
Good for: Adrenalin junkies
Obstacle training and raw fitness styles like Cross Fit have had a lot of success lately. Rather than have a gentle, aerobic workout it's becoming more and more popular to try and push ourselves in functional style fitness classes. Enter, survival fitness – the trend that helps fitness fanatics push themselves both mentally and physically.
And what would survival-style fitness be without the nation's survival treasure – Bear Grylls. He's just started a new programme featuring multi-storey super challenging obstacles. So if you ever fancied seeing yourself on the TV show The Island, this might be the trend for you. All of the moves and techniques learned in the class are exercises that Bear would use himself in the wild.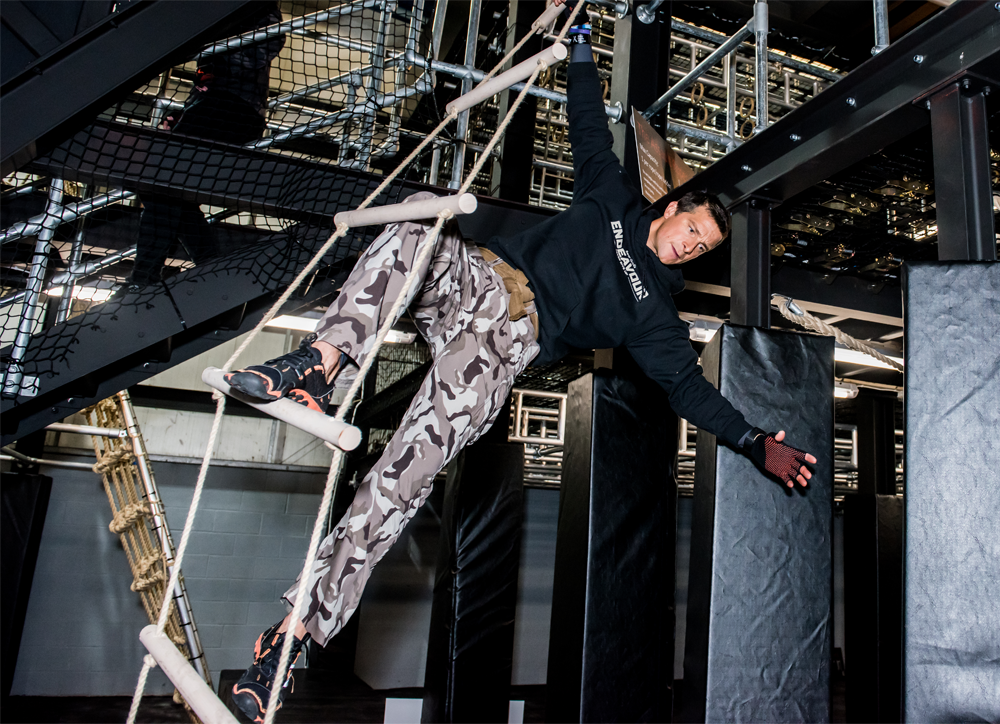 The Healthista verdict
I was wary about just how hideously hard this class would be. It's Bear Grylls – was he only going to allow a cup of wee to rehydrate yourself with? But preconceptions aside, this was the most fun I have had whilst exercising in a while. Upon arrival, I took in the obstacle course – ropes, a see-saw, monkey bars and that was just the start of it. First, we did a run of the multi-storey course. Memories of being a kid in a ballpark or obstacle playground flashed back and I was faced with physical challenges far from my reality.
Afterwards, we went to each station where there were four sets of exercises in increasing difficulty to chose from. These are done with 20 seconds on and 10 seconds off four times. These ranged from lunging or jumping from pillar to pillar (eek) to planking whilst balancing mid-air on two ropes. The class runs for about one hour, followed by stretching. Adrenaline, fear and curiosity ran through me the entirety of the time. It's a mental test as much as a physical one (and wow, I was sore the next day from all that climbing and clinging on for dear life). I began a timid mouse and left feeling buzzing from a new adventure (but not to the extremity of Bear's…).
Classes at Bear Grylls fitness start from £9.45 in venues across the country and can be booked online here.
The trend: Yoga with a twist
Good for: Bored yogis
If you've seen the videos of people doing yoga with goats and dogs jumping over them you already know about this trend. As yogis search for new ways to explore their practice, they've come up with some pretty interesting and bizarre twists.
Beer yoga has crossed the pond and classes are now available in London every Saturday, hosted by Funzing and if animal or alcohol yoga isn't your thing there are now even Harry Potter yoga classes that Potter fans can take up. And on the less wacky side, studios are popping up that are experimenting with less traditional forms of yoga targeted at business people and artists – such as Soho's The DeRose Method.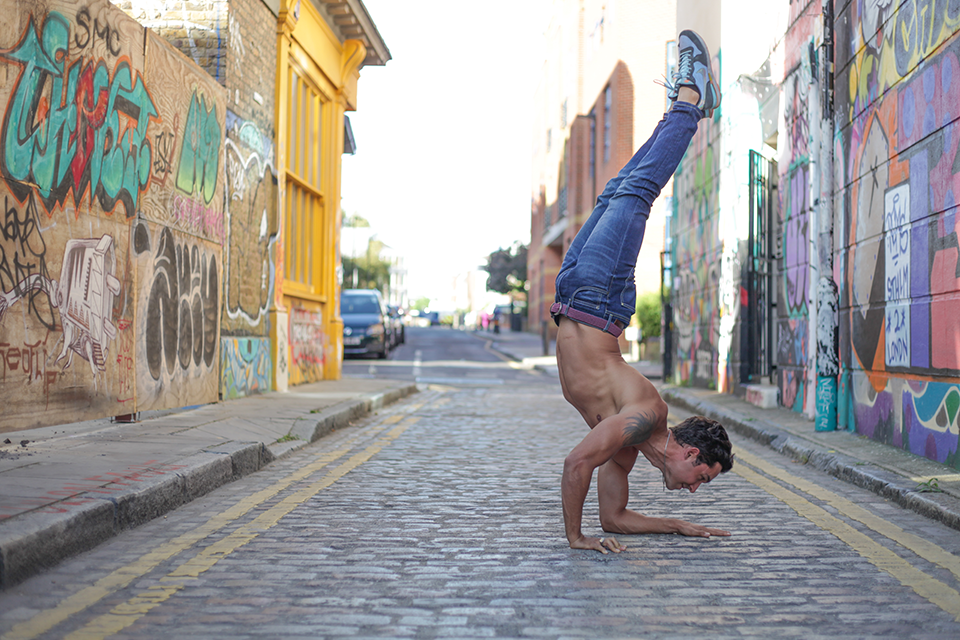 The Healthista verdict
I wasn't really sure what to expect when I turned up at The De Rose studio. What I found was a relaxed, cosy almost house-like vibe. I was greeted with a cold cup of chai and settled onto a couch to wait for my classmate to arrive. Many aspects of the class will be familiar to any seasoned yogis – poses, breathing and meditations and yet at the same time it wasn't quite like your average class (for starters the backing track was electronic chill). The DeRose Method shy away from the term yoga – while also based on Sanskrit philosophy, the system (developed by Professor DeRose in the '60s) is focused on employing techniques to benefit your everyday life (inspire you to create or help you focus in the office) rather than give your body a workout.
The DeRose Method felt like a cross between a more restorative yin yoga, meditation and a headstand/inversion workshop. Balancing and strength poses were only done once and were held for varying lengths of time. We spent time working on inverted poses and I was encouraged to do a headstand in my first ever class – which was tricky but fun. I recommend this class for anyone that is a bit fed up of the routine of a regular yoga class. If you enjoy yoga but you'd rather do it without all the tabletops, downwards dogs, vinyasas and sun salutations in between then this is the class for you.
A bundle of 10 classes at The De Rose Method at the Ady Centre in Soho costs £250 and is available to book from the website here.
Read more
6 athletic swimsuits and bikinis we're LOVING this summer
Celebrity trainer secrets: Baby Driver star Lily James' PT reveals the best exercise for weight-loss
Legs and butt exercises to whip you into shape – the celebrity trainer's 10-minute workout
10-minute yoga for weightlifting to help release neck, shoulders and wrist tension