What doesn't go see-through, ride up your legs or down your waist when you squat? These babies  have been functionality-tested at Healthista HQ (watch the video to see our squat-toned derrieres demo-ing each pair)
We've all been there – you're sweating it out, mid-gym sesh when all of a sudden you catch sight of your booty in the middle of a deep squat in the mirror behind you. Instead of being amazed by how good your derriere is looking right now, you're distracted by that overwhelmingly in-your-face VPS (visible panty line). Or maybe it's a bothersome builder's bum that's crept its way into your gym wardrobe. Finding a pair of good quality squat proof leggings isn't easy. So we decided to hunt down some trusty pairs that wouldn't let us down when we need them most.
We tested 13 pairs and only three pairs passed the test
https://youtu.be/Hh3D_-8eUBk
We had three criteria for this search:
The leggings must have a waistband that doesn't ride up or down
They must not go see through mid-squat (or at all)
They must not fall down
While we were being super strict with our test, we were surprised by how difficult it was to find leggings that passed our trials (we're fussy, okay). In total, we tested 13 pairs and only three pairs passed the test!
ILU Dream Spin Leggings
The compression fabric on these leggings is pure magic – we especially loved how this high waistband not only sucked you in but made for the ultimate squat-proof experience. The waistband was foldable and ran over the bellybutton meaning there is absolutely zero chance of a builder's bum creeping out.
The shaping and contrast colour also helps to flatter your figure and creates more of an hourglass shape. A seamless construction helps reduce chafing and the thick technical fabric makes sure no light gets through (and therefore no sign of your underwear).
ILU Dream Spin Leggings are available for £47 from ILU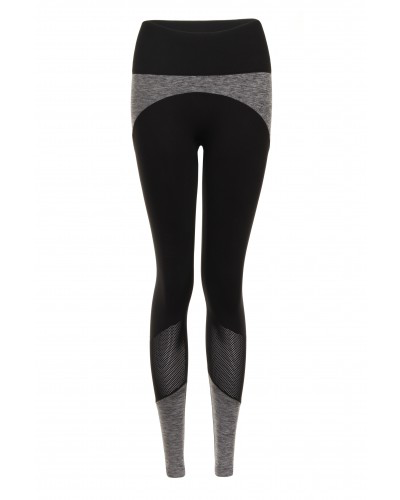 Asquith Om Leggings
These yoga leggings are not only downward dog approved but also get the thumbs up from us on the squatting front. The foldover waistband holds you in but doesn't restrict movement, the back seam detail and flat sewn seam shaping makes these leggings not only comfortable but totally opaque (aka VPS-proof).
The natural fabric is made from bamboo, cotton and elastane making it breathable and stretchy. Plus Asquith is an ethical, organic brand making sustainable clothing from regenerated wood pulp – win.