Looking for a new look this Christmas? These are the new party beauty trends you HAVE to try
The countdown has started and party season has well and truly landed. The Christmas season is always a big time for experimenting with beauty and we love the fact that as soon as the frost kicks in, almost anything goes. Enter glitters, metallics, sparkles and a whole host of beautifying festive fun. But how to do the looks and not look like a bauble? We spoke with two top makeup artists about the trends we can expect to see this party season and exactly how to get the look.
Get glowy
It's not just the North Star (and your neighbour's lights) that will be glowing this Christmas. According to social-media-sensation and celeb makeup artist, Nikki Wolf, 'glowy skin is not going anywhere – it's definitely a trend that's here to stay. We'll see more of it over the Christmas season but also coming into summer as well.' A glowy look is all about using makeup to create a natural brightness and radiance from within, without it resulting in shine.
Famous for posting stunning pictures of models sporting this dewy look on her Instagram, Wolff explains, 'It's going to go more from heavily highlighted skin to a really natural dewy glow. It looks like real skin (even though it can take just as much makeup to create that look or even more). It's about skin looking healthy and not heavily made up.' Roaring success from emerging brands like Glossier that are embracing this style, prove that it's set to be big.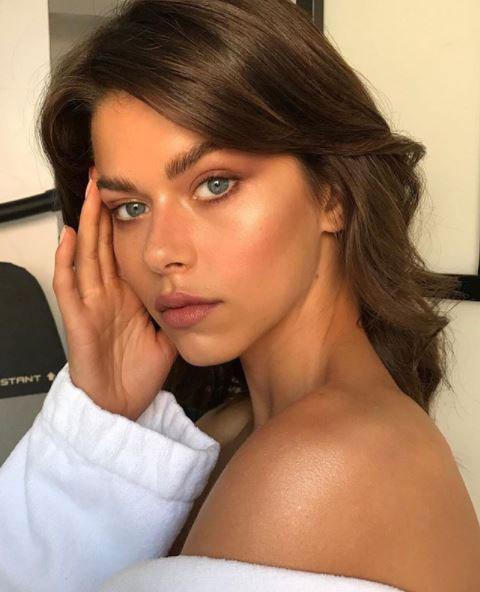 Who's wearing it?
This look is the embodiment of fresh-faced models, glowing their way across Instagram feeds and down catwalks worldwide. Victoria's Secret angels are notorious for their perfect, glowy complexions and Wolff features one such model, Georgia Fowler on her Instagram sporting a dewy look that she expertly crafted ahead of a shoot. Others sporting this look include models, Ishika Sharma and Juliet Searle.
How to get the look 
Wolff explains the quickest way to get this look. 'It's just about clever product placement, not putting too much on the skin, maybe using a moisturiser that's going to leave an iridescent finish underneath the foundation.' If you've got oily skin it can be a struggle to create a dewy look that lasts but Wolff says by using primers and moisturizers with this iridescent finish you can blot your base with a powder so you don't get shiny, 'but you'll still have that dewiness that's left from the glowy moisturiser.'
Another way to get this look? Cream. 'Use cream highlighters rather than powders to encourage this dewy glow and avoid the finish looking more matte.'
The products 
Wolff recommends some of her favourite liquid based steals. 'Estee Lauder did a collaboration with Victoria Beckham and they created a product called Morning Aura Illuminating Creme which I love.' The makeup maverick is also a big fan of the brand, Beauty Pie. They have an illuminating primer that promises 'flawless luminosity and weightless wear.'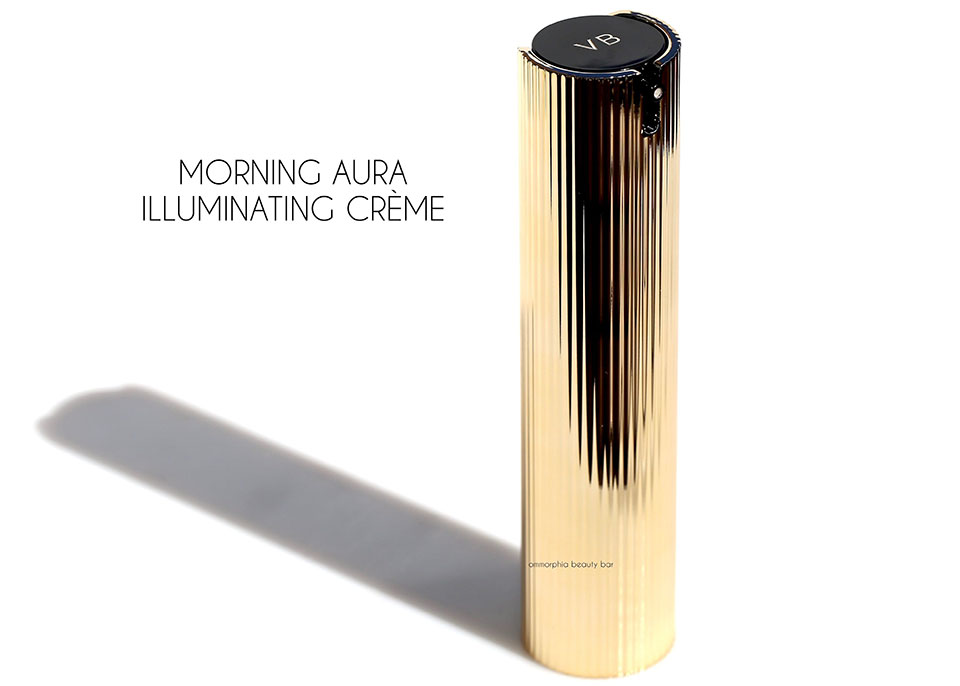 Victoria Beckham Estee Lauder Morning Aura Illuminating Creme is available for £75 from Estee Lauder here.
Beauty Pie Illuminating Primer is available for £25 from Beauty Pie here.
Next-level sparkles
Okay, you don't have to be a top makeup artist to predict that sparkles and glitter would be on this list somewhere but according to the pros, we're taking glitz to the next level this year. YouTuber, Instagrammer and makeup artist Olivia Newman-Young (you might recognise her from Channel Four's Made in Chelsea) says we should expect big things from glitter this year. 'It's like people can't let go of summer festival season this year. Even a lot of the Halloween makeup was glitzy, there were blood chokers made out of rhinestones and lots of glittery makeup – if you can change Halloween into glitter, Christmas is going to be even more sparkly.'
So what exactly can we expect? 'I think we'll be seeing lots of silver, gold and stars,' said the makeup artist, 'people have been doing freckles but with gold, different sized stars which look really cute or tiny stars on the eyes, subtly dropping down the face.'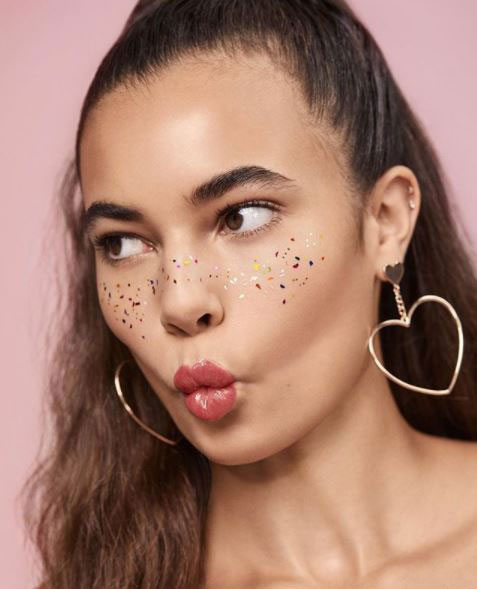 Who's wearing it?
'For Halloween Lottie Moss was wearing a glitter blood choker so it looked like blood but she stuck it on with rhinestones and glitter.' Moving into Christmas we can expect to see the glitter trend EVERYWHERE and glitter freckles and heavily glittered eyeshadows are already dominating Instagram's beautysphere.
How to get the look 
Newman-Young explains that getting this look doesn't have to be expensive, 'If you go on Amazon you can buy a bag of mixed stars  in different sizes and it's a case of getting tweezers and sticking them on with eyelash glue. Or you could have glitter sprinkled onto your cheekbones like a highlighter and then have some stars stuck over to create a pattern.'
So what's the best way to recreate this look? 'Get a piece of paper or some tissue and hold it under the area you're applying the glitter to. Choose a brush that you don't mind getting glittery, make sure the brush has a solid end and then almost scoop the product onto the brush and then dab it gently onto where the glue is – if you don't have any glue you could even use a lip balm.'
The products 
Wolff is backing this trend too and says that glittery eyebrows are the new glittery eyeshadow. 'Blink are making brow gels with glitter and I've seen a few people playing around with the idea. It's quite a cute little thing for going out to parties, it leaves a film of glitter through the brow.'
And if you'd rather not spend painstaking time applying individual glittery stars? BeautyMark have their own glitter freckle kit which you apply like a temporary tattoo (just make sure your makeup is perfect before you apply).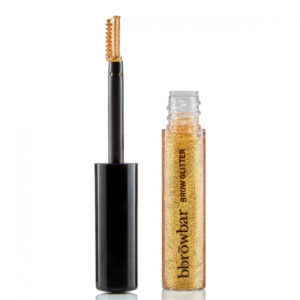 Blink gold brow glitter gel is available for £17 from Blink Brow Bar here.
BeautyMark 'The New Makeup' freckles available for £14 from BeautyMark here.
Making up with metallic
Wolff reminds us that we should add metallics to our makeup kit this season saying, 'Metallics are really big every winter season. Look out for metallic eyes, metallic silvers and bronzes and just all kinds of jewel tones and really luxurious colours.'
Move over matte, Newman-Young has also been experimenting with the trend and says that metallic lippy is one to watch this Christmas. 'I recently put a metallic gloss over my lips and put out a poll on Instagram story asking what people thought. It got a mixed review – some people loved it and some weren't so sure. But winter really is the time of year for metallic, especially metallic coloured lips – people can't get enough of that gold and silver look.'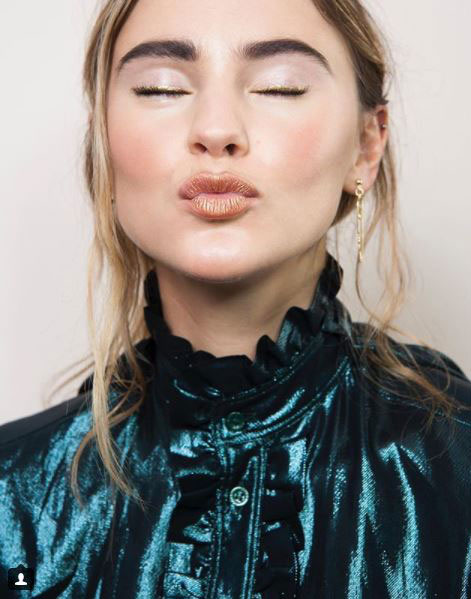 Who's wearing it?
'We've seen a lot of it in the latest Marc Jacobs campaign – it's something that crops up every season.' And not only the fashion brands but also beauty blogger and MUA Cher Webb, Instagram star Ashley Rosales and German supermodel, Stefanie Giesinger have all been spotted sporting the metallic lip look.
How to get the look 
Wolff loves metallic makeup pieces but clues us in on her beauty hack. 'There are lots of products on the market but if you don't want to invest in buying new products then you could actually dust a little bit of metallic eyeshadow over your normal lipstick or gloss and that will give you the same look as some of the metallic lip glosses and stains that are on the market.'
The products 
Newman-Young suggests opting for Bourjois metallic lip cream if you're looking for a high street bargain and Wolff adds 'there are so many brands doing this now so keep your eyes out – we're definitely going to be seeing more and more metallics cropping up.'
Bourjois Metallic Lip Gloss in Liquid Steel is available for £7.99 from Superdrug here.
Healthista loves: NYX Professional Makeup Cosmic Metals Lip Cream, available for £7 from Boots here.
Brows au naturel
When we look back on this fashion and beauty era, it'll be a time defined by BIG brows. And while our brows aren't set to shrink anytime soon, it seems the HD craze is well and truly over as we move into a more natural look not only in our glowy foundation base but also with our eyebrows too. Wolff sums it up, 'for a while it was all about really full defined brows, now there's going to be a big move towards a much softer look and more natural hair growth.'
Newman-Young agrees that we can expect more mellowed out brows this party season. 'We're seeing less of that squared off solid brow. Brows are looking a lot more natural, particularly at the front of the brow but still really polished and thick, arching up.'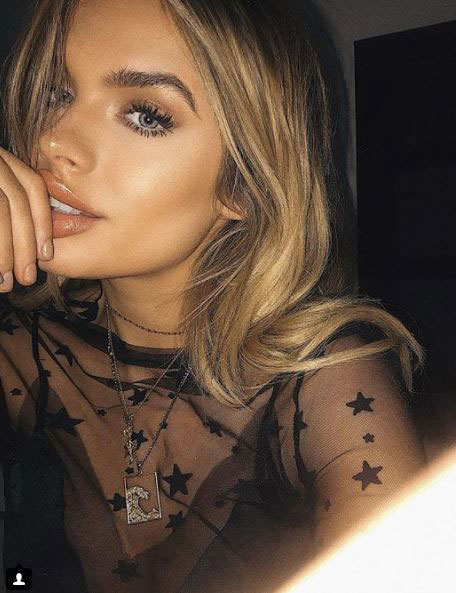 Who's wearing it?
'I love a Chloe Lloyd brow, she has got very strong brow game and it's much less of a squared off very sharp brow,' reveals Newman-Young. Others that are waving bu-bye to bold brows and embracing a more feathered look include A-list royalty Lily Depp and brunette bombshell, Emily Ratajkowski.
How to get the look 
And the trick to preventing your brows looking overdone? According to Newman-Young, it's all about powder. 'I love to use them as I find them a lot softer and easier to build up. I've had a few different pencils and find that they go a bit shiny and greasy towards the end of the day and they come off a bit. I sometimes use gels but it's very easy to accidentally apply them too strong.'
And when it comes to technique? 'Don't start with the inside of the brow, start in the middle of your brow and do the arch first working on that and the base line of your brows. That way it's much easier to see what actually needs to be done and keeping minimal product around the front of your brow makes it much easier.'
Find the best products to get the trend here.
The products 
'Benefit has a brow duo and it comes with both a powder and a gel cream. I normally just use my powder but if I'm wanting to add a bit more of a sharpness to my brow I might just dip my brush into the gel and put it on the parts of the brow such as the arch that needs a bit more definition – this is great for more of an evening look.'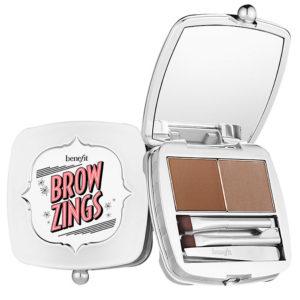 Benefit Brow Zings Eyebrow Shaping Kit is available for £21.20 from John Lewis here.
Healthista loves: NYX Professional Makeup Control Freak Eyebrow Gel, £6 as it's economical and seriously long-lasting.
Best for beginners: Try MUA Luxe 3 in 1 Brow Definer, £4 if you're new to the brow taming game
Tousled up-do
While bold hairstyles have made some appearances in celebsville over 2017 (twisted grey knotted buns from Ariana Grande and unicorn coloured slicked back ponytails from the Gigi Hadid) the tousled out, undone hair look has unanimously stolen the show for the past few years now. Olivia Newman-Young thinks that might be about to change and over Christmas season, we'll be opting for an updo. 'I do think there will be less of that red carpet, hair down look. But there is something about winter that makes people want to look glamorous. People are taking that tousled up hair look and bringing it up and really getting inventive with it.'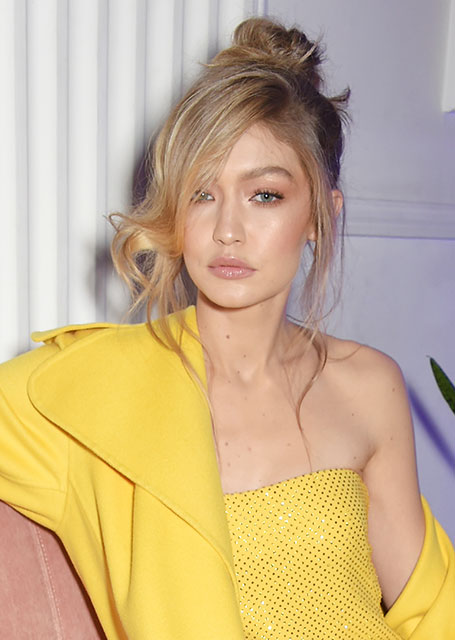 Who's wearing it?
'Gigi Hadid had a great updo for her Maybelline launch in the UK, it was all curly and bouncy, the front was down and waves would fall down on one side and the rest of it was up in a gorgeous French plait. It was gorgeously loose and sexy and I think we'll see more of that this holiday season.'
How to get the look
The most important part of an updo is the base, explained Newman-Young. 'First of all, put some rollers in and then use a product like a powder or a dry shampoo that is going to add more volume.' Then it's time to get creative, the beauty lover suggests playing about with positioning and investing in lots of slides, bobbles and grips. 'If you want a quick and easy, sleek updo, comb your hair out, tie it back and then pat your head with water, scrape it back and let it set. On the other hand, if you're looking for a quick, big updo, it's all about backcombing. Backcomb your hair and then comb out a smooth layer to position over the top, keeping the look sleek.' And if you struggle with the fiddly stuff? 'A low ponytail at the base of your neck can look gorgeous and give a great silhouette.'
The products 
Dry shampoos and volumizing sprays are essential for achieving this look. Try Rahua's dry shampoo to give an updo a boost. 'The product will make your hair really matte. If you put it in at the roots it really keeps the volume in, it gives your hair loads of friction and makes it stand up.'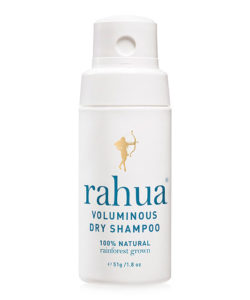 Rahua's Dry Shampoo is available for £30 from Liberty London here.
Healthista loves: GHD Curve Classic Wave Wand for glamorous, shimmering waves, available for £120 from John Lewis here
READ MORE: 15 best eyebrow products to get the latest trends
Nail art makes a comeback
If you thought nail art was dead, think again. Wave goodbye to playing it safe with nudes and mattes, it's time to get creative with your mitts. Nikki Wolff explained why she is convinced this trend is re-emerging – 'It was huge a little while ago, everyone was going crazy experimenting with designs and then it died down and people were going for plain colours and nudes but now I think it's going to make a comeback. Maybe not in such a crazy way but through subtle, cute designs whether it be lines or dots.'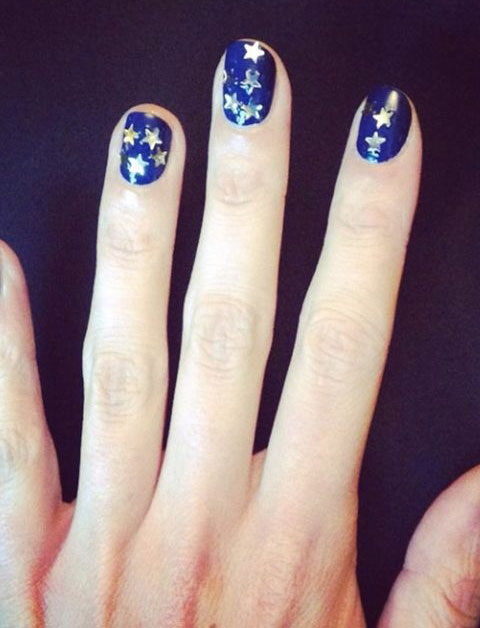 Who's wearing it
Alexa Chung has been spotted showing off blue coloured, night sky themed nails with silver stars sprinkled across them (courtesy of Nail Inc) and Georgia May Jagger has made a statement with sushi nails.
How to get the look 
'Lots of brands are bringing out really fun, glittery nail varnishes for Christmas season.' But if you really want to make a statement with this look, Wolff recommends heading to a professional nail artist before rocking up to your Christmas party.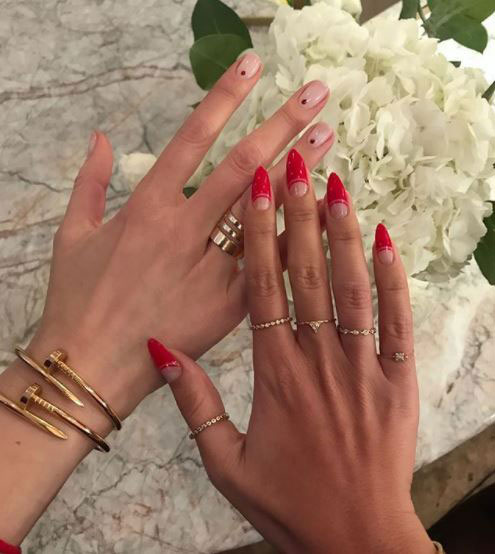 The products 
'I recently had my nails done at Dry By in London and had nail art from Alex Steinherr's new collaboration with them. They've got lots of seriously fun options to choose from. The collection is gorgeous, she's nailed it – excuse the pun.' And failing a trip to the salon? 'Lots of brands like Nails Inc are bringing out really fun, glittery nail varnishes for Christmas season.'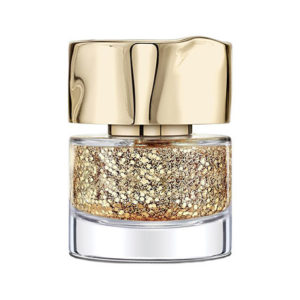 Nails Inc Blossom Effect Glitter Nail Varnish is available for £15 from Boots here.
Healthista loves: Smith & Cult Shattered Souls Nail Varnish, available for £19 from Space NK here
WIN £100 WORTH OF HEALTHY SNACKS

Healthista has teamed up with itsu for a chance to win £100 worth of Asian-inspired healthy snacks 
CLICK HERE  FOR YOUR CHANCE TO WIN
Read more
3 beauty trends from London Fashion Week and how to get them
7 best pumpkin spice beauty must haves
15 best gifts for beauty junkies