Healthista chats with fashion week makeup artist Sascha Jackson about three key beauty looks from the spring-summer '18 catwalks and exactly how to get them 
Phew! Fashion weeks have stormed through and we're left to swoon over the beautiful looks the shows have left in their wake. Stunning spring-summer designs are filling our Instagram feeds and splashing across Facebook.
To get the insider lowdown we headed to Soho Hotel, London to catch up with Stila makeup artist Sascha Jackson (who was fresh off the plane and straight from New York's runways backstage) to find out the big trends to look out for this summer (including a surprise con-trend-er) PLUS she teaches us exactly how we can get the look.
Glitter isn't just for Christmas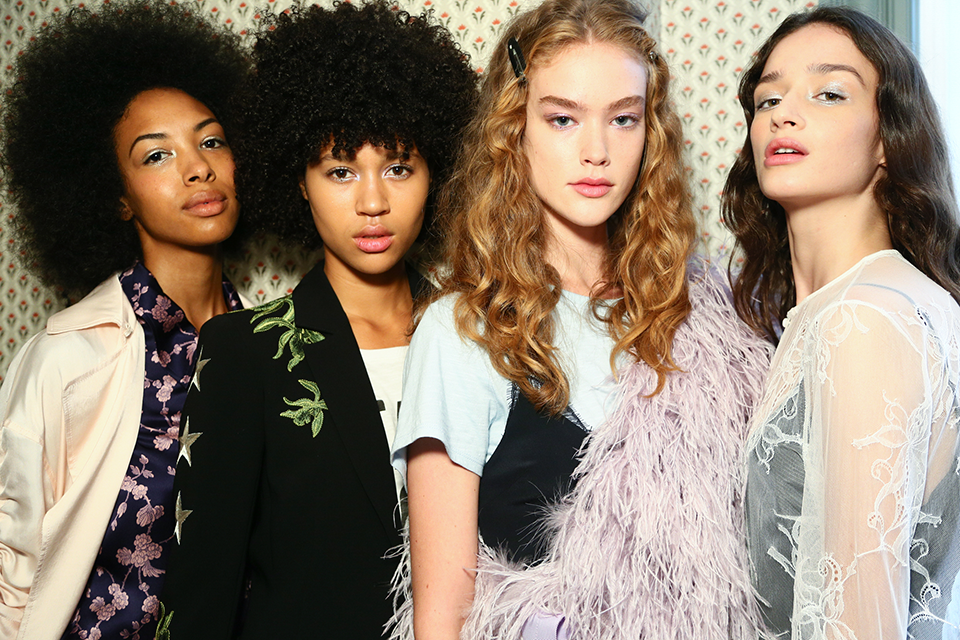 The Look
While bold, statement eyes certainly dominated some catwalks this year such as the extreme winged cat eyes from Versus Versace, pretty hints of glitter mixed with golds and pastels added a soft and feminine touch to the eyes and proved that glitter has not had its heyday.
Jackson revealed, 'For Spring/Summer '18 there is very much a shimmer focus on the eye. We did the makeup for Banana Republic, Cinq a Sept and Kur and we did a shimmery eye in all of our shows. Last Spring it was all about bringing back glitter with everyday makeup and that's also been a strong focus this year as well.'
Jackson explained she loved the glittery looks she created for Stila at the Cinq a Sept catwalk. 'The collection was very whimsical and daydream, the inspiration was about going back in time to the 1950s and there were Italian dancers and street performers. Everyone had loose hair and beautiful makeup with glitter on the face. It was a real old school circus theme.'
Who's wearing it?
From shimmery and glittery eyes at Banana Republic, Zimmerman and Anna Sui in New York to Topshop, Ralph and Russo and glittery lips at Shrimps in London shimmery and shiny vibes could be spotted all over.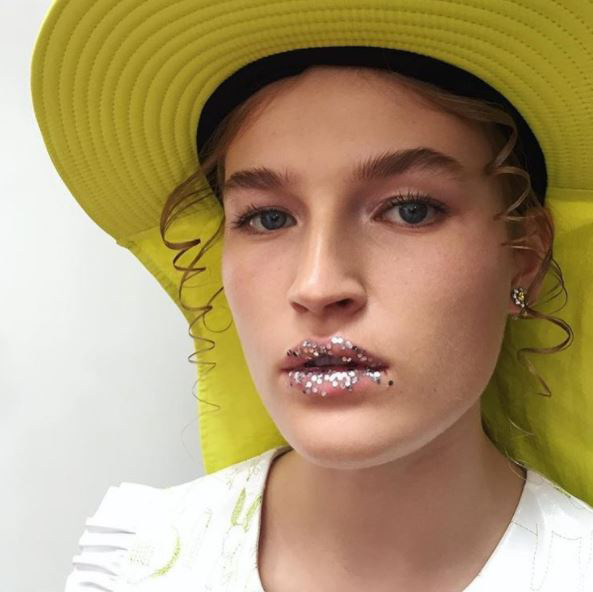 How to get the look
For a daytime glitter look in spring, subtlety is key says Jackson. 'If you just want a simple shimmer eye, try to focus on one tone. Try not to over-complicate it and use multi tones because if you layer up too much with different coloured shimmer shadows it can start to crease… Pick a shade that compliments your skin tone, don't use it too boldly, especially during the day. Take a gold or a beautiful bronze and a nice fluffy brush and just wash it over. Make sure it's nice and soft at the edges.'
But that doesn't mean you can't amp it up come night time. 'Take a stronger shimmer shadow like Stila's Shimmer & Glow and apply that on top of the shadow and blend it in. If you do that in a different colour you can create a contrast and even layer with the glitter.'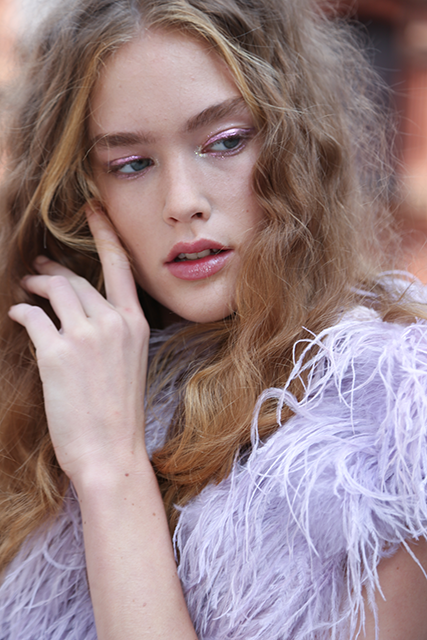 The products
Festival Face Chunky Glitter 
Big night out in the diary? Get the look from the Shrimps catwalk with Festival Face's easy-to-apply chunky glitter and apply to a bare lip, paired with a fresh face. Or add small amounts of glitter around your eye area for a super-pretty look. The best way to apply is with a clear glue like Festival Face's Flitter Fix Glue.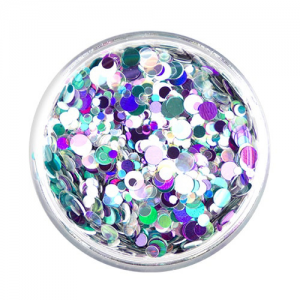 Festival Face Chunky Glitter is available for £4 from Beauty Bay here
Stila Glitter & Glow 
Jackson's favourite glitter hit from Stila is the Glitter & Glow liquid eyeliner. The water-infused texture is super easy to apply thanks to the applicator wand and dries to a shimmering finish.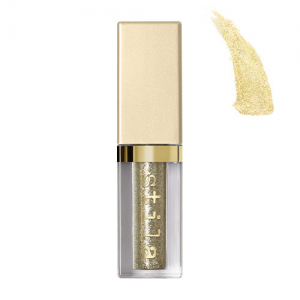 Stila Glitter & Glow is available for £23 from Beauty Bay here
Healthista hint
If opting for a shimmery eye and you don't have deep eye sockets Jackson suggests taking a matte, light brown shadow over the shimmer and into the natural crease of your eye to contour and create a natural-looking depth.
Fresh-faced and natural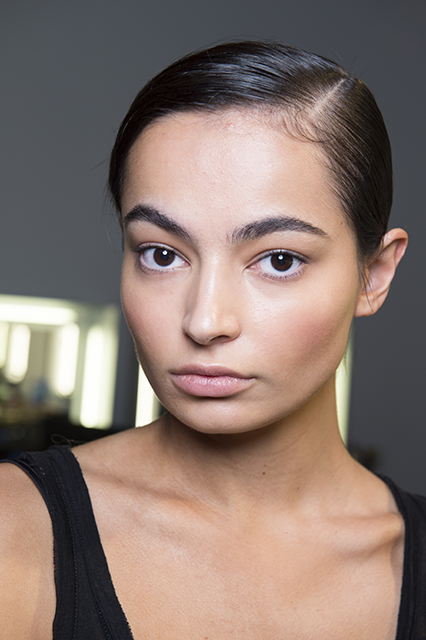 The look
Dew is on the grass, the spring air is fresh and nippy so it's no wonder that yet again, a fresh-faced, natural look is going to be dominating the beauty sphere. Jackson explains that when it comes to your skin, less is more.
'It's really important not to overdo it with your complexion – conceal and correct but move away from the need to use a bronzer to sculpt and contour. Keep things nice and fresh, just a bit of blush on the cheek… You want your skin to look like skin and let the eyes or lips speak for themselves and not have everything fighting for attention.'
Who's wearing it?
Everyone! This look was seen across the board at fashion week from the biggest shows to the up-and-coming designers. We saw it on Calvin Klein and Vera Wang in New York and Joseph and Mother of Pearl in London.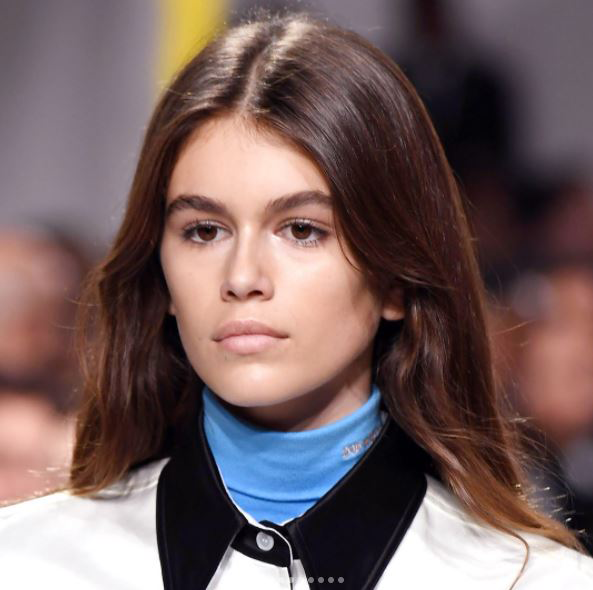 How to get the look
Minimal makeup on the face is the way to go with this look. A heavy foundation is a big no-go. Simply use a concealer to cover up any eye bags and blemishes and then add a little colour on the cheeks.
'Use a cream blusher and gently pat it onto the skin and let it diffuse out. That's going to keep your skin looking fresh and really radiant. It gives you the pop of colour that you get when you go outside in the fresh air and that's what you want to get from your blusher… just pick a little bit up with your fingertips and you can either pat a little bit off on the back of your hand or press your fingertips together and this will warm the product up, it'll make it more malleable and soften it which enables you to push it and pat it onto the apples of your cheek and diffuse it back and that makes the texture mimic the skin. You don't see the texture and it doesn't move your makeup underneath.'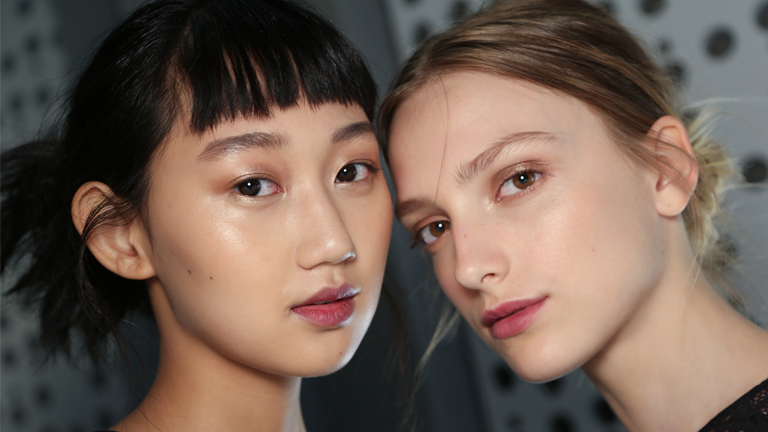 The products
Estee Lauder Illuminating Perfecting Primer 
Used on the models of the Joseph catwalk this primer is guaranteed to give your skin a dewy glow. Key makeup artist of the show Lynsey Alexander explained that preparation is essential with this look in order to add moisture and hydration.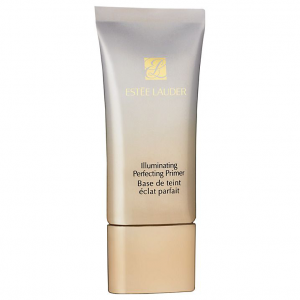 Estee Lauder Illuminating Perfecting Primer available for £21.50 from Boots here
Nude By Nature Perfecting Concealer 
When channelling a minimal makeup look opt for a concealer like this one from Nude By Nature that was used at Calvin Klein for New York Fashion Week.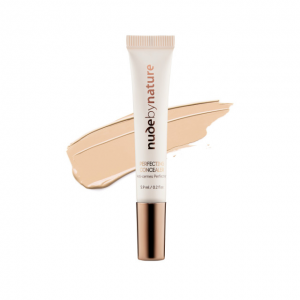 Nude by Nature Perfecting Concealer available for £20 from Feel Unique here
Healthista hint
For a natural dewy look, it's important to stay away from powders. 'Putting a powder on your cheek would look off – you'd see a change in texture as well and it would look unnatural,' explained Jackson.
Dare to darken your lip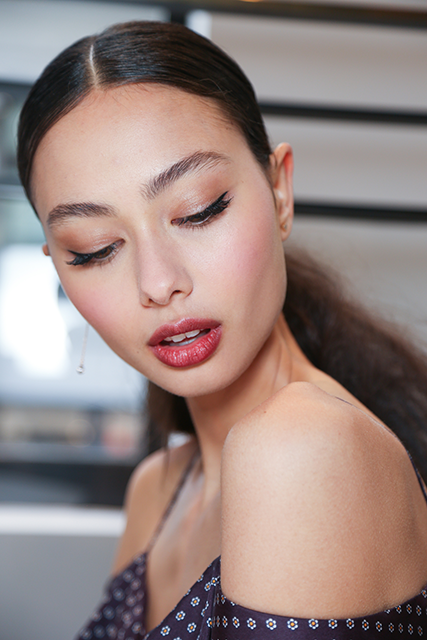 The Look
Yep, can you believe spring will be all about a darker lip. While we would never usually associate springtime with this look, we're super excited about the berry and plum colours that made an appearance on the SS18 catwalks.
Jackson noticed this surprise contender popping up across the catwalks in New York. 'The interesting thing that I found this year was this darker lip which is really refreshing for spring. It's not a completely bold matte but more of a berry stain.'
The emphasis was on creating a lip that had darker purple tones but still had a dewy spring finish. For Banana Republic, Stila used a moisturising lipstick to give a sheer veil of colour. 'This sheer dark lip was really on-trend as opposed to the pastel, bright pink or softer shades that you'd normally see for spring. For some shows, we actually used one of our matte liquid lipsticks and sheered that down to give a beautiful veil.'
Who's wearing it?
Models sported a berry lip at Kur Collection, black cherry lips at Phillip Plein and a soft magenta at Cynthia Rowley in New York and a vampy lip at Tata Naka and darker smudged lip at Temperley, Giambattista Valli and Topshop in London.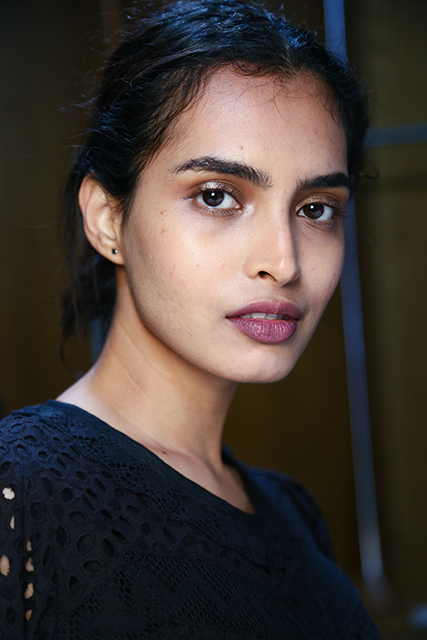 How to get the look
Jackson explained that shades like plum tend to suit skin tones across the board. 'It's quite rare that a lipstick shade can suit across all skins so go with something you're comfortable with. lf you're not used to a strong lip, go with something more moisturising so it's almost like a lip balm. You're not going to feel the texture on your lip and that will make you feel more comfortable because you won't feel as though you've got anything on. You'll forget that you're wearing a bolder lip…
'If you're into your strong bolds anyway and you like something more matte then just go for it with a long-lasting liquid lipstick. But when you're doing this darker on-trend look for spring, let the lips do the talking. Keep everything else fresh and natural and keep the skin looking dewy.'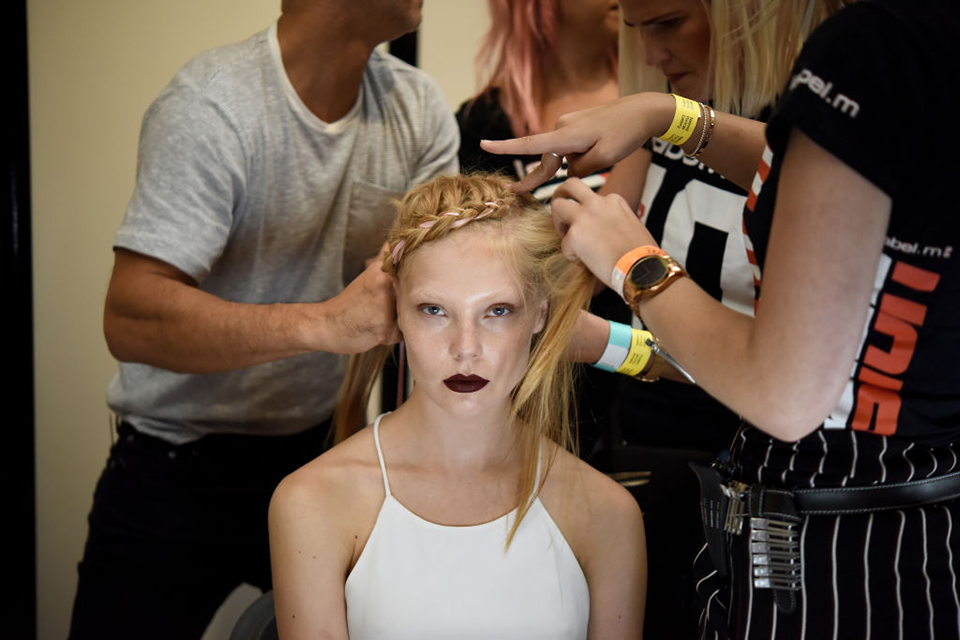 The products
Stila Colour Balm Lipstick in Elyssa 
This lip colour from Stila is specifically designed for the warmer weather. It's a highly pigmented lippy with soft, balm-like properties (containing peppermint oil to calm chapped lips).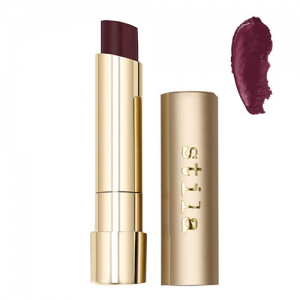 Stila Colour Balm Lipstick in Elyssa is available for £11.19 from Beauty Bay here
Burt's Bees Tinted Lip Balm in Black Dahlia 
Healthista is positively buzzing over natural beauty brand Burt's Bees. The lip balm adds a beautiful plummy pigment to your lips while offering eight hours of moisturising – ideal for chapped lips on those bitingly nippy spring afternoons.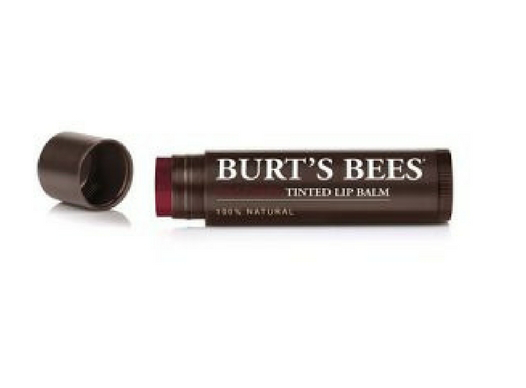 Burt's Bees Tinted Lip Balm in Black Dahlia is available for £5.99 from Healthista Shop here
Healthista hint
While there is a shade of plum for everyone, Jackson warns that very dark shades can sometimes wash you out. To avoid this, add a bit of shimmer to the eye, maybe with a pink or gold undertone, which will help lift the complexion and compliment the lips.'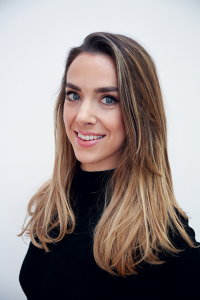 Sascha Jackson completed her make-up artistry course at one of London's top make-up academies in 2009, and subsequently embarked on a successful freelance career. Sascha started working on industry photo shoots, music videos, and built up a huge bridal clientele. She then moved to one of the top French make-up houses where she gained even more experience. Sascha joined Stila in 2013, and quickly became a Stila Pro-Artist, followed by Brand Ambassador, and is now the Lead UK Pro-Artist & National Training Manager.
Sascha has represented Stila on QVC, and is a regular at New York Fashion Week, working alongside Stila's Global Director of Creative Artistry Sarah Lucero.
Read more
7 natural beauty products I can't live without – Abigail James celebrity facialist
11 best sweat proof makeup essentials – from a celebrity makeup artist
3 red carpet beauty looks: This make-up artist reveals how-to get them
How to look good in winter – 9 beauty products for tired skin