Fed up of looking a hot mess after hot yoga? Celebrity makeup artist Ashleigh Haines reveals the best sweat-proof makeup that will change your life
Okay, so we know the gym is not a runway. But who doesn't want to look semi-decent mid workout? Whether you're bumping into that one special gym rat you've got your eye on or whether you just want to make eyes at yourself as you keep an eye on your form in the mirror, it's safe to say a lot of us chuck on a little bit of slap before we bounce off for our work out.
Working primarily in TV, 30-year-old, Surrey based makeup artist Ashleigh Haines has made up stars from Lily Allen and Sophie Ellis-Bextor to Ainsley Harriot and the TOWIE lot. Speaking exclusively to Healthista, she warned of the dangers of caking too much onto your face pre-workout. 'When we exercise, our pores open and if you've got a ton of makeup on your face then that's going to be absorbed into your blood stream,' Haines explains.
So what can we wear on our face when we work out? Haines shared her tips and tricks on keeping our makeup sweet while getting sweaty.
(Not getting a sweaty enough workout? Try our sweaty 30 series)
Steps to sweat-proof
Step one – prep the skin
Haines' number one rule to keeping make up sweat-proof is the Holy Grail of all flawless filtered-effect faces – a primer. 'It's so important as it helps the makeup to stay on your face. The primer will lock to the makeup you put on top and it will create a barrier between your skin and the foundation – this stops it from sliding all over your face,' adding that a primer is especially useful for people with oily skin.
If you drag foundation or primer across your skin with your finger, over the course of time you're going to give yourself premature ageing.
The celeb makeup artist is a big fan of Cover FX Blurring Primer £29. 'I love it because it's not too heavy. It's vegan, completely cruelty-free and there are no animal by-products in there… I love getting great results with natural products. It's important as a makeup artist to inform people about what is in their products.' The Cover FX primer has a balm-like texture and is made to fill in fine lines, wrinkles and large pores to create the photoshop finish we're all chasing (even mid-circuits class). Plus ingredients such as lavender extract are soothing for the skin – perfect for that flushed, inflamed face mid-workout.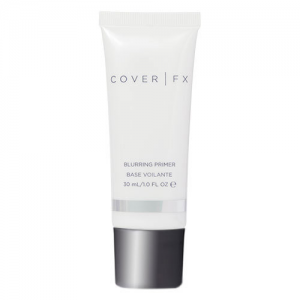 (Cover FX Blurring Primer is available for £29 from Beauty Bay here)
When it comes to applying your primer, Haines stresses that we shouldn't slather it onto our face with our fingers. 'Brushes are key. If you drag foundation or primer across your skin with your fingers, over the course of time you're going to give yourself premature ageing. You'll also lose half the product on your fingers as the skin absorbs most of it.'
So where should we put it?  'Anywhere you think your makeup is going to slide. Normal places that makeup slides quite easily include the chin area, forehead and around the nose area.'
Step two – foundation o'clock 
A heavy, thick product is foundation faux pas. It may be a dance class that you're heading to, but it's not quite central London on a Friday night – the look we're going for is uber natural. 'I personally love a healthy dewy glow to the skin,' explained Haines, 'Organic Pharmacy do a great Luminous Antioxidant Foundation. Just put a small amount of that all over the face – it's luminous so it gives that great youthful sheen to the skin and creates a real no-makeup-makeup look (that actually takes quite a long time to do).'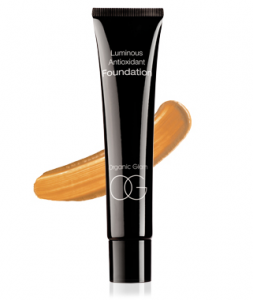 (The Organic Pharmacy Organic Glam Luminous Antioxidant Foundation is available for £24.95 from Amazon here)
When it comes to foundations, there is no one-size-fits-all rule. 'Depending on how much you sweat, your skin tone and skin type, you may want to vary this. If you're more oily prone, a dewy foundation is just going to slide off so you should potentially go for something more matte or no foundation at all.'
And much like with a primer, the makeup pro explained that we should always be using tools when it comes to foundation application. 'You get a much more blended effect when you use beauty blenders and foundation brushes… I like to use multiple brushes. I use a flat foundation brush to apply the product and then follow that with a stipple brush to blend it in.' Using a stipple brush will help to avoid that painted on look that leaves you with brush lines all over your face. If you're looking for a very natural effect, Haines suggests using a beauty blender for a smooth finish.
Step three – lash on the mascara 
Heavy mascara and HIIT training don't look cute together. Whatever you do – make your gym mascara waterproof. 'I love the Lifted Sweat Proof Mascara from natural beauty brand Tarte Cosmetics. It's brilliant for the gym. Waterproof mascara is so important because your sweat will drip down and if you're rubbing your eyes without waterproof there is absolutely no protection.' Hello, panda eyes.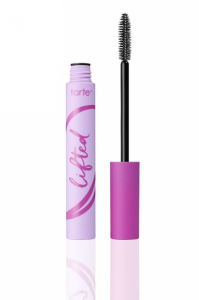 (Tarte Cosmetics Lifted Sweat Proof Mascara is available for £19 from Tarte Cosmetics)
According to Tarte Cosmetics, the smoothing emollient waxes and Amazonian clay in this vegan product help naturally soften and protect the lashes without including the icky, bad stuff. The Lifted Sweat Proof Mascara contains vitamin B5 to help hydrate lashes as well as vitamin C which is an antioxidant and helps to fight free radicals (free radicals can cause damage to parts of cells such as proteins, DNA, and cell membranes).
Haines also explained 'a liquid eyeliner with a beautiful cat wing is a definite no-no because it's just going to fall down your face. Heavy eyeliner or anything underneath the eyes is a bad idea, it will just make you look as though you've been punched in the face – which we don't want.'
Step four – killer brows 
Haines admits that for her, brows are a MUST and that she can't leave the house without doing them. But the brow paint comes with another pre-workout warning. 'If you're going to use a cream or a pencil it could slide quite a lot if you're sweating. Instead, just use a brow cream to stick the hairs down. The cream will dry and set so your brows will stay put.' Her product of choice? Tarte Cosmetics. 'They do a great clay tinted gel that's great for sticking the hairs down. It just adds a bit of colour, especially if you're going bare faced.'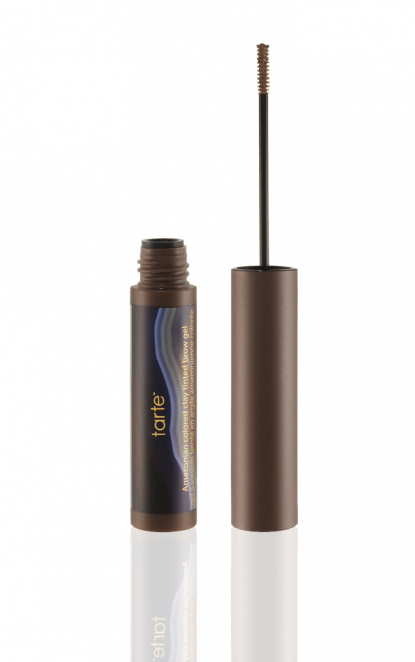 (Tarte Cosmetics Coloured Clay Tinted Brow Gel is available for £13 from Tarte Cosmetics)
And before you start painting on those brows, Haines suggests starting the look by using an eyebrow brush to brush your eyebrow hairs upwards for a fuller and thicker look.
Step five – add a little colour 
Haines suggests staying away from pinky blushers where you can, 'think about how much exercise you're going to be doing – your skin is going to change colour to a nice, pinky tone anyway.' But adding a small touch of bronzer can go a long way for adding a little bit of colour to the face. Haines suggests either using it on the cheeks in the place of blush or adding a little to contour.
If you've got that natural flush through your skin, working alongside the bronzer I think that's ample
Powder based makeup is a definite no-no. 'If you're going to sweat, anything powder based will cake on your face…  a bronzing stick works really well because it's a hard, creamy texture and won't have that caking effect. Well People (another vegan brand) do a Bio Bronzing Stick. You can just add that under the cheekbone area.' Draw the stick directly into the hollow under your cheeks to contour, 'use a stipple brush to blend in and you won't get a heavy makeup look. You can also add it to the corners of the hairline just to contour with or to give yourself a bit of colour.'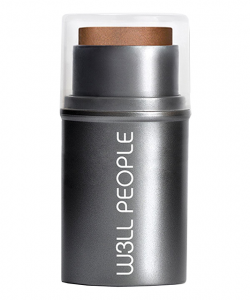 (Well People Bio Bronzing Stick is available for £16 from Cult Beauty here)
A little bit of bronzer will keep the look minimal and natural. 'If you've got that natural flush through your skin, working alongside the bronzer I think that's ample.'
Step six – Special occasion? Sparkle
Okay, so you don't want to be dousing yourself in highlighter for EVERY morning workout. But there's nothing wrong with adding a little shimmer to storm gloriously (and beautifully) through the finishing line of that marathon (or whenever your workout-face is going to end up on Instagram).
'Cover FX do some amazing highlighting drops. They're beautifully pigmented and incredibly easy to use… just apply with a brush or a beauty blender above the cheekbone – if you're using a beauty blender, just make sure that it's wet.' According to Haines, a few drops along the cheekbones is more than enough, 'your nose is going to be really sweaty and your chin is going to be sweating so I wouldn't focus the highlighter anywhere else.'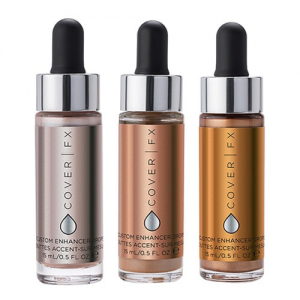 (Cover FX Custom Enhancer Drops are available for £32 from Beauty Bay here)
Step seven – a glossy lip 
And to finish? 'I would end this look with a lip balm. Arbonne does an incredible lip treatment, it's got cacao extracts and raspberry extracts in there so it's super nourishing and it doesn't leave a heavy thick residue from the mineral oil like other products – that residue is really bad for your skin.'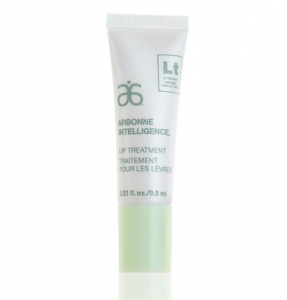 (Arbonne Intelligence Lip Treatment is available for £32 from Arbonne here)
And if a clear glossy lip is a little too noughties for you? 'If you want a bit of colour in your lip, you can use a lip pencil all over the lip as a touch of colour and then go in with a bit of lip balm over the top. It will just give you nice rosy tint.'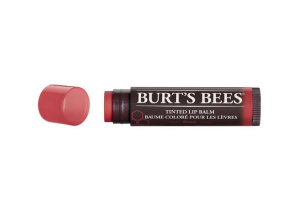 Healthista LOVES Burt's Bees Tinted Lip Balm in Rose for a pigmented moisturising sheen (Burt's Bees Tinted Lip Balm is available for £5.99 from Healthista here).
Step eight – ready, set 
Sealing with a powder is out. Creamy products are key with this look as we don't want the product gathering or sliding off our face. 'A makeup setting spray would work really well. NYX do a great makeup setting spray and they're cruelty-free. Do three sprays all over the face and this will just lock down the makeup. It's really great to focus on areas like the brows and mascara which are more likely to slide.'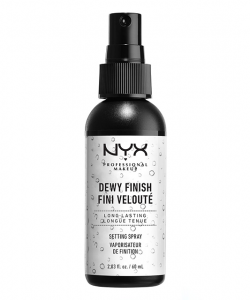 (NYX Setting Spray is available for £7 from Cult Beauty here)
The quick fix
Concealer, oh how we love you. You're there to cover our spots during stress-fuelled break outs and hide our under-eye bags on miserable Monday mornings. So it's unsurprising that Haines would pick concealer as the ideal post-gym pick-me-up. Looking a little grim at the end of that workout but no time for a proper wash?
a thicker, heavier concealer is more likely to stay put if you have problem areas on your face.
'I would go back in with some concealer underneath the nose, around the eyes and on the chin. Blend that in with a beauty blender or foundation brush, or a concealer brush around the eyes… if you don't have time for a full makeup regime concealer is a great way to refresh your face in terms of coverage and it will take down some of the redness after your workout. You also lose a lot of makeup around the nose area and the chin so this will just fill that space back in.' Haines explains that the vertical line down your face that covers the nose, eyes, forehead and chin are the places people focus on when they look at you – this makes them the best places to put a quick blob of concealer if you're in need of a speedy freshen up.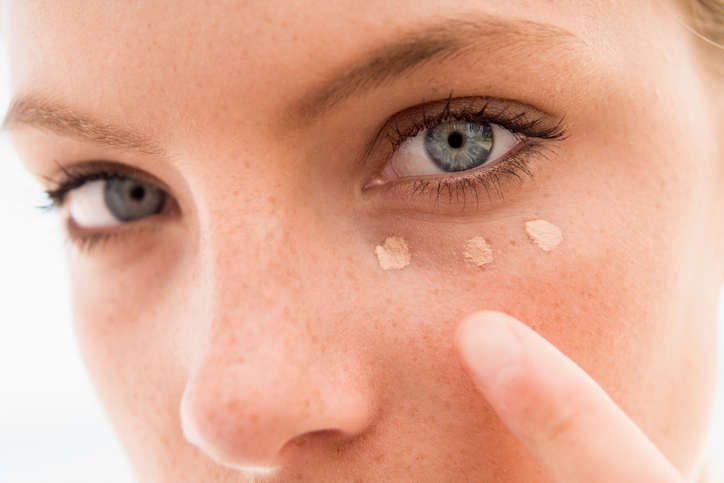 Unless you've got a huge spot to hide, Haines wouldn't recommend opting for a concealer mid workout, 'the more layers you put on when you're working out, the more chance your makeup is going to have of sliding. If you want to you can use a thicker, heavier concealer that is more likely to stay put if you have problem areas on your face. If you've got a darker eye as well you can just put a tuck of concealer just underneath each duct and blend in with a concealer brush and that should give you the lift you need rather than putting loads on and giving yourself a full day look.'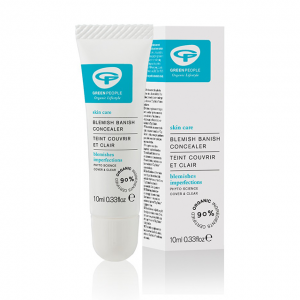 Healthista LOVES Green People's Blemish Banish Concealer. It has antioxidant, antimicrobial and anti-inflammatory benefits – so it's great for sensitive skin. (Green People's Blemish Banish Concealer is available to buy for £10 from Healthista here)
Post-workout
After your workout is over, it's important to clean off all of that makeup, sweat and grime. 'You should be removing all of the dirt as soon as you can because the gym is quite dirty. If you're putting your hands on weights and then touching your face, it's a prime place to pick up spots.' Haines' products of choice are Swiss brand Arbonne again, she loves their RE9 anti-ageing range (which she recommends to anyone over the age of 25). She loves these products because she feels they've worked brilliantly for her, 'the anti ageing results are fantastic, I've definitely noticed a difference in the fine lines around my eyes and on my forehead since using this product.'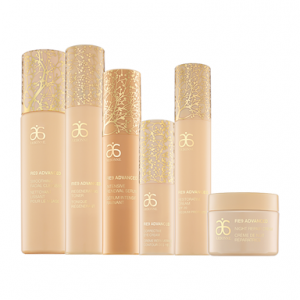 (The full RE9 anti-ageing range is available for £299 from Arbonne here)
Arbonne explains that the RE9 products use ingredients such as kudzu root extract to firm the skin, watercress extract to condition skin, vitamin B3 which acts as a brightener and beech tree bun extract which is supposed to smooth out the appearance of wrinkles. Haines said, 'You should do a full regime, so first cleanse and then use an exfoliating cell scrub to make sure all the dirt is removed… this skin care regime has actually enabled me to not wear foundation on a daily basis anymore.'
Ashleigh Haines is a Surrey based, London working hair and make-up artist. Ashleigh trained originally at the London School of Beauty and Makeup. Since graduating Ashleigh has also studied wig setting and dressing at the Delamar Academy in Ealing Studios. Ashleigh's portfolio consists of a variety of projects ranges from commercial, TV, editorial and celebrity.
For more information visit Ashleigh's website here. 
Read more
Best sweat-proof makeup to last through your workout
Lea Michele's makeup artist reveals how to do the brave new pink eye shadow trend
Ruth Negga's makeup artist reveals how to get her red carpet look – EXCLUSIVE
5 summer beauty foods from an A-list makeup artist