Sweat-proof makeup, is there such a thing? To keep you looking hot and fresh while at the gym, we've found the best makeup sure to last through your workout – and given them the ultimate sweat test too
We've all been there: at the gym having a great workout and working up a sweat when you happen to glance in the mirror, and you're horrified. Your makeup has made its way down your face: your eyeliner has smudged, your eyebrows are nonexistent, and your breakout is beginning to show. Not to worry, we've got you covered with the best sweat-proof makeup products to help you sweat through your workout and still look fabulous afterward.
Best Mascaras
Benefit They're Real! Lengthening Mascara- £24.00
What it is: A long-lasting mascara with a specially designed brush that curls, volumes, and lengthens lashes while lifting with a formula that ensures your lashes won't dry out.
Tester Says: It gives lashes a lift, curl and hold (meaning lashes stay perky and doesn't fade) but also lasts, so you don't have to worry about it smudging during your workout. Go for the mini version also to pop in your gym bag.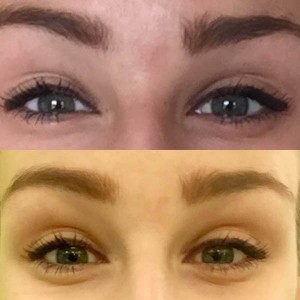 Clinique Lash Power Mascara- £19.00
What it is: A long wearing mascara that promises to last for 24 hours because of its thermal sensitive technology. Even though the product sticks it out through the day, it can still easily removed at the end of the day without hassle using nothing but warm water.
Tester Says: I love this as some lasting mascaras get a bit dry and flakey, yet this has a rubberised feel so lashes feel flexible and comfortable through rain, heat and sweat. The formulation also doesn't require an eye makeup remover, instead just add warm water and gently press lashes using fingers or dampened cotton pad to remove. The product literally goes rubbery and swipes off lashes so easily with no residue.
Cargo Cosmetics Better-Than-Waterproof Mascara- £14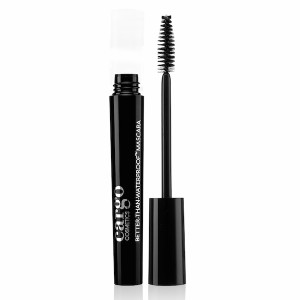 What it is: A water resistant mascara that is gentle enough to be worn every day, stays put and can be worn in the water. The mascara will hold out during the day and can be easily removed with warm water and gentle pressure when necessary.
Tester Says: The mascara went on smoothly and wasn't sticky as so many other waterproof mascaras can be. It lasted through all of my workout and looked exactly the same after I was finished and glistening in sweat, not even a smudge on the corners of my eyes. When I went to remove it, it came off easily and left no residue.
Best Eyeliners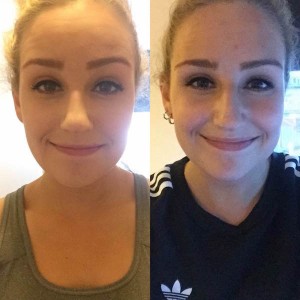 No7 Stay Perfect Gel Eyeliner- £8.50 for liner + £8 for brush
What it is: A long-lasting waterproof gel eyeliner that lasts up to 24 hours. When coupled with the No7 Precision Eye Liner Brush, it presents a perfectly precise line to keep your liner where you want it and nowhere that you don't.
Tester Says: This liner was held up at the whole time I was at the gym and was very impressive. After a 30 minute run and working up a decent sweat and the liner was exactly in place as I had applied it in the morning. The brush made for a very easy application and is a perfect tool to easily wing your liner.
Cargo Cosmetics Swimmables Eye Pencil-  £12
What it is: A pencil eyeliner with a creamy, waterproof and smudge-proof formula that will stay put through any conditions, whether it's water or sweat. The pencil glides on for an easy application and will stay put for up to 14 hours or until you choose to remove it. The pencil is available in a variety of shades as well, so you can choose the color that best complements your eyes.
Tester Says: As someone who uses a pencil liner on a daily basis, I was very impressed. It doesn't smudge at the corners of the eyes during a long run as so many other pencil liners do. It went on smoothly and felt like a normal pencil, but made it through my entire workout without feeling heavy or sticky. It came off normally with my makeup removing face wash after my workout was finished.
What it is: A creamy liner that is brushed onto the eye with a mini brush.  The liner proves to have a long-lasting waterproof wear. Because of the brushed on application, you can even go for a smoky effect to look your absolute best on any occasion.
Tester Says: It's a smooth, easy to apply formula which comes with a neat brush. The black is very true, not charcoal plus it does not budge or crumble off as its it a waterproof formula.
Laura Geller INKcredible Waterproof Gel Eyeliner- £18
What it is: A vibrant and waterproof eyeliner with a creamy gel texture that lasts all day. The texture allows smooth application and the hidden sharpener at the pencil's base means precision on every application.
Tester Says: It stays in place even in extreme lighting and location and it stays in place. It doesn't drag either or dry out as the glide is smooth. Some lasting liners have a tendency to feel a little gritty and you don't achieve a consistent eyeline, yet once this is applied it has that 'just put it on' look!
Best Foundations
What it is: A foundation that uses a tri-plex long wear formula that results in the ideal long-lasting, smudge-proof look while also staying comfortable and natural. It also contains vitamins A, C, and E for better skin health. The foundation is available in five different shades.
Tester Says: The foundation went on smoothly, and didn't feel sticky or thick once applied. I wore it through my workout and my skin felt great. After my workout and sweating a great deal, I went to look in the mirror to find my skin still looking great with full coverage, which was relieving since I had a breakout at the time. I removed the makeup easily with a light makeup remover.
Oxygenetix Oxygenating Foundation- £45

What it is: This gel based foundation has 24-hour coverage and uses ingredients such as Vitamin E, Grape Seed Extract, green tea, Ceravitae, to promote healing and replenish moisture loss. It is actually the foundation that all celebrity makeup artists use, and was even used at the Oscars! The product is designed for doctors and has amazing skincare benefits. It's actually better for you than wearing no makeup at all. The foundation is available in 14 shades and is sweat proof and waterproof.
Tester Says: This foundation is absolutely amazing. It dried quickly after I applied it, went on smoothly, and did not leave my skin feeling sticky. While wearing it, I felt as if I wasn't wearing anything at all and it allowed my skin to breathe. My face still looked smooth and clear even after sweating excessively. When it comes to long-lasting products, this one takes the cake.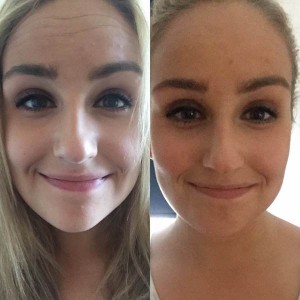 Best Eyebrows
What it is: A one-step product that uses permafix technology to fill and shape your eyebrows while keeping them looking natural and long-lasting. It is waterproof and smudge proof and extremely easy to apply, as it uses a wand which you simply swipe across your brows. The use of Keratin protein hair fibres attaching to your natural brows also give for a thicker and fuller brow appearance. It is available in four different shades.
Tester Says: This product has one of the easiest applications I've ever seen in eyebrows. You simply swipe it on a few times until you have the desired color result, maybe brush it out a bit with an eyebrow brush, and you're ready to go. The filler hardens a bit on your brow to ensure that it will stay put. The makeup was still comfortable throughout my workout and didn't even come off when I went to wipe my brow.
What it is: A powder colored brow product with a small brush enclosed in the packaging along with plastic eyebrow shapers to ensure perfectly shaped and colored brows. The product is is smudge and sweat proof and water resistant.
Tester Says: The powder went on nicely without mess and clung directly to my brows. It was easily to manipulate to create the shape that I wanted as well. After I went for a run, I checked my brows out in the mirror to find them almost exactly the same as they had been before. The powder stayed in place in the shape that I applied it. For removal, the product came off easily with a simple makeup removing face wash.
MORE: REVIEW: The Estée Edit by Kendall Jenner
MORE: 7 DIY facemasks you can make from ingredients in your kitchen
MORE: LoLa Brow: The new semi-permanent treatment that gives you perfect brows for 3 weeks
Like this article? Sign up to our newsletter to get more articles like this delivered straight to your inbox.