Wondering how this year's angels got those envious bods? This is how the Victoria's Secret models look THAT good
'Pink! Glitter! More pink! Confetti!' the theme of last night's Victoria Secret's show according to Vogue and exactly what we are embracing after watching the evening unfold. Taking place in Shanghai, China, the glossy girl gang came back to show off the stunning VS collection (and their incredibly toned physiques). The sparkly catwalk extravaganza is the biggest runway event of the year and is watched in over 190 countries, with around 1.4 billion people tuning in. Despite critics claiming there is a lack of representation in the show, the line-up of models last night was arguably the most diverse in recent years and seemed to charge a sense of female empowerment alongside all that underwear, tan and highlight.
After first asking ourselves when we can next get down to a Victoria's Secret shop to pick up our favourite pieces of the evening, we're all left wondering exactly how the angels achieve those washboard abs. What exactly are their fitness routines and are they doable for us?
https://www.youtube.com/watch?v=anhEcKWRzyE
The boxing beauty: Bella Hadid
While Gigi Hadid didn't make it to this year's show, fashion's darling, younger sister Bella made a stunning comeback last night. The supermodel hit headlines for catching the attention of singer-songwriter The Weeknd who reportedly ordered flowers to the star's dressing room to celebrate her VS return. It takes a lot of work to look that toned but the super sporty starlet doesn't struggle to lace up her trainers and work out. In fact, starting with horse riding, she's been playing sports since the age of two. After developing Lyme disease, the model had to give up on her dream of becoming an Olympic equestrian and these days the model is more likely found in the gym or a boxing ring. Speaking with Vogue, she said 'When time is on my side, I train with my coach for intensive sessions. I run non-stop for 20 minutes followed by a boxing session and finally a series of weights targeting the abs and glutes. We keep the routines varied, so the sessions are always fun.' However, because of her Lyme disease, Hadid strays from strenuous regimens. 'My body can't handle aggressive workouts,' she tells The Coveteur.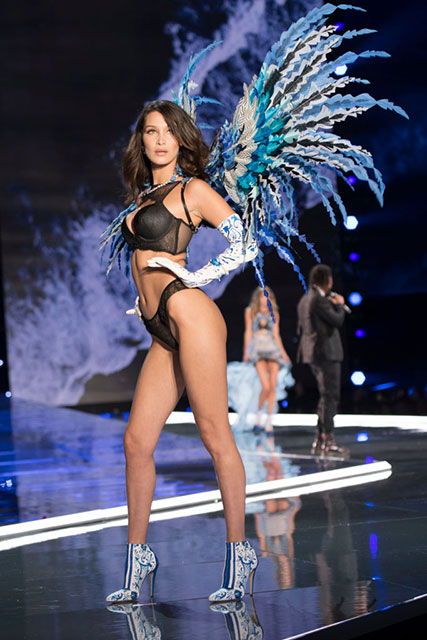 She vouches that 'nothing other than boxing and a series of targeted ab workouts' will give you washboard abs. But when it comes to the lead up to Victoria's Secret, she ramps things up a bit. When we say a bit, we mean a lot – despite saying she can't endure heavy workouts, the model works out for up to THREE HOURS per day. Yep, you heard us right. '[I've been] working out for three hours every day… it's crazy but I think you know if you set your mind to something, I think you can succeed,' she told People. And even though pre-runway Hadid makes sure to up the 'hard protein' in her diet, 'I like to eat healthy and not eat crazy plane food,' – we love that she also has time to indulge in a good ol' cheat like the rest of us mere mortals.
During an off-week last year, the supermodel spoke to Womenswear Daily and admitted, 'Right now my diet is pizza, so recently that's all I've been eating.' But that doesn't mean passing up on nutrition. Hadid (and many of her fellow celeb buddies) see nutritionist and chiropractor Charles Passler for health advice. He recommends his clients take supplements and told website Byrdie that they are super important for gut health. He advises taking a probiotic to support digestion and the immune system, as well as magnesium for relaxation, sleep, bowel motility, and healthy muscle function.
Healthista loves BioCare's Bio-Magnesium.
The resistance band babe: Lais Ribeiro
27-year-old supermodel Lais Ribeiro took the runway by storm in this year's $2 million, 18 karat gold, sapphire, diamond and topaz fantasy bra. Earning her wings in 2015, the Brazilian beauty returned to steal the show this year, telling Vogue ahead of the event, 'I feel so powerful and thankful and proud of myself for all the hard work I've put in.' Speaking to The New York Post she said, 'I work out three to six days a week and normally around 90 minutes per workout.' The model is famous for a love of switching up her workouts and took up Pilates earlier this year. But scrolls through the supermodel's Instagram feed reveal her not just on the Pilates mat but also bicep curling, cable flying and towel sliding away at New York's The Dog Pound gym and even playfighting in the boxing gym with her seven-year-old son Alexandre. On top of that, she can often be found dancing her way around the fitness studios of New York.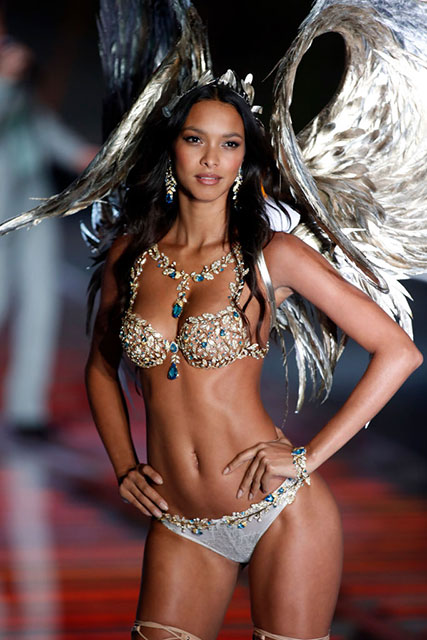 She famously loves attending Simone de la Rue's 'Body by Simone' dance classes and training with Sadie Kurzban founder of NYC studio, 305 Fitness – the stunning mother of one has been known to shimmy, sashay and booty pop her way around the big apple. The 305 Fitness studio embodies the spirit of a nightclub and classes involve dancing it out while a live DJ provides music and a multi-coloured light show plays overhead. It's clear that Ribeiro loves bringing a bit of fun to her workout. And her secret weapon? Resistance bands. Speaking to the New York Post she explained how she loves using them to focus on her abs, outer thighs and glutes. 'I typically do three reps of 20, rotating between glute bridges with feet wide, clams with heels together, duck walks, side steps and jack squats.' Her only kryptonite? 'I hate cutting out sweets, which I really love.'
The queen of calm: Alessandra Ambrosio
This year was HUGE for Brazilian model and actress Ambrosio. Why? It was her last ever year of walking in the Victoria's Secret show. After 17 years in the biz, the 36-year-old is hanging up her wings and heading for retirement. The model has a seriously long history with the brand and was chosen as the company's first-ever spokesperson for the Victoria's Secret PINK line. On this year's catwalk, the supermodel looked as phenomenal as ever, looking every bit as lithe as the teeny boppers on the runway. So with all that experience, how does the star prep for the show?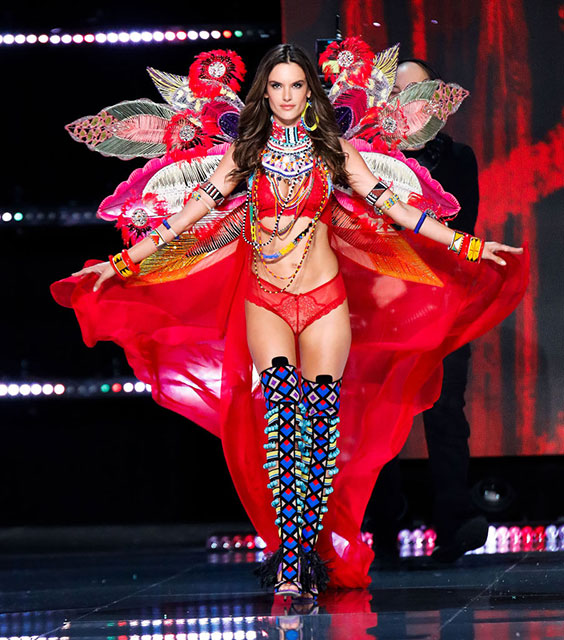 Well at an event in Los Angeles earlier this month, Ambrosio shared her top tip and it came as a bit of a surprise – cannabis oil. 'The most important thing to do [to prep for the Victoria's Secret Show] is to sleep eight hours the night before,' she said. "It's hard because the mind gets anxious, so I try CBD oil and I think it helps,' derived from cannabis, CBD oil can be bought over the counter (you can buy Love CBD Cannabis Oll for £28.99 from Healthista Shop).
But there's no way her toned physique is the result of just plenty of sleep and cannabinoid oil. To further prep for Victoria's Secret, the Brazilian beauty doubles her workout regime. Usually, she likes to do yoga but ahead of the show she likes to use the Tracy Anderson Method (a customized workout programme that promises long, lean muscles and 'true body happiness') to get seriously fit. 'Before the show, because I'm really focused on being in my best shape, I do more Tracy—I go six to seven times per week,' she said. "The secret of Tracy Anderson is that you have to go at least once a week, otherwise your body gets weak and it just gets harder.' 
When she's not doing Tracy Anderson's killer moves the mother of two loves to hike or do yoga, speaking with W Magazine, she said 'Sometimes I feel like I need to do more yoga, and other times I feel I need more toning, which is what Tracy is all about. It really depends on how I feel and the strength I have at the time. Sometimes you wake up and you are like, 'Okay, I can only go to yoga." And unless she's playing volleyball with friends or hiking, the model rarely spends more than an hour and a half working out.
The booty-builder: Elsa Hosk
Gracing the Victoria's Secret catwalk wearing 275,000 Swarovski crystals, the Swedish stunner carried the heavy 14-pound bra down the runway with ease. And as if her modelling skills weren't impressive enough, her mega toned 5"9 frame isn't just built for strutting down the runway but for seriously slaying at sports too. Before pursuing a career in modelling the star used to be a professional basketballer – yep, you heard us right. 'I made my dad put up a basket on my street, and I would just practice all day,' she revealed to The Sun. After two years playing pro for Swedish team, the Zero-Eights, the blonde beauty was forced to choose between the sport and modelling.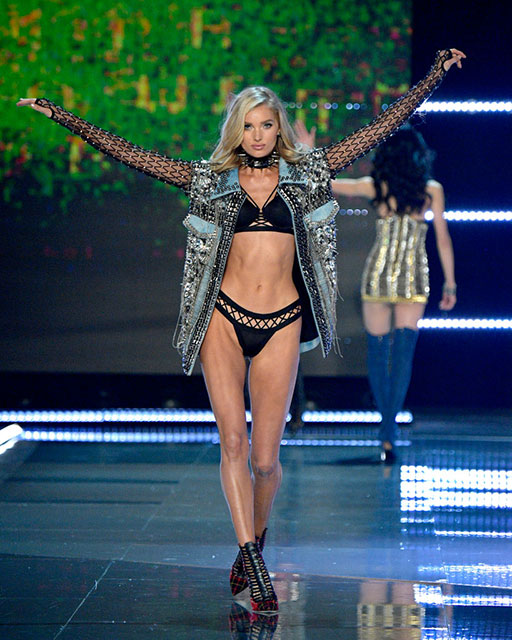 She's now heralded as one of the world's most famous models (with a whopping four million followers on Instagram) and nowadays her workouts are a bit more varied. Speaking with Marie Claire the star explained 'I love boxing, and I try to mix it up as much as I can. Boxing makes you kind of tight, so it's really good to mix that with barre, Pilates, or something that'll stretch you out and make you longer. I'm not the person that loves to be in the gym so much. I like to mix it up as much as possible, otherwise, I'll get bored.' One thing is for sure, the star likes to hone her work out efforts in one area in particular – her booty. 'It's a vicious circle because if you start working your butt out a lot and then you stop it, it goes like [makes a deflating motion with her hands]…you have to keep it up.' Admitting that there is a lot of pressure to have a brilliant bum (since so much of it is on show in slinky lingerie), the model has also spent time training at New York's Flex Studios in a bid to build her booty. Noting in an interview with the The Daily Mail that the range of Pilates, barre, and TRX suspension training classes at Flex Studios really target the lower body in particular and make you 'lean and strong'.
And while Hosk goes protein and veg-heavy in the lead up to a show she still considers herself a real foodie. 'I love food, and I think that's why I work out so much so that I can just eat whatever I want,' she explained. But speaking to W Magazine ahead of this year's show she explained that a healthy, balanced diet isn't just crucial for a slim build it's also the most underrated beauty product: 'Not a product, but the right nutrition.' For her, this means following a plant-based diet wherever she can.
The ballerina: Lily Aldridge
This year, angel Aldridge was back, storming the runway in a closing outfit from the shows 'Porcelain Angels' segment. It featured a black ensemble from the lingerie brand's Balmain collaboration and a dramatic blue and white robe (which took an entire week to hand paint). 2017 marks the veteran angel's ninth year in the show. And with that experience comes an understanding of the hardcore exercise regimen that needs to take place pre-show. Perhaps that's why the model took her personal trainer all the way to China to make sure she was in tip-top-shape this year. 'I work out all year long, I love to be in shape and feel good. We just ramp up the workouts closer to the show,' the 32-year-old told Vogue Online. 'I work out with Ballet Beautiful founder Mary Helen Bowers six times a week, sometimes twice a day leading up to the show.'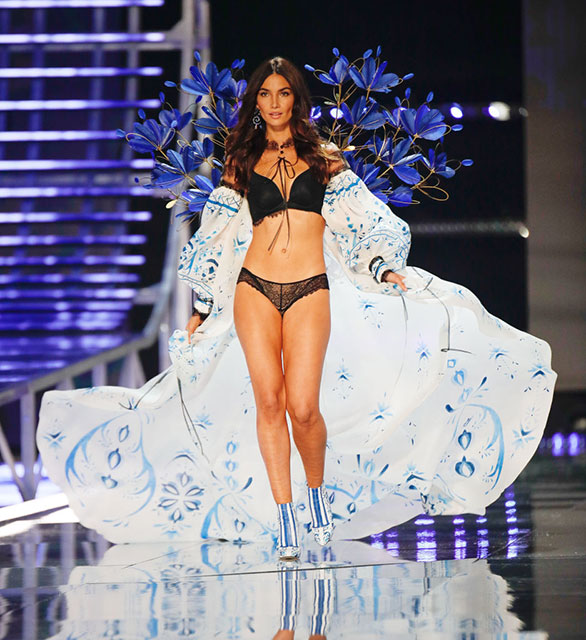 The Italian-English, Nashville- based supermodel is one of the main celebs championing the power of ballet fitness. Speaking with Elle, she explained that it's a perfect fit for her busy schedule. 'I'm always travelling so it's great for my lifestyle as I can do classes on Facetime with my trainer or go on her website and watch a video. It really works for me.' The Ballet Beautiful practice is made up of targeted exercises and stretches to sculpt, tone and elongate muscles – ballerina style. Not only does ballet barre give you a positively angelic posture but also boasts being key to maintaining a super strong core.
And when she's struggling for time to workout, the mother of one sees any activity as an opportunity to work out. 'I'll do squats in the kitchen when I'm getting meals ready. Or arm lifts for 2 minutes – just pulsing weights is really good for toning.' And even backstage before the show starts is a chance to get moving. 'I'm constantly dancing backstage to keep my energy up. I walk about with my music on at all times to calm my nerves.'
The lady that loves to lengthen and tone: Sara Sampaio
After being rejected from the show two years on the trot, Sampaio walked into the casting and said 'I'm not going to give you any reason not to book me this year.' Her determination did the trick and the Portuguese beauty has now been an official angel since 2013. And while she worked hard for her incredible figure, she has a healthy attitude when it comes to wellness. Speaking to The Cut she said, 'wellness is being happy, feeling good, and not aching. It's more about feeling good inside and that will come out on the outside.'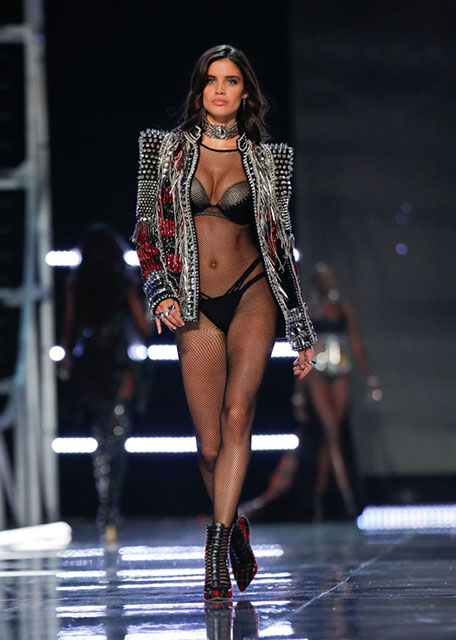 For this reason, the 26-year-old explains that while she's tried a lot of crazy diets in her time that she tries not to over-restrict herself. 'There's no worse thing when you want something so bad and you're like, 'I can't have it, I can't have it'. I was stressing so much about it that my body was not feeling well. Mentally, you're not feeling good. If I want to have a little bread for lunch because it makes me happy, I'm good.'
When it comes to fitness, the model is a fan of SLT (Strengthen, Lengthen and Tone) which she's been doing at the New York SLT Fitness studio for the past year. What is SLT we hear you ask? Well, according to the star you take Pilates, make it more intense and then throw in a machine for good measure. She loves SLT because the style complements the way her body works, 'I've noticed with my body that small movements have done more for my body than the boot camps. My body moves better when it's very focused on small movements that elongate your body and your muscles.' But like the rest of us, the model gets guilty for not working out enough, over the summer she admitted 'I'm not a runner, but I'm pushing myself. When the weather gets a little bit nicer, I start thinking, 'Ah, I may just go for a run outside', even if it's just about a five-minute run.'
In a video with Vogue Online, the star let us all in on a 24-hour countdown to the Victoria's Secret show. Post energy boosting smoothie (strawberries, almond milk, and protein powder, since you asked) she heads to her local gym in downtown Manhattan to do strength training and agility exercises like lateral pulldowns and ankle weight jogs before heading to New York's Flex Studios for a Pilates session which she follows with a powerhouse run on the treadmill, making it clear that the Iberian beauty was going hard in the final days before her runway appearance.
TRY: Healthista Lean Vegan Diet Protein Vanilla (£18.95 from Healthista Shop)
The chilled out chick: Liu Wen
In 2009 Wen became the first model of Asian descent to walk the Victoria's Secret catwalk and is the ONLY Asian in the top 10 highest paid models of 2017. In 2012, The New York Times named her 'China's first bona fide supermodel' and in 2017, she became the first Chinese model to ever appear on the front cover of American Vogue. The Youngzhou born beauty seems to have her head screwed on and speaking to Refinery29 expressed how important it is to stay on top of your stress levels. 'Whenever we're not doing anything too active, especially backstage, everyone tries to get some shut-eye, but as soon as the show starts everyone is full of energy again. Other than resting, I always take photos with my camera or my Blackberry, so when I'm having fun doing that, I easily forget how tired I am. It's important to control your stress with things like that!'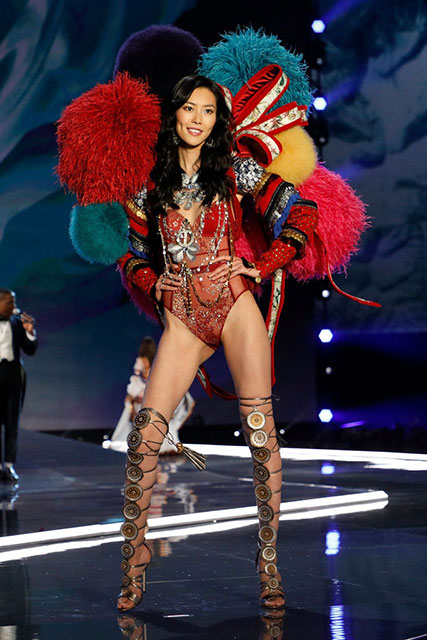 Speaking with The Daily Summer the 29-year-old revealed her fitness favourites. 'I go to SoulCycle and do hot yoga a few times a week, depending on my work schedule. I also stretch daily.' As for her diet, she prefers to choose 'light foods, like green salads, and traditional Chinese soups, like pork and wintermelon stew.' But the star is partial to the odd French fries and ice cream and admits that while she does work out and eat healthily, she's genetically blessed with a speedy metabolism. 'Even if I eat a lot of ice cream I still won't gain weight—and ice cream can get me pretty hyper, whereas coffee actually puts me to sleep,' she admits to W Magazine. Her parting words of wisdom? 'Drink lots of water, eat lots of fruit—and rest well and whenever possible!'
The workout buddy: Jasmine Tookes
26-year-old LA native (that owes her looks to a mixed European, African, Brazilian, and West Indian background) frequently shares snapshots of her workout regimes on Instagram. From deadlifting in a heavy weights session to batting it out on a tennis court, the Victoria's Secret model is big on her fitness and admits that ahead of the VS shows, she trains SEVEN days a week. But that doesn't mean she finds it easy. In an interview with The Cut, she revealed 'I try to get up early, work out in the morning, and get it over and done with… If I wait for the evening, it's not going to happen.' She keeps a workout kit handy when she's on the road as it forces her to keep on top of things while she's away.'You can do things in your hotel room. I bring my ankle weights so I can do a few butt workouts,' she says. 'If I don't, I lose the momentum and take two to three weeks off.'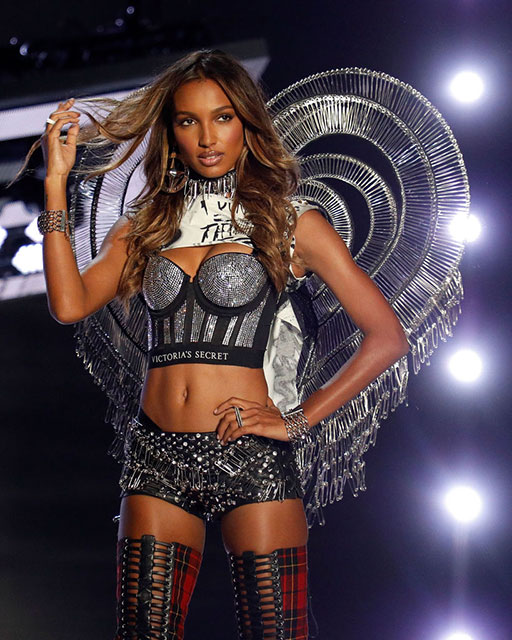 The model also takes advantage of her time away from home by trying out the fitness classes of the places she is visiting. 'I like to try out different classes in different cities. For example, in California, I go to a place called The Studio MDR, which is a pilates class. Or I'll do Physique 57, which I know is all-over. That's one of my favourite barre classes,' she told Harpers Bazaar in an interview.
Another way the star stays motivated? Roping in her friends. Tookes and fellow model Josephine Skriver even have a joint Instagram account called JoJa where they share their sickeningly sexy paired workouts and foodie snapshots. Training at the DogPound boxing gym in New York, the account shows the duo working out on park benches, doing tug of war planks with a resistance band and even squatting one another (with Disneyland as a backdrop). The two of them both lift heavy and fuel themselves for their intensive training. Snacks for the two ladies include a handful of nuts, hummus and pepper as well plates full of broccoli and chicken.
Read more
Victoria's Secret fashion show 2016: Kendall Jenner and Gigi Hadid stormed the runway – we have some of their fitness tips
Victoria's Secret Angels – 3 diet secrets you can steal today
Victoria's Secret bodies – how they do it