Need Veganuary inspiration? These easy vegan soup recipes are filling enough to have a a healthy, warming supper or lunch – enjoy 
Maintaining your self-care can be difficult, especially when you're on the go. Indulge in these wholesome, vegan, comfort foods as a form of self-care feeding your mind, body and soul.
It's easy to feel discourgaed when it comes to veganism. Recipes tend to be complicated while ingredients are expensive. But the self-care cookbook by Gemma Ogston has over 60 plant-based recipes, here are three we have chosen to warm you up this winter:
Vegan soup recipe #1: down-to-earth one-pot stew
A hearty and wonderfully earthy one-pot meal, using lots of fresh herbs, rich butterbeans and mushrooms. It's delicious on its own with a hunk of bread or serve it at a dinner party with creamy mash or some simply cooked rice. Butterbeans are a great source of fibre to keep your digestive system healthy. Emotions triggered by stress can have a direct effect on our stomach – and vice versa – so up the fibre in your diet to keep your gut happy. Like any stew, this gets better after a couple of days as the flavours mingle together, so you can make it in advance. It also freezes well.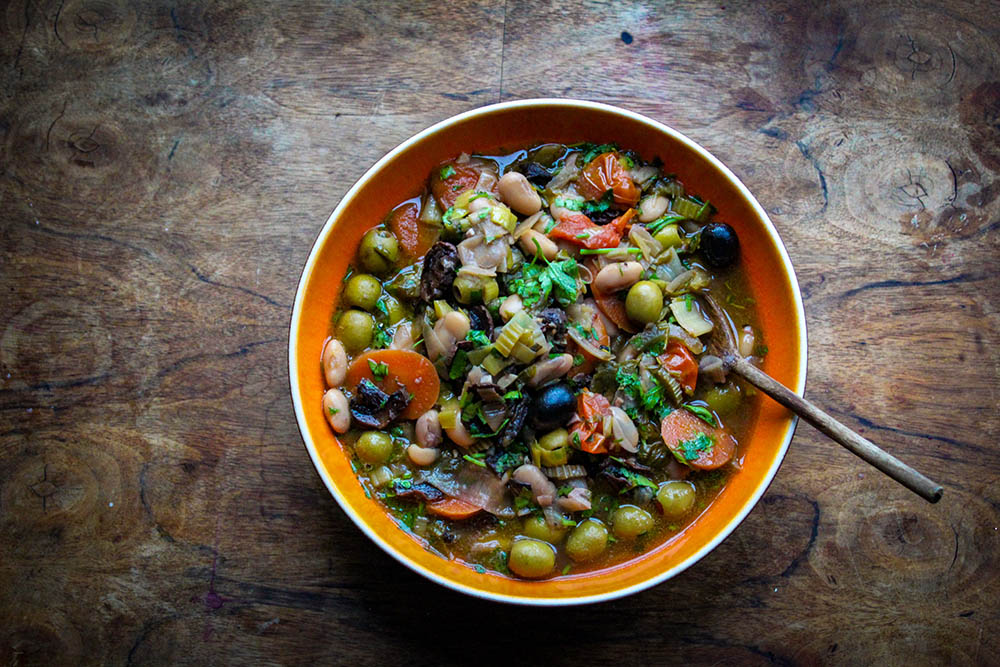 SERVES 4–6 | Prep time: 15 minutes | Cooking time: 1 hour
Ingredients:
– olive oil
– 500g chestnut mushrooms, sliced
– 1 onion, peeled and thinly sliced
– 3 garlic cloves, peeled and chopped
– a small bunch of fresh thyme, leaves picked
– 2 sprigs of fresh rosemary, leaved picked and chopped
– 2 bay leaves
– 3–4 carrots, thinly sliced
– 3 celery stalks, sliced
– 1 heaped tbsp tomato purée
– ½ tbsp cornflour
– 8 sundried tomatoes, rehydrated (or from a jar in olive oil), chopped
– a handful of cherry tomatoes
– 2 tbsp tamari
– 1 tbsp raw apple cider vinegar
– 250ml veggie stock
– a large glass of red wine (or more stock)
– 400g tin butterbeans, drained and rinsed
– 350g green or black pitted olives
To serve
– freshly chopped parsley
Method:
In a large saucepan heat a glug of olive oil and cook the mushrooms for about 5 minutes on a medium heat until they reduce in size and look golden. Put all the mushrooms in a bowl and set aside.
Add some more oil to the pan and gently fry the onion over a medium heat, until softened. Add the garlic and all the herbs and after a minute or so add the carrots and celery. Cover with a lid and cook for 5 minutes.
Add the tomato purée and cornflour, making sure you stir them in well. Now add the tomatoes, tamari, vinegar, stock and wine, if using. Bring up to a simmer, then put a lid on the pan and cook on low for about 25 minutes. Add the beans and cooked mushrooms and cook for 15 minutes. Stir through the olives and serve with lots of chopped parsley.
Tip: Keep portions of this in the freezer, defrost and top with mashed potato for a hearty veggie shepherd's pie. Cook in the oven at 180˚C for 30 minutes.
Vegan soup recipe #2: mindful ramen
Even the process of making ramen relaxes me. Take a moment to pause and enjoy this bowl of food before you eat it. Stopping, being mindful and taking a breath just to appreciate what is around us can be instantly grounding and calming for the body and mind. Add as many raw, bright veggies as you like – the different colours always cheer me up! Shiitake mushrooms are full of B-vitamins to boost your mood and reduce stress.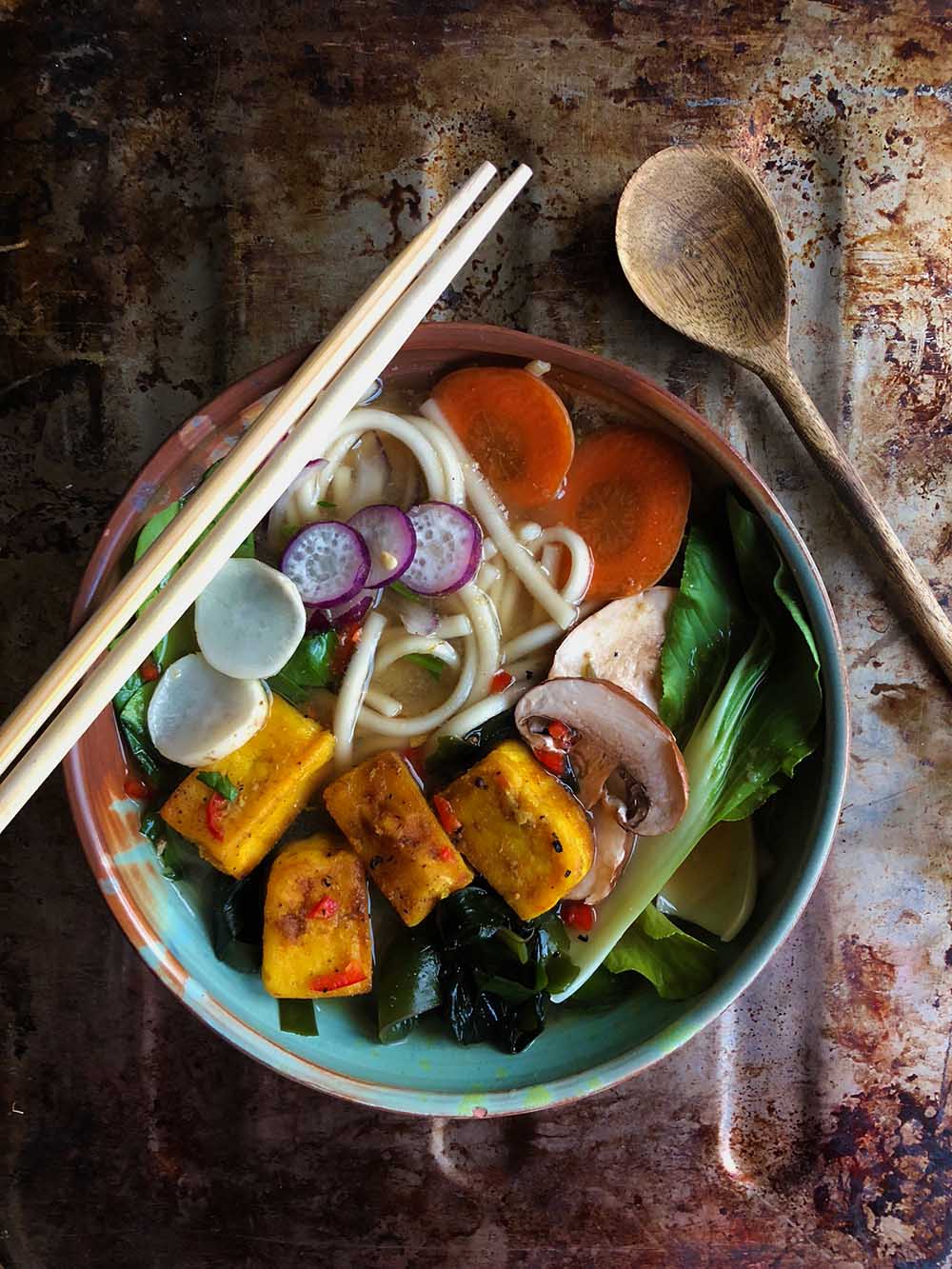 SERVES 2 | Prep time: 5 minutes | Cooking time: 15 minutes
Ingredients:
-1 tbsp miso paste
-a handful of dried seaweed (optional)
-a handful of dried shiitake mushrooms
-a slice of fresh ginger
-1 tbsp tamari
-70g noodles (e.g. buckwheat or soba)
-1 tsp coconut or olive oil
-100g firm tofu (I use chickpea tofu, but any firm tofu will do), sliced thickly
-2 handfuls of raw chopped veggies (e.g. pak choi, beansprouts, sliced carrots, spinach and radish)
To serve
-1 chopped fresh chilli (if you like it hot)
Method:
Put the miso paste, seaweed (if using), mushrooms and 1 litre water in a saucepan on a high heat and bring to the boil. Add the ginger and tamari, reduce the heat and simmer for 10 minutes.
In a separate saucepan cook the noodles in boiling water for 6–7 minutes, or according to the instructions on the packet. Drain and put to one side.
Meanwhile, heat the oil in a frying pan and lightly fry the tofu for 2 minutes on each side, then put to one side.
Strain the broth into a jug using a sieve. Put the cooked noodles and the raw veggies into the bottom of two soup bowls and pour the broth over the top. Slice some of the mushrooms and seaweed from the strained broth and add to the ramen. Top with the tofu and scatter over the chopped chilli, if using.
Tip: Freeze the strained broth in batches for future ramen-making or to use as a tasty stock for soups and stews.
Vegan soup recipe #3: super green nourish soup
This soup is full of goodness and the creamy coconut milk gives it a really comforting consistency, like someone is giving you a great big hug. Veggies like spinach, kale and watercress contain high levels of calcium, iron, folate and vitamins K and A. This magic combination will help reduce tiredness and aid restful sleep, so if you are feeling totally exhausted or wiped out this soup will really help you recharge.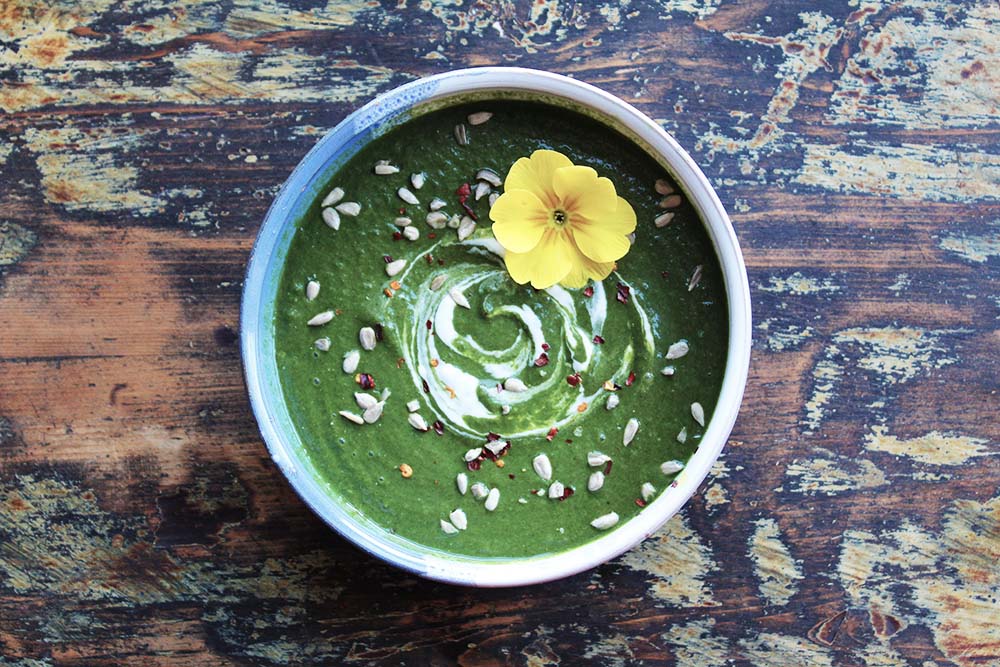 SERVES 4 | Prep time: 10 minutes | Cooking time: 30 minutes
Ingredients:
– a glug of olive oil or 1 tsp coconut oil
– 1 leek, sliced
– 2 potatoes, chopped
– sea salt and freshly ground black pepper
– 1 tsp freshly grated nutmeg
– 1 tbsp tamari
– 150g spinach
– 150g kale, stalks and ribs removed
– 100g watercress
– 1 litre veggie stock
– 400ml tin coconut milk
– a swirl of plant-based yoghurt
– seeds, chilli flakes and edible flowers, to garnish (optional)
To serve
– bread
Method:
Heat the oil in a large saucepan and fry the leek on a low heat for a few minutes, until soft.
Add the potatoes, season with salt and pepper and stir through the nutmeg and tamari. Cook for 5 minutes.
Add the spinach, kale and watercress and put the lid on. Leave on a low heat for 5 minutes, then pour in the stock and cook for 15 minutes, until the potato is soft.
Add the coconut milk and, using a hand-held blender, blitz until smooth (or blend in a jug blender). Add more water if you like a thinner consistency. Warm through for a few minutes, then serve with a swirl of plant-based yoghurt, chilli flakes and sunflower seeds.
Tip: Add some chopped fresh chili and cayenne pepper if you'd like a bit of heat.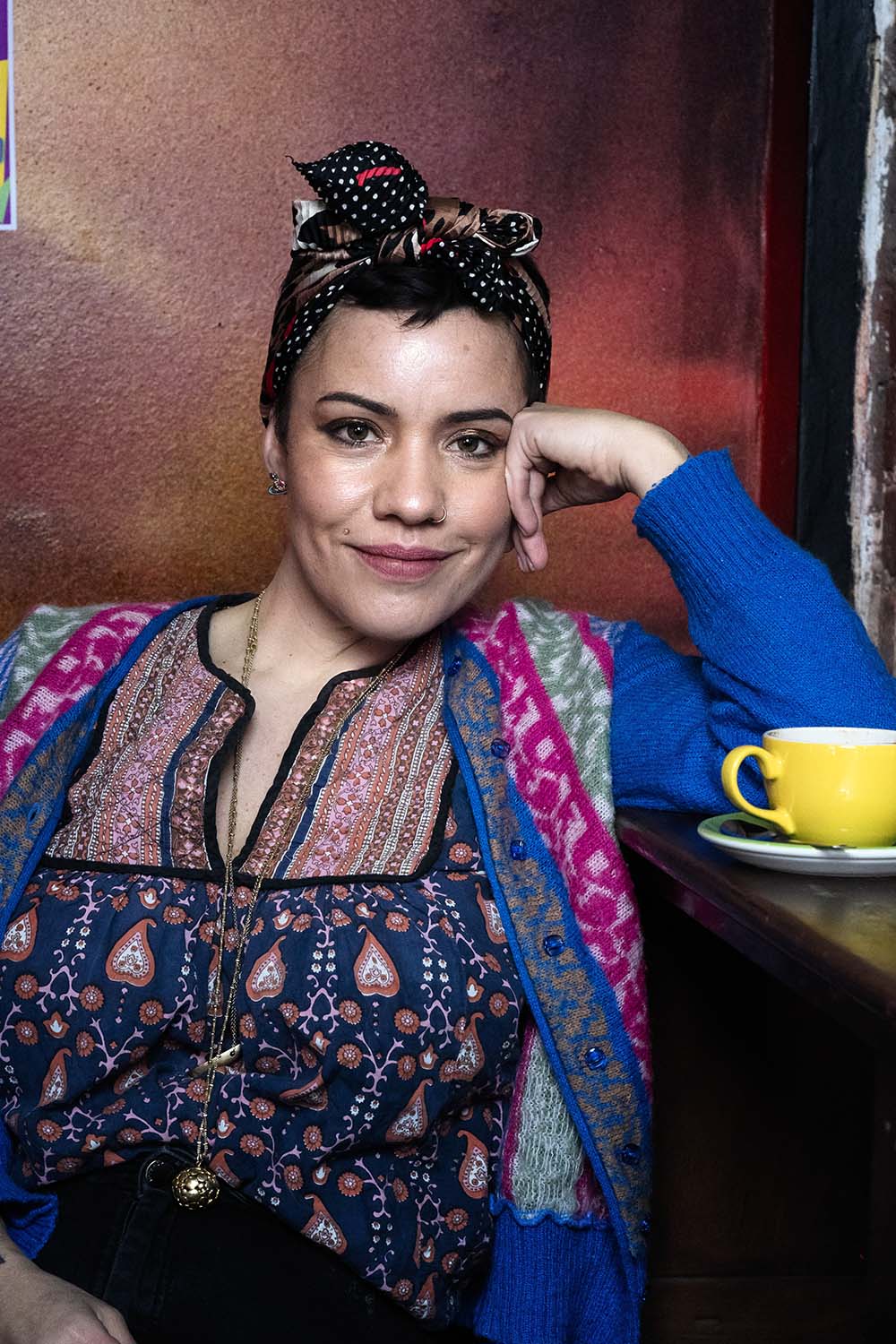 These recipes were extracted from The Self-Care Cookbook by Gemma Ogston published by Vermilion in Hardback is out now
Relevant Healthista Content:
On a plant based diet? These 9 vegan hotspots in London will help
7 best raw vegan chocolate brands we can't get enough of
3 vegan recipes we love from Gwyneth Paltrow's new cookbook
More Healthista Content:
Can intermittent fasting help this compulsive eater lose weight?
7 best Golden Globe body transformations
Running for beginners – 7 steps to getting started
The TRX workout to build your butt
13 ways carbs can help you lose weight
Like this article? Sign up to our newsletter to get more articles like this delivered straight to your inbox.